Biden rounds out team to take on HIV/AIDS domestically, globally
Experts say 'too soon' to assess domestic efforts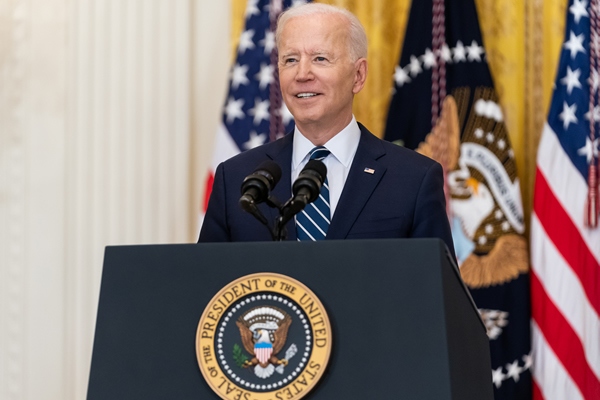 With the goal of beating HIV by 2025 domestically and a pledge for a renewed effort to fight the disease globally, President Biden has put in place officials charged with making that happen.
The White House kicked off the week with the announcement that John Nkengasong, who has served as a top official on global health at the Centers for Disease Control, would be nominated as ambassador-at-large and coordinator of U.S. government activities to combat HIV/AIDS globally at the State Department.
Meanwhile, leadership within the Presidential Advisory Council on HIV/AIDS, otherwise known as PACHA, was restructured in August as the Biden administration has continued the Ending the HIV Epidemic plan health officials started in the Trump administration.
Carl Schmid, who served as co-chair of PACHA during the Trump years, no longer holds that position, and has been replaced by Marlene McNeese, a woman of color and deputy assistant director of the Houston Health Department. John Wiesman, former secretary of health for Washington State, will continue to serve as co-chair.
McNeese is among eight new members of PACHA. The others are:
Guillermo Chacón, president of the Latino Commission on AIDS;
Tori Cooper, director of community engagement for the Transgender Justice Initiative at the Human Rights Campaign;
Raniyah Copeland, CEO of the Black AIDS Institute;
Leo Moore, medical director for clinic services at the Los Angeles County Department of Public Health;
Kayla Quimbley, national youth HIV and AIDS Awareness Day ambassador for Advocates for Youth;
Adrian Shanker, founder and executive director of Bradbury-Sullivan LGBT Community Center; and
Darrell Wheeler, senior vice president for academic affairs at Iona College in New Rochelle, N.Y.
The changes underscore the new approach to HIV/AIDS Biden promised during his presidential campaign. Among them is beating HIV/AIDS domestically by 2025, which is five years earlier than the plan under the Ending the HIV Epidemic initiative that began in the Trump administration. Whether or not Biden will meet that ambitious goal remains to be seen.
Winnie Byanyima, executive director of UNAIDS, hailed the nomination of Nkengasong to the global AIDS position upon news of the announcement.
"John Nkengasong's vast experience in combatting HIV, combined with his position as Africa's leading disease expert fighting Ebola, COVID-19 and more, position him extremely well to guide the United States' global contribution towards ending the AIDS pandemic," Byanyima said. "Today, the HIV and COVID-19 pandemics are colliding in communities throughout the world, and the threat of a resurgent AIDS pandemic is very real. We need the kind of bold thinking and commitment he has brought throughout his career."
While the global AIDS appointment will have a role in international programs, such as PEPFAR and U.S. participation in the Global Fund to Fight AIDS, Tuberculosis & Malaria, the PACHA appointments will focus on both domestic and global perspectives.
Schmid, executive director of the HIV+Hepatitis Policy Institute, said despite the change in leadership he will maintain his role as head of the subcommittee on the Ending the HIV Epidemic initiative.
"It's good," Schmid said."They appointed a lot of African-American community, Latino community [members] and they said they'll rotate co-chairs," Schmid said. "I think it's good that they put on new blood, and new leadership."
Schmid has been a vocal skeptic about Biden being able to meet his goal to beat HIV by 2025 — as opposed to the 2030 target set by the previous administration — but said the realignment in PACHA was "not at all" related to that.
"I think I was replaced because the Biden administration wanted the leadership of PACHA to be more representative of the current epidemic in the United States," Schmid said.
Schmid, however, refused to back down from his prediction that Biden won't be able to make his 2025 goal a reality.
"I think you will find wide agreement within the HIV community that it is not feasible to end HIV by 2025," Schmid said. "There is just too much work to do and change to happen."
The new appointments will add to the cadre of Biden appointees engaged on HIV/AIDS, including Harold Phillips, who was appointed in June to lead the White House Office of National AIDS Policy after that position remained vacant for the entirety of the Trump administration.
'Too early' to gauge effort to beat HIV domestically
The focus of the appointees on the domestic front will be the Ending the HIV Epidemic initiative, a plan heavily focused on PrEP as a means of preventing HIV in an effort to reduce new incidents of infections by 90 percent within 10 years. The program was launched in 2019.
Although Congress has appropriated money for the initiative, and just last week, the Department of Health & Human Services distributed $48 million to HRSA centers as part of the effort, experts say not enough data is available to tell to whether or not the program has been effective.
Jennifer Kates, senior vice president and director of global health & HIV policy at Kaiser Family Foundation, said data isn't yet available on whether new incidents of HIV are reduced because the latest data is from fiscal year 2019.
"From the perspective of the timeline of the goals of the initiative, it's too early, we wouldn't know that anyway, but just even given the context and what's happened since it started, I just don't know how you'd evaluate it," Kates said. "What I do believe is important though, is the idea of dedicated new funding. It was the first new funding provided to HIV for years that's been channeled to local jurisdictions [and] has the potential to catalyze new and better responses, but we don't know yet that's happened."
The coronavirus pandemic, which has been the top priority for health officials around the world, is also obfuscating any potential assessment of the Ending the HIV Epidemic initiative.
Daniel Bruner, senior director of policy at the D.C.-based Whitman-Walker Institute, said the coronavirus has "dramatically impacted medical care," including HIV/AIDS efforts.
"The pandemic has also necessitated substantial shifts in federal, state, and local resources into COVID prevention, diagnosis and treatment," Bruner said. "Therefore, it is premature to draw any conclusions about the EHE initiative's effectiveness. The federal government has emphasized its continuing commitment to the EHE initiative, and Whitman-Walker also remains committed to that work."
McAuliffe: Youngkin 'most homophobic' candidate in Va. history
Former governor spoke with Blade on Oct. 21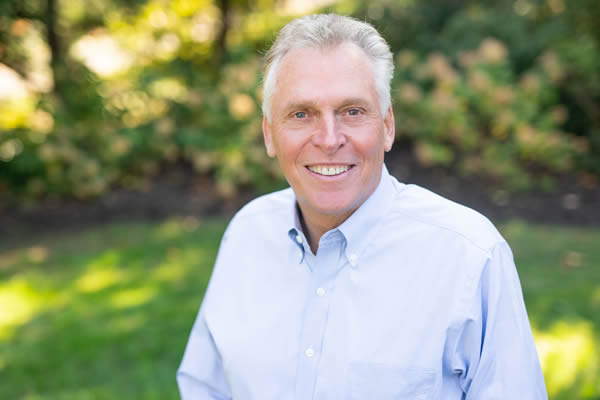 Terry McAuliffe described Republican Glenn Youngkin as the "most homophobic" and most "anti-choice candidate" in Virginia history during an Oct. 21 telephone interview with the Washington Blade.
"I'm running against the most homophobic, anti-choice candidate in Virginia history," said McAuliffe. "I ran against Ken Cuccinelli. That's saying something."
McAuliffe, a former chair of the Democratic National Committee, in 2013 defeated Cuccinelli, Virginia's then-attorney general who vehemently opposed LGBTQ rights, in that year's gubernatorial race. Youngkin, the former co-CEO of the Carlyle Group, a private equity firm, is running against McAuliffe in the race to succeed current Gov. Ralph Northam.
State Del. Hala Ayala (D-Prince William County) is running for lieutenant governor, while Attorney General Mark Herring is seeking re-election. They are running against Republicans Winsome Sears and Jason Miyares respectively.
The entire Virginia House of Delegates is also on the ballot on Nov. 2. The outcome of those races will determine whether Democrats maintain control of the chamber.
Youngkin remains opposed to marriage equality
The Associated Press a day after McAuliffe spoke with the Blade published an interview with Youngkin in which he reiterated his opposition to marriage equality, but stressed it is "legally acceptable" in Virginia and he would "support that" as governor.
The anti-LGBTQ Family Research Council, which the Southern Poverty Law Center has categorized as an extremist group, earlier this month endorsed Youngkin. The Human Rights Campaign and Equality Virginia's political action committee are among the groups that have backed McAuliffe.
Youngkin earlier this year said he does not support allowing transgender children to play on sports teams that are consistent with their gender identity. Youngkin has also expressed support for Tanner Cross, a gym teacher at a Leesburg elementary school who was suspended in June after he spoke against the Virginia Department of Education guidelines that are designed to protect trans and non-binary students.
HRC in 2019 named the Carlyle Group as a "Best Place to Work for LGBTQ Equality" in its annual Corporate Equality Index. McAuliffe scoffed at this recognition.
"They should have checked with their co-CEO who's against marriage equality," he told the Blade. "That would have been the first place I would have gone to ask."
'I've always been out front fighting to protect everybody'
McAuliffe's first executive order as governor after he took office in 2014 banned discrimination against LGBTQ state employees. He also vetoed several anti-LGBTQ religious freedom bills, created Virginia's LGBTQ tourism board and became the state's first governor to declare June Pride month.
McAuliffe noted to the Blade that he is also the first governor of a southern state to officiate a same-sex wedding. The lesbian couple whom he married has recently appeared in one of his campaign ads.
"I spent four years vetoing every single legislation Republicans brought forth and came across my desk that would have discriminated against the LGBTQ community," said McAuliffe. "I've always been out front fighting to protect everybody."
McAuliffe noted that CoStar, a D.C.-based commercial real estate company, moved more than 1,000 jobs to Richmond from Charlotte after then-North Carolina Gov. Pat McCrory signed House Bill 2, which banned trans people from using public restrooms consistent with their gender identity and prohibited municipalities from enacting LGBTQ-inclusive nondiscrimination measures. McAuliffe described HB 2 to the Blade as the "anti-gay bill."
"There's real consequences … to discriminatory actions and I will not tolerate any of it," he said.
McAuliffe last month said during his first debate against Youngkin that local school boards "should be making their own decisions" with regards to the implementation of the Virginia Department of Education guidelines for trans and non-binary students. McAuliffe during his second debate against Youngkin stressed "locals" should provide input on the policy, but added "the state will always issue guidance."
McAuliffe told the Blade he has "been so offended about how many folks have tried to really demonize our children here in this state." McAuliffe referenced children with "self-identity issues" during the interview, but he did not specifically cite those who identify as trans or non-binary.
"We've got to help our children … we got to help our children who are desperately in need today," he said. "And we got to show them that we'll be there for them, as I say, no matter how they identify or who they love."
Youngkin on Saturday during a campaign event in Henrico County said he would ban the teaching of critical race theory in Virginia schools. McAuliffe criticized his opponent on this issue when he spoke with the Blade.
"Critical race theory is not taught in Virginia, nor has it ever been taught," said McAuliffe. "These are dog whistles that are used, and especially in the CRT, it's a racist dog whistle and it just fits into this whole pattern of using our children as political pawns and I hate it."
Youngkin 'would drive businesses out of' Va.
McAuliffe has continued to portray Youngkin as an extremist on other issues that range from abortion and vaccine mandates as polls suggest the race between the two has grown tight. McAuliffe also continues to highlight former President Trump's support of Youngkin.
McAuliffe told the Blade that Youngkin is "100 percent against abortion" and said his opponent would "bring those Texas-style type abortion" laws to Virginia.
The law, which bans almost all abortions in Texas and allows private citizens to sue doctors and anyone else who helps a woman obtain one, took effect last month. The U.S. Supreme Court on Nov. 1 will hear oral arguments in a case that challenges the law.
"We always knew that the Supreme Court would be a backstop on women's rights issues: Roe v. Wade. That is gone. It's over," said McAuliffe. "Donald Trump's Supreme Court is going to overrule the basic tenants of Roe v. Wade."
McAuliffe added the Supreme Court "is going to allow these states to roll back women's reproductive rights, so that's no longer a talking point."
"This is reality," said McAuliffe. "Every woman in Virginia needs to understand it."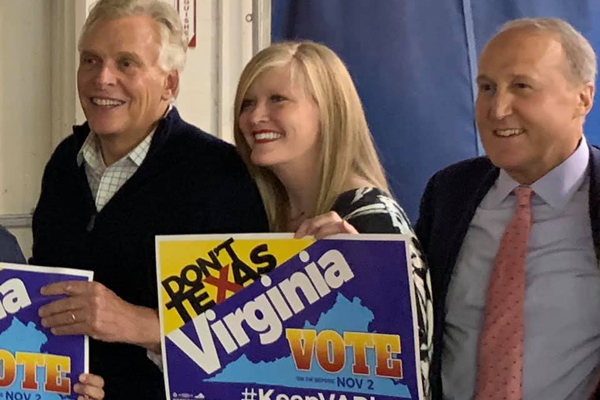 Youngkin, for his part, has said he would not have signed the Texas law.
Trump on Oct. 13 described Youngkin as a "great gentleman" when he called into the "Take Back Virginia Rally" in Henrico County that John Fredericks, host of "Outside the Beltway with John Fredericks" who co-chaired the former president's 2016 campaign in Virginia, organized.
Participants recited the Pledge of Allegiance to an American flag that was present at the U.S. Capitol insurrection. Youngkin in a statement his campaign released said he "had no role" in the event and said it was "weird and wrong to pledge allegiance to a flag connected to January 6."
"As I have said many times before, the violence that occurred on January 6 was sickening and wrong," he said.
McAuliffe told the Blade that Youngkin would make Virginia "a dangerous place to live and work."
"His governorship, if he were to be elected, would roll back individual liberties," said McAuliffe. "He doesn't support gay marriage, he is for eliminating abortion here in the commonwealth of Virginia and he will drive businesses out of our state and finally it is dangerous for people."
Un hogar para jóvenes LGBTQ en abandono ya funciona en El Salvador
Hogar Santa Marta es proyecto de la Iglesia Episcopal Angelicana del país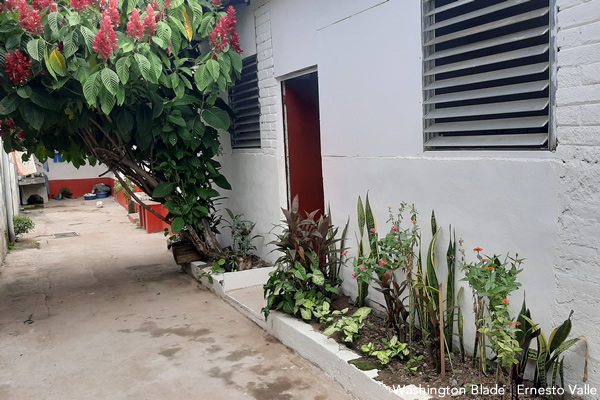 SAN SALVADOR, El Salvador — La situación de las juventudes LGBTQ en El Salvador se caracteriza por la violencia en sus familias y comunidades, hasta el patrón de impunidad del sistema judicial. Esto hace que muchos huyan de sus casas o son expulsados de la misma, por no ser aceptados; por ello la necesidad que exista un refugio para apoyar a esta parte de la población vulnerada.
La Iglesia Episcopal Anglicana de El Salvador (IAES) en el año 2009 creó el Ministerio de Diversidad Sexual; el cual es una pastoral que reúne tanto a lesbianas, gays, bisexuales, personas trans, intersexuales, queer y más, como también aliados de la misma comunidad, volviéndose un espacio en el que todas y todos pueden vivir su fe, libres de discriminación.
Sin perder el enfoque y con la misión de acoger y brindar atención inmediata, integral y con calidez a jóvenes LGBTQ, que son víctimas de violencia intrafamiliar, expulsión de sus hogares y retorno migratorio, en agosto de este año el Hogar Santa Marta comenzó a funcionar. La iniciativa de este refugio surge desde el ministerio mencionado. En su experiencia pastoral, la IAES conoce la realidad que enfrenta este sector de la población que, por motivo de su orientación sexual, identidad y expresión de género son discriminadas en todos los ámbitos de su vida.
Para el obispo Juan David Alvarado de la IAES, este proyecto responde a las necesidades humanas, especialmente cuando hay tanta injusticia.
"Queremos dar como iglesia, una respuesta a las personas LGBTQ que han sufrido violaciones a sus derechos humanos", menciona Alvarado, explicando además que se ofrece un hogar temporal, mientras los jóvenes buscan solución o desarrollan un plan de respuesta personal.
Hogar Santa Marta ha intervenido hasta la fecha varios casos de jóvenes LGBTQ, tres de estos se han recibido en el albergue y otros se han logrado resolver con la contención en el momento crítico.
"Nuestra primera opción es que las personas no necesariamente tengan que pasar por el abandono familiar, por ello se trata de lograr una conciliación con las familias", esto para lograr que los jóvenes logren seguir con sus familias, explica Cruz Torres, coordinador del Ministerio de Diversidad Sexual de la IAES.
Hasta el momento el principal medio para que los jóvenes se pongan en contacto con el hogar, han sido las redes sociales del mismo, de esta manera el equipo técnico evalúa los casos y se encargan de determinar la manera de proceder ante cada uno de estos. Pues están dirigidos a atender víctimas de violencia, desplazamiento forzado y expulsión de sus hogares.
"Esta modalidad por redes ha sido adrede, para tener un crecimiento controlado y no tener una saturación inmediata", menciona Eduardo Madrid, director del Hogar Santa Marta, al explicar que habían retrasado la apertura del hogar, porque este aún se encontraba en la adecuación para recibir a las juventudes que necesitan apoyo.
De acuerdo con Madrid, la psicóloga del hogar creó un protocolo para determinar el proceso a llevar con la persona que busque la ayuda. Cuando el equipo técnico establece el contacto con una persona, se genera un perfil y se toma nota de la situación que este vive, para luego pasarle el caso a ella y agende una entrevista.
"A través de una pequeña entrevista, podemos saber sus redes de apoyo, si tiene un resguardo o un lugar seguro", de esta manera explica Helen Jacobo, psicóloga del Hogar Santa Marta, que es la manera en cómo elaboran los perfiles y se determinan las líneas de acción.
'Me siento más completo y más seguro'
Carlos es un joven de 25 años, quien a causa de una serie de problemas que se desencadenaron al inicio de la pandemia, requirió del apoyo del hogar, "tuve que salir de mi casa por maltratos, insultos y golpes", recuerda sobre la situación.
Llegar a un lugar seguro fue un alivio para él y aún más al saber que tendría mucho apoyo, "me han brinda muchos servicios como el apoyo psicosocial y muy pronto a encontrar un trabajo", expresa con alegría Carlos.
En la primera etapa del proceso dentro del hogar, están el ofrecer resguardo y que no falten las debidas alimentaciones, terapia psicológica para lograr la contención por lo ocurrido y donación de artículos de primera necesidad.
"De mi parte estoy muy agradecido, hemos trabajado en nosotros mismos como persona", asegura con una mirada que expresa felicidad y tras la mascarilla se refleja una sonrisa dibujada. Además, externó sentirse agradecido que le permitieran entrar con su mascota, pues al salir de casa la llevó consigo.
A pesar de ser un refugio creado desde un grupo de una iglesia, el tema de la religión no es una imposición, se da un acompañamiento espiritual pero no es obligatorio participar de él siempre, "si vos queres creer, crees; no te imponen la religión", asegura Carlos.
"Me siento más completo y más seguro, ese ha sido el cambio más notorio que he podido tener", alega de una manera positiva, porque asegura que debido al proceso que lleva, a aprendido a priorizar en él mismo.
De esta manera inician la segunda etapa del proceso dentro del hogar, empoderamiento en derechos, así lograr valorarse y saber defender sus derechos, también dentro de la misma está la reubicación sostenible, sensibilización con familia y creación de plan de vida.
En los tres meses transcurridos ya hay un caso dado de alta del hogar y que va avanzado en sus procesos; se trata de Alejandro de 23 años con el apoyo del equipo técnico del lugar, pudo encontrar un trabajo y un nuevo lugar donde vivir.
Él conoció del hogar gracias a un amigo que pertenece a la IAES, ayudó a exponer su caso y así se convirtió en el primer joven dentro del hogar.
"Aunque solo estuve un mes, sentí el apoyo necesario de todo el equipo", expresa Alejandro.
Por ser el primer caso, se siente muy involucrado con el hogar, comentó que en sus primeras sesiones tuvo la oportunidad de proponer ideas sobre el abordaje de futuros casos y el hecho de que tanto el director, como la psicóloga le tomaran en cuenta, fue algo muy gratificante.
Ahora que ha logrado encontrar un trabajo, Alejandro pondrá todo de su parte para mantener la estabilidad, sobre todo apoyándose con el acompañamiento psicológico que el hogar aún le sigue brindando, esto como parte de la tercera etapa. El acompañamiento dura desde el ingreso hasta máximo un año; en alianza con ONGs, gobierno y empresa privada, se busca la manera que el joven que salga del hogar, no vuelta a tener un inconveniente que le ponga en riesgo.
Cada proceso es diferente, depende del caso de cada joven para determinar la manera del abordaje y como se va avanzando en el mismo; lo principal es asegurar que ellos estén en un espacio seguro, luego si se tienen actividades que se comparten, como generan una rutina de trabajo en equipo, recibir talleres de grupo y por medio de alianzas creadas los chicos pueden seguir fortaleciéndose y capacitándose.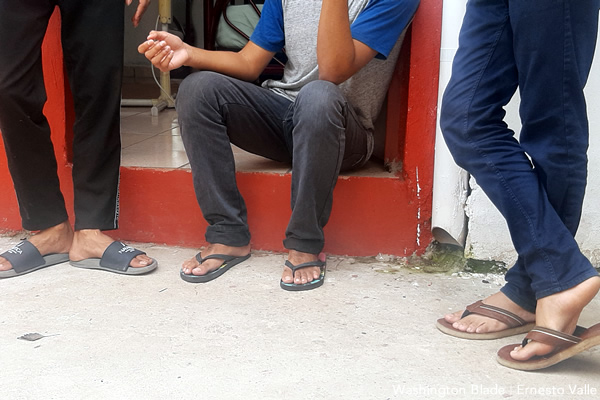 Alianzas estratégicas
Para realizar un trabajo integral, el Hogar Santa Marta ha realizado diversas alianzas estratégicas, una de ellas es con la Organización Internacional para las Migraciones (OIM) de las Naciones Unidas, específicamente con el Proyecto Respuestas Integrales sobre Migración en Centro América. De esta manera pretenden encontrar sinergias desde el enfoque psicosocial que se da a la atención de las juventudes LGBTQ que se encuentra en vulnerabilidad.
Se espera que a través de diversos instrumentos que la OIM ya utiliza, puedan compartir un poco con el hogar.
"Algunos de los instrumentos que tienen, responden específicamente en temas psicológicos", explica Helen.
De esta manera también esta iniciativa se ha puesto a la disposición de la OIM, para hacer mejoras en los instrumentos en cuanto se refiere a temas de diversidad sexual y esperan también recibir el apoyo para cuando tengan manejo de grupos, cuando el hogar tenga albergados a más jóvenes LGBTQ.
Por su parte la coordinadora del proyecto de la OIM esta muy interesada en dar seguimiento al trabajo del hogar y poder lograr una colaboración, tal como se ha logrado en el apoyo psicosocial con personas retornadas que pertenece a la población LGBTQ.
"También hemos logrado identificar otras posibles vinculaciones, a través de perfiles que se puedan vincular con oportunidades laborales", expresó Rosalinda Solano, coordinadora nacional del proyecto de la OIM, sobre campos a explorar y otras posibles colaboraciones en conjunto con el hogar.
Desde que Solano conoció el proyecto, le pareció algo muy innovador y necesario que no se tenía en el país, por lo que cual espera que sirva de mucho para dar respuesta a algo que no se había hecho, "lleva un enfoque bastante integral, no solo es dar albergue", agrega al referirse del trabajo que realiza el hogar.
El Salvador cuenta con otros dos refugios que son dirigidos a un sector específico de la población LGBTQ, Casa Trans de ASPIDH ARCOIRIS TRANS y Casa Refugio Karla Avelar de COMCAVIS TRANS, ambas más especializadas en casos de mujeres trans desplazadas. En el caso de Hogar Santa Marta, es el primer refugio creado desde una iglesia, dirigido para la juventud LGBTQ en condición de abandono.
De acuerdo con las palabras de Alvarado, el Hogar Santa Marta, surge con un enfoque técnico de manera integral, con atención a juventudes LGBTQ.
"Los jóvenes ven el hogar con mucha esperanza para una vida nueva", expresó.
"Para lograr todo esto hemos tenido que hacer alianzas con organizaciones nacionales e internacionales, entre ellas OIM", agrega Alvarado. Además agrega que están mejorando las instalaciones para poder recibir a más juventudes en abandono, pero para ello necesitan apoyo, por eso hace la invitación a buscar más información en las redes sociales del hogar, así saber cómo donar a esta causa.
En Facebook pueden encontrarles como Santa Marta LGBT y en Instagram como @santamartalgbt en donde encontraran el link de www.gofundme.com para hacer donaciones al hogar.
"Como iglesia, reconocemos la voz proféticas de las personas LGBTIQ+ y aceptamos el llamado de Dios para cuidar, orientar y guiar a todas las personas que enfrentan injusticia social", finaliza Alvarado.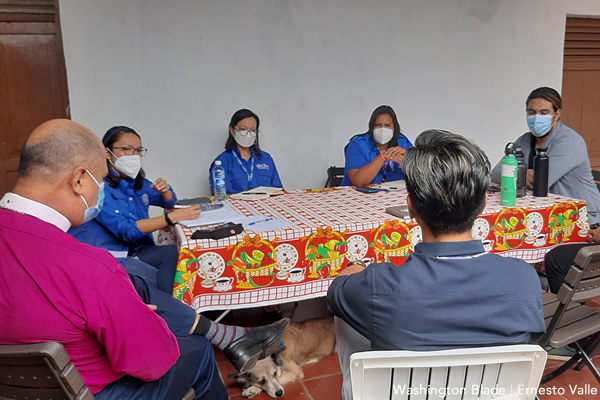 Whitman-Walker's 35th annual Walk & 5K to End HIV held virtually
Participants picked their own routes throughout D.C. metro area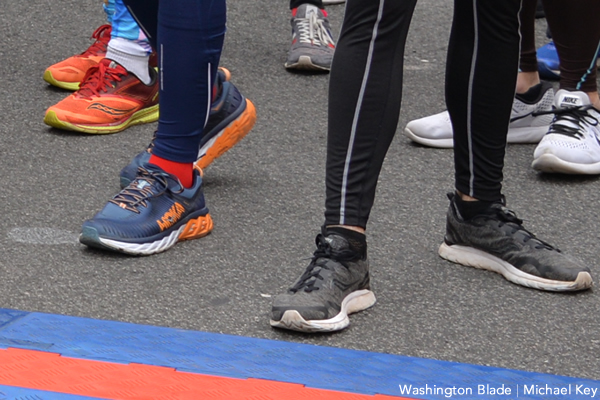 Whitman-Walker Health, D.C.'s LGBTQ supportive health center, hosted its 35th annual Walk and 5 K Run to End HIV on Saturday, Oct. 23, in a format in which participants chose their own route to walk and run throughout the D.C. metro area.
The event, which serves as Whitman-Walker's largest single fundraiser of the year, took place in what organizers called a virtual format for the second year in a row due to the COVID-19 pandemic, even though many participants walked or ran either by themselves or in small groups.
"Participants can sign up to run or walk a 5k route in Washington, D.C. and pass by local Whitman-Walker locations in Northwest and Southeast DC, or they can choose to walk or run a 5k route in their city!" Whitman-Walker said in a statement promoting the event.
In recent years prior to the start of the COVID pandemic, Whitman-Walker's Walk & 5 K Run to End HIV began and ended at Freedom Plaza in downtown D.C., with as many as 1,000 or more participants running or walking together along a route that included Pennsylvania Avenue, N.W., at Freedom Plaza, and parts of the National Mall.
"We decided to host the Walk virtually again this year, enabling folks to show their support for the 35th annual Walk & 5K to End HIV from near and far," said Whitman-Walker spokesperson Jewel Addy. "Participants get to decide their level of COVID safety, and that was especially important again this year," she said.
Whitman-Walker Health CEO Naseema Shafi said it was significant that the 35th anniversary of what started out in 1987 as the first annual AIDS Walk Washington took place this year on the 40th anniversary of HIV/AIDS.
"The 40th anniversary of HIV and the 35th anniversary of this event allow us to reflect on the barriers to care folks faced during the AIDS epidemic and continue to face during COVID," Shafi said in a statement. "The current pandemic illustrates that we still have work to do in creating safer, affirming spaces for everyone in the community," she said. "Our staff works to remove those barriers to care for patients and clients every day."
Addy told the Blade on Monday there were about "800+" registrants for this year's event so far from individual participants who ran or walked or simply sent in contributions in support of Whitman-Walker's work, which includes caring for over 20,000 patients.
"We are currently at $444,000 raised, with donations still coming in and fundraising going until Dec. 31," Addy said. "With that, we're confident we'll meet or exceed our goal of $450K by year's end."
In a statement prior to the start of the Oct. 23 event, Whitman-Walker said its fundraising goal for the event was $450,000.
In messages promoting the event, Whitman-Walker said supporters could "register, walk, run, and donate to this year's walk," through Dec. 31, 2021, at www.walktoendHIV.org.
The locations participants passed by in their walk or run on Oct. 23 included Whitman-Walker's Liz Taylor facility at 14th and R streets, N.W., its headquarters, and medical care building at 1525 14th St., N.W., its Max Robinson Pharmacy at 2303 Martin Luther King Jr. Ave., S.E.: and its St. Elizabeth's Campus location at 1100 Alabama Ave., S.E.
"Complete the race wherever and whenever you would like," Whitman-Walter stated in reminding participants that the event's fundraising effort will continue through Dec. 31. "You can walk, run, use a treadmill, or participate in another race."   
Among those expressing strong support for Whitman-Walker on the occasion of its 35th annual walk and run to end HIV was Dr. Anthony Fauci, director of the National Institute of Allergies and Infectious Diseases, who released a video praising Whitman-Walker for its work in fighting the AIDS epidemic since the start of the epidemic.