Trans lawmaker impacted by Va. redistricting changes
Roem placed in new district, will address political future after session ends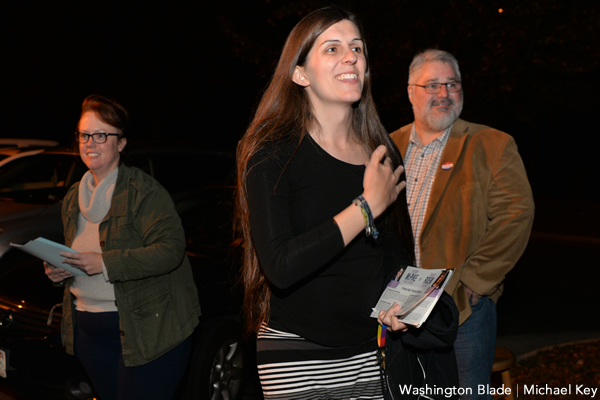 Sweeping changes in Virginia's state legislative and congressional districts brought about by a redistricting order issued on Dec. 28 by the Virginia Supreme Court have significantly changed the makeup of the Manassas area district of Virginia House of Delegates member Danica Roem (D).
In 2018, Roem became the nation's first out transgender person to be seated in a U.S. state legislature after she defeated longtime Republican incumbent and LGBTQ rights opponent Bob Marshall in the November 2017 election.
Roem, who is one of four out LGBTQ members of the Virginia General Assembly, appears to have been impacted the most by the redistricting among her three LGBTQ colleagues.
Gay state Sen. Adam Ebbin (D-Alexandria), gay state Del. Mark Sickles (D-Fairfax County), and lesbian state Del. Dawn Adams (D-Richmond area) were assigned new districts that retained most of their existing Democratic constituents or include new Democratic leaning areas, according to sources familiar with their districts.
State Del. Joshua Cole (D-Fredericksburg area), who identifies as bisexual, ended his tenure as a delegate this week after losing his re-election bid in the November election to Republican Tara Durant by 647 votes. The state's redistricting changes place both Cole and Durant in a newly created 65th District that Stafford County Democratic Party activist Matt Rowe said makes the highly competitive district slightly more Democratic leaning.
Rowe said Cole, who the Blade was unable to reach for comment this week, indicated he plans to run again for the delegate seat in the next election.
The Virginia Supreme Court assumed the responsibility of redrawing the state's congressional and state legislative districts under a state constitutional amendment approved by voters in a 2020 referendum. The redistricting measure approved by voters assigns the authority of creating the new districts to a bipartisan redistricting commission made up equally of Democrats and Republicans.
But the commission became deadlocked after each of the two-party representatives was unable to agree on a redistricting plan. Under a provision of the redistricting law, if the commission cannot reach an agreement, the matter is sent to the state Supreme Court, which appointed two redistricting experts called masters to redraw the state's congressional and state legislative district maps to conform with population changes determined by the 2020 U.S. Census. One of the masters was selected by Democrats and the other by Republicans, according to a statement released by the court.
"We drew maps which did not unduly favor either party," special masters Sean Trende and Bernard Grofman said in a statement. "These maps came about as part of a partisan and incumbency blind process based on good government map making," the two said.
The changes made by the two masters carved Roem's existing District 13 into three new districts – District 20, 21, and 22. Roem, who lives in the new District 20, is now the state delegate representing that district. Under rules established under the new redistricting law approved by voters, all the new districts took effect immediately on Dec. 28.
In response to a request by the Blade for her assessment of these changes, Roem said her new district consists of just six and a half of the 18 voter precincts that made up her former District 13. The other two-thirds of the precincts in her new district include residents that she had not represented before in Prince William County.
It couldn't immediately be determined whether her new constituents are mostly Democrats, Republicans, independents, or a mix of all three.
"I live in the new House District 20 and will deal with my political future after this year's Virginia General Assembly session ends in March," Roem told the Blade in an email message.
"I'm confident the people of greater Prince William would continue to support me as a lifelong Prince William County resident from Manassas who served as their newspaper reporter for more than nine years from 2006-2015 before earning three terms now to serve them as a member of the Virginia House of Delegates," she said.
"During my first two terms in office, the governor signed 23 of my bills into law – all with bipartisan support – including three bills to advance LGBTQ equality, so I've been effective at delivering for all of my constituents, LGBTQ residents included," Roem said.
Gay Democratic activist Jim O'Connor of Prince William County, where Roem's new district is located, said he believes the voter makeup of the new district would likely make it possible for her to win re-election in 2023 or possibly in 2022. Rowe, who said he also follows Prince William County politics, said he too thinks Roem is in a good position to win re-election whether in 2022 or 2023.
A lawsuit filed in federal court by some redistricting opponents is calling for a special House of Delegates election in 2022 on grounds that the redistricting resulted in large numbers of residents being represented by lawmakers they had no opportunity to vote for in an election, which may be in violation of the U.S. Constitution. The lawsuit is expected to be resolved sometime early this year to make it known whether a special Virginia House of Delegates election will take place this year in addition to the regularly scheduled election in 2023.
Mother says teen boy charged with assault in girl's bathroom at Va. school is straight
Earlier reports that Loudoun County student was gender fluid triggered backlash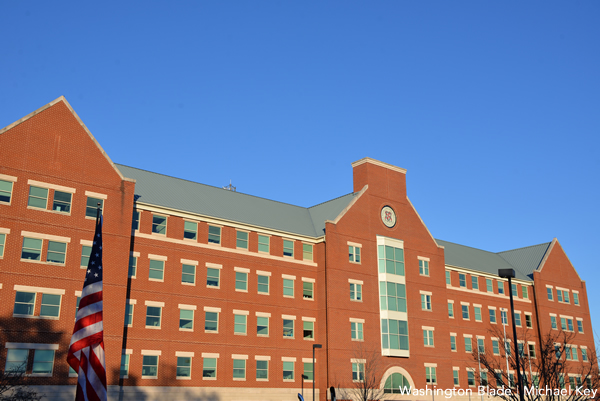 In a little-noticed interview last November with the British online newspaper, DailyMail.com, the mother of a 15-year-old boy charged with sexually assaulting a girl last May in the girl's bathroom at a Loudoun County, Va., high school that the two students attended said her son identifies as heterosexual.
The May 28, 2021, sexual assault first surfaced in the news media in October at the same time law enforcement authorities disclosed that the boy allegedly sexually assaulted a girl on Oct. 6 in a vacant classroom at another high school to which he was transferred.
The disclosure of the two assaults triggered a furious backlash by some parents and conservative political activists against a Virginia school policy allowing transgender and gender fluid students to use the bathroom that conforms to their gender identity.
"First of all, he is not transgender," the boy's mother told DailyMail.com in a Nov. 2 interview. "And I think this is all doing an extreme disservice to those students who actually identify as transgender," the newspaper quoted her as saying.
The mother, who agreed to the interview on grounds that she was not identified to protect the identity of her son, said her son identifies as heterosexual and absolutely does not identify as female.
LGBTQ activists have said the backlash against both the Virginia state and Loudoun County transgender non-discrimination policies — which spread to school districts across the country that have similar policies — was fueled by what they have said all along was unsubstantiated claims that the boy was transgender or gender fluid.
Conservative activists who strongly oppose the school systems' trans supportive bathroom policies have said it was those policies that enabled the 15-year-old boy, who police say was wearing a skirt at the time of the May 28 sexual assault incident, to enter the girl's bathroom to target the girl.
Since that time, testimony in a Loudoun County Juvenile Court where the boy was being prosecuted revealed that the 14-year-old girl who brought the charges against him said she and the boy had two consenting sexual encounters in a girl's bathroom at Stone Bridge High School in Ashburn, Va., prior to the incident in which the boy allegedly assaulted her.
According to the Washington Post, whose reporter attended one of the juvenile court hearings, the girl testified that she agreed to meet the boy in the girl's bathroom after he requested a third sexual encounter there, but she told him she did not want to have sex at that time.
"The girl previously testified in court that the defendant threw her to the ground in the bathroom and forced her to perform two sexual acts on him after she told him that she was not interested in sex on that occasion," the Post reported in a story last week about the final outcome of the case.
At a Jan. 12 sentencing hearing, Loudoun County Juvenile Court Chief Judge Pamela Brooks placed the boy on the Virginia sex offender registry for life, the Post reported. After ruling in an earlier hearing in November that the evidence confirmed that the boy was responsible for sexually assaulting the two girls, Brooks sentenced the boy to a residential treatment facility rather than a juvenile detention facility and required that he remain on probation until he turns 18, the Post reported.
"He's a 15-year-old boy that wanted to have sex in the bathroom, with somebody that was willing," the boy's mother told DailyMaiI.com. "And they're twisting this just enough to make it a political hot button issue," she said.
In her interview with the newspaper, the mother said her son wasn't gender fluid despite the reports, which she confirms, that he wore a skirt at the time of the first of the two sexual assaults.
"He would wear a skirt one day and then the next day, he would wear jeans and a T-shirt, a Polo or hoodie," she told the newspaper. "He was trying to find himself and that involved all kinds of styles. I believe he was doing it because it gave him attention he desperately needed and sought," she said.
The mother acknowledged in the interview that her son was deeply troubled, saying he had a long history of misbehavior, including sending nude photos of himself to a girl when he was in the fifth grade.
On Jan. 12, the same day as the boy's sentencing hearing, Virginia House of Delegates member John Avoli (R-Stanton) introduced a bill calling for restricting the ability of transgender students from using bathrooms and other facilities in public schools that are consistent with their gender identity.
A separate bill introduced last month by Virginia State Sen. Travis Hackworth (R-Tazewell County) calls for eliminating the requirement that Virginia school districts adopt the state Department of Education's nondiscrimination policies for trans and non-binary students.
Although Virginia's newly inaugurated Republican Gov. Glenn Youngkin and the GOP-controlled House of Delegates could move to advance the two bills, LGBTQ activists note that the state Senate remains in Democratic control and would block the two bills from being approved by the General Assembly.
Cris Candice Tuck, president of the LGBTQ group Equality Loudoun, told the Blade she expects opponents of LGBTQ nondiscrimination policies in the Loudoun County Public Schools and other school systems in Virginia to continue to use the sexual assault case of the Loudoun boy as a pretext to repeal LGBTQ and trans supportive policies.
"We firmly believe it should have absolutely no bearing as the perpetrator was not transgender, non-binary, or gender fluid, and so that doesn't apply to this policy at all," Tuck said. "A single conviction of an individual who is not even part of the group in question is no reason to invalidate the rights and expose to potential violence the hundreds of students who identify as transgender or non-binary," Tuck said in an email message.
"Currently, the Catholic Church, the Boy Scouts of America, and hundreds of cisgender teachers, clergy, and coaches are embroiled in legal battles nationwide involving sexual molestation, rape, and abuse of children across the country that has been ongoing for decades," Tuck said. "Yet no one is proposing restroom restrictions for any of those groups. A double standard cannot exist for the LGBTQ+ based on fear mongering, misinformation, and discrimination."
Loudoun County removes LGBTQ book from school libraries
Superintendent overrules committee that called for retaining 'Gender Queer: A Memoir'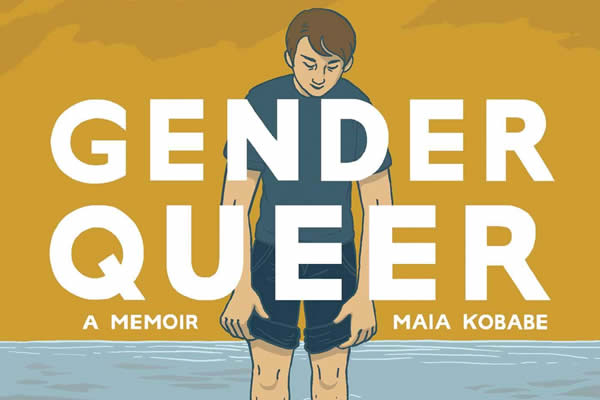 A Loudoun County, Va., School Board committee on Jan. 13 voted to uphold a decision by Loudoun County Public Schools Superintendent Scott A. Ziegler to remove from the school system's high school libraries a controversial LGBTQ-themed book called "Gender Queer: A Memoir."
The book is an illustrated autobiography by non-binary author Maia Kobabe that contains descriptions and comic book style drawings of sexual acts that Kobabe uses to tell the story of the journey and struggle in discovering the author's gender identity.
Although the book has received an American Library Association award for its relevance to young adults, critics in school systems throughout the country have said its sexually explicit content is not suitable for school libraries.
The action by the School Board committee came after Ziegler asked a separate school system committee to review the book to determine if its content was appropriate for school libraries. Loudoun Public Schools spokesperson Wayde Byard told the Washington Post the committee, in a split vote, recommended that the book be retained in high school libraries.
According to Byard, Ziegler overruled the committee's recommendation and ordered that the book be removed from the libraries. Byard said that decision was then appealed to a School Board appeals committee, which voted 3-0 to uphold Ziegler's decision.
The decision by Ziegler to remove the book from school libraries took place about two months after Fairfax County, Va., Public Schools officials decided to return "Gender Queer" and another LGBTQ-themed book called "Lawn Boy" to their high school libraries after temporarily pulling the two books in response to complaints by some parents and conservative activists.
Two committees appointed by Fairfax school officials to review the two books that consisted of educators, school officials, parents, and students concluded that, while the books contained sexually explicit content, it did not cross the line as pornography or depictions of pedophilia as some opponents claimed.
"The decision reaffirms Fairfax County Public Schools' ongoing commitment to provide diverse reading materials that reflect our student population, allowing every child an opportunity to see themselves reflected in literary characters," a statement released by Fairfax school officials explaining their decision to retain the two books in their libraries said.
"Both reviews concluded that the books were valuable in their potential to reach marginalized youth who may struggle to find relatable literary characters that reflect their personal journey," the statement says.
Va. businessman apologizes for burning of rainbow flag poster
'Shocked and horrified': Ashburn incident caught on video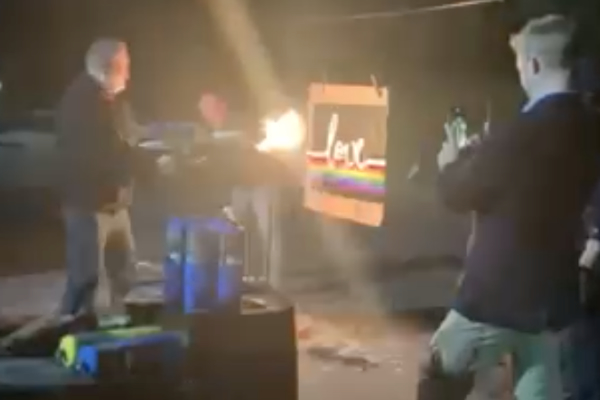 The owner of a Virginia technology company that hosted a private Veterans Day party on the grounds of an Ashburn, Va., brewery in which a company employee used a flame-throwing device to ignite a rainbow flag poster said the selection of the poster was a mistake and he and his company have no ill will toward the LGBTQ community.
The Washington Blade learned about the poster burning from a customer of the Old Ox Brewery in Ashburn, where the incident took place on its outdoor grounds. The customer made a video of the incident with his cell phone and sent a copy of the video to the Blade.
The video, which includes an audio recording, shows a man using a hand-held flame-throwing device to ignite the rainbow poster, which was hanging from a cable and appeared to be mounted on cardboard or a thin sheet of wood. Bystanders can be heard laughing and cheering as the poster is set on fire.
The poster consisted of a variation of the LGBTQ Pride rainbow flag that included the word "love" configured from an upper white stripe on the rainbow symbol.
The customer who took the video, who has asked not to be identified, thought the decision to set the poster on fire was a sign of disrespect if not hatred toward a longstanding symbol of LGBTQ equality and pride.
Chris Burns, Old Ox Brewery's president, shared that view, telling the Blade he and his staff were "shocked and horrified" when they learned later that a rainbow flag poster had been burned on the brewery's grounds. Burns said Old Ox supports the LGBTQ community and participated in LGBTQ Pride month earlier this year.
He said the company that held the private party paid a fee to hold the event on the brewery's grounds, but the brewery did not know a rainbow poster would be burned.
"I'm mortified that our event was interpreted in this way," said Nate Reynolds, the founder and partner of Hypershift Technologies LLC, the Falls Church, Va.-based technology company that organized the Nov. 11 party at Old Ox Brewery. "I can assure you that ZERO ill-will or offense was meant," Reynolds told the Blade in a Nov. 24 email.
"We held a small private party for a few clients, which included a demonstration of Elon Musk's Boring Company 'Not a Flamethrower,'" he said in his message. He was referring to one of billionaire businessman Elon Musk's companies that specializes in boring through the ground to create tunnels for cars, trains, and other purposes.
"After so many being isolated during COVID, we wanted to have an event that was lighthearted and to some small effect, silly," Reynolds said in his message to the Blade.
According to Reynolds, in thinking about what should be used for "fodder" for the flame-thrower, he went to a Five Below discount store and purchased items such as stuffed animals and posters, including a "Space Jam" movie poster as well as what he thought was a poster of the British rock group The Beatles.
"When I pulled the Beatles poster out of the tube it was instead the 'Love' poster," he said, referring to the rainbow flag poster the Blade asked him about in an earlier email.
"All I focused on was the 'Love' wording and not the rainbow and did not draw the conclusion that the poster was an icon that represents the LGBTQ community," Reynolds said. "It was my own ignorance of not connecting the symbolism of the poster. If I had realized it was a symbol of the LGBTQ community, I would not have used it," he said.
"I feel terrible, and I want to emphasize that I am solely responsible for this mistake – not the Old Ox Brewery," he wrote in his message. "Nobody at Old Ox had anything to do with this activity."
Reynolds added, "Hate has no place in my heart, and I sincerely apologize for any offense that could have been drawn from what I now realize was poor judgement on my part. I simply didn't correlate this poster with the LGBTQ pride symbol."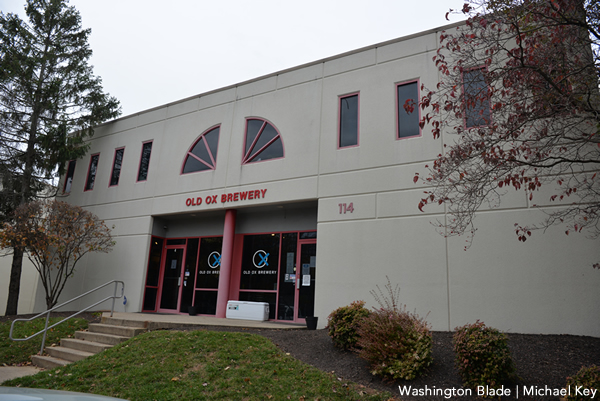 Before Reynolds issued his statement of apology, Burns, the Old Ox Brewery co-owner, told the Blade in an email he was "saddened and upset" over the rainbow poster burning on the grounds of his brewery.
"We do not wish to benefit from this event," he said in his email message. "Therefore, Old Ox is donating 100% of the revenue generated from the private event to GLSEN."
GLSEN is a national LGBTQ advocacy group that focuses on education and support for LGBTQ youth. Burns said Old Ox Brewery also donated proceeds from a Pride month event it organized earlier this year to GLSEN.
LGBTQ activists and organizations contacted by the Blade said they were unfamiliar with the variation of the rainbow flag with the word "love" that was the subject of the poster burning incident. The poster is available for sale at Five Below stores in the D.C. metropolitan area for $5.
Small print writings on the poster show it is produced by Trends International LLC, which describes itself on its website as "the leading publisher and manufacturer of licensed posters, calendars, stickers and social stationery products." The Blade couldn't immediately determine who designed the poster.
The video of the poster burning incident can be viewed here: