Va. businessman apologizes for burning of rainbow flag poster
'Shocked and horrified': Ashburn incident caught on video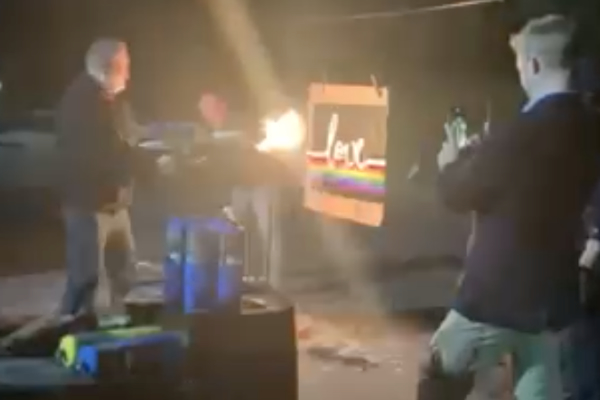 The owner of a Virginia technology company that hosted a private Veterans Day party on the grounds of an Ashburn, Va., brewery in which a company employee used a flame-throwing device to ignite a rainbow flag poster said the selection of the poster was a mistake and he and his company have no ill will toward the LGBTQ community.
The Washington Blade learned about the poster burning from a customer of the Old Ox Brewery in Ashburn, where the incident took place on its outdoor grounds. The customer made a video of the incident with his cell phone and sent a copy of the video to the Blade.
The video, which includes an audio recording, shows a man using a hand-held flame-throwing device to ignite the rainbow poster, which was hanging from a cable and appeared to be mounted on cardboard or a thin sheet of wood. Bystanders can be heard laughing and cheering as the poster is set on fire.
The poster consisted of a variation of the LGBTQ Pride rainbow flag that included the word "love" configured from an upper white stripe on the rainbow symbol.
The customer who took the video, who has asked not to be identified, thought the decision to set the poster on fire was a sign of disrespect if not hatred toward a longstanding symbol of LGBTQ equality and pride.
Chris Burns, Old Ox Brewery's president, shared that view, telling the Blade he and his staff were "shocked and horrified" when they learned later that a rainbow flag poster had been burned on the brewery's grounds. Burns said Old Ox supports the LGBTQ community and participated in LGBTQ Pride month earlier this year.
He said the company that held the private party paid a fee to hold the event on the brewery's grounds, but the brewery did not know a rainbow poster would be burned.
"I'm mortified that our event was interpreted in this way," said Nate Reynolds, the founder and partner of Hypershift Technologies LLC, the Falls Church, Va.-based technology company that organized the Nov. 11 party at Old Ox Brewery. "I can assure you that ZERO ill-will or offense was meant," Reynolds told the Blade in a Nov. 24 email.
"We held a small private party for a few clients, which included a demonstration of Elon Musk's Boring Company 'Not a Flamethrower,'" he said in his message. He was referring to one of billionaire businessman Elon Musk's companies that specializes in boring through the ground to create tunnels for cars, trains, and other purposes.
"After so many being isolated during COVID, we wanted to have an event that was lighthearted and to some small effect, silly," Reynolds said in his message to the Blade.
According to Reynolds, in thinking about what should be used for "fodder" for the flame-thrower, he went to a Five Below discount store and purchased items such as stuffed animals and posters, including a "Space Jam" movie poster as well as what he thought was a poster of the British rock group The Beatles.
"When I pulled the Beatles poster out of the tube it was instead the 'Love' poster," he said, referring to the rainbow flag poster the Blade asked him about in an earlier email.
"All I focused on was the 'Love' wording and not the rainbow and did not draw the conclusion that the poster was an icon that represents the LGBTQ community," Reynolds said. "It was my own ignorance of not connecting the symbolism of the poster. If I had realized it was a symbol of the LGBTQ community, I would not have used it," he said.
"I feel terrible, and I want to emphasize that I am solely responsible for this mistake – not the Old Ox Brewery," he wrote in his message. "Nobody at Old Ox had anything to do with this activity."
Reynolds added, "Hate has no place in my heart, and I sincerely apologize for any offense that could have been drawn from what I now realize was poor judgement on my part. I simply didn't correlate this poster with the LGBTQ pride symbol."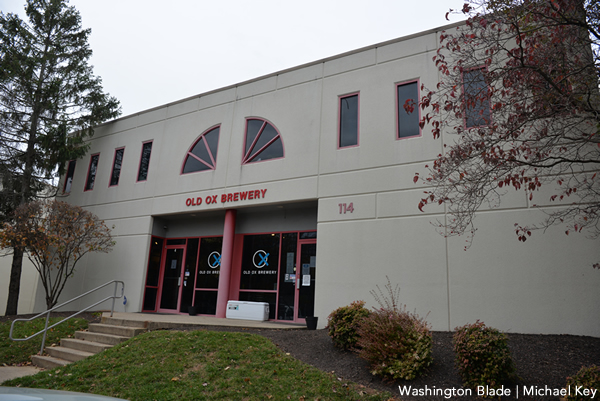 Before Reynolds issued his statement of apology, Burns, the Old Ox Brewery co-owner, told the Blade in an email he was "saddened and upset" over the rainbow poster burning on the grounds of his brewery.
"We do not wish to benefit from this event," he said in his email message. "Therefore, Old Ox is donating 100% of the revenue generated from the private event to GLSEN."
GLSEN is a national LGBTQ advocacy group that focuses on education and support for LGBTQ youth. Burns said Old Ox Brewery also donated proceeds from a Pride month event it organized earlier this year to GLSEN.
LGBTQ activists and organizations contacted by the Blade said they were unfamiliar with the variation of the rainbow flag with the word "love" that was the subject of the poster burning incident. The poster is available for sale at Five Below stores in the D.C. metropolitan area for $5.
Small print writings on the poster show it is produced by Trends International LLC, which describes itself on its website as "the leading publisher and manufacturer of licensed posters, calendars, stickers and social stationery products." The Blade couldn't immediately determine who designed the poster.
The video of the poster burning incident can be viewed here: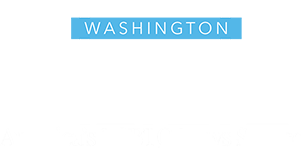 Va. school district refuses grant from LGBTQ group
Board members opposed It Gets Better Project money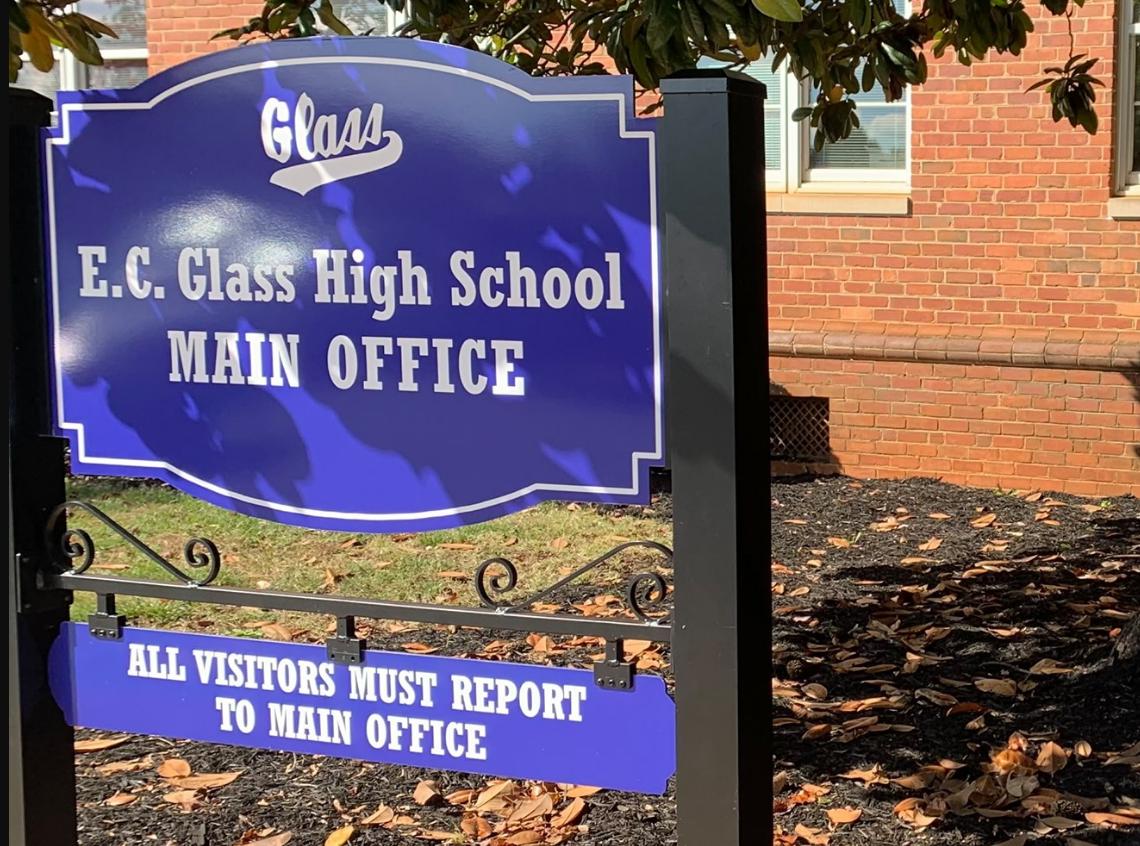 At its regular board meeting last week, the Lynchburg City School Board voted 7-2 against accepting a grant from the It Gets Better Project. The Lynchburg News and Advance reported that the $10,000 grant was earmarked to develop a safe-space or "quiet room."
The E.C. Glass High School Gender and Sexuality Alliance (GSA) club was awarded the grant back in August as part of the nonprofit's "50 States 50 Grants 5,000 Voices" program, an "initiative to fund projects that support and uplift LGBTQ+ identity in schools across the U.S. and Canada."
In an interview with WSET, Brittany Harris, co-president of the GSA Club, E.C. Glass was the first school in Virginia to be awarded the money from the grant.
"We worked so hard to get this," Harris said. "We submitted videos and testimonials from our students and how they have conquered so much; it was so surreal to be awarded the grant."
During the Oct. 24 school board work session meeting, Board Chair Atul Gupta and Lynchburg City Schools Supt. Crystal Edwards told E.C. Glass principal Daniel Rule to provide more information on it and answer questions about the grant. This was also requested of the student GSA officers.
"Many schools within LCS already have such rooms and they have been shown to promote student self-regulation and are correlated to better student outcomes," Rule told the board at that meeting.
"The students selected this project due to the high rate of bullying that the LGBTQIA+ community experiences, but the entire school would be welcomed and encouraged to use the room. The budget for the room includes flexible seating, interactive sensory devices, non-intrusive lighting and white noise machines," Rule added.
During the Nov. 14 meeting the Lynchburg News and Advance reported that five E.C. Glass students and GSA club members told the board why they applied for the grant and why they picked the projects it's intended to fund.
"Many students, including myself, struggle with mental health. School can be overwhelming just by itself, but a lot has happened in the last three or four years, what with the uncertainty of COVID along with the many lockdowns and how those have affected students," junior Lindley Crosby said.
"Students have skipped school because they don't feel safe or they don't feel supported and these classrooms can be disruptive and chaotic and sometimes it can be too much. We want to provide this safe room so they have somewhere to go and breathe for a second."
There were points that the meeting became contentious, a grandparent and guardian of an E.C. Glass student, Greg Barry, spoke in opposition to the grant.
"Let me be very clear, the LBGTQ agenda in schools is about indoctrination and grooming our children into an evil and wicked lifestyle, all while circumventing the rights and responsibilities of parents," he said.
TikTok video of Va. father at school board meeting goes viral
Cody Conner's child is transgender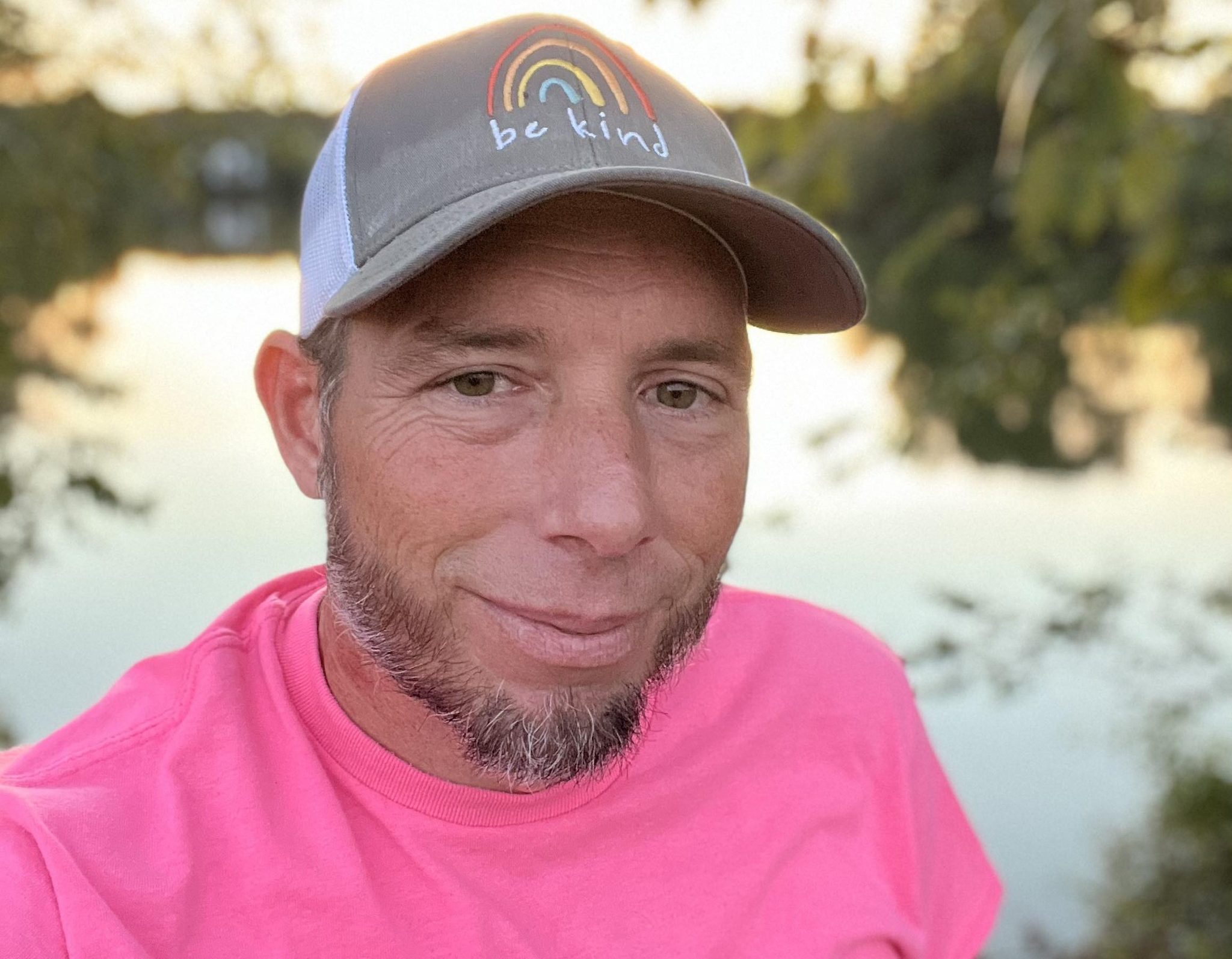 Cody Conner, a father of three kids, gave a passionate speech supporting LGBTQ kids during the Virginia Beach City Public Schools' board meeting last month that was uploaded as a TikTok video that has since gone viral.
Conner excoriated the board for considering implementation of Republican Virginia Gov. Glenn Youngkin's anti-transgender school policies. 
"You are never going to find a right way to do the wrong thing and Gov. Youngkin's policies are wrong," Conner told the board.
"Never in history have the good guys been the segregationist group pushing to legislate identity," he said. "Never in history have the good guys been closely connected with and supported by hate groups like the Proud Boys. And the good guys don't put Hitler quotes for inspiration on the front of their newsletters. News flash: They're the bad guys. They're the bad guys supporting bad policy. And if you support the same bad policy, guess what? You're one of the bad guys too."
"When you look around and see only the wrong people supporting what you're doing, you're doing the wrong thing. Now you've heard some speakers come up here and say how they love these kids but won't accept them. I'm here to tell you that if your love makes somebody not want to be alive, it's not love. That's not love.
Some of you are going to get up here and say 'it's the law.' Well, I remind you that slavery and segregation used to be the law here in Virginia.
I just knew I couldn't standby and do nothing, just let it happen and hope everything worked out ok and I also wanted to make sure my kid knew that I would stand up for them," Conner explains as he begins to tear up. "My big job as a parent is not to tell my children who they are, it's not to make the decisions for them, it's not to live their life or decide what their life is going to be, but to show them the best way I know how to walk through this world."
According to PRIDE journalist Ariel Messman-Rucker, Conner moved his family to Virginia Beach right before Youngkin's policies passed and he worries about the future of his 13-year-old transgender daughter who is now in the 8th grade. The family moved from rural Virginia to Virginia Beach so that their kid, who came out as trans a year ago, would be in a school system that would be supportive, but that all changed because of Youngkin.
The 42-year-old father told PRIDE he's a quiet person and might not have made the choice to speak up if not for his kids.
Virginia's Department of Education at the direction of the governor has set out "model policies" for public schools that require students to use the bathroom and sports team that matches their sex at birth.
The policies require written instruction from parents for a student to use names or gender pronouns that differ from the official record, meaning that teacher can deadname students — refer to them by their prior name — if paperwork isn't filled out by the parents and it requires the school to inform parents if a student is questioning their identity, according to WVEC.
LGBTQ rights activists, including Equality Virginia, have stated these policies will be especially detrimental to LGBTQ students who come from conservative non-affirming homes.
The Virginia Beach School Board in a 9-1 vote approved an updated policy for trans and nonbinary students.
The new policy will require teachers to use pronouns and names that are on official record with exceptions for nicknames commonly associated with the student's legal name. If a student requests anything else, teachers will be required to report it to the parents. Students must also use bathrooms and participate in sports teams that correspond to their assigned sex.
Va. says Loudoun County photographer can refuse to shoot same sex weddings
Bob Updegrove challenged 2020 nondiscrimination law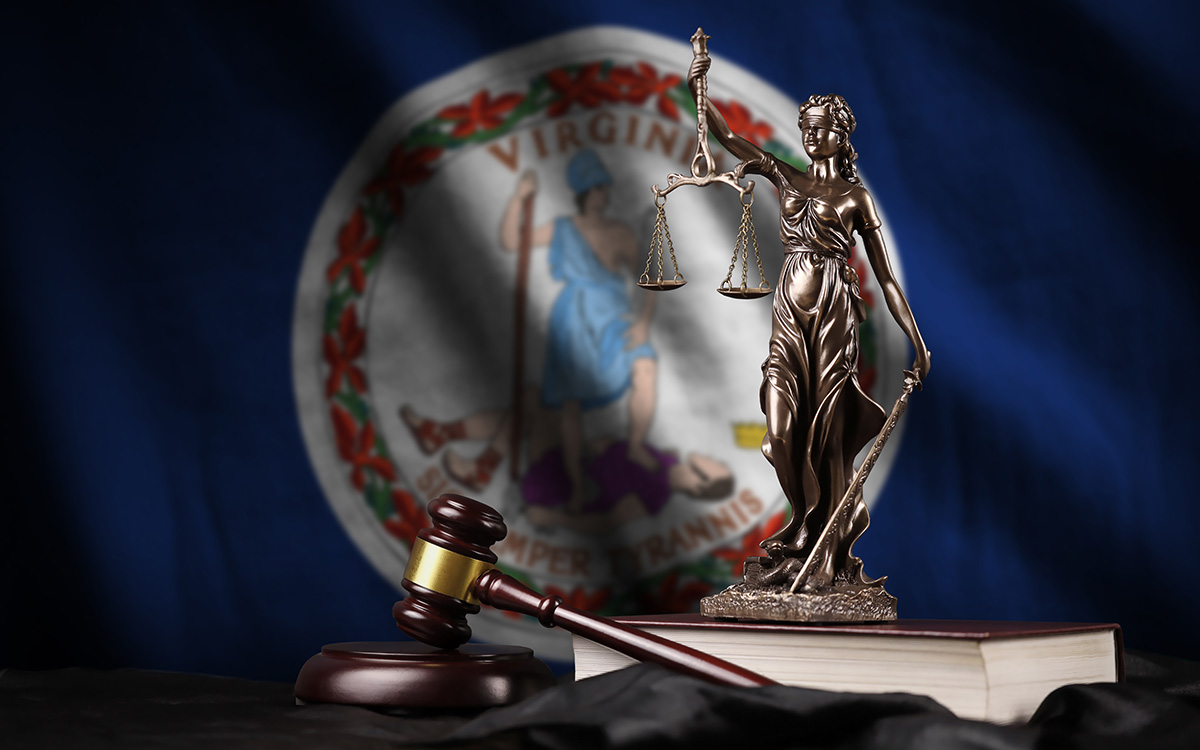 Virginia last week said a Loudoun County photographer who filed a federal lawsuit against the state's nondiscrimination law can refuse to photograph same-sex weddings.
Bob Updegrove in 2020 filed a federal lawsuit that challenged the Virginia Values Act, which bans discrimination based on sexual orientation and gender identity.
The Alliance Defending Freedom, an anti-LGBTQ legal group who represents Updegrove, on its website said the law that took effect on July 1, 2020, "forces him to use his artistic talents to photograph same-sex weddings if he photographs weddings between one man and one woman." The Alliance Defending Freedom further notes the Virginia Values Act "violates foundational rights set forth in the U.S. Constitution, including the First Amendment's Free Speech and Free Exercise clauses."
A Nov. 3 filing with the 4th U.S. Circuit Court of Appeals in Richmond notes the state will not "force" Updegrove "to offer or provide photography celebrating same-sex weddings." It also refers to the U.S. Supreme Court's 303 Creative ruling in favor of Lorie Smith, a Colorado graphic artist who refused to make wedding websites for same-sex couples, even though the state's nondiscrimination law bans discrimination based on sexual orientation.
The Alliance Defending Freedom represented Smith in her case.
Republican Virginia Attorney General Jason Miyares was among the defendants named in his Nov. 3 filing with the 4th Circuit.