Carroll County school board prohibits Pride flags
Activists, politicians have sharply criticized policy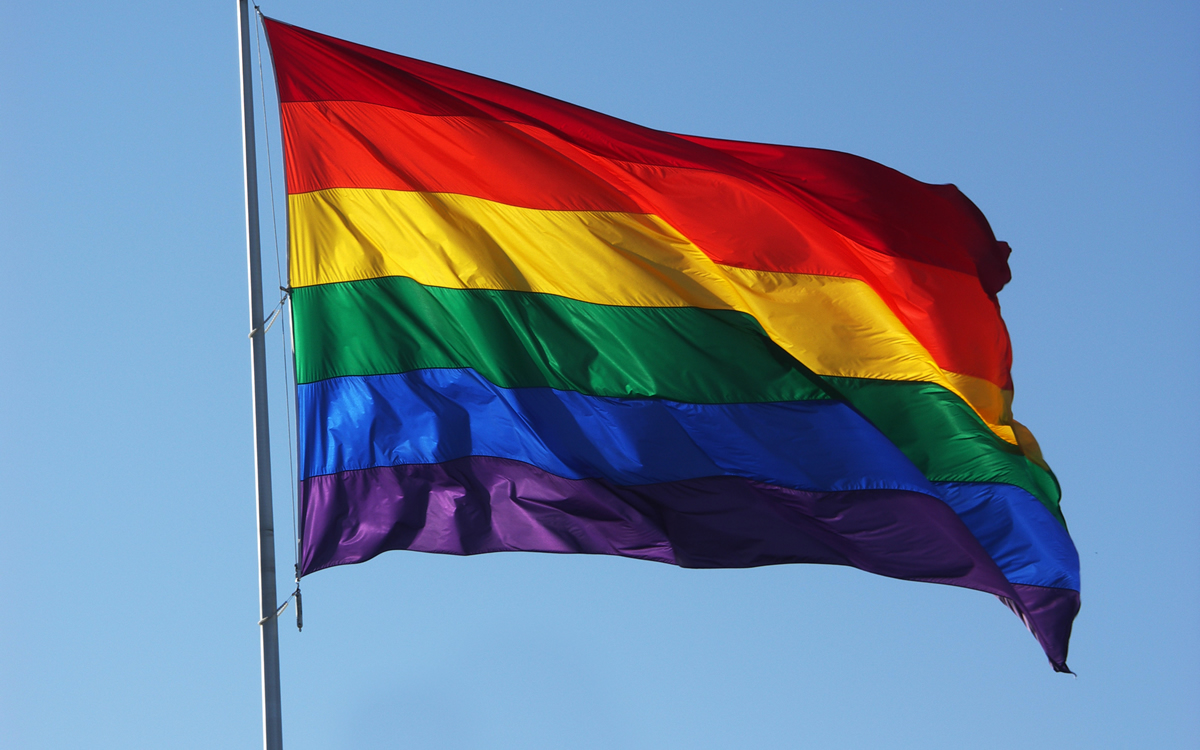 The Carroll County Board of Education adopted a policy on Wednesday that prohibits Pride flags from being displayed in schools under its jurisdiction.
Under the new policy, which the board adopted by a 4-1 vote margin, flags that are not specifically included in its language cannot be "flown, posted or affixed" to school buildings and facilities. The language signals that, although the policy does not explicitly mandate a ban on Pride flags, such flags cannot be displayed, as they are not included in the list of flags that the policy permits.
Patricia Dorsey, the only board member to vote against the policy, expressed her disapproval of the measure to the board during the meeting.
"I think that we're doing them a disservice if we do not include saying that, 'Yes, let's just go ahead and have their safe spaces designated by the flags in the classroom,'" Dorsey said.
In public comments made to the school board for their meeting; parents, faculty and members of the community made impassioned arguments against the new policy.
"The students of color and the students of [the] LGBTQ [community] are bullied in this school system on a regular basis," one public commenter said. "We have students that have come in here and talked to you specifically about the fact that they have tried to commit suicide because of the way they are treated in this school system. I do not find [these to be] acceptable policies."
However, other members of the public came out in support of the new policy, believing Pride flags to have no place in school spaces.
One parent stated how she believed that the presence of Pride flags and discussions of sexuality and gender identity in the classroom could end up harming students rather than helping them.
"It overstimulates a curiosity that [students] are not remotely able to comprehend yet and could further their curiosities, potentially causing harm to themselves or others out of pure confusion," the parent said.
The commenter asserted such conversations and displays of support should be kept private and away from the classroom.
"Allies can be made and known and shared in a separate setting with an appointed advocate equipped with the correct resources to properly address these issues with our children who are struggling with them," she said.
The separation from and neutrality on the topic of Pride flags and discussions in schools has been echoed by multiple members of the board who voted in favor of the policy.
Board member Tara Battaglia told the Washington Blade how she believed voting for the policy would achieve fairness among those in the county's schools.
"Schools should always be a neutral environment and welcoming to all students," Battaglia said.
Dorsey and other members of the public who chose to speak during the meeting denied the notion that allowing the display of Pride flags in schools was an inherently political or destructive gesture, framing it, rather, as a gesture of humanity.
"We've got students who are saying, 'See me, see me, look at me for who I am, accept me for who I am,'" Dorsey said.
The adoption of the policy has since gained attention from across the state, with multiple statewide candidates for office responding to the decision.
Former Maryland Attorney General Doug Gansler, who is running for governor, took to Twitter the day after the meeting, sharply criticizing the policy.
"This is shameful, regressive, and exactly the wrong message to be sending to our LGBTQ+ youth, who deserve a learning environment that welcomes them for who they are," Gansler wrote. "Also, this is begging for a constitutional challenge. I call on the school board to reconsider."
Just hours later, former Democratic National Committee chair and fellow gubernatorial candidate Tom Perez referred to the decision as "utterly disgraceful."
"Our classrooms — and every community across Maryland — should be a welcoming, safe place that empowers every person to be who they are," Perez wrote. "At a time when our LGBTQ+ youth face incredible challenges, we need to do all we can to support them."
As concerns among national and state advocates rise over the future of LGBTQ students' access to affirming spaces and conversations in schools, advocates in Carroll County and around the country continue to convey a message of humanity.
"We've heard a lot of voices from the students that we really do have to acknowledge," Dorsey said. "Let's just see them, let's hear them and let's validate them for who they are."
Abortion rights in post-Roe Maryland, Delaware
Practice generally legal, with some restrictions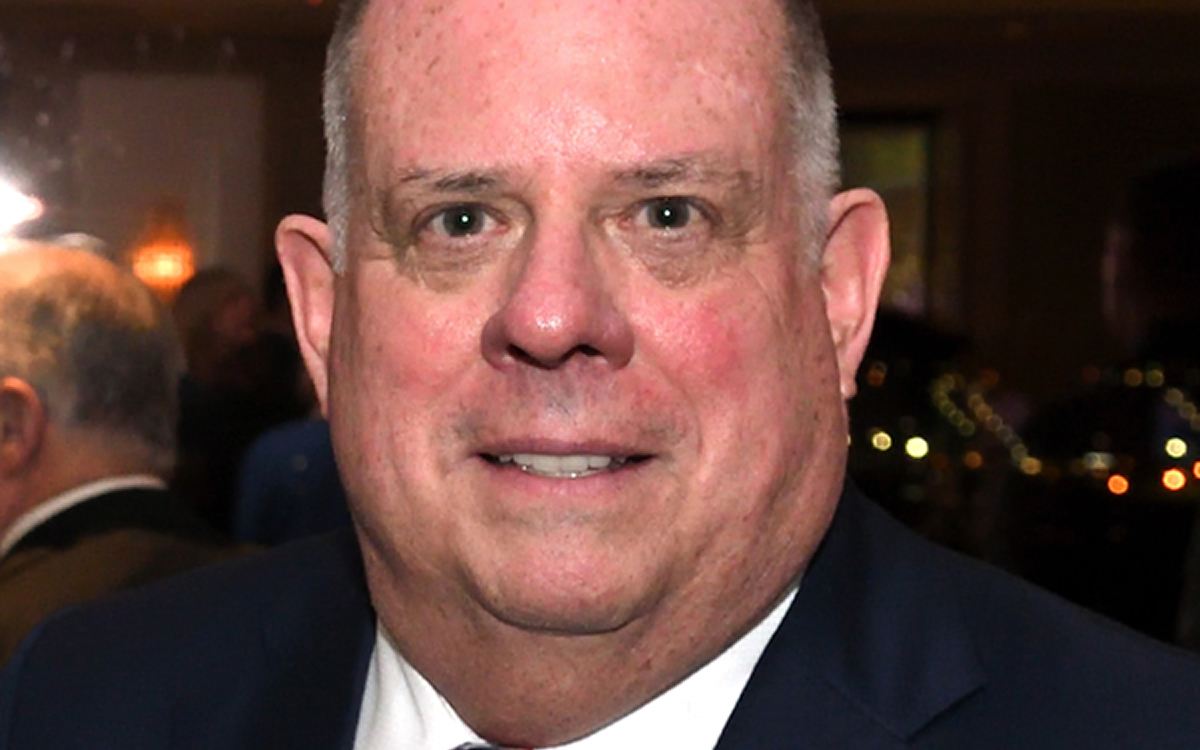 The U.S. Supreme Court on Friday overturned Roe v. Wade, which in 1973 found that the decision to receive an abortion was generally protected by the Constitution of the United States. With the broadest federal protection of abortion access now rescinded, the legality of abortion will by and large be determined on the state level.
In Delaware, abortion is legal through the Medical Practice Act — but with some restrictions.
After fetal viability, or the point where a fetus can survive outside the uterus, abortion in the First State becomes illegal unless necessary for the patient's "life or health," or if the fetus has a condition "for which there is not a reasonable likelihood" that it will survive outside the uterus, according to Subchapter IX of the act.
Additionally, under the state's Parental Notice of Abortion Act, physicians cannot perform a surgical abortion on minors under the age of 16 unless the patient's parent or guardian has received at least 24 hours notice from a medical professional. Notice is not required for nonsurgical abortions.
On the federal level, the funding of abortion is illegal through the 1977 Hyde Amendement "except in cases of life endangerment, rape or incest," according to the Guttmacher Institute, a sexual and reproductive rights advocacy organization. States are only federally required to fund abortions that meet these conditions through federal-state Medicaid programs.
While some states also fund abortions deemed medically necessary regardless of whether they endanger a patient's life, Delaware state law does not extend beyond federal guidelines: The state only funds abortions in cases of life endangerment, rape or incest.
Abortion legislation in Delaware mirrors neighboring Maryland, whose laws include similar restrictions on abortion after fetal viability and abortion for minors under the age of 16. But abortion laws in these states are generally more restrictive than other mid-Atlantic counterparts, such as New Jersey and New York.
Maryland Gov. Larry Hogan (R) weighed in on the state's abortion law on Friday.
"In 1992, Maryland voters approved a constitutional referendum legalizing and protecting access to abortion as a matter of state law – that measure remains in effect today following the Supreme Court decision in Dobbs v. Jackson. I swore an oath to uphold the Constitution and the laws of Maryland, and that is what I have always done and will continue to do as governor."
The impact of Roe v. Wade's fall in Delaware remains uncertain. While the abortion rate in Delaware steadily declined between 2014 and 2017, recent findings show that instances of abortion are increasing once again in the state, reflecting a rise on the national level.
Howard County executive announces plans for LGBTQ commission
Calvin Ball made announcement at Wednesday press conference in Columbia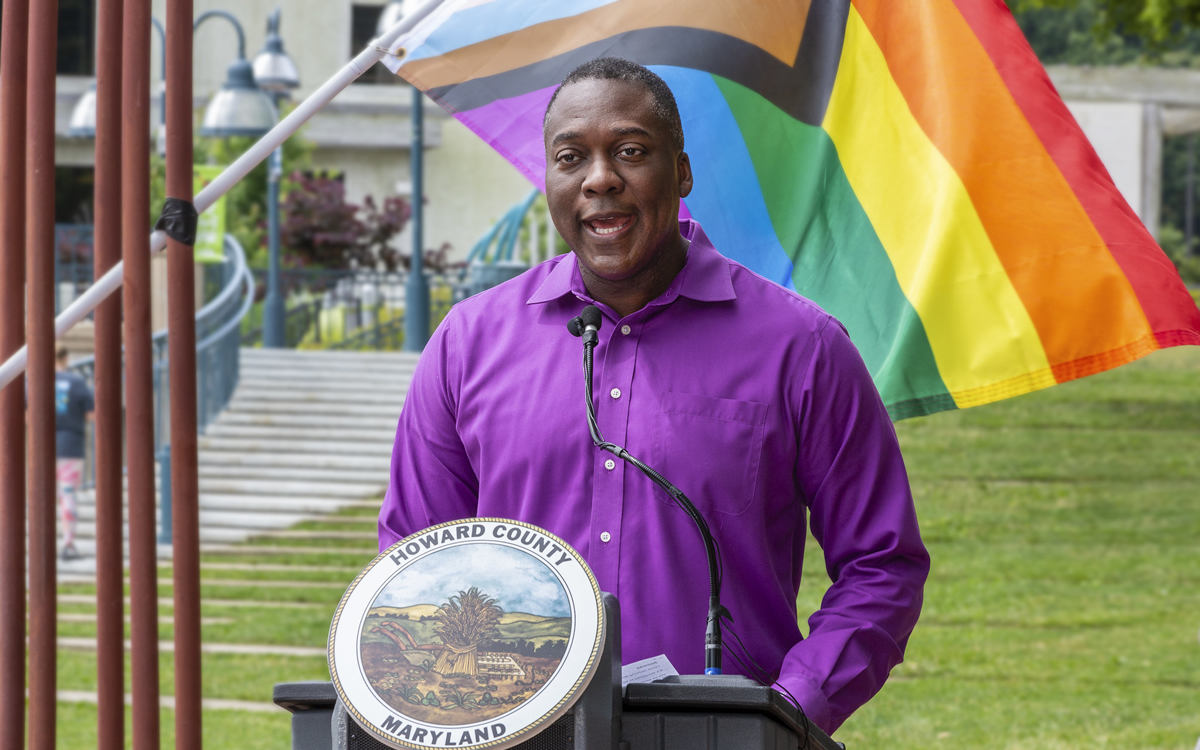 Under the "People's Tree" sculpture near the Columbia lakefront, Howard County Executive Calvin Ball announced at a press conference on Wednesday the filing of legislation that would permanently establish the current LGBTQ Workgroup as a formal commission.
The new commission would follow the work of the LGBTQ Workgroup launched in 2019 by Ball.
"This commission will help move Howard County forward and will identify best practices to affirm members of the gay and transgender community; recommend initiatives to support LGBTQIA+ families and children; and advise us on policy and programs that impact our gay and transgender community, and on how to improve outcomes for underserved and at-risk members of the LGBTQIA+ population," said Ball in his opening remarks in front of a crowd that included members of the LGBTQ Workgroup, county employees, members of the county's Human Rights commissioners and LGBTQ activists and allies as well as elected officials and candidates.
He added, "The commission will support, plan, and help execute events, like PRIDE, to celebrate and affirm our community."
Ball, speakers at the event included Human Rights and Equity Administrator Yolanda Sonier; Register of Wills Byron Macfarlane; Howard County Human Rights Commissioner Bob Ford; PFLAG-Howard County President Jumel Howard and community member Vicki Weiss Vivrette.
"Howard County and Maryland have always led the way on LGBTQ+ rights," said Macfarlane, a lifetime Howard County resident and the first openly gay elected official in the county. "From Howard County's anti-discrimination law passed many decades ago, to hate crime and anti-discrimination laws at the state level, to Maryland becoming one of the first states to pass marriage equality — not by judicial fiat — but by popular vote. Our community and our allies have achieved so much, but we know our hard-fought rights are under siege as we speak."
Ford, the only out member of the county's Human Rights Commission, continued that point.
"From a failed attempt to disrupt a Pride celebration in Idaho, to storming into a drag queen storytelling session in California, to over 200 bills in state legislatures aimed at stripping the rights of LGBTQ people especially trans kids — these are wake-up calls. Moreover, at one political party's convention in Texas this past weekend, language was added to their platform that 'homosexuality is an abnormal lifestyle choice' and that party opposes 'all efforts to validate transgender identity.'"
Ford pointed out that recent Pride flag burnings in Baltimore and that Pride flags have been banned in neighboring Carroll County schools, the chopping down and theft of a welcoming sign from a local church, and a vocal group of parents trying to ban LGBTQ content from books to curricula in schools indicate Howard County is not immune to hate.
The plan for the establishment of the new commission requires the approval of the county council and will be filed in July.
The George Howard Building, the headquarters for Howard County government, was bathed in rainbow lights after Wednesday's event.
Man arrested for anti-LGBTQ vandalism at P.G. County libraries
Graffiti of word 'groomer' listed as hate crime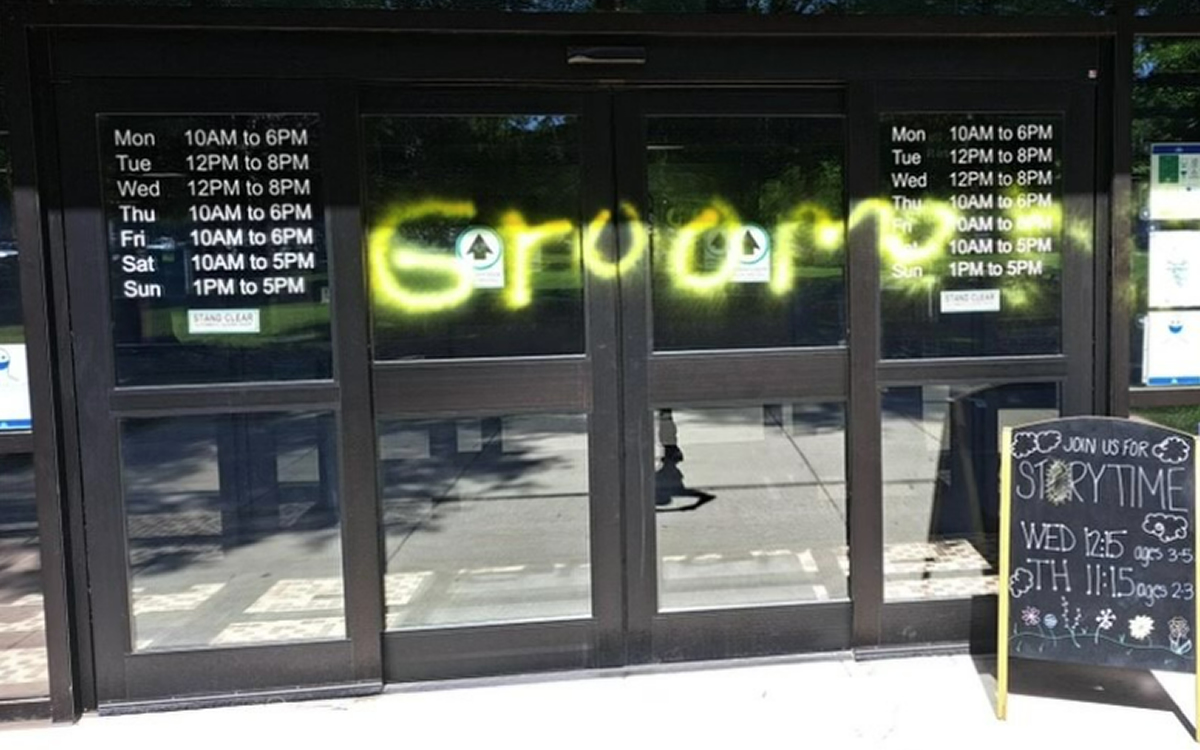 Prince George's County, Md., police on Thursday charged a Takoma Park, Md., man with two counts of hate-related malicious destruction of property for allegedly spray painting in large yellow letters the word "groomer" on two public library buildings of the Prince George's County Memorial Library System.
A June 16 statement released by P.G. police states that Charles Southerland, 30, of Takoma Park allegedly carried out the vandalism at the Greenbelt Branch Library at 11 Crescent Rd., Greenbelt, Md., on June 4 and at the New Carrollton Branch Library at 7414 Riverdale Rd., New Carrollton, Md., on June 9.
WTOP News reports that Sutherland himself is a librarian working at the Prince George's County public school system's library at Northview Elementary School in Bowie, Md. The school system says Southerland has been placed on administrative leave.
"The preliminary investigation revealed Southerland spray-painted the word 'groomer' on the exteriors of both buildings," the P.G. County police statement says. "He has confessed to the incidents," the statement continues. "Anyone with information on Southerland is encouraged to call 301-699-2601," it says.
Organizations monitoring hate groups in the United States have said anti-LGBTQ organizations and individuals have for the last few years used the term "groomer" to describe their claims that LGBTQ people attempt to "groom" school children as a means of recruiting them into homosexuality and to transition.
"From what we can tell, that's one of the kinds of dog whistle words that the anti-LGBTQ+ extremists are using this year," said Nicholas Brown, a spokesperson for the P.G. library system. "There's been some national news coverage about that word specifically," he said.
In a statement released shortly before P.G. police announced they had made an arrest in the vandalism incident, the P.G. public library system condemned the vandalism and said it would not waiver from its commitment to maintaining "welcoming spaces for LGBTQ+ customers and their allies," which some observers have suggested could have been the reason the suspect targeted the two library buildings.
"The Library is nationally recognized for its outreach and programs in support of LGBTQ+ inclusion through staff leadership and partnerships with a wide range of local government and non-profit partners," the library system's statement says.
Brown said he wasn't at liberty to disclose how police linked Southerland to the vandalism incidents. But in response to a question from the Washington Blade, he said the library system has a video surveillance system in place that monitors both the interior and exterior of all its buildings.
It couldn't immediately be determined whether Southerland had appeared in court following his arrest and whether he will be held or released pending trial.