Gay doctor elected AMA president-elect
Dr. Jesse Ehrenfeld joined organization 22 years ago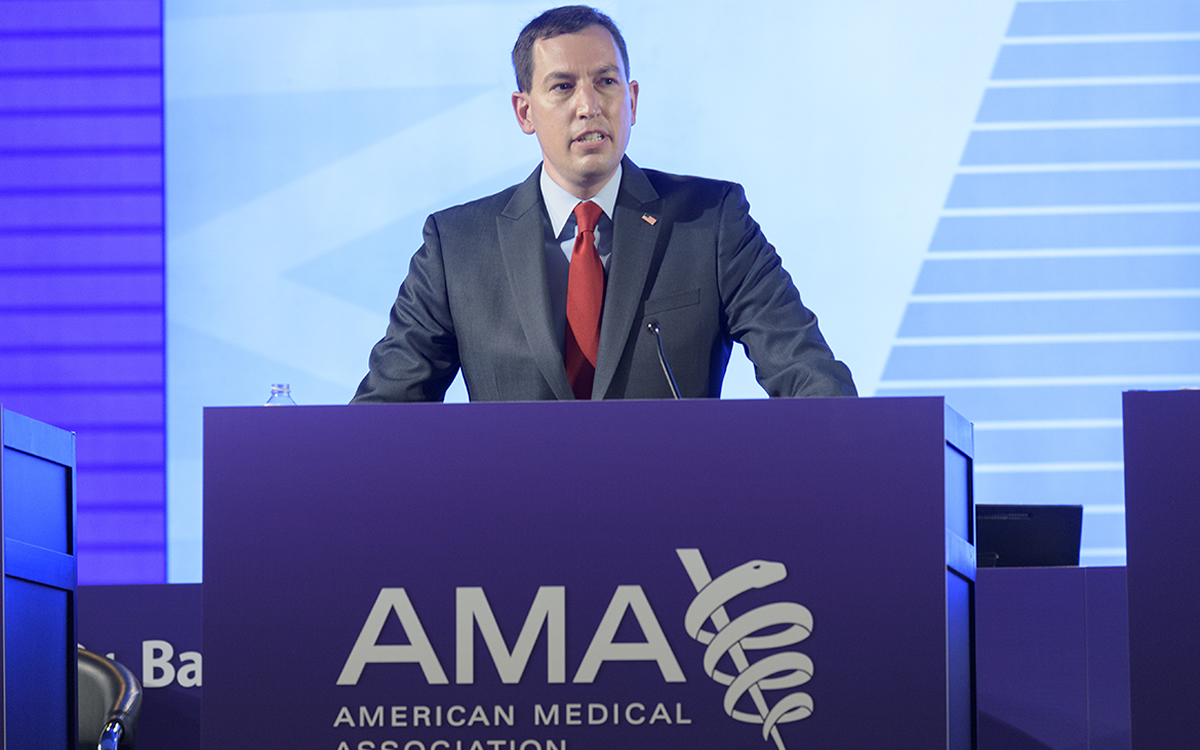 Physicians and medical students have elected Wisconsin-based anesthesiologist Dr. Jesse Ehrenfeld as the first openly gay president-elect of the American Medical Association (AMA). 
Ehrenfeld was elected June 14 at the AMA House of Delegates' annual meeting.
"Well, it's certainly just an amazing feeling to know that you've got the confidence of your colleagues from such a broad array of practice types of modalities and perspectives," Ehrenfeld told the Washington Blade during a telephone interview. "The association is a very diverse and increasingly diverse organization, and that's a good thing. It's more representative of the country and to see such broad support for a vision to move forward was really sort of heartening for me."
The anesthesiologist and LGBTQ health expert will also serve as the first openly gay AMA president when he steps into the position later this month.
"When I joined the AMA 22 years ago, roughly, I didn't think it was possible that a gay person could be the AMA president. And certainly 175 years ago, when the AMA was founded, that felt like something that wouldn't have been possible," Ehrenfeld said. "And so, to look at how the association, how medicine, health professional organizations have evolved, it's pretty remarkable when you look at what that has looked like, and that's a reflection of society in general. But certainly, you know, another pink ceiling has been shattered."
Ehrenfeld previously served on the AMA's Board of Trustee's Executive Committee. He also worked on the AMA Recovery Plan for America's Physicians; a long-term project that was unveiled at the annual meeting.
"A big component of that is helping physicians prepare the health system so that we can make sure that we can renew our commitment to achieving optimal health for all," Ehrenfeld said. "To do that, we have to make sure that we prioritize the needs of physicians to improve patient care."
Ehrenfeld is an associate dean and tenured professor of anesthesiology at the Medical College of Wisconsin and has advocated for issues affecting multiple marginalized communities, such as transgender representation in the military. He emphasized the importance of diversifying the medical field to ensure better service for patients.
"We need folks from every community but particularly marginalized communities to step forward and enter the profession. That's how patients get better care," Ehrenfeld said "There's data that when we have a more diverse healthcare workforce, and when we're a more diverse community, that those health disparities inequities, actually start to go away."
PEPFAR marks 20th anniversary
Achievements applauded throughout the advocacy community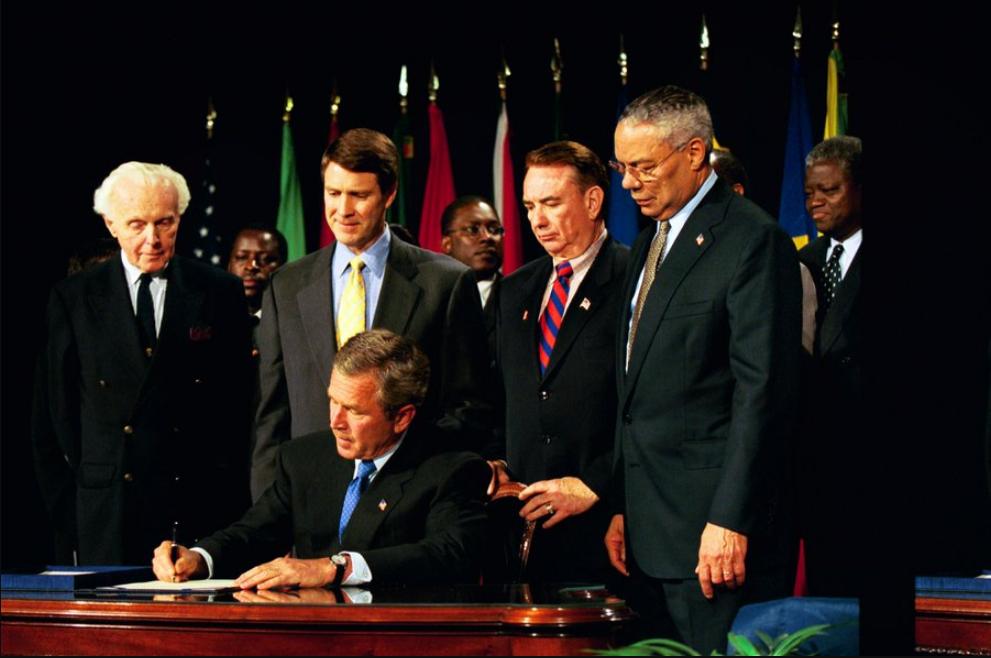 The President's Emergency Plan for AIDS Relief marks its 20th anniversary Saturday, marking the largest commitment by any nation to address a single disease in the world.
The initiative which was personally led and launched by former President George W. Bush in 2003, its funding has totaled more than $110 billion to date, including funding for the Global Fund to Fight AIDS, Tuberculosis and Malaria (Global Fund), to which the U.S. government is the largest donor.
PEPFAR is credited with saving millions of lives and helping to change the trajectory of the global HIV epidemic. The White House today released a statement by President Joe Biden marking the 20th anniversary:
"20 years ago today, President George W. Bush declared that preventing and treating HIV/AIDS was a foreign policy priority of the United States. At a time when nearly 30 million people were HIV positive, but very few were receiving life-saving medicines, the President's Emergency Plan for AIDS Relief (PEPFAR) transformed the global AIDS response and laid a marker for America's commitment to countries that were impacted the hardest by the AIDS epidemic. Helping lead the bipartisan effort in Congress to authorize PEPFAR is among my proudest achievements from my time in the Senate. To this day, PEPFAR remains a powerful example of America's unmatched ability to drive progress and make life better for people around the world.
 
Since 2003, PEPFAR has saved more than 25 million lives and dramatically improved health outcomes in more than 55 partner countries. AIDS-related deaths have declined by 68 percent since their peak in 2004, and new HIV infections are down 42 percent. PEPFAR investments have ensured that 5.5 million babies have been born HIV-free. And two decades of investment in partner nations' health systems played a critical role in countries' ability to respond to other health crises such as COVID-19, Mpox, and Ebola.    
 
Today, PEPFAR continues to support 20.1 million people around the world with HIV/AIDS treatment, and my administration is committed to continuing to lead the global HIV/AIDS response. We will build on our decades of progress to reach the Sustainable Development Goal of ending AIDS by 2030, work to eliminate the stigma and inequities that keep people from accessing care, and keep the voices of people living with HIV/AIDS at the center of our response. I look forward to working with Congress on PEPFAR's reauthorization this year."
PEPFAR is overseen by the U.S. Global AIDS Coordinator, who is appointed by the president, confirmed by the Senate, and reports directly to the secretary of state, as established through PEPFAR's authorizing legislation.
PEPFAR's original authorization established new structures and authorities, consolidating all U.S. bilateral and multilateral activities and funding for global HIV/AIDS. Several U.S. agencies, host country governments and other organizations are involved in implementation.
Dr. John Nkengasong, the current coordinator was sworn in on June 13, 2022, and holds the rank of ambassador leading the Office of the Global AIDS Coordinator at the State Department.
Twenty years ago this month, President George W. Bush announced #PEPFAR during his State of the Union address. Since then, the U.S. government has invested $100B+ in the global HIV/AIDS response through PEPFAR, saving 25M lives & bringing us closer to #EndAIDS2030. #PEPFAR20 pic.twitter.com/SMAOHWPZ03

— PEPFAR (@PEPFAR) January 11, 2023
Nobel Prize winning scientist Harold Varmus, who served as director of the National Institutes of Health from 1993-1999 and currently the Lewis Thomas University Professor of Medicine at Weill Cornell Medicine in New York, wrote in an article honoring World Aids Day 2013:
[…] "the PEPFAR story must begin with George W. Bush and his wife, Laura, and their interests in AIDS, Africa, and what Bush termed "compassionate conservatism." According to his 2010 memoir, "Decision Points," the two of them developed a serious interest in improving the fate of the people of Africa after reading Alex Haley's "Roots" and visiting the Gambia in 1990. In 1998, while pondering a run for the U.S. presidency, he discussed Africa with Condoleezza Rice, his future secretary of state; she said that, if elected, working more closely with countries on that continent should be a significant part of his foreign policy. She also told him that HIV/AIDS was a central problem in Africa but that the United States was spending only $500 million per year on global AIDS, with the money spread across six federal agencies, without a clear strategy for curbing the epidemic."
Key Facts (As provided by Kaiser Health and Family Foundation)
Although the U.S. has been involved in efforts to address the global AIDS crisis since the mid-1980s, the creation of PEPFAR in 2003 marked a significant increase in funding and attention to the epidemic.
PEPFAR is the largest commitment by any nation to address a single disease in the world; to date, its funding has totaled more than $110 billion, including funding for the Global Fund to Fight AIDS, Tuberculosis and Malaria (Global Fund), to which the U.S. government is the largest donor. PEPFAR is credited with saving millions of lives and helping to change the trajectory of the global HIV epidemic.
U.S. funding for PEPFAR grew from $2.2 billion in FY 2004 to $7.0 billion in FY 2022; FY 2022 funding includes $5.4 billion provided for bilateral HIV efforts and $1.6 billion for multilateral efforts ($50 million for UNAIDS and $1.56 billion for the Global Fund.)
As the COVID-19 pandemic continues to have profound effects across the world, PEPFAR has acted to respond to COVID-19 in countries that receive support in order to minimize HIV service disruptions and leverage the program's capabilities to address COVID-19 more broadly.
Looking ahead, PEPFAR faces several issues and challenges, including how best to: address the short- and long-term impacts of COVID-19 on PEPFAR and the HIV response; accelerate progress toward epidemic control in the context of flat funding; support and strengthen community-led responses and the sustainability of HIV programs; define its role in global health security and broader health systems strengthening efforts; and continue to coordinate with other key players in the HIV ecosystem, including the Global Fund.
Key Activities and Results (As provided by Kaiser Health and Family Foundation)
PEPFAR activities focus on expanding access to HIV prevention, treatment and care interventions. These include provision of antiretroviral treatment, pre-exposure prophylaxis (PrEP), voluntary male circumcision, condoms and other commodities related to HIV services. In addition, PEPFAR has launched specific initiatives in key strategic areas. For example, in 2015, PEPFAR launched DREAMS, a public-private partnership that aims to reduce HIV infections in adolescent girls and young women.
The latest results reported by PEPFAR indicate that it has:
Supported testing services for 63.4 million people in FY 2021;
Prevented 2.8 million babies from being born with HIV, who would have otherwise been infected;
Provided care for more than 7.1 million orphans and vulnerable children;
Supported training for nearly 300,000 new health care workers; and
Supported antiretroviral treatment for 18.96 million people.
In the 15 countries implementing the DREAMS initiative, new diagnoses among adolescent girls and young women have declined with most DREAMS areas (96 percent) experiencing declines greater than 25 percent and nearly two-thirds with declines greater than 40 percent.
The achievements of the PEPFAR program have been remarkable, well-documented by outside evaluators, and hugely applauded throughout the advocacy community and the developing world. In general, milestones have been met, the program has been enlarged (for instance, to include some research on implementation of medical assistance), the roster of PEPFAR countries has grown and spending plans have not been exceeded.
Nonbinary Department of Energy official replaced after felony theft charges
Sam Brinton allegedly stole suitcase at Minneapolis airport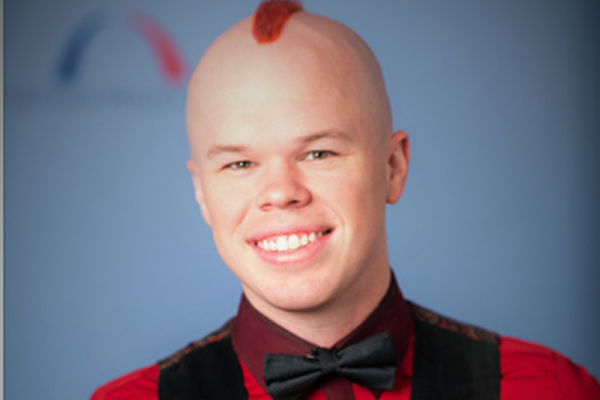 The Department of Energy replaced a nonbinary senior official who had served as the agency's deputy assistant secretary for spent fuel and waste disposition after they were charged with a felony over an incident at Minneapolis-St. Paul International Airport on Sept. 16.
Sam Brinton, whose departure from the Energy Department was confirmed by a spokesperson to the New York Post, did not immediately respond to the Washington Blade's request for comment via Facebook Messenger.
Brinton, who has dual degrees from MIT and years of experience in nuclear waste management and climate change work, is also an LGBTQ activist who made history this year with their appointment as the first openly gender-fluid person to serve in a senior government post.
A 2018 column in the Los Angeles Times argued there was a cultural shift afoot towards greater acceptance of transgender and gender fluid people — using, as an introductory anecdote, Brinton's appearance at the Academy Awards. According to the author, Brinton spoke passionately about their suicide prevention work for the Trevor Project and was embraced by Hollywood icons like Jane Fonda.
They also encountered some hateful backlash from anti-LGBTQ figures on the right, which was renewed on Monday with the news about Brinton's dismissal pursuant to the felony charges filed against them, which conservative-leaning outlets were among the first to report.
Extreme right-wing Congresswoman Marjorie Taylor Greene (R-Ga.) published an offensive tweet yesterday targeting Brinton and their nonbinary identity:
Stealing women's purses and identity.
Classic. https://t.co/yCVhMfLaQX

— Rep. Marjorie Taylor Greene🇺🇸 (@RepMTG) November 28, 2022
According to reporting in the New York Post, during an initial conversation with police, Brinton allegedly denied that they had stolen another passenger's suitcase. Subsequently, Brinton told investigators they accidentally grabbed the wrong bag at the luggage carousel by mistake out of exhaustion.
Court filings indicate that Brinton, upon realizing they had mistakenly taken someone else's bag, emptied its contents into dresser drawers in their hotel room, anxious about the prospect of facing accusations of property theft.
Roe leak stokes fears that LGBTQ rights are now at heightened risk
Legal experts diverse on degree of threat to marriage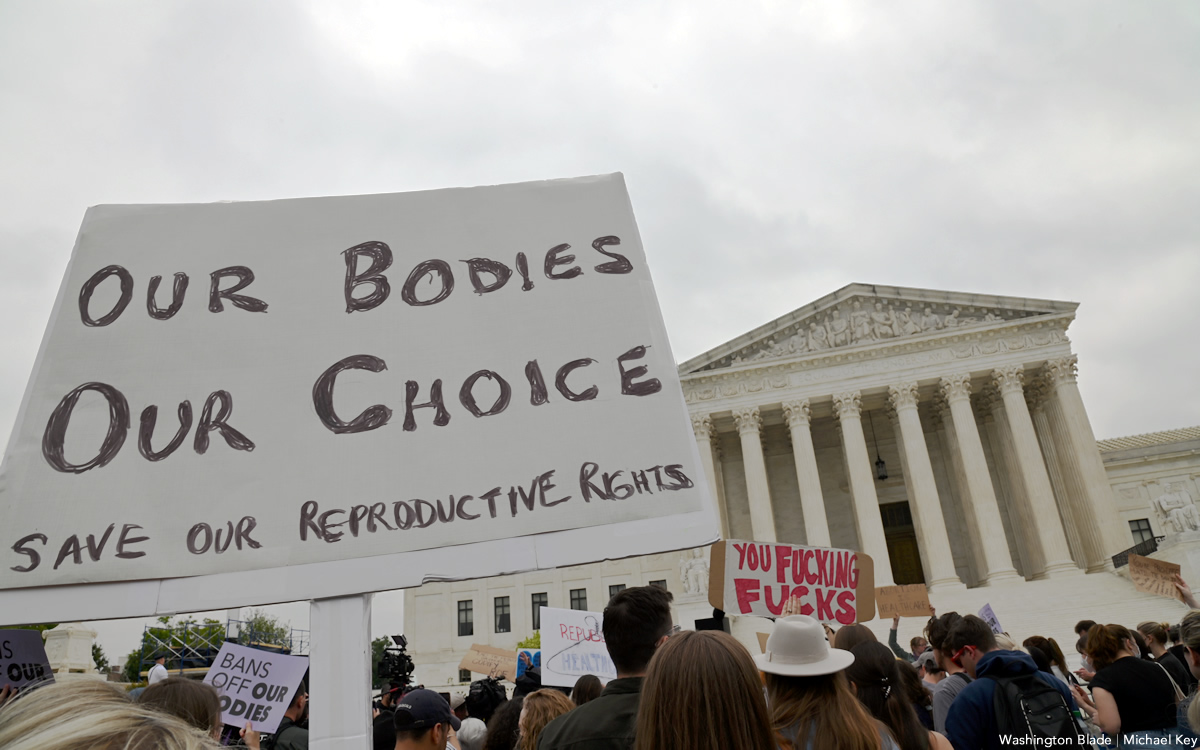 Fears that same-sex marriage and other LGBTQ rights could be on the chopping block are at a new high after a leaked draft opinion from the U.S. Supreme Court that would explicitly overturn precedent in Roe. v. Wade, although the degree of perceived danger differs among legal observers.
Although language in the leaked draft by U.S. Associate Justice Samuel Alito, which was published late Monday by Politico and confirmed as "authentic" by the Supreme Court, specifically distances the potential ruling from Obergefell v. Hodges, the general reasoning against finding unenumerated rights in the U.S. Constitution could apply to challenges to the landmark 2015 marriage decision.
Karen Loewy, senior counsel for the LGBTQ group Lambda Legal, told the Washington Blade if the draft decision were to become final it would "have no good implications" for either the Obergefell or Lawrence decisions.
"The analysis that Justice Alito has laid out really calls into question the sort of underlying liberty and dignity jurisprudence that really was the underpinning of cases like Lawrence and Obergefell," Loewy said. "It requires a really cramped vision of what is constitutionally protected, that is tied to histories of oppression that are really, really concerning."
Alito obliterates long-standing precedent, as defined in the 1973 Roe. v. Wade decision and subsequently affirmed in the 1992 decision in the Planned Parenthood v. Casey, finding a woman's right to have an abortion is protected under the 14th Amendment.
"We hold that Roe and Casey must be overruled," Alito writes. "The Constitution makes no references to abortion, and no such right is implicitly protected by any constitutional provision, including the one on which the defenders of Roe and Casey now chiefly rely — the Due Process Clause of the 14th Amendment."
Alito makes clear for the Supreme Court to find any unenumerated rights under the 14th Amendment, the right must be "deeply rooted in this Nation's history and tradition" and "implicit in the concept of ordered liberty."
Such an analysis would directly impact LGBTQ rights found under the 14th Amendment. In fact, three separate times over the course of the draft opinion, Alito compares the right to abortion to rights for LGBTQ people as defined by the U.S. Supreme Court.
Those references, however, aren't to threaten those decisions, but to bolster the case for overturning precedent as established by Roe and limit the impact of the draft opinion.
"Roe's defenders characterize the abortion right as similar to the rights recognized in past decisions involving matters such as intimate sexual relations, contraception, and marriage," Alito writes, "but abortion is fundamentally different, as both Roe and Casey acknowledged, because it destroys what those decisions called 'fetal life' and what the law now before us describes as an 'un-born human being.'"
In another instance, Alito includes Obergefell and Lawrence among a multitude of cases in a multi-page footnote giving examples of where the Supreme Court has decided to overturn precedent, which the draft opinion would do for Roe v. Wade. Another time, Alito rejects arguments from the U.S. solicitor general that abortion and marriage are connected, asserting "our decision concerns the constitutional right to abortion and no other right."
Loewy, however, said the fundamental nature of the draft opinion, despite Alito's rejection that abortion is comparable to LGBTQ rights, undermines that analysis no matter how many times he articulates it.
"The third time is where he offers a fig leaf saying, 'This analysis is just about abortion rights. It's not about anything else,' and so suggests that it would leave untouched a case like Obergefell, when the analysis that he has offered in this opinion clearly leads to the opposite result," Loewy said.
Indeed, the sweeping nature of Alito's reasoning against finding unenumerated rights under the Constitution has led some observers to believe the draft was written by Alito alone and without the input of the other eight justices, which could mean the final decision would be a consensus different from the opinion that was leaked. (Upon publishing the leaked opinion, however, Politico did report the Supreme Court has five justices who will vote in favor of overturning Roe, which means without question such a ruling has a majority.)
Not all observers see the opinion in the same way and are interpreting Alito's references to Obergefell and Lawrence as less threatening.
Dale Carpenter, a conservative law professor at Southern Methodist University who's written about LGBTQ rights, downplayed the idea the draft opinion against Roe would be a prelude to overturning Obergefell based on Alito's words denying the connection.
"The opinion tries to make it clear that it does not affect other unenumerated rights, like Lawrence and Obergefell and other fundamental rights cases, like contraceptive cases and other marriage cases," Carpenter said. "So that's comforting, I think, to LGBT rights advocates. Second, it says that there's a fundamental distinction between those other cases and the abortion cases in that the abortion cases involve fetal life or potential life. And so, that I think, is a ground for setting a difference between them."
Carpenter, however, conceded the mode of analysis in the opinion overturning Roe "is not very friendly to unenumerated rights like marriage and sexual intimacy," so while Obergefell and Lawrence may face no immediate threat "there might be a longer term concern about decisions like those."
A follow-up ruling from the Supreme Court rolling back the right for same-sex couples to marry would be consistent with a 2020 dissent from Alito and U.S. Associate Justice Clarence Thomas essentially declaring war on the Obergefell decision, urging justices to revisit the case to make greater accommodations for religious objections.
Jim Obergefell, the lead plaintiff in the marriage equality case and now a candidate for a seat in the Ohio state legislature, said in a statement after the leak of the draft Alito opinion he was fearful that the same forces seeking to overturn precedent for abortion rights would go after LGBTQ rights next.
"It's also concerning that some members of the extreme court are eager to turn their attention to overturning marriage equality," Obergefell said. "The sad part is in both these cases, five or six people will determine the law of the land and go against the vast majority of Ohioans and Americans who overwhelmingly support a woman's right to make her own health decisions and a couple's right to be married."
The Supreme Court, of course, couldn't willy nilly reverse the Obergefell decision, which would require some case or controversy to wind its way through the judicial system before justices could revisit the ruling. Mostly likely, such a hypothetical case would be a state passing a law banning same-sex marriage or simply declaring it would no longer allow same-sex couples to wed in defiance of the Obergefell decision.
No state, however, is engaged in a serious effort to challenge marriage rights for same-sex couples. The last such challenge was in 2020 and from the solicitor general of Indiana, who was seeking to challenge the decision on the basis of birth certificates for the children of women in same-sex marriages. Even the current 6-3 conservative majority on the court declined to hear the case.
Additionally, as polls demonstrate, the nation is in a different place with abortion rights compared to the right for same-sex couples to marry. A recent Fox News poll found six in 10 registered voters still think the U.S. Supreme Court should uphold Roe v. Wade, but more than half of those responders favored banning abortions after 15 weeks. Comparatively, a Gallup poll in September 2021 found support for marriage equality is at a record high of 70 percent and, for the first time, a majority of Republicans back same-sex marriage.
A question also remains about what the draft opinion means for decisions on LGBTQ rights that have yet to come before the Supreme Court but may come at a later time, such as a legal challenge to the "Don't Say Gay" measure recently signed into law by Florida Gov. Ron DeSantis.
Carpenter said he doesn't think the observers can glean anything about a potential ruling on the "Don't Say Gay" law based on the fact the legal challenge would be different than challenges to abortion or same-sex marriage.
"That kind of challenge would more than likely be brought under the First Amendment," Carpenter said. "And I don't see the First Amendment being affected by the Dobbs decision. I suppose that someone might want to bring an Equal Protection challenge to the 'Don't Say Gay' law in Florida, but it just doesn't seem like it would have an immediate impact on even that kind of claim."