U.S. Supreme Court ruling allows Biden administration to end MPP
Trump-era policy placed LGBTQ asylum seekers at increased risk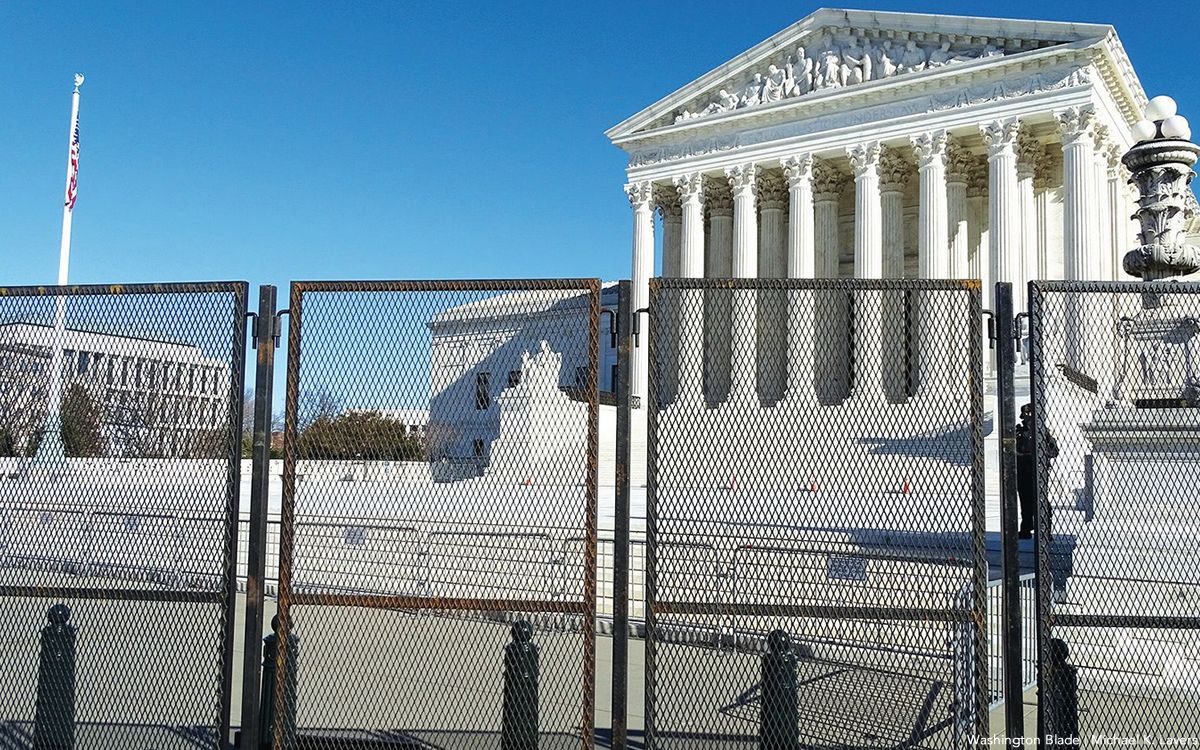 The U.S. Supreme Court on Thursday in a 5-4 ruling said the Biden administration can end a policy that forced asylum seekers to pursue their cases in Mexico.
The previous White House's Migrant Protection Protocols program, which became known as the "Remain in Mexico" policy, took effect in 2019.
The Biden administration suspended MPP enrollment shortly after it took office in January 2021. The program was to have ended six months later, but a federal judge in Texas ordered MPP's reinstatement after the state and Missouri filed suit against the Biden administration.
Thursday's ruling sends the Texas and Missouri case back to lower courts.
"As Secretary Mayorkas concluded in October 2021 after a thorough review, the prior administration's Migrant Protection Protocols (MPP) has endemic flaws, imposes unjustifiable human costs and pulls resources and personnel away from other priority efforts to secure our border," said the Department of Homeland Security in a statement. "We welcome the Supreme Court's decision affirming that the Secretary has the discretionary authority to terminate the program, and we will continue our efforts to terminate the program as soon as legally permissible."
U.S. Sen. Alex Padilla (D-Calif.) also welcomed the ruling.
"Today's Supreme Court decision correctly acknowledges the Biden administration's authority to end the unlawful and cruel 'Remain in Mexico' program," he said in a statement. "For more than three years, this horrifying policy has denied asylum seekers their right to due process and subjected them to crimes like rape, kidnapping and torture in northern Mexican border cities while they await their court hearings."
Advocates sharply criticized MPP, in part, because it made LGBTQ and intersex asylum seekers who were forced to live in Tijuana, Ciudad Juárez, Reynosa, Matamoros and other Mexican border cities even more vulnerable to violence and persecution based on their sexual orientation and gender identity.
TransLatin@ Coalition President Bamby Salcedo on Thursday told the Washington Blade the Supreme Court ruling "will certainly impact our community in a positive way."
"We know that people who have to remain in Mexico to wait continue to be victims of violence," said Salcedo. "This is definitely a step in the right direction and we're grateful that this happened in this way."
Emilio Vicente, communications and policy director of Familia: TQLM, an organization that advocates on behalf of transgender and gender non-conforming immigrants, echoed Salcedo.
"We're glad to finally have some good news from the Supreme Court after horrible rulings on abortions, climate change, Native American rights," said Vicente. "Ending 'Remain in Mexico' will allow LGBTQ+ asylum seekers who face increased discrimination and abuse during the journey to the U.S., to be able to seek asylum here."
Abdiel Echevarría-Cabán is a South Texas-based immigration attorney and human rights law and policy expert who the LGBTQ+ Bar in 2021 recognized as one of its 40 best LGBTQ lawyers who are under 40.
He told the Blade on Thursday the Supreme Court ruling is "a victory we must celebrate." Echevarría-Cabán also said MPP placed LGBTQ and intersex asylum seekers at increased risk.
"Refugees in general, but especially LGBT refugees, are extremely vulnerable to other type of harms such as kidnappings by cartel members, extortion, physical and psychological abuses from Mexican law enforcement authorities and third parties given the high levels of discrimination for LGBT refugees in Mexico," said Echevarría-Cabán.
The Supreme Court issued its ruling a day after the Justice Department filed charges against four people in connection with the deaths of 53 migrants who were found in the back of a tractor trailer truck in San Antonio.
The Biden administration in April announced its plans to terminate Title 42, a Centers for Disease Control and Prevention rule that closed the Southern border to most asylum seekers and migrants because of the pandemic. Title 42 was to have ended on May 23, but a federal judge ruled against the White House.
"This decision isn't the end of the fight for ensuring that people seeking asylum get asylum but it's an important step in protecting vulnerable people," Vicente told the Blade after Thursday's ruling. "President Biden must follow through on his commitment to end MPP and protect all asylum seekers."
Salcedo noted to the Blade the "system, as it is, particularly when it comes to trans women, needs to be completely changed so that we can be at a better place as a community." Padilla in his statement urged the Biden administration "to do everything in its power to swiftly end 'Remain in Mexico' once and for all."
"Misguided and inhumane Trump-era policies like 'Remain in Mexico' and Title 42 have only decimated an already broken immigration system," he said. "We must keep working to restore the lawful processing of asylum seekers at the border, in keeping with America's most deeply held values as a nation of immigrants."
The Department of Homeland Security in its statement notes Title 42 remains in place.
"The department also continues to enforce our immigration laws at the border and administer consequences for those who enter unlawfully, and will continue the court-mandated enforcement of the Centers for Disease Control and Prevention's Title 42 public health order," it reads.
Supreme Court upholds conversion therapy ban in Washington State
Kavanaugh, Alito, Thomas wanted to consider challenge to ban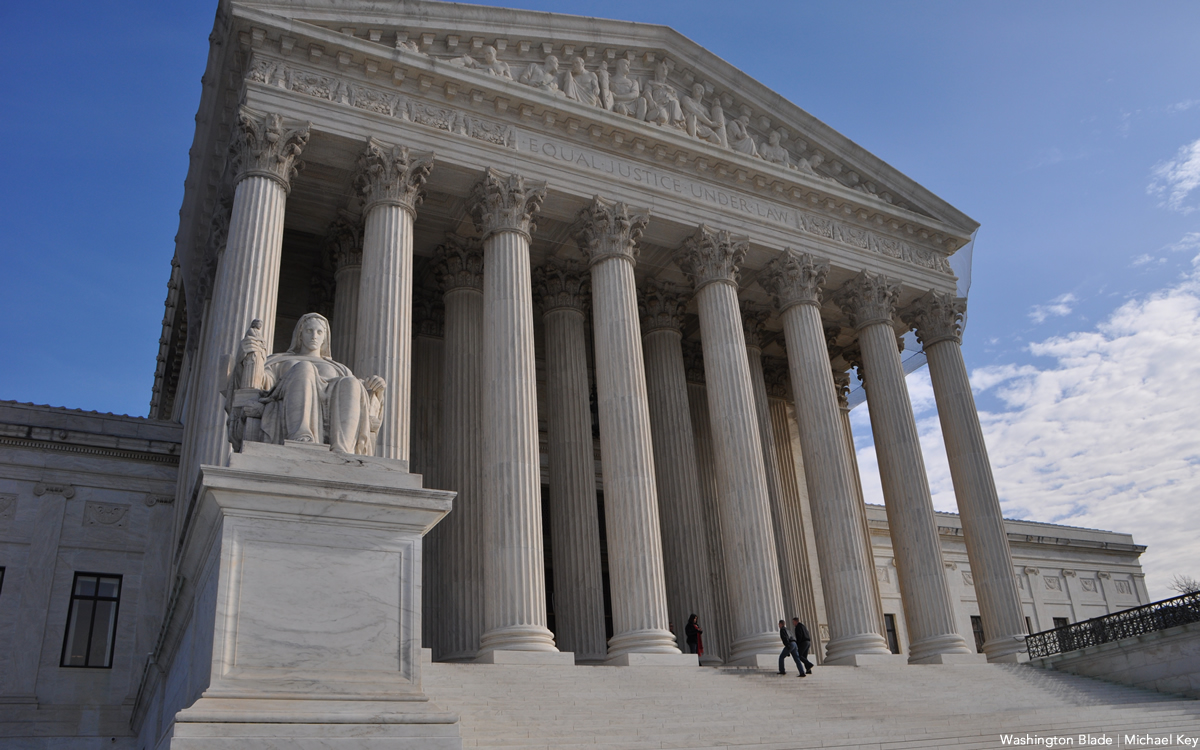 The U.S. Supreme Court on Monday allowed Washington State to continue enforcing its ban on conversion therapy for minors, another blow to the dangerous and discredited practice of endeavoring to change a patient's sexual orientation or gender identity.
With a 6-3 vote declining to hear a challenge brought by the anti-LGBTQ Alliance Defending Freedom, the Supreme Court allowed the U.S. Court of Appeals for the Ninth Circuit's decision protecting the law to remain in effect.
Conservative Justices Brett Kavanaugh, Samuel Alito, and Clarence Thomas voted to take up the case, with Thomas writing a five-page dissent in which he argued "licensed counselors cannot voice anything other than the state-approved opinion on minors with gender dysphoria without facing punishment."
"In recent years, 20 States and the District of Columbia have adopted laws prohibiting or restricting the practice of conversion therapy," Alito wrote in a brief dissent. "It is beyond dispute that these laws restrict speech, and all restrictions on speech merit careful scrutiny."
The law in Washington allows providers to discuss conversion therapy with patients younger than 18 or recommend that it be administered by a religious counselor, but prohibits licensed therapists from performing it.
Major scientific and medical groups as well as LGBTQ and other civil rights organizations support conversion therapy bans for minors, which have passed in 22 states and D.C. according to the Movement Advancement Project.
Judge Ronald M. Gould, writing for the three-judge panel of the 9th Circuit, argued in his decision on the case challenging Washington's ban that, "States do not lose the power to regulate the safety of medical treatments performed under the authority of a state license merely because those treatments are implemented through speech rather than through scalpel."  
Gould noted that Brian Tingley, a family counselor and advocate for conversion therapy who challenged the law, was still able to communicate about conversion therapy, express his personal views on the subject to his patients, practice conversion therapy on adults, and refer minors to counselors not licensed by the state.
"For decades," wrote Washington state Attorney General Robert W. Ferguson in a brief, "this court has held that states can regulate conduct by licensed professionals, even if the regulations incidentally impact speech."
"Conversion therapy," he added, "puts minors at risk of serious, long-lasting harms, including increased risks of suicide and depression."
Sandra Day O'Connor dies at 93
Retired U.S. Supreme Court justice passed away in Phoenix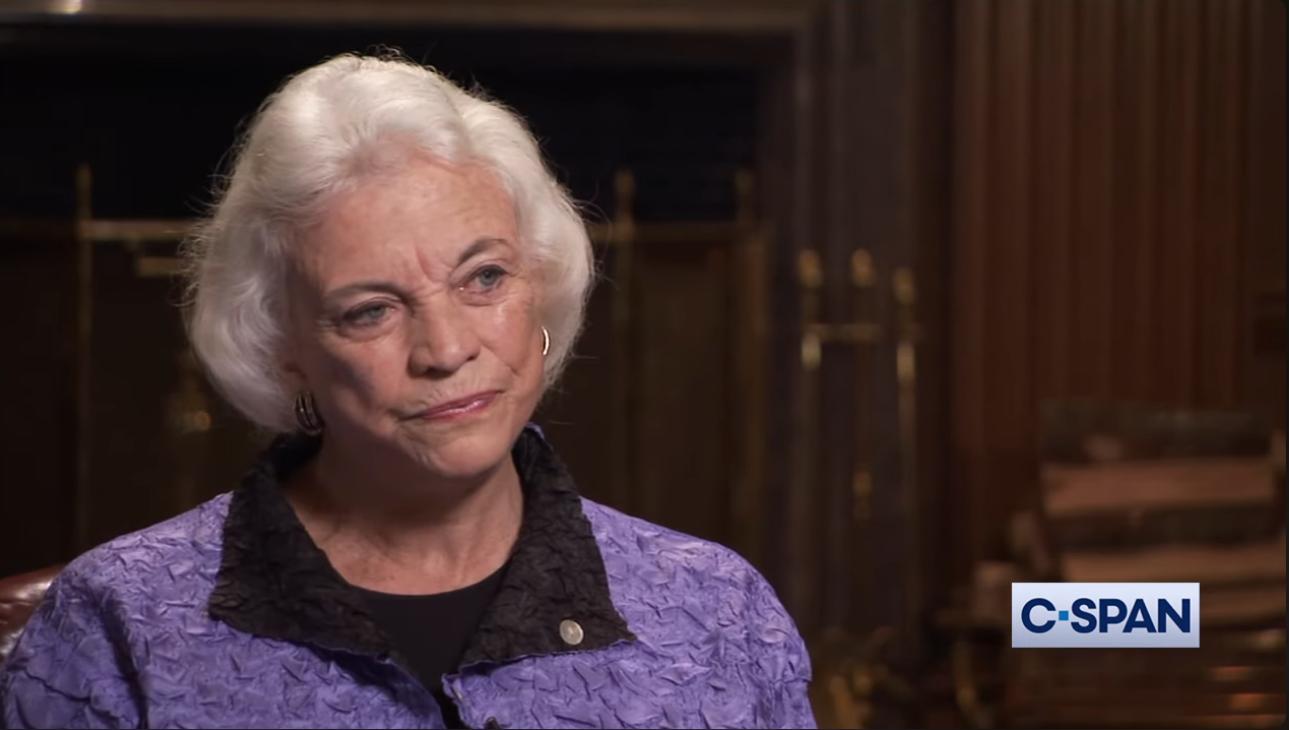 Retired Associate U.S. Supreme Court Justice Sandra Day O'Connor died on Friday in Phoenix of complications related to advanced dementia, probably Alzheimer's, and a respiratory illness. She was 93 years old.
O'Connor was appointed to the court by President Ronald Reagan during his first term in office in 1981 and retired in 2006, after serving more than 24 years on the nation's highest court.
A widely respected jurist, O'Connor was also a trailblazer as the first woman nominated and then confirmed by the U.S. Senate to have a seat on the court. Her judicial record showed progressive support on issues ranging from LGBTQ rights, abortion, affirmative action and campaign finance.
In a statement released by the court Friday morning, Chief Justice John Roberts said: "A daughter of the American Southwest, Sandra Day O'Connor blazed an historic trail as our Nation's first female Justice. She met that challenge with undaunted determination, indisputable ability, and engaging candor. We at the Supreme Court mourn the loss of a beloved colleague, a fiercely independent defender of the rule of law, and an eloquent advocate for civics education. And we celebrate her enduring legacy as a true public servant and patriot."
A lifelong Republican, O'Connor's early judicial record mirrored conservative values on most cultural legal issues. In 1986, O'Connor joined with Justice Byron White's 5-member majority in Bowers v. Hardwick, a case out of Georgia regarding the state's statute that criminalized sodomy.
According to court documents, Michael Hardwick was observed by a Georgia police officer engaging in the act of consensual homosexual sodomy with another adult in the bedroom of his home. After being charged with violating a Georgia statute that criminalized sodomy, Hardwick challenged the statute's constitutionality in Federal District Court. Following a ruling that Hardwick failed to state a claim, the court dismissed. On appeal, the Court of Appeals reversed and remanded, holding that Georgia's statute was unconstitutional. Georgia's Attorney General, Michael J. Bowers, appealed to the Supreme Court and was granted certiorari.
The majority, including Chief Justice Warren Burger and Justices Lewis Powell, William Rehnquist, O'Connor with White writing the opinion, ruled that there was no particular constitutional protection against states prohibiting specific sex acts between consenting adults.
White argued that the court has acted to protect rights not easily identifiable in the constitution only when those rights are "implicit in the concept of ordered liberty" (Palko v. Connecticut, 1937) or when they are "deeply rooted in the nation's history and tradition" (Griswold v. Connecticut, 1965). The court held that the right to commit sodomy did not meet either of these standards. White feared that guaranteeing a right to sodomy would be the product of "judge-made constitutional law" and send the court down the road of illegitimacy.
Seventeen years later however, in O'Connor reversed her position in a later case, in Lawrence v. Texas, 539 U.S. 558 (2003), voting with Justices John Paul Stevens, David Souter, Ruth Bader Ginsburg, Stephen Breyer and Anthony Kennedy who wrote for the majority overturning a Texas "Homosexual Conduct" law, which criminalized sexual intimacy by same-sex couples, reversing the Court's ruling in Bowers v. Hardwick.
According to court documents, responding to a reported weapons disturbance in a private residence, Houston police entered John Lawrence's apartment and saw him and another adult man, Tyron Garner, engaging in a private, consensual sexual act. Lawrence and Garner were arrested and convicted of deviate sexual intercourse in violation of a Texas statute forbidding two persons of the same sex to engage in certain intimate sexual conduct. In affirming, the State Court of Appeals held that the statute was not unconstitutional under the Due Process Clause of the 14th Amendment, with Bowers v. Hardwick, 478 U.S. 186 (1986), controlling.
Kennedy wrote in the 6-3 opinion, after explaining what the court deemed the doubtful and overstated premises of Bowers, the court reasoned that the case turned on whether Lawrence and Garner were free as adults to engage in the private conduct in the exercise of their liberty under the Due Process Clause.
"Their right to liberty under the Due Process Clause gives them the full right to engage in their conduct without intervention of the government," wrote Kennedy. "The Texas statute furthers no legitimate state interest which can justify its intrusion into the personal and private life of the individual," continued Kennedy. Accordingly, the court overruled Bowers.
Antonin Scalia, with whom Rehnquist and Justice Clarence Thomas joined, filed dissents.
Interestingly enough though, O'Connor weighed in on LGBTQ rights in a case prior to Lawrence v. Texas, seven years earlier when she joined with Stevens, Souter, Ginsburg, Breyer and Kennedy, again writing for the majority, in Romer v. Evans.
Colorado voters had adopted Amendment 2 to their state constitution precluding any judicial, legislative, or executive action designed to protect persons from discrimination based on their "homosexual, lesbian, or bisexual orientation, conduct, practices or relationships."
Following a legal challenge by members of the state's LGBTQ community and other aggrieved parties, the state trial court entered a permanent injunction enjoining Amendment 2's enforcement. The Colorado Supreme Court affirmed on appeal.
The high court was weighing in on the question of did Amendment 2 of Colorado's State Constitution, forbidding the extension of official protections to those who suffer discrimination due to their sexual orientation, violate the 14th Amendment's Equal Protection Clause?
In the ruling, the court said Yes. In a 6-3 decision, the court held that Amendment 2 of the Colorado State Constitution violated the equal protection clause. Amendment 2 singled out homosexual and bisexual persons, imposing on them a broad disability by denying them the right to seek and receive specific legal protection from discrimination.
In his opinion for the court, Kennedy noted that oftentimes a law will be sustained under the equal protection clause, even if it seems to disadvantage a specific group, so long as it can be shown to "advance a legitimate government interest." Amendment 2, by depriving persons of equal protection under the law due to their sexual orientation failed to advance such a legitimate interest.
He concluded: "If the constitutional conception of 'equal protection of the laws' means anything, it must at the very least mean that a bare desire to harm a politically unpopular group cannot constitute a legitimate governmental interest."
In 2006, she retired from the bench. In its 2019 eleven part profile of O'Connor, the Arizona Republic highlighted her record writing:
O'Connor disliked the term "swing vote" because "it suggests something that's not thoughtful," according to Ruth McGregor, a former Arizona Supreme Court chief justice and a longtime friend to O'Connor.
And because O'Connor saw herself as an old-school conservative, the opinions she wrote on controversial matters — such as abortion and gay rights — didn't come out of liberal leanings, but rather out of a firm belief in the rights of individuals to decide crucial issues in their own lives, free of government interference," the Republic noted.
On other issues such as women's reproductive rights, in the landmark ruling Roe v. Wade, which arose during her confirmation hearings before the Senate Judiciary Committee in 1981, because as the Republic noted, O'Connor was a woman who had presided over the Arizona Senate when it decriminalized abortion in that state, she was suspect, even though she declared her personal abhorrence for abortion.
However during the course of that confirmation hearing, she maintained that she had respect for opinions handed down by the Supreme Court, and she believed there needed to be good reason to overturn them.
In the 1992 case of Planned Parenthood v. Casey, then Justice O'Connor joined with fellow Justices Harry Blackmun, Stevens, Kennedy and Souter, in upholding Roe v. Wade.
In a bitter 5-to-4 decision, the court again reaffirmed Roe, but it upheld most of the Pennsylvania provisions. For the first time, the justices imposed a new standard to determine the validity of laws restricting abortions. The new standard asks whether a state abortion regulation has the purpose or effect of imposing an "undue burden," which is defined as a "substantial obstacle in the path of a woman seeking an abortion before the fetus attains viability." Under this standard, the only provision to fail the undue-burden test was the husband notification requirement.
In a rare step, the opinion for the court was crafted and authored by three justices: O'Connor, Kennedy and Souter.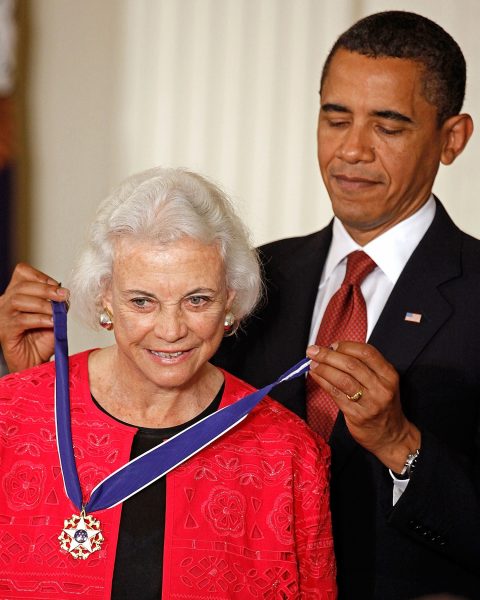 D.C.-based lawyer, journalist and LGBTQ rights activist Mark Joseph Stern writing in a Slate magazine article dated Oct. 30, 2013, about O'Connor's stance on same-sex marriages noted:
"On Tuesday, retired Supreme Court Justice Sandra Day O'Connor officiated a same-sex marriage at the Supreme Court, the first gay wedding to take place in the court's halls. (It wasn't the first officiated by a justice, though; Ruth Bader Ginsburg beat O'Connor to that honor.) The event serves as a heartwarming confirmation that O'Connor's shift to the left has continued through retirement — but it's also a poignant reminder that the justice's early retirement cut short what might have been an evolution from Reagan conservative to gay-rights luminary."
California Gov. Gavin Newsom issued a statement on the passing of O'Connor Friday:
"Jennifer and I are saddened by the passing of Justice O'Connor, an American icon who left a profound mark on history as the first woman to serve on our nation's highest court.

Surmounting countless barriers, Justice O'Connor graduated from Stanford Law School near the top of her class, rose to prominence in the Arizona statehouse as the first woman in the nation to serve as a majority leader, and served on the bench in Arizona before being nominated to the Supreme Court by President (Reagan) — with widespread support on both sides of the aisle.
A strong voice for judicial independence and the rule of law, Justice O'Connor was known for her discerning and fair-minded approach and served a pivotal role at the center of the court, including key votes reaffirming the right to abortion and upholding affirmative action in higher education.
With deep Arizona roots, Justice O'Connor was also an important voice on the court for the entire American West, championing states' freedom to craft solutions that meet local needs across our diverse country.
      
Justice O'Connor opened doors for generations of women in politics and public service, and her enduring legacy is an inspiration to all of us. Our thoughts are with her family, colleagues and friends during this time of loss."
O'Connor was born in El Paso, Texas, on March 26, 1930. She married John Jay O'Connor III in 1952. She received her B.A. and LL.B. from Stanford University. She served as Deputy County Attorney of San Mateo County, Calif., from 1952 to 1953 and as a civilian attorney for Quartermaster Market Center, Frankfurt, Germany, from 1954 to 1957.
From 1958 to 1960, she practiced law in Maryvale, Ariz., before serving as Assistant Attorney General of Arizona from 1965 to 1969. She was appointed to the Arizona State Senate in 1969 and was subsequently reelected to two two-year terms, during which she was selected as Majority Leader. In 1975 she was elected Judge of the Maricopa County Superior Court and served until 1979, when she was appointed to the Arizona Court of Appeals.
O'Connor authored five books: "Lazy B: Growing Up on a Cattle Ranch in the American Southwest" (2002); "The Majesty of the Law: Reflections of a Supreme Court Justice" (2002); "Chico" (2005); "Finding Susie" (2009) and "Out of Order: Stories from the History of the Supreme Court" (2013).
Following her tenure on the Supreme Court, she founded and led iCivics, the nation's leading civics education platform.
She is survived by her three sons, Scott (Joanie) O'Connor, Brian (Shawn) O'Connor, and Jay (Heather) O'Connor, six grandchildren: Courtney, Adam, Keely, Weston, Dylan and Luke, and her beloved brother and co-author, Alan Day, Sr. Her husband, John O'Connor, preceded her in death in 2009.
Additional research and legal records material provided by Oyez, the free law project from Cornell's Legal Information Institute (LII), Justia, and Chicago-Kent College of Law.
Supreme Court refuses to hear Florida appeal of its anti-drag law
Statute signed by Gov. DeSantis in May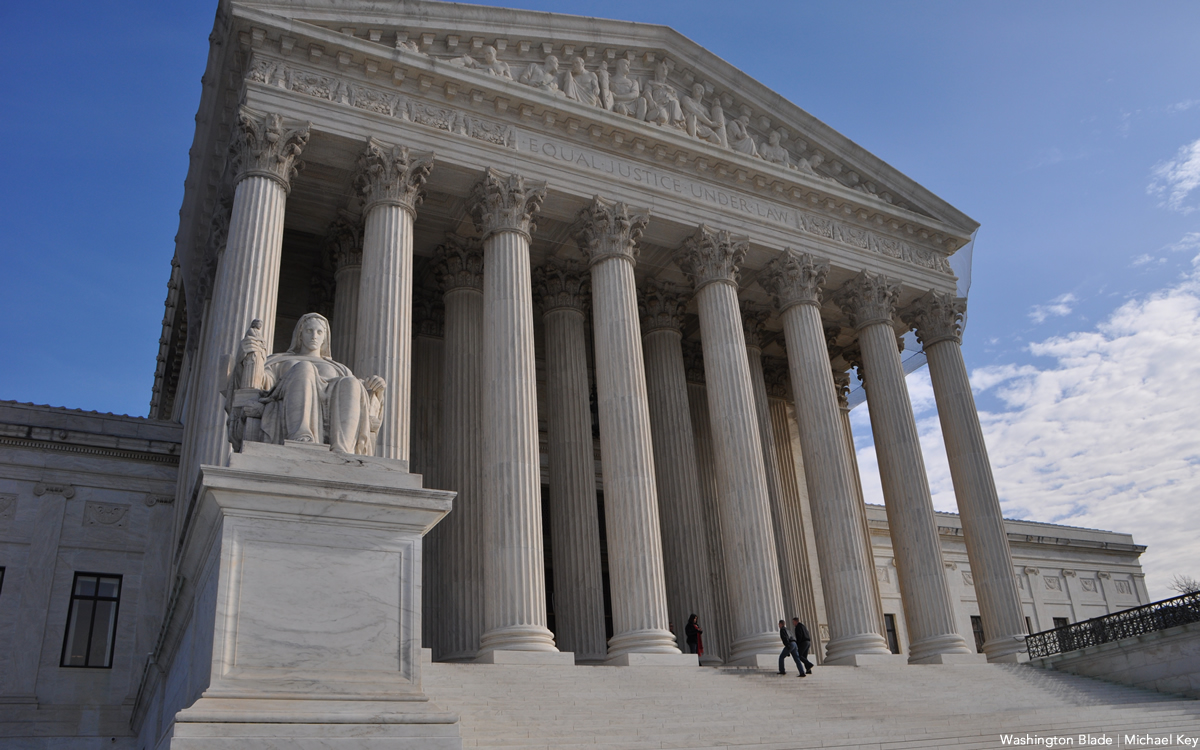 The U.S. Supreme Court on Thursday rejected Florida's emergency request to overturn two lower federal court rulings that blocked its law that targeted drag shows.
In a ruling by the U.S. 11th Circuit Court of Appeals in Atlanta last month, the court upheld an injunction issued by a U.S. District Court judge in Tallahassee last June that the Florida drag ban law was unconstitutionally vague and overbroad and that will not be allowed to take effect.
Florida's law, dubbed the Protection of Children Act, makes it a crime to admit a child to an "adult live performance" that the state deems sexually explicit. Signed into law by Florida Gov. Ron DeSantis (R) in May, the legislation makes it a misdemeanor offense. Florida had been the site of several enforcement threats against drag events, prompting some Pride celebrations to cancel their parades out of concern over the drag laws being weaponized against them.
The Hill reported three of the high court's conservatives — Justices Clarence Thomas, Samuel Alito and Neil Gorsuch — publicly dissented and voted to revive the law.
Two other conservatives — Justices Brett Kavanaugh and Amy Coney Barrett — voted with the majority to rule against Florida, but the duo indicated their votes don't signify whether they believe the law is constitutional.
In the ruling from the 11th Circuit, the appellate justices cited major precedent over blocking overly-broad laws targeting freedom of speech, such as this section of Ashcroft v. ACLU, a first amendment lawsuit challenging portions of the Child Online Protection Act:
"There are also important practical reasons to let the injunction stand pending a full trial on the merits. First, the potential harms from reversing the injunction outweigh those of leaving it in place by mistake. Where a prosecution is a likely possibility, yet only an affirmative defense is available, speakers may self-censor rather than risk the perils of trial. There is a potential for extraordinary harm and a serious chill upon protected speech. The harm done from letting the injunction stand pending a trial on the merits, in contrast, will not be extensive. No prosecutions have yet been undertaken under the law, so none will be disrupted if the injunction stands. Further, if the injunction is upheld, the Government in the interim can enforce obscenity laws already on the books."
Prior to the 11th Circuit ruling, the Florida drag ban had done significant harm in the state. Treasure Coast Pride Fest cancelled their pride parade, citing the new law, and also made it so that in person pride events would be 21-and-up. Tampa Pride likewise cancelled a large celebration. Several drag organizers expressed concern over how the law could be weaponized against them. Now, some of those questions are resolved, at least for the time being.
Florida isn't alone in having its drag law halted from being enforced. This year, courts have put a stop to comparable laws in several other states. Days before Helena was set to host a Pride event, Montana's anti-drag law was blocked. Tennessee's drag law was similarly deemed unconstitutional and faced another block when a district attorney attempted to enforce it anyway in Blount County. Texas' prohibition on drag was also blocked as likely unconstitutional. However, in North Texas, Judge Kacsmaryk permitted a local college to implement a drag ban within his jurisdiction.
The Hill also reported the case now returns to the 11th U.S. Circuit Court of Appeals for the full appeal. After a final ruling, the case could ultimately return to the justices.
Kavanaugh, in a statement joined by Barrett, said Florida's request didn't meet one of the criteria the justices look for in an emergency application: whether the Supreme Court has a "reasonable probability" of eventually agreeing to hear the issue on the merits.
"The State has not made that showing here," Kavanaugh wrote.
But Kavanaugh cautioned that Florida's emergency request dealt with the scope of the lower court's injunction, not whether the law itself is constitutional.
"Florida's stay application to this Court does not raise that First Amendment issue. Therefore, the Court's denial of the stay indicates nothing about our view on whether Florida's new law violates the First Amendment," he wrote.
Additional reporting by Erin Reed and The Hill.