Monkeypox cases in D.C. rise, vaccination clinics open
Nation's capital has emerged as hotspot for viral illness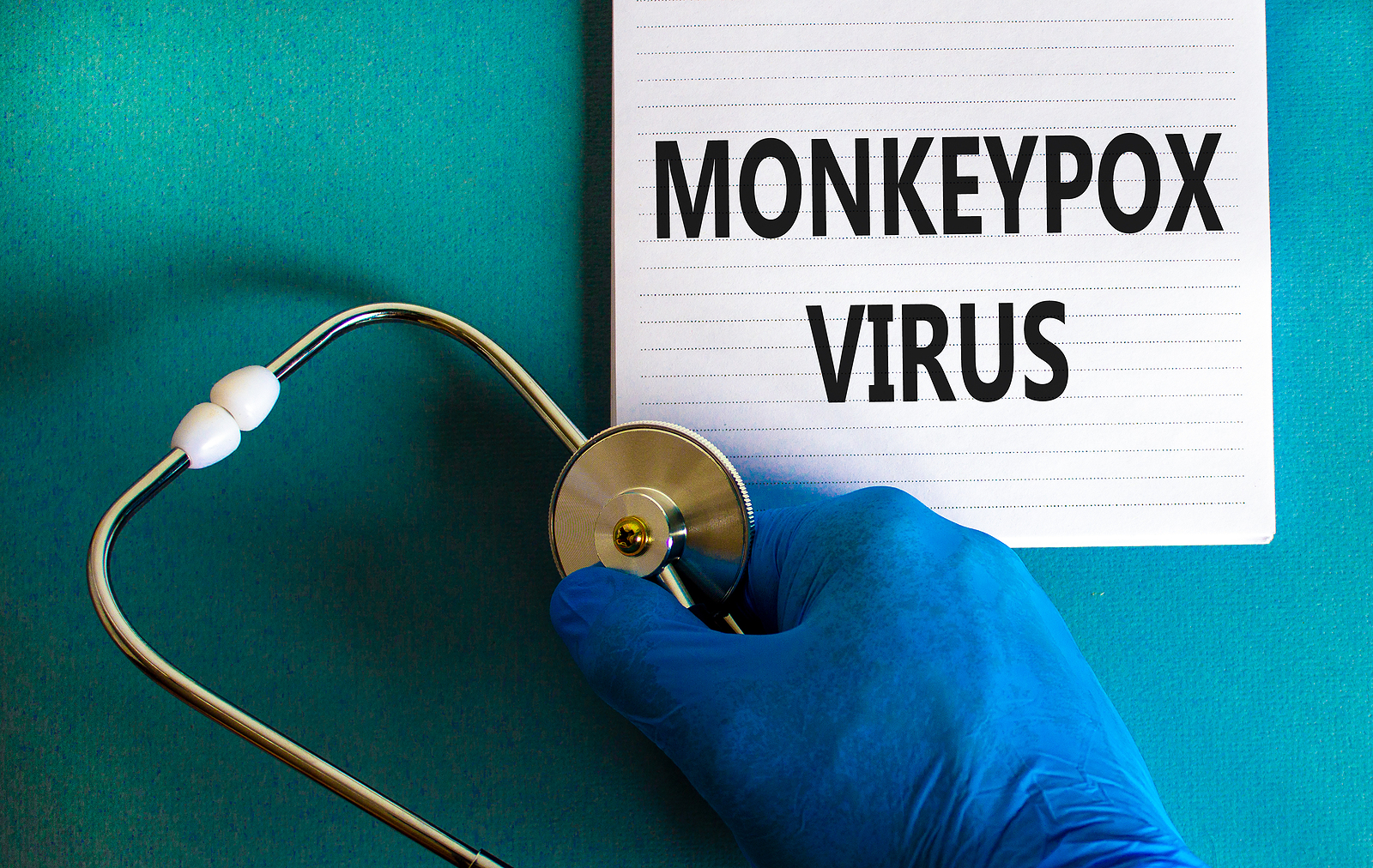 The Centers for Disease Control and Prevention on Tuesday said 53 cases of monkeypox have been reported in D.C.
Vaccination is the primary treatment for the viral illness; which is spread through close, skin-to-skin contact with monkeypox lesions. Virginia is currently reporting 13 monkeypox cases, and Maryland is reporting nine, but D.C. is the regional hotspot. To address the uptick in cases, the D.C. Department of Health has opened two new vaccination sites in Northwest Washington, which are available via appointment only.
The vaccination appointments have been filling up within minutes, and some frustrated D.C. residents have criticized the registration system on the organization's Twitter page, complaining about the limited slots and lessons not-learned from the push for COVID-19 vaccinations.
Mayor Muriel Bowser has previously urged gay and bisexual men and transgender women to get vaccinated, and the majority of local cases are concentrated among men who have sex with men.
While most monkeypox cases are not life-threatening; with symptoms such as rash, fever and headache, last week's statement from Bowser and the D.C. Department of Health said that "although the majority of cases do not require hospitalization, monkeypox is dangerous, highly contagious, and uncomfortable."
In New York City, another monkeypox hotspot, cases have doubled over the past week, rising to 111 cases in the five boroughs.
The U.S. Department of Health and Human Services on July 1 announced that it has ordered 2.5 million additional doses of the monkeypox vaccine, and more vaccination appointments are expected to become available as vaccine supply increases.
Young people organize D.C. transgender rights march
Queer Youth Assemble organized events across the country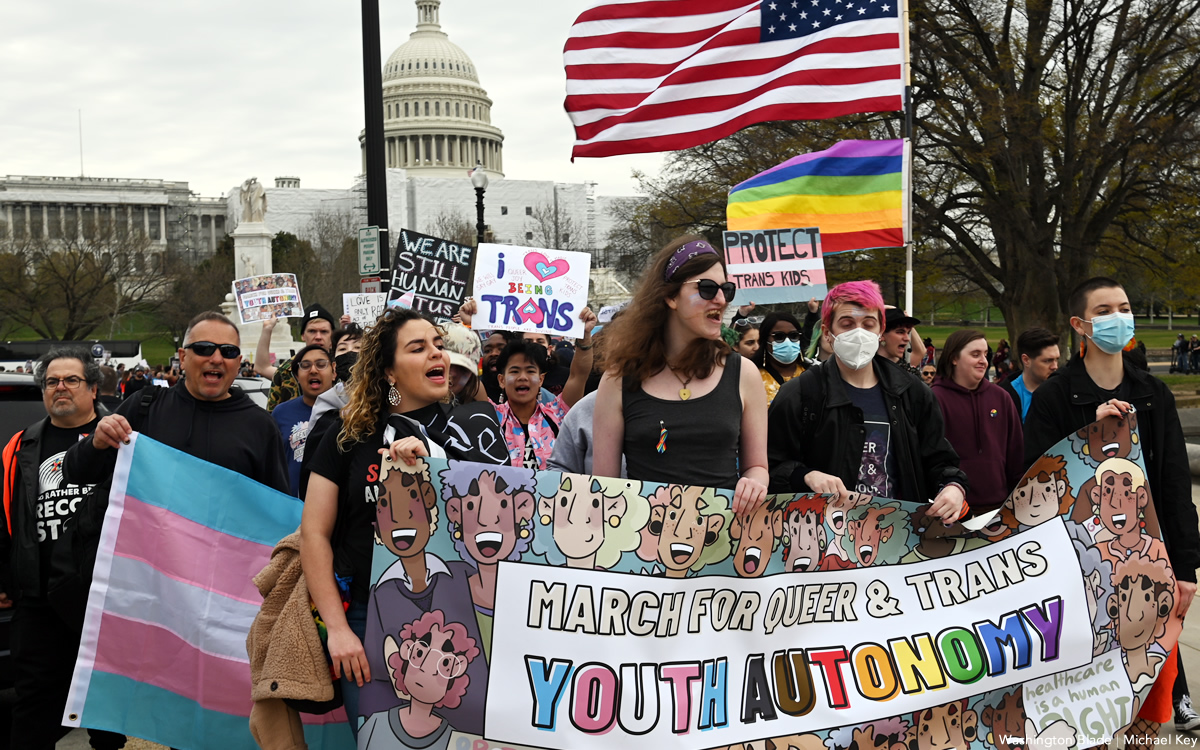 Upwards of 1,000 people on Friday participated in a transgender rights march from Union Station to the U.S. Capitol.
SMYAL Executive Director Erin Whelan; Human Rights Campaign President Kelley Robinson and Japer Bowles, director of the D.C. Mayor's Office of LGBTQ Affairs, are among those who participated in the March for Queer and Trans Youth Autonomy that Queer Youth Assemble organized to coincide with the Transgender Day of Visibility.
Queer Youth Assemble advocates for young LGBTQ and intersex people. The group's website notes it organized Transgender Day of Visibility marches across the country on Friday.
"This march has reached so many people around the country because of our strength as individuals and as a community," said Queer Youth Assemble Co-president Alia Cusolito at the beginning of a rally that took place in front of the Capitol Reflecting Pool after the march. "This is a heavy time. It's a frightening time and a necessary time to speak up."
Samira Burnside, a 16-year-old trans woman from Tampa, Fla., spoke after Cusolito.
"These last few months have been hard; hard for all of us," said Burnside. "As Republicans swept into more seats than they held last year and another election cycle begins, transgenderism has become the battleground through which the cultural war finds itself reborn, more violent, more angry, more terrible."
Massachusetts Commission on LGBTQ Youth Executive Director Shaplaie Brooks noted "these attacks are strategic."
"Grown adults are bullying LGBTQ youth," said Brooks.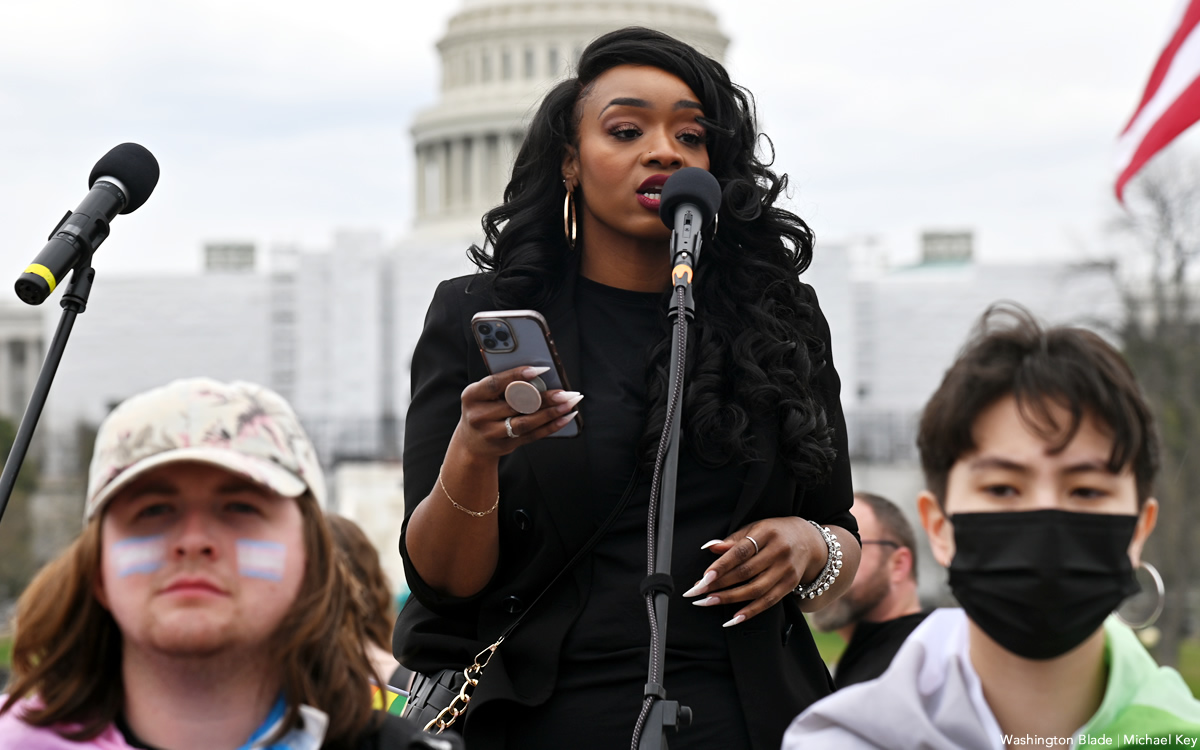 This year's Transgender Day of Visibility took place against the backdrop of a proliferation of anti-transgender bills and laws in states across the country.
Kentucky lawmakers on Wednesday overrode Democratic Gov. Andy Beshear's veto of a bill that will, among other things, ban gender-affirming medical care for trans and nonbinary people who are under 18. Republican South Dakota Gov. Kristi Noem in February signed a similar measure into law.
"Transgender Americans deserve to be safe and supported in every community — but today, across our country, MAGA extremists are advancing hundreds of hateful and extreme state laws that target transgender kids and their families. No one should have to be brave just to be themselves," said President Joe Biden on Friday in his Transgender Day of Visibility statement.

"Let me be clear: These attacks are un-American and must end," he added. "The bullying, discrimination, and political attacks that trans kids face have exacerbated our national mental health crisis. More than half of transgender youth say they have seriously considered suicide. Loving parents are terrified for their children's futures."
Maryland Gov. Wes Moore on Friday became the state's first governor to publicly commemorate Transgender Day of Visibility.
"People who have the courage to demand visibility, even after facing hardship — in some cases, after facing violence and poverty — they represent the very best of Maryland. We need to elevate their stories, embrace their courage, and celebrate their humanity," he said before he signed a proclamation that proclaimed March 31, 2023, as International Transgender Day of Visibility in Maryland. "By signing this proclamation, we are taking a step forward. And I look forward to working with all of you to continue that march in the years to come."
U.S. Reps. Pramila Jayapal (D-Wash.), Sara Jacobs (D-Calif.), Mark Pocan (D-Wis.), Mark Takano (D-Calif.) and David Cicilline (D-R.I.) and U.S. Sen. Ed Markey (D-Mass.) on Thursday reintroduced the Transgender Bill of Rights, which a press release from Jayapal's office notes would provide "a comprehensive policy framework to provide protections for transgender and nonbinary people, ensuring that everyone has the opportunity to thrive, regardless of their gender identity or expression."
"As the very proud mother of an incredible trans daughter, I am deeply disturbed by the rise in anti-trans legislation at all levels of government and at the uptick of transphobic violence," said Jayapal on Friday during a virtual Transgender Day of Visibility town hall.
Jacobs, who represents California's 51st Congressional District, noted her brother is trans and another sibling is gender non-conforming.
The California Democrat said "one of the proudest moments of my life" was when she officiated her brother's wedding late last year. Jacobs noted it took place the same week that Congress passed the Respect for Marriage Act.
"His existence deserves to be recognized and respected, his wedding deserves to be celebrated," said Jacobs, referring to her brother. "His life deserves to be protected, just like every other person and every other trans person."
Delaware state Sen. Sarah McBride, Whitman-Walker Institute Kellan Baker, National Center for Transgender Equality Executive Director Rigo Heng-Lehtinen and Athlete Ally Ambassador Kaiya McCullough are among those who also participated in the town hall.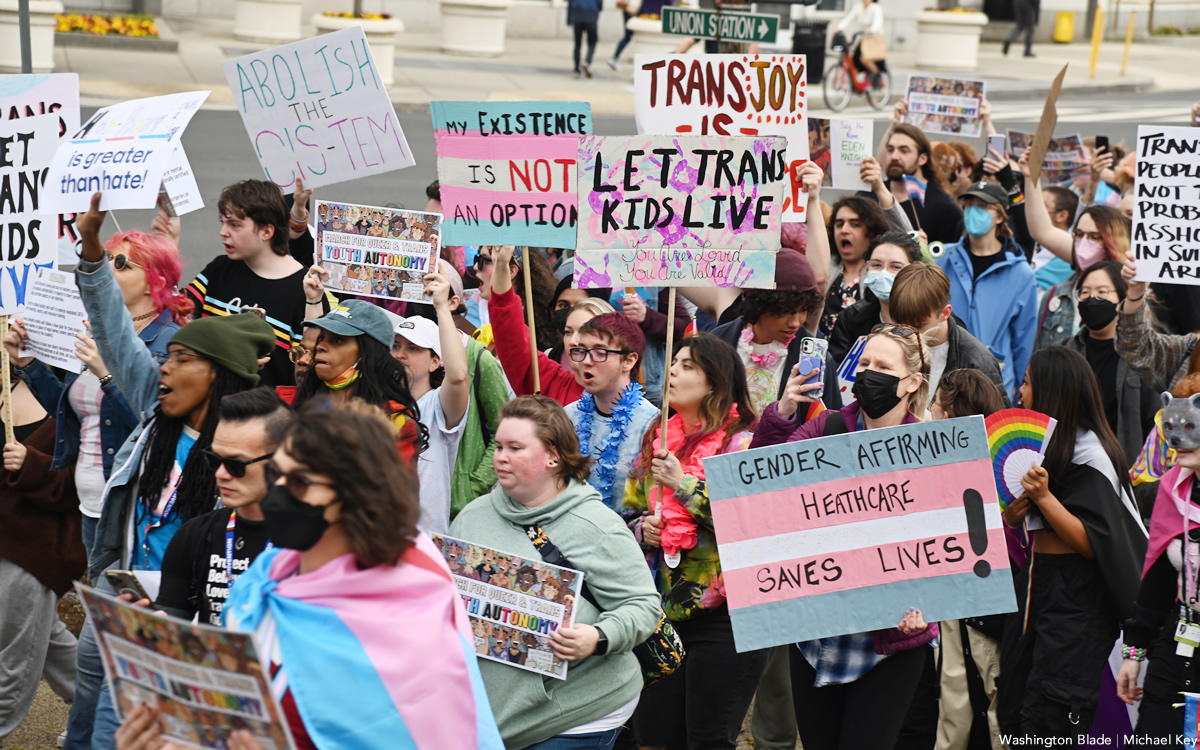 HHS secretary discusses federal overdose prevention efforts at Whitman-Walker
Officials held round table with clients, 'community stakeholders'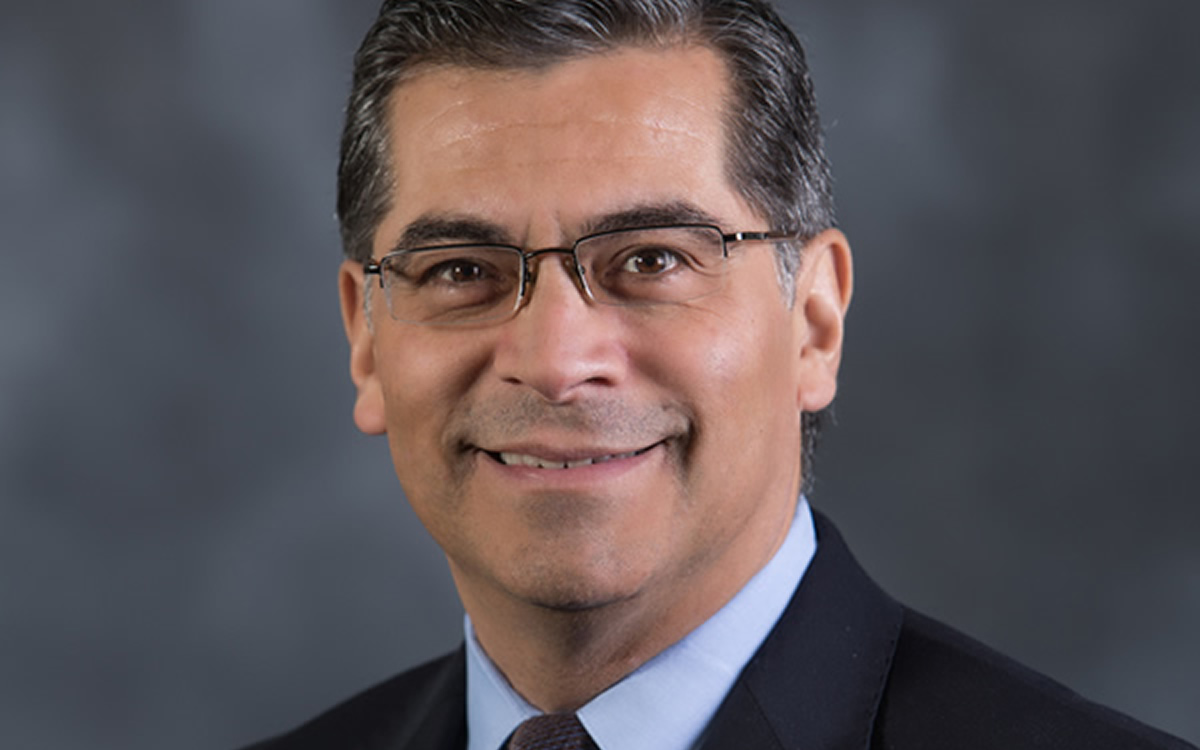 U.S. Department of Health and Human Services Secretary Xavier Becerra and four other high level federal health officials held a roundtable community meeting followed by a press conference at D.C.'s Whitman-Walker Health headquarters on Friday to discuss what they said were "groundbreaking" efforts to address and end the nation's epidemic of deaths from the overdose of opioid drugs.
A statement released by HHS says Becerra and the other officials, including Dr. Rahul Gupta, director of the White House Office of National Drug Control Policy, reached out to Whitman-Walker, which, among other things, operates one of the D.C. metro area's preeminent substance abuse treatment programs, to commemorate the one-year anniversary HHS's Overdoes Prevention Strategy program.
"Now, one year after the release of this strategy, our nation is in a much stronger position to treat addiction and save lives," Becerra said. "We didn't get here by accident. Thanks to decades of work by advocates, coupled with an unparalleled people-first strategy and unprecedented investment by the Biden-Harris administration, we have made a great deal of progress," he said.
The officials, including Gupta, pointed out that the Overdose Prevention Strategy over the past year and an updated effort launched this month have focused on greatly expanding availability of the drug overdose antidote medication naloxone.
"Deaths caused by opioids like illicit fentanyl are preventable with naloxone, and today's announcement means more life-saving naloxone will be in communities across the country," Gupta said. "The latest data continue to show a hopeful trend of a decreases in overdose deaths, so we must remain focused on fully implementing President Biden's National Drug Control Strategy that will save tens of thousands of lives by expanding care for substance use disorder, making naloxone more accessible, and dismantling drug trafficking operations," he said.
In addition to Gupta from the White House, Becerra was joined at the community meeting and press conference by Dr. Miriam Delphin-Rittmon, assistant secretary for the Substance Abuse and Mental Health Services Administration (SAMHSA), which is an arm of HHS; Dr. Debra Houry, acting principal deputy director of the U.S. Centers for Disease Control and Prevention and Dr. Robert Califf, commissioner of the U.S. Food and Drug Administration.
Also participating in the roundtable session and press conference was U.S. Sen. Tammy Baldwin (D-Wis.), the nation's first out lesbian member of the Senate.
Becerra said he invited Baldwin to participant in the day's events, among other things, because of her record of advocacy and support for funding of federal substance abuse and overdose prevention programs.
"One area I've championed in Congress is increasing access to overdose reversal medication like naloxone," Baldwin said. "We know that when you increase access to this safe and effective treatment that you save lives," she said. "And I'm thrilled to see the Biden administration and especially the Food and Drug Administration taking steps to increase access to naloxone."
Califf told the gathering one of the FDA's recently launched efforts is to work with drug manufacturers to arrange for naloxone to become an over-the-counter drug that would further expand its availability.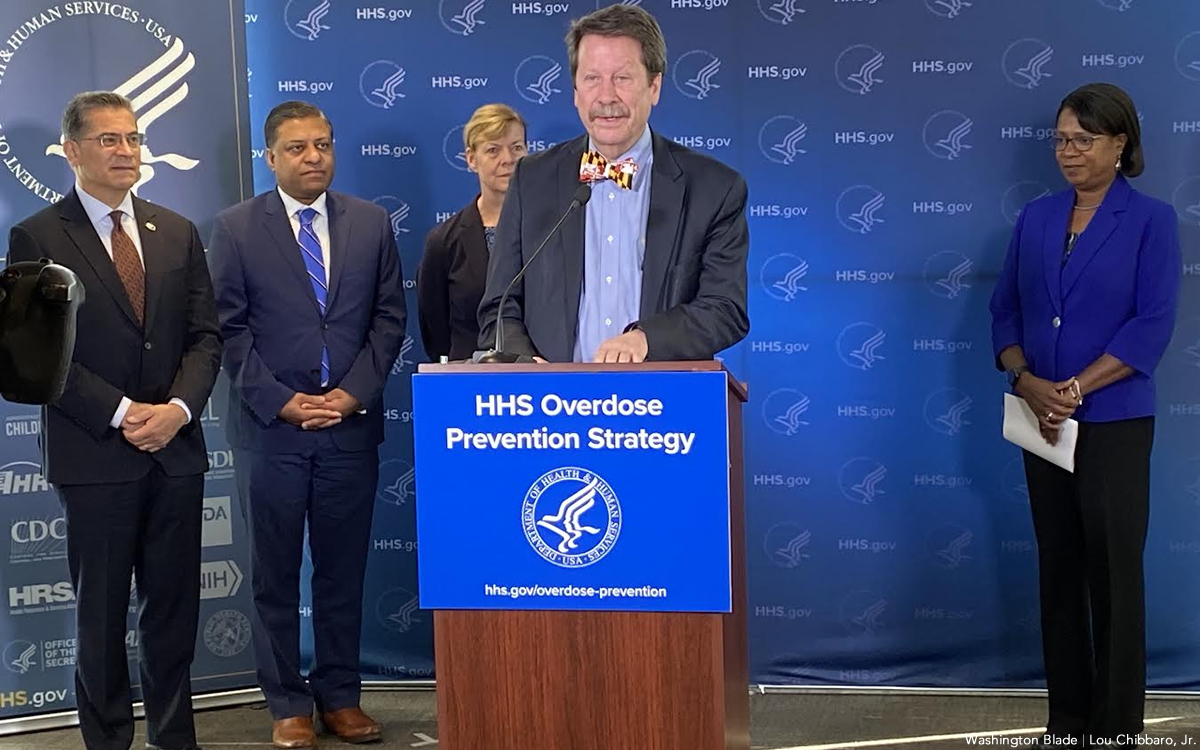 The roundtable discussion session, which included close to 50 participants, including Becerra and the other federal officials, was closed to the press, according to an HHS spokesperson, because among those participating were Whitman-Walker clients and others who receive services and support for what the officials called substance use disorder.
During the press conference that followed, Becerra spoke of how some of those participating in the roundtable discussion were part of Whitman-Walker's success stories in helping people overcome substance use problems
"We're here because a year ago we decided to go in a different direction at the federal level," he said at the press conference. "We decided that we're not moving fast enough, we're not moving close enough to where we need to be to try to help communities and those folks at Whitman-Walker who are trying to not just get folks into treatment but to save lives," Becerra said.
"And that was the great thing about the round table that we just had," he said. "We heard about how people thrive," he said, adding, "And one of the clients, Deborah, spoke about how she's on the verge of getting her degree from college … That's what we want to see … I want to thank the folks at Whitman-Walker for letting us come today to see how people can thrive and be part of that success."
Whitman-Walker Health CEO Naseema Shafi told the Washington Blade after the press conference that Whitman-Walker has a long history of partnering with federal government agencies in addressing health issues, including Whitman-Walker's role as a healthcare facility welcoming the LGBTQ community.
D.C. Rainbow History Project launches Trans History Initiative
$15,000 D.C. government grant funded project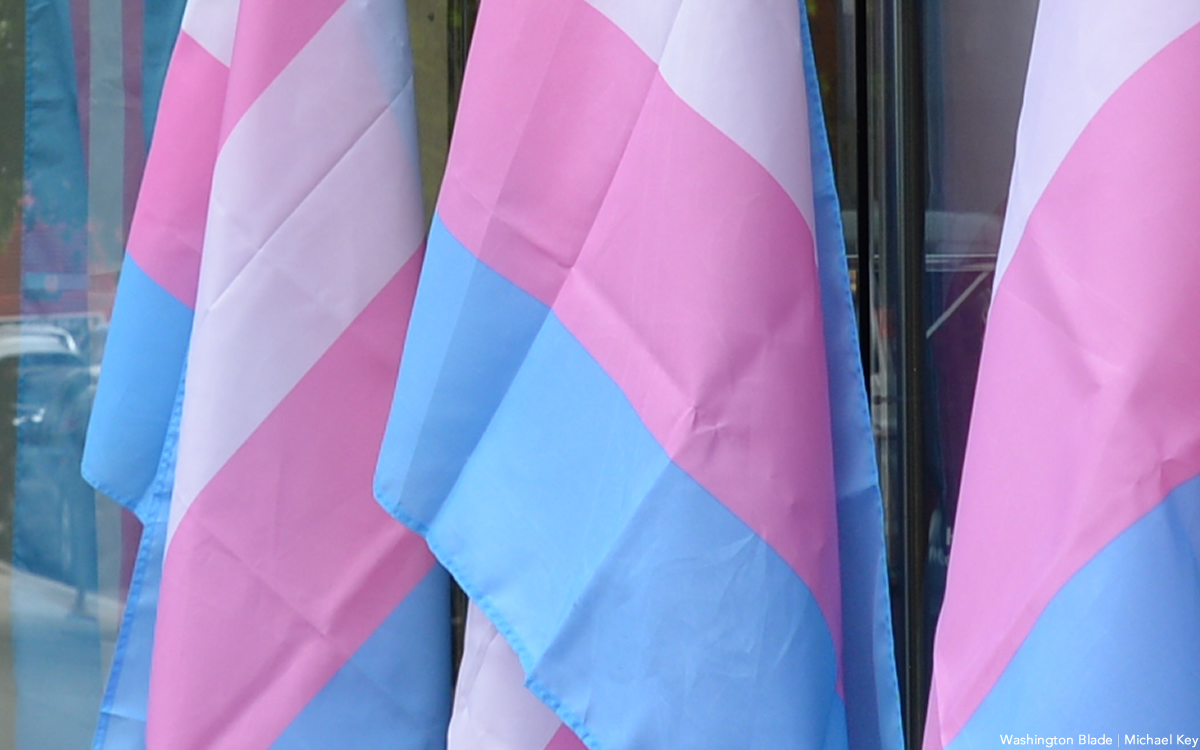 D.C.'s Rainbow History Project announced it has launched a new project called the Trans History Initiative "to better integrate the often-under-represented histories of trans people into RHP's existing programming."
In a statement announcing the new initiative, the LGBTQ history group says it has been awarded a $15,000 grant from D.C. Mayor Muriel Bowser's Office of LGBTQ Affairs to fund the project.
"The Trans History Initiative will help RHP deepen its connections with the Trans community through expanded efforts to preserve the history and cultural contributions of Washington-area trans communities," the statement says. "The Initiative was developed with RHP's trans members, trans community pioneers and trans board members," it says.
The statement says the grant will enable Rainbow History Project to hire one or more coordinators to "build on four exiting RHP programs: collecting oral histories; preserving archival documents; tracking timelines and historic places; and hosting public education panels."
According to the statement, the new trans initiative is in keeping with Rainbow History Project's long-standing mission.
"Since its founding in 2000, RHP's mission is to collect, preserve and promote an active knowledge of the history, arts and culture of metropolitan Washington, D.C.'s diverse LGBTQ communities," the statement says. "RHP strives to ensure that its collection, volunteer corps and programming reflect and represent the full diversity of those communities."
The statement also points out that due to longstanding bias and discrimination faced by transgender people it has been difficult to obtain information about their lives and accomplishments.
"Unfortunately, many trans people often left behind little record of their lives — and personal histories that do exist are often scrubbed of an individual's trans identity by society or even their own families," said Jeffrey Donahoe, RHP's director of oral history.
"This revisionism, both unintentional and intentional, makes it difficult for the broader community to understand and empathize with the struggles and successes of the Trans community," Donahoe said in the statement.
"The Trans History Initiative will counter this revisionism by giving another platform for trans people to tell their stories to the broader public," he said. "We need to ensure that trans narratives are not lost to the ravages of time but preserved as part of the historical record."