Blinken, Russian counterpart speak about Brittney Griner
Call took place after public acknowledgment of deal to secure U.S. citizens release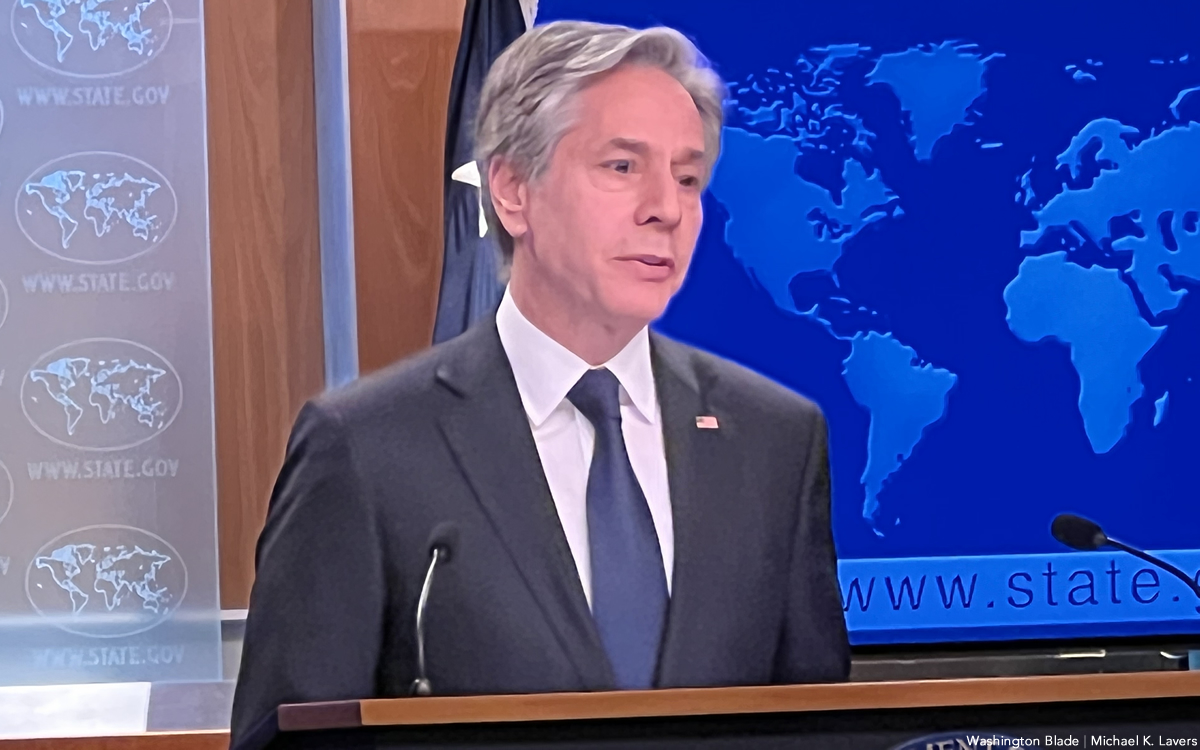 Secretary of State Antony Blinken on Friday spoke with his Russian counterpart about efforts to secure the release of WNBA star Brittney Griner and Paul Whelan.
The Associated Press reported Blinken urged Russian Foreign Minister Sergey Lavrov to accept a deal to obtain the release of Griner and Whelan, an American citizen who is serving a 16-year prison sentence after his conviction for spying. American officials have reportedly expressed a willingness to release Viktor Bout, a Russian arms dealer who is serving a 25-year prison sentence in the U.S., as part of a prisoner swap.
Blinken, according to the AP, described the call with Lavrov as a "frank and direct conversation."
"I urged Foreign Minister Lavrov to move forward with that proposal," said Blinken. "I can't give you an assessment of whether that is any more or less likely."
Officials at Moscow's Sheremetyevo Airport in February detained Griner — a Phoenix Mercury center and two-time Olympic gold medalist who is a lesbian and married to her wife, Cherelle Griner, — after customs inspectors allegedly found hashish oil in her luggage. The State Department has determined that Russia "wrongfully detained" her.
Brittney Griner's trial began in Moscow on July 1.
It continues to take place, even though she had pleaded guilty to charges that she smuggled drugs in Russia. Brittney Griner faces up to 10 years in prison if she is convicted.
Friday's call took place two days after Blinken for the first time publicly acknowledged the U.S. has offered Russia a deal to secure the release of Brittney Griner and Whelan.
"We are determined to bring her home along with Paul (Whelan) and for that matter, any and every American who is being unjustly detained anywhere in the world," said Blinken on June 15 during a roundtable with LGBTQ and intersex journalists in which the Washington Blade participated. "It's something that I am personally focused on, and I want to leave it at that because it is obviously an ongoing issue. But just know that this is a matter of intense focus for us."
State Department hosts intersex activists from around the world
Group met with policy makers, health officials, NGOs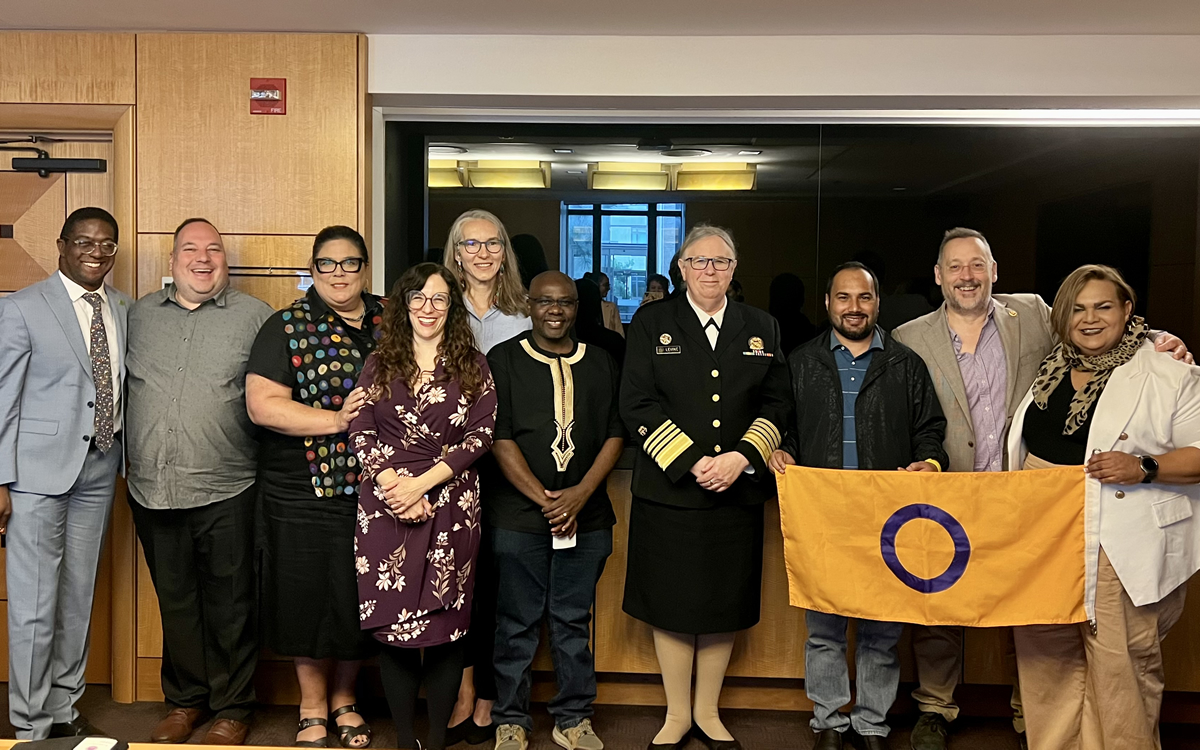 The State Department last week hosted five intersex activists from around the world.
Kimberly Zieselman, a prominent intersex activist who advises Jessica Stern, the special U.S. envoy for the promotion of LGBTQ and intersex rights abroad, brought the activists to D.C.
• Morgan Carpenter, co-founder and executive director of Intersex Human Rights Australia
• Natasha Jiménez, an intersex activist from Costa Rica who is the general coordinator of Mulabi, the Latin American Space for Sexualities and Rights
• Julius Kaggwa, founder of the Support Initiative for People with Atypical Sex Development Uganda
• Magda Rakita, co-founder and executive director of Fujdacja Interakcja in Poland and co-founder of Interconnected UK
• Esan Regmi, co-founder and executive director of the Campaign for Change in Nepal.
Special U.S. Envoy for Global Youth Issues Abby Finkenauer and Assistant Health Secretary Rachel Levine are among the officials with whom the activists met.
Zieselman told the Washington Blade on Sept. 21 the activists offered State Department officials an "intersex 101" overview during a virtual briefing.
More than 60 Save the Children staffers from around the world participated in another virtual briefing. Zieselman noted the activists also met with Stern, U.N. and Organization of American States officials, funders and NGO representatives while in D.C.
"The people we met were genuinely interested," Rakita told the Blade.
Stern in an exclusive statement to the Blade said "the visiting intersex activists clearly had an impact here at State, sharing their expertise and lived experience highlighting the urgency to end human rights abuses, including those involving harmful medical practices against intersex persons globally." Andrew Gleason, senior director for gender equality and social justice at Save the Children US, in a LinkedIn post he wrote after attending his organization's meeting with the activists echoed Stern.
"There are many learnings to recount from today's discussion, but one thing is clear, this is unequivocally a child rights issue, and one that demands attention and action at the intersection of LGBTQI+ rights, reproductive rights and justice, disability justice and more," wrote Gleason. "Gratitude to the panelists for sharing such poignant testimonies and providing insights into what organizations like ours can do to contribute to the broader intersex movement; and thank you to Kimberly for your leadership and bringing this group together."
The activists' trip to D.C. coincided with efforts to end so-called sex "normalization" surgeries on intersex children.
Greek lawmakers in July passed a law that bans such procedures on children under 15 unless they offer their consent or a court allows them to happen. Doctors who violate the statute face fines and prison.
Germany Iceland, Malta, Portugal and Spain have also enacted laws that seek to protect intersex youth.
A law that grants equal rights and legal recognition to intersex people in Kenya took effect in July 2022. Lawmakers in the Australian Capital Territory earlier this year passed the Variation in Sex Characteristics (Restricted Medical Treatment) Bill 2023.
Intersex Human Rights Australia notes the law implements "mechanisms to regulate non-urgent medical care to encourage child participation in medical decisions, establish groundbreaking oversight mechanisms and provide transparency on medical practices and decision making." It further points out the statute "will criminalize some deferrable procedures that permanently alter the sex characteristics of children" and provides "funding for necessary psychosocial supports for families and children."
"It's amazing," Carpenter told the Blade when discussing the law and resistance to it. "It's not perfect. There was some big gaps, but physicians are resisting every step of the way."
The State Department in April 2022 began to issue passports with an "X" gender marker.
Dana Zzyym, an intersex U.S. Navy veteran who identifies as non-binary, in 2015 filed a federal lawsuit against the State Department after it denied their application for a passport with an "X" gender marker. Zzyym in October 2021 received the first gender-neutral American passport.
US global LGBTQ, intersex rights envoy speaks at Mexico City conference
Jessica Stern reiterated condemnation of Uganda's Anti-Homosexuality Act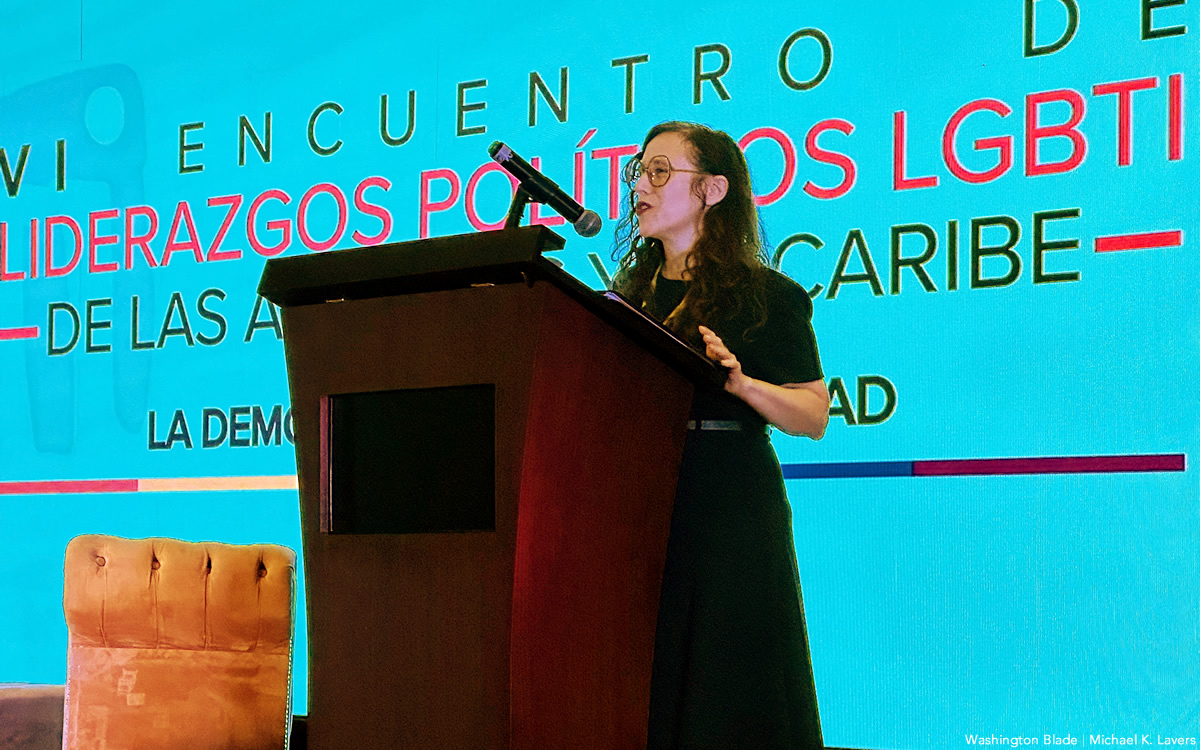 Editor's note: International News Editor Michael K. Lavers will be on assignment in Mexico City through Sunday.
MEXICO CITY — The special U.S. envoy for the promotion of LGBTQ and intersex rights abroad on Thursday said politicians around the world target LGBTQ and intersex people as a way to "distract" from their own governance failures.
Jessica Stern spoke at the opening of the LGBTI Political Leaders from the Americas and the Caribbean Conference in Mexico City that the LGBTQ+ Victory Institute co-organized with advocacy groups from Mexico, Colombia, the Dominican Republic, Peru, Honduras and Brazil.  
She once again condemned Uganda's Anti-Homosexuality Act that President Yoweri Museveni signed in May.
The bill contains a death penalty provision for "aggravated homosexuality" and criminalizes the "promotion of homosexuality" with up to 20 years in prison.
"One might argue that a meeting like this could be labelled promotion of homosexuality and we could all be held criminally liable for being in this conference room today," said Stern.
"[The Anti-Homosexuality Act] includes a duty to report clause that would require doctors, landlords and even family members to report anyone that they have reason to suspect is homosexual and that basically creates a surveillance state for all LGBTQI+ persons just for being," she added.
Stern said the Anti-Homosexuality Act and similar laws around the world contain provisions that "are intentionally and explicitly vague because the goal is not to keep anyone safe from LGBTQI+ people." Stern added politicians use hate speech, blackmail, extortion and violence to target LGBTQ and intersex people and make them into "boogeymen."
"The goal is to distract from crushing issues like corruption and poverty and climate change that don't have easy solutions," she said. "Scapegoating LGBTQI+ persons has real consequences. Turning an entire group of people into a threat to your society is not just a useful way to manipulate a domestic populace, in a world connected through social media the threats metastases regionally and globally."
Stern in her speech cited Human Rights Campaign statistics that indicate more than 500 anti-LGBTQ bills have been introduced in U.S. state legislatures in 2023, with nearly half of them specifically targeting transgender and nonbinary people. Stern noted state lawmakers have approved 70 of them: Fifteen ban gender-affirming care for minors, four "censor" school curricula and two "target drag performances."
"What an absolute tragedy," said Stern.
"The truth is the United States is not alone in these anti-LGBTQI attacks," she added.
Stern noted Thalía Rodríguez, a prominent trans activist, is one of 32 LGBTQ or intersex people who were reported murdered in Honduras in the first 10 months of 2022. Stern also referenced statistics from Colombia Diversa, a Colombian LGBTQ and intersex rights group, that indicate 41 LGBTQ and intersex people — six of whom were activists — were killed in the South American country between January and August 2021.
"This is completely unacceptable, and this is why we come together in rooms like this," said Stern.
Stern in her speech also highlighted LGBTQ and intersex rights advances in the Americas and the Caribbean.
She noted Antigua and Barbuda, St. Kitts and Nevis and Barbados decriminalized consensual same-sex sexual relations in 2022. Stern pointed out the Brazilian Supreme Court in 2021 ruled a law that seeks to combat domestic and gender-based violence "must be valid for all trans women."
Stern also referenced the 20 Mexican states that now allow people to update their names and gender markers "via a simple administrative process."
"This region is setting an example that is inspiring others around the world," she said.
President Joe Biden in 2021 signed a memo that committed the U.S. to promoting LGBTQ and intersex rights abroad as part of his administration's overall foreign policy. These efforts include support for marriage equality in countries where activists say it is possible through legislation or the judicial process.
The U.S. has imposed visa restrictions against Ugandan officials after Museveni signed their country's Anti-Homosexuality Act.
Stern in her speech said the Biden-Harris administration has pledged to combat so-called conversion in the U.S. and around the world. Stern also noted the Global Equality Fund, a U.S.-led initiative that seeks to promote LGBTQ and intersex rights around the world, has given more than $115 million to recipients in more than 100 countries since 2011.
"That would not be possible without the partnership of many governments in this region," she said.
Stern also noted she is the highest-ranking lesbian woman at the State Department.
Rufus Gifford steps down as State Department's chief of protocol
Openly gay Mass. native was US ambassador to Denmark from 2013-2017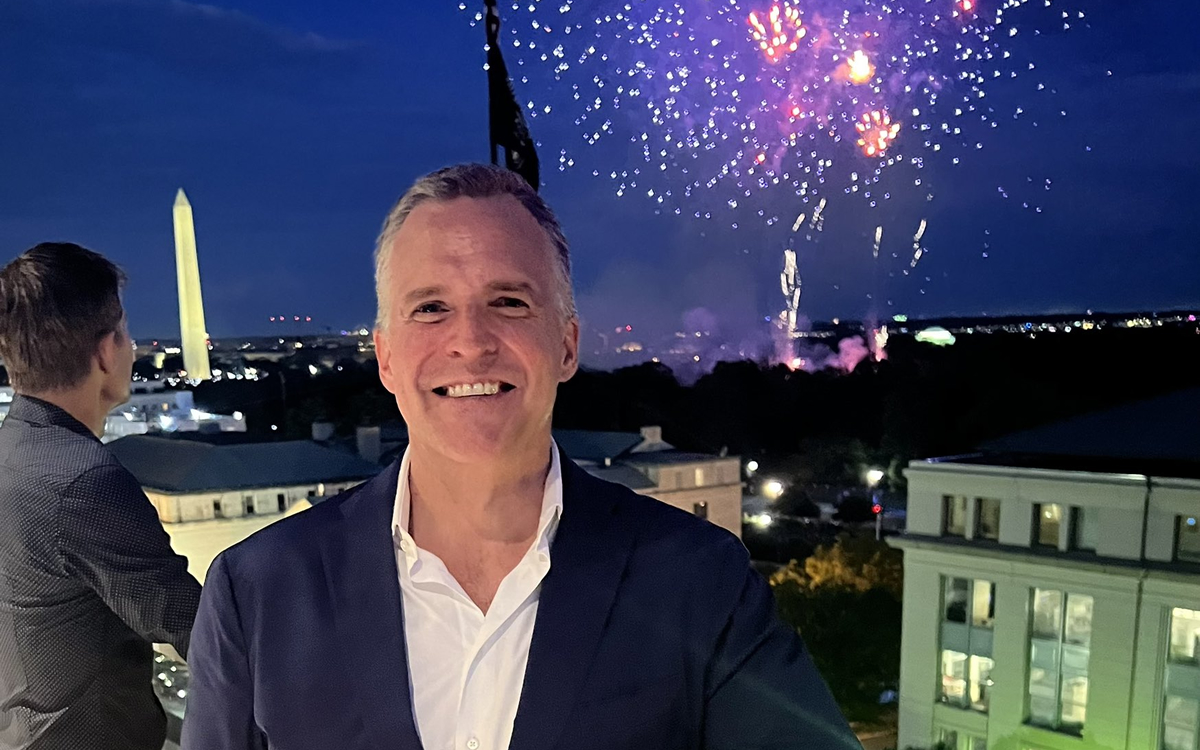 The State Department's openly gay chief of protocol on Monday announced he is leaving his post.
Rufus Gifford in a tweet said he is "tremendously grateful" to Secretary of State Antony Blinken and President Joe Biden "to have been given the chance to serve as" chief of protocol.
"Was an honor like no other," said Gifford.
"I've seen firsthand the positive impact of this State Department," he added. "I leave believing in the power of diplomacy more than ever."
Tremendously grateful to @SecBlinken & @POTUS to have been given the chance to serve as @US_Protocol . Was an honor like no other

I've seen firsthand the positive impact of this @StateDept . I leave believing in the power of diplomacy more than ever

I will miss you all. 🇺🇸🤝🌍 https://t.co/foXC0tlf2u

— Rufus Gifford (@rufusgifford) July 17, 2023
Gifford was the U.S. ambassador to Denmark from 2013-2017.
He unsuccessfully ran for Congress in his native Massachusetts in 2018. The U.S. Senate in December 2021 confirmed Gifford for the State Department position.
"On behalf of the State Department, I want to thank Rufus Gifford for his service as (chief of protocol)," said Blinken in a tweet. "Our relationships with countries around the world are stronger because of Rufus and his team's important work on behalf of our nation."
On behalf of the @StateDept I want to thank @RufusGifford for his service as @US_Protocol. Our relationships with countries around the world are stronger because of Rufus and his team's important work on behalf of our nation.

— Secretary Antony Blinken (@SecBlinken) July 17, 2023
Biden's re-election campaign on Monday named Gifford as its finance chair.