Gay man recounts escape from Taliban-controlled Afghanistan
Group regained control of country on Aug. 15, 2021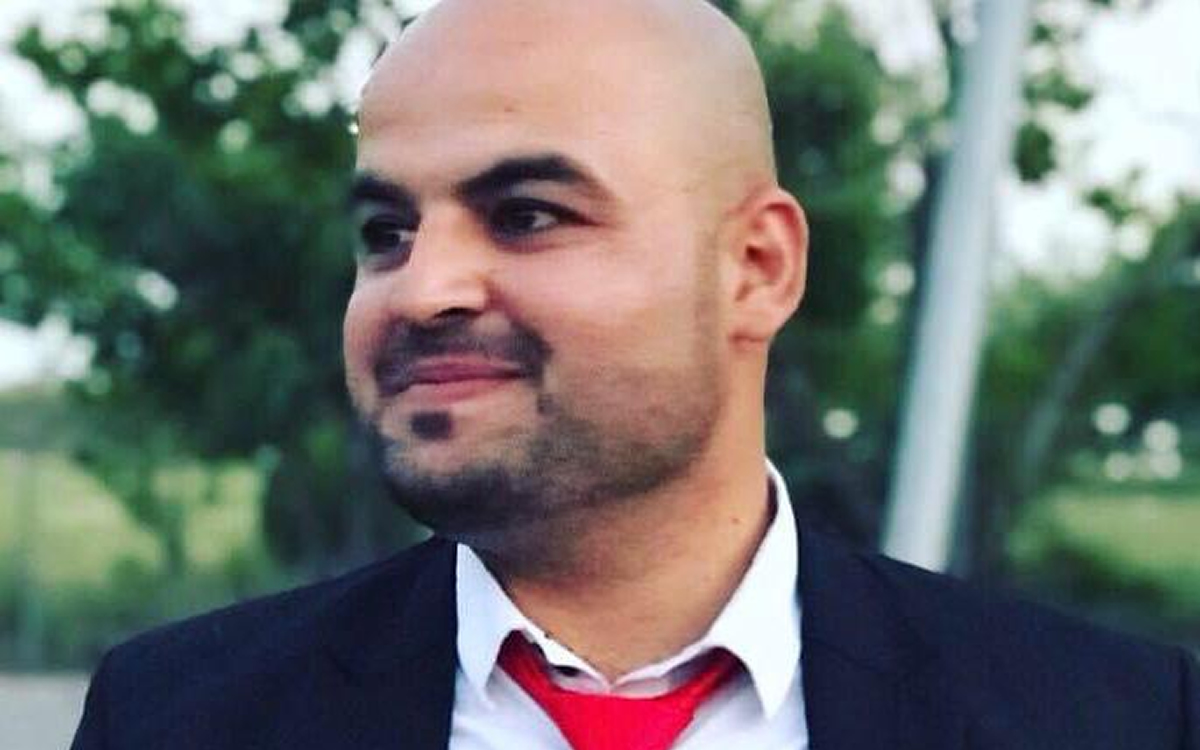 Imran Khan is a gay man from Afghanistan.
An American soldier who texted him on Aug. 26, 2021, 11 days after the Taliban regained control of Afghanistan, told him to go to Kabul International Airport. Khan, along with a group of other LGBTQ and intersex Afghans and members of the country's special forces, were able to pass through Taliban checkpoints after a mullah with whom they were traveling said they were going to their cousin's house for a child's funeral. The group of LGBTQ and intersex Afghans were able to enter the airport, but Khan and several soldiers who were members of the country's special forces were outside the perimeter when a suicide bomber killed more than 180 people at a gate the U.S. Marines controlled. They returned after the attack, but were then forced to leave.
Khan was still in Kabul on Aug. 30, 2021, when the last American forces withdrew from the country.
Kabul Luftbrücke, a German group, on March 18, 2022, evacuated Khan from Kabul to Pakistan. Khan arrived in Germany less than a month later and now lives in Korbach, a city in the country's Hesse state.
Khan's partner and many other LGBTQ and intersex Afghans he knows remain in Afghanistan.
"I'm still hoping that an angel will come and will save their lives before the Taliban finds them," Khan told the Washington Blade on Monday.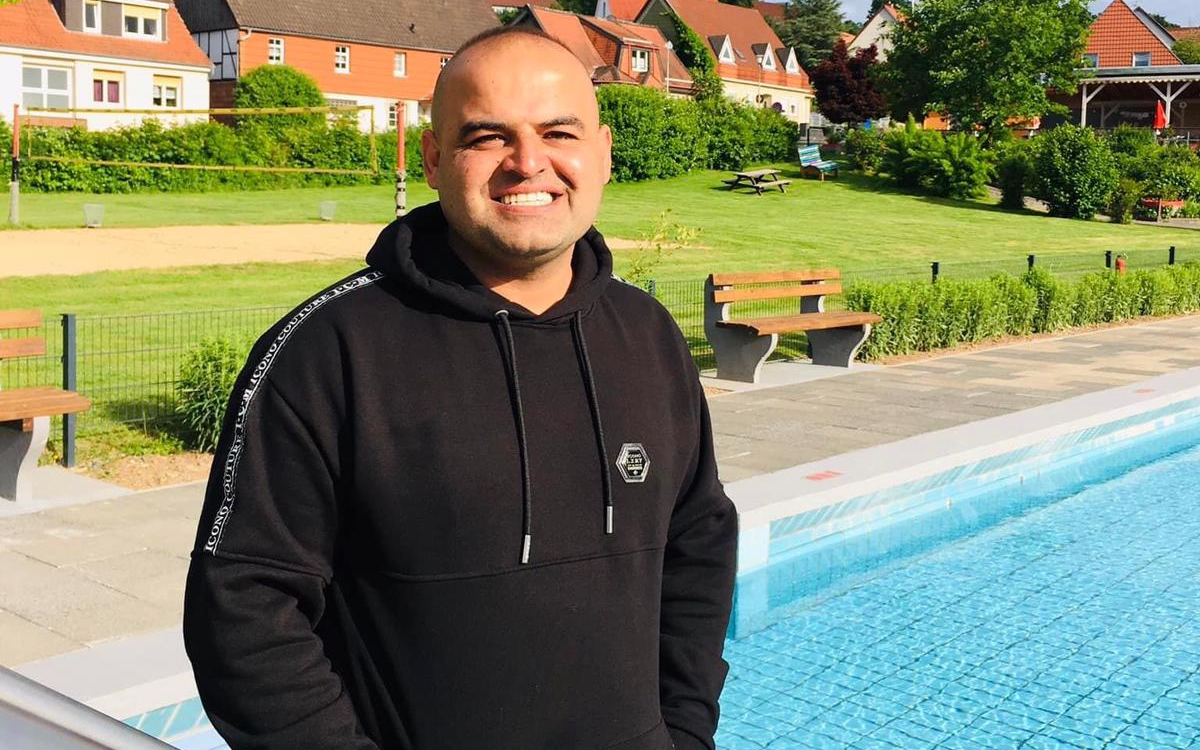 Khan is among the LGBTQ and intersex Afghans who have been able to leave Afghanistan since the Taliban regained control of the country.
Dane Bland, the director of development and communications for Rainbow Railroad, on Monday told the Blade the Toronto-based organization has been able to evacuate 247 LGBTQ and intersex Afghans to the U.S., the U.K., Canada and Ireland.
A group of 29 LGBTQ and intersex Afghans who Rainbow Railroad helped evacuate from Afghanistan with the help of the British government and two LGBTQ and intersex rights groups in the country — Stonewall and Micro Rainbow — arrived in the U.K. on Oct. 29, 2021. A second group of LGBTQ and intersex Afghans reached the country a few days later.
Taylor Hirschberg, a researcher at the Columbia Mailman School of Public Health who is also the Hearst Foundation scholar, said he has helped upwards of 70 LGBTQ and intersex Afghans and their families leave the country.
"I know that there are some people who are still fighting to get people out, but now it has come down to a trickle," Hirschberg told the Blade on Monday.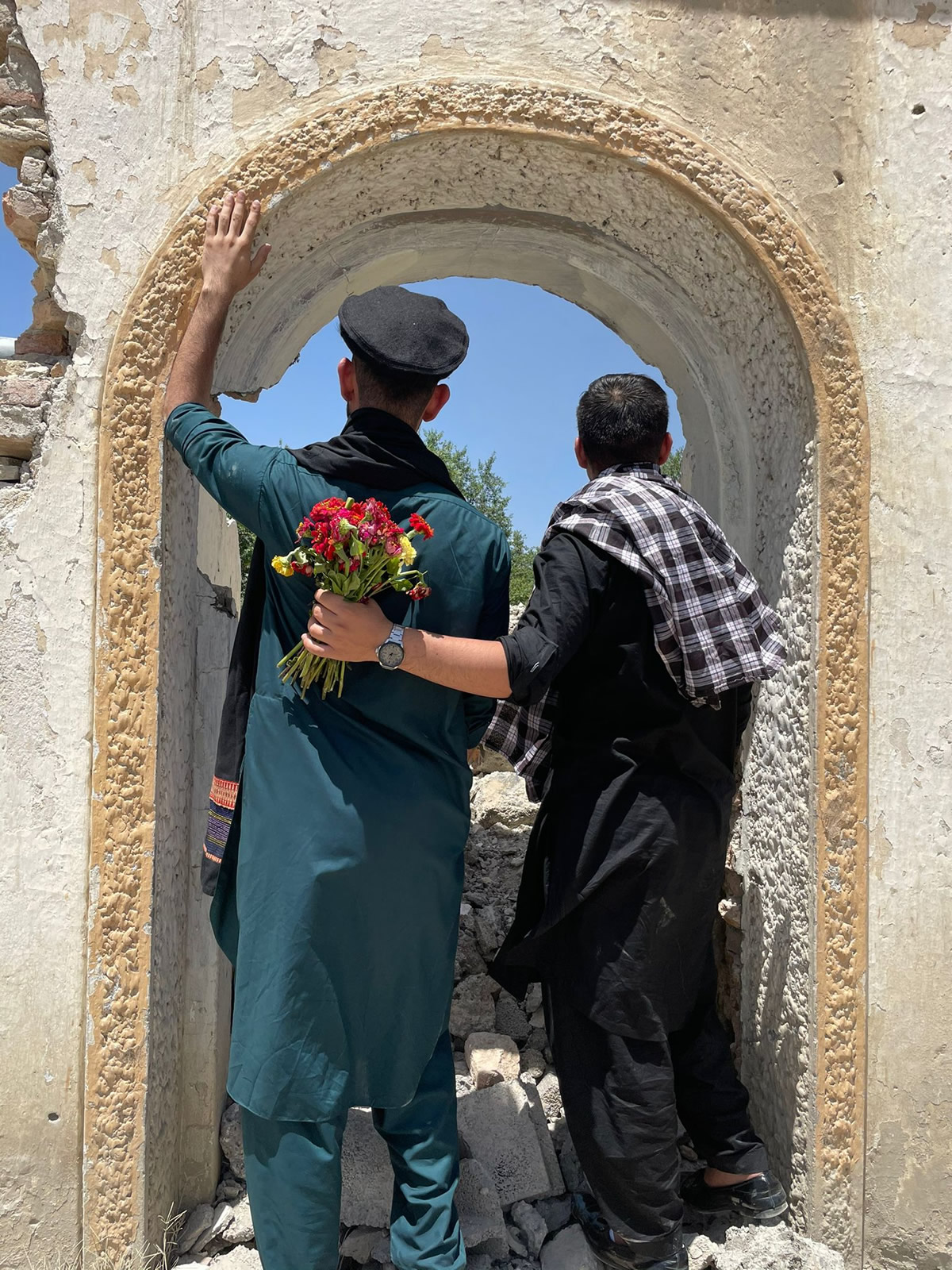 A Taliban judge in July 2021 said the group would once again execute gay people if it were to return to power in the country.
A report that OutRight Action International and Human Rights Watch released earlier this year notes a Taliban official said his group "will not respect the rights of LGBT people" in Afghanistan. The report also documents human rights abuses against LGBTQ and intersex Afghans, including an incident in which the Taliban beat a transgender woman and "shaved her eyebrows with a razor" before they "dumped her on the street in men's clothes and without a cellphone."
OutRight Action International on Monday told the Blade that it has had "at least one confirmed report of the killing of an LGBTQ activist, police searching for another and several more reports of extrajudicial killing and other forms of persecution that are difficult to confirm given the danger to political witnesses."
"The U.S. and other governments that profess support for human rights need to do more to ensure the Afghan regime respects fundamental rights of all Afghans and help those in danger to reach safety," said OutRight Action International.
Bland said Rainbow Railroad "absolutely" feels "governments, including the governments of the United Kingdom, Canada and the United States, should be doing more to help LGBTQI+ Afghans fleeing the current crisis."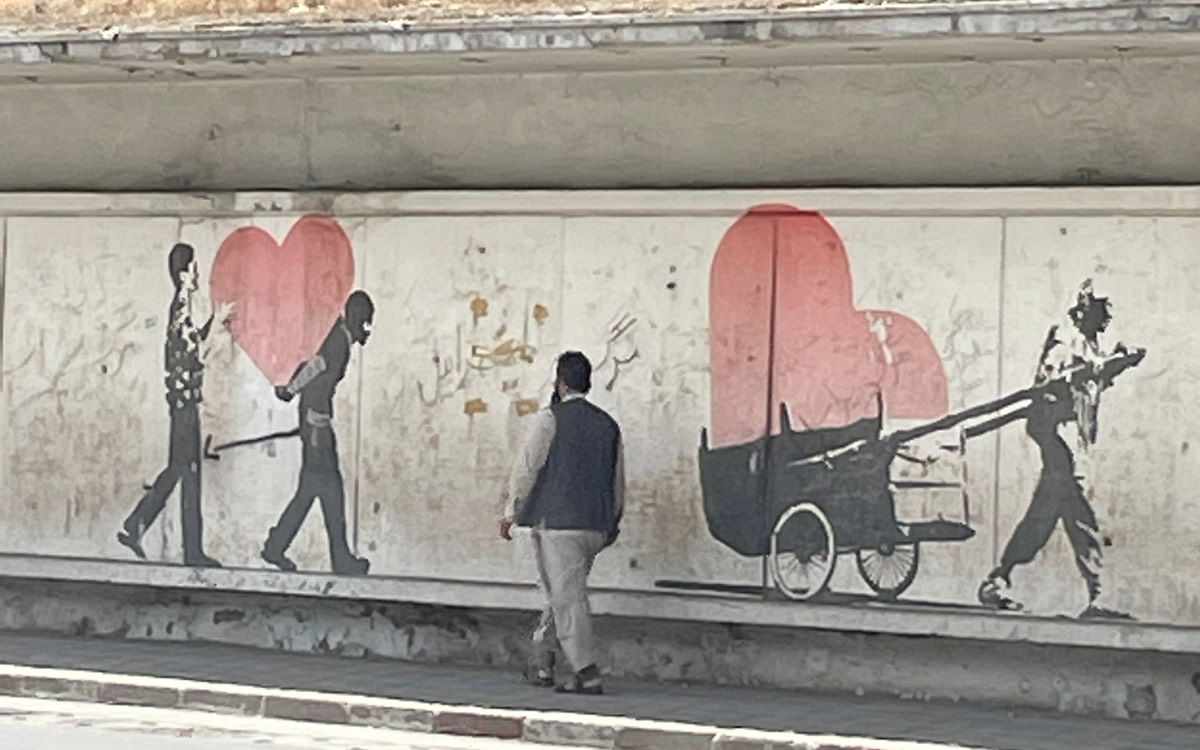 Immigration Equality Legal Director Bridget Crawford on Monday noted her organization's LGBTQ and intersex Afghan clients who "survived unspeakable trauma, both as a consequence of sharia law and existing brutal homophobic practices" are "now safely resettled in Canada." Crawford nevertheless added that Immigration Equality recognizes that "many more queer people are still at grave risk in Afghanistan."
"The Biden administration must prioritize these LGBTQ Afghans as refugees in the United States," said Crawford. "President Biden himself has expressed that the U.S. has the good will and capacity to take in vulnerable refugees, but he must back up those words with action."
State Department spokesperson Ned Price on Monday told reporters during a briefing that nearly 90,000 Afghans have been "evacuated or otherwise transported to the" U.S. since Aug. 15, 2021. Price also noted the U.S. has "facilitated the departure of some" 13,000 Afghans from Afghanistan since the last American troops withdrew from the country.
"There are a number of priorities, a number of enduring commitments we have to the people of Afghanistan," said Price. "At the top of that list is to use every tool that we have appropriate to see to it that the Taliban lives up to the commitments that it has made publicly, that it has made privately, but most importantly, the commitments that the Taliban has made to its own people, to all of the Afghan people. And when we say all of the Afghan people, we mean all. We mean Afghanistan's women, its girls, its religious minorities, its ethnic minorities. The Taliban has made these commitments; the Taliban, of course, has not lived up to these commitments."
Price, who is openly gay, did not specifically refer to LGBTQ and intersex Afghans during Monday's briefing.
Hirschberg said Canada, France, Germany and the U.K. have "come to bat" and "are really supporting getting LGBTQI Afghans out, along with others." He told the Blade the U.S. has not done enough.
"We're not seeing quite the eagerness from the United States, unfortunately," said Hirschberg.
The Blade has reached out to the White House for comment on the first anniversary of the Taliban regaining control of Afghanistan and efforts to help LGBTQ and intersex Afghans leave the country.
Ukraine overshadows plight of LGBTQ and intersex Afghans
Russia on Feb. 24 invaded Ukraine.
The U.N. High Commissioner for Refugees notes more than 6 million Ukrainians have registered as refugees in Europe.
The European Union allows Ukrainians to travel to member states without a visa.
Germany currently provides those who have registered for residency a "basic income" that helps them pay for housing and other basic needs. Ukrainian refugees can also receive access to German language classes, job training programs and childcare.
Dr. Ahmad Qais Munhazim, an assistant professor of global studies at Thomas Jefferson University in Philadelphia who is originally from Afghanistan, has helped three groups of Afghans leave the country since the Taliban regained control of it.
Munhazim on Monday noted to the Blade his family has lived in a Toronto hotel room for three months. Munhazim also pointed out the treatment that Ukrainian refugees once they reach the EU, the U.K., Canada or the U.S.
"Countries of course would claim they were not prepared, but we can see that it was a very racialized response," said Munhazim. "The way they responded to Ukraine, they weren't prepared for that either, but we know that these borders immediately started opening up, assistance was offered in a very, very humanitarian way to Ukrainians just because they had blond hair and blue eyes, which was not offered to Afghans or Syrians earlier when they were fleeing Syria."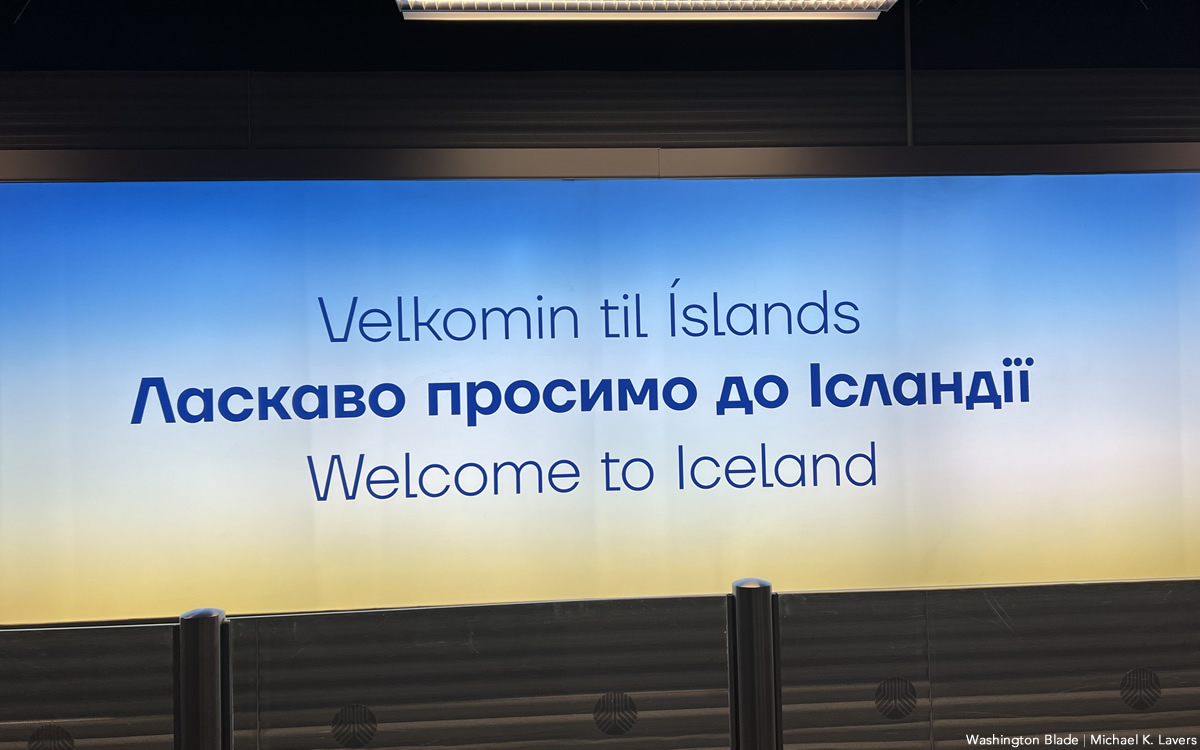 Maydaa told the Blade that countries had "this huge concern about LGBT people coming from Afghanistan."
"It was related to, I believe, terrorism and all this prejudgment of Afghan people," said Maydaa. "I also think this is playing a huge role when it comes to resettlement and international action."
Maydaa, like Munhazim, also noted the different reception that Ukrainian refugees have received once they reached the EU or the U.K.
"They, especially in Europe and the U.K., feel they have more responsibility towards Ukraine," said Maydaa. "[There was] all this racism on the news. 'They look like us. They are blonde, green eyes, white skin, Christians.'"
Sri Lanka president says government will not oppose decriminalization bill
Ranil Wickremesinghe made comment during meeting with USAID administrator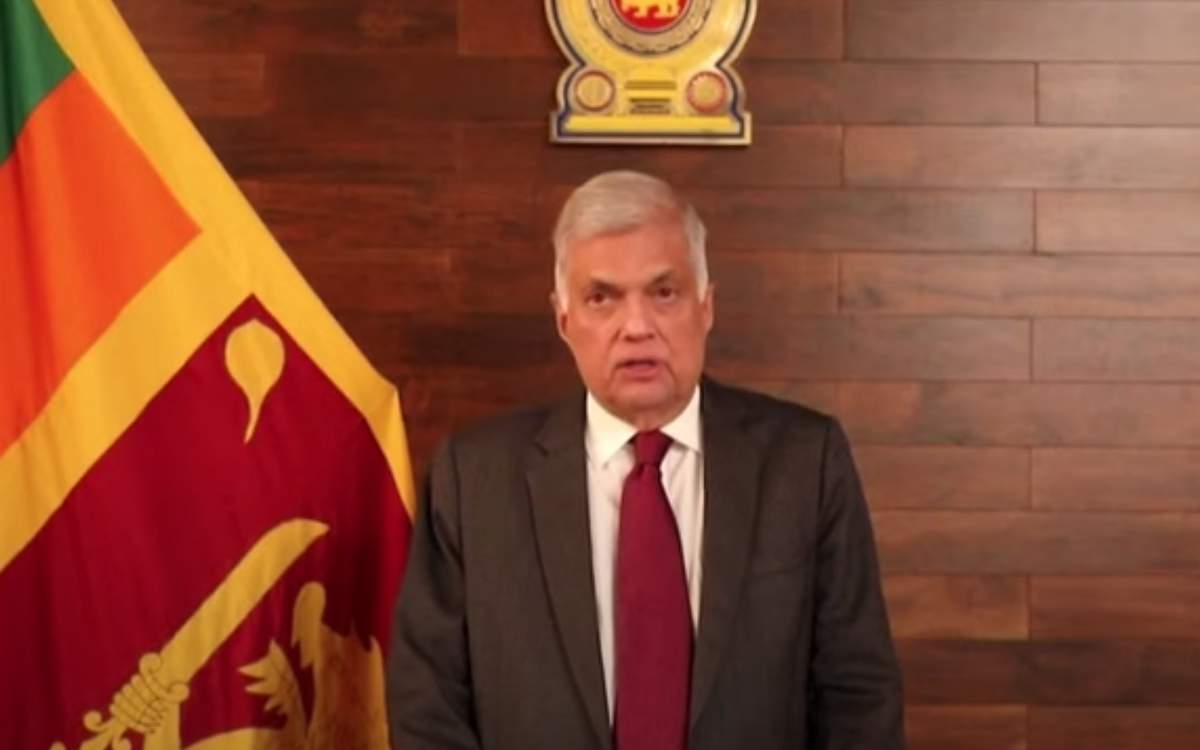 The president of Sri Lanka on Sunday said his government will not oppose a bill that would decriminalize consensual same-sex sexual relations in the country.
The Colombo Gazette, a Sri Lankan newspaper, reported Ranil Wickremesinghe made the comment during a meeting with U.S. Agency for International Development Administrator Samantha Power.
Sri Lanka, a former British colony, is among the countries in which homosexuality remains criminalized.
The U.N. Committee on the Elimination of Discrimination Against Women in March ruled the criminalization of consensual same-sex sexual activity in Sri Lanka violated the rights of Rosanna Flamer-Caldera, executive director of Equal Ground, a Sri Lankan LGBTQ and intersex rights group.
Parliamentarian Premnath Dolawatte last month introduced a bill that would amend Sri Lanka's Penal Code to decriminalize homosexuality. The Colombo Gazette reported Wickremesinghe said "individual" MPs will have to decide whether to support the measure.
"We are for it, but you have to get the support of individual members," he said. "It's a matter of their private conscience."
Flamer-Caldera on Monday told the Washington Blade that she is "optimistically cautious" after Wickremesinghe's comments.
While the president and his government won't oppose it still needs to be passed in Parliament," said Flamer-Caldera. "Let's see how it goes."
India activists use Independence Day to reiterate call for equality
Government, private institutions continue to exclude transgender people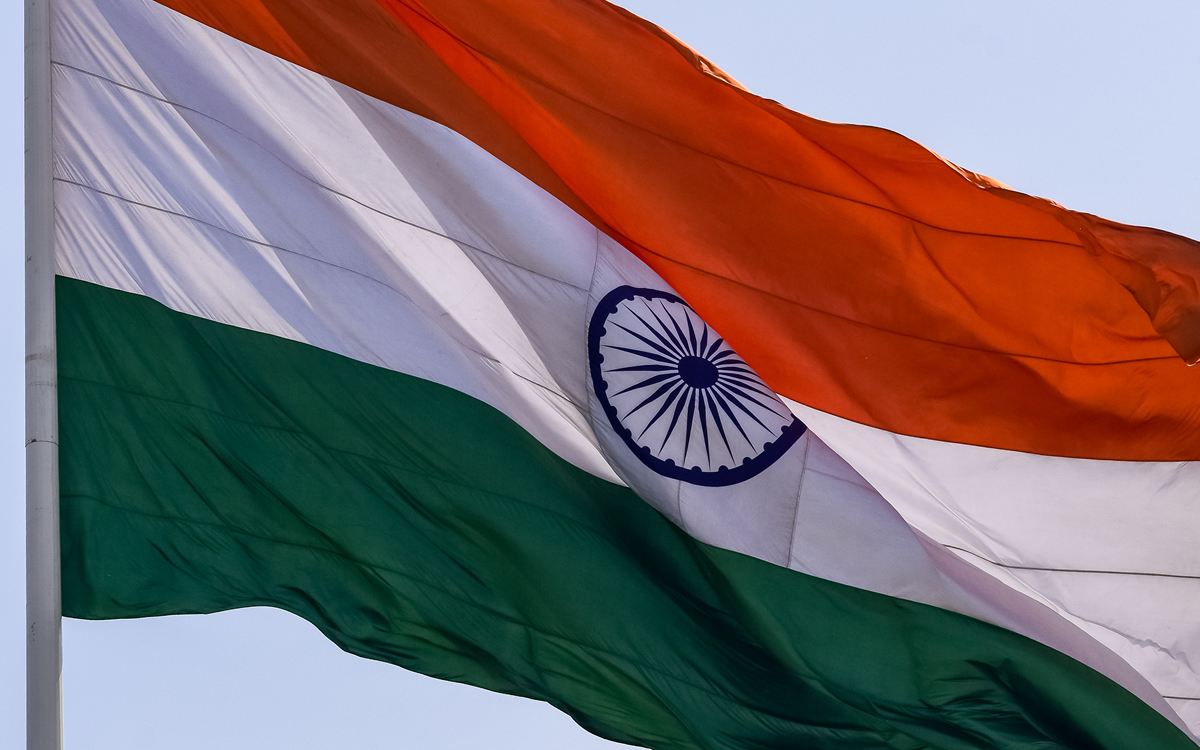 India on Aug. 15 celebrated 76 years of independence.
This year's Independence Day was very different. The Indian flag was everywhere; on cars, taxis, trucks, homes and government buildings. The country celebrated its true identity — Bharat, the Sanskrit name of India.
Sanskrit, the world's oldest language, is part of India's cultural identity. But the country's LGBTQ and intersex community is still searching for true inclusion in different government and private institutions.
The Indian Supreme Court in 2018 struck down the colonial-era law that criminalized homosexuality. Four years later, on Aug. 15, Prime Minister Narenda Modi addressed the national from the Red Fort in Delhi, and talked about his vision for the country by 2047, but he did not specifically address the LGBTQ and intersex community.
The Indian government and private institutions do not allow people to choose gender-neutral or genderfluid identity markers. The use of appropriate pronouns for the LGBTQ and intersex community in public or private institutions is not very common either.
The Washington Blade sought comment from the Indian Post, the world's most heavily used mail system, for comment on the issue, but it did not reply.
The Indian Post offers a variety of mail, insurance and banking services to its customers. While analyzing the saving account opening form, the Blade found that there are only three gender options: Male, female and other.
The Supreme Court in 2014 recognized transgender people as the third gender in a landmark ruling and ordered the government to provide welfare programs to the community.
"It is the right of every human being to choose their gender," said the Supreme Court.
The available gender options force one to identify either with male, female, or other as trans even if they are not any of these. The Madras High Court in 2021 laid out an agenda of inclusion for the LGBTQ and intersex community, but the majority of government and private institutions are still far from following these rulings.
The Blade also contacted public sector banks as well as private ones like HDFC Bank; Central Board of Secondary Education; a national level education board; Axis Bank and the Department of Social Justice and Empowerment, but received no response.
The Blade reached out to the Bank of Baroda, one of the country's public sector banks.
A person with the bank's HR team hung up the phone when asked to comment. The bank has a branch in New York, but it did not respond to a request for comment.
Not everything, however, is as bad as it seems.
Kerala, a state in southern India, in January 2021 decided to include "transgender" as the option in all government forms for a more inclusive approach. Following the Supreme Court judgment, the state established a district board for the trans community that can respond to trans-specific ID cards.
Government and private institutions are failing to achieve complete gender inclusivity — including the use of proper pronouns — in spite of efforts to enact progressive policies for India's trans, lesbian, gay, bisexual, queer and intersex communities.
Tamil Nadu, another state in southern India, on Aug. 20 published a document from its Social Welfare and Women Empowerment Department.
The document included a glossary of terms to be used to address the LGBTQ and intersex community, and it came from the Madras High Court. The Tamil Nadu government mandates the use of terms from the glossary in all institutions, including the media, to address community members. It includes "thirunangai" (trans women,) "thirunambi" (trans men,) "pal puthumaiyar" (queer) and "oodupal" (intersex.)
Many high school students with whom the Blade spoke said the use of these terms would be a positive step towards inclusivity, but private schools and other institutions do not provide many options for those who want to select their gender.
The Blade in December 2021 reported the National Council of Educational Research and Training published a manual to make teachers and students more sensitive to LGBTQ and intersex issues. It was meant to create a more inclusive environment for trans students, but the organization withdrew the manual after conservative activists protested.
To make sense of how gender identity and sensitization about gender can affect students in schools, one must look back at February of this year, when a student of Delhi Public School, a premier private school, died by suicide by jumping off his residential building. His mother in a complaint she filed with the police alleged her teenaged son faced extreme harassment at school over his sexuality.
Changes in colleges and universities are also coming, but the pace is slow.
The Blade in April reported that the National Academy of Legal Studies and Research became India's first gender-neutral university. With this new policy, the university also included the gender-neutral prefix Mx.
The Indian Institute of Technology in Mumbai, a premier institution in India, and other central government-funded institutions have accepted and are supporting LGBTQ and intersex inclusion by allowing the formation of an LGBTQ and intersex club at the campus. But gender options other than male, female and other, are still not available on the institute's entrance exam or during the admission process.
"We agree that despite various rulings and judgments passed by the Supreme Court, there is still a long way to go for having better inclusion in government institutions. Though from having 'male' and 'female' as the only two default options to choose from, there has been increasing inclusion of 'genderfluid', 'others', 'prefer not to say,' etc., as categories of identity in many, if not all, places," said Khushi, a representative of Saathi, an LGBTQ and intersex support group and a club at the Indian Institute of Technology. "Yet to make this phenomenon or this change a habit or routine, there is a lot that needs to happen. Given the way Indian society is structured, this entire idea many a time falls on deaf ears."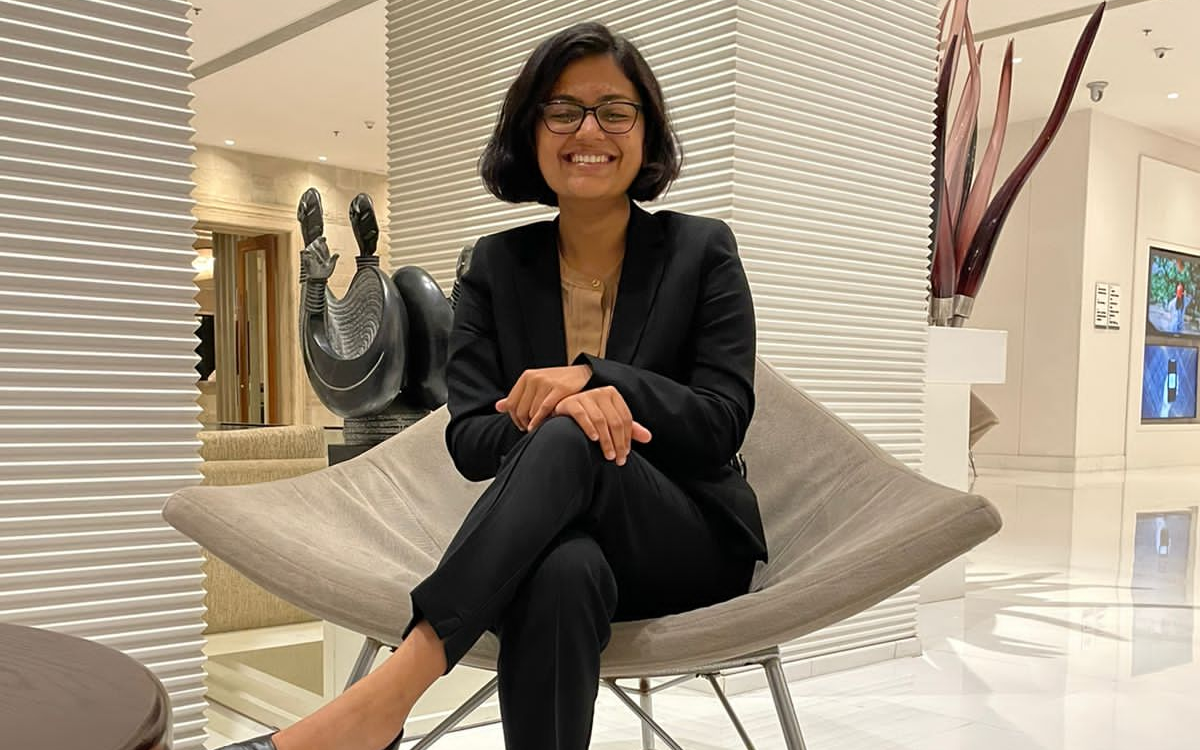 Saathi throughout the year organizes workshops, movie screenings and informal meetings for everyone, including straight people who want to understand the community.
"To bring about a change, the government bodies have to consistently use inclusive language across its portals. Being inclusive in the school/college admission process as well as a further commitment to a gender inclusive and friendly environment can go a long way," said Khushi. "Apart from that government can support already existing academic level and independent organizations that uphold the LGBTQIA+ cause. Anti-harassment policies can be gender neutral. In case of universities there can be courses that run-in sex and gender identity. There can be compulsory nonbinary gender orientations. There are many other things that can be done but the point is that though slowly but surely some change is coming through."
Instagram in 2021 announced the inclusion of the LGBTQ and intersex community by providing the option to add pronouns. But Meta's picture-sharing app is still far from providing the Indian LGBTQ and intersex community with this feature.
The Blade reached out to Meta for a comment on the issue, but the company, which faces accusations of failing to prevent the incitement of violence in neighboring Myanmar, did not respond to multiple requests.
While talking with the Blade, Kumaresh Ramesh, a former Saathi coordinator, said that even though the courts have decriminalized same-sex relationships and advanced the rights of people in the trans community, there is a lot of work left to be done to mainstream acceptance in the society.
Ramesh graduated from the Indian Institute of Technology last year and is no longer part of Saathi. While expressing his opinion, he suggested some measures which can help normalization of other gender and pronoun use.
"While one can litigate in court for enforcing these changes, we should also work on organically making it commonplace. For instance, if we make it a point to state our preferred pronouns and encourage others to do so, the government will eventually have to follow suit. I would like to request professors and teachers across disciplines to also state their preferred pronouns while they introduce themselves. This could be a small but powerful step towards fostering acceptance," said Ramesh.
"Although IIT Bombay is centrally-funded and the current central government has not come out in support of the LGBTQ community, the administration has been largely supportive of Saathi, especially in the more recent years as awareness about the community has gone up. Talking about the government, intent is the key. If the government wishes to further the acceptance of the community, the importance of diversity and inclusion should be taught to school students. Greater representation of the community in school curriculum will increase acceptance not just in the young generation but also their parents and grandparents."
Neysara, the founder of Transgender India, an online portal that supports the trans community and creates awareness, said that preferred gender-neutral pronouns are important for the Indian trans community. She also said that to make preferred/gender-neutral pronouns one of the centerpieces of Indian trans discourse would be a prime example of blindly copy-pasting western trans discourse to India without any understanding of the cultural context.
"Forget the pronouns printed in a form, most trans people in the country are not even allowed to enter SBI (one of India's largest public sector bank) or a post office," said Neysara. "How will they even see this form? Such tokenistic moves of printing a word on a form is super easy, what's more difficult is inclusion, reform and sensitization. That's what we need in any office."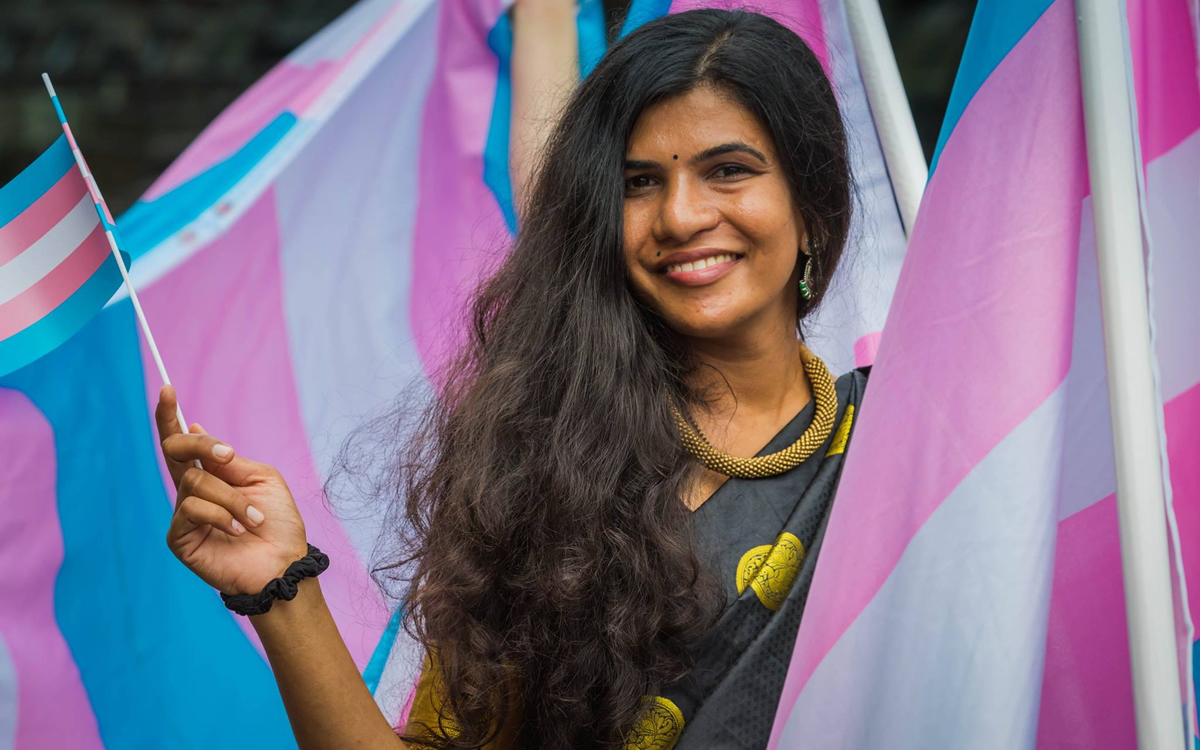 Ankush Kumar is a freelance reporter who has covered many stories for Washington and Los Angeles Blades from Iran, India and Singapore. He recently reported for the Daily Beast. He can be reached at [email protected]. He is on Twitter at @mohitkopinion.
Chinese activist continues fight for LGBTQ, intersex rights from U.S.
Yanhui Peng successfully challenged 'conversion therapy' clinic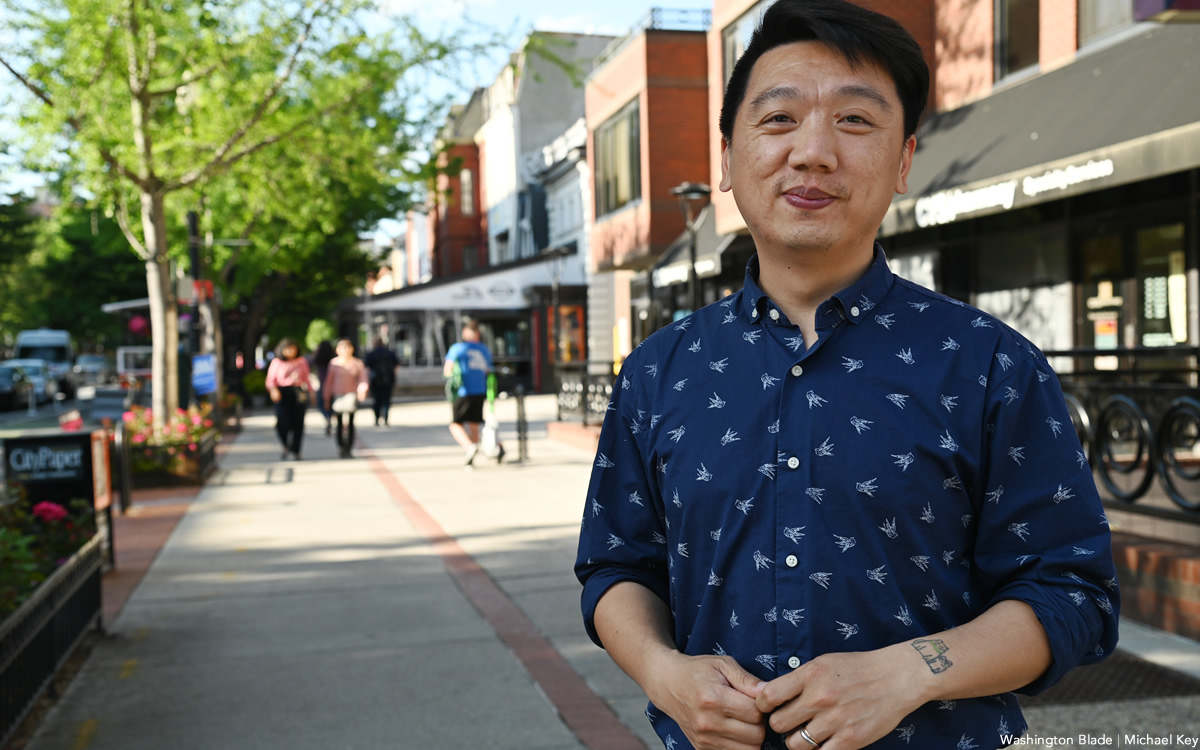 Yanhui Peng, co-founder of LGBT Rights Advocacy China, a Chinese advocacy group, in 2014 sought to expose doctors and therapists who practice so-called conversion therapy.
He saw an ad on Baidu, a Chinese search engine, for a therapist in the city of Chongqing who used electroshock therapy to "cure" a person's homosexuality. The therapist charged patients $5,000 (34,506 Chinese yuan) for 30 treatments.
"They will make sure you will be straight," Peng recalled to the Washington Blade during a May 19 interview in D.C.
Peng decided to receive a treatment, which cost $90 (621.12 Chinese yuan) and lasted an hour.
"He asked me to lay down on a sofa and he started to hypnotize me," recalled Peng. "He asked me to close my eyes, calm down, breathe in, breathe out."
Peng described the room in which he was as "small" and "very uncomfortable."
"He then started to ask me to think about a situation, having sex with men, and see if I have some mental or physical reaction to move my fingers … he didn't wait until I moved my finger. He just used the electroshock equipment. He electroshocked me on my arms," he said. "It wasn't so strong, but it was scary because it was sudden."
Peng said he received two additional electroshock treatments before he left the clinic. Peng kept his receipt and included it in a complaint against the therapist that he filed in court.
A judge ruled in his favor, noting homosexuality is not a disease and "gay cure advertisement is illegal." The ruling is the first time a judge in China ruled in favor of LGBTQ and intersex rights.
"Luckily we won the case," Peng told the Blade. "It was a surprise."
Peng said the ruling inspired LGBT Rights Advocacy China to file additional cases.
One case involved a 37-year-old man whose parents forcibly admitted him to a mental hospital for 19 days because he is gay. Peng told the Blade that personnel forced the man to take medication and punished him if he refused.
Another case involved a kindergarten teacher who was fired after he posted gay-specific news on social media. LGBT Rights Advocacy China also represented a lesbian couple from China who had a child after they legally married in Los Angeles.
LGBT Rights Advocacy China shut down in November 2021 amid increased government restrictions against NGOs and what the Associated Press described as "social activism."
Peng, who currently studies at Yale University, continues to champion LGBTQ and intersex rights in China. Peng, among other things, speaks with IBM and other companies with offices in China about the need to support their LGBTQ and intersex employees.
"In China, they focus on economic development and there are so many international companies," he said. "More and more companies realize there is a pink dollar."
'I just persuaded myself that I'm not gay'
Peng, 39, grew up in a small town about 180 miles outside of Guangzhou, a city in southern China that is close to Hong Kong. Peng was still in the closet when he enrolled in a Guangzhou university in 2002.
"It was my first time knowing the term homosexuality," he said, noting he learned about homosexuality on the internet that had just begun to become widely available in China. "It was so negative because when I searched the term 'tong zhi' (gay in Chinese) it all appeared abnormal, [gay people] have sex with everybody and get diseases like HIV. I was scared. I thought it wasn't ok."
Peng said he went to his university's library to research homosexuality. He told the Blade that most of the books he read "didn't mention homosexuality" and the few that did "said homosexuality is a disease."
"I couldn't even accept myself," he said. "I just persuaded myself that I'm not gay."
Peng said he didn't talk about his homosexuality with his family, in part, because his classmates bullied him because he was "kind of feminine." Peng told the Blade that he was afraid to use the bathroom in school because he "was afraid that when I would go to the toilet people would laugh at me."
Peng said he "persuaded myself to fall in love with other girls" when he was a university student.
He told the Blade that he was still in the closet when he began to work for an NGO and "started to realize there were LGBT groups in Guangzhou."
"The community was there, but I was so scared to join them," said Peng. "I tried to be a volunteer and persuade myself that I'm not gay."
Peng was 27 in 2010 he finally mustered the courage to come out to a colleague on whom he had a crush while they were participating in a two-day hiking event. The man was straight, but Peng told the Blade that his reaction to his homosexuality was "so positive."
"He encouraged me a lot," said Peng. "I forgot to tell him that I love him."
"After that I started to come out to everybody," he added.
Peng in 2013 quit his job and co-founded LGBT Rights Advocacy China. He filed suit against the Chongqing conversion therapy clinic the following year.
Peng's parents still did not know about his homosexuality, but they did watch him on Chinese television after the judge ruled in his favor.
"The national media talked about our case," he said. "All my relatives called them and asked what happened, what happened to your son. I think they got a lot of pressure. They presented not to know and haven't discussed this topic with me. They know … I think they don't accept it. They can't control me because I live so far away."
Peng over the summer married his husband in Utah.
Government censorship, COVID-19 lockdowns among community challenges
China decriminalized homosexuality in 1997, but the government has banned depictions of same-sex relationships and "sissy men" in the media. Transgender people who are at least 18 can legally change their gender after the undergo sex-reassignment surgery.
The State Department's 2021 human rights report cites reports of discrimination and harassment based on sexual orientation and gender identity. The report also notes LGBT Rights Advocacy China's decision to shut down.
Peng told the Blade that the Chinese government's sweeping lockdowns to prevent the spread of COVID-19 have had a serious impact on LGBTQ and intersex people.
He noted NGOs in Wuhan worked with local authorities to provide medications to people with HIV/AIDS when the city was locked down from Jan. 23, 2020, until April 8, 2020. Peng said they also sought to hold virtual meetings in which LGBTQ and intersex people could participate from their homes.
Pride Month events took place in Shanghai in June 2020, but the city was under a strict COVID-19 lockdown when Peng spoke with the Blade.
"It's kind of difficult," he said.
Hong Kong had been scheduled to host the Gay Games in November, but the pandemic prompted organizers to postpone them to 2023. The Federation of Gay Games, which organizes the quadrennial event, earlier this year announced Hong Kong will co-host it with Guadalajara, Mexico.
Gigi Chao, co-founder of Hong Kong Marriage Equality, late last year during an interview with the Blade dismissed calls to boycott the 2023 Gay Games over China's human rights record.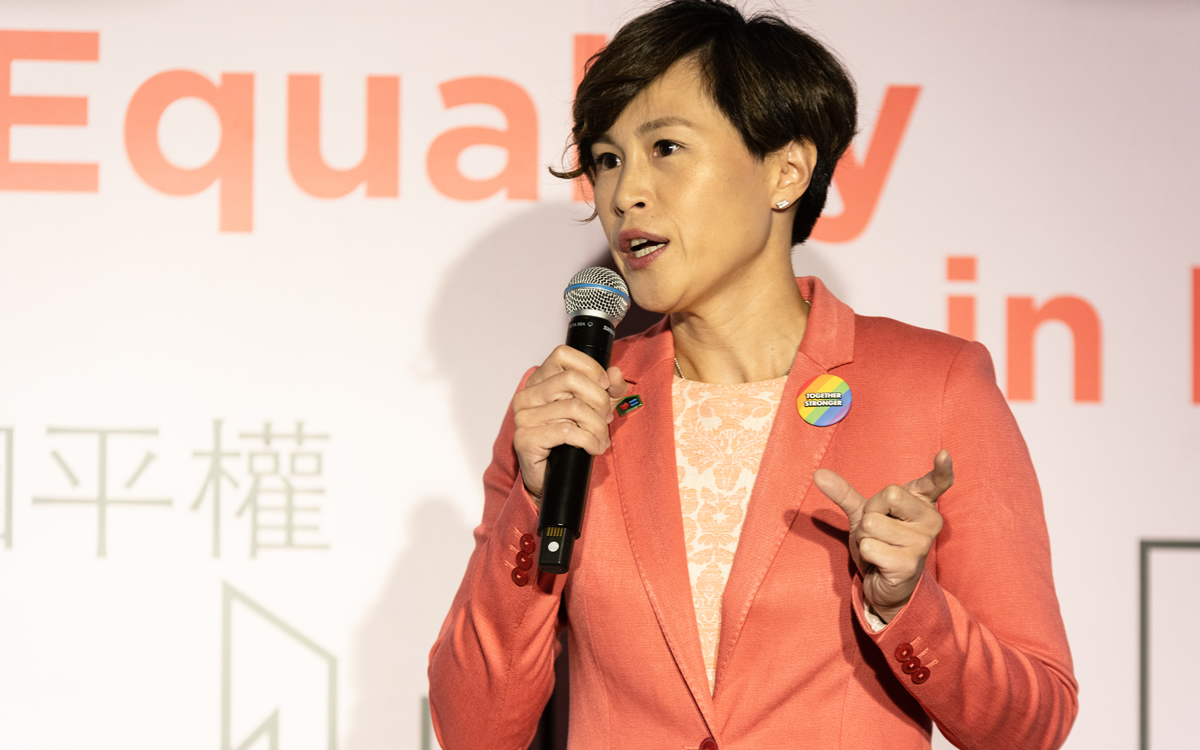 Peng said he and other activists in China "were so happy that Hong Kong was going to organize" the Gay Games, but he did not specifically discuss the human rights concerns. Peng nevertheless said he continues to support the event's organizers in Hong Kong.
"I hope they won't give up," he said. "It's a good opportunity for more businesses because there are a lot of international businesses in Hong Kong to show support. I think they should speak out to support them."
Asian Development Bank LGBTQ, intersex safeguards 'quite important'
Chantale Wong, the U.S. director of the Asian Development Bank who is the first openly lesbian American ambassador, was born in Shanghai in 1954. Her parents in 1960 placed her in the bottom of a boat that brought her and her grandmother to Hong Kong, which was a British colony at the time.
Peng praised Wong and her ambassadorship. He has also testified in support of LGBTQ and intersex-specific safeguards for the Asian Development Bank.
"It's quite important because ADB invests $2 billion every year in China," said Peng. "If there's an LGBT safeguard, these projects can be LGBT-inclusive, friendly … can have some benefit for LGBT people."