Advocacy groups renew calls for U.S. to help LGBTQ Afghans
New report details Taliban abuses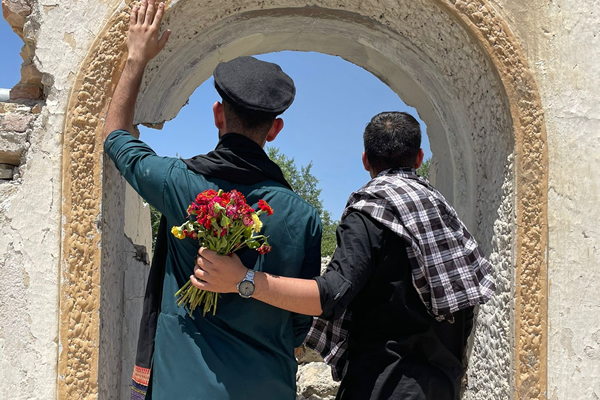 Advocacy groups on Wednesday renewed calls for the U.S. and other countries to do more to help LGBTQ Afghans who remain inside Afghanistan after the Taliban regained control of it.
A report from OutRight Action International and Human Rights Watch that details the plight of LGBTQ Afghans includes a series of recommendations for the U.S. and other "concerned governments."
– Use any diplomatic leverage to press the Taliban to recognize the rights of everyone in Afghanistan, including LGBT people.
– Recognize that LGBT Afghans face a special risk of persecution in Afghanistan and neighboring countries and expedite their applications for evacuation and resettlement.
– Support and facilitate the delivery of humanitarian assistance to Afghans in need, and support organizations providing humanitarian assistance, including programs specifically designed to assist LGBT Afghans.
– Ensure that support to organizations working in Afghanistan is directed to organizations that commit to gender-sensitive programming, nondiscrimination, and inclusion of LGBT beneficiaries.
– In engagements with formal and informal civil society groups in Afghanistan, including human rights organizations, women's rights and feminist organizations, and organizations focused on health, education, or youth, raise concerns about abuses against LGBT Afghans and urge such groups to be inclusive of LGBT Afghans.
– Engage with civil society organizations directly or indirectly addressing LGBT issues in Afghanistan, informal groupings of LGBT people, and community leaders who are well networked within LGBT communities to best help them protect their rights.
The report also includes recommendations for countries from which LGBTQ Afghans have asked for asylum.
– Fully respect the rights of Afghan people who are or are perceived to be LGBT to claim asylum where they can demonstrate a well-founded fear of persecution.
– When considering asylum claims and other requests for protection from LGBT Afghans, fully consider all evidence regarding violations of the rights of LGBT people in Afghanistan, who faced severe discrimination previously and especially since the Taliban takeover.
– When considering asylum claims for LGBT Afghans, take into consideration that LGBT individuals often conform to societal norms, such as entering into different sex marriage, in order to survive. Married status should not be taken as an indication of someone not being LGBT.
The report's other recommendations include calls for international aid organizations inside Afghanistan to "provide targeted and specialized assistance to LGBT people" and for the Taliban to "urgently end any and all forms of discrimination or violence against anyone based on a person's perceived or actual sexual orientation or gender identity."
OutRight Action International and Human Rights Watch released their report less than six months after the Taliban regained control of Afghanistan.
A Taliban judge last July said the group would once again execute gay people if it were to return to power in the country. The report notes a Taliban official later said the group "will not respect the rights of LGBT people."
The report includes interviews with 60 LGBTQ Afghans inside Afghanistan and in five other countries that OutRight Action International and Human Rights Watch conducted between October and December 2021.
A 20-year-old man with whom the groups spoke said Taliban members "loaded him into a car" at a checkpoint and "took him to another location where four men whipped and then gang raped him over the course of eight hours." The report notes the man went into hiding, but the Taliban continued to target him and his family.
A lesbian woman with whom OutRight Action International and Human Rights Watch spoke said her parents "arranged for a speedy wedding" with a man before the Taliban regained control of Afghanistan. The report notes her parents beat her when she "tried to refuse to go through with it."
The woman's parents, according to the report, paid her husband to take her out of Afghanistan. They now live in another country, and he "beats her nearly every day and will not allow her to leave the house."
The report also details an incident in which the Taliban beat a transgender woman and "shaved her eyebrows with a razor" before they "dumped her on the street in men's clothes and without a cellphone." She had been living with other trans women in an abandoned youth hostel in Kabul, the Afghan capital, when the Taliban regained control of the country.
"Lesbian, gay, bisexual, and transgender (LGBT) people in Afghanistan, and others who do not conform to rigid gender norms, have faced an increasingly desperate situation and grave threats to their safety and lives since the Taliban took full control of the country on Aug. 15, 2021," reads the report's summary.
'More needs to be done'
Two groups of LGBTQ Afghans that three advocacy groups — Stonewall, Rainbow Railroad and Micro Rainbow — evacuated from Afghanistan with the help of the British government arrived in the U.K. last fall. Some of the dozens of Afghan human rights activists who Taylor Hirschberg, a researcher at the Columbia Mailman School of Public Health who is also a Hearst Foundation scholar, has been able to help leave the country since the Taliban regained control of it are LGBTQ.
Rainbow Railroad; the Council for Global Equality; the Human Rights Campaign; Immigration Equality; the International Refugee Assistance Project; the Organization for Refuge, Asylum and Migration in a letter they sent to President Biden last September called for his administration to "prioritize the evacuation and resettlement of vulnerable refugee populations, including LGBTQI people, and ensure that any transitory stay in a third country is indeed temporary by expediting refugee processing."
Rainbow Railroad Executive Director Kimahli Powell on Wednesday during a webinar on the report noted his organization has "had really encouraging conversations with" Jessica Stern, the special U.S. envoy for the promotion of LGBTQ rights who was previously OutRight Action International's executive director, and "her team and with the U.S. government and the Canadian government as well" about the evacuation of LGBTQ Afghans.
"More needs to be done," said Powell.
Powell added there "are concrete things that we've asked to be done within the context of Afghanistan that can be done."
"It's encouraging that governments signaled early on that they want to help out Afghans at risk," he said. "That signaling has led to many folks in Afghanistan who have enough social media to read those messages to ask how (sic) does that look like, including reaching out to us at Rainbow Railroad. And what we're asking governments to do now is to help us answer that question, help us answer the question as to what we can do to protect people who are still stuck in Afghanistan, help people who are displaced outside of Afghanistan awaiting resettlement and partner with us to do it."
OutRight Action International Senior Fellow J. Lester Feder echoed Powell.
"Regardless of the identity of the vulnerable people involved, not enough has been done to help vulnerable people," said Feder during the webinar.
Feder also urged the U.S. government to do more to help LGBTQ Afghans and other vulnerable groups who remain inside the country.
"We know with the amount of support — either with people who had direct connections to the U.S. government or the U.S. military when they left — have been left stranded in Afghanistan," said Feder.
"People who are supporting and support vulnerable Afghans in the United States need to speak up and show support for the government processing (asylum) cases faster and for more spaces being made available," he added.
U.S. official meets with Brittney Griner
Consular visit took place on May 19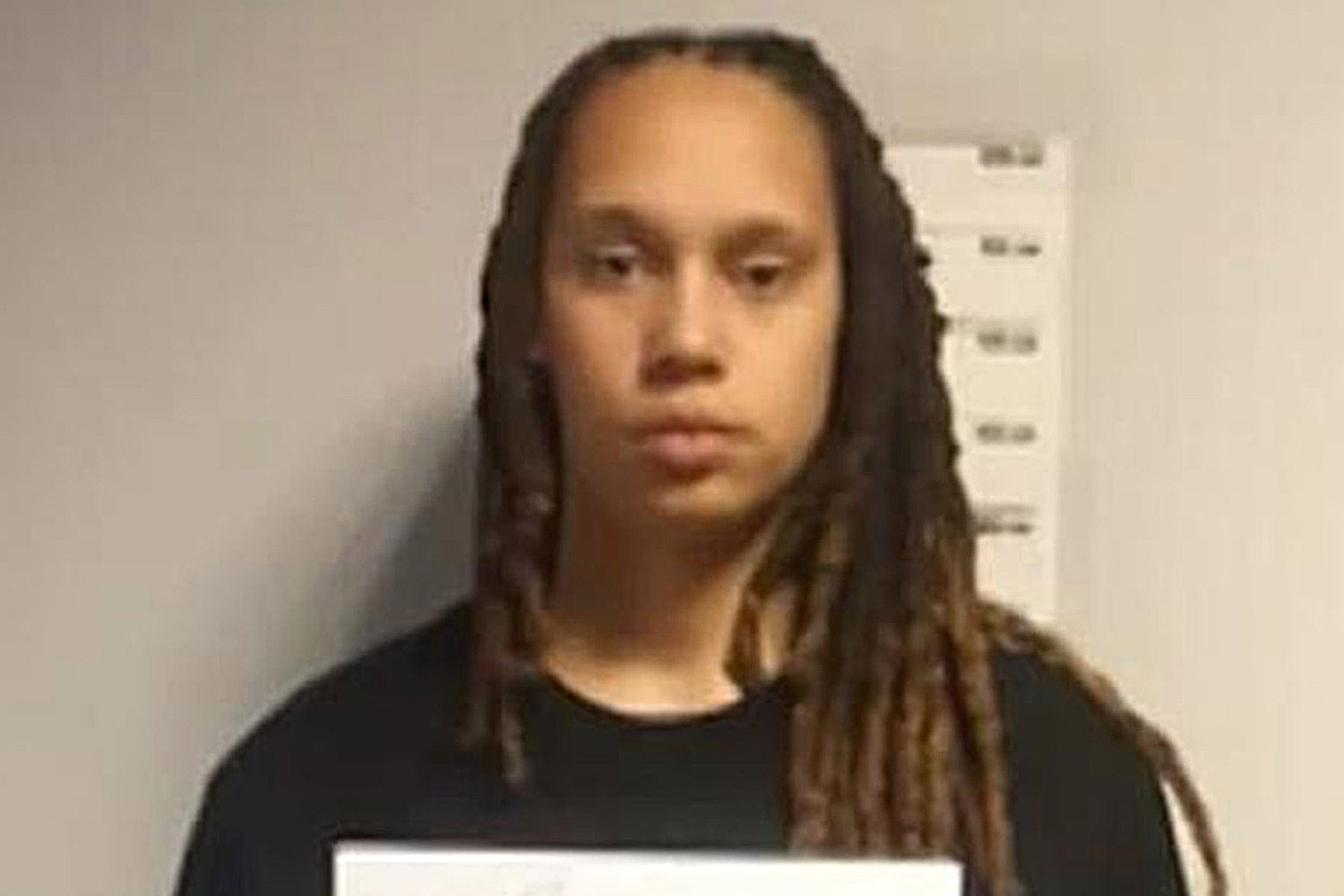 A U.S. consular official on May 19 visited detained WNBA star Brittney Griner in Russia.
State Department spokesperson Ned Price on Friday told reporters during a virtual briefing the officer "found her continuing to do as well as could be expected under these exceedingly challenging circumstances." The officer met with Griner two days after U.S. Ambassador to Russia John Sullivan said Russian officials had denied consular visits with her three times this month.
"Our message is a clear and simple one," said Price. "We continue to insist that Russia allow consistent and timely consular access to all U.S. citizen detainees. One-off visits are not sufficient, and we will continue to call on Moscow to uphold its commitments under the Vienna Convention for consistent and timely access as well."
Griner — a center for the Phoenix Mercury and a two-time Olympic gold medalist who is a lesbian and married to her wife — was taken into custody at Moscow's Sheremetyevo Airport in February. Russian officials said customs inspectors found hashish oil in her luggage.
The State Department has determined Russia "wrongfully detained" Griner.
A Russian court on May 13 extended her detention for another month. The Women's National Basketball Players Association, a union that represents WNBA players, has endorsed a petition that urges the Biden administration to "prioritize" Griner's release.
Secretary of State Antony Blinken spoke with Griner's wife, Cherelle Griner, on May 14.
U.S. announces more funding to fight HIV/AIDS in Latin America
Jill Biden made announcement on Saturday in Panama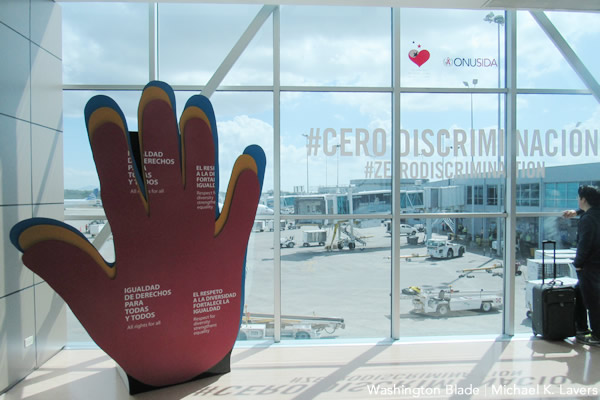 First lady Jill Biden on Saturday announced the U.S. will provide an additional $80.9 million to the fight against HIV/AIDS in Latin America.
Biden during a visit to Casa Hogar el Buen Samaritano, a shelter for people with HIV/AIDS in Panama City, said the State Department will earmark an additional $80.9 million for President's Emergency Plan for AIDS Relief-funded work in Latin America. A Panamanian activist with whom the Washington Blade spoke said LGBTQ people were among those who met with the first lady during her visit.
Pope Francis visited the shelter in 2019.
"I'm glad we have the opportunity to talk about how the United States and Panama can work together to combat HIV," said the first lady.
Michael LaRosa, the first lady's spokesperson, noted Panama will receive $12.2 million of the $80.9 million in PEPFAR funding.
"This funding, pending Congressional notification, will support expanded HIV/AIDS services and treatment," said LaRosa.
UNAIDS statistics indicate an estimated 31,000 Panamanians were living with HIV/AIDS in 2020. The first lady's office notes the country in 2020 had the highest number of "newly notificated cases of HIV/AIDS" in Central America.
The first lady visited Panama as part of a trip that included stops in Ecuador and Costa Rica.
The Summit of the Americas will take place next month in Los Angeles. The U.S. Agency for International Development and PEPFAR in April announced they delivered more than 18 million doses of antiretroviral drugs for Ukrainians with HIV/AIDS.
Brazil LGBTQ activists, HIV/AIDS service providers fear Bolsonaro reelection
Presidential election to take place in October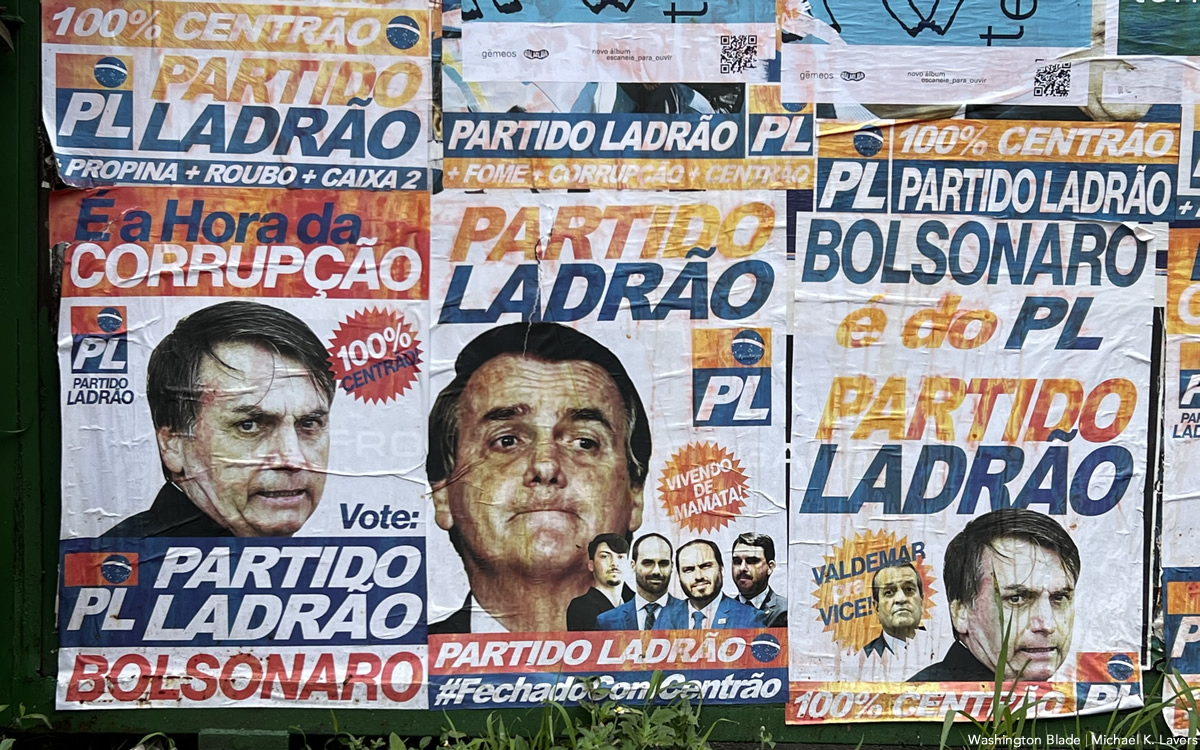 (Editor's note: Two sources quoted in this story — Fernanda Fonseca and Beto de Jesus — shared their personal views on the subject. Their remarks do not represent the views of AIDS Healthcare Foundation.)
SALVADOR, Brazil — Fernanda Fonseca was the coordinator of the Brazilian Health Ministry's program to prevent mother-to-child transmission of HIV, syphilis and viral hepatitis B in 2019 when she attended the International AIDS Society's Conference on HIV Science in Mexico City.
Fonseca, who attended the conference in her personal capacity, made a presentation that focused on the issue. Her husband, who at the time coordinated the Brazilian Health Ministry's viral hepatitis program, also traveled to Mexico City.
One of Brazilian President Jair Bolsonaro's sons soon posted to Twitter a picture of a doctored presentation "about trans community rights, and LGBT community rights" that an unnamed "couple" had made at the conference. The "couple" who Bolsonaro's son targeted was Fonseca and her husband.
"He was like, this is what the government is standing for," Fonseca told the Washington Blade on March 16 during an interview at a coffee shop in Salvador, a city in northeastern Brazil that is the capital of Bahia state.
Bolsonaro took office as Brazil's president on Jan. 1, 2019, after he defeated then-São Paulo Mayor Fernando Haddad in the second round of the country's presidential election that took place the previous October.
Fonseca noted one of the first things Bolsonaro did as president was to remove HIV from the name of the Health Ministry department that specifically fights HIV/AIDS in Brazil.
It was previously the Department of Vigilance, Prevention and Control of Sexually Transmitted Infections, HIV/AIDS and Viral Hepatitis. It is now called the Department of Chronic Conditions and Sexually Transmitted Infections.
Bolsonaro fired the department's director, Adele Benzaken, after he took office. Fonseca said her position was also eliminated without her knowledge while she was on maternity leave.
Fonseca eventually resigned. She now works for AIDS Healthcare Foundation Brazil as its country medical program director.
"They destroyed my department," she said. "When I came back (from maternity leave), no one was answering my calls."
Fonseca is one of the many HIV/AIDS service providers and LGBTQ activists with whom the Blade spoke in Brazil — Salvador, São Paulo and Rio de Janeiro — from March 12-21. They all sharply criticized Bolsonaro and expressed concern over what may happen in Brazil if he wins re-election later this year.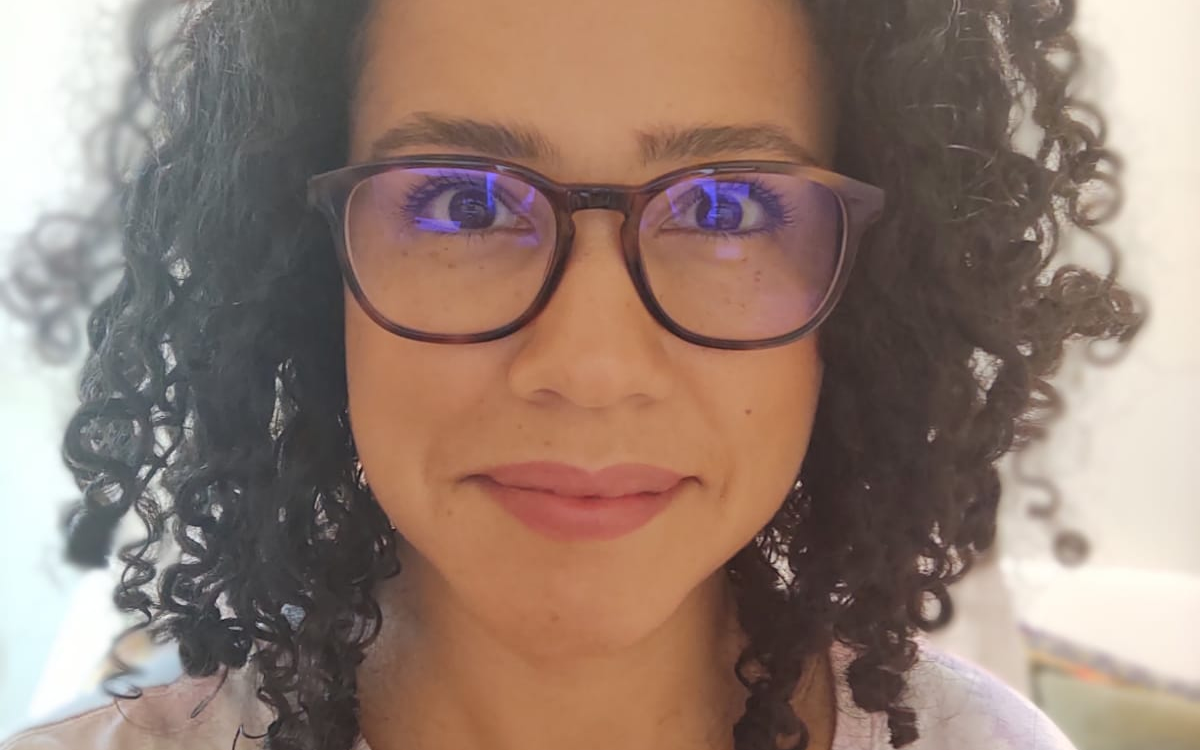 Bolsonaro is a former Brazilian Army captain who represented Rio de Janeiro in the country's Congress from 1991-2018.
Fonseca told the Blade that Bolsonaro has banned the Health Ministry from buying lubricants, while adding he "wanted to shut down everything related to HIV."
"It's very specific. It's very homophobic," she said. "I don't know who informs him."
AIDS Healthcare Foundation Brazil Program Manager Beto de Jesus during a March 14 interview at his office near São Paulo's Praça da Republica noted Bolsonaro has suggested COVID-19 vaccines can cause AIDS.
"To him, the question of AIDS is connected to faggots," said De Jesus.
São Paulo's Municipal Health Secretary distributes free condoms on the city's subway system. The Brazilian Health Ministry has donated to AIDS Healthcare Foundation antitretroviral drugs that it provides to Venezuelan migrants who receive care at their clinics in Colombia.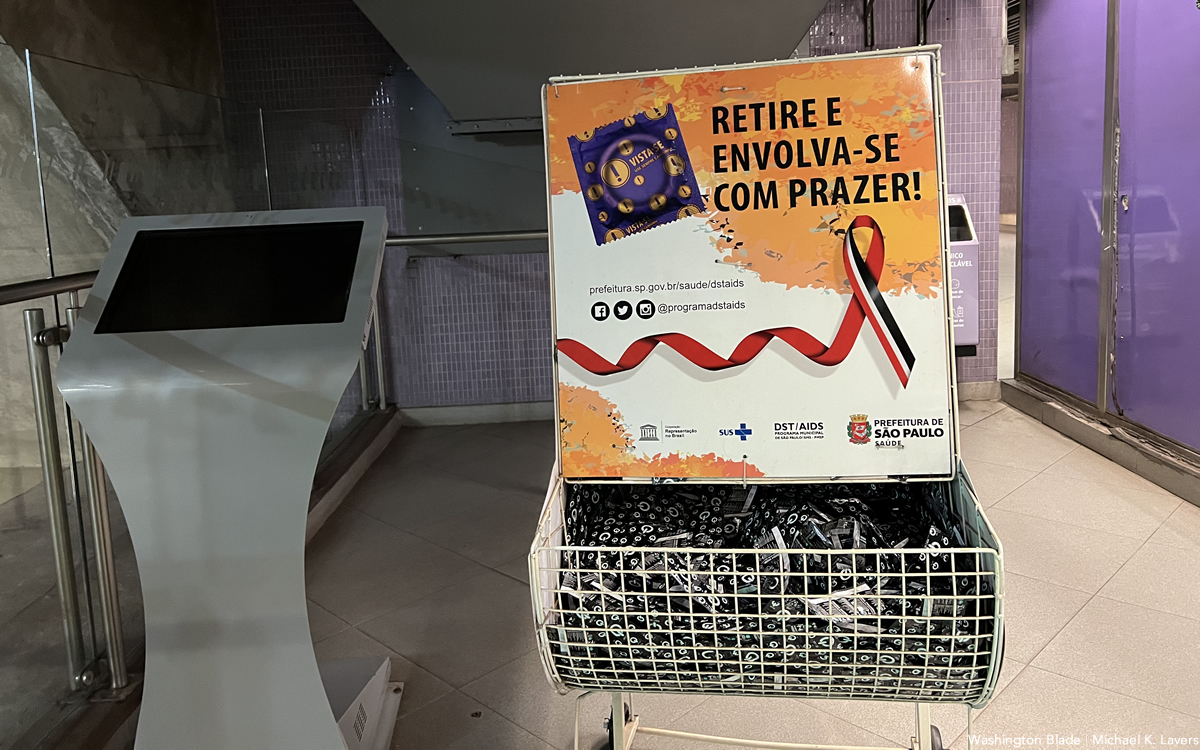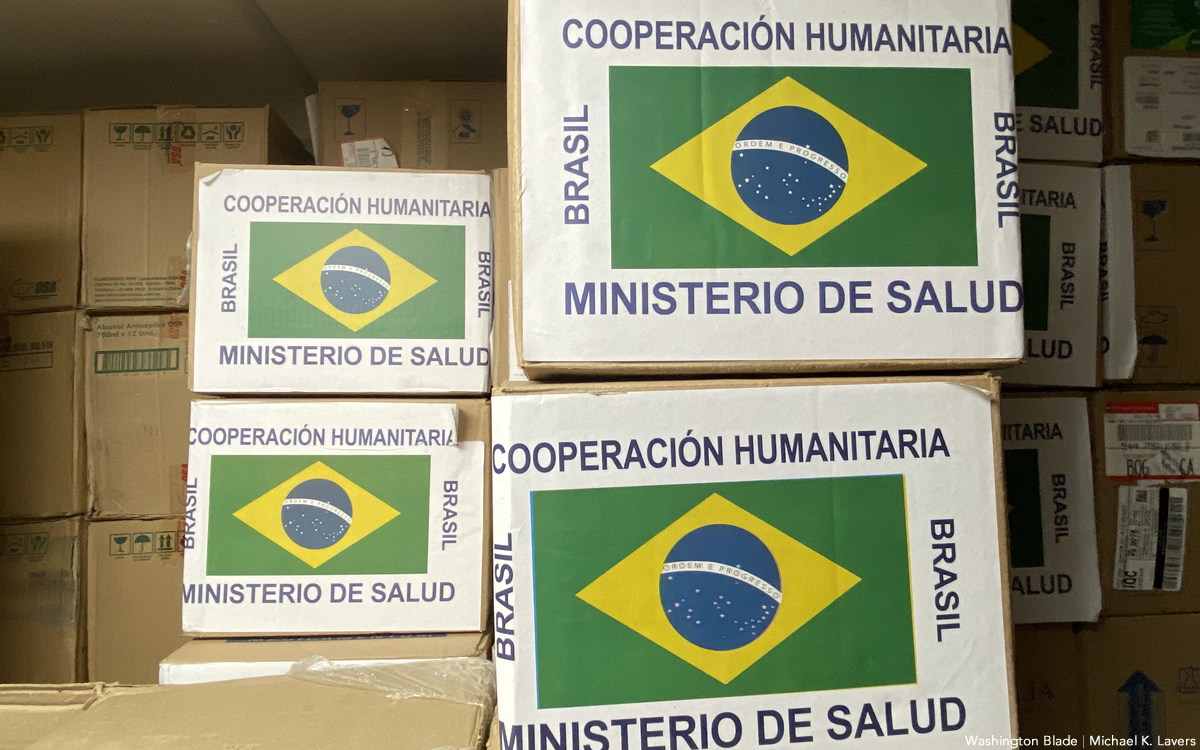 Bolsonaro, among many things, has encouraged fathers to beat their sons if they think they are gay. (His son, Rio Municipal Councilman Carlos Bolsonaro, is reportedly gay.)
Jair Bolsonaro in March 2019 during a press conference with then-President Trump in the White House Rose Garden stressed his "respect of traditional family values" — he's twice divorced and married his third wife, Michelle Bolsonaro, in 2017 — and opposition to "gender ideology."
A report that Human Rights Watch released earlier this month notes Bolsonaro "has a long history of mischaracterizing and vocally opposing gender and sexuality education, including on the grounds that it constitutes 'early sexualization'." Bolsonaro has supported legislation that would limit LGBTQ-specific curricula in the country's schools, even after the Brazilian Supreme Court struck down local and state laws on the issue.
Jair Bolsonaro was not president when Rio Municipal Councilwoman Marielle Franco, a bisexual woman of African descent, and her driver, Anderson Gomes, were murdered in Rio's Lapa neighborhood on March 14, 2018.
Ronnie Lessa, one of the two former police officers who has been arrested in connection with the murders, lived in the same large condominium in Rio's exclusive Barra da Tijuca neighborhood in which Jair Bolsonaro lives. Franco's widow, Rio Municipal Councilwoman Mônica Benício, on March 19 said this fact is "just a coincidence."
Benício during the interview that took place at a coffee shop in downtown Rio stressed Jair Bolsonaro's rhetoric against LGBTQ Brazilians, women and other groups was "known" before he became president. Benício also acknowledged it resonates with a segment of Brazilian society.
"It is an absolutely despicable posture and incompatible with a posture of the president of the republic," said Benício.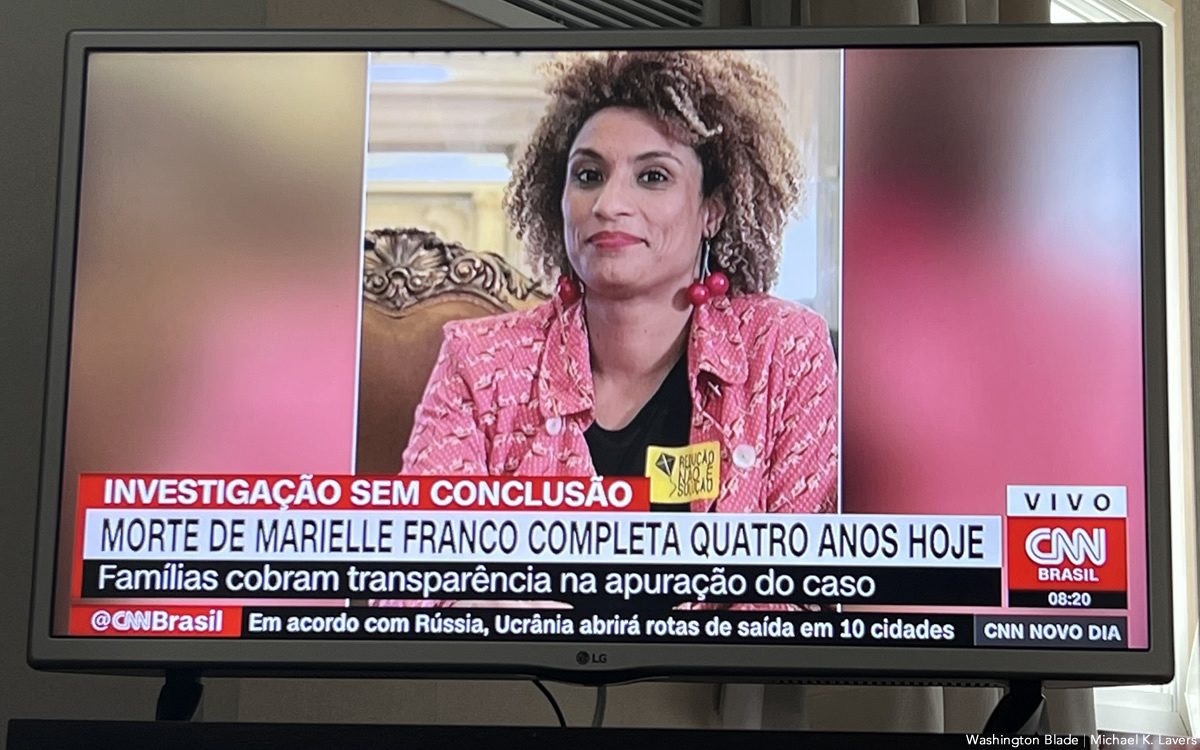 Two Brazilian LGBTQ rights groups — Aliança Nacional LGBTI and Grupo Gay da Bahia — in a report they released on May 10 notes 300 LGBTQ Brazilians "suffered violent deaths" because they were murdered or died by suicide. The organizations specifically note Salvador is the most dangerous state capital for LGBTQ people.
The report notes 28 percent of the murder victims were killed with knives, machetes, scissors, hoes and other weapons. One of them was stabbed 95 times.
"The cruelty of how many of these executions were committed demonstrates the extreme hatred of the criminals, who are not content with killing, disfigure the victim washing their murderous homophobia in the spilled blood," said Aliança Nacional LGBTI President Toni Reis in the report's introduction.
Grupo Gay da Bahia President Marcelo Cerqueira on March 15 told the Blade during an interview in Salvador that race, poverty, class, machismo and family structures all contribute to the area's high rate of violence against LGBTQ people.
"There are many relationships with asymmetrical power dynamics," he noted.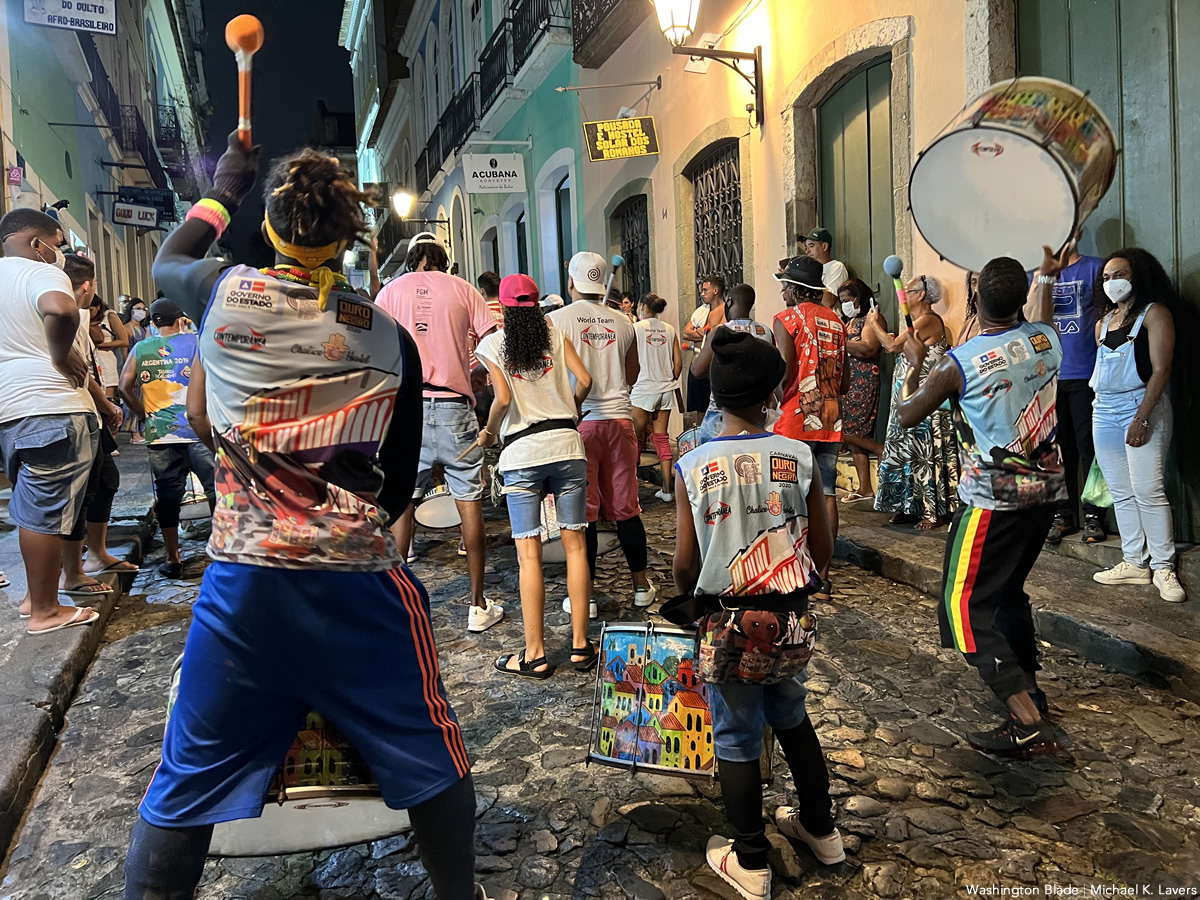 Keila Simpson is the president of Associaçao Nacional de Travestis e Transexuais (National Association of Travestis and Transsexuals), a Brazilian transgender rights group known by the acronym ANTRA.
She noted to the Blade on March 16 during an interview at her office in Salvador's Pelourinho neighborhood that the Supreme Court in 2018 ruled trans Brazilians can legally change their name and gender without medical intervention or a judicial order. Simpson said trans Brazilians nevertheless continue to suffer from discrimination, a lack of formal employment and educational opportunities and police violence because of their gender identity. She also added efforts to combat violence against LGBTQ Brazilians have become even more difficult because Bolsonaro is "propagating violence against LGBTQ people every day."
"It increases the possibility of people who are already violent by nature to continue committing violence," said Simpson.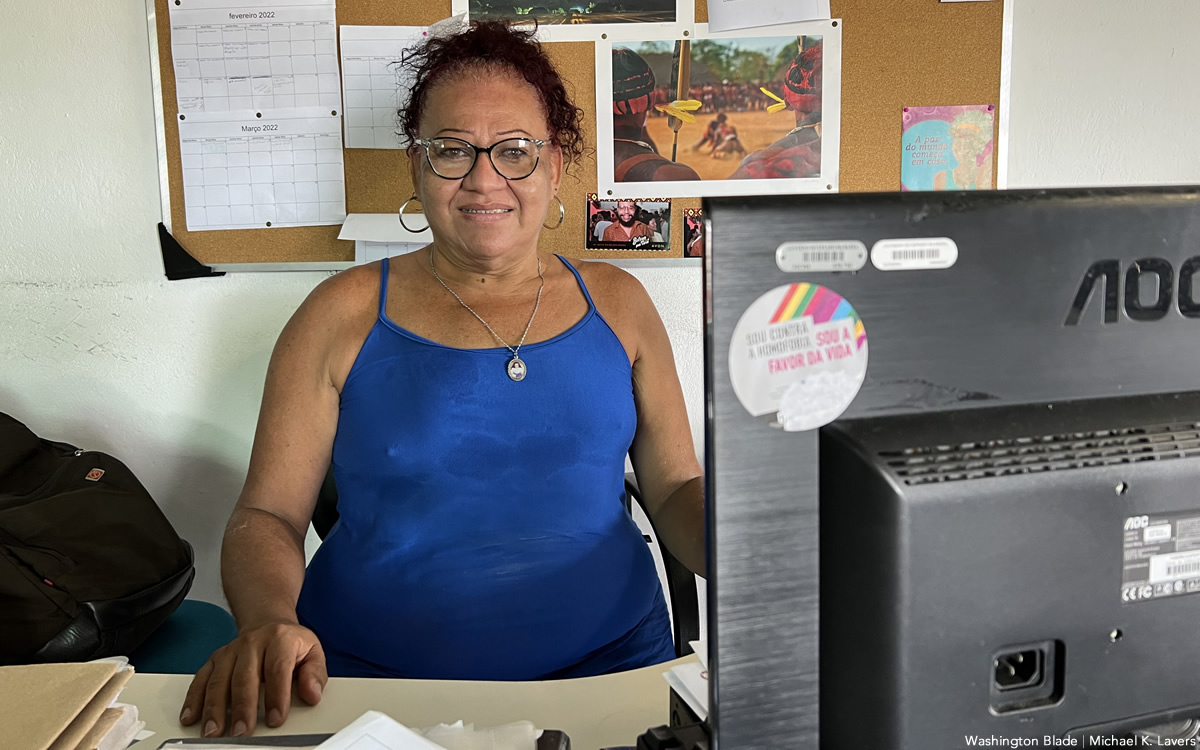 Mariah Rafaela Silva, a trans woman of indigenous descent who works with the Washington-based International Institute on Race, Equality and Human Rights, agreed when she and her colleague, Isaac Porto, spoke with the Blade at a restaurant in Rio's Ipanema neighborhood on March 21.
"If I would choose a word to define Bolsonaro it would be danger," said Silva. "He represents a danger to the environment. He represents a danger to diversity. He represents a danger to Black people. He represents a danger to indigenous people."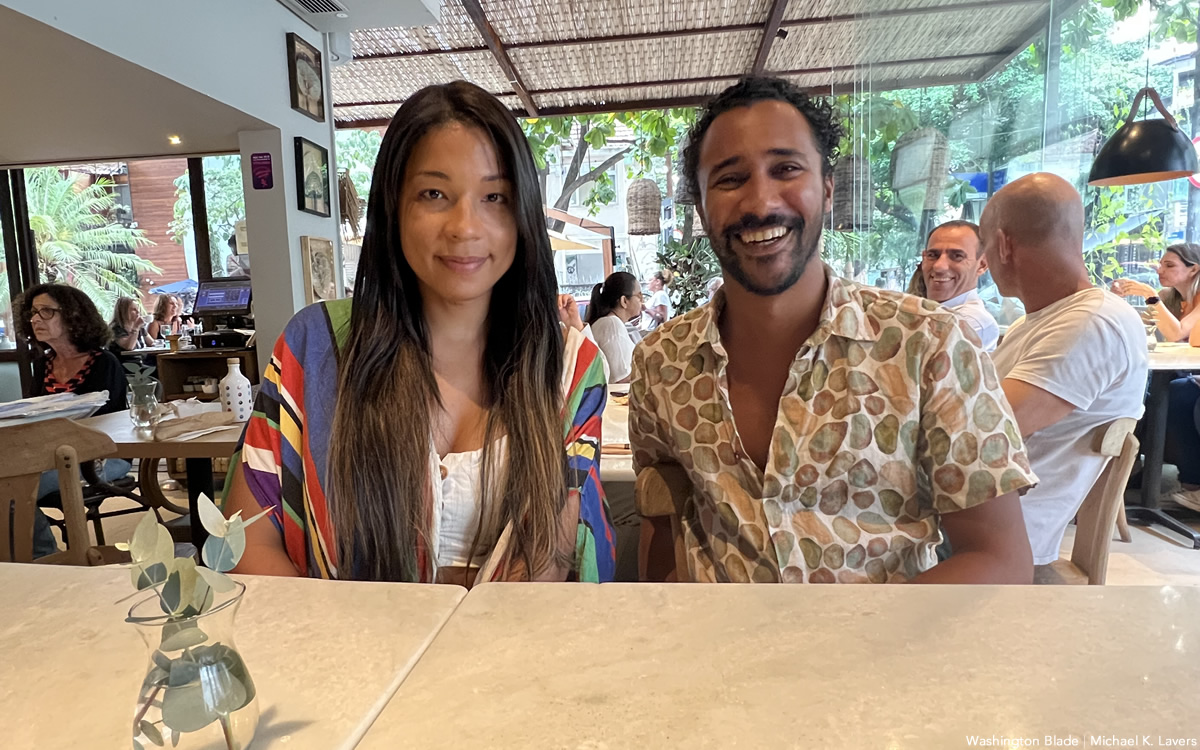 Rio de Janeiro (State) Legislative Assemblywoman Renata Souza is a Black feminist who grew up with Franco in Maré, a favela that is close to Rio's Galeão International Airport, and worked with her for 12 years.
Souza in March traveled to D.C. and met with Serra Sippel, chief global advocacy officer for Fòs Feminista, a global women's rights group, White House Gender Policy Council Senior Advisor Rachel Vogelstein and other officials and women's rights activists. Souza on Tuesday noted to the Blade that she also denounced Franco's murder, the "escalation of police violence and Black genocide in Brazil's peripheries and favelas" and called for international observers in the country for the presidential election when she spoke at the Organization of American States and to members of Congress.
"President Bolsonaro is the expression of a capitalist political project that serves private national and international interests related to the military-industrial complex, religious fundamentalism, agribusiness and the predatory exploitation of natural resources," said Souza. "This project's social base comes from the formation of an ideal of barbarism through the use of violence as language and hate as a fuel that spreads a misogynist, racist and fundamentalist culture, discriminatory customs and policies that predatory to nature and to being human."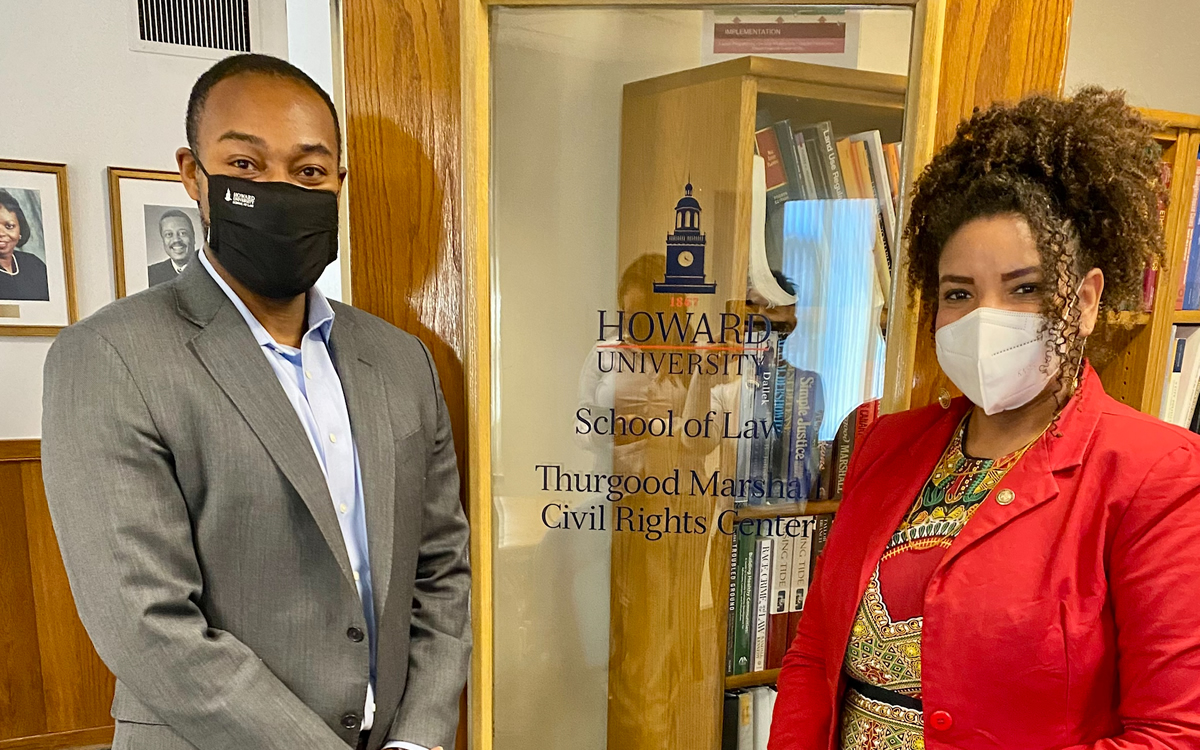 The first round of Brazil's presidential election will take place on Oct. 2.
Polls indicate Bolsonaro is trailing former President Luiz Inácio Lula da Silva. Bolsonaro has already sought to discredit the country's electoral system, even though a group of more than 20 would-be hackers who gathered in the Brazilian capital of Brasília last week failed to infiltrate it.
Da Silva, who was Brazil's president from 2003-2010, is a member of the country's Workers' Party.
Sergio Moro, a judge who Jair Bolsonaro later tapped as his government's Justice and Public Security Minister, in 2017 sentenced Da Silva to 9 1/2 years in prison after his conviction on money laundering and corruption charges that stemmed from Operation Car Wash. The Supreme Court in November 2019 ordered Da Silva's release.
Marina Reidel, a trans woman who is the director of the country's Women, Family and Human Rights Department, on Monday told the Blade to email a request for comment on Jair Bolsonaro's anti-LGBTQ record to a spokesperson. The Blade has yet to receive a response.
Julian Rodrigues, who was the coordinator of the Workers' Party's National Working Group from 2006-2012, on Tuesday from São Paulo noted Da Silva in 2004 created the Health Ministry's "Brazil without Homophobia" campaign that he described as a "pioneering program for LGBT rights." Rodrigues also highlighted Da Silva created the Culture Ministry's Diversity Secretariat that, among other things, funded community centers and sought to make police officers and other law enforcement officials more LGBTQ-friendly.
Simpson noted the Health Ministry when Da Silva and President Dilma Rousseff were in office funded projects that specifically helped sex workers and other vulnerable groups.
Rousseff was in office in 2013 when the Supreme Court extended marriage rights to same-sex couples across the country. Michel Temer was Brazil's president in 2018 when the Supreme Court issued its trans rights decision.
The Supreme Court on May 24, 2019, issued a ruling that criminalized homophobia and transphobia. Bolsonaro, who took office less than five months earlier, condemned the decision.
The Supreme Court in May 2020 struck down the country's ban on men who have sex with men from donating blood. Brazil in 1999 became the first country in the world to ban so-called conversion therapy.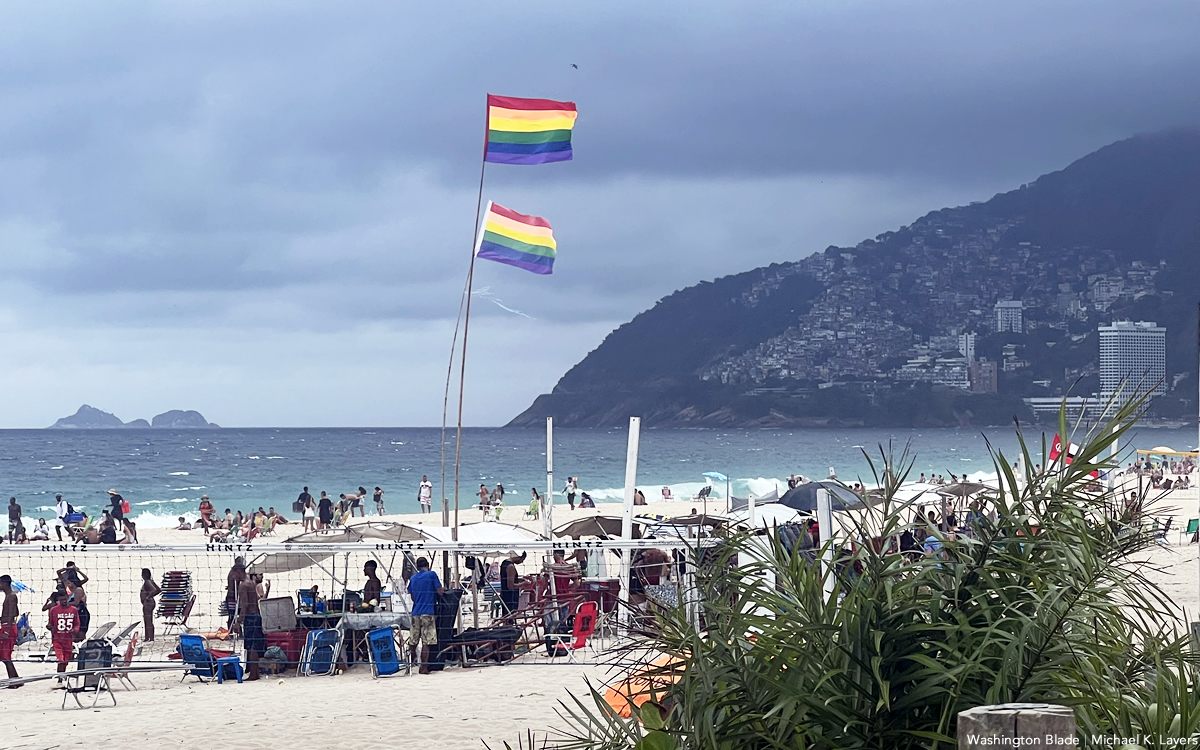 Rodrigues described Bolsonaro and his administration as "an extreme right-wing, authoritarian and fascist government that uses racial prejudice, gender prejudice and prejudice against LGBTs as engines to mobilize its conservative and reactionary social base."
"It is a very dangerous government for Brazil's democratic freedoms," Rodrigues told the Blade. "The entire Brazilian LGBT movement is fighting ardently to defeat the Bolsonaro government and elect Lula, a progressive president who is committed to the rights of LGBTQ people and all Brazilian people."
A gay man who was on Rio's Ipanema Beach with his husband on March 20 told the Blade they support Jair Bolsonaro because they feel he has fought corruption in Brazil. They did, however, add that Jair Bolsonaro "should keep his mouth shut."
Fonseca said her father voted for Bolsonaro in 2018 because he "hated" Da Silva.
"We don't live in a democratic state anymore," said Fonseca, who noted the Supreme Court eventually absolved Da Silva. "We can't trust the police force. We can't trust the legal system."
"People who think like him now they believe they can say that, they have the right to say homophobic things, racist things. They can because our president says them, so it's ok," added Fonseca. "We need to remember that it's not ok. I don't think they are the majority, So I think when we have a leader again that is strong, we are going back on track."
Cerqueira echoed Fonseca.
"(Bolsonaro) managed to energize prejudiced people who were not vocal before," Cerqueira told the Blade on March 15 during an interview in Salvador. "People were afraid to say that I was racist, that I was homophobic, that I was prejudiced. Nowadays everybody wants to be homophobic."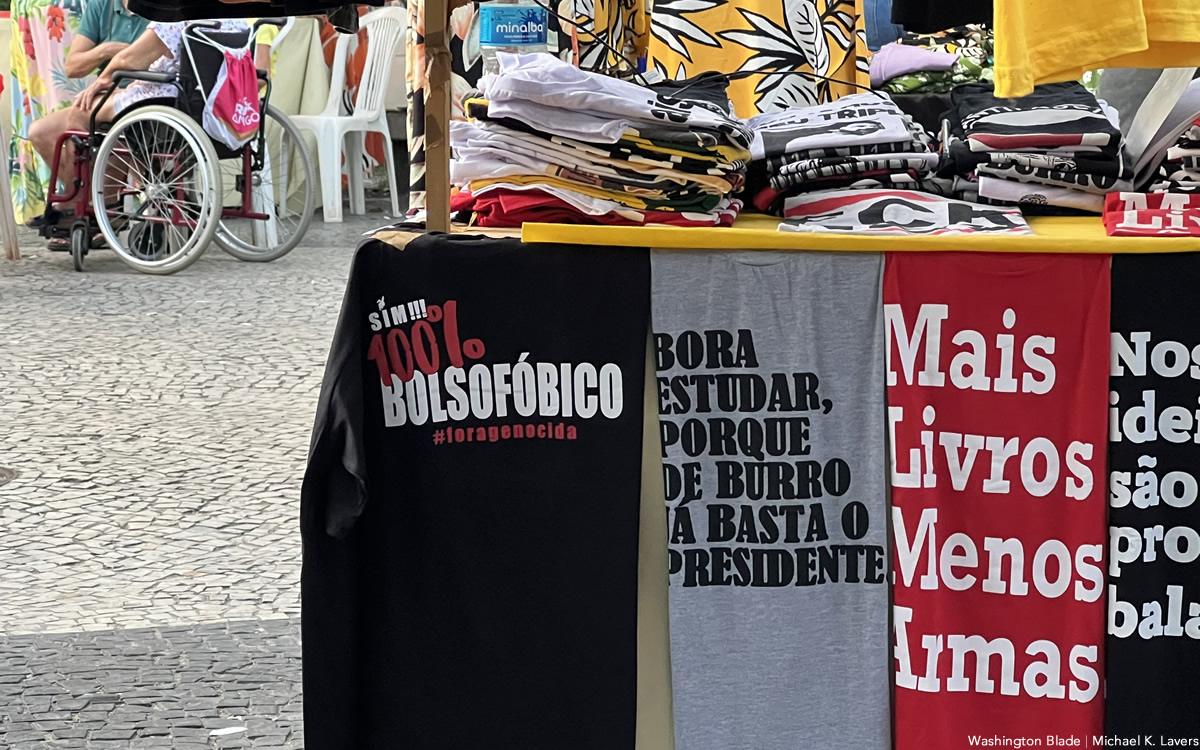 Porto noted conservatives continue to dominate the country's Congress and Brazilians who are Black and/or LGBTQ lack political power. He told the Blade the situation in a post-Bolsonaro Brazil is "going to be complicated"
"Brazilian society has not changed," said Porto. "There is a movement of people who are organized and recognize themselves as equal."
"There's a lot of damage that we have to repair," added Silva.