Proud Boys target Silver Spring drag queen story hour
Volunteers blocked far-right group members from entering bookstore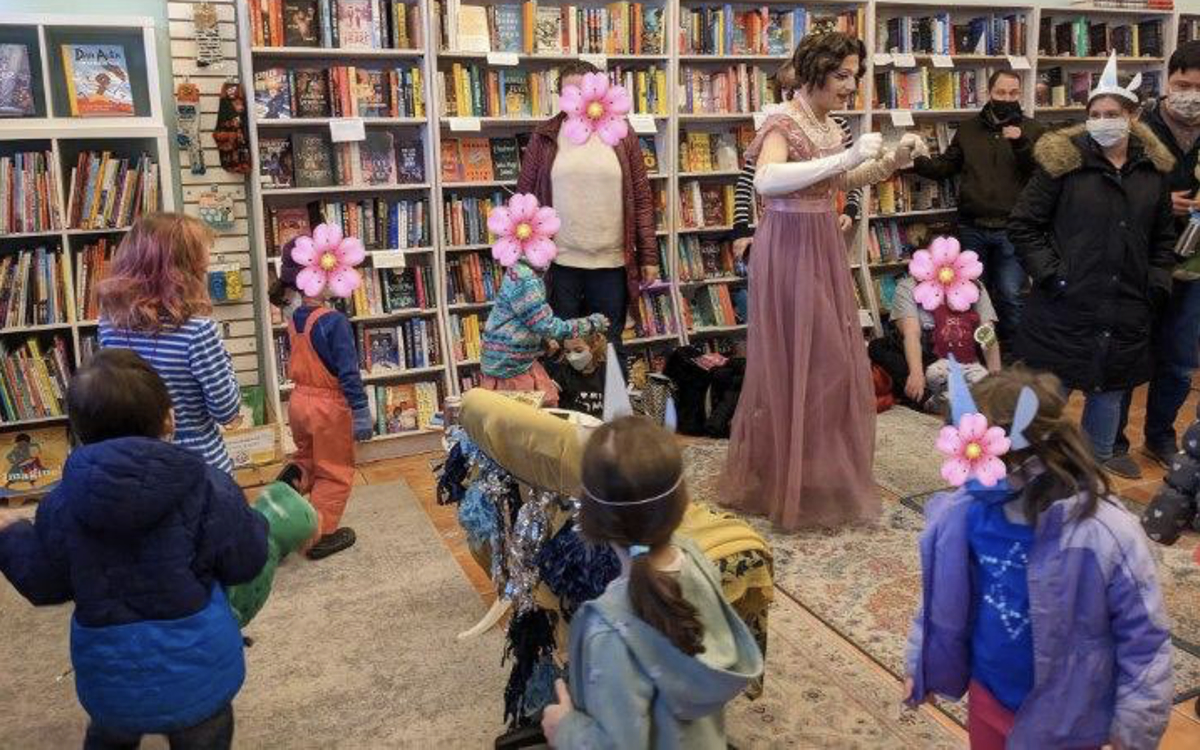 Montgomery County police say they dispersed members of the far-right group Proud Boys and others confronting them on Saturday outside the Loyalty Bookstore in Silver Spring after members of the group staged a protest against a Drag Story Hour held at the bookstore.
D.C. drag performer Charlemagne Chateau was hosting the drag queen story hour, an event held in recent years in libraries and bookstores across the country in which a drag queen reads from children's books to groups of children accompanied by their parents.
Photos and videos posted on social media show Proud Boys members wearing masks and holding signs outside the bookstore. NBC Washington reported that one of the signs said, "Proud Boys love children. Proud Boys hate pedophiles. Leave kids alone."
According to NBC Washington, a separate group that provides support for drag queen story hour events called the Parasol Patrol was present during the protest and some of its members were kicked and had their feet stomped by the Proud Boys members. One of the Parasol Patrol members was punched in the face by a Proud Boys member, the TV news station reported.
In a Twitter posting, Loyalty Bookstore praised the Parasol Patrol members for preventing the Proud Boys from disrupting the drag book reading event.
"Yesterday afternoon Loyalty came under attack from hate groups who tried to force their way into our store during Drag Queen Story Hour with physical violence," the bookstore's posting says. "The incredible @parasolpatrol and the [Montgomery County] chapter of @Drag Story Hour did wonders to not only push back and hold the safe space, but to keep cheering and singing joyfully in the face of hate speech and disgusting threats," the bookstore's posting continues.
"Because of their efforts the children inside the store got to enjoy doing Hokey Pokey, hearing beautiful books read aloud," the posting says.
In response to a request for comment by the Washington Blade, a spokesperson for Montgomery County police said police were not notified in advance that the drag queen story hour was taking place.
The spokesperson, Shiera Goff, said officers were dispatched to the bookstore about 1:05 p.m. on Saturday and observed a "confrontation between the two groups," in referring to the Proud Boys and the Parasol Patrol.
"Police were called and dispersed the crowd," she told the Blade in an email message. "No one was arrested and no reports of injuries."
In a separate Twitter posting, Montgomery County Councilmember Kristin Mink (D-District 5) praised efforts to defend the event.
"Proud Boys showed up in Silver Spring and got violent today, trying to scare away families and children attending Drag Story Hour at Loyalty Books," Mink said in her post. "But the community held a wall of safety and support. The kids had a great time and were none the wiser," she wrote. "We will never back down."
In a brief Facebook posting, drag performer Chateau said the Proud Boys confrontation was "not the kind of attention I wanted," adding, "Thank you to the Parasol Patrol for keeping me and the families who were at the event safe."
On its website, Drag Story Hour says following its founding in 2015 the organization has evolved into a national nonprofit global network of local organizations carrying out the mission of the original San Francisco-based group that started the reading by drag queens of books to kids in libraries, bookstores and schools.
"In spaces like this, kids are able to see people who defy rigid gender restrictions and imagine a world where everyone can be their authentic selves," the organization says on its website.
Gay former College Park mayor indicted on 80 counts of child porn
Grand jury adds 24 additional counts of felony 'intent to distribute' allegations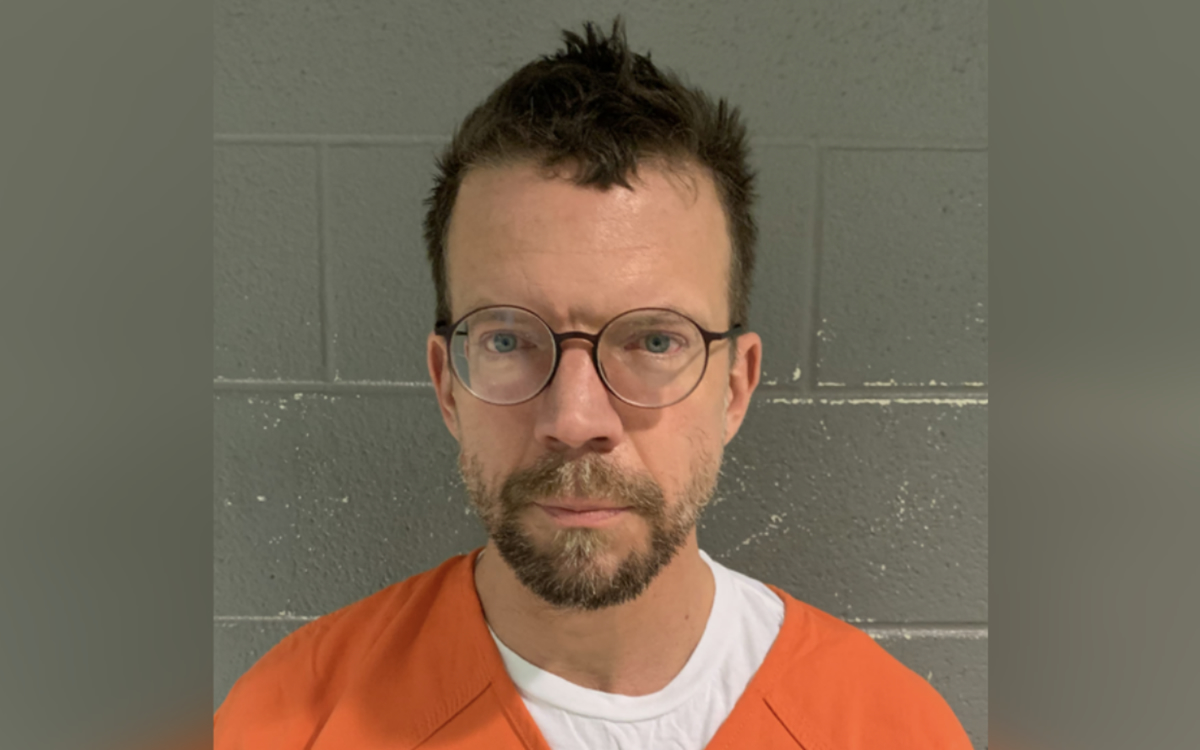 A Prince George's County, Md., grand jury on March 28 issued an indictment charging gay former College Park mayor Patrick Wojahn with 80 counts of possession and intent to distribute child pornography.
The indictment comes just under four weeks after Prince George's County police announced on March 2 that they had arrested Wojahn, 47, on 56 counts of possession and distribution of "child exploitive material."
The former mayor and longtime LGBTQ rights advocate has been held in jail since the time of his arrest after a judge on March 6 denied his request for bail.
Police charging documents said Wojahn allegedly had uploaded and/or shared at least 56 videos or still images on the social media app Kik depicting explicit sexual acts between adult men and prepubescent boys, depicting prepubescent boys engaging in sex with each other or engaging in masturbation.
The initial charges filed against Wojahn by police and prosecutors with the Prince George's County State's Attorney's Office included 40 misdemeanor counts of possession of child pornography and 16 felony counts of intent to distribute child porn, comprising a total of 56 counts.
But this week, Prince George's County State's Attorney Aisha Braveboy, the lead prosecutor in the case, issued a statement saying the grand jury on March 28 handed down 24 new counts of intent to distribute child porn.
The grand jury's action, which usually comes at the request of prosecutors, brought the total number of counts against Wojahn to 80 – 40 for misdemeanor possession allegations and 40 for felony intent to distribute allegations.
"This is an unprecedented case in our county in which a former elected official has been accused of a crime of this nature," Braveboy said in her statement. "The charges contained in the indictment are serious, and we will continue to work with law enforcement to investigate and follow any new leads that may be uncovered," she said.
"It is important to note that the defendant is presumed innocent, and my office will continue to focus on achieving justice for the victims in this case," Braveboy said.
At the time of his arrest, Wojahn issued his own statement announcing he had resigned from his position as mayor and was cooperating with authorities in their investigation into the charges against him. "I have cooperated fully, and will continue to cooperate fully," he wrote.
Wojahn added, "I am stepping away to deal with my own mental health. I ask that you continue to keep me and my family in your prayers."
In a charging document filed in court, P.G. County police said at the time of his arrest that Wojahn waived his Miranda rights to remain silent and provided police with a statement acknowledging having downloaded files containing child pornography.
Court records show Wojahn is scheduled to appear for a preliminary hearing following the indictment on April 21 in Prince George's County Circuit Court in Upper Marlboro.
"The indictment was an expected next step in the case, which will now proceed in Circuit Court," Wojahn's attorney, David Moyse, told the Washington Blade in a brief statement. "Mr. Wojahn continues to cooperate with authorities and focus on his own mental health during this process," Moyse said.
Wojahn's arrest came as a shock to his colleagues on the College Park City Council, on which he served for eight years before winning election as mayor in 2016. The arrest also stunned LGBTQ rights advocates in D.C. and across the country, who had praised Wojahn's advocacy work both locally and nationally for LGBTQ equality.
D.C. man charged in murder of trans teen outside Maryland bar
Victim's family, police disagree over whether incident was hate crime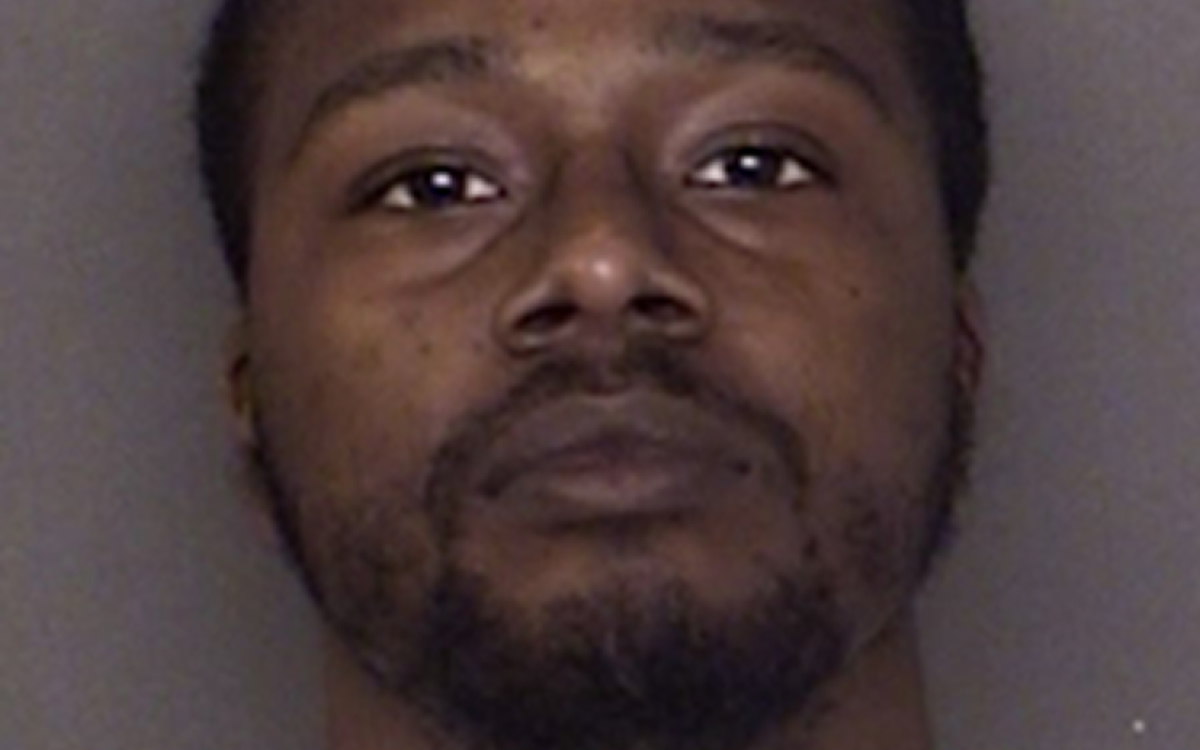 The St. Mary's County, Md., Sheriff's Office announced on Wednesday that it has charged a 29-year-old D.C. man with the March 24 shooting death of an 18-year-old transgender woman outside a bar in Mechanicsville, Md.
In an earlier announcement last week, the St. Mary's Sheriff's Office said Tasiyah Woodland of Lexington Park, Md., was found shot to death shortly after 1 a.m. in a parking lot outside the Big Dogs in Paradise bar and grill after "some type of confrontation" occurred.
The earlier announcement said investigators did not believe Woodland had been targeted for the murder because of her gender identity, although Woodland's family members disputed that claim, saying they believed the murder was a hate crime.
In its announcement on Wednesday, March 29, the Sheriff's Office said its Criminal Investigations Division on March 24 – the day of the murder – identified District resident Darryl Carlton Parks Jr. as a suspect in the case. Later that same day investigators obtained an arrest warrant for Parks, the announcement says.
On Tuesday, March 28, according to the latest announcement, the Sheriff's investigators along with the assistance of the D.C. police Homicide Unit, located and apprehended Parks on the arrest warrant. He is being held in D.C. while he awaits extradition to St. Mary's County, the announcement says.
It says Parks has been charged with First-Degree Murder, Second-Degree Murder, Firearm Use/Felony-Violent Crime, two counts of Reckless Endangerment from Car, and Illegal Possession of a Regulated Firearm.
The latest announcement does not disclose whether Sheriff's Office investigators have determined a motive for the 18-year-old trans woman's murder.
Woodland's sister, Ty'aliyah Woodland, told News 4 Washington that she and members of her family believe the killing was a hate crime based, in part, on the fact that Woodland had been subjected to "hate" in the recent past because of her gender identity. Ty'aliyah Woodland told News 4 Washington that her sister was an outspoken person who sometimes got others upset.
"She was one of a kind. She had no filter. She told you what it was and what it wasn't, and nobody like that," Ty'aliyah Woodland told the TV news station. "I mean, she was the true definition of living life to the fullest."
Sheriff's Office spokesperson Jason Babcock told the Washington Blade on Wednesday that there were multiple witnesses who informed investigators that Tasiyah Woodland had been inside the Big Dogs in Paradise bar and reported a confrontation took place after Woodland left the bar and entered the parking lot.
"When she came back out there was some kind of confrontation between the suspect and the victim that led to the shooting," Babcock said. "But they were not in a relationship, and the investigation has determined that the victim's gender identity was not a factor in the shooting," he said.
Babcock added that investigators determined the shooting took place while suspect Park was inside his own car, leading to one of the charges being Reckless Endangerment from Car.
"The Sheriff's Office thanks the community for its assistance in this investigation and urges anyone with additional information to contact Deputy David Lawrence at 301-475-4200, ext. 78130," the latest statement released by the office says.
In its earlier statement prior to the announcement this week of an arrest in the case, the Sheriff's Office said its investigators had reached out to the victim's family and to the LGBTQ community while its investigation was still under way.
It said the investigators had been "in regular contact" with members of Woodland's family to offer support and updates on the investigation.
"The Sheriff's Office has also been in contact with members of PFLAG Southern Maryland and the LGBTQ+ community to address concerns of personal and public safety," the earlier statement said. "At this time, it does not appear that Woodland was targeted because of her gender identity," it said.
PFLAG, or Parents and Friends of Lesbians and Gays, is a national organization with chapters in states and cities across the country.
Under Maryland law, people under the legal drinking age of 21 are allowed to patronize bars and other places that serve alcohol if they do not consume an alcoholic beverage. The Sheriff's Office has said it was investigating whether Woodland was served alcohol, News 4 Washington reports.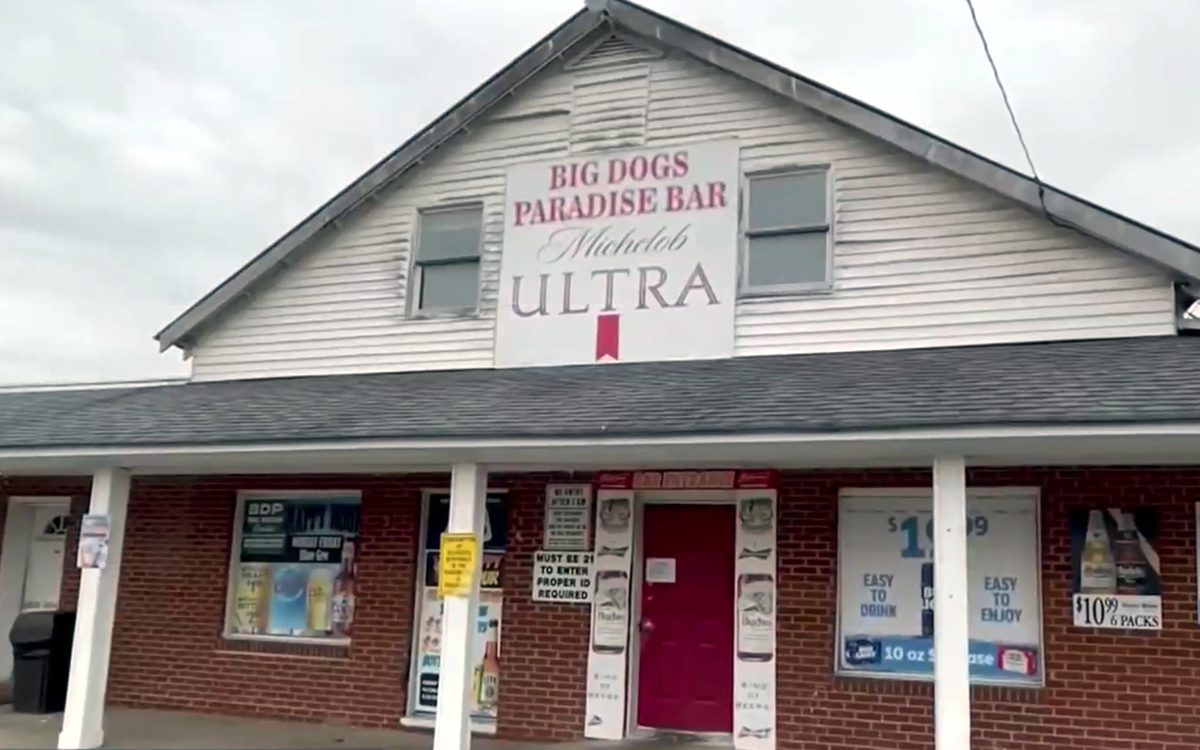 As Md. advances bill to fund gender-affirming care, LGBTQ advocates stress it will save lives
Trans Health Equity Act would impact state Medicaid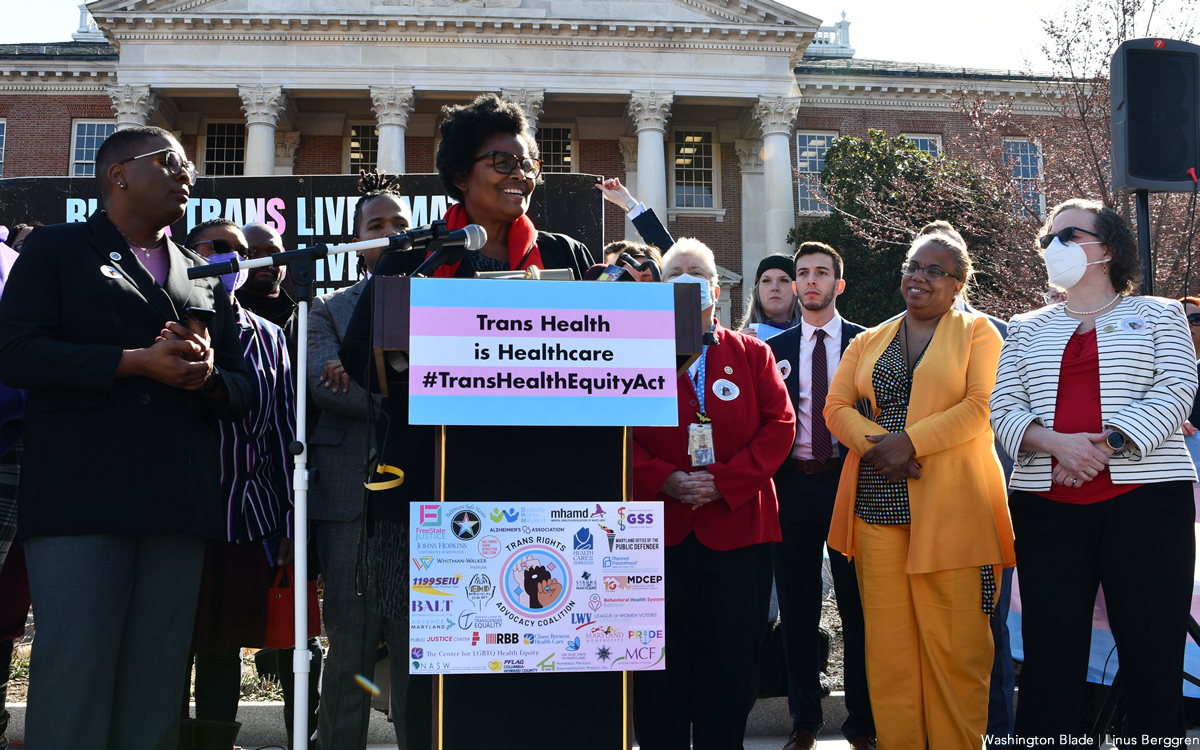 By John-John Williams IV | Shaylie Elliette wishes the Trans Health Equity Act that appears headed for final passage in the Maryland General Assembly would have been around seven years ago, when she turned 18. She believes that transitioning earlier in life would have eliminated years of torment, abuse and discrimination all linked to transphobia.
The rest of this article can be found on the Baltimore Banner website.