Suspect in Philadelphia transgender activist's murder arrested in Nev.
Charles Mitchell accused of murdering Mar'Quis 'MJ' Jackson in December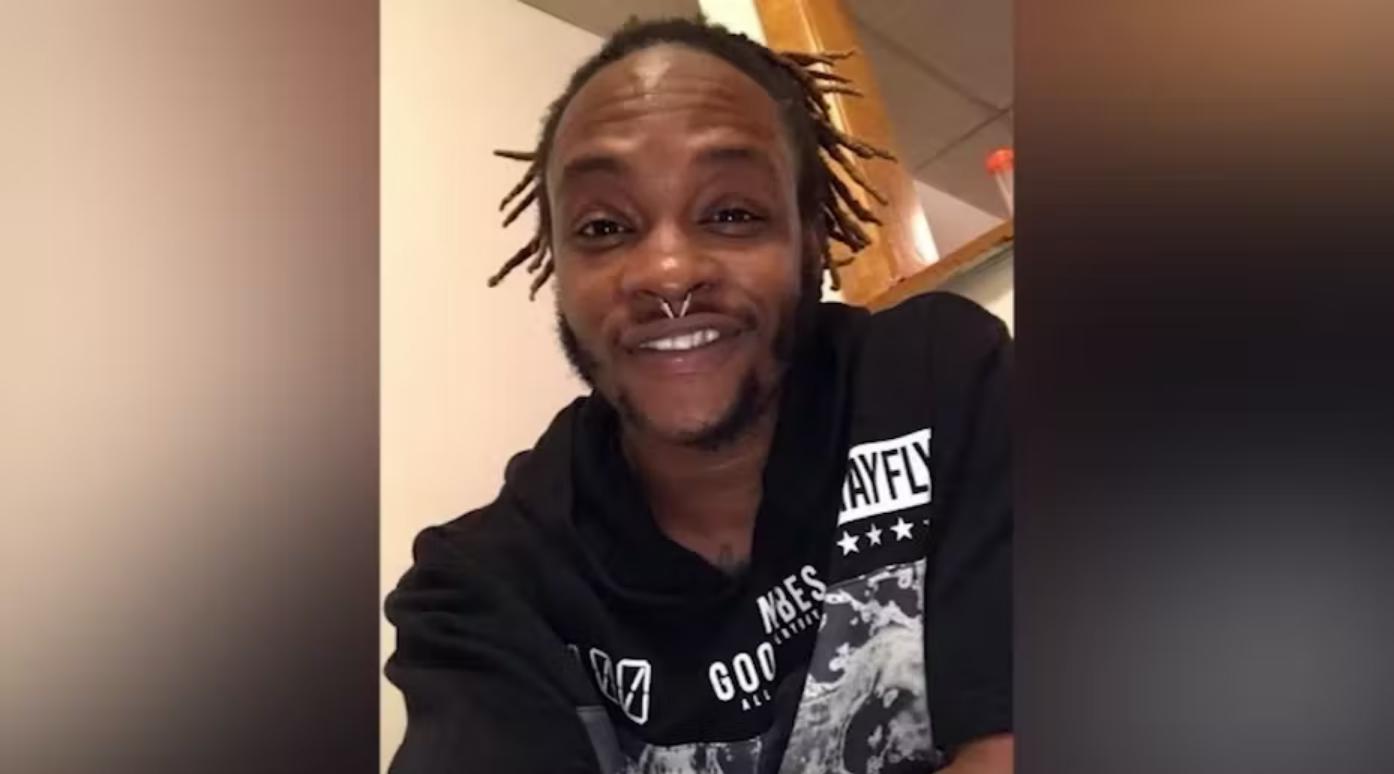 Philadelphia District Attorney Larry Krasner announced Monday that U.S. Marshals had arrested the fugitive suspect in the murder of 33-year-old Mar'Quis "MJ" Jackson last December in North Philadelphia.
The District Attorney's office said that Charles Mitchell, 40, was arrested over the weekend by a U.S. Marshals fugitive task force in suburban Las Vegas in Henderson, Nev.
Jackson, a Black activist and advocate in Philadelphia's transgender community, was found deceased Dec. 14, 2022, when police responded to the 1800 block of Brunner Street where officers found his body facedown in the backyard of a home.
Jackson, according to the medical examiner's office, had suffered blunt force trauma to his head along with scrapes, cuts and bruises to his hands and legs. The medical examiner ruled his death a homicide.
Philadelphia police detectives later identified Mitchell as a suspect in Jackson's death. Mitchell has been charged with murder, abuse of corpse and tampering with evidence.
During a press conference in March, the District Attorney's Office asked the public for help in finding Jackson's killer and also raised awareness on violence towards other members of the city's LGBTQ community, NBC affiliate WCAU 10 reported.
The Human Rights Campaign blog noted that Jackson's death was at least the 37th violent killing of a trans or gender non-conforming person in 2022.
Pennsylvania House passes LGBTQ rights bill
Measure faces uphill fight in State Senate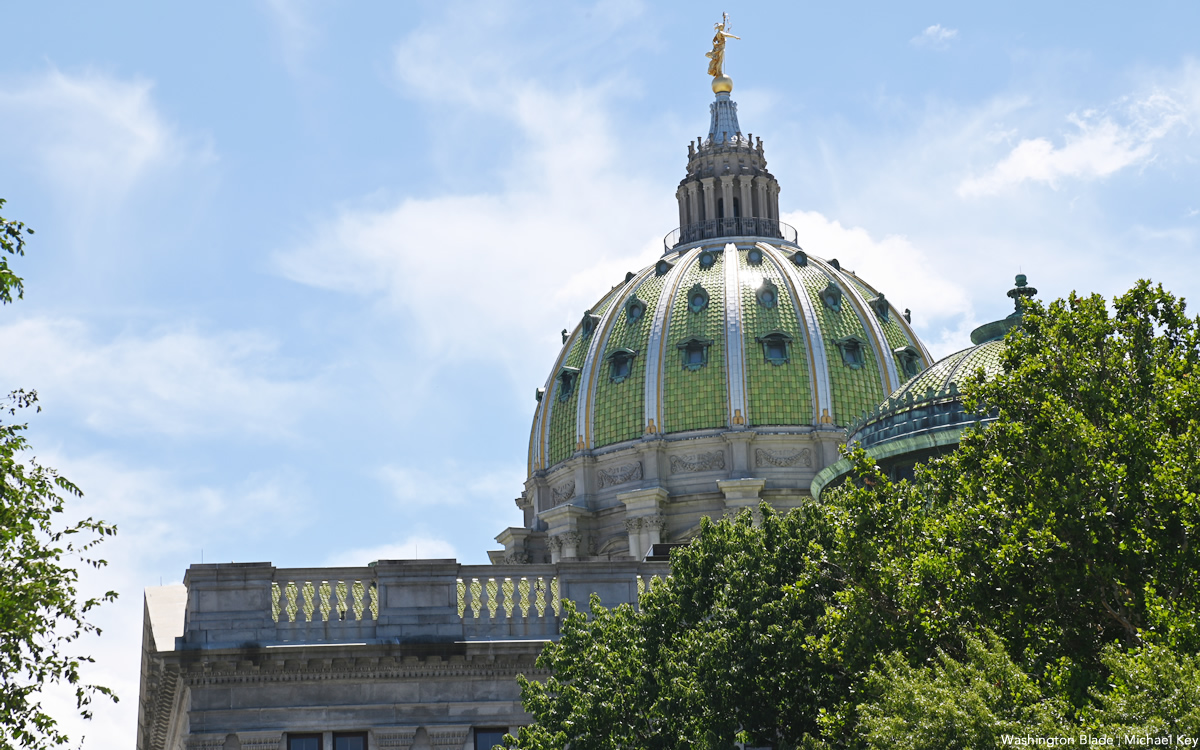 The Pennsylvania House of Representatives on May 2 voted 102 to 98 to approve a bill calling for protecting LGBTQ people from discrimination, marking the first time such legislation has passed in either the state House or Senate in the 47 years since similar bills have been introduced.
Supporters have said the outcome of the bill, called the Fairness Act, is uncertain in the Republican-controlled Pennsylvania Senate, where the legislation is now headed.
"Today is a historic day, as we take a critical step to make Pennsylvania fairer," a joint statement released by the six Democratic House members who were the bill's lead sponsors.
"The Fairness Act is as simple as it is substantive," the statement says. "H.B 300 would protect LGBTQ+ Pennsylvanians from facing discrimination and allow all individuals in the commonwealth to file complaints with the PA Human Relations Commission," it says.
"Now, we call on the Senate to quickly consider and pass this legislation and send it to Governor Shapiro's desk," the statement concludes.
Only two Republicans joined 100 Democrats in voting for the bill, according to the Philadelphia Gay News. The PGN reports that GOP opponents, among other things, brought up arguments that the legislation would require women's sports teams to allow transgender women to play on those teams.
The gay newspaper noted that Pennsylvania is the only state in the northeast that doesn't have a statewide LGBTQ nondiscrimination law. It reports that on the local level, about 73 municipalities in the state have passed LGBTQ nondiscrimination laws, but almost 2,500 municipalities that make up about 65 percent of the state's population do not have such laws.
At least 22 states and the District of Columbia have enacted LGBTQ rights laws. Although LGBTQ rights advocates have called on the other states, including Pennsylvania, to pass such laws, activists have also pointed out the landmark 2020 U.S. Supreme Court decision known as Bostock v. Clayton County, Ga., ruled that LGBTQ people are protected under the U.S. Civil Rights Act of 1964.
That law bans discrimination in employment and other areas based on a person's sex or gender as well as other factors such as race, religion, and ethnicity. In an action that surprised many legal observers, the Supreme Court ruling said LGBTQ people were protected under the sex or gender provision in the 1964 Civil Rights Act.
Zachary Kirchner was bullied and died: Mom sues Pa. school district
Gay teenager died by suicide after he was bullied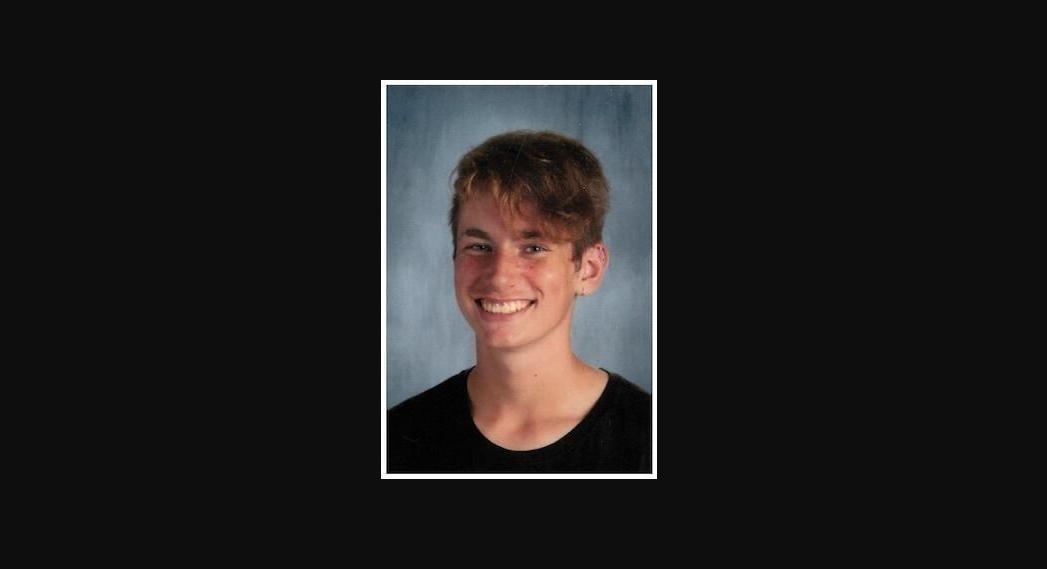 On April 20, 2021, 15-year-old Zachary Joseph Kirchner decided he had enough of being bullied, teased, and being the object of ridicule at Red Lion Senior High School in southeastern York County, Pa. The action he took next has left a raw and deep never-healing wound in his family, and among his friends, as he died as the result of suicide.
In a lovingly crafted obituary by his grieving parents, the openly gay freshman high school student was described as "having an amazing smile and "he loved to make everyone laugh, even if you were having a bad day."
The entry went on to note that the teenager was high functioning on the autism spectrum and had dreams of attending UCLA because of their gymnastics program. "He was an amazing gymnast and loved skiing in the winter and riding roller coasters in the summer. His love for his family was deep and his kindness went beyond words."
His family also pointed out Kirchner was a supporter of LGBTQ rights and believed that "everyone should be treated equally, no matter what your race, religion, or sexual orientation, may be. His life was cut tragically short when the bullying that he was being subjected to, became more than he could bear. His family wants everyone to know what a wonderful person this world has lost."
Now nearly two years later his mother has filed a lawsuit, in the U.S. District Court for the Middle District of Pennsylvania in Harrisburg against the Red Lion Area School District, its staff and faculty, specifically school guidance counselor Jason Hoffman and the school's resource police officer Marc Greenly, who has since retired from law enforcement, alleging they did not do anything to prevent the torment that led to her son's suicide. 
In a court filing the York Daily Record reported, the boy's mother, Hope Amspacher, alleges that that six students — identified only by their initials because they are minors — participated in bullying and abusing her son.
In graphic detail the court documents filing spells out that the 15-year-old hanged himself in the basement of his mother's home last April, additionally the boy had also sliced his arm open.
It was his older brother, Matthew Kirchner, who found him.
Amspacher alleges alleges that the Red Lion School District staff responded to the teen's abuse "with deliberate indifference." The lawsuit also maintains that the six students named, "relentlessly harassed, belittled and broke down (Kirchner) by telling him to 'kill yourself' and/or for (Kirchner) to do a 'charity' for the (students) by committing suicide." 
The freshman student at Red Lion High School had been diagnosed with being on the autism spectrum, high functioning and also suffered from attention deficit hyperactivity disorder, anxiety, oppositional defiance disorder, obsessive compulsive disorder and an unspecified mood disorder.
The York Daily Record also noted Kirchner came out as gay in eighth grade, leading to the six students named in the lawsuit publicly humiliating Kirchner and calling him a homophobic slur. Four of the students sent the teen text messages and messages over social media telling him to kill himself.
"What happened to Zach is obviously a tragedy," Amspacher's lawyer, Renee Franchi, told the paper. "It's becoming far too common for this kind of atrocity to occur in our schools. We have to hold our institutions accountable to prevent this from happening to other children."
The Red Lion Area School District did not immediately respond to a request for comment.
A study released this past summer by the Trevor Project showed that experiences of discrimination or physical threat or harm based on one's sexual orientation and/or gender
identity created LGBTQ youth trauma-related symptoms leading to a more than three times greater odds of those youth attempting suicide.
"Experiences of discrimination, harassment and violence against LGBTQ youth can contribute to trauma symptoms, which can include feeling scared, anxious, or unsafe in the world, often. The data demonstrates that LGBTQ youth who reported high levels of trauma symptoms had more than three times greater odds of attempting suicide," said Dr. Myeshia Price, senior research scientist at the Trevor Project.
*******************************************************************************
If you or someone you know is feeling hopeless or suicidal, contact The Trevor Project's TrevorLifeline 24/7/365 at 1-866-488-7386. TheTrevorProject.org.
LGBTQ adults, as well as young people, can also contact the National Suicide Prevention Lifeline by dialing 988 or online at suicidepreventionlifeline.org.
Pennsylvania Governor bans conversion therapy using state funds
Tom Wolf signs executive order directing agencies to discourage practice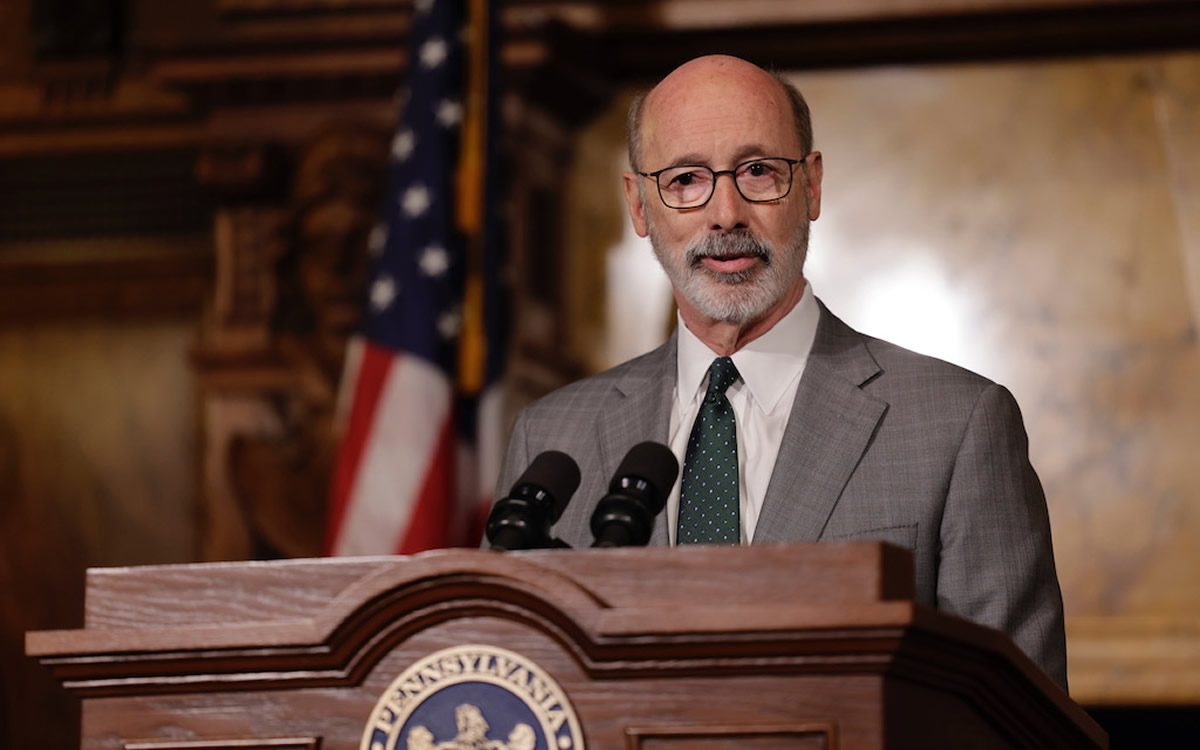 Pennsylvania Governor Tom Wolf, (D) signed an executive order Tuesday that banned use of state funds for conversion therapy and also directs state agencies to discourage conversion therapy. The order will also put measures in place to ensure state offices implement culturally appropriate care and services to LGBTQ constituents.
"Conversion therapy is a traumatic practice based on junk science that actively harms the people it supposedly seeks to treat," said Governor Wolf in a press statement. "This discriminatory practice is widely rejected by medical and scientific professionals and has been proven to lead to worse mental health outcomes for LGBTQIA+ youth subjected to it. This is about keeping our children safe from bullying and extreme practices that harm them."
Advocates from The Trevor Project attended Tuesday's signing of the executive order, commemorating it as a victory for LGBTQ young people in the state. On Wednesday, The Trevor Project will be hosting a town hall meeting in Philadelphia to discuss the impact of the executive order with community members.
"Taxpayers' dollars must never again be spent on the dangerous and discredited practice of conversion 'therapy' — which has been consistently associated with increased suicide risk and an estimated $9.23 billion economic burden in the U.S.," said Troy Stevenson, Senior Campaign Manager for Advocacy and Government Affairs of The Trevor Project.
"Thank you Gov. Wolf for your leadership and for taking bold action to protect and affirm LGBTQ young people across the Commonwealth. We urge the state legislature to pass comprehensive state-wide protections and for governors across the nation to follow the Keystone State's lead in ending this abusive practice."
After the signing the Governor also noted:
"The Trevor Project's Youth Mental Health Survey showed that rates of negative mental health outcomes among LGBTQIA+ youth are much lower in communities, schools and families that are accepting and supportive of LGBTQIA+ people. That's why I signed this executive order to protect Pennsylvanians from conversion therapy and the damage it does to our communities. Because all of our youth deserve to grow up in a commonwealth that accepts and respects them.
"I want LGBTQIA+ youth and individuals across Pennsylvania to know that I stand with you. I see you, I respect you and I support you. My administration will continue to support policies to keep children safe from bullying and harmful practices."
"We have worked tirelessly over the last year to collaboratively get this executive order drafted, through discussions with advocates, parents, and many stakeholders. With this action, the practice of conversion therapy has its days numbered in Pennsylvania​," said Rafael Alvarez Febo, executive director of the Pennsylvania Commission on LGBTQ Affairs. "Young people should never be punished for being who they are and that's what so–called conversion therapy does, while causing sometimes irreparable trauma to individuals."
With the signing of this executive order, Pennsylvania is now the 27th state in the country to enact statewide protections against the practice of conversion therapy.