For Israel's LGBTQ citizens, threats are no longer theoretical
Proposed judicial reforms could have wide-ranging impact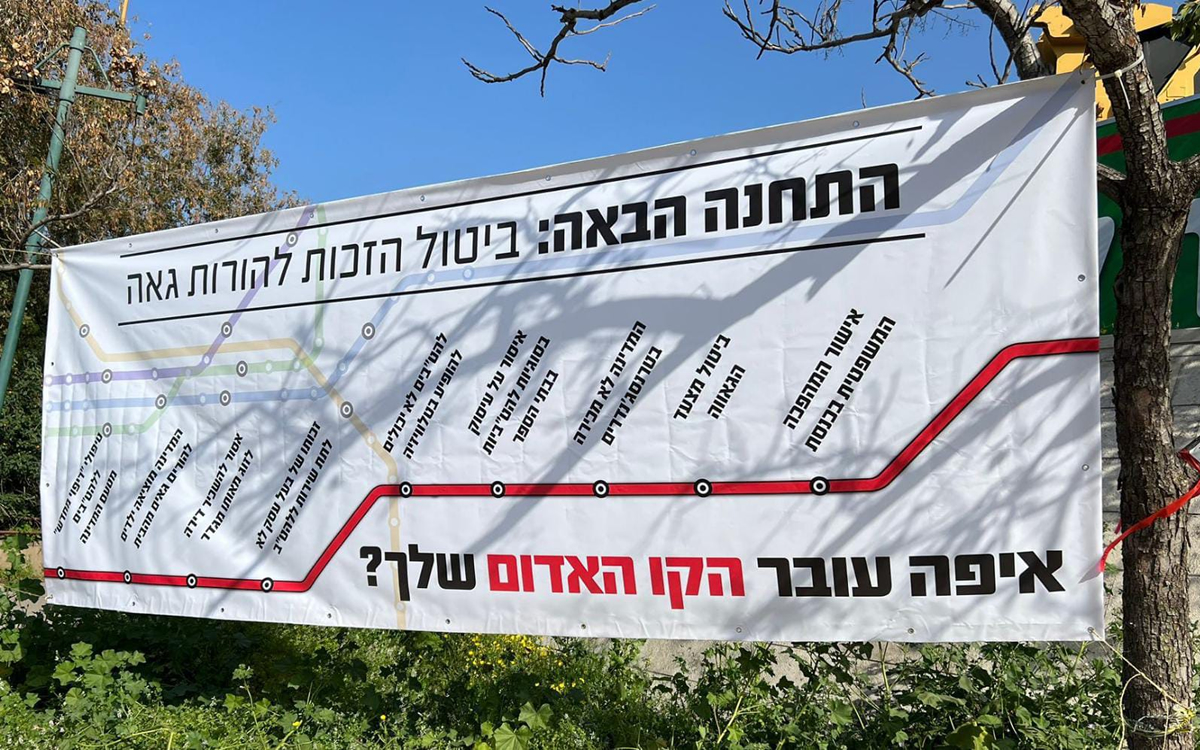 In 2023, millions are engaging in protests all around the world. People are making their voices heard in France, Mexico, Bangladesh, Hungary and Greece – just to name a few.
The specific events triggering civic action vary by location. But whether it's pension reforms, election concerns, human rights, or rank government incompetence, it's undeniable that the world is shaking. Among the common threads are an existential threat to democratic institutions.
At A Wider Bridge, we are closely connected to the manifestation of this international phenomenon in Israel.
Israelis from across the political spectrum are taking a stand for their democracy in an unprecedented manner. They have taken to the streets in historic numbers day after day, week after week, in patriotic displays of defiance. LGBTQ Israelis are on the front lines in a battle over legislation that most of them feel would dramatically undermine the independence of Israel's judiciary. The stakes are high. The Israeli Supreme Court has been a bastion for advancing LGBTQ equality.
With a different court, LGBTQ Israelis could see protections ended for male couples and single men who have children via surrogacy. Same-sex couples married overseas might lose recognition of their unions, and with that, benefits from health insurance to inheritance, not to mention the implications for parents where one partner is non-Israeli. Protections for students and trans Israelis could evaporate. But there is more than the court in play. A new generation of extremist politicians have gained true power — and the bully pulpit. The reverberations are being felt far and wide — and the threat they pose to LGBTQ Israelis is no longer theoretical.
The Aguda, the Association for LGBTQ Equality in Israel, just released its 2022 report on LGBTQphobia in Israel. The findings show that anti-LGBTQ hate has skyrocketed. It rose during an election cycle in which some extremist politicians railed against LGBTQ rights, and it skyrocketed after the early November election. It has affected almost every aspect of LGBTQ life in the country.
In total, there were 3,309 reports of LGBTQ abuse last year — an enormous increase, and double what was reported as recently as five years ago. Delving deeper into the data, the news gets even scarier: an eightfold increase in year-on-year discrimination reports involving services by businesses, a fivefold increase in LGBTQ abuse reports in the public sphere, a 53 percent increase in reports from trans individuals, and a sevenfold increase in LGBTQ abuse reports where the offending parties are public figures and in the media.
On top of that, fully 25 percent of these reports came in November and December — during the election campaign and immediately following the commencement of the new government.
Some have urged patience with Israel's new government and advocate a wait-and-see approach. They say nothing bad has happened yet. Sadly, they are wrong.
While these extremist politicians, now leading important government ministries, have yet to deliver fully on pledges to remove LGBTQ education from schools, groups working in that sector say it has become increasingly difficult to do programs they routinely offered in the past. They have yet to ban Pride parades, end hormone treatments and gender-affirming care for trans people, or provide financial support for organizations that provide conversion therapy. But all of these anti-LGBTQ policies are on the table. Unfortunately for LGBTQ Israelis, there is no safety in adopting a wait-and-see approach.
Recently, a group of right-wing youth harassed protesters carrying Pride flags in Tel Aviv. They threw rocks at a building at which a Pride flag was displayed. They even climbed a balcony to tear it down. They were caught in the act on video and later identified. But for weeks, no arrests have been made. In response, thousands of pro-LGBTQ Israelis protested in front of the police headquarters in Tel Aviv — a city justifiably celebrated for its LGBTQ-friendly environment and with one of the highest percentages of LGBTQ residents in the world. They were protesting police inaction, fully cognizant that the municipal police are controlled by the Israeli Ministry of National Security under Itamar Ben-Gvir, an open homophobe who ran for office on a far-right slate with a radical anti-LGBTQ platform.
Was the lack of police action a result of top-down pressure? We don't know. But we do know that the physical security of LGBTQ people is often dependent on the institutions that govern us.
We also know that we can never take our rights and our safety for granted. That's true whether one is LGBTQ in Tel Aviv, Black in Missouri, or Jewish on the streets of New York City, where antisemitic violence is on the rise.
The legislation Israelis are protesting is but one symptom of a global phenomenon to wrest power from institutions that have advanced the equality of marginalized groups — LGBTQ people, women, racial minorities, immigrants and others. It is not difficult to connect the dots from Jerusalem to Florida to certain eastern European countries, where democratic norms are under attack in general, as are the rights of LGBTQ people in particular.
So what do we do in the face of these challenges? First, we recognize the challenges as real, acute, and demanding immediate action.
Then we organize. We protest. We don't allow ourselves to be gaslighted by those who say all is well, when clearly it is not. All one has to do to appreciate the threats to LGBTQ people in Israel is to speak with a few LGBTQ Israelis.
Accordingly, A Wider Bridge has dramatically increased our support of LGBTQ groups through additional public advocacy and an emergency campaign to fund their pro-democracy work and meet needs for increased social services. Next month, we will travel to Israel to stand with our LGBTQ family. We will march with them at the Jerusalem March for Pride and Tolerance and host an English livestream to the world.
We continue to be inspired by Israel's democracy movement, where the LGBTQ flag has become as common a sight in the streets as the Israeli flag itself. We will stand with them today — and every day — to protect Israel's democratic and pluralistic character in the face of this emergency.
Ethan Felson is the executive director of A Wider Bridge.
Non-alignment or hypocrisy: South Africa's non-alignment costing Africa's human rights discourse
Country must take stronger stance against Uganda's anti-homosexuality law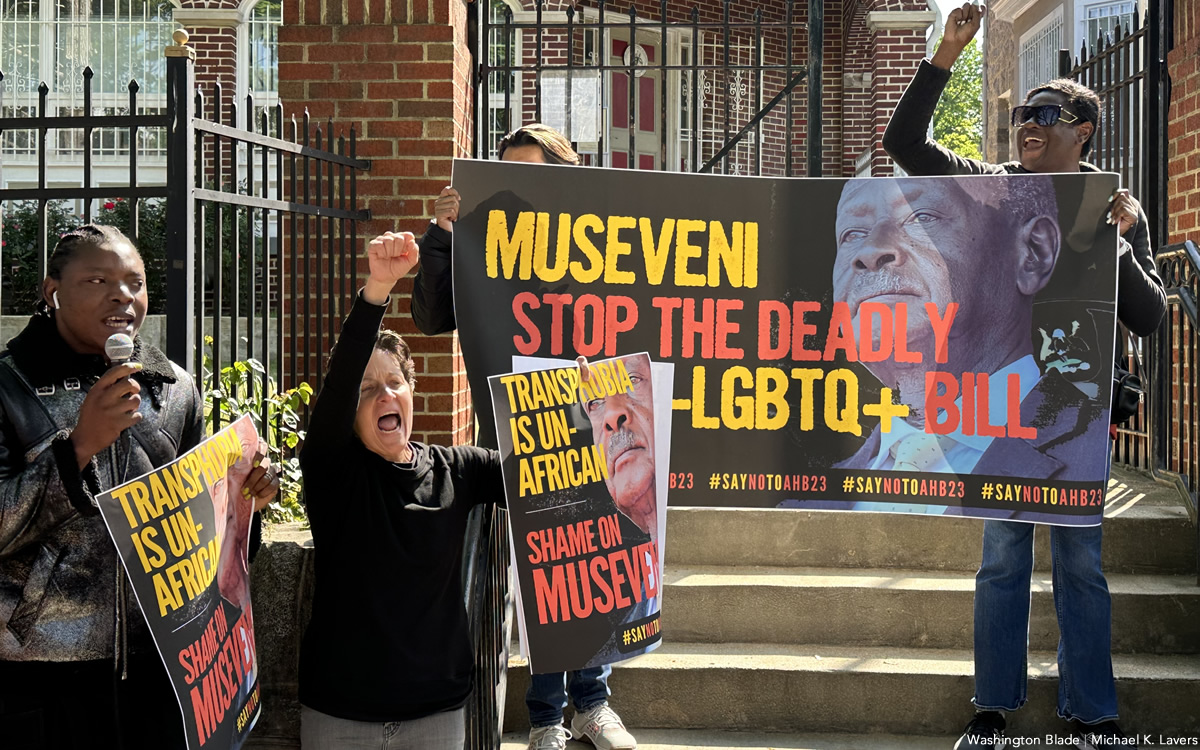 In the past several months, South Africa's foreign policy has been in the spotlight for essential and existential reasons that significantly impact geopolitics and the continent's stability.
The foreign policy for South Africa discussion document by the Department of International Relations highlights the "advancement of human rights and the promotion of democracy" as the pillars on which South Africa's foreign policy rests. This document emphasizes the role that South Africa is expected to play in the "promotion of human rights and democracy."
Minister Pandor echoed this document in her 2022 end-of-year remarks.
"We will continue with our unwavering position to advocate for a balanced Sustainable Development Program within the human rights framework as underlined in the Vienna Declaration and Program of Action (VDPA). In this regard, South Africa will be one of the chief proponents of a balanced agenda of the HRC, which reflects, among others, the primacy of achieving the realization of the right to development as well as moral human rights issues such as the eradication of poverty and underdevelopment."
South Africa has long been known for its commitment to human rights and its leadership in the fight against apartheid. However, its foreign policy continues to be viewed as ambiguous and nonresponsive to developments in African affecting the growth of the continent.
In 2021, President Ramaphosa — as chair of the SADC Organ Troika — committed to a national political dialogue in Eswatini to resolve the political killings in that country. However, the South African government has never followed up or called on the Eswatini government to adhere to its commitment, even as renowned human rights lawyer Thulani Maseko was mercilessly assassinated in January 2023. At the very least, this has not been seen publicly, which would be comforting to those political activists and citizens constantly living in fear in Eswatini.
On May 29, the president of Uganda enacted the draconian Anti-Homosexuality Act. The new law is a throwback to colonization, where religious fanatism was the basis for the persecution and killing of many Africans. While Africa seems to take the posture of "fighting against imperialism," it is saddening that this law is the brainchild of American zealots funding hate across Africa, whether it is in Uganda, Ghana, Kenya, Malawi or Namibia. These zealots, the Fellowship Foundation and many others, are well coordinated in their attacks on the judiciary and the African human rights framework, backed by the 75-year-old Universal Declaration of Human Rights.  
In an era where Africa is seen to be taking a stance against imperialism, I shudder to contemplate that hate may be the only imperialist agenda Africa is not actively standing up against. We know the history of petty offences like homelessness and loitering, sedition laws, and anti-LGBTI laws. These are remnants of colonization to keep Africa inferior and the colonial masters superior. Today, the hate continues through repressive and backwards sentiment being paraded as religious values. Uganda's anti-homosexuality law criminalizes what it calls "aggravated homosexuality" with the death penalty. It would be hard to imagine what "aggravated homosexuality" even means. 
This is another opportunity where South Africa's posture and foreign policy must be spotlighted. With the growing conversation about the ICC arrest warrant of President Putin, South Africa has reiterated its foreign policy as non-alignment and non-interference.
However, when the question of human rights and democracy is at play, all must take a stand. This law has been widely criticized by human rights organizations and the international community for violating the rights of LGBTIQ+ individuals and hindering the fight against HIV. It further impedes what Minister Pandor called the "balanced agenda of the HRC," which speaks to sustainable development within the human rights framework. 
It should be worrying if South Africa continues to maintain a policy of non-alignment and non-interference in the face of the new law in Uganda. While this policy may have its merits, it raises questions about South Africa's commitment to human rights and its role as a leader in Africa. A foreign policy that neglects the promotion of human rights and democratic principles is hypocritical. On the one hand, South Africa is seen as a leader in promoting LGBTIQ+ rights and has one of the most progressive constitutions in the world regarding protecting the rights of LGBTIQ+ individuals. However, on the other hand, it has failed to take a strong stance against Uganda's anti-homosexuality law, which is a clear violation of human rights.
By maintaining this policy, South Africa is essentially condoning Uganda's anti-homosexuality law and undermining the fight for human rights in Africa. This is particularly concerning given South Africa's leadership role in the African Union and its commitment to promoting human rights and democracy.
South Africa's foreign policy regarding Uganda's anti-homosexuality law raises questions about its commitment to non-alignment and human rights in Africa. While non-interference may have its merits, it should not come at the expense of human rights and the fight for equality and justice.
South Africa must take a stronger stance against Uganda's anti-homosexuality law and work towards promoting human rights and democracy in Africa.
Melusi Simelane is the Southern Africa Litigation Center's Civic Rights Program Manager.
The day Penny Mordaunt became gay culture
Former Tory prime minister candidate stole show at King Charles III's coronation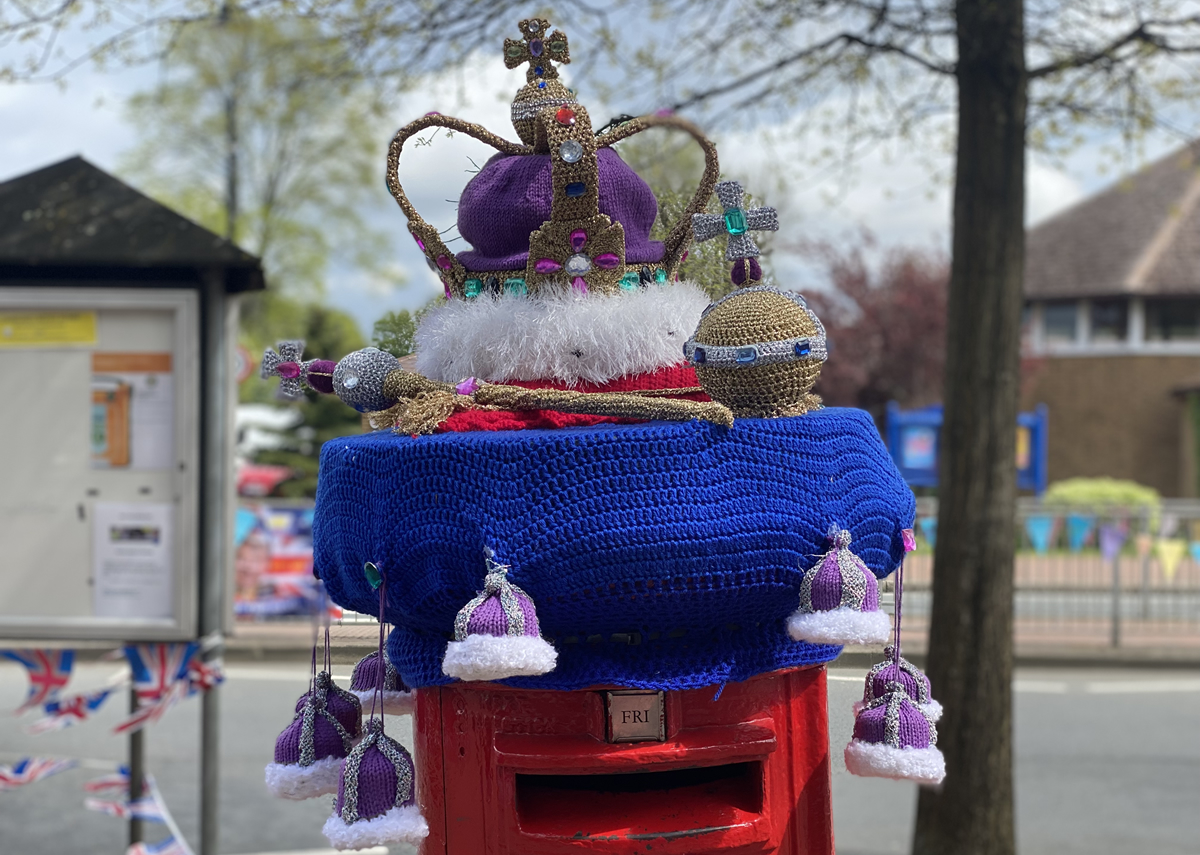 "Can we all agree that Penny Mordaunt is gay culture today?" The declaration was made in a crowded Soho bar, made slightly less gay by the revelers from the coronation that had taken place an hour earlier. By Sunday the former Tory candidate for the premiership had become the Pippa Middleton of the day, completely ignoring that our new king had been crowned.
The epitome of Britishness.
When I told my friends in the States that I would be crossing the pond and finally heading back to Blighty they were rather excited. But when I said it was for the coronation some faces changed, "Why would you celebrate that man after what he did to Meghan?"
"Wait, are you actually going to the service?" Their eyes studied me, did they have a secret Lord in their midst?
The truth of the matter was that I just wanted to be home in South London for this event. Sure, I'd be swapping one sofa for another, and instead of the dog napping it would be my father, but CNN aren't a patch on the Beeb during big events. Plus, I'd have my mum's running commentary on the most obscure of guests, giving Cherie Blair short shrift.
The British just have this special way of doing things, a result of both loving some pomp and circumstance but also being slightly embarrassed about making a fuss. I think that's why we invented bunting.
I had barely been in the country for a couple of hours when I found myself sitting with mum, supervising dad as he filled the back garden with Union Jacks. My husband had succumbed to the jet lag that I was staving off with copious cups of tea.
"Dearest," my father called out to my mum, "would it be bad to use the flags from the jubilee?"
"Just put them up the top, no one will see," replied mother before returning to putting the world to rights.
"And what about the ones from the last Olympics?"
"Just shove them in with the pansies." You honestly can't get more British than that.
My own experience of the coronation, or cor-re-nashe as the locals "huns" have christened it, will be very biased towards the royals. My parents' home is in the southernmost point of London, a deliciously rural village that celebrates every big event with street fairs and a special hat for the red post box knitted by the Cupcakes, a local women's group.
On Friday we dared to leave the village and head into the local town. The entire bus journey we could see the school children wearing paper crowns, but the coronation barely got mentioned by our friends that evening. Any grumbles were soothed with the reminder of an extra day off but its intended use as a day of service will no doubt be sidelined in favor of a day of recovery.
The British really don't need an excuse to drink, though it probably hasn't helped that many have predicted we'll be doing this again very shortly.
King Charles' reign was never meant to be as illustrious as his mother's, but he's in danger of beating her record of 16 prime ministers. He's kept things as unoffensive as possible, though Harry may disagree with that. The most controversial decision so far has been choosing quiche as the celebratory dish, a far cry from the British staple that is coronation chicken.
"I'm just not sure about the broad bean element," muttered mother as she opened up the Quiche Lorraine.
And there we have it, because even though this is all about welcoming in a new era the coronation is also about reminding ourselves of the traditions that make us British.
Don't try anything new.
As Saturday's coverage made way for a news report on the event we just watched, my mum recomposed herself, having gotten a little emotional as Charles had his quiet chat with God. The screen filled with the Republican protests in Trafalgar Square.
"Oh, for God's sake," said mother with disdain, "if they want a republic so much then why don't they just bugger off to France?"
And I think that just about sums it all up.
Maximilian Sycamore is a D.C.-based media producer who is originally from London. The opinions expressed in this op-ed are entirely his own.
A free press matters now more than ever
Wednesday was World Press Freedom Day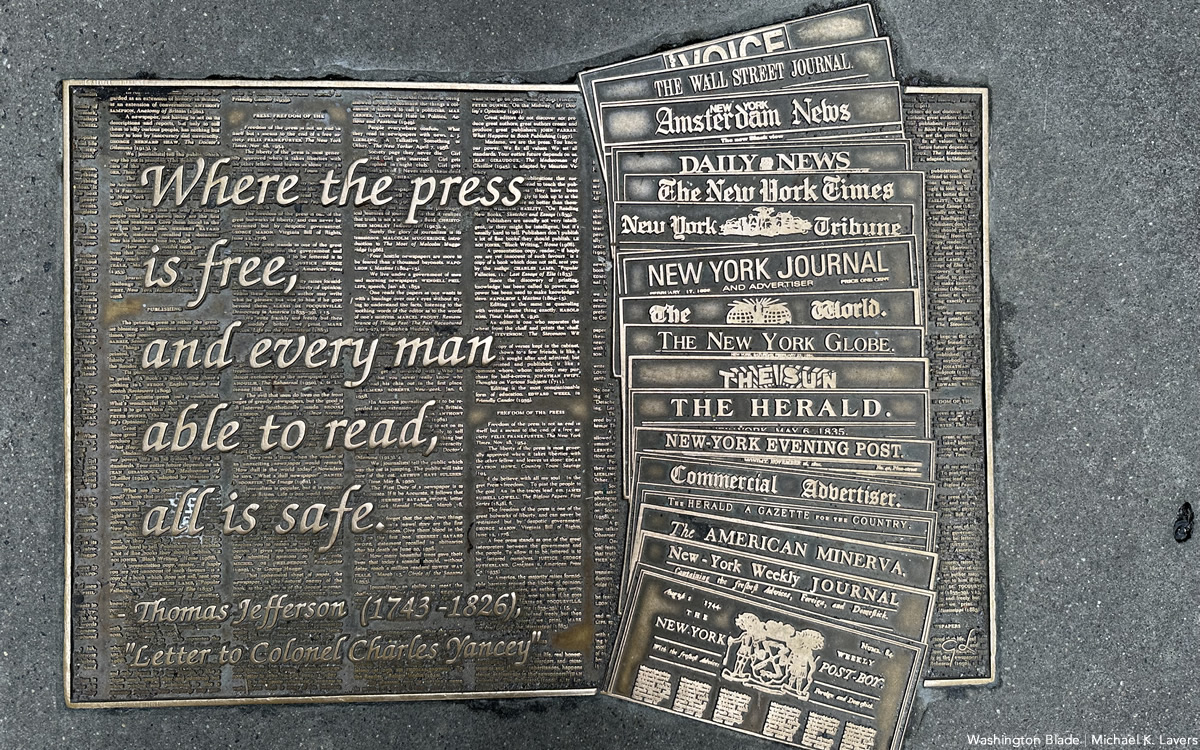 The Library Walk on East 41st Street near Manhattan's Grand Central Terminal has bronze plaques with quotes from prominent literary and historical figures. One contains an excerpt of a letter that Thomas Jefferson wrote to Col. Charles Yancey on Jan. 6, 1816.
"Where the press is free, and every man able to read, all is safe," wrote Jefferson.
This quote that I saw on East 41st Street in March while on assignment in New York seemed all the more appropriate — and timely — on Wednesday as the world marked World Press Freedom Day.
Washington Post Publisher Fred Ryan, at a World Press Freedom Day event his newspaper held with Reporters Without Borders, noted 57 journalists were killed around the world in 2022. They include Shireen Abu Akleh, a Palestinian American Al Jazeera reporter who Israeli soldiers killed on May 11, 2022, while she covered an Israel Defense Force raid of the Jenin refugee camp in the West Bank.
Ryan in his opening remarks also noted 533 journalists were detained in 2022. They include Vladimir Kara-Murza, a Post contributor and Russian opposition figure who received a 25-year prison sentence last month after a judge convicted him of treason for publicly criticizing the country's war against Ukraine.
Iranian authorities in 2014 arrested Post Global Opinions Writer Jason Rezaian and his wife, Yeganeh Rezaian, who is now a senior researcher for the Committee to Protect Journalists, and charged them with espionage. Jason Rezaian spent 544 days in prison until his release on Jan. 16, 2016.
The Rezaians spoke about their experience in Iran during the World Press Freedom Day event. Post Senior Writer Frances Stead Sellers also interviewed Wall Street Journal Washington Bureau Chief Paul Beckett about Evan Gershkovich, an American Wall Street Journal reporter of Russian descent who Russia's Federal Security Service detained on espionage charges in March. Three other journalists also discussed the persecution they faced in their respective countries and/or in the countries from which they reported.
• Adefemi Akinsanya is an anchor and international correspondent for Arise News, a London-based news channel that covers Africa. Nigerian police officers on Oct. 20, 2021, assaulted Akinsanya and her colleagues as they covered a memorial in Lagos, the country's largest city, that commemorated the protesters who security forces killed during protests against police brutality that had taken place the year before.
• Hanna Liubakova is an independent journalist from Belarus who fled her country in 2020. She continues to cover President Alexander Lukashenko's dictatorship and efforts to bring democracy to her homeland.
• Denny Fenster is the editor-at-large for Frontier Myanmar. The Associated Press notes a court in Myanmar in November 2021 convicted him of spreading false or inflammatory information, contacting illegal organizations and violating visa regulations and sentenced him to 11 years in prison with hard labor. The government of Myanmar released Fenster after he spent nearly six months in prison.
Secretary of State Antony Blinken and Clayton Weimers, the executive director of Reporters without Borders' U.S. Bureau, also spoke at the event. Debra Tice, the mother of Austin Tice, a freelance journalist who has been held in Syria for more than a decade, was among those in attendance.
"We know that journalists around the world are increasingly under siege and under siege in a whole variety of ways," Blinken told Post Associate Editor David Ignatius during the World Press Freedom Day event. "That's now manifested itself once again very powerfully in Evan (Gershkovich)'s detention and incarceration in Moscow, profoundly unjustly for doing his job."
Press freedom and journalists' ability to do their jobs without persecution is also personal.
Blade contributor Yariel Valdés González in September 2019 won asylum in the U.S. because of the persecution he suffered in Cuba as a journalist. (Yariel spent nearly a year in U.S. Immigration and Customs Enforcement custody, and documented the abuses he and his fellow detainees suffered.) The Cuban government on May 8, 2019, detained me at Havana's José Martí International Airport for nearly seven hours after I tried to enter the country in order to continue the Washington Blade's coverage of LGBTQ and intersex Cubans.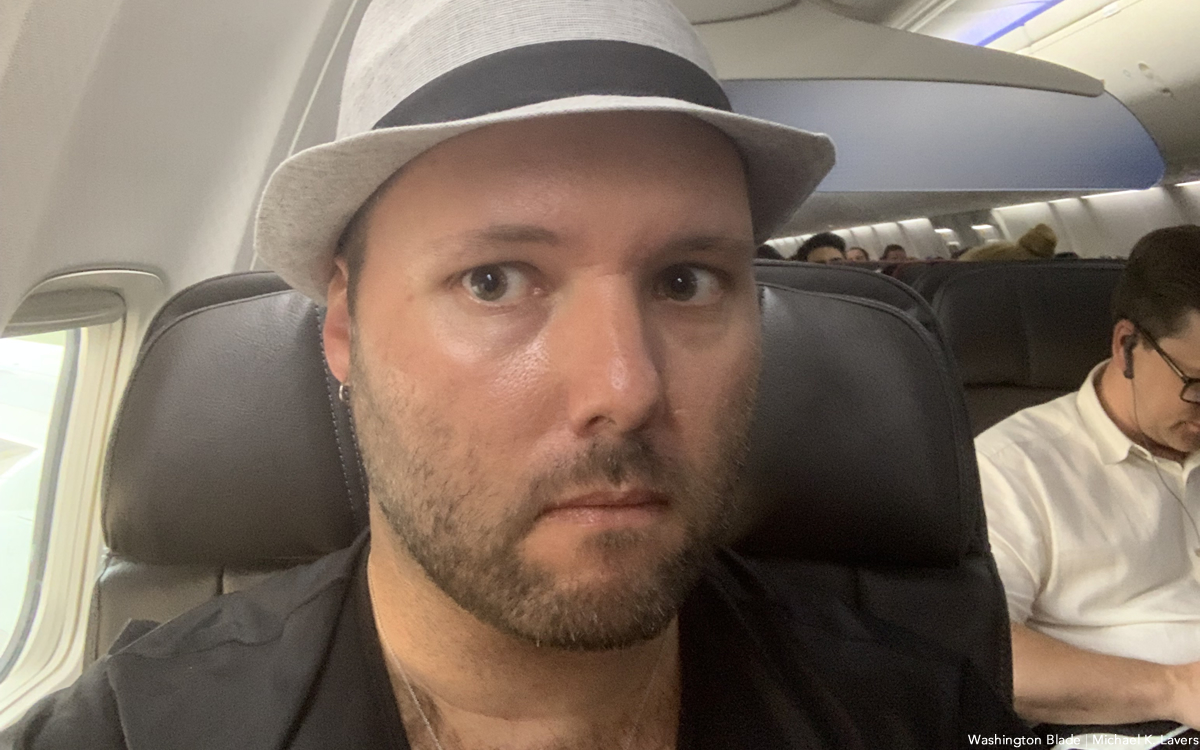 Reporters who contribute to Reportar sin Miedo, the Blade's media partner in Honduras, received threats last month after they covered a protest against San Pedro Sula Mayor Roberto Contreras over an anti-LGBTQ speech he made. Cuban police on July 11, 2021, violently arrested Maykel González Vivero, a journalist with whom the Blade has worked for nearly a decade, during an anti-government protest in Havana.
Blinken is correct when he says journalists "around the world are increasingly under siege and under siege in a whole variety of ways." His assertion also applies to media professionals in the U.S.
The rhetoric — "fake news" and journalists are the "enemy of the people" — that the previous president and his followers continue to use in order to advance an agenda based on transphobia, homophobia, misogyny, islamophobia and white supremacy, has placed American journalists at increased risk. The current reality in which we media professionals are working should not be the case in a country that has enshrined a free press in its constitution.
A free press matters now more than ever.