Same-sex marriage means big business
So are we really just like everybody else? When it comes to gays and their wedding ceremonies, it depends on whom you ask.
Several among a bumper crop of new businesses that have sprung up in Washington to tap into the inevitable boom in same-sex weddings when the new District law goes into effect in March are targeting same-sex couples exclusively and say gay relationships are different in ways straight wedding planners won't fully grasp.
Don Gillin's new business, D.C.'s Gay Wedding Planners (dcsgayweddingplanners.com), will specialize in those differences. The 36-year-old gay Bethesda resident has a decade of event and wedding planning under his belt and says he's in a strong position to help same-sex couples realize their wedding dreams. He knows the ropes from doing straight weddings for several years but also gets gay relationship in a way his straight counterparts can't.
"This was never a possibility before and now it is, so it's kind of doubly sweet and meaningful," Gillin says. "I don't think a straight wedding planner could understand that. Not only are two gay men or two lesbians getting married, they're taking advantage of a right they never had before. As a gay person I can understand that and truly honor their love story like a typical wedding service couldn't."
Mike Wilkinson, a 27-year-old Washington resident, says his business, GLBT Wedding Services (glbtweddingservices.com), a new division of Event Emissary, benefits from his gay touch.
"I think [straight wedding planners] definitely know how to throw great events, but we have an advantage because we're personally invested in the community," Wilkinson says.
Laura Lee, who's straight and has been in business as a wedding planner with In Any Event (inanyeventcoordinators.com) for a year, says there aren't many significant differences between straight and gay weddings. The preferences have more to do, she says, with the couple's tastes than their sexual orientation.
"Gay couples are as diverse in their desires and spending habits for their weddings as straight couples," she says via e-mail from El Salvador where she's on a volunteer trip building houses for low-income families. "Their desire for tradition varies as well. I think the only major difference is that gay couples may feel less confined to traditional customs than straight couples. In general, though, it really depends on the individuals."
Like Gillin, Tara Davis has worked on both same-sex commitment ceremonies and opposite-sex weddings, for the last year and a half with Elegance and Simplicity, which just started a referral site for same-sex couples at legallyweddc.com. She and her partner, Tanya Colucci, had a ceremony in Florida in 2008 but plan to get legally married in Washington this spring. Davis says there's some "relatability" when she works with gay couples that helps.
"Being a lesbian, I can be sensitive to issues same-sex couples may be having," she says. "In the beginning my mom was always supportive but the idea of a wedding was a little shocking to her. So I can support them, tell them my story, let them know that people do come around and my mom was there with my dad walking down the aisle. That moral support definitely makes a difference. Can they get a beautiful quality wedding from a straight wedding planner? Of course. But it helps to know vendors who've gone through it and know that everything has gone well."
Elegance and Simplicity, which has been around for 12 years and is owned by Katie Martin, who's straight, typically does about 120 weddings a year. Usually three to five are same-sex commitment ceremonies but they expect a boost this year when the law goes into effect, assuming it survives its 30-legislative-day congressional review period as most experts predict.
The Williams Institute, UCLA School of Law, predicts that 1,882 same-sex D.C. couples will marry in the next three years in addition to about 12,550 non-District residents expected to flock to the District to wed. The new law will likely bring more than $52 million to District coffers by the end of 2012 and about 700 new jobs. The city itself will see about $5.4 million in tax revenue. Most of the couples — about 65 percent — will be from out of state, the Institute predicts.
Could there be a huge number in 2010 then a massive drop-off once all the couples who've been together for eons legally wed? Davis doubts it.
"If you look at how Massachusetts is doing, it's still very big business for their economy and it's been legal there for a long time now," she says. "It will probably decrease some, but I wouldn't expect to see it steadily dropping."
Wilkinson is hoping there'll be a huge boom at first. He's hoping to break a Guinness world record by having a mass marriage event on March 20 at D.C.'s Mellon Auditorium. He needs 169 couples to break the record but is hoping for 400, which would fill the room. Only five couples have signed on so far but he expects a deluge once the law goes into effect.
"We're definitely trying to be cognizant of the needs of the couples," he says. "It won't be like going through the drive-through at McDonald's. We're putting a lot of effort into being sensitive to the couples but also making it a special event within the community."
Another local business that will be assisting couples planning their same-sex weddings is Raymond Boney Event & Publicity Management, boneyevents.com. Not only will Boney's team assist with planning a D.C.-area celebration, they will plan destination ceremonies and even plan the honeymoon.
Some D.C. residents who weren't involved in weddings in any capacity before are planning to jump into the fray. Photographer Robert Dodge, who's gay, was never interested in shooting straight weddings, but says same-sex weddings excite him. He shot a series of ads for GLBT Wedding Services featuring gay models at Mellon Auditorium.
"The opportunity to shoot gay weddings and record these historic first life commitments is really exciting and something I am looking forward to," Dodge says by e-mail from Vietnam where he's on a shooting trip. "I would like to establish myself as the preeminent gay wedding photographer."
Dodge's website portfolio (robertdodge.com) reveals a bounty of artsy shots. Won't weddings be boring by comparison?
"Not at all," he says. "Wedding photography is a first cousin to portraits and portraiture has been an art form for centuries. I will also be shooting weddings in a photojournalist style, which means that many of the images will be candids. I will still do the wedding formals, but a large part of the work will have that natural look of being candid and not posed."
And Dodge is of the mindset that being gay himself will definitely be an advantage.
"Unless they have some experience with this, (straight photographers) are going to have a difficult time understanding the dynamics of the relationships and will simply miss some good photographic moments because they were waiting for the couples to act like a straight bride and groom."
Disco Funk Brunch at Crazy Aunt Helen's
Tara Hoot and DJ Phil Reese perform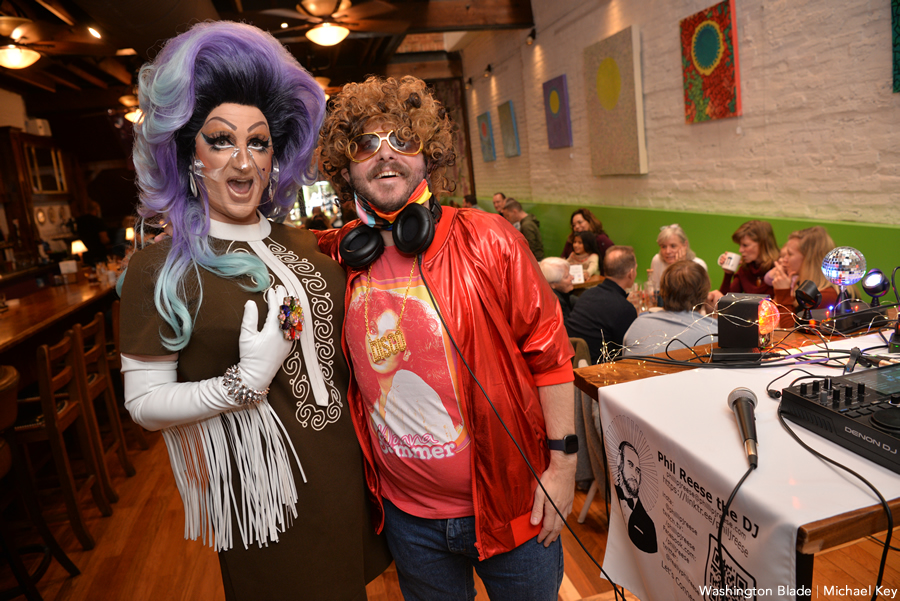 Drag queen Tara Hoot and DJ Phil Reese perform at the biweekly Disco Funk Brunch at the LGBT-owned Crazy Aunt Helen's on Sunday. For future showtimes, go to crazyaunthelens.com. (Blade photo by Michael Key)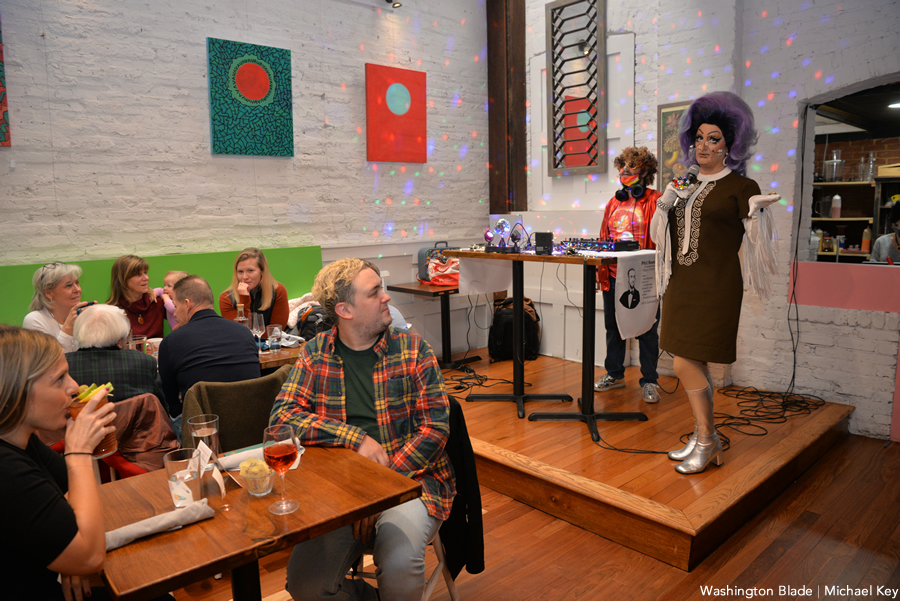 Blade's summer closing party set for Sept. 17 in Rehoboth
Benefits journalism scholarship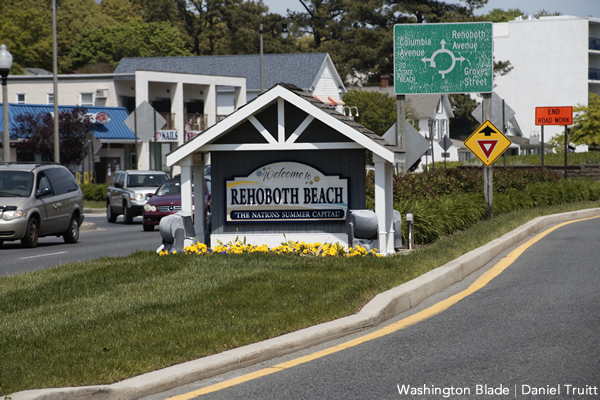 The Washington Blade's 15-year tradition of hosting a summer kickoff party in Rehoboth Beach was disrupted due to COVID restrictions. In lieu of that May event, the Blade is hosting a summer closing party on Friday, Sept. 17 at 6 p.m. at The Pines (56 Baltimore Ave., Rehoboth Beach, Del.).
Tickets are $20, which includes two drinks and appetizers. The event benefits the Blade Foundation's Steve Elkins Memorial Journalism Fellowship, a 12-week program in which an LGBTQ student journalist covers stories of interest to Delaware's queer community each summer.
All COVID safety protocols will be followed, including a requirement that attendees furnish proof of vaccination to gain entry.
If you are unable to attend you can make a donation to the Blade Foundation at BladeFoundation.org. Sponsors of the event include Delmarva Power and The Pines.
Rehoboth to close out summer with SunFest
Series of events to replace long-running Sundance due to pandemic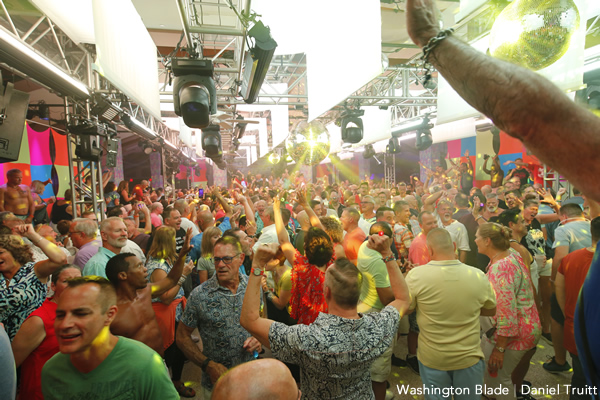 SunFest will feature a week of live performances, dances, and a live auction, sponsored by non-profit LGBTQ+ center CAMP Rehoboth.
The weeklong festival runs from Aug. 29 to Sept. 5 and is a change from the annual SunDance that CAMP Rehoboth has sponsored since 1988. This transformation began last year when the event was forced to go digital due to the coronavirus and the in-person events scheduled this year are important, according to development director and co-coordinator of SunFest Anita Broccolino.
"We love that community feel and the in-person makes all the difference in the world for us. Not being able to do it last year just reminded everyone how important we all are to one another," Broccolino said. "I think that bringing back these events this year is just huge for us and it will be extra celebratory as a result."
The festival begins with a 5k race and online auction opening on Sunday. Monday night features a give-back event at Iron Hill Brewery while Tuesday's agenda is still to be determined, said Broccolino. Diego's will host a Studio 54 give-back dance party on Wednesday and Thursday is the Port 251 women's give-back.
Live performances featuring the Skivvies, Randy Harrison and Diane Huey are scheduled for Friday night and Jennifer Holiday will follow with a performance on Saturday night, both at the Rehoboth Beach Convention Center. The festival closes out Sunday with auction pick-ups and Fun in the Sand and Sun, according to the CAMP Rehoboth website.
This event is also important to the organization's contributions to the community, said Broccolino.
"The essential services we provide for free to the community, which is a huge amount of health and wellness activities, as well as arts programming, a lot of youth programming and the community counts on us for those things. We never stopped during COVID, we made as much as we could virtual, but we took quite a hit not being able to raise those funds and awareness of the programs," Broccolino said. "We invite the entire community to come celebrate with us and make it to Rehoboth Beach, and let's make it joyful, and wonderful and make sure we're living up to the standards of all the people who helped found CAMP Rehoboth and live up to their legacy and beyond."