Ginsberg's Beat memories
Visionary writer's photographs now on display
He saw "the best minds" of his generation" destroyed by madness and as "angel-headed hipsters burning for the ancient heavenly connection to the starry dynamo in the machinery of night."
He was like an Old Testament prophet preaching in jeremiad poetry to post-World War II America. He was Allen Ginsberg, a visionary writer and author of the above famous opening lines of his celebrated poem "Howl."
He was an anarchist at heart and anti-war activist, who would try by chanting to levitate the Pentagon in 1967, and avatar to his poetic muse the romantic poet Shelley who had called poets the unacknowledged legislators of mankind.
And he was the iconic poet of gay consciousness and sexual liberation of all men as possible brothers, and indeed as lovers. He channeled the "barbaric yawp" of that poet of free verse and gay affection, Walt Whitman.
But he was also a photographer. And it was Ginsberg, who died in 1997 at age 70, whose little-known treasure trove of photographs — taken of himself and other celebrated "Beat" writers such as Jack Kerouac and William S. Burroughs, among others, between 1953-1963 — forms the remarkable exhibit of some 80 black-and-white portraits in "Beat Memories: The Photographs of Allen Ginsberg," on view now at the National Gallery of Art's West Building through early September.
That Ginsberg was gay was never in doubt in "Howl," his first big success in 1956, in which he sang of those who "purgatoried their torsos night after night, with dreams, with drugs, with waking nightmares, alcohol and cock and endless balls," and in fact the poem is far more explicit about the particulars of fellatio and sodomy and yet from the very beginning it was hailed as a notable part of the new literary canon.
Eye-opening indeed, and so are this set of unself-conscious photographs that form an intimate vision of Ginsberg as a young man finding his way "to see the world in a grain of sand, and heaven in a wildflower" as one of those who inspired him the most, William Blake, once declared to be the object of poetry.
His postwar generation, including writers like Truman Capote and Norman Mailer, musicians Charlie Parker and Dizzy Gillespie, painters like Larry Rivers and Jackson Pollock, "celebrated an art that was full of rebellion, risk, and experimentation, and one that was highly expressive of their personal experience [and] … a romantic, almost heroic faith in their art and in its redemptive qualities," says Sarah Greenough, the National Gallery's senior curator of photographs and curator of this stellar exhibition.
They were soon hailed as "the Beats," a term taken "from slang first used by jazz musicians and hustlers … to denote not only the down and out but also the physically and emotionally exhausted," says Greenough.
"Wild child" Ginsberg, while briefly studying literature at Columbia University, famously found himself in Oedipal revolt against his teachers. Instead, Ginsberg followed other teachers — romantic poets like Shelley and sometimes opium-smoking symbolists like Rimbaud, Hart Crane and Dylan Thomas, and of course most of all Whitman, alive to all sensations in his "Song of Myself," and all of whom Ginsberg called his "secret heroes."
"What would Allen say? What would Allen say?" Greenough asked aloud about this exhibit in a preview opening of the show, which went public on May 2. And she imagined him answering while chanting in "his candid and even beseeching voice," with his "deep appreciation for the vernacular and the power of perception."
In fact the photographs were taken by Ginsberg almost nonstop as he carried his $13 Kodak camera everywhere in his peripatetic life, beginning in 1953 in Greenwich Village and later San Francisco and then "on the road" in Europe, India and Southeast Asia until he lost the camera in 1963 and with it also his interest in recording life as "snapshots" of what he called "certain moments in eternity" and "the sacredness of the moment."
All along he simply showed them to friends and then tossed them as forgotten "keepsakes," packages of negatives pushed to the back of a desk-drawer or shoved to the bottom of his closet, where they would remain ignored by him until the early 1980s. At that point, Ginsberg came to realize that he should show them to the world — reprinted and sometimes enlarged, with extensive written inscriptions added.
Ginsberg later said that they were "meant more for a public in heaven than one here on earth, and that's why they are charming."
In addition to photographing his lifelong lover and companion, Peter Orlovsky, as youthful and so sexually appealing, Ginsberg also recorded snapshots of the bisexual writer Jack Kerouac, with whom he was in love, and the older novelist William S. Burroughs.
Burroughs in fact lived with Ginsberg for three months and the younger man wrote that the novelist whom he saw as "the most intelligent man in America … fell in love with me and we slept together and I saw a soft center where he felt isolated, alone in the world." Ginsberg later admitted he took advantage of their intimacy to "invade" Burroughs' privacy and record him lying in bed, clad only in his underwear and glancing longingly toward him.
Such photos form the backbone of this exhibit, telling a story from his earlier life but also his later life, for he resumed taking pictures from the early 1980s until his death – revisiting people like Orlovsky and Kerouac later in their lives and new faces like Bob Dylan. See this exhibit for the narrative of a generation and the faces that depict it, in this first scholarly presentation through Sept. 6.
Greenough herself will give a public lecture based on her exhibit catalogue, including a book signing, at 2 p.m. Saturday, May 23. Gallery talks meanwhile will be offered by lecturer Diane Arkin at 11 a.m. on May 18 and 25, and June 1, 15, and 17.
Other events – held in the NGA East Building auditorium – include films:
• "Lowell Blues" (2000), celebrating Jack Kerouac's early years and featuring actor Johnny Depp, musician David Amram, and poet Gregory Corso – 2 p.m. Saturday, June 26.
• "Patti Smith: Dream of Life" (2008), the documentary record of the punk singer, songwriter and poet and Beat avatar as recorded by filmmaker Stephen Sebring, 4:30 p.m. on Sunday, June 27.
Also, the NGA's summer tradition, the "Jazz in the Garden" concert series, begins its 10th season on Friday, May 28 with weekly performances every Friday evening from 5 to 8:30 p.m. in the Sculpture Garden. In honor of the exhibit, the first concert, May 28, features be-bop jazz performed by female jazz vocalist Leslie Summey.
Here's your guide to the merriest gay holiday season!
Cocktails, music and dancing at upcoming parties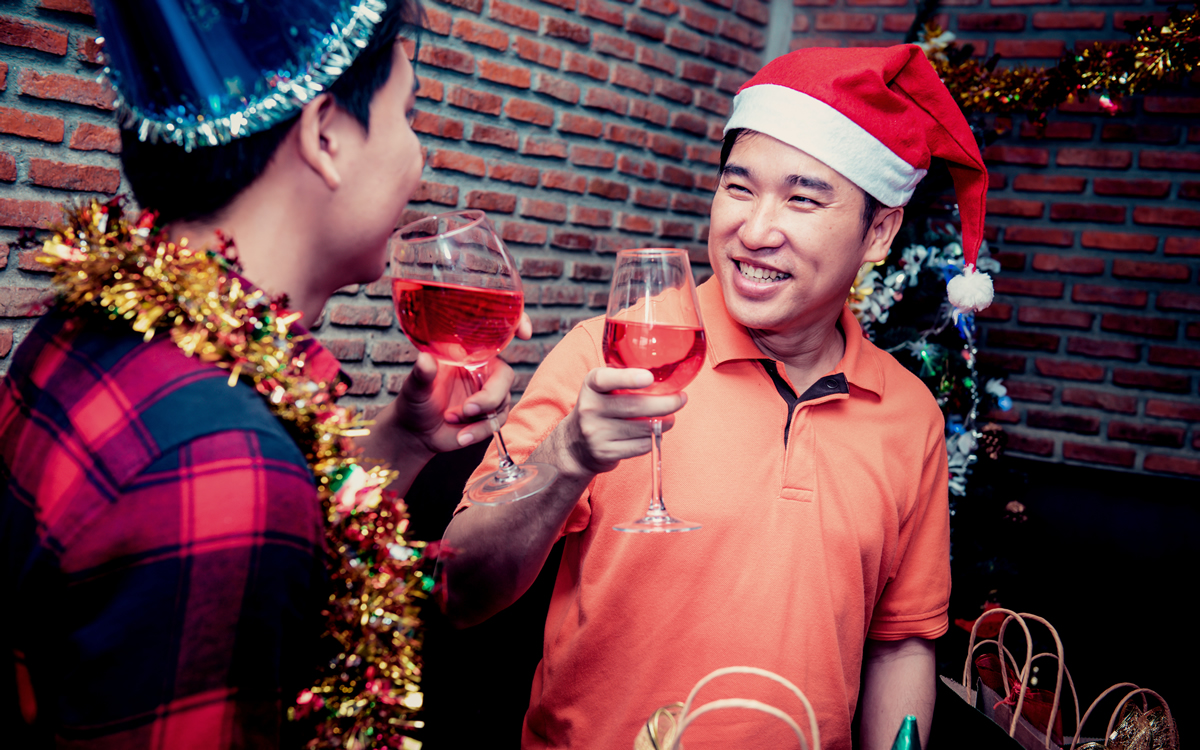 "LGBTQ Social Mixer – Pride On The Patio at Showroom" will be on Tuesday, Dec. 27 at 5:30 p.m. at Showroom.
There will be happy hour cocktails and dinner on the heated patio at the venue. Dress is casual, fancy, or comfortable. Guests are encouraged to bring their most authentic selves to chat, laugh, and get a little crazy.
Admission is free and more details are available on Eventbrite.
The Iconic International House of Balenciaga will host "Naughty or Nice: A Holiday Extravaganza" on Thursday, Dec. 22 at 10 p.m. at Privilege.
There will be a limited buffet and open bar, hookah, VIP packages, bottle specials and music by DJ Dave Thom and DJ Obie. There will also be a sweater contest with a cash prize.
Tickets are $20 and can be purchased on Eventbrite.
"Hip Hop Garden DC Day Party" will be on Saturday, Dec. 24 at 4 p.m. at Lost Society. This exclusive day party experience will feature non-stop music, dancing, and good vibes. Music played will be a crossover of genres and fusion of cultures.
Tickets are $20 and can be purchased on Eventbrite.
Winterfest remains in full force
Yappy Hour will be on Sunday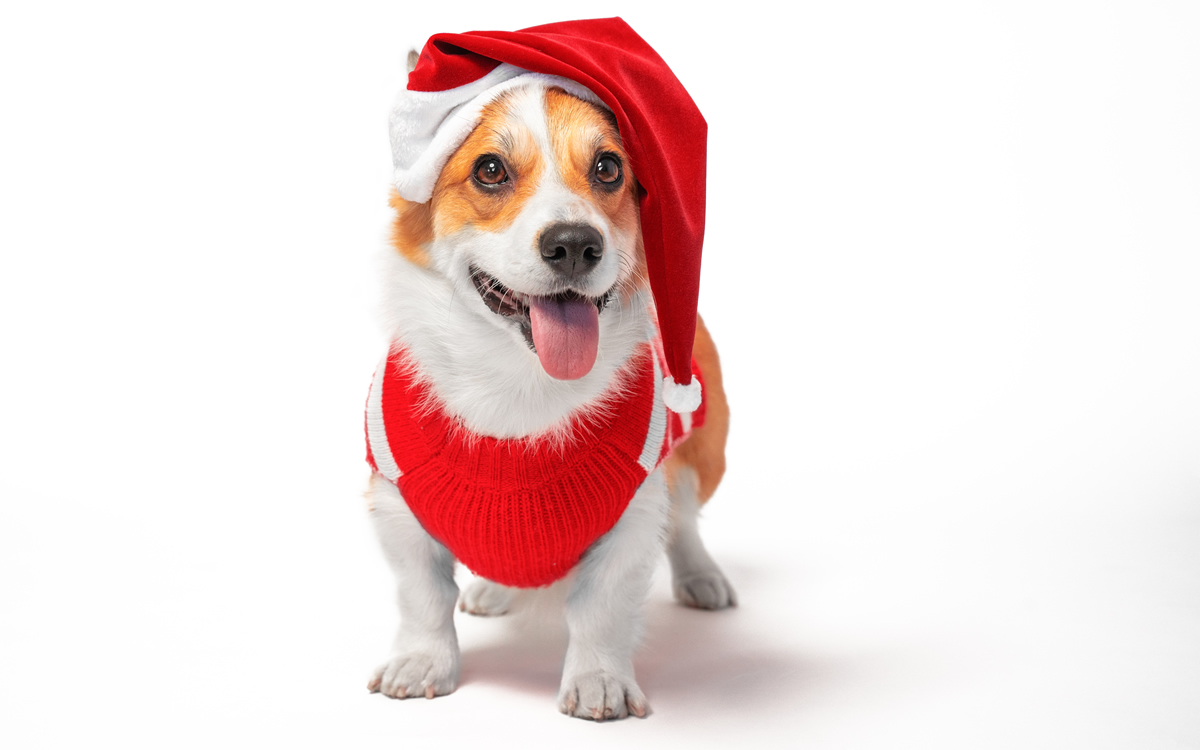 Events for Wunder Garten's 6th Annual Winterfest are still underway at one of D.C.'s most enthralling beer gardens at 1101 First St., N.E.
A Night of 1,000 Santas will be on Saturday, Dec. 17 at 8 p.m. Guests are encouraged to come dressed as Santa, Mrs. Claus, an elf, a reindeer, anything or anyone, to dance the night away and celebrate the holidays. This event is free and more details are available on Eventbrite.
Yappy Hour will be on Sunday, Dec. 18 at 12 p.m. This is a special day for the pups and their "hoomans" and perfect opportunity for the pups to get some treats and make new friends. Select beers cost $6 and there will be free pupucinnos with a purchase. This event is free and more details are on Eventbrite.
Trivia Mondays will be on Monday, Dec. 19 at 7 p.m. This event will be hosted by Mark Lloyd. Guests are encouraged to bring friends and test their knowledge to win prizes and glory. There will also be boozy cocktails, seasonal beers and themed decor. Tickets are free and more details are available on Eventbrite.
Halloween is back and more queer than ever!
Freddie's Beach Bar to host Halloween party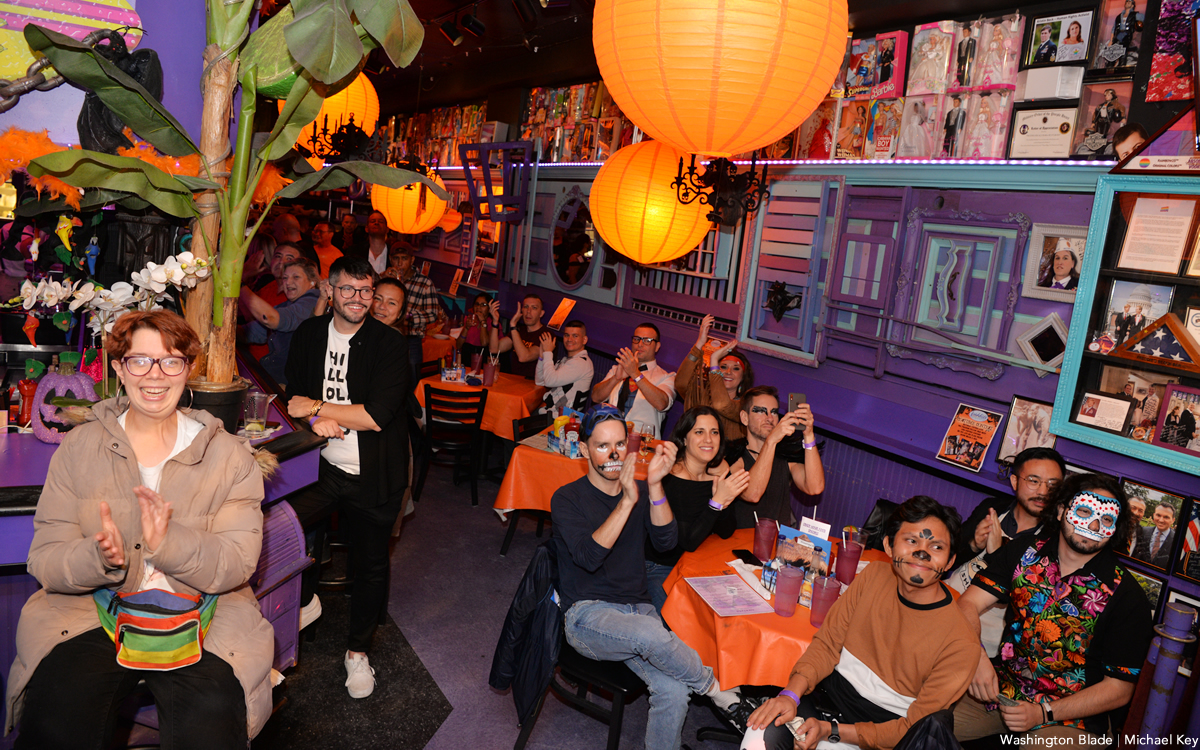 Freddie's Beach Bar and Restaurant will be hosting a Halloween party on Monday, Oct. 31 at 6 p.m.
Guests are encouraged to bring friends and meet new people from all over the world. Guests will gather in the back outside patio if the weather is nice or near the stage if not. Go Gay DC leader TJ Flavell will be there to greet you. Name tags will be provided. There's no cover charge.
For more details, visit Eventbrite. 
Metrobar DC to host 'Booze and Brews' Halloween Brunch'
"Booze and Brews Halloween Brunch" will be on Saturday, Oct. 29 at 7 p.m. at metrobar DC.
Guests are encouraged to come enjoy sounds from DJ Lalee and tasting tables from Catoctin and Republic Restoratives from 7-10 p.m. and drink specials featuring Catoctin or Republic Restoratives spirits all evening long.
This event is free to attend with an optional $15 Bash + SMYAL Fundraiser Ticket to help support LGBTQ youth across the district. Ticket holders will be honored with a cocktail.
For more details, visit Eventbrite.
Cake Pop to host 'HallowQueen Drag Brunch'
"HallowQueen Drag Brunch" will be on Sunday, Oct. 30 at 11 a.m. at The Hall CP. New host Cake Pop will be hosting this ultimate Halloween-themed event.
Flavored mimosas and Bloody Marys will cost $24 and the brunch buffet costs $30 and will include French toast casserole, buttermilk pancakes, tater tots hash, among many other menu items.
Tickets for this event start at $25 and can be purchased on Eventbrite.
Baltimore Playhouse to hold 'Haux-lloween' party
"Taste.Touch.Feel: Haux-lloween" will be on Saturday, Oct. 29 at 7:30 p.m. at Baltimore Playhouse – Private Social Club.
Guests are encouraged to come and enjoy top-tier burlesque and specialty performances, kink edutainment, interactive games, and plenty of surprises to thrill one's senses.
There will also be a costume ball with three categories. Each category is limited to eight participants. The categories are:
Alien Superstar: Most unique, intergalactic freak
Fetish Faerie: Whimsy, kinky, faerie hauxs
Best Couples Costume: Period.
After the costume ball, there will be an "Adult Play Date After Party" for mingling and a night of no inhibitions where guests can enjoy spontaneous performances, play with their lover(s) or be a voyeur while the music plays.
Tickets start at $45 and can be purchased on Eventbrite.
Sirene, X and Nadia to perform at Firefly
Firefly Halloween Special Event will be on Saturday, Oct. 29 at p.m. at Firefly. This event will feature performances by drag queens Sirene, X and Nadia. There will also be two competitions:
• "Holy" a ghoulie drag performance with a cash prize of $100 and a bookings prize of $100.
• A costume contest where the 1st place winner wins a one-night stay at Hotel Madeira, 2nd place wins dinner for two at Firefly, and 3rd place wins brunch for two at Firefly.
This event is free and more details are available on Eventbrite.