From the ashes, a new Blade
1 year later, details emerge in former parent company's collapse

The U.S. Small Business Administration filed a court motion last December giving its approval of a bankruptcy filing by Window Media, the company that owned the Washington Blade, resulting in the shutdown of the Blade after a 40-year run as an LGBT newspaper, according to court documents.
But in an unexpected turn of events, the dissolution of Window Media through its Chapter 7 bankruptcy wiped out its enormous debt to creditors, clearing the way for Blade employees to form a new company that purchased the Blade's name and remaining assets from the bankruptcy court debt-free and at a bargain price.
One year after the Blade shutdown on Nov. 16, 2009, and six months after its resurrection, court documents and new information disclosed by sources familiar with Window and its parent company, Avalon Equity Fund, provide a dramatic glimpse into the final days of a collapsing gay media conglomerate.
Among the revelations was the dismaying discovery by the Blade's new owners that the paper's electronic archives — which made all of its content going back to about 2001 accessible online — were erased after Window stopped paying its bills to a company that stored the data on rented servers.
"Like any customer, they were delinquent in their payment," said Kevin Soendker, chief operating officer of the Natick, Mass., based Inet Services. "The service was cancelled and the servers were repurposed," he said, acknowledging that the data was erased.
The Blade's new owner, Brown Naff Pitts Omnimedia, Inc., announced this week that it is launching non-profit foundation to raise money to pay for digitizing all back issues of the Blade and to make them accessible to the public.
Although the electronic archives were erased, all printed copies of the Blade going back to its first issue in October 1969 have been preserved and are in the Blade's possession.
Also emerging within the past week are separate accounts by a top SBA official and Window's former co-president and chief operating officer, Mike Kitchens, of frantic, behind-the-scenes discussions last summer and fall over whether the Blade and other newspapers owned by Window should be sold to bidders — including a group of former Blade employees — or whether the company should be dissolved in bankruptcy.
Thomas Morris, director of the SBA's Office of Liquidation, said the SBA played no role in Window's ultimate decision to declare bankruptcy. But he said the SBA joined Window in filing a Dec. 10, 2009 stipulated motion before a federal court in New York asking the court to retroactively agree to the bankruptcy that Window filed 20 days earlier in Atlanta.
The SBA's involvement with Avalon and Window stems from its decision in 2008 to obtain a court order forcing Avalon Equity Fund into receivership after Avalon defaulted on $38 million in loans from the SBA. With the SBA placed in full control of Avalon through the receivership ordered by the U.S. District Court for the Northern District of New York, SBA also played a key role in Window's affairs. Avalon, then under the control of the SBA, owned 75 percent of total equity in Window Media.
U.S. District Court Judge Peter K. Leisure included in his original Avalon receivership order, which he handed down Aug. 21, 2008, a directive that neither Avalon nor any of its assets, including companies it controlled, could declare bankruptcy without the court's advance approval. Leisure approved the Dec. 10, 2009 motion backed by the SBA, clearing the way for the Window bankruptcy to move forward.
The bankruptcy and sudden shutdown of the Blade and several other publications owned by Window Media stunned the Blade staff and the D.C. gay community. Blade publisher Lynne Brown, who is part of the group that bought the Blade's assets from the bankruptcy court, said she and the Blade's managers and staff learned of the Avalon receivership in August 2008.
She said SBA officials working on the Avalon receivership told her in early 2009 the SBA was taking steps to sell Avalon's and Window's assets and publications, including the Blade. A short time later, Brown joined the Blade's editor, Kevin Naff and senior sales executive Brian Pitts to form a group that submitted a bid to buy the Blade out of receivership.
The SBA organized the bidding process on Window's behalf and encouraged others to submit bids. Among those who submitted a competing bid was gay rights advocate Nicholas Benton, publisher of the Falls Church, Va., News Press.
Benton, like Brown and Naff, expressed shock and anger when Window announced on Nov. 16, 2009 that it was declaring bankruptcy and shutting down all of its operations rather than sell its papers through the SBA bidding process.
The shutdown immediately eliminated the jobs of the Blade's 24-member staff. In a development that drew extensive media coverage, Window co-presidents Kitchens and Steve Meyers appeared at the Blade's offices in the National Press Building on Monday morning, Nov. 16, to announce the shutdown. The two directed all employees to retrieve their personal possessions, clear out their desks, and leave the premises by 3 p.m. that day when the office was to be shuttered.
Before leaving, however, most employees joined Brown, Naff and Pitts in vowing to band together to form a new publication — with the first fledgling edition to come that Friday, just four days later, when the Blade would have hit the streets had it not been shut down.
"We wanted to show the world we weren't going away and that we could produce a paper without missing a beat," Naff said.
Not knowing if they would ever be able to obtain the Blade's name, the staff met the following morning at a café in the National Press Building lobby to plan a new paper, which they decided to name the DC Agenda.
While Naff and the now volunteer reporters and editors planned stories for the new paper, Brown and Pitts scrambled to line up advertisers and a printer. To the surprise and acclaim of many in the LGBT community, the first edition of the eight-page newsletter-style DC Agenda appeared at many of the Blade's distribution locations on Friday, Nov. 20.
In subsequent weeks and months, the Agenda expanded its pages and evolved into a tabloid newspaper similar to the Blade.
Meanwhile, Brown Naff Pitts Omnimedia, Inc., the company formed by the Blade's former publisher, editor and sales executive, responded to an offer by the Window bankruptcy court for bids on the Blade's assets, which included the Blade's name.
"We didn't know who or what we were up against," Brown said.
She noted that the new company was seeking investors and advertisers but didn't have a huge amount of capital to compete with a large company or wealthy individual that might submit a competing bid.
As it turned out, no one else submitted a bid. Media observers said the economic recession and the longstanding decline in the print media industry may have discouraged investors from seeking to buy and restart the Blade. In addition, with the Blade's former staff having started a new D.C. LGBT community newspaper, the Agenda, the value of buying the Blade's assets — consisting only of used office equipment, the paper's printed archives and its name — may not have been appealing to investors or other potential buyers, according to some media industry observers.
The lack of competing bids resulted in Brown Naff Pitts Omnimedia obtaining the Blade assets for $15,000.
Morris, the SBA's liquidation office director, disclosed this week that the Buffalo, N.Y., based M&T Bank may have been responsible for scuttling the initial plans by the SBA and Window to sell its assets rather than go the route of bankruptcy.
When the financially troubled Window defaulted on a loan of close to $1.3 million from M&T, the bank became the No. 1 secured creditor or lien holder, Morris said. In that role, M&T would not agree to a proposal by the SBA that it initiate a foreclosure on Window Media, a legal status that would allow a potential buyer of any of Window's assets like the Blade to be free from liability for Window's debts.
An interested party would still be allowed to buy the Blade but they would most likely decline to do so if they had to assume Window's debt, Morris said.
"Once that fell through, we had no viable alternative plan, and without one we would not have won a challenge to the bankruptcy filing," Morris told the Blade in an e-mail.
The SBA could have asked the receivership judge to stop the bankruptcy and, as a federal district court judge, he likely had authority to do so, Morris said.
"But our conclusion at that time was that M&T was owed more than the company was worth," Morris said.
He said that meant that no other creditors, including Avalon, which was Window's largest creditor, would recoup any funds through the sale of Window's assets. Window owed Avalon close to $5 million.
Thus he said the receivership judge would most likely have rejected an SBA motion to challenge the Window bankruptcy.
Kitchens said resignations of members of Window's board of directors resulted in just he and Window co-president Steve Meyers as the only remaining board members during the months prior to the bankruptcy filing. According to Kitchens, the company's operating rules required at least three board members for a quorum to make any important decisions such as the sale of assets.
He said the SBA could have named someone to the board, which may have allowed the board to vote to approve the sale of the Blade and other papers to those who had submitted bids before the bankruptcy filing.
"They should have taken places on the board, but they didn't," he said of the SBA.
Morris disputed that assertion, noting that Kitchens and Myers managed to approve the bankruptcy. He said he is not aware of any reason why they couldn't have found a board member to approve a sale of the assets if they wanted to pursue that option.
As the SBA proceeded with receivership, it reached out to potential buyers, including Chris Crain and William Waybourn, who founded Window Media in 1996. The two left Window Media in 2006 in a shakeup of the company by Avalon's founder and chief operating officer David Unger, who secured full control of Window in 2001.
Crain said the SBA never responded to his and Waybourn's request for financial information about the company; they declined to submit a bid.
Blade's fate tied to Window's rise and fall
Waybourn and Crain's interest in returning as Blade owners would likely have created an uproar among some gay activists and media commentators, who blame the two for setting in motion the events that led to the Blade's demise.
The two strongly dispute those claims, saying the fall of Window Media and the gay newspapers and glossy entertainment publications the company acquired over the years was due to circumstances beyond their control.
Crain, a lawyer in private practice, joined Waybourn, a gay activist and businessman, in founding Window Media in 1996. The two have said their intent was to create an LGBT newspaper chain that would strengthen LGBT publications through the economic benefit of consolidation of resources.
Critics, however, have said consolidation of LGBT publications under ownership of a single company hurt the community by eliminating a diversity of voices and independent regional news coverage.
The company's first move was the 1997 acquisition of Southern Voice, an Atlanta gay paper. In the next few years, Window bought gay papers in Houston and New Orleans and acquired smaller gay entertainment magazines in other cities.
The Blade, which was founded as the Gay Blade in 1969 by local gay activists, evolved from a fledgling newsletter style publication put together in the homes of its volunteer editors, into what many have called the LGBT community's newspaper of record.
Gay activist and businessman Don Michaels, who became publisher in the late 1970s, has been credited with transforming the Blade into a thriving business as well as a well-respected news publication.
Window Media bought the Washington Blade and the New York Blade, which Michaels founded in the 1990s, in 2001, when Michaels made plans to sell the papers and retire. All parties declined to disclose the sale price, but sources have said it exceeded $3 million.
Crain said this week that although Window Media had been financed by many small investors, it hooked up with Avalon Equity Fund — a multimillion dollar investment company — to provide the main financing for the purchase of the Washington Blade and New York Blade. He said the financing arrangement made Avalon the majority shareholder in Window Media at the time of the closing of the sale of the two Blades in May 2001.
But he noted that while Avalon had legal control of Window at that time, it allowed Crain and Waybourn to run the company and make all key decisions up until January 2006, when Waybourn left the company. At that time, Avalon's founder and managing partner, David Unger, named one of his top Avalon lieutenants, Peter Polimino, as Waybourn's replacement as Window president.
In September 2006, Crain left the company, amid speculation that both he and Waybourn had been ousted by Unger over sharp disagreements on how the company and its newspapers should be run.
Waybourn stated at the time of his departure that he decided to retire after completing what he said was the creation and operation of a successful LGBT newspaper chain. Sources familiar with Window, however, said Waybourn left the company due to irreconcilable disagreements with Unger over Unger's management style and plans for acquiring more publications at the risk of assuming greater debt.
Crain said it was his decision to leave the company over a dispute that arose over Avalon's decision to abolish Crain's position of editorial director of all the Window publications and to hire individual editors at each of the Window papers.
Waybourn, who declined to comment this week on Window's finances, has said in the past that the company acquired more debt than it had planned for over circumstances beyond its control. He noted that the Sept. 11, 2001 terrorist attacks on the World Trade Center and Pentagon led to a sharp drop in advertising sales due to a slump in the economy.
He noted that a decision by Blade employees to attempt to form an employee union the week Window assumed ownership of the Blade forced Window to spend at least $100,000 to fight the union. The union effort failed after a tense campaign and employee election supervised by the National Labor Relations Board.
The union fight was followed by the start of the current economic recession that further cut into Window's revenue from advertising sales, Waybourn said at the time.
All of this made it necessary for Window to obtain additional cash infusions from Avalon, which resulted in Avalon increasing its ownership share of Window until it reached a 75 percent equity level, company sources have said.
The sources say Waybourn insists Window remained profitable despite these developments as of the time Waybourn left the company in 2006.
Unger declined to comment for this story when contacted by the Blade.
The SBA receivership documents filed in federal court in New York, where Avalon was based, show that the multimillion dollar investment company went into financial decline due to the failure of many of the media and cable TV companies it helped to finance in the years leading to 2008, when it defaulted on a series of loans the SBA extended to it that exceeded $38 million.
Under receivership, the SBA is charged with liquidating all of Avalon's remaining assets.
The SBA's Morris said Unger was ousted from his position as Avalon's CEO in August 2008, when the SBA assumed full control under the receivership. But Morris said the SBA retained Unger as a paid member of Window Media's board of directors up until June 2009, when he resigned from that post.
Gay rights attorney Bill Dobbs of New York, a longtime observer of the LGBT press, said Window Media's decision to file for bankruptcy and close the papers it owned had an impact on the broader LGBT community.
"Gay newspapers are not just businesses — they're a circulatory system for news, information and political discussion," he said. "Even in the Internet age they play a key role. Perfectly solid local newspapers were gobbled up by Window Media who claimed bigger was better. They were wrong as some of us warned," Dobbs said. "Concentrated ownership of media in a minority community has special perils. Window/Avalon dragged all those papers down to failure — a community disaster."
Waybourn, however, has said some of the papers Window sought to buy were faltering due to lack of resources by their community-based publishers. He said his objective — at the time he controlled Window — was to strengthen the local papers by pumping in resources.
No new mpox cases reported in Md., Va., and D.C.
Federal, local authorities continue to encourage vaccination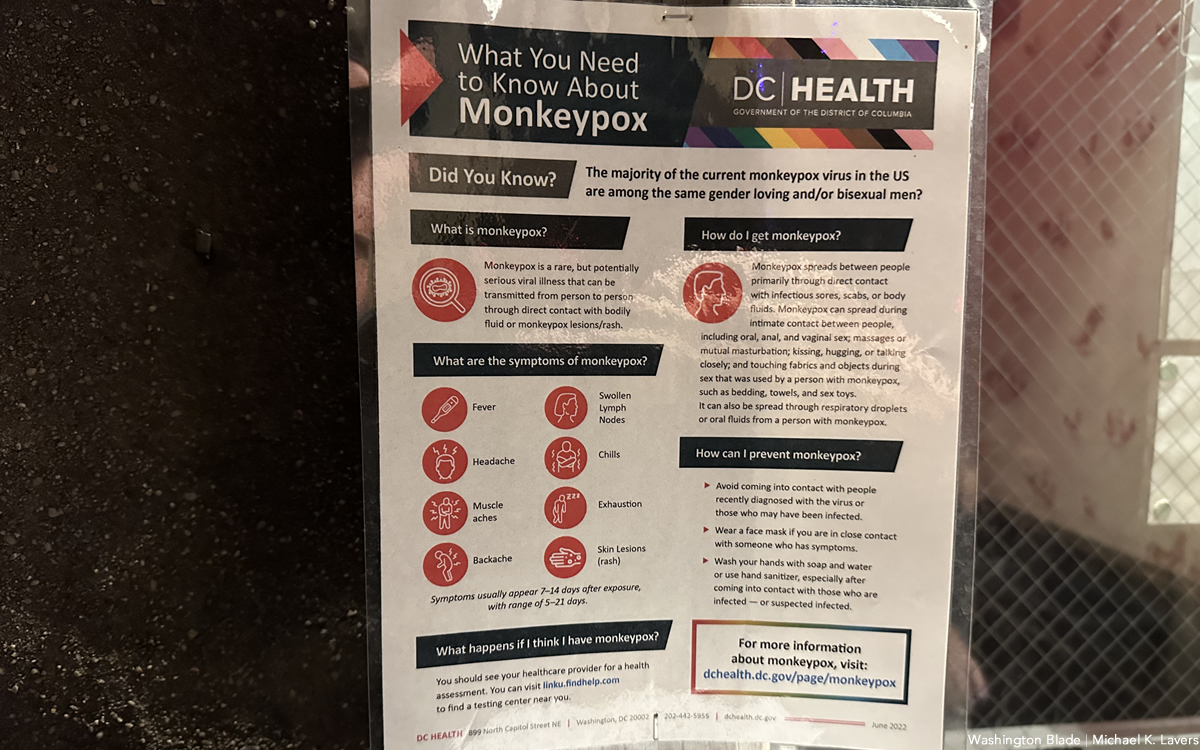 Public health officials in Maryland, Virginia and D.C. have not issued mpox advisories ahead of Pride month.
The Maryland Department of Health notes there were no reported new positive mpox cases reported in the state during the week of May 21. 
There were no reported new reported mpox cases in Virginia between May 21-27. The D.C. Department of Health on its website notes the last new mpox case in the nation's capital was reported during the week of May 11.
"MDH (the Maryland Department of Health) has not issued any advisories for mpox," Maryland Department of Health spokesperson Chase Cook told the Washington Blade on May 25. "We are still monitoring case counts and urging Marylanders at risk to protect themselves."
"The Health Department is launching a statewide Pride-related sexual health campaign and working closely with festival organizers and local health departments to ensure health resources, including but not limited to mpox, are part of Pride events across the state," added Cook.
Brandy Darby, the director of the Virginia Department of Health's Office of Epidemiology's Division of Surveillance and Investigation, largely echoed Cook.
"The Virginia Department of Health continues to promote mpox awareness and share prevention messages with groups at greater risk of exposure," Darby told the Blade. "We are sharing these messages through print materials, social media, media interviews, healthcare provider offices and community-based organizations. Additionally, our local health departments are encouraged to have a presence at Pride events within their communities this summer to offer mpox education and vaccination."
The D.C. Department of Health has yet to respond to the Blade's request for comment. Its website, however, contains information about mpox, transmission, prevention and vaccinations.
CDC issued mpox advisory on May 15
The World Health Organization on May 11 announced it no longer considers mpox a global emergency.
The Centers for Disease Control and Prevention on May 15 issued a mpox advisory after the Chicago Department of Public Health reported 12 new confirmed cases between April 17-May 5. 
"Spring and summer season in 2023 could lead to a resurgence of mpox as people gather for festivals and other events," reads the advisory. "The purpose of this Health Alert Network (HAN) Health Update is to inform clinicians and public health agencies about the potential for new clusters or outbreaks of mpox cases and to provide resources on clinical evaluation, treatment, vaccination and testing."
"To help prevent a renewed outbreak during the spring and summer months, CDC is urging clinicians to be on alert for new cases of mpox and to encourage vaccination for people at risk," it adds. "If mpox is suspected, test even if the patient was previously vaccinated or had mpox. Clinicians should also refamiliarize themselves with mpox symptoms, specimen collection, laboratory testing procedures and treatment options."
The Los Angeles County Department of Public Health earlier this month urged groups at increased risk for mpox to get fully vaccinated ahead of Pride month.
Dr. Demetre Daskalakis, the deputy coordinator for the White House's national mpox response, on told reporters during a May 18 telebriefing that federal health agencies are working with state and local officials to offer vaccinations and implement prevention measures during Pride events.
Washington Blade, Dupont Underground spotlight D.C. LGBTQ Changemakers with new exhibit
'The Ground We Stand On' highlights 25 queer pioneers during Pride month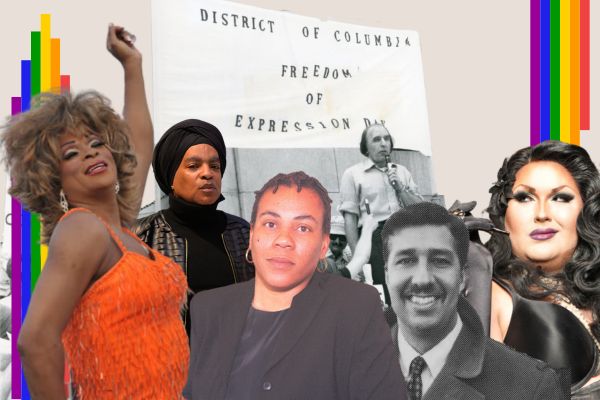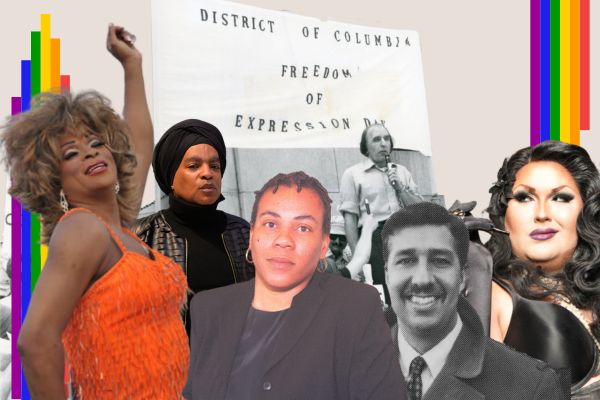 The Washington Blade and Dupont Underground present "The Ground We Stand On: Past and Present DC LGBTQ Changemakers," a new exhibit that highlights D.C. LGBTQ pioneers.
The exhibit, featuring 25 changemakers will be on view beginning Friday, June 2, through Sunday, June 25.
The inspiring exhibition will showcase the remarkable journeys of both past and present changemakers who have left an indelible mark on the tapestry of Washington, D.C. The exhibit underscores the enduring legacy of these remarkable individuals, serving as an inspiration for present and future generations.
The exhibition opens on June 2 at 5 p.m., where all the living honorees will be present for the opening  reception, followed by Drag Underground starting at 8:30 p.m., featuring some of the best Drag Queens in DC such as Shi-Queeta Lee, Cake Pop, Jane Saw, and Destiny B Childs.
"By shining a light on their remarkable contributions, this exhibition aims to empower and encourage the continuous evolution of the D.C. LGBTQ+ community and its influence that transcends boundaries," said Stephen Rutgers, director of Sales and Marketing for the Washington Blade.
"We are thrilled to highlight so many living changemakers who will visit us for opening night, and to honor the memories and work of those changemakers who are no longer with us," said Ana Harvey, Dupont Underground CEO.
For more information about Dupont Underground, visit www.dupontunderground.org.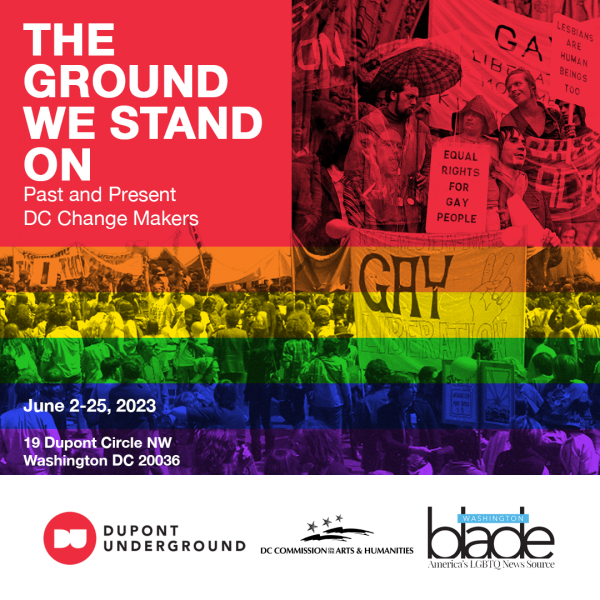 Carper's retirement opens historic possibilities in Delaware
Blunt Rochester likely to run for Senate; McBride could become first out trans member of Congress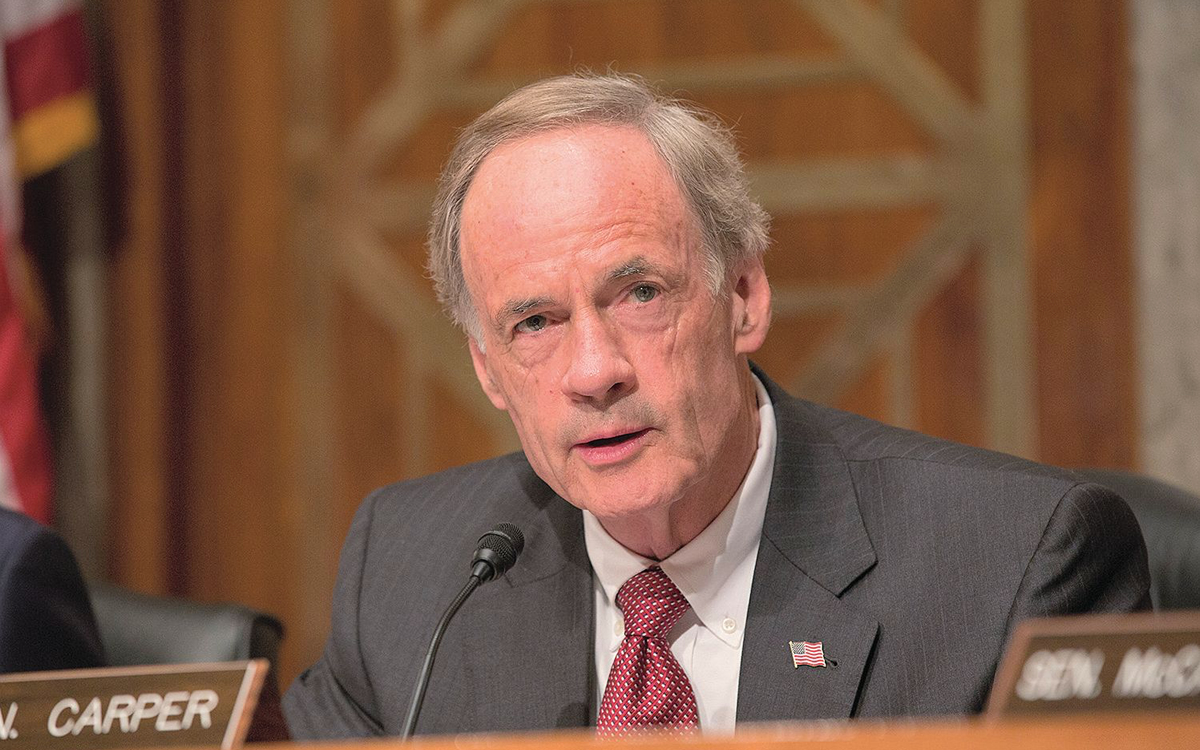 As Delaware governor, he signed a bill that defined marriage as being between a man and a woman in 1996. Now, 27 years later, the Human Rights Campaign gives Sen. Tom Carper a perfect score on LGBTQ issues in Congress.
That man, who turned from opponent of marriage equality to LGBTQ rights supporter, announced his retirement last week. Unlike other Senate races across the country, though, there is little doubt who will succeed him.
He endorsed Delaware's lone representative in the House, Lisa Blunt Rochester, as his successor in a news conference last week.
"I spoke with her this morning, I said, 'You've been patient, waiting for me to get out of the way, and I'm going to get out of the way, and I hope you run, and I hope you'll let me support you in that mission,'" he said with a laugh. "And she said, 'Yes I will let you support me.' And so I'm going to.'"
Carper plans to serve out the remainder of his term, which ends in 2024. He serves as chair of the Senate's Environment and Public Works Committee. Previously, he was chair of the Homeland Security Committee. He served as Delaware's governor from 1993-2001 and represented Delaware in the House. 
The Human Rights Campaign has given Blunt Rochester a perfect score in the last two congresses, and an almost perfect one in the 2017-2018 congress based on her voting record on LGBTQ issues. It did not respond to a phone call and two emails to spokespeople but praised her and Carper in 2018.
"Every time they take the train down to Washington, Senator Carper and Congresswoman Blunt Rochester carry with them the hopes of all Delawareans," the organization wrote in a press release. "With the LGBTQ community under attack by the Trump-Pence administration, Senator Carper and Congresswoman Blunt Rochester have tirelessly fought to defend our progress and advance equality for LGBTQ people both in Delaware and around the nation."
Blunt Rochester would be the first Black person and first woman to represent Delaware in the Senate. She has close ties to Delaware's LGBTQ community and a record as a strong ally. She has served as keynote speaker at the Washington Blade's annual Summer Kickoff Party in Rehoboth Beach three times, thrilling the LGBTQ crowd with her passionate support for equality.
She said she is "interested" in running, but neither she nor her spokesperson reached last week would say any more.
"I don't have a bad thing to say about her," said longtime LGBTQ activist and Delaware lawyer Mark Purpura. It was responsible of Carper to retire, he added.
Assuming she runs as expected, that would leave Blunt Rochester's seat in the House open. Sarah McBride, the first openly transgender state senator in the U.S., could fill that seat. A source familiar with her thinking said she will "100%" run for Rochester's seat.
That would make her the first openly transgender member of Congress. Her run would be a "great opportunity" to showcase the Delaware Democratic Party's diversity," Purpura said.
Peter Schott, secretary of the Delaware Stonewall PAC, agreed, noting that McBride is very popular and can raise a lot of money.
McBride, who did not respond to an email and two calls to her office, is one of five openly LGBTQ lawmakers in the Delaware Legislature, a record number for the state.
"I think Sarah is absolutely wonderful," said colleague Eric Morrison, a gay man who represents parts of Newark and other communities in his 27th district in the Delaware House. "I wish her well."