Learning from our mistakes in Maryland
Activists ignored warnings from black leaders about church opposition

Many of us were helpless witnesses to the drama that played out in Annapolis, regarding the attempt to pass legislation extending marriage rights to same-sex couples in Maryland. Suddenly, what was once a sure thing became an unsure thing and finally a thing that simply was not going happen.
The votes were counted and Gov. Martin O'Malley was waiting for this all but certain law to come across his desk for signature. Somehow, defeat was snatched out of the jaws of expected victory. In this case, there is plenty of blame to spread around. Unfortunately, in many ways what occurred in Maryland also occurred in California during the highly contentious Proposition 8 process. As Yogi Berra once said, "It was déjà vu all over again."
Much of the blame has to be placed firmly in the laps of a number prominent black churches in Prince's George County. The ministers of those churches engaged in the type of homophobic pandering that encouraged their parishioners to believe once again that the sanctity of their marriages would be threatened by extending civil marriage rights to all citizens of Maryland.
Those churches have the right to define marriage as being only between a man and a woman for their churches only. They can marry whomever they want in their churches — only! The fact that a handful of churches saw fit to deny rights to others based on their narrow construct of what marriage for Marylanders should be by putting pressure on several elected officials is egregious.
Unfortunately, some pro-marriage groups did not learn the painful lessons from the Proposition 8 battle in California where there were limited strategies for engaging minorities groups. The International Federation of Black Prides and Baltimore Black Gay Pride attempted to meet with Equality Maryland for three months to discuss strategies for Baltimore and Prince George's counties. Through our networks, we had been hearing that several black churches were not happy with the prospect of same-sex marriage and might organize to fight the passing of any law.  Time after time, everyone was too busy to meet with us.
Everyone thought since there were enough votes in favor of same-sex marriage that it was a done deal. We all forgot about the cult-like devotion that some people have for their pastors and follow their instructions without a second thought. Once again, not enough thought or resources were devoted — nor were there strategies developed — to gain support from black communities, particularly in Prince George's County. The black community was taken for granted and same-sex marriage rights will be denied for at least one more year in Maryland as a result of the arrogance.
What must we do to make certain that this reversal of fortunes does not occur again? First, all interested progressive organizations need to sit down and develop strategies to appeal to the hearts and minds of African Americans in Maryland and across the country.
This must go beyond creating ads featuring same-sex couples talking about family. We must not be afraid of using the term "civil rights" and defining it in a broader context.  We must be willing to have discussions not with narrow-minded ministries and faith leaders but with the tens of thousands of black people who are undecided or decided but unmotivated to give their opinions to their elected officials as well talking with those who do not belong to a homophobic church.
Secondly, we must avoid the visceral language and reaction that will turn potential allies into enemies. Some of the e-mails received by several black elected officials not to mention comments on mainstream and LGBT websites and blogs, were equally hateful as some black minister instructing their parishioners to deny LGBT people their rights.
Those actions are not in the spirit of Martin Luther King, Jr. and others in their fight to gain civil rights. There must also be more willingness among proponents of LGBT rights to engage in supporting issues that are important to blacks, Latinos, Asian Pacific Islanders and other social issues, (e.g. education reform, immigration, job creation and training, etc.).  Several black elected officials, as well as communities of color in general, have grown tired of the narrow agenda that has been presented to them by some LGBT organizations.
Finally, we should never give ground to those church and faith organizations that will use LGBT people as scapegoats in order not to deal with their own shortcomings.  It's amazing that a person could go to church where the love of Jesus is drowned out by hate for a group of people who only want to be treated like everyone else in accordance with the very laws that govern our nation and embody the principles of justice and equality for all.
The LGBT community — and particularly the black LGBT community — must lead the fight against those homophobes, in the words of Isaiah, to "Undo the heavy burden and let the opposed go free." In the same vein, we must hold our LGBT and progressive organizations accountable when we are not included in the battles to gain civil rights for all of our communities.
National Gay & Lesbian Chamber of Commerce Certifies Brown, Naff, Pitts Omnimedia, Inc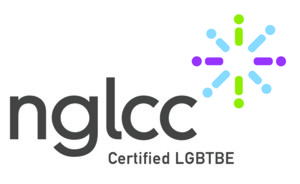 Washington, D.C. — Brown, Naff, Pitts Omnimedia, Inc, the parent company of the Washington Blade and Azer Creative, announced today it has been certified by the National Gay and Lesbian Chamber of Commerce (NGLCC) as an LGBT Business Enterprise. The NGLCC supports and advocates for diversity and inclusion for LGBT-owned businesses. With this certification the Blade's parent company joins more than 510 business and 134 corporate partners of the NGLCC.
Brown, Naff, Pitts Omnimedia, Inc. owns and operates the Washington Blade, the oldest and most acclaimed LGBT newspaper in the country. In 2012, the company launched Azer Creative, a full-service design firm. The company employs more than a dozen full-time LGBT staff.
"We are excited to become one of the 500 LGBT businesses across the country certified by NGLCC," said Lynne Brown, the Blade's publisher and a co-owner of the company. "The LGBT community has been part of our company from the beginning and we look forward to continue that for many years to come."
The Washington Blade was founded in 1969 and is known as the "newspaper of record" for the LGBT community both locally and nationally. Visit washingtonblade.com for more information. Azer Creative is a full-service graphic design firm based in Washington, D.C. Visit azercreative.com for more information. 
Vote now for the 2013 Best of Gay DC!
Choose in dozens of categories among hundreds of nominees, and make your voice heard!
Nominate the 'Best of Gay D.C.' now!
Dozens of categories cover all the best for LGBT Washington. Who deserves the prize this year?