Md. Senate hearing on marriage draws hundreds
Governor, Baltimore mayor testify in favor of bill

ANNAPOLIS, Md. — Over the course of four hours on Tuesday, opponents and supporters of same-sex marriage delivered compelling testimony before a Maryland Senate committee in hopes of swaying lawmakers on a landmark bill.
The Maryland Senate Judicial Proceedings Committee heard testimony on the Civil Marriage Protection Act throughout the afternoon on the last day of January, as lawmakers, experts, clergy and regular citizens from both sides of the issue shared their feelings on the bill at two minutes a piece.
Gaithersburg resident Stephanie Kreps arrived early to the hearing, proudly wearing a 'Marylanders for Marriage Equality' sticker to show her support for the bill as the mother of a gay son.
"It's simple to me," Kreps told the Blade. "I have rights that my gay son doesn't have, and I want those rights for him and all other gay people."
Kreps was looking forward to hearing the testimony of the bill's supporters and said she was hopeful for the bill's prospects considering the Governor's support this year, and the growing trend toward supporting marriage for same-sex couples in Maryland.
The first witness to testify in favor of the bill was Maryland Gov. Martin O'Malley, who has made the bill part of his 2012 legislative agenda. O'Malley, who had at one time hesitated to support extending full marriage rights to gay couples, has become a proponent of the legislation.
"As you know we already recognize civil marriages that come from other states," Gov. O'Malley said during his brief testimony, "the civil marriage equality bill draws upon the lessons that we have learned from these other states."
"This bill balances an individual's civil marriage rights with the important protections of religious freedoms for all," O'Malley continued. "And because it protects both of these inalienable rights, it is supported by a broad coalition of Marylanders, which includes clergy, community leaders, faith-based organizations, civil rights groups and those who hold the most important title of all in our democracy, and that title is citizen."
O'Malley was followed by gay Sen. Richard Madaleno who spoke from the heart about his love for his partner and raising a child, and relayed a story about a walk with his young daughter that expressed the very essence of family.
"We were picking flowers along the way, and she was picking buttercups and dandelions," Madaleno said. "As she picked a few of the flowers, and went on to pick more, she handed me a little bouquet, and said 'daddy will you hold my wishes for me?'" When he asked her what she meant, she explained. "She said 'This is a wishing flower, you blow on it, and you see where your wishes go.'"
"I don't know why people fall in love, I don't know exactly why I have fallen in love with Mark as opposed to someone else, but I have, and together we have formed a family, and that family includes children."
Following Madaleno were Democratic Sens. Jamie Raskin and Robert Garagiola and Republican Sen. Allan Kittleman, as well as Attorney General Douglas Gansler (video below courtesy GoodAsYou), all of whom urged passage of the bill.
Kittleman, who spoke about his father's work in the civil rights movement, said he feels so strongly about the legislation because "I really do believe it's about family, it's about liberty, it's about equality."
"I remember my dad telling me years later that when he was fighting for the civil rights movement, and integration in the public schools in Howard County, and he was talking to people who were opposed to it, especially school board members, the would say things like 'but you don't know what will happen if we accept African Americans. Here's what might happen. They're going to do this in the hallway,' or 'they'll do this in the classroom,' or 'they'll cause this problem.' Always 'might be this' or 'might be that.' What I'm urging you is don't succumb to the mights. What my father taught me is that you don't take away someone's civil rights because of something that might happen. You can deal with the 'mights' later on. But make sure we get the civil rights done now. Make sure we get that equality for everyone in our community now."
"You don't say no to civil rights because you're worried about what might happen in the future," Kittleman concluded.
Raskin, for his part, strongly defended the religious protections in the bill, confirming that churches and church sponsored and operated facilities would be exempt from having to "lend any of its accommodations, programs, or services for the purpose of promoting a marriage it disapproves of for religious reasons."
However, Raskin was quick to differentiate religious groups and private individuals or businesses, who have been barred in law since 2001 from discriminating against Marylanders in public accommodation because of sexual orientation.
http://www.youtube.com/watch?v=z0aThYUXJ64
Sen. Raskin defends the marriage bill.
Also testifying in favor of the bill was Baltimore Mayor Stephanie Rawlings-Blake.
"I believe that all couples regardless of their sexual orientation, want their children protected under the law," Rawlings-Blake testified. "Please don't be mistaken, this bill is about more than those rights, it's also about civil rights and about equality under the law."
Both sides were given two hours each to present their witnesses in four parts — the first and third hours in support of the law, and the second and fourth in opposition.
All told, more than 75 citizens delivered testimony both for and against the bill over a period of four and a half hours. Opposition to the bill ran from the colorful — like local same-sex marriage hearing mainstay Minister Leroy Swailes, who produced groans even from other opponents of the bill — to the passionate; while support ran from the clinically factual to the deeply moving — such as the ardently supportive mother of a lesbian daughter, Penny Nichols.
The supporters also included dozens of same-sex couples raising children, parents of gay children and straight children raised by same-sex couples, all in an attempt to counter arguments by the opposition that same-sex marriage would be detrimental to the development of children in Maryland.
Also testifying in support of the law in the first hour were gay veteran and law enforcement officer Irene Huskens of Fort Washington; president of the Maryland AFL-CIO union, and father of a gay child, Fred Mason; gay federal worker and long-time Maryland resident Candy Holmes; supportive Unitarian-Universalist minister Rev. John Crestwell; and David Rocah, staff attorney at the ACLU of Maryland.
One of the questions that Rocah fielded from committee member Sen. Joseph M. Getty after his testimony dealt with whether the law discriminates against close family members that wish to marry "because of genetics, and the familial relationship is because of genetic relationships."
"It's long-standing policy in Maryland to prohibit marriage between people of a particular familial relation," Rocah answered. "They don't all relate with genetics. Maryland has prohibited relationships between stepfathers or stepmothers, they're not genetically related. Different states have different degrees of familial relationships in which marriage is prohibited. I don't see the issue of discrimination that you're referring to."
Both the hearing room itself and an overflow room were filled to capacity through much of the hearing, producing an electric and anxious atmosphere among those in attendance. Same-sex marriage supporters sat next to opponents, making it difficult in many cases to distinguish who was there in favor of and who was there against. Most in attendance could only be differentiated by the round stickers given out by both the proponents and opponents — which themselves were similar in shape, size and coloring.
Among those in the audience in opposition to the bill was Maryland resident Ruby Wilson who says she has concerns about the bill because she believes it will harm children.
"I believe children are being affected already in Massachusetts with the bill that's there," Wilson — who says as a Catholic she does not believe gays should adopt children — told the Blade. "In the fifth grade they're given a book …and it tells all the ways that you can enjoy yourself as a homosexual. I don't want my grandchildren to have that."
"Also they said that there's going to be a conscience clause in this bill for Christians," Wilson continued. "Well, they just take that to court, and the courts just take it out. And then where are we at? We just have no protection."
"I'm totally against it," Wilson said, though she is not opposed to civil unions for same-sex couples. "I'm just opposed to redefining marriage."
Wilson's feelings about "redefining marriage" were echoed by Maryland resident Edna Kersey.
"I think that traditionally that is what marriage defines, is a man and a woman, and I feel that they should find another term for the same-sex marriage, or the same-sex union, so that it not tamper with the name that we so long stood on," Kersey told the Blade. "That's what our foundation is built on, the tradition marriage, which is between a man and a woman. So its not the union itself, it is the name or the title that they are trying to change."
However, Kersey tells the Blade that she is not in support of Civil Unions, unlike Wilson.
In the second hour, the opposition first presented Maryland Family Alliance president Pastor Dereck McCoy, who set a cordial, respectful tone.
"Regardless of the tenuous debate that we're in," McCoy said, "I think we need to understand that Marylanders are separated on this issue, but it's a deep and passionate thing in the root and the heart of the communities and many people's lives."
However, regardless of the result of the vote, McCoy said the definition of marriage would not change for opponents. "People will still feel that marriage should be defined as one man, and one woman. That does not change."
Following McCoy was Maryland Baptist ministers Rev. Dr. John Lund, and Rev. Dr. Nate Thomas, as well as Presbyterian pastor Bob Borger, former mega-church pastor Joel Peebles — who recently lost a court battle over control over his Jericho City of Praise Ministry — as well as some Catholic voices such as Pastor of Our Lady of Perpetual Help, Father Eric Arnold, and Maryland Catholic Conference's Mary Ellen Russell.
"Among those who testified last year, there were some who seemed to bring hatred and prejudice into the hearing," said Father Arnold. "In fact, the Baltimore Sun reported that at least one Senator changed his stance on the bill because of the demonization that he sensed in some of the testimony. So as I speak to you today, I ask you to please not lump my testimony in with those who may be driven by hatred or prejudice."
Father Arnold assured the committee that he, and many of those testifying with him, were there with good will.
"We are here today simply to speak on behalf of the wonderful and unique institution of marriage as it exists in between one man and one woman," he continued, saying that preferring such unions was 'not prejudice.' "We ask you to recognize that the family based on a marriage of a man and a woman is a natural institution that is prior to the state."
Mary Ellen Russell, in the adjacent audio file, seemed to come out both in favor and against civil unions during her testimony (hear her testimony at GoodAsYou.org).
The testimony was concluded by an attorney specializing in representing churches and ministers, Erika Cole, the Beckett Fund for Religious Liberty's Eric Baxter, and the anti-gay Alliance Defense Fund's Brian Raum (hear his testimony at ThinkProgress.org).
Several times throughout the proceedings — both the hearing room and the overflow room where the testimony was projected upon two large screens at the fore of the room — parts of the audience erupted into cheers and applause in response to testimony given, often soliciting a stern reminder from committee chair Sen. Brian E. Frosh that for the sake of time, applause was to be held until the end, in recognition of the number of witnesses to get through.
Leading the supporters of the bill to testify in the third hour were the Human Rights Campaign's Sarah Warbelow, who gave a statement about the way same-sex couples in Maryland were treated unequally in terms of property ownership, child rearing, healthcare and inheritance.
"Hundreds of laws cover the benefits, rights, and obligations of spouses," Warbelow told the committee. "When same-sex couples cannot participate in marriage, their families are more vulnerable."
Following Warbelow were Baltimore Presbyterian pastor Andrew Foster Connors, Baltimore's Rabbi Elyssa Sachs Kohen, Doug Prouty of the Montgomery County Education Association, Henry Dugan president of the Maryland State Bar Association, along with State Bar member Craig Little, Daphne Mcclellan executive director of the National Association of Social Workers Maryland chapter, Rev. Madeleine Beard coordinator of public policy for the Episcopal Diocese of Maryland, MCC Bishop Rev. Darlene Garner and Rev. Jill McCrory Chair of Association of Welcoming and Affirming Baptists.
They were joined by social workers and radio hosts Bob and Lori Hollander, Progressive Maryland Interim Executive Director Kate Planco Waybright, and Ezekiel Jackson political organizer for 1199 SEIU, who said, "as a heterosexual African American man, I'm here for equality."
http://www.youtube.com/watch?v=qfBGyIhtWfw
A.G. Gansler testifies
Opposition in the fourth hour brought some of the most curious testimony of the day. Openly gay father Doug Mainware lamented the lack of a mother in the lives of his children, and cited his conservative beliefs and "thinking deeply about this issue in a reasoned way," as impetus for coming to oppose the bill after previously supporting it. Senator Raskin, intrigued by the curiosity of the situation, asked Mainware, "how do you undermine an institution by bringing more people into it?"
Mainware believes that the term belongs specifically to the union between a man and a woman, but did admit he is not opposed to civil unions.
Mainware was followed by a cordial Rob Lucas and anti-gay group MassResistance's Brian Camenker, who warned lawmakers that parents will lose control over what children are taught in school if marriage is extended to same-sex couples, and even warned about a particular case, frequently cited by same-sex marriage foes, in which David Parker was arrested for opposing a pro-gay curriculum in his child's school.
Also opposing in the fourth hour were Pastor Victor Kirk, Maryland Gubernatorial candidate Corrogan Vaughn, Ruth Jacobs, Silver Springs pastor Robert Nelson, leader of Maryland Marriage Savers Mike McManus, Pierre Bynum, Chaplain at the Family Research Council, Martha and Ed Jenkins, Todd Braun, the colorful Minister Leroy Swailes, and Grace Harley who opposes the bill but — after reciting from the biblical book of Matthew — proclaimed, "I once lived as a man, I once married a woman in 1978, I've been before you many times."
After the final round of opponents, several prominent supporters were able to give their testimony, including Kate Oliver of the group COLLAGE which brings together the children of gay parents, Rev. Lisa Ward, Liz Seaton of the National Center for Lesbian Rights, Rev. MacArthur Flournoy who had led the clergy rally earlier in the day, president of the Maryland Gay and Lesbian Chamber of Commerce Mark Yost and Episcopal priest Rev. Kathleen Corbet Welsh, a happily partnered lesbian for many decades.
Among these prominent voices was Equality Maryland executive director Carrie Evans, who echoed the sentiments of all of the heartfelt statements that had preceded hers.
"Today you have heard from individuals and families who represent the wonderful and cherished diversity of our great state," Evans told the committee. "Each person has shared the sometimes personal and touching reasons why you should vote to end marriage discrimination."
Also in this group was memorable mother of a lesbian daughter at Drexel University, Penny Nichols, who proclaimed "As a devoted mother, I knew my daughter was gay since the second grade."
"When she finally said to me at the age of 16, 'mom I'm gay,' I shocked her with my response, for I hugged my daughter, and I said 'I'm so proud of you for being your authentic self," Nichols said. "I want my lesbian daughter to live in a just world."
"The only obstacle my lesbian daughter should face is her mother's rule that she cannot marry until after she receives her degrees," Nichols continued. "I am not gay, but I birthed a gay daughter. I don't know who's louder or prouder — she or I — but I will tell you, I think I am outer and prouder!"
After the completion of the last supporters, the committee agreed to exhaust the speaker's list by giving those remaining — both supporting and opposing — one minute each to add their own testimony.
http://www.youtube.com/watch?v=o-Tsr7rz9Og
Judge postpones ruling on whether Casa Ruby should be dissolved
Request by Corado for gag order to stop 'one sided' information denied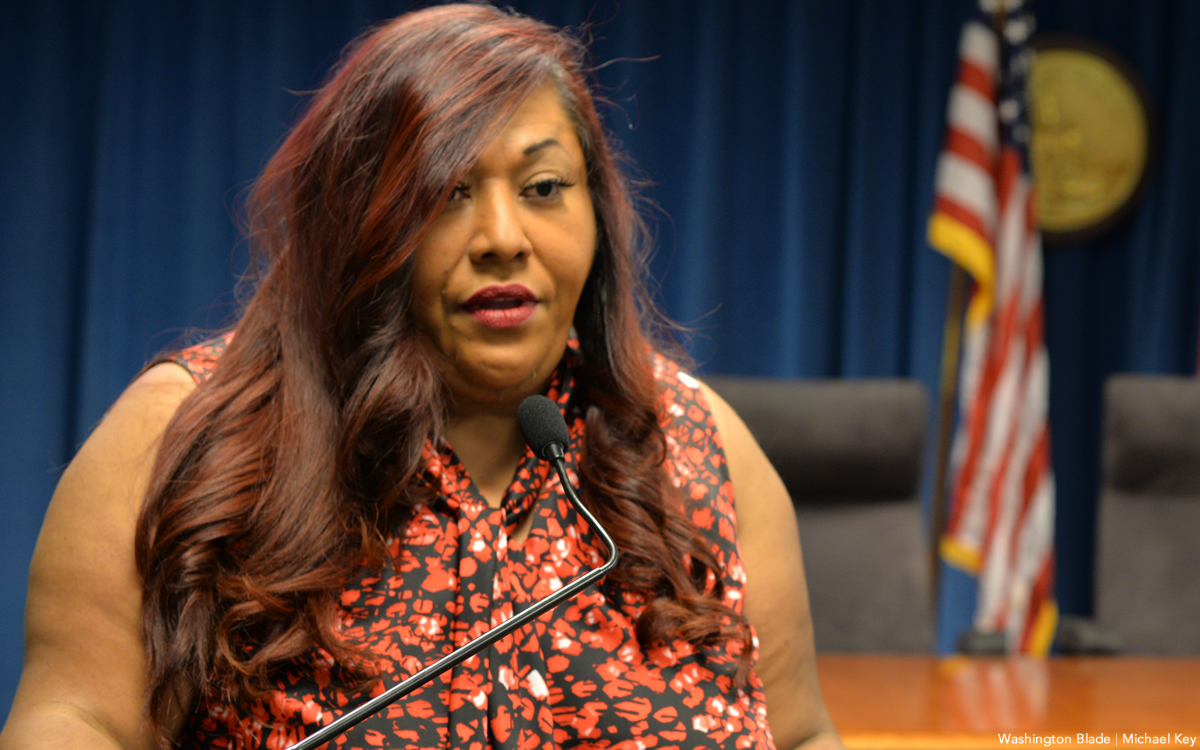 A D.C. Superior Court judge on Thursday said she was not ready to issue a ruling on whether the LGBTQ community services center Casa Ruby should be dissolved as recommended two and a half weeks earlier by a court-appointed receiver that took control of Casa Ruby's operations.
Judge Danya A. Dayson stated at a Sept. 29 court status hearing that the Office of the D.C. Attorney General, which filed civil charges against Casa Ruby and its founder and former executive director Ruby Corado in July, needed more time to complete its investigation into Casa Ruby's operations.
"We think it may be premature to immediately commence proceedings for dissolution while our investigation is still pending," Cara Spencer, an official with the Office of the Attorney General, told the judge. "We're still gathering information. We still intend to shortly serve discovery so we can bring it to a resolution promptly," she said.
The AG's office filed a civil complaint against Casa Ruby and Corado on July 29 alleging that the LGBTQ group had violated the city's Nonprofit Corporations Act for the past several years. The complaint says improper actions by Corado, including the unaccounted-for expenditure of funds and a failure by the Casa Ruby Board of Directors to provide oversight led to a financial crisis.
The complaint notes that Casa Ruby employees were not getting paid and over $1 million was owed to landlords in back rent for at least three buildings Casa Ruby used for its offices and to provide emergency housing for homeless LGBTQ youth.
With Corado spending most of the past year in El Salvador, according to Casa Ruby employees, the employees and managers struggling to keep its operations going said they were forced to shut down all operations in late July.
Corado, who attended the Sept. 29 status hearing through a phone hookup, said she had yet to retain a lawyer due to a "shortage of funds." She told Dayson she expects to finally retain an attorney but said she had not received a copy of the receiver's report that recommended Casa Ruby be dissolved. One of the attorneys with the AG's office told Dayson the office sent a copy of the report to four email addresses it had for Corado and Casa Ruby.
At the judge's request, one of the AG office officials sent another copy of the report to Corado during the hearing to an email address that the judge asked Corado to provide.
Dayson on Aug. 12, at the recommendation of the AG's office, appointed the Wanda Alston Foundation, a D.C. organization that provides housing for homeless LGBTQ youth, as the Casa Ruby receiver. One day earlier, Dayson approved the AG office's request that Casa Ruby be placed under receivership.
On Aug. 3, also at the request of the AG's office, the judge issued an order that all of Casa Ruby's bank accounts and financial assets, which had been under the sole control of Corado, be frozen. Dayson lifted that freeze after the Alston Foundation assumed control of Casa Ruby under the receivership.
As she had at the Aug. 11 court hearing, Corado stated in the Sept. 29 hearing that Casa Ruby's financial problems were caused by the D.C. government withholding as much as $600,000 in grant funds for services Casa Ruby had provided.
Officials with the D.C. Department of Human Services, which initially approved the grants, have said some of the grant funds were withdrawn or cancelled because Casa Ruby failed to comply with the terms of the grants. In some cases, the officials said, required financial reports were not filed to substantiate how the funds were spent.
Corado also asked Dayson at the Sept. 29 hearing to order the receiver and officials with the AG's office stop releasing "one-sided" information that she said was falsely placing her and Casa Ruby in a negative light through reports in the press.
"The story that has been painted is that Casa Ruby left the clients in the cold," Corado said. "That is not accurate."
When asked by Dayson what she wanted the court to do, Corado said, among other things, she did not want the receiver to be allowed to disclose information about what happened in the court proceedings that Corado said was being reported by the press inaccurately.
She said highly negative publicity resulting from the release of information from the previous court hearing resulted in her receiving death threats and damage to the engine of her vehicle in an act of vandalism that cost $1,700 to repair.
Dayson said Corado appeared to be seeking a gag order to prohibit the receiver or the AG's office from discussing or releasing information that was part of the public record. Saying there were insufficient grounds for such an order, Dayson announced she was denying a request to seal court records or issue a gag order against the receiver.
The judge ruled in favor of a request by the AG office attorney to file an amended complaint for the case, directing them to file the amended complaint by Nov. 28. Court records show that Dayson directed the parties to return to court for scheduling hearings on Oct. 28 and Jan. 6.
Former FreeState Justice executive director denies allegations against them
Jeremy LaMaster denies they launched 'coordinated attack'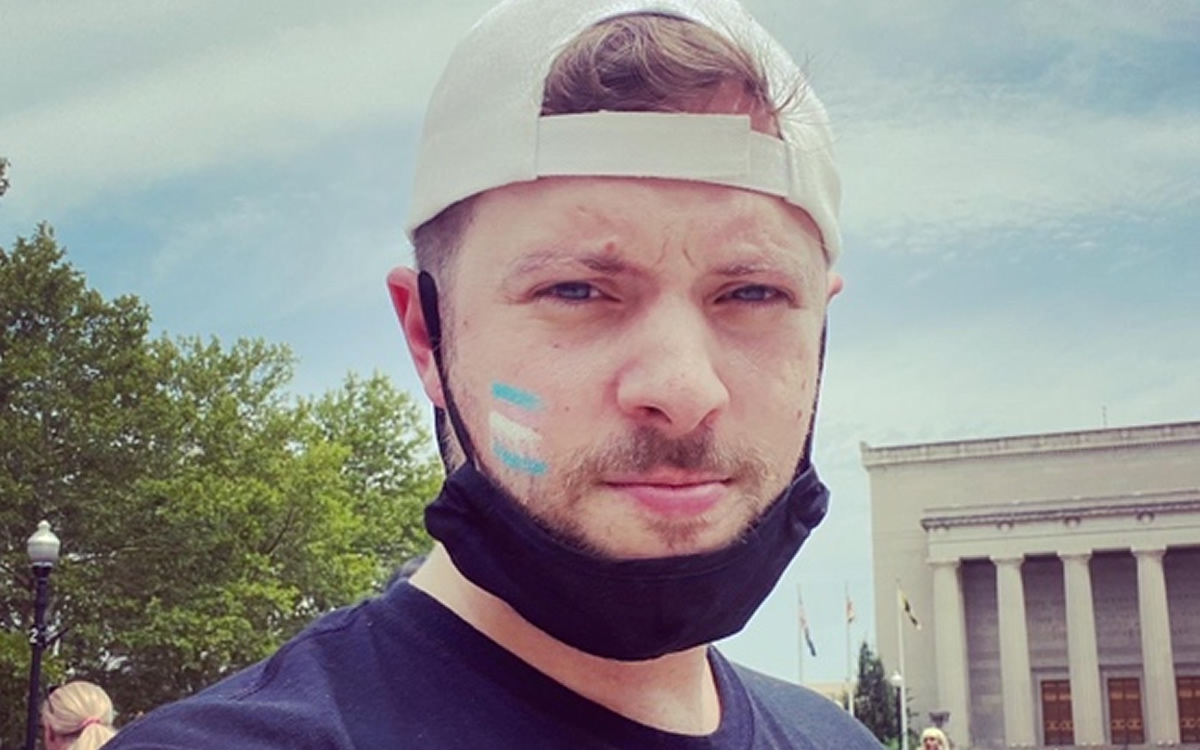 The former executive director of FreeState Justice on Tuesday denied they have launched a "coordinated attack" against their former organization.
Jeremy LaMaster on Sept. 19 announced their resignation after they said FreeState Justice"s board of directors declined their request to step down.
FreeState Justice two days later in a federal court filing against LaMaster said they "immediately began a coordinated attack on FreeState's operations; in particular, its IT assets" after they left a Sept. 16 meeting in which the board informed them they "were relieved of their duties, and the final two weeks of their employment were to be spent cooperating in the transition of FreeState's operations."
"When FreeState discovered LaMaster's improper interference, it terminated their employment effective immediately, ordered them to cease and desist and to rectify their actions," reads the court filing. "LaMaster did not abide and continued to hijack and misappropriate FreeState's IT infrastructure and documents."
"What would hacking into someone's email and deleting an email do," LaMaster told the Washington Blade during a FaceTime interview.
LaMaster, who uses they/them pronouns, told the Blade they started "working on this transition stuff" once they returned home from the Sept. 16 meeting and "I started getting error messages for our intake system."
"After the Sept 16 meeting, someone else, not me, began deactivating email accounts, including mine, breaking workflows for our client intake and other processes, causing a lot of problems for our IT infrastructure," said LaMaster on Wednesday in a follow-up text message.
LaMaster said they began to receive text messages on Sept. 18 about "criminal charges" and "allegations."
LaMaster told the Blade they tried to call now FreeState Justice Executive Director Phillip Westry on Sept. 18, but he did not accept his call.
"I sent an email to the team about this is what happened, this is what I was doing,'" said LaMaster. "Some of our things are down. Please let me know."
LaMaster said they sent a Slack message to Westry and now Deputy Executive Director Tina Jones on the morning of Sept. 20 in order to "help transition IT." LaMaster told the Blade they "learned about the restraining order and a number of IT issues and allegations when everyone else did."
LaMaster, who is representing themself, attended a court hearing in Baltimore on Monday.
LaMaster told the Blade that they said they could provide passwords to their FreeState Justice email account. LaMaster said they provided the passwords to all other software systems the organization uses.
LaMaster sent the Blade a screenshot of a text message thread between them and Jones.
"Please provide the the (sic) appropriate login credentials and administrator access to all FreeState Justice systems," Jones told LaMaster. "Please do not attempt to access any systems or the office."
"As I mentioned yesterday — I do not know the passwords off the top of my head and will need to either 1) test them or 2) reset them. This required accessing the systems," responded LaMaster. "I'm not being obtuse — but you've all made a large number of false (and impossible) accusation based on the very limited understanding of our tech, or tech in general (not being rude, but y'all know it's true.)
"Like I said, I think a phone call or Zoom, we can even record it so that I cam (sic) do/show exactly what I am doing," added LaMaster. "I'm here for the lawyer robot responses and the desire for retaliation to continue to block FreeState legal services delivery, and then turn around and blame you (sic) lack of cooperation and knowledge on me."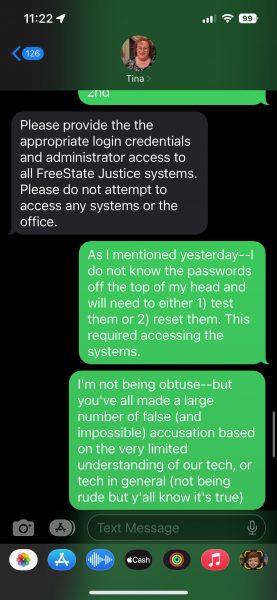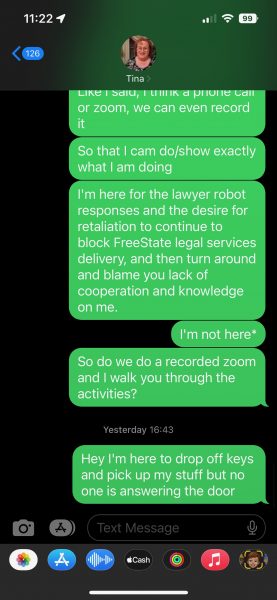 LaMaster told the Blade they were "supposed to return items and keys and such" to FreeState Justice's offices at 4:30 p.m. on Tuesday, but "no one was there." The text thread shows LaMaster texted Jones at 4:43 p.m. to let her know that they're "here to drop off keys and pick up my stuff, but no one is answering the door."
"They're still holding my personal belongings and not accepting my keys and FSJ (FreeState Justice) checks," LaMaster told the Blade.
Board has 'white supremacist culture'
LaMaster in June 2020 succeeded Mark Procopio as executive director.
LaMaster in their resignation letter said they stepped down after board members refused their request to immediately step down "due to persistent violations of our board handbook, consistent failures in their fiduciary responsibilities, and using positions of power to engage in partisan lobbying within FreeState Justice and their repeated refusal to add new members and leadership to the board."
LaMaster in his email noted they "exhausted every avenue over the past two years to get our board fully staffed and running, and I made good faith efforts to work with the board to ensure that our clients and low-income LGBTQ Marylanders remained at our center."
"Instead, the board has refused to accept any new board members since 2021 and refused to staff and run core board activities as per our handbook," wrote LaMaster. "Instead, they have worked to consolidate power and amend the board handbook in secret to lower the minimum number of board members required and ensure that our policy positions prioritize relationships with legislators, not the best interests of our clients and community. I have provided clear warnings and consistent concerns over these issues that were repeatedly ignored."
LaMaster reiterated his criticism of the board when they spoke with the Blade.
"As with most nonprofits, I'm sure if you talk to any executive director, they will tell you the large number of challenges that comes to board and nonprofit boards and cultivating and building them and supporting them. There have been chronic issues for two years now," they said.
"I think everyone gets a pass with the (COVID-19) pandemic, but at some point, stop getting passes," LaMaster added. "There was just a lot of really poor decision making that was costing the organization money, and really not fulfilling core responsibilities laid out in our board handbook."
LaMaster specifically noted the board's abrupt decision in May 2022 to stop offering COVID-19 vaccines to people experiencing homelessness after FreeState Justice's landlord "did a full Karen" and "went to the board and was complaining about a whole lot of things, the majority of which were not true."
"It basically screwed six or seven of our homeless clients out of getting their second dose," they said.
LaMaster also said board members did not take their calls for more advocacy on behalf of LGBTQ students in Maryland seriously. LaMaster further accused board members of threatening FreeState Justice's 501(c)(3) status because of their ties to politicians they didn't specifically identify.
"We don't exist to help politicians get easy wins and in the General Assembly," said LaMaster. "We exist to provide widespread advocacy work and transparent information to the community."
LaMaster also accused board members of engaging in unethical behavior.
They said Brianna January, the board's vice president, repeatedly asked FreeState Justice staff to secure funding that would allow her to be hired as the organization's policy director. LaMaster provided the Blade with a text message in which January asked them to hire her.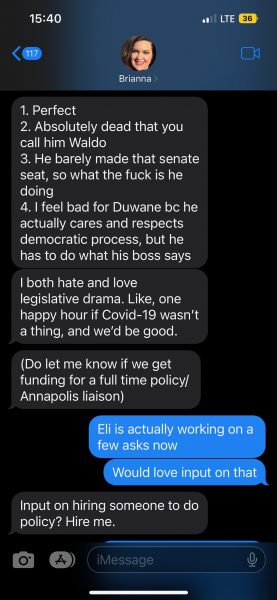 LaMaster further reiterated their previous claim the board engages in white supremacism.
"When I say white supremacist culture within the board, this response is case and point of that culture, of that type of culture," they said.
Westry on Wednesday declined to comment on LaMaster's allegations.
"FreeState Justice has provided comments on this issue to several publications about the ongoing litigation with Jeremy LaMaster," Westry told the Blade in an email. "We are in active litigation with LaMaster and will offer no further comment."
Va. students stage mass walkout over anti-LGBTQ policies
Activists from more than 90 schools across state hold rallies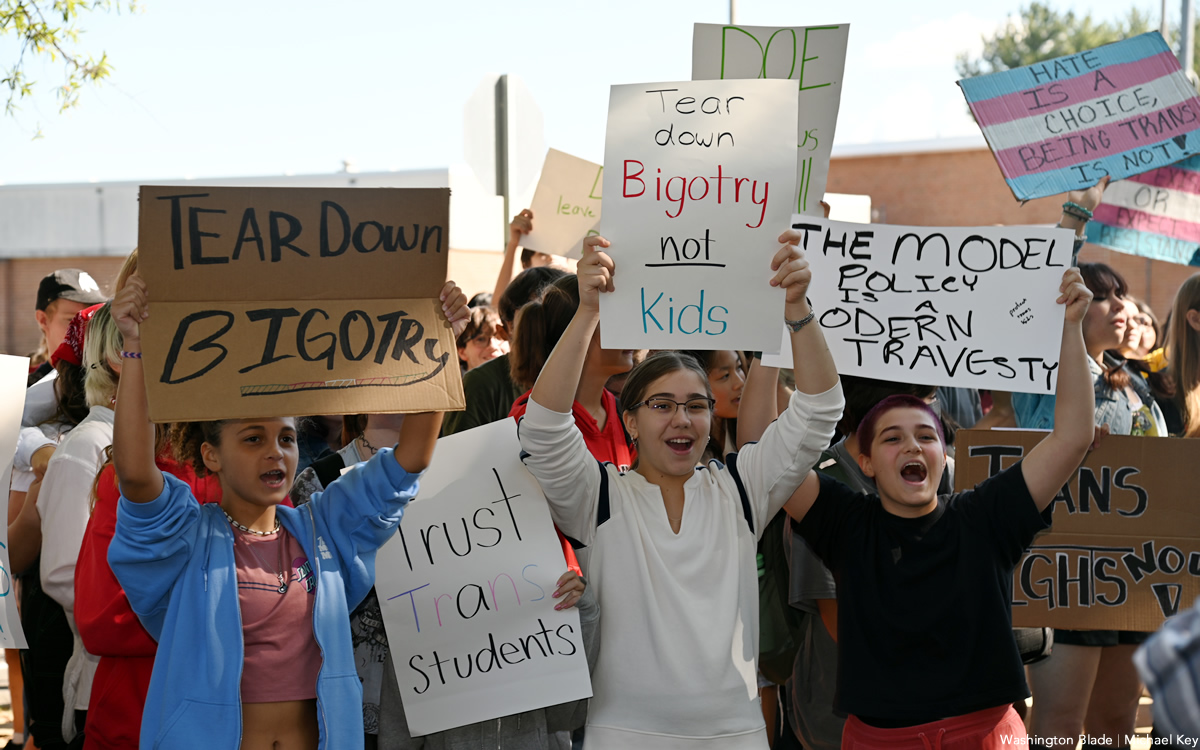 Thousands of students in schools across Virginia participated in walkouts and rallies on Tuesday to oppose the revised "model policies" on transgender students released by the Virginia Department of Education.
VDOE policy revisions were released on Sept. 16 and differ substantially from the policies passed into law in 2020.
The original policies on the treatment of trans students were intended to protect LGBTQ students; but the revised "model policies" have been criticized by activists, educators and legislators for mandating students use school facilities for the sex they were assigned at birth and bars students from changing their names and pronouns without parental permission. Further, the policies direct teachers and staff not to conceal a student's gender identity from parents, even when a student asks to keep that information private.
The student-led Virginia-based Pride Liberation Project responded to these policy changes by organizing mass walkouts and rallies in more than 90 schools from Alexandria to Williamsburg.
"These proposed guidelines are essentially taking that cornerstone and using it to undermine our rights. If these guidelines are implemented, it will be the single biggest loss for queer rights in Virginia in years," Natasha Sanghvi, a student organizer with the Pride Liberation Project, said in a statement.
Openly gay Virginia state Sen. Adam Ebbin (D-Alexandria) in a statement said "these new model policies, which are in flagrant violation of Virginia law, will do serious harm to transgender students. They are not based in science or compassion and will lead to students being outed before they are ready, increased bullying and harassment of marginalized youth, and will require students to jump through legal hoops just to be referred to with their proper name."
Ebbin joined several hundred students at West Potomac High School in Alexandria in a rally opposing the model policies proposed by Republican Gov. Glenn Youngkin.
"The new policy drafts are only going to do more harm to trans students who are already at risk for being outed, harassed and harmed," Jules Lombardi, a Fairfax County high school senior, told the Washington Blade. "These drafts will take schools, which are supposed to be safe environments for students, and make them spaces where students have to hide themselves for fear of their parents finding out about their identities."
"This isn't a matter of 'parental rights,' it's a matter of human rights and we deserve to be treated with the same respect as cis students," Lombardi added.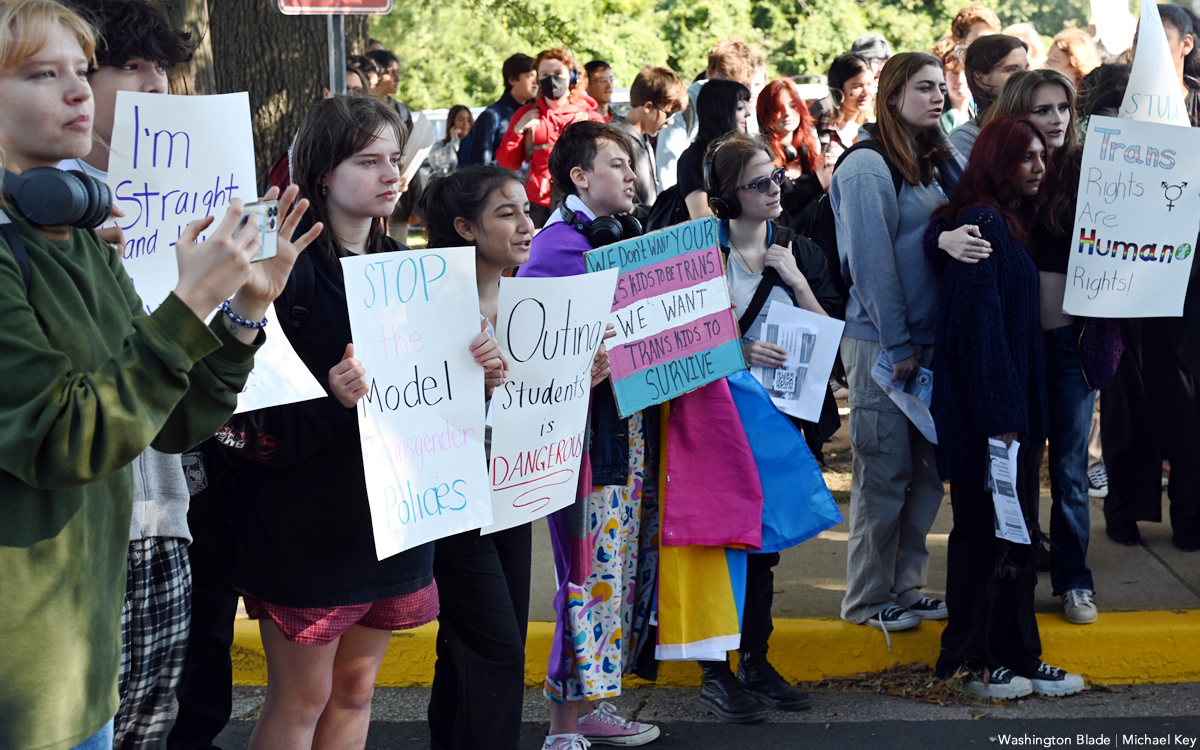 Andrea-Grace Mukuna, a senior at John R. Lewis High School in Springfield, told the Blade that "gender affirmation matters. Something so easily given to cisgender people is a right that our trans and gender non conforming youth deserve. I am walking out because schools will no longer be a safe place for queer students to be in if these policies get passed."
"Requirements for teachers to refer to students by their birth name and pronouns aligning with their sex, rather than trusting our students to know themselves and who they are best, reinforces the idea that we as students have no power, no control and no knowledge over anything in our lives. Gender queer youth exist, and no policy can change that," Mukuna said.
Mukuna continued, "making an attempt at denying them their ability to be who they are is a malicious attack on vulnerable students that could cause deathly harm."
"I walk out for my queer community — there is no erasing us," Mukuna said.
Several hundred students walked out of McLean High School. The walkout was lead by members of the school's GSA and organizers from the Pride Liberation Project including McLean High School senior Casey Calabia.
Calibia asked the crowd, "Do we want Gov. Youngkin to understand that this is not what Virginia looks like?"
The crowd roared, "yes!"
"Virginia stands for trans kids. Trans and queer people are a fact of humanity. We will be accepted one way or another and to see everybody here today is another step toward that change," said Calibia through a bull horn.
Calibia told the Blade in a pre-walkout statement said "to call these policies in favor of respecting trans students' rights and privacy is to call an apple an orange. The 2022 Transgender Model policies, even as a draft, have begun to actively hurt my community's mental health."
"Instead of focusing on academics and our future, we have to sit in class and wonder if we will be safe in school," Calibia concluded. "To not only take away the 2021 policies, a cornerstone in LGBTQIA+ rights for Virginia, but to mock them with these replacements, is a devastating blow to myself, trans students, queer students, and the whole of Virginia's public school student body. How can we be safe, if we can be taken out of school-provided counseling, maliciously misgendered, and denied opportunities given to other students simply because of our gender? Accepting queer students in class does not indoctrinate or brainwash kids. It tells queer students like me that it is okay and safe to be ourselves in school."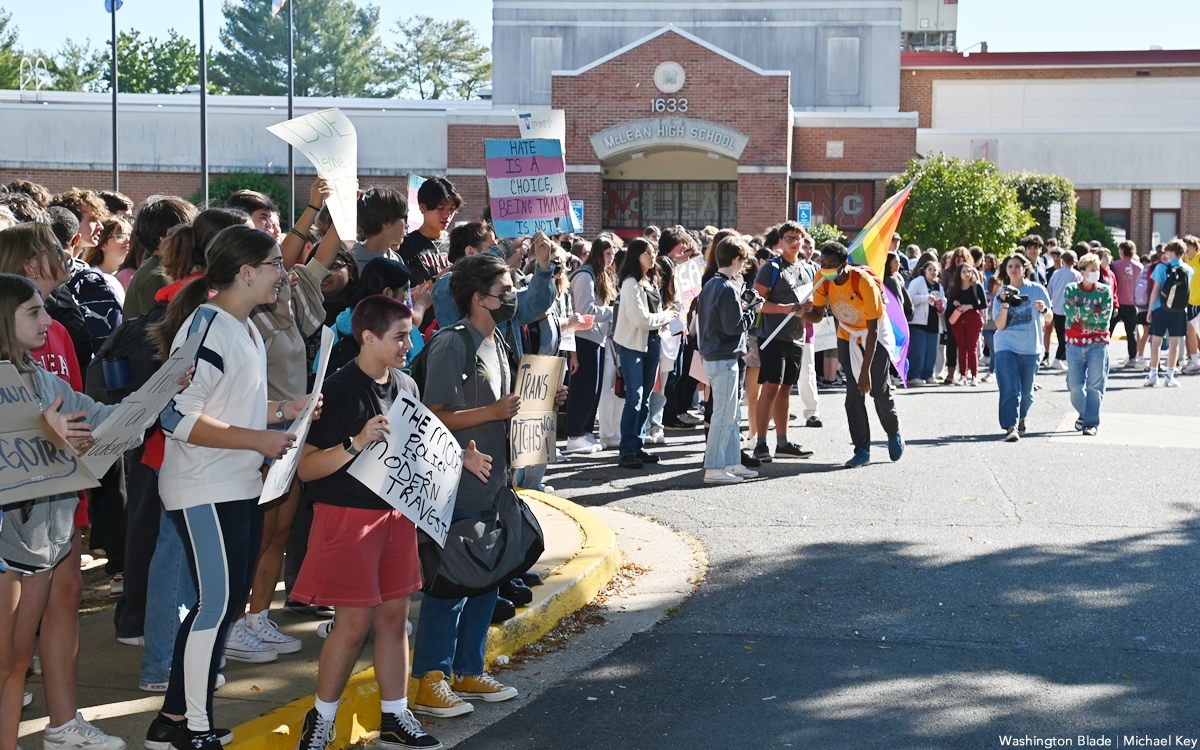 The student protests in Virginia have made national news.
"This is a president who supports the LGBTQI+ community and has been supporting that community for some time now as a vice president, as senator, and certainly as president now," said White House Press Secretary Karine Jean-Pierre in response to a question about the protests during her daily press briefing. "And he . . . always is proud to speak out against the mistreatment of that community … We believe and he believes transgender youth should be allowed to be able to go to school freely, to be able to express themselves freely, to be able to have the protections that they need to be who they are."
"When it comes to this community, he is a partner, and he is a strong ally, as well as the vice president," Jean-Pierre stated.
Walkouts and rallies were held at middle and high schools in Arlington, Bedford, Buchanan, Chesterfield, Culpeper, Fairfax, Fauquier, Frederick, Henrico, James City, Loudoun, Louisa, Montgomery, Powhatan, Prince George's, Prince William, Spotsylvania, Stafford, Warren and York Counties as well as in the cities of Alexandria, Chesapeake, Newport News, Portsmouth, Richmond, Williamsburg and Winchester.
"Every parent wants Virginia's laws to ensure children's safety, freedom, and to encourage a vibrant and engaging learning experience. But the Virginia Department of Education is rejecting those shared values by advancing policies that will target LGBTQ kids for harassment and mistreatment simply because of who they are," said Ebbin.