Advocacy group assails Mont. Co. schools over 'ex-gay' flier
But superintendent can't stop distribution of materials

open letter
to the Montgomery County, Md. school district, and its superintendent, Joshua Starr, Tuesday excoriating school leaders for allowing an "ex-gay" group's publicity material to go home with high schoolers late last month.
As the Blade reported earlier this week, alarmed parents contacted the school district to complain about roughly 8,000 fliers distributed to young students claiming sexual orientation is not permanent, and that the organization — Parents & Friends Of Ex-Gays and Gays, or PFOX — can offer services and resources for youths experiencing "unwelcome" same-sex attraction.
"While non-profit literature must not be blocked based on viewpoint, it can and should be prohibited if it contains blatant misinformation that jeopardizes the health and well being of students," wrote TWO's executive director Wayne Besen in the letter to Starr. "The PFOX flier easily fits this description and the group has a dubious history that includes bizarre and bigoted practices that have no place in your public school system."
The letter notes that the president of PFOX is on record using anti-gay hate speech and epithets, such as "faggot" when describing the gay community.
"Let's not beat around the bush: If an unsavory organization insulted other minorities with despicable epithets and demanded that they be 'exported' or jailed – no school in Montgomery County would be distributing their leaflets," Besen writes in the letter. "The fact that you would allow this politically motivated organization to spread its noxious message about LGBT people shows an unreasonable and unfathomable double standard."
The district responded to Besen with the following:
Thank you very much for your correspondence regarding the fliers from PFOX. Many other community members and students have also emailed the Board of Education regarding the nature of these fliers.

First, I would like to say that Superintendent Dr. Starr has stated on the record that these fliers are reprehensible. I also empathize with your concerns and am acutely aware of the inappropriate content disguised within these fliers. Neither the Board of Education, MCPS, nor I support or endorse the content contained within these fliers. Unfortunately, there is nothing that we can do to prevent PFOX from distributing these fliers because we are bound by the law.

Current practice regarding the distribution of flyers is a direct result of a 2006 opinion by the United States Court of Appeals for the Fourth Circuit. Below are links to that opinion, as well as an August 2006 memorandum to the Board of Education, both of which put in context the current MCPS Board Policy and MCPS Regulation regarding distribution of flyers.

1. http://www.montgomeryschoolsmd.org/boe/meetings/agenda/2006-07/2006-0824/CNA%20Revision%20Board%20Item.pdf
2. http://caselaw.lp.findlaw.com/data2/circs/4th/031534p.pdf
3. http://www.montgomeryschoolsmd.org/departments/policy/pdf/cna.pdf
4. http://www.montgomeryschoolsmd.org/departments/policy/pdf/cnara.pdf

In most cases, fliers that are distributed in school are for legitimate opportunities offered by non-profit associations. PFOX is able to forward its agenda by distributing these fliers because it apparently meets sufficient criteria to fall under the auspices of this court ruling. Although we cannot stop the distribution of such fliers, we in MCPS are committed to promoting values of diversity and acceptance in our school system by teaching students how to distinguish between legitimate and illegitimate information.

Please rest assured that we in Montgomery County Public Schools are always extremely receptive to the community and towards promoting a culture of the twenty-first century.

Best,
Alan Xie
Student Member of the Board of Education
When reached for comment, a school district spokesperson expressed sympathy for those who were outraged by the flier, but repeated the district claim that the situation was unavoidable under the law.
"4th Circuit Court made it clear that if we're going to send home any fliers that we have to send home any 501(c)3 non-profit fliers," said school district spokesperson Dana Tofig, when contacted by the Blade Wednesday. "Dr. Starr finds what PFOX says reprehensible …but the courts made it clear that we're in a very tight box."
On Feb. 7, Superintendent Starr held a televised student town hall, where the PFOX fliers came up almost immediately in a twitter question from a student.
"I find the actions of PFOX to be reprehensible and deplorable," Starr told the gathering of students at Wooten High. "We are bound by law, …Circuit Court in District four, to enable non-profits to distribute fliers…"
Starr said he hopes a solution can be found that allows the school district to avoid this circumstance in the future.
"We can't really do that much about it, unless we want to cut off all flier distribution — which is an option," he said. "We're bound to do it. And this group …has figured out a way to use that law to spread what I find to be a really disgusting message, quite frankly."
Tofig indicated that the both the school district and Superintendent Starr would like to avoid controversies like this in the future, but that the district has yet to find a way to exclude material presented by organizations like PFOX if they are to include materials presented by the Parent-Teacher Association, which is also a non-profit.
"[Superintendent Starr] is disturbed by this and it's frustrating for him and for the school system. We are limited in what we can do, but if people have ideas we're perfectly willing to listen."
"If people have other ideas, bring them on," Tofig concluded.
Besen is skeptical that the school district will do much to avoid this situation in the future unless their hand is forced.
"I think that the school district will do nothing unless we do a larger campaign," Besen told the Blade on Wednesday. "They are receiving horrible legal advice. We are not objecting based on viewpoint, but the specific group of people behind PFOX. They are a clear and present threat to students and the school district is blindly hiding behind legalese to justify it not keeping pupils out of harm's way."
LGBT advocacy group Truth Wins Out sent an
Patti LaBelle, Gladys Knight dazzle at AIDS Healthcare Foundation World AIDS Day Concert at Kennedy Center
Renowned vocalists delivered show-stopping performances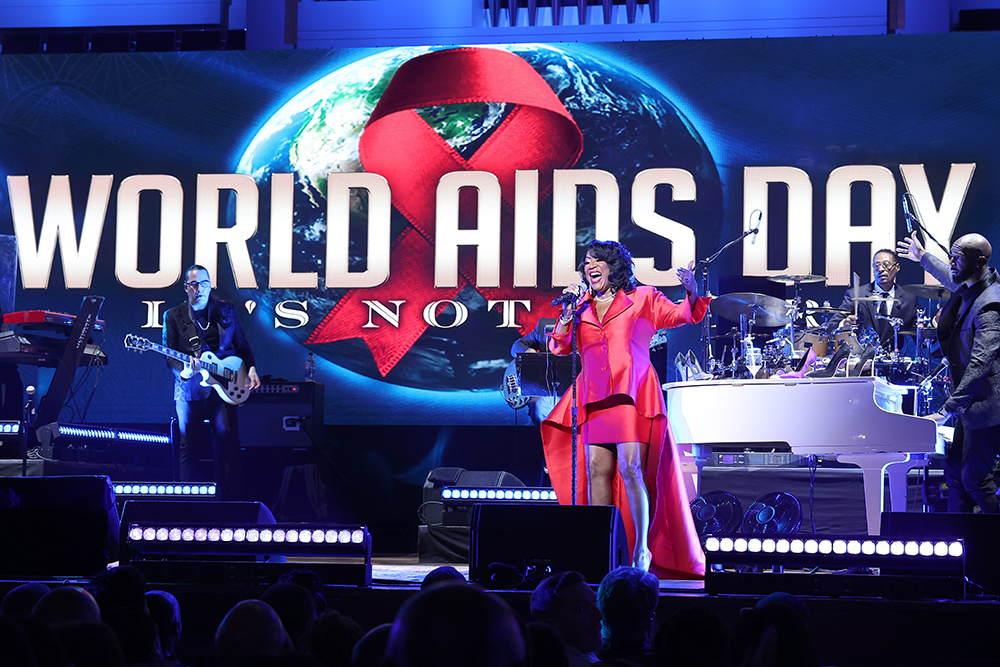 The AIDS Healthcare Foundation (AHF) hosted its 2022 World AIDS Day Concert on Wednesday, Nov. 30, at the concert hall of The Kennedy Center in D.C. Renowned multi-Grammy Award-winning vocalists Patti LaBelle and Gladys Knight delivered show-stopping performances to the packed crowd, which included supporters, dignitaries such as: Harold Phillips, Director of the White House Office of National AIDS Policy; White House Senior Advisor for Public Engagement, Mayor Keisha Lance Bottoms, Congresswoman Sheila Jackson Lee, and New Orleans Mayor, Mayor LaToya Cantrell, and more, in a night of hope and celebration.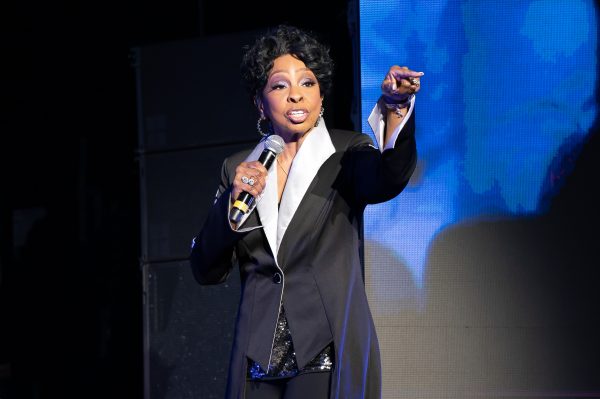 AIDS Healthcare Foundation (AHF), is the world's largest HIV/AIDS care provider, currently operating in 45 countries. The concert is held every year to commemorate World AIDS Day, observed internationally each year on Dec. 1. This year also marked the global organization's 35th anniversary.
At the event, longtime humanitarian and AIDS advocate, Princess Diana was honored, posthumously, with AHF's Lifetime Achievement Award. Under its "Keep the Promise!" banner, AHF also acknowledged progress made in the global fight against HIV and AIDS and continues to raise awareness about "The Other Pandemic" as a reminder of the significant work still to be done on HIV/AIDS, as well as remembering the lives that have been lost over the years.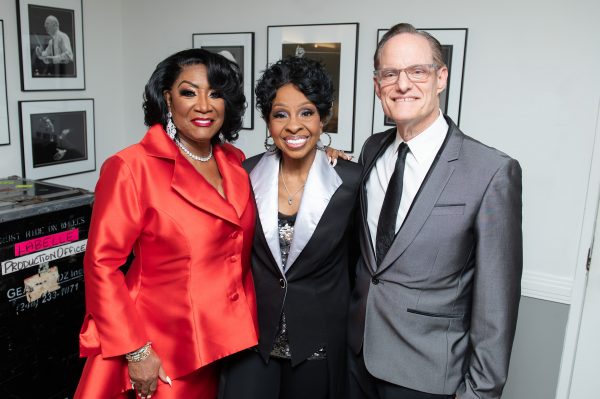 Michael Weinstein, President of AHF, said, "As millions remain affected by HIV/AIDS around the globe, World AIDS Day annually provides an opportunity to honor those we've lost and those living with HIV/AIDS today, as well as reminding leaders and the community of the work that still remains to address this epidemic. From providing compassionate AIDS hospice care in those darkest early days to growing to become the largest global AIDS organization today, now providing lifesaving care and treatment to more than 1.7 million people around the globe, we also celebrate the tireless work of all those who help make today's AHF possible: our staff, Board, affiliate organizations and affinity groups, friends, family and elected officials and community partners across the globe, but most of all, our clients and patients—with our annual 2022 World AIDS Day event. It was a momentous night to host our World AIDS Day concert at The Kennedy Center for the first time, and welcome back the legendary Patti LaBelle, and have another great American icon, Gladys Knight join us, while also being able to honor the legacy and humanitarian work of the late Princess Diana."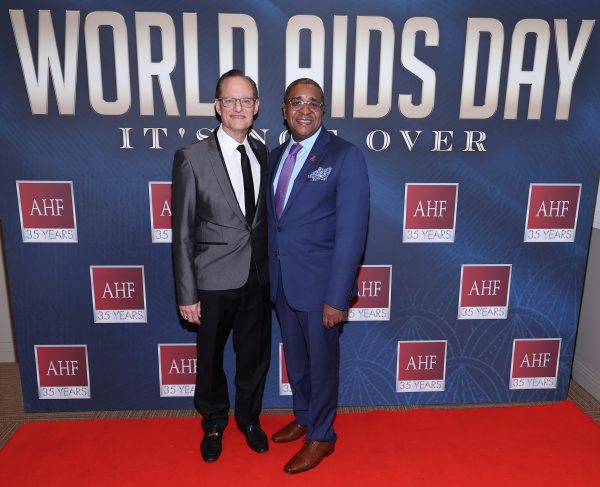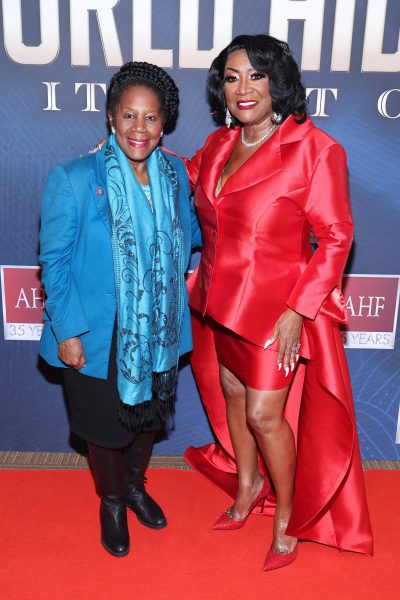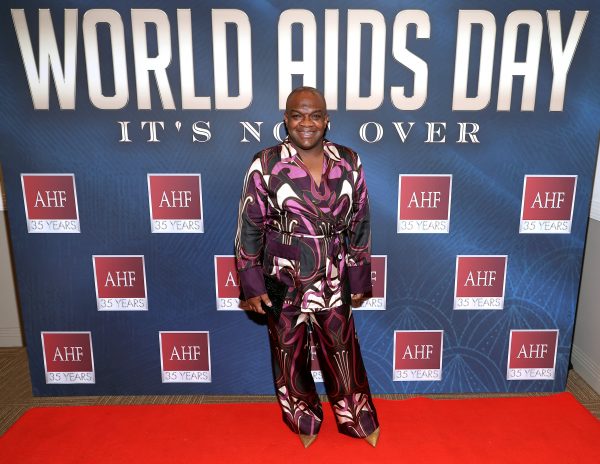 Matthew Shepard portrait dedicated at National Cathedral
Gay Wyoming student killed in 1998 hate crime honored in daylong ceremony
Matthew Shepard, the gay University of Wyoming student who was murdered in a 1998 anti-gay hate crime while tied to a fence outside Laramie, Wyo., was to be honored at a ceremony on Thursday, Dec. 1, at Washington National Cathedral dedicating a newly commissioned portrait of Shepard.
Officials at the cathedral said the portrait by artist Kelly Latimore and commissioned by LGBTQ members of the Cathedral staff, is the only artistic image of Matthew Shepard created in collaboration with Shepard's parents, Dennis and Judy Shepard, who were present during the ceremony.
Matthew Shepard's ashes were interred at the Washington National Cathedral in 2018, 20 years after his death. The Cathedral announced in a statement this week that the Dec. 1 dedication of the Shepard portrait would also take place on what would have been Shepard's 46th birthday.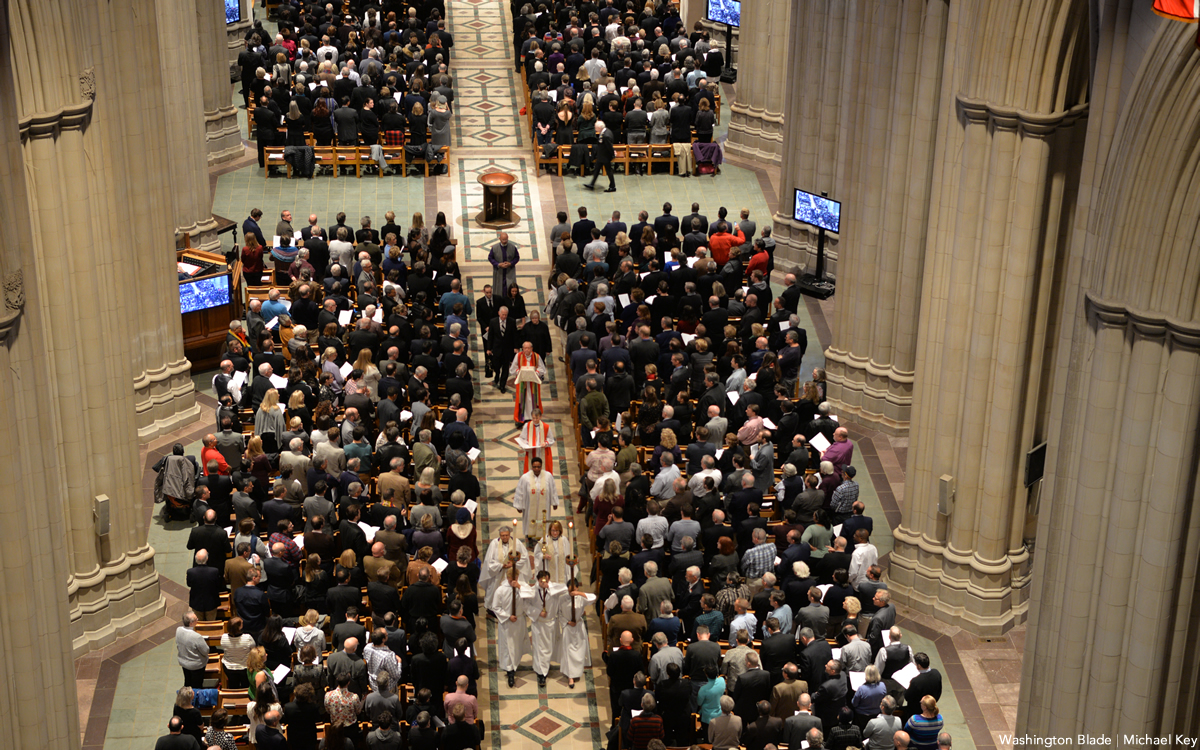 "The horrific murders at Club Q in Colorado Springs are a tragic reminder that our LGBTQ friends and family continue to be targeted for who they love, and Matthew Shepard's legacy reminds us of the urgency to confront bigotry and embrace people of all backgrounds, gender identities and sexual orientations," said The Very Rev. Randolph Marshall Hollerith, dean of Washington National Cathedral, in a statement.
Events surrounding the portrait dedication began with a 7 a.m. online prayer service "to celebrate and recall Matthew Shepard's life," the statement released by the Cathedral says. The service was led by Right Rev. V. Gene Robinson, the first openly gay priest to be consecrated as a bishop in the Episcopal Church.
The Cathedral next hosted a preview of the portrait for the news media at 10:30 a.m., where Dennis and Judy Shepard talked about the portrait and their son's life and the impact his death had on the nation's understanding of hate crimes.
"It's amazing how similar and what a great job that Kelly [Latimore] has done to make it look like Matt and showing the essence of Matt," Dennis Shepard told the Washington Blade while viewing the portrait in the Cathedral's St. Joseph's Chapel, where the portrait was on display.
Artist Latimore, who also spoke to reporters during the morning briefing at the chapel, said he was moved in his discussions with Judy and Dennis Shepard while getting ready to begin work on the painting by copies of dozens of letters they sent him that had been sent to the Shepards by people across the country after their son's death.
Latimore included written excerpts from dozens of those letters as the background to his portrait of Matthew Shepard, which can be seen and read when standing close to the portrait.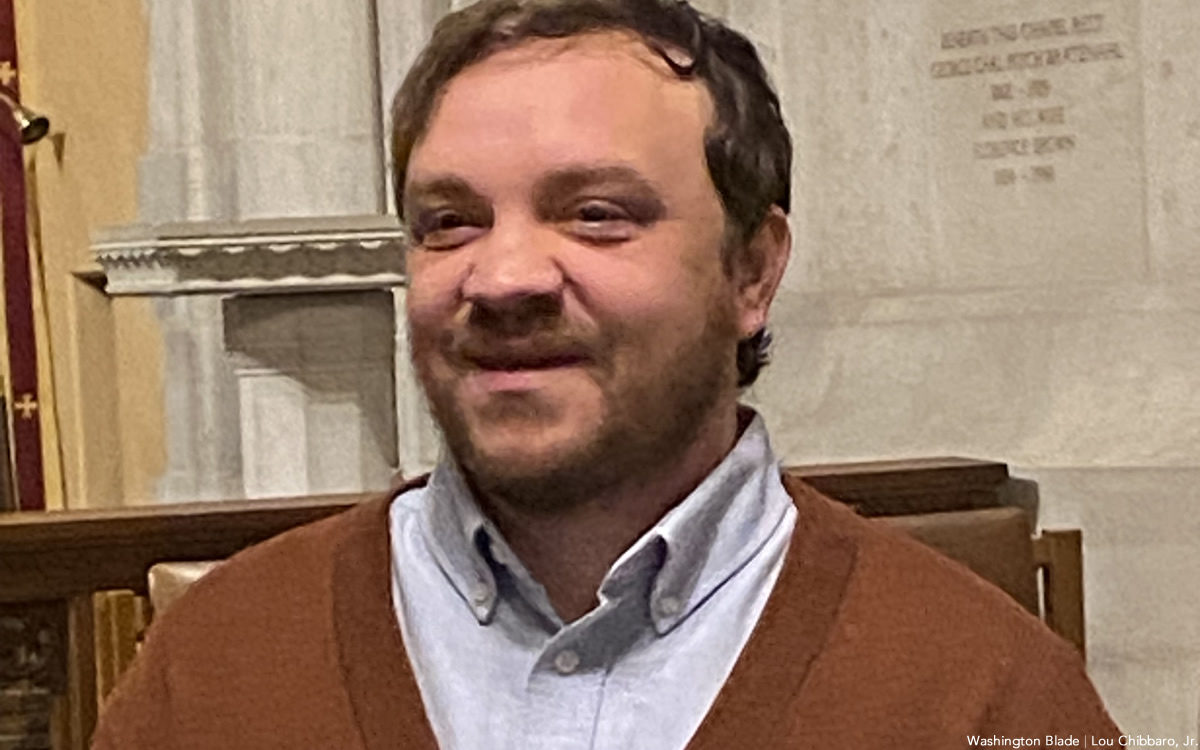 "Matthew will not be forgotten," an excerpt from one of the letters on the portrait says.
Dennis and Judy Shepard created the Matthew Shepard Foundation shortly after Matthew's death, which has been credited with playing a lead role in advocating for the passage by Congress in 2009 of the Matthew Shepard and James Byrd Jr. Hate Crimes Prevention Act. The measure was the first federal hate crime statute that expanded the coverage of the federal hate crimes law to include a victim's sexual orientation and gender identity as a protected class.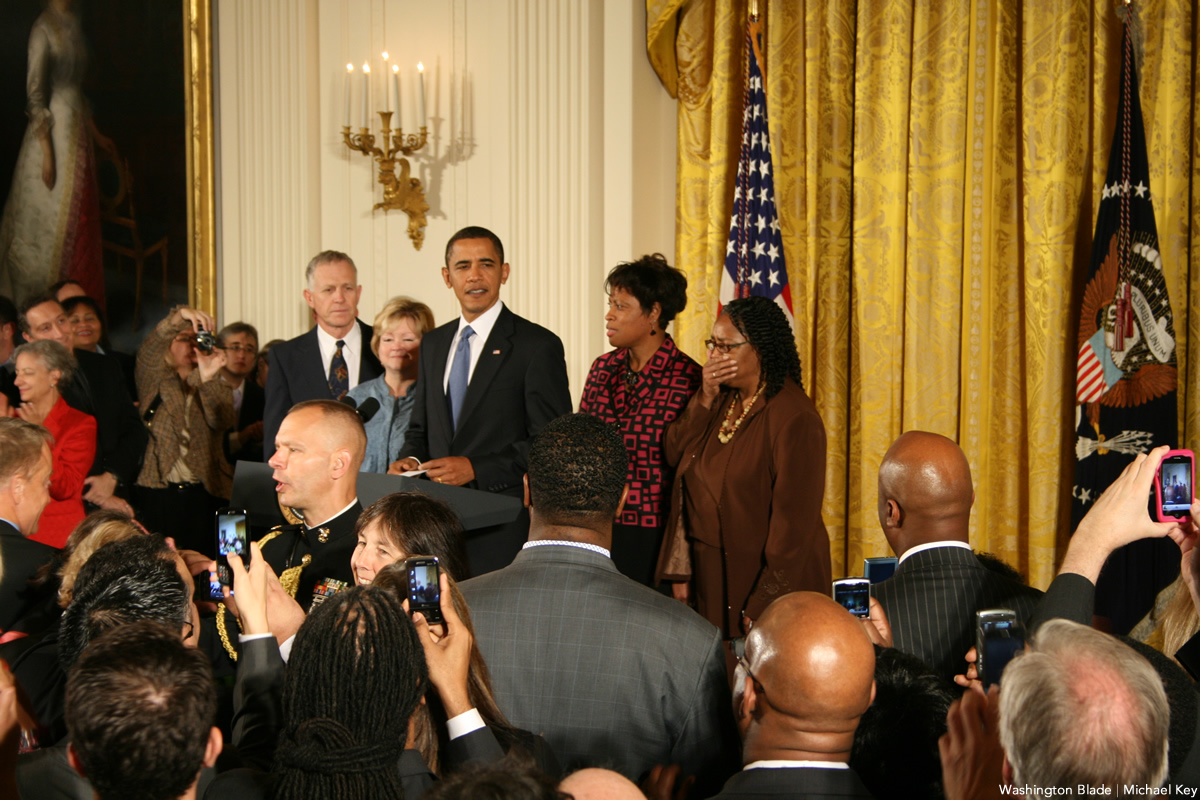 The Cathedral was to open its St. Joseph's Chapel from 2-5 p.m. on Thursday to visitors where the Matthew Shepard portrait was on display. Dennis and Judy Shepard were scheduled to be present to greet visitors.
According to the statement released by the Cathedral, later in the evening at 7 p.m., the portrait was to be officially dedicated in a private service in the Cathedral's crypt near the site where Shepard's ashes were interred.
"A longtime supporter of the full inclusion of lesbian, gay, bisexual and transgender people in the life of the church, the Cathedral considers LGBTQ equality one of the great civil rights issues of the 21st century," the statement released by the Cathedral says.
One of the two men charged with Matthew Shepard's murder, Russell Henderson, pleaded guilty to a murder charge in exchange for an agreement by prosecutors not to seek a death sentence. He was sentenced to life in prison.
The other man charged in the murder, Aaron McKinney, pleaded not guilty and went to trial, where he was convicted of murder by a jury. In a dramatic statement before the judge at the conclusion of the trial, Dennis Shepard announced and he and his wife had asked prosecutors and the judge to spare McKinney from being sentenced to death, something he said McKinney did not do while fatally striking his son in the head multiple times with the barrel of a gun after the two men tied him to a fence post in a remote field outside Laramie.
The judge sentenced McKinney to two consecutive life terms in prison without the possibility of parole.
Three more LGBTQ ANC candidates declared winners
At least 38 LGBTQ hopefuls elected; outcome for two more uncertain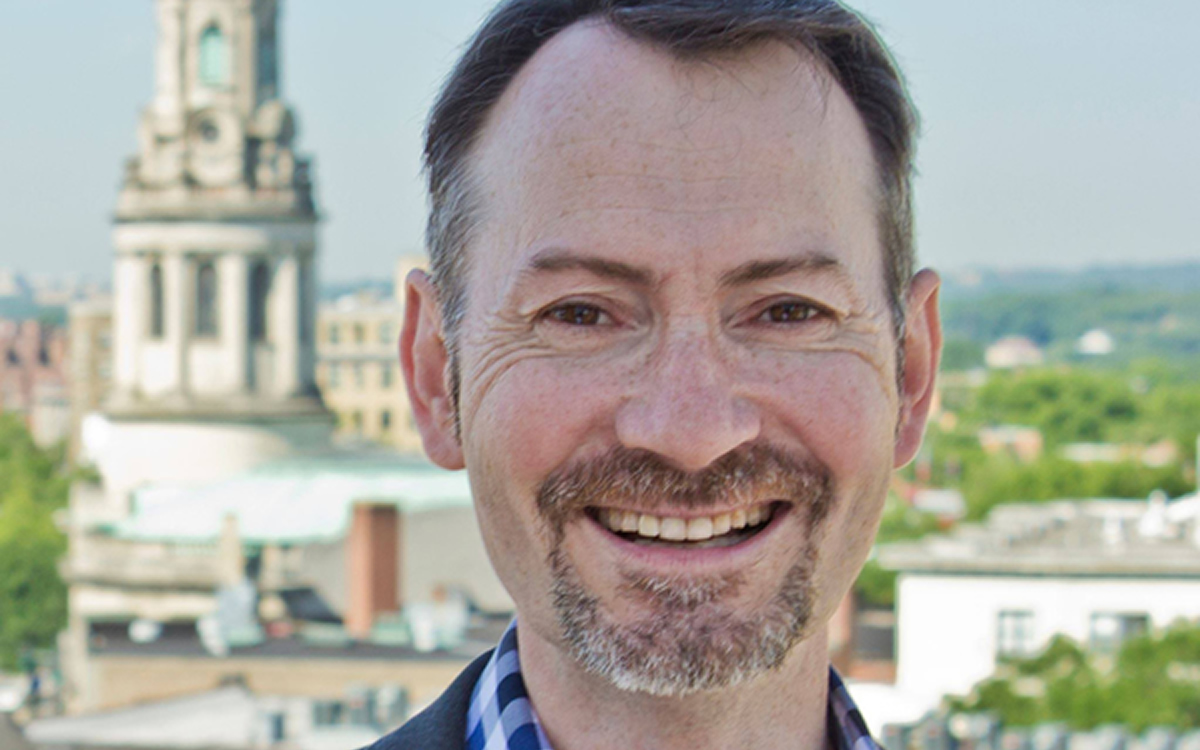 The number of known LGBTQ candidates who won election to Advisory Neighborhood Commission seats rose from 35 to 38 as the D.C. Board of Elections this week released its final, certified vote count for the Nov. 8 D.C. election.
The 38 winners were among 44 known LGBTQ candidates who ran for ANC seats this year. One of the candidates who emerged as a winner, incumbent James Tandaric of ANC 3F05 in the city's Van Ness neighborhood, was trailing opponent Andrew Koval by just eight votes when the early vote count was released in the days following the election.
The final vote count that emerged this week shows Tandaric beat Koval by a vote of 258 to 250.
When the early vote count was released in the week after the election, the outcome of four LGBTQ ANC write-in candidates along with all write-in candidates could not be determined until the Board of Elections received a required affidavit of candidacy from the write-in candidates, which was due by Nov. 15.
When the final write-in candidate results were released earlier this week along with the names of the write-in candidates, two of the four LGBTQ write-in candidates emerged as winners, both from the Logan Circle ANC. The two are Christopher Dyer of ANC 2F05 and Matt Fouracre of ANC 2F06.
Another one of the LGBTQ write-in candidates, Charles Panfil of ANC 6E02 in the Mount Vernon Square neighborhood, finished in a tie with another write-in candidate. A spokesperson for the Board of Elections said tie votes in ANC elections are resolved by the drawing of lots. The spokesperson, Nicholas Jacobs, said he couldn't immediately say when a drawing of the lot would take place.
The race for the fourth LGBTQ write-in candidate, Bradley Gallagher of ANC 1E01 in the city's Park View neighborhood, could not be determined and a special election for that seat will have to be held, according to the Board of Election. The reason, the elections board said, is longtime gay ANC member Kent Boese, who withdrew his candidacy after it was too late to remove his name from the ballot, received the most votes. "As such, there is no winner for this contest" under the city's election law, the Board of Elections said.
Elections board spokesperson Jacobs said a special election for that ANC seat will be called, with Gallagher and others who obtain the required number of ballot petition signatures will be allowed to run in the special election.
Boese withdrew his candidacy after he was nominated and subsequently approved by the D.C. Council to become director of the D.C. Office of Advisory Neighborhood Commissions.
If Gallagher were to win in the special election and should Panfil win the drawing of the lot following the tie vote in his race, the total number of known LGBTQ candidates elected to ANC seats would rise to 40, a record number compared to past ANC elections.
There were 33 known LGBTQ ANC candidates who won election in 2020, which was the first year the Washington Blade kept track of the known LGBTQ ANC candidates who ran and won.
A list of the 35 winning LGBTQ ANC candidates known during the week following the Nov. 8 election can be seen here.