February 6, 2012 at 10:52 pm EST | by Phil Reese
Maryland high school distributes 'ex-gay' flier
Flier On Gay Choice Stirs Controversy: MyFoxDC.com
Students at a Montgomery County high school have received materials from an "ex-gay" organization that promotes the widely discredited theory that sexual orientation is changeable, according to a local D.C. Fox television affiliate.
Fox 5 TV reported students at Einstein High School in Rockville, Md., received the materials along with their report cards during homeroom last week.
The flier publicizes the work of the "ex-gay" organization, known as PFOX (Parents and Friends of Ex-Gays), which claims it "promotes diversity for the ex-gay community." According to their mission statement, the organization asserts "ex-gays demonstrate that those with unwanted same-sex attraction can seek help and information," in order to "transition out of a homosexual identity."
According to district policy, any organization that can prove that it is a non-profit "community entity" can send materials home with students quarterly when report cards are distributed.
According to Fox 5, licensed clinical social worker and Einstein High School parent Karen Yount-Merrell complained to the Montgomery County school district administration after she found the flier among others when her son brought home his quarterly report card.
"I don't like it," Yount-Merrell told Fox 5. "Everything in this flier make it sound like the goal is to be [an] EX-gay, [or an EX]-lesbian. It is not embracing of a different orientation. It reiterates a societal view that there's something 'wrong' with you, if you're not in the norm. If you aren't heterosexual. And teenagers have a hard enough time dealing with who they are and feeling good about themselves."
After Yount-Merrell's complaint, Montgomery County public schools issued a response saying, "the board of education policy allows materials and announcements from non-profit community organizations to be distributed at four designated times during the school year."
PFOX's principles are enumerated at a third-party website called Positive Alternatives To Homosexuality, or PATH, which PFOX's website links to prominently. On the site, PATH declares it has worked with thousands of "ex-gays" who are now living as heterosexuals, concluding, "[w]hatever their individual circumstances and life goals, they have found from personal experience that there are, indeed, positive alternatives that are right for them rather than living a homosexual life."
Wayne Besen, founding executive director of "ex-gay" watchdog group Truth Wins Out, said he's appalled that a school district would allow the PFOX materials to be distributed.
"I follow a lot of these groups, and PFOX is by far the most extreme of all of them," Besen told the Blade. "They're pretending that they're experts when they're just extremists."
He continued, "I think it's always dangerous when you have a group with no credentials to do so handing out junk science to young people telling them there is something wrong with them. I think they're begging for a lawsuit by even allowing this organization near them."
Besen says PFOX was established by a collective of anti-gay groups as a foil to the pro-gay PFLAG, but that the group is inappropriate for the school setting.
"The school district is grossly irresponsible, derelict in its duty to protect students from harm by allowing this organization to distribute these materials," Besen told the Blade. "It's dangerous, reckless and unprofessional and a threat to the students they're supposed to be protecting. These are the people they're going to allow talk to kids?"
PFOX, however, was on the defensive after the controversy erupted, telling Fox 5 that the flier calls for "tolerance."
"If people were to actually read the content of the flier that we're distributing, they will see there is nothing in here that is insulting or even critical of homosexuals," PFOX board member Peter Sprigg told Fox 5. "All it is telling kids [is] that you don't have to be gay if you don't want to be."
Besen says the group may be attempting to sound reasonable, but in his opinion, PFOX is anything but.
"They were started with an $80,000 grant by the Family Research Council as a front group in 1998 …as part of that million dollar 'Truth and Love' campaign by 15 anti-gay organizations," Besen said. "[Their mission is] to try to bully schools into accepting ex-gay literature or even so called ex-gay speakers. They want to portray ex-gays as an official minority that are being persecuted by activists."
Besen said the school district need look no further than one of PFOX's preferred speakers, Richard Cohen, who runs the International Healing Foundation, and promotes 'touch therapy' and therapy that includes beating a pillow with a tennis racket, according to Wayne Besen.
Richard Cohen showcasing some of his techniques on CNN
"What does the school district say about a group whose guru and current main speaker was kicked out of the American Counselors Association, for malpractice — he was expelled for life," Besen said. "I can't imagine any school district official could see a video of Richard Cohen for three seconds and would still distribute that flier. Unfathomable. I challenge any of them to take a look at him and tell me that children are safe in his clutches."
According to Right Wing Watch, PFOX "tells gay youth to "transition out of a homosexual identity" even though the American Medical Association, the American Psychological Association, the American Academy of Pediatrics, the National Association of Social Workers and the American Psychiatric Association all deny the effectiveness, safety and ethics of reparative therapy."
The full flier by the organization has been obtained by Fox 5 and can be found below:
Parents And Friends Of Ex-Gays Flyer to Einstein High School Students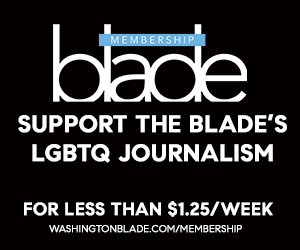 Sign Up for Blade eBlasts