Anti-violence activists to launch independent hate crime reporting project
Project will allow hate crime victims to report assaults to community organizations without going through the MPD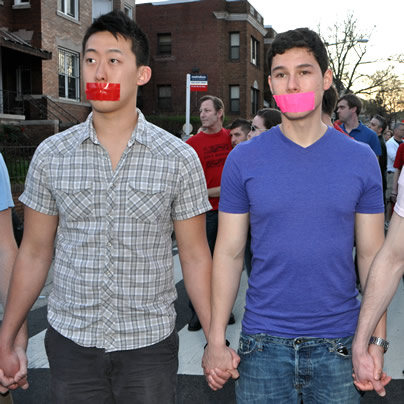 Anti-violence activists have begun to lay the groundwork for a project they maintain will provide a more accurate count of the number of anti-LGBT hate crimes and incidents of domestic violence among same-sex couples in Washington, D.C.
The initiative would allow victims to report attacks to service providers without going through the Metropolitan Police Department. Gays and Lesbians Opposing Violence, the D.C. Trans Coalition, the Rainbow Response Coalition and other member groups would enter information about crime victims, the location in which their assailants attacked them and other demographic information into a database.
GLOV Vice Chair Hassan Naveed told the Blade that the project remains in the preliminary planning stages. Rainbow Response Coalition Treasurer Paul Ashton said that the coalition hopes to send its initial data to the National Coalition of Anti-Violence Programs at the end of the year. NCAVP would then use it in its 2012 report that it will release in 2013.
This would mark the first time that the agency would include District-specific data on LGBT bias-motivated crimes and domestic violence among same-sex couples in its annual publication.
"We can actually capture in our community what it looks like and determine who is a survivor of a hate crime, who is a survivor of intimate-partner violence," said Ashton. "It really gives us the legs to advocate for policy changes as well as money to ensure service providers are trained properly to handle hate crimes and domestic violence cases in our community."
MPD statistics show that there were 12 reported bias-related crimes based on sexual orientation from January through April, compared to two that were based on gender identity and expression.
The agency indicated that there were 43 reported bias-related crimes based on sexual orientation in 2011, compared to 35 in 2010 and 30 in 2009. MPD statistics show that there were 11 bias-related crimes based on gender identity and expression in the District in 2011, compared to 10 in 2010 and five in 2009.
Naveed was quick to applaud what he described as MPD's improved outreach to immigrants and LGBT Washingtonians. He said he always encourages victims to report hate crimes to the police, but he stressed that many victims of anti-LGBT bias attacks remain afraid to come forward to the police because of their immigration status or previous experiences with law enforcement.
Naveed further stressed that the MPD officers who refused to take a report of an anti-gay attack against five lesbians outside the Columbia Heights Metro station last July and other high-profile incidents can dissuade victims of anti-LGBT bias crimes from going to the police.
"We want to create a process accessible to people who can go and report hate crimes to service providers in the city," said Naveed. "GLOV's efforts are to get a bigger picture of hate crimes in the city through these statistics. This would be an accessible way for the LGBT community to be able to report these hate crimes in a comfortable setting."
MPD spokesperson Gwendolyn Crump responded to the reporting initiative late on Tuesday.
"We welcome input from community organizations, which can be a valuable source for information about people who have not reported information to the police," she told the Blade. "However, it must be understood that Department figures are based on reported incidents that meet legal definitions of both a crime and a crime that was specifically motivated by a legally defined bias.  More importantly, we would caution that we cannot help victims or protect the community if people do not make a report to the police.  We urge anyone who has been a victim of crime or a hate crime to report it to police. Individuals who believe they have been the victim of a hate crime can contact police in a number of ways, including calling 911, reaching out to the relevant liaison office or an officer working in their neighborhood, or leaving a message on the Hate Crime Hotline."
D.C. ends funding for Casa Ruby LGBTQ homeless shelter
Group scrambles to raise private donations to prevent Oct. 1 shutdown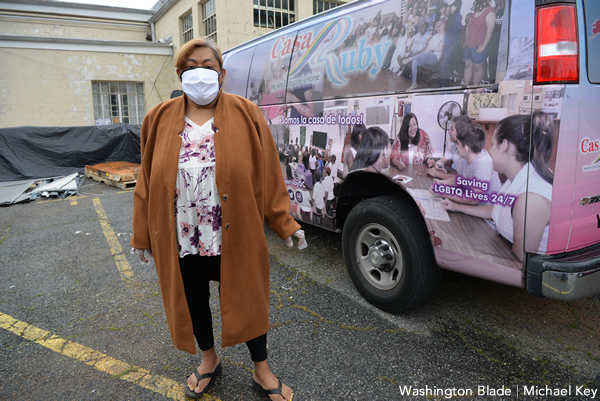 The D.C. Department of Human Services on Sept. 24 informed the LGBTQ community services center Casa Ruby that it will not renew its annual $850,000 grant that, among other things, funds Casa Ruby's emergency "low-barrier" shelter for homeless LGBTQ youth and adults.
Casa Ruby founder and CEO Ruby Corado said DHS informed her of its decision to discontinue the grant less than a week before the end of the current fiscal year when the funding is set to expire, which could result in the shutdown of the shelter on Oct. 1.
Corado has since launched a GoFundMe appeal seeking help from the community so that the 50-bed shelter and 24-hour drop-in space located at the Casa Ruby headquarters at 7530 Georgia Ave., N.W. might continue to serve LGBTQ people in need of emergency housing.
"After 9 years of serving thousands of homeless LGBTQ youth & adults, we are forced to close the doors to our most important program @Casa Ruby (Our Low Barrier Housing) on October 1st, 2021," Corado states in her GoFundMe appeal.
"This is also a terrible loss of 30 jobs that will impact the lives of Trans & Gender Non-Binary & other employees who now may face homelessness themselves – A HORRIBLE TRAGEDY," the GoFundMe appeal states.
Corado told the Washington Blade on Monday that she and the Casa Ruby staff were hopeful but uncertain whether emergency contributions from members of the community might be able to prevent a complete shutdown of the shelter.
"We appreciate the work that Casa Ruby has done to serve homeless youth in the District of Columbia," said DHS Interim Deputy Administrator Sheila Strain Clark in a Sept. 24 letter informing Corado of the decision to discontinue the funding.
"Under Article VI. A. of Grant Agreement #DHS-FSA-HYRA-006-18 LGBTQ Homeless Youth Low-Barrier Beds (Grant Agreement), DHS at its discretion, and subject to the availability of funding, may extend the Grant Agreement for additional terms," Strain Clark says in her letter. "At this time, DHS has decided not to extend the Grant Agreement for Fiscal Year (FY) 2022," she wrote.
Strain Clark didn't provide a specific reason for the DHS decision to discontinue the funds in her letter to Corado. In response to a request from the Blade for the reason why the grant was terminated, a DHS spokesperson sent the Blade a statement from DHS Director Laura Zeilinger commenting on the DHS decision, but that also did not provide a specific reason for the funding cutoff.
"DHS is committed to the safety and well-being of youth, including LGBTQ+ youth, who we know disproportionately experience homelessness," Zeilinger says in the statement. "We are not decreasing funding for LGBTQ+ youth services which will continue to be offered through the Continuum of Care," the statement says.
"Covenant House Washington and True Colors will now provide LGBTQ+ specific services for youth in the Deanwood community of Ward 7. These are new services in this community," the statement continues.
"Grant renewal decisions are based on ensuring accountability and continuity of quality services and the safety of our residents," the statement says. "We value the community organizations who deliver these services and honor the contribution of Casa Ruby."
The decision by DHS to discontinue the Casa Ruby homeless shelter grant came just under six months after Casa Ruby filed an administrative complaint against DHS, charging the D.C. government agency with ignoring and failing to stop one of its high-level officials from allegedly engaging in anti-transgender discrimination and retaliation against Casa Ruby.
The six-page complaint, which was prepared by Casa Ruby's attorneys and signed by Corado, says the DHS official in question, whose name is redacted from the publicly released copy of the complaint, had acted in an abusive and discriminatory way toward Corado and other Casa Ruby employees. It says the targeted employees were overseeing three DHS grants awarded to Casa Ruby that funded shelters providing emergency housing for homeless LGBTQ people.
DHS has declined to comment on the complaint, saying it was investigating its allegation.
Corado told the Blade at the time Casa Ruby announced it had filed the complaint that the DHS official named in the complaint appeared to be retaliating against Casa Ruby, among other reasons, for a decision by Corado to decline a request by DHS that Casa Ruby move its main homeless shelter to a site on Division Avenue in Northeast D.C. Corado said she believed the location would be unsafe for Casa Ruby's transgender clients.
Corado points out that the location to which the DHS official wanted the Casa Ruby shelter to move was near the site on Division Avenue where transgender woman Deeniquia "Dee Dee" Dodds, 22, was shot to death during a July 4, 2006, armed robbery in which D.C. police said a group of male suspects were targeting transgender women.
Corado said that as of Tuesday, members of the community and supporters had contributed about $75,000 through the GoFundMe appeal, raising hope that an immediate shutdown of the shelter could be averted.
Comings & Goings
Umana named associate with Gustafson Guthrie Nichol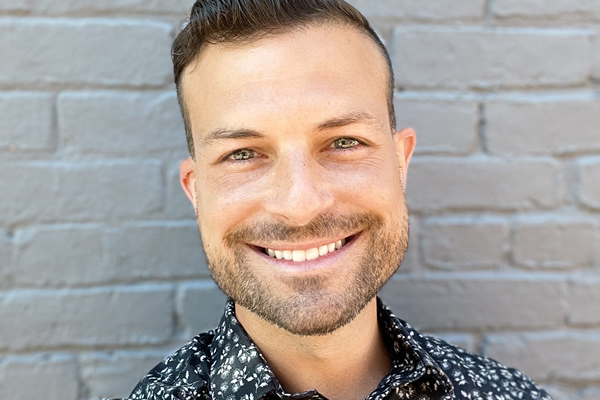 The Comings & Goings column is about sharing the professional successes of our community. We want to recognize those landing new jobs, new clients for their business, joining boards of organizations and other achievements. Please share your successes with us at: [email protected]. 
Congratulations to Wolfgang Umana on being named an associate with Gustafson Guthrie Nichol (GGN). He has been with them for more than five years and is currently its D.C. studio's office manager.
"I am honored to become GGN's newest Associate," Umana said. "I have the glorious privilege of supporting GGN's continuing dedication to progress, inclusion, social justice, sustainability, and beautification of the world we live in."
Umana also works with NBR Computer Consulting as an LLC Computer Technician consultant. He has experience in social media, communications, outreach, and technical services, and provides a dynamic approach to the fast-changing world of technology. NBR Computer Consulting, LLC is a gay-owned business. 
Umana has also served as D.C. Army National Guard Director of Environmental Affairs and with EMS Consultation Services.
He has his bachelor's in Environmental Science & Public Policy, Human and Ecosystem Response to Climate Change, from George Mason University.
Capital Pride bids for D.C. to host World Pride 2025
International event draws thousands of visitors
The Capital Pride Alliance, the group that organizes D.C.'s annual LGBTQ Pride events, announced on Sept. 21 that it has submitted a bid to host 2025 World Pride, the international Pride event that draws thousands of participants from throughout the world to the host city.
The announcement by Capital Pride says its bid to host the event in D.C. notes that the event, among other things, would commemorate the 50th anniversary of D.C.'s first LGBTQ Pride event in 1975, which began as a block party near Dupont Circle.
World Pride is licensed and administered by the international LGBTQ organization InterPride. The World Pride events themselves, which usually take place every other year, are organized by InterPride's member organizations such as Capital Pride Alliance.
The Capital Pride announcement notes that World Pride "promotes visibility and awareness of lesbian, gay, bisexual, transgender, intersex and queer (LGBTIQ+) issues on a global level." The announcement adds, "World Pride events include parades, marches, festivals and other cultural activities often enjoyed at Pride celebrations, along with other components such as a human rights conference and large-scale opening and closing ceremonies."
The InterPride website says the deadline for submitting a bid for the 2025 World Pride has passed. It says D.C.'s Capital Pride and Kaohsiung Pride, located in the large Taiwan port city of Kaohsiung, are the only two remaining cities in competition for hosting the 2025 World Pride.
Ryan Bos, Capital Pride's executive director, said InterPride was expected to make its decision on which of the two cities to select sometime in November of this year.
"A recent study conducted by Booz Allen Hamilton revealed that the annual Capital Pride Celebrations, during normal years, result in approximately $371 million in positive economic impacts to the region, a number that may be doubled if the organization is awarded the prestigious event," the Capital Pride statement says.
The 2021 World Pride took place earlier this year in Copenhagen, Denmark. The 2019 World Pride was held in New York City to commemorate the 50th anniversary of New York's Stonewall riots, which many activists consider the start of the modern LGBTQ rights movement.
InterPride says the 2023 World Pride will take place in Sydney, Australia.