Gays prominent at Amy Grant's Nashville weekend
Gathering reminds how much is missing of singer's touring history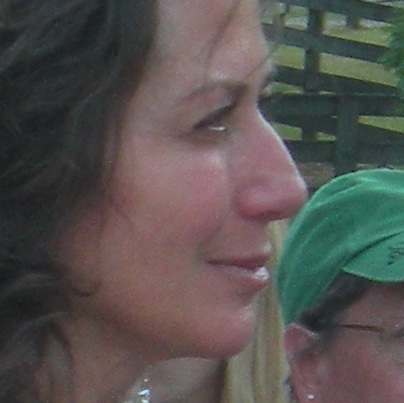 Weekend before last, a friend and I made a road trip to Nashville to spend a weekend with Amy Grant and 550 of her nearest and dearest. It was a great weekend — $50,000 was raised for various charities Grant supports, the music performed (almost all requests) was a long-time fan's dream come true and the Gospel Music Hall of Famer and six-time Grammy winner was as accessible and approachable as was realistically possible considering those attending were among the all-time die hards, a few of whom had vulture-like tendencies everytime Grant appeared.
That gays — and at least one lesbian couple and one trans woman — were among the group was hardly surprising. We've been among the most vocal in her fan circles for years. Most non-church folks remember Grant only for a few early '90s hits ("Baby Baby," "Every Heartbeat"). Though her catalog has aged well, she's not deemed terribly high on the hip quotient. Even one of the charity recipients said, "Amy Grant — isn't she Vince Gill's wife?"
But for a generation of gay men who grew up in Baptist and Evangelical churches in the '80s, Grant was so much more than that and, no exaggeration, a lifeline. Contemporary Christian Music had its own parallel universe divas — Sandi Patty, Twila Paris, Margaret Becker, et. al. — and Grant, who in many ways had and maintains a very non-diva-esque persona, was queen of the lot. But that's just one of the ironies of Grant's career — she also stumbled into the music biz without really trying, has always been upfront about her modest pipes (she's really a better songwriter than singer) and, despite a bounty of RIAA Platinum albums, never fully fit in in either the gospel or pop establishments.
Those of us in fan circles have discussed ad nauseum Grant's public handling of her gay fans (or lack thereof). She's warm, friendly, gamely poses for photos with male couples, etc., but is careful never to state her personal feelings one way or the other. One understands to a degree — she's in a no-win situation. As was obvious from the attendees last weekend, most of Grant's fans are Gen. X and post-Boomer soccer moms from the Bible belt. We all seem to mix pretty well. I hope they feel the same. But Grant would alienate a large part of her fan base if she were to come out one way or the other on her feelings of the Bible and homosexuality. There's a clamoring among gay fans, of course, for her to be more unequivocal. Nobody's expecting Lady Gaga-caliber activism, but heck, even the late Tammy Faye Bakker Messner was more openly gay accepting than Grant. Perhaps, though, having lost everything already, Tammy Faye had nothing left to lose (Tammy Faye even joined us at Capital Pride about 10 years ago …. Ahhhh, Tammy Faye, how I miss thee).
Grant does occasionally take risks — it will undoubtedly seem like a non-issue to many, but monogrammed bottles of Jack Daniels with Amy Grant nameplates were sold for $100 a pop at her farm, which she opened to guests on June 23. It all went to charity but the irony was delicious — I'm old enough to recall the outraged reactions in the '80s when Grant said in an early interview that she occasionally imbibed. Folks at my parents' church were apoplectic.
It's never been a big deal to me, either the booze or the gay stuff. Some fans, so eager to glean the slightest glimmer of acceptance (are we really that desperate for validation?), latched on to an off-the-cuff remark she made during the weekend when a guest southern gospel singer, telling a story about a drag queen who'd parodied his wife, said his group had a large gay following (Grant acknowledged she did as well).
The draws for me have always been Grant's music and personality. There's a freshness, a buoyancy, to her music that, though it sounds stylistically dated, never really goes away. It goes back to the first album — lyrics and energetic Brown Bannister production around lines like, "The sun woke me up real early it's a beautiful morn/so I'm goin' down to the river to be reborn" still resonate 35 years after they were put down on wax. My parents, both products of stodgy, old school mainline and Roman Catholic versions of Christianity, had early-'70s born again experiences and for them and their fellow Boomers, there was a parallel Jesus music/born again fever sweeping the country the same time Stonewall and the modern gay rights movement was kicking off. This is no coincidence — hippie ideals weren't sustainable, of course, but what they did bring us was a shucking off of the '50s mindset on all kinds of issues. In terms of gay stuff, faith, and a whole lot more, this was not your parents' (my grandparents') America. Grant got in on sort of the tail end of that but shot off into the stratosphere in the early '80s. By then, things had calmed down and she became the voice of a churchgoing, Bible Belt generation with songs like "El Shaddai," "Sing Your Praise to the Lord" and "Thy Word."
Bored eventually with straight-up gospel, she gradually started flirting with pop music and following a hit No. 1 duet with Peter Cetera in '87 ("Next Time I Fall"), she had a full-on hit pop album of her own by 1991 ("Heart in Motion"). But she never fully went one way or the other. At the point in which an all-out pop album would have made the most sense — just following the Cetera hit — she went the other direction and made an impressionistic gospel album, "Lead Me On." Its singles tanked on pop radio but it went onto become her critical peak and has been called (by CCM magazine, et. al.) the best gospel album of all time. Likewise, when "Heart in Motion" was going through the roof a few years later, Grant was careful to let people know she hadn't sold out as she was so often accused of doing by the hardliners (she gets bonus points, in my opinion, for having been condemned by Jimmy Swaggart). The album closes with the all-out praise song "Hope Set High" ("if there's anything good that happens in life, it's from Jesus"), a song she memorably performed last weekend.
So were the young gays of the era, hopelessly stranded in the Bible Belt with no hope of escape until college, just latching on to the closest thing we could get to a lighthouse in Grant? Not really — it's deeper than that. I and many I know were also listening to Madonna, Janet Jackson, Cyndi Lauper and Tina Turner (we all figured "Private Dancer" was her first album) back then too, even if we had to sneak their tapes into the house. It's hard to know if Grant meant any of this intentionally or if it was her own way of sneaking in some stuff past the gatekeepers, but there are glimmers of gay hope dotted all throughout her discography from as early as 1980 when she sang the lyrics her then-husband, Gary Chapman, had written ("all I ever have to be is what you made me/any more or less would be a step out of your plan") to her own lyrics just a year later ("being this person inside of me/unafraid of being me/no more faces to hide behind …/even if I am the only one who wants to fly") and even much later, with the 2003 song "Out in the Open" ("there is no jury, there is no judge/ready and waiting are the steady arms of love"). If it all sounds vague or like searching for something that's not there, keep in mind, more often than not, Grant was nearly as subtle with her Christian references. It seems laughable now, but people used to parse her lyric sheets and balk at how few references there were to Jesus and/or God anytime she had a new album out, noting how increasingly infrequent they were becoming.
I don't particularly care what Grant's personal views are on homosexuality. Sure, it would be great if she would at least take the Dolly Parton approach to embracing/acknowledging us. Lord knows we need all the help we can get on the LGBT rights front where each step ahead feels like pulling teeth. But conversely, what does it say about us as fans if we need some sort of acknowledgement from our favorite singers? I do get it — when you've invested emotionally and financially in a singer/brand who's meant so much to you, especially during the raw, painful formative years (and let me tell you, it's lonely being the only gay fish in an evangelical, Bible Belt pond when you're 13), it means a lot to know those you admire are on board. But as adults, ultimately that need for validation says more about our own desperation than anything it might suggest about Grant. For the record, Sandi Patty, perhaps my other all-time favorite singer, is just as evasive. There are quietly gay people in her camp and she once told a group of gay fans who hosted a tribute post-show event for her in New York that she was "feeling the love," but she, too, stops short of any condoning type-of statement. They'll both talk to any small-town newspaper in which they happen to have an upcoming show, yet my Blade interview requests go curiously unacknowledged. Perhaps they feel they've already rocked their Christian fan bases enough having spent the last 10-15 years rebuilding after each going through controversial divorces (Sandi's first husband, John Helvering, and Amy's, Gary Chapman, were huge parts of their touring entourages in the '80s; John ran sound for Sandi; Gary was Amy's band director on several of her biggest tours).
My ultimate frustration with loving these singers falls into a whole other category entirely — to my endless chagrin, whole chapters of their touring history are missing in action. Sure, I love mainstream pop and rock too, but if you're a Stevie Nicks fan or, merciful heavens, a Tori Amos fan, and you're willing to look in some, ahem, unofficial places, you can find audio circulating of practically every show they've ever done. Same with the Stones, Bob Dylan, Springsteen — all the big dogs you'd expect. Other acts, like Pearl Jam, have recognized the insatiable appetites of their staunchest legions, and have released "official" bootlegs, manna from heaven for those who've worn out the studio recordings and spent many hard-earned dollars following them around. Even Cyndi Lauper, who traditionally has varied up her live show way more than, say Madonna or Janet, has a surprisingly rich bevy of fan-generated recordings out there. Different artists have different feelings on this sort of thing (the Grateful Dead famously encouraged it), but the sticking point for many is that it's OK as long as you don't attempt to profit off it.
Amy and Sandi both fall into that category — Sandi didn't even bat an eye when people plunked down camcorders on mini-tripods at a Nashville event she hosted last year — and yet huge swaths of their concert-giving history are unaccounted for. And I'm not talking about obscure stuff, either — tours like Amy's "Heart in Motion Tour" and Sandi's "Another Time Another Place Tour" were mammoth operations playing arenas for months on end all around the country 20 years ago. On one hand, it's not terribly shocking — these are not singers, historically, with wildly inventive bands who shook up their set lists drastically from night to night. However, when 25 years has gone by and you can't even find a complete set list and no official live album or VHS concert tape was ever released, this brings its own level of frustration. These people have spent half their lives on the road, yet there's precious little evidence that they've even left their living rooms.
Just for the record, my holy grails in this vein are — Sandi: anything pre-'83, the '84-'85 "From the Heart Tour" (her first cross-country jaunt), the '91-'92 "Another Time Another Place Tour" or the '98 "Artist of My Soul"-era dates. For Amy: always wondered how complete the "Age to Age" concert video is — at 90 minutes including Gary's set, one imagines a few numbers might have ended up on the cutting room floor. Only a handful of individual numbers have ever surfaced from the 18-month-long "Unguarded Tour" — surely somebody taped this at least one night (soundboard tapes were reportedly made each night but have never surfaced in fan circles). Also curiously missing from trading circles is her biggest tour ever — the "Heart in Motion Tour." Audio has been known to exist, but nobody I've ever talked to claims to have it. I'm totally down for a no-profit swap if anybody has any of this stuff.
If there's an upside to all this, it's that Amy and Sandi are still out there and active. Patty records regularly and has released an album almost every year of the last decade. Grant only records here and there (she's reportedly working on a new album), but she tours almost constantly. It's a blessing I don't take for granted as a few of my other favorites from the era — Paris and Becker — have, with precious few exceptions, completely stopped recording and touring.
Time to move on and get a life? Yeah, probably, but isn't it uncanny how deep the nerve is that takes you back to the first music you ever discovered on your own? For me, it defies explanation. And so the quest/obsession continues. I'm even — don't laugh — planning to check out a D.C. Women of Faith conference in August. Ordinarily I'd rather sit home and watch paint dry (I've left much of that theology long behind), but — holy of holies — Amy and Sandi are BOTH scheduled to be there!
Must-attend D.C. Pride events for 2023
Don't miss out on these fun events during D.C. Pride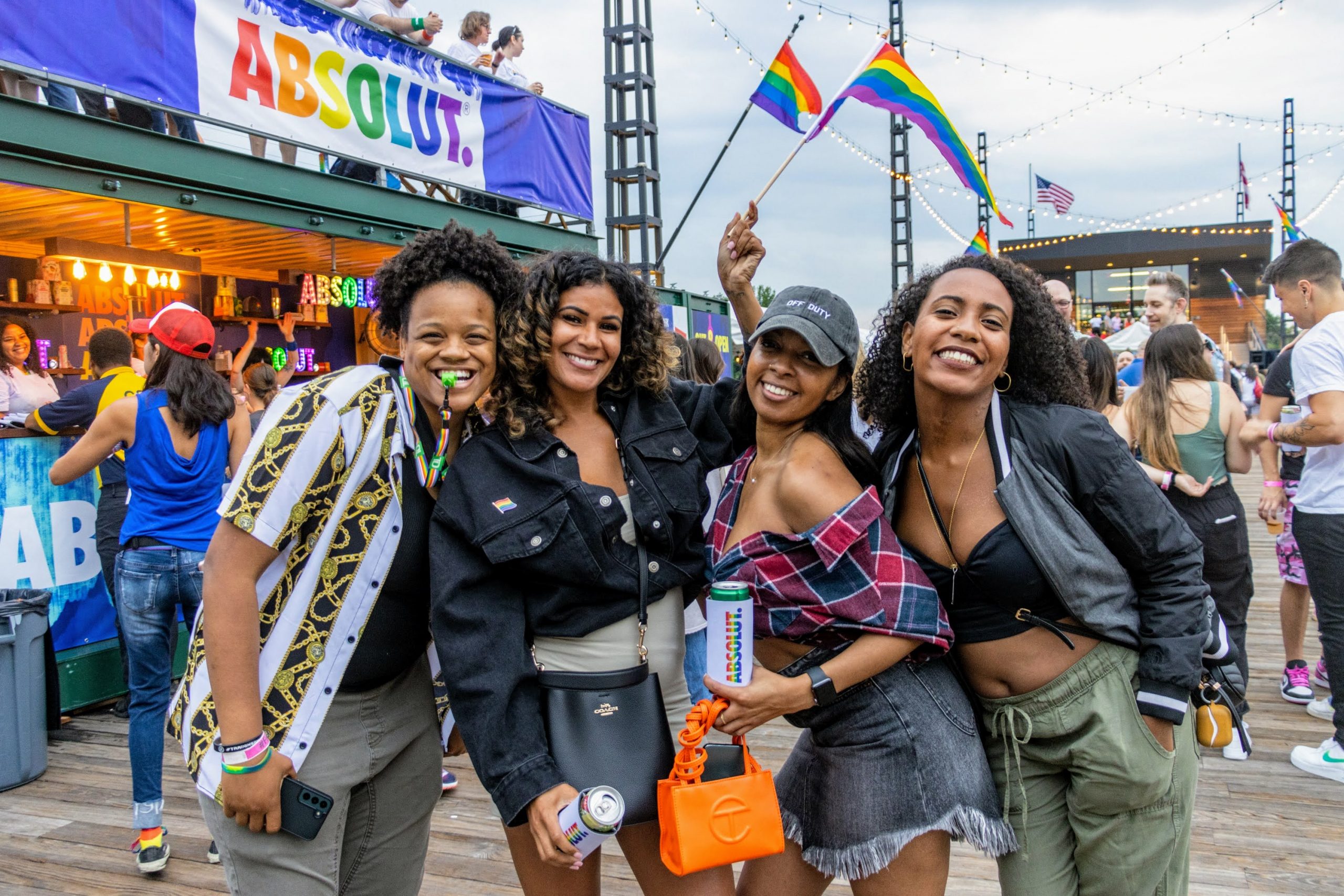 Pride Month has arrived, bringing along a vibrant array of events to explore throughout the month of June. Don't miss out on the opportunity to participate in our favorite events over the upcoming weeks!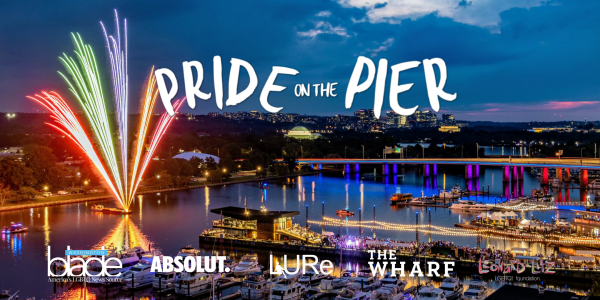 PRIDE ON THE PIER & FIREWORKS | JUNE 10TH

The Washington Blade, in partnership with LURe DC and The Wharf, is excited to announce the 4th annual Pride on the Pier and Fireworks show during DC Pride weekend on Saturday, June 10, 2023, from 2-9 p.m.
The event will include the annual Pride on the Pier Fireworks Show presented by the Leonard-Litz Foundation at 9 p.m.
3PM: Drag Show
4PM: Capital Pride Parade Viewing on the Big Screen
9PM: Fireworks Show presented by the Leonard-Litz Foundation
---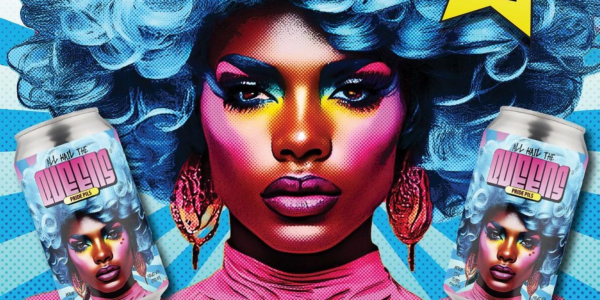 PRIDE PILS LAUNCH PARTY | JUNE 1ST

Once again we're celebrating Pride in DC with the release of Pride Pils!
The 2023 design has been created and donated by the talented Chord Bezerra of District CO/OP.
Attendance is "FREE" but please RSVP via this Eventbrite or donating at the event to further support our non-profit partners SMYAL and The Blade Foundation. 100% will be donated. As always, DC Brau and Red Bear Brewing Co. will be donating all profit from the sale of this year's Pride Pils to our non-profit partners.
---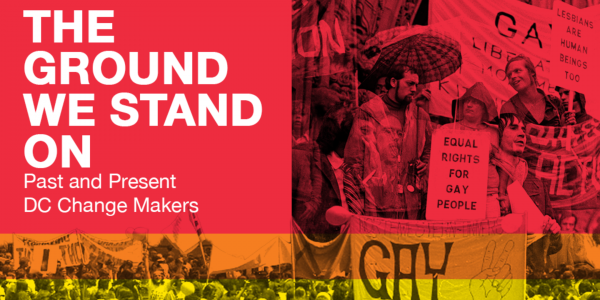 'THE GROUND WE STAND ON' OPENING RECEPTION | JUNE 2ND
Dupont Underground, in partnership with the Washington Blade presents The Ground We Stand On: Past and Present DC LGBTQ Changemakers. DC's vibrant LGBTQ+ community stands as a testament to the unwavering spirit of countless individuals throughout the years. In recognition of their indomitable courage and resilience, an inspiring exhibition titled "The Ground We Stand On: Past and Present DC LGBTQ Changemakers" will showcase the remarkable journeys of both past and present changemakers who have left an indelible mark on the tapestry of Washington, DC. The exhibit underscores the enduring legacy of these remarkable individuals, serving as an inspiration for present and future generations. By shining a light on their remarkable contributions, this exhibition aims to empower and encourage the continuous evolution of the DC LGBTQ+ community and its influence that transcends boundaries.
---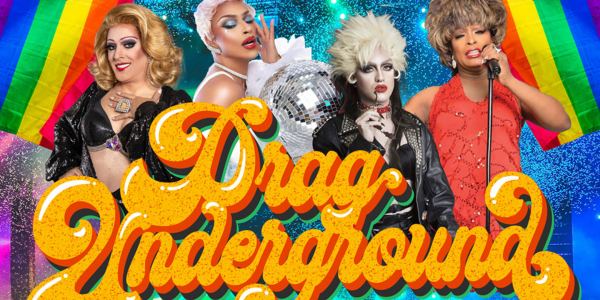 DRAG UNDERGROUND | JUNE 2ND

Join Dupont Underground and the Washington Blade every Friday for Drag Underground. Featuring some of the best Drag Queens in DC!
Performers include Destiny B Childs, Elecktra Gee, Jane Saw, and Shi-Queeta Lee
---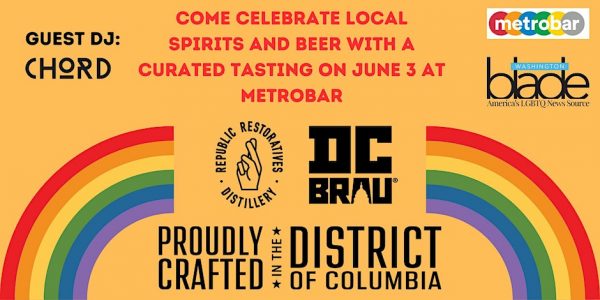 SPIRTS & BEER SHOWCASE | JUNE 3RD
metrobar prides itself on serving locally-produced beer, wine and spirits. As part of this mission, we are hosting a curated tasting event featuring Civic Vodka & Assembly Gin from local, woman-owned and operated distillery, Republic Restoratives. We will also have a selection of beers from DC Brau, including their annual Pride Pils for tasting.
---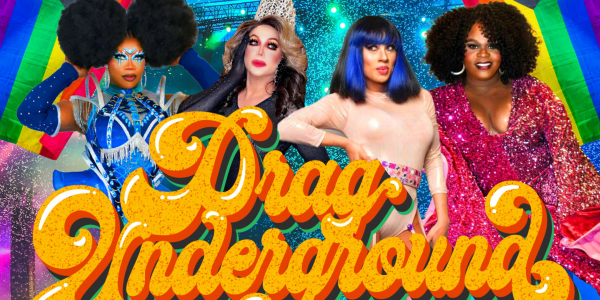 DRAG UNDERGROUND | JUNE 9TH
Join Dupont Underground and the Washington Blade every Friday for Drag Underground. Featuring some of the best Drag Queens in DC!
Performers include Cake Pop, GiGI Paris Couture, Kabuki Bukkake, Delila B. Lee
Washington Blade, Dupont Underground spotlight D.C. LGBTQ Changemakers with new exhibit
'The Ground We Stand On' highlights 25 queer pioneers during Pride month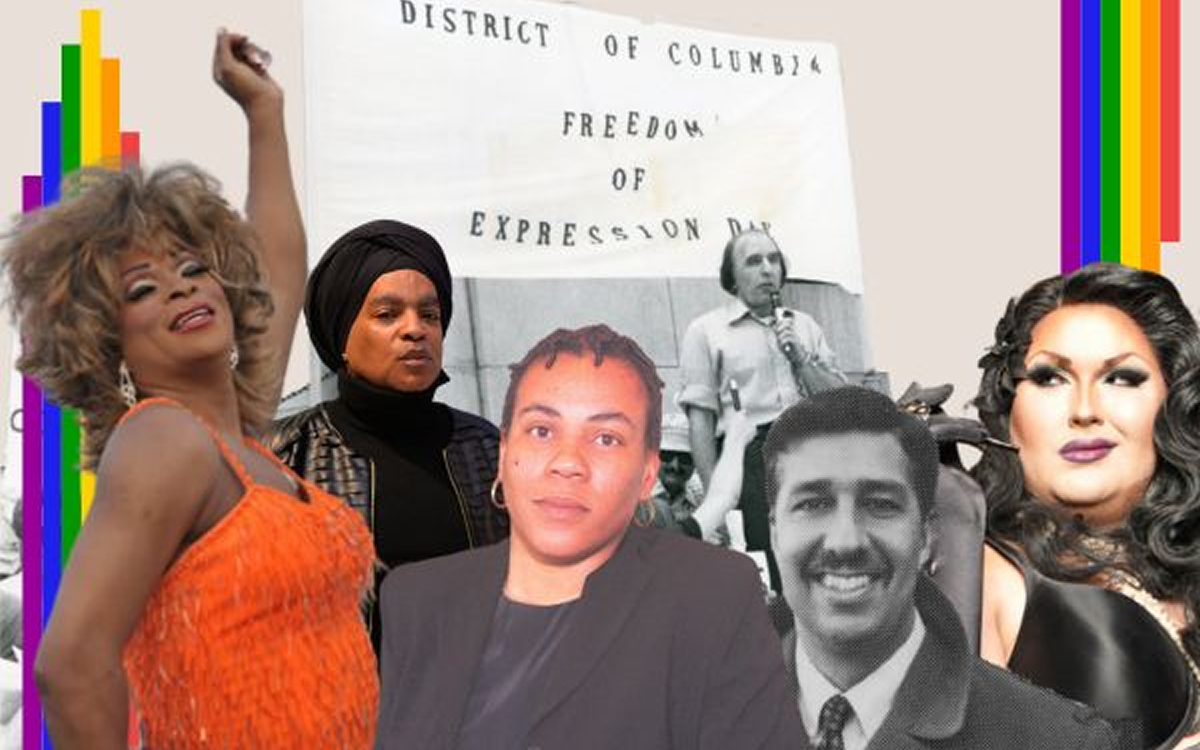 The Washington Blade and Dupont Underground present "The Ground We Stand On: Past and Present DC LGBTQ Changemakers," a new exhibit that highlights D.C. LGBTQ pioneers.
The exhibit, featuring 25 changemakers will be on view beginning Friday, June 2, through Sunday, June 25.
The inspiring exhibition will showcase the remarkable journeys of both past and present changemakers who have left an indelible mark on the tapestry of Washington, D.C. The exhibit underscores the enduring legacy of these remarkable individuals, serving as an inspiration for present and future generations.
The exhibition opens on June 2 at 5 p.m., where all the living honorees will be present for the opening reception, followed by Drag Underground starting at 8:30 p.m., featuring some of the best Drag Queens in DC such as Shi-Queeta Lee, Cake Pop, Jane Saw, and Destiny B Childs.
"By shining a light on their remarkable contributions, this exhibition aims to empower and encourage the continuous evolution of the D.C. LGBTQ+ community and its influence that transcends boundaries," said Stephen Rutgers, director of Sales and Marketing for the Washington Blade.
"We are thrilled to highlight so many living changemakers who will visit us for opening night, and to honor the memories and work of those changemakers who are no longer with us," said Ana Harvey, Dupont Underground CEO.
For more information about Dupont Underground, visit www.dupontunderground.org.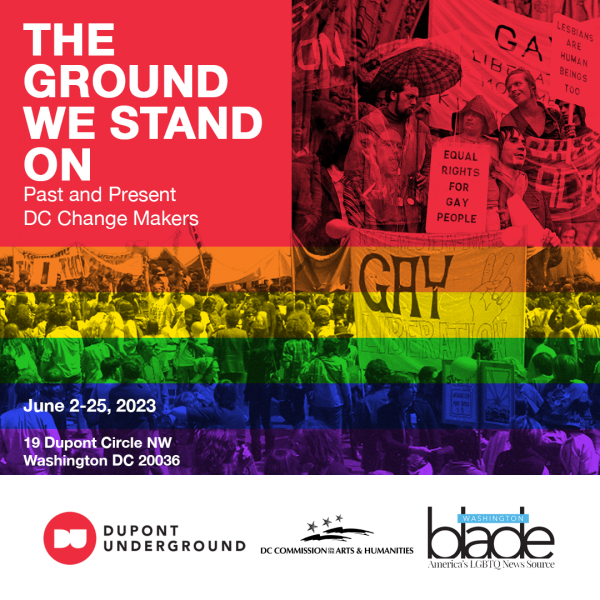 PHOTOS: Pride in the Park
Us Helping Us holds annual DC Black Pride event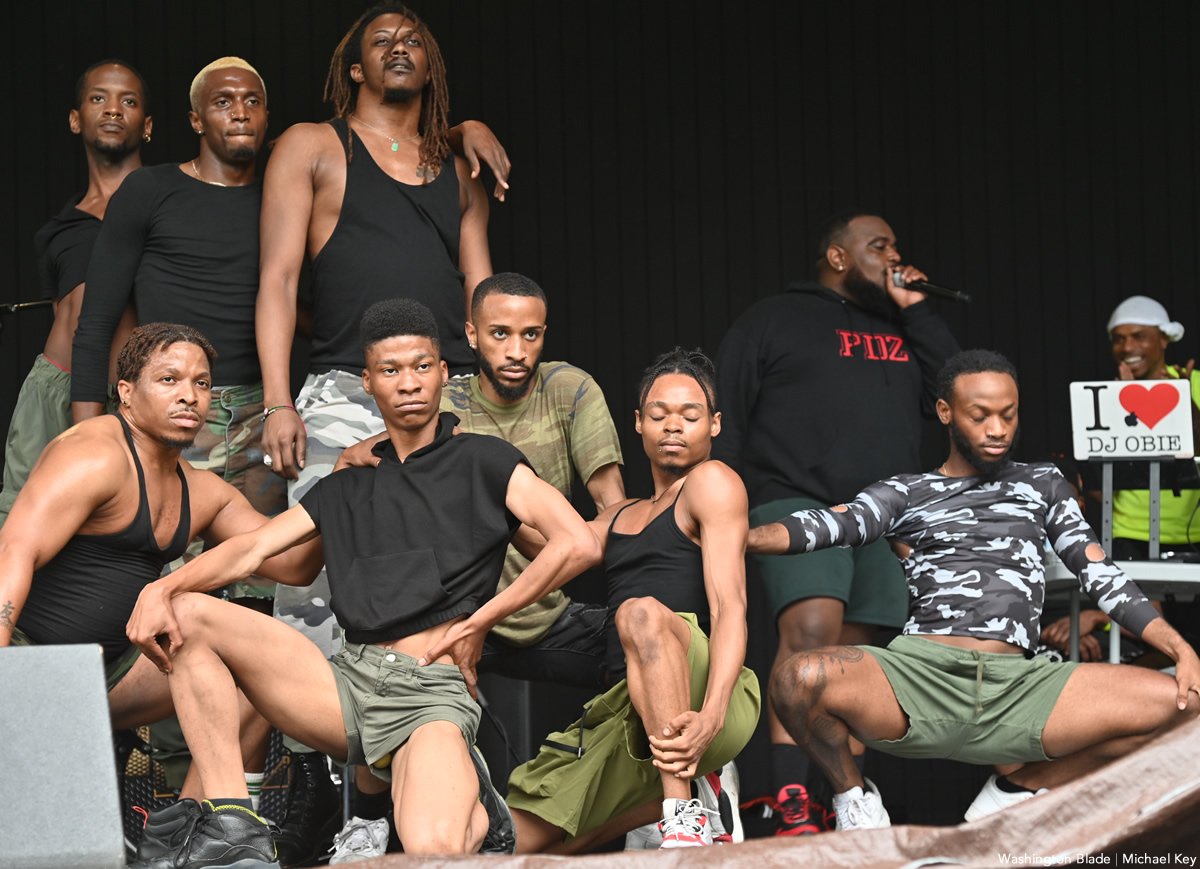 Us Helping Us and DC Black Pride held the annual Pride in the Park at Fort Dupont Park on Monday, May 29.
(Washington Blade photos by Michael Key)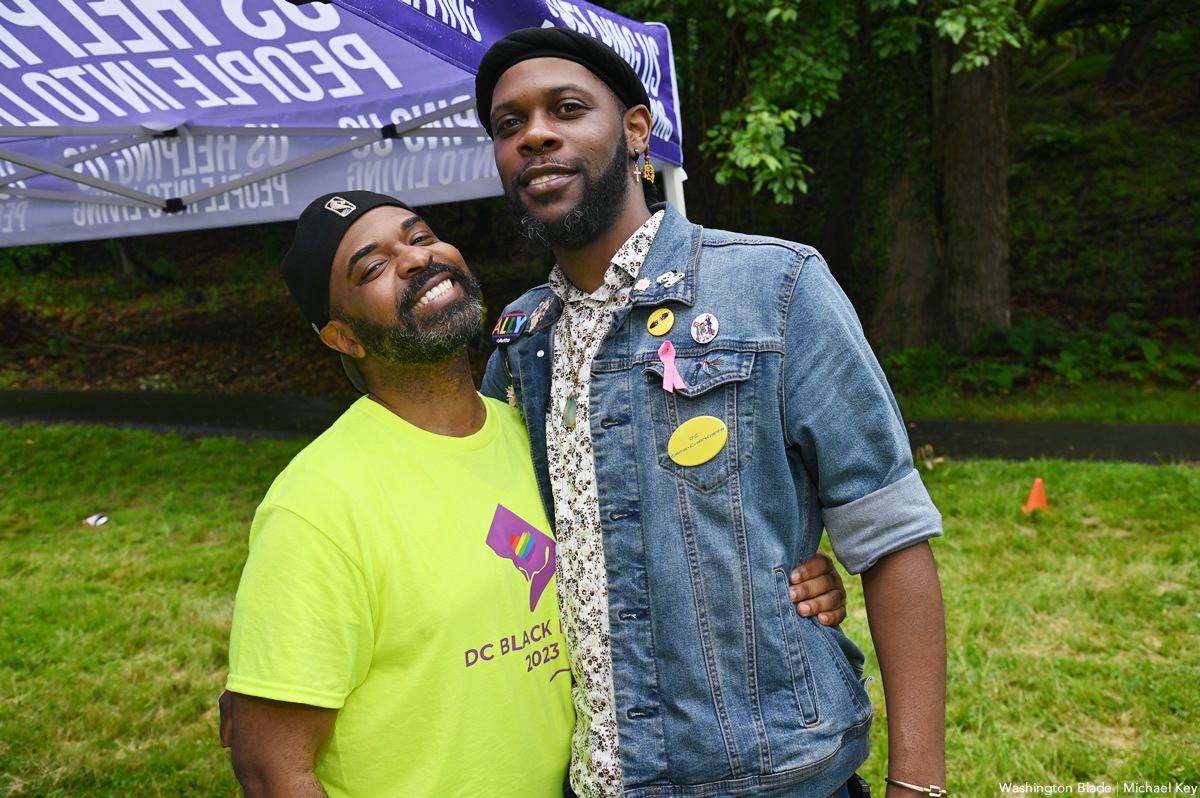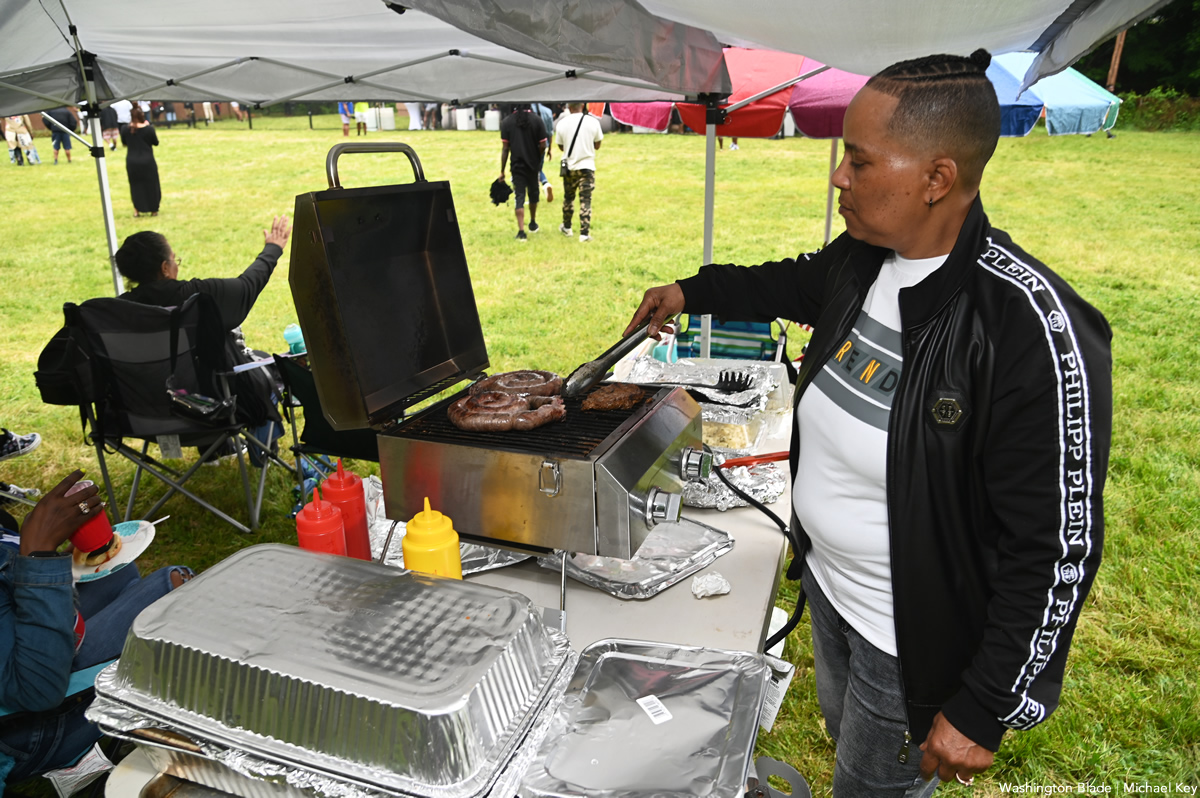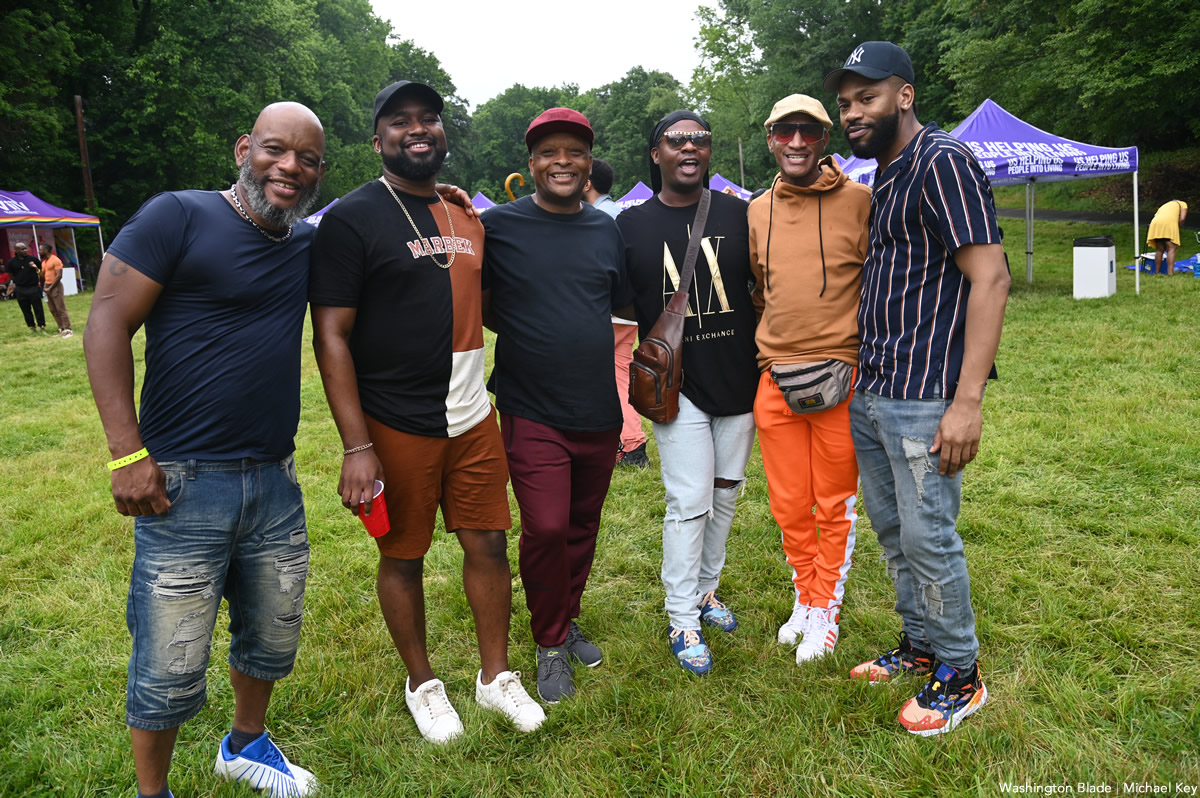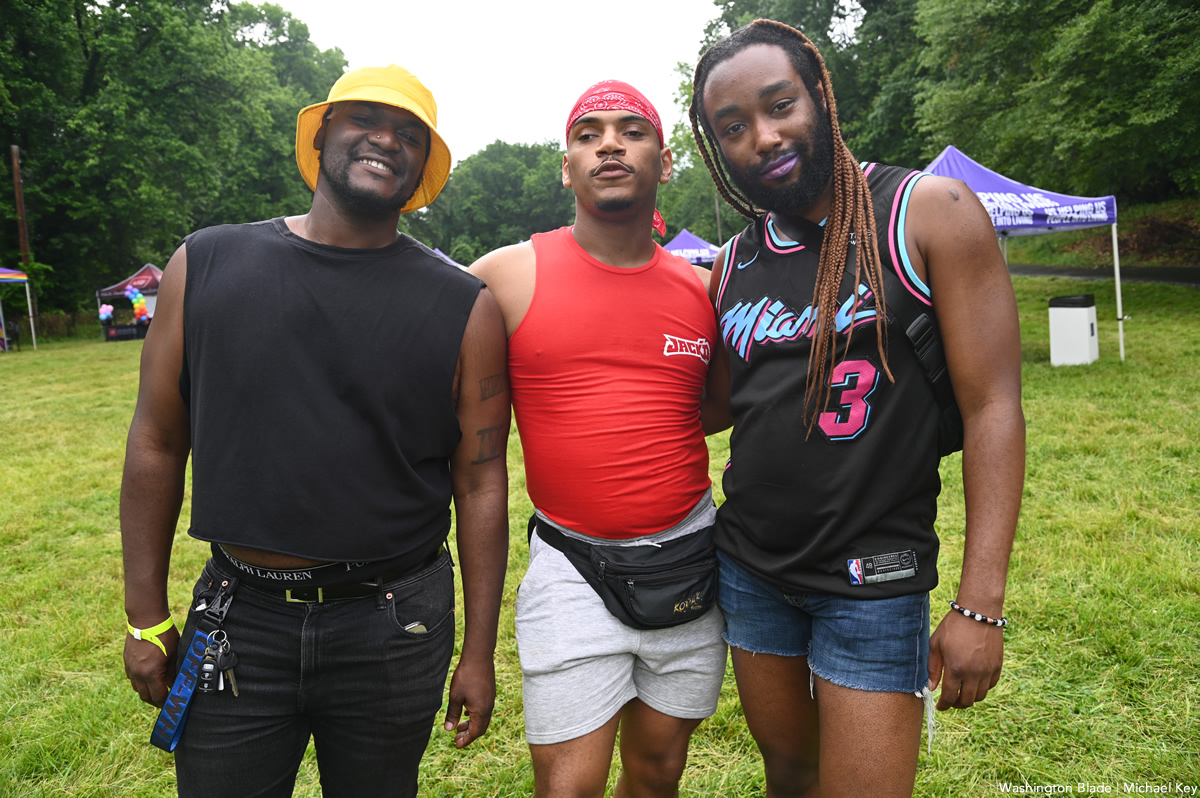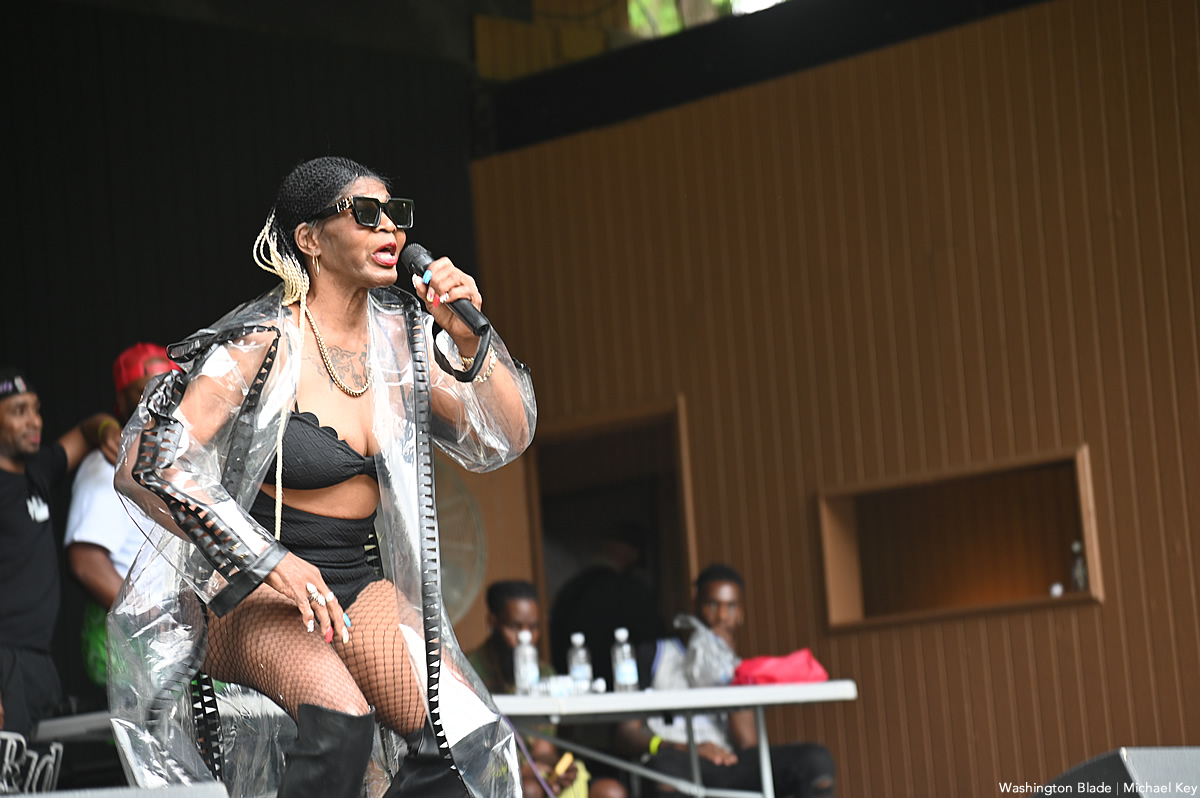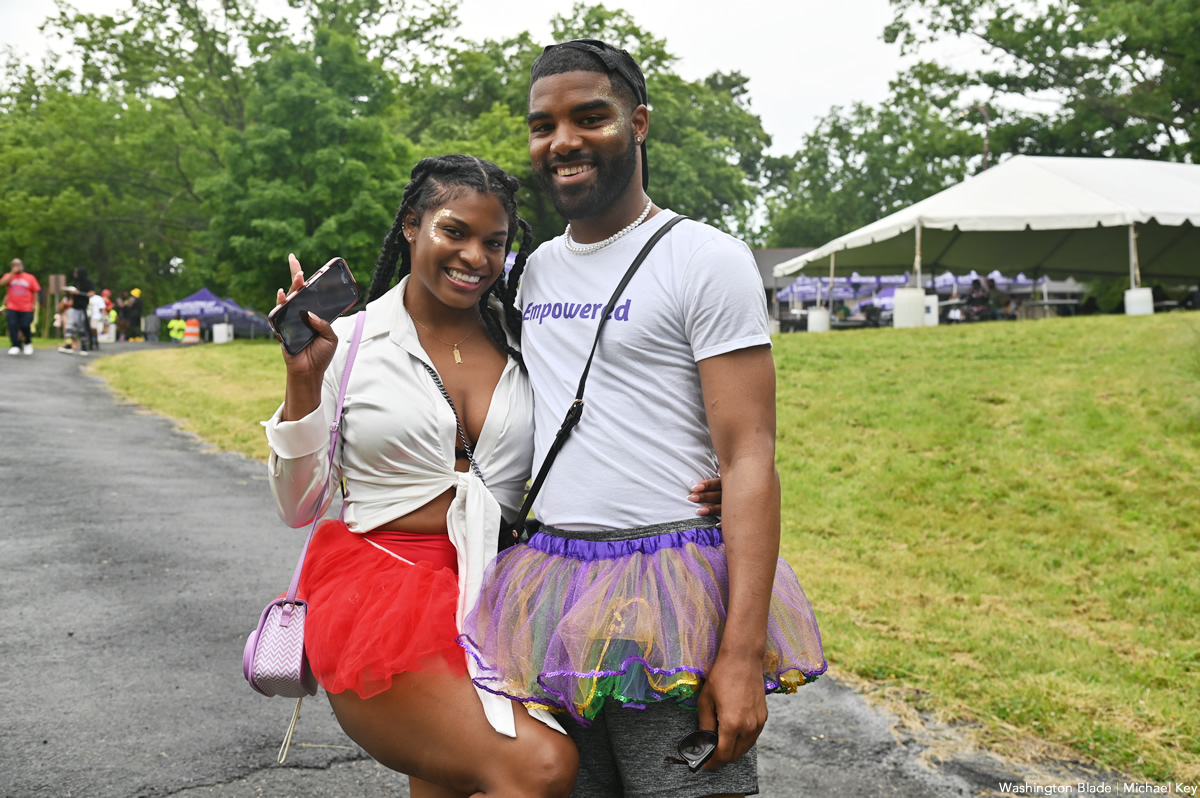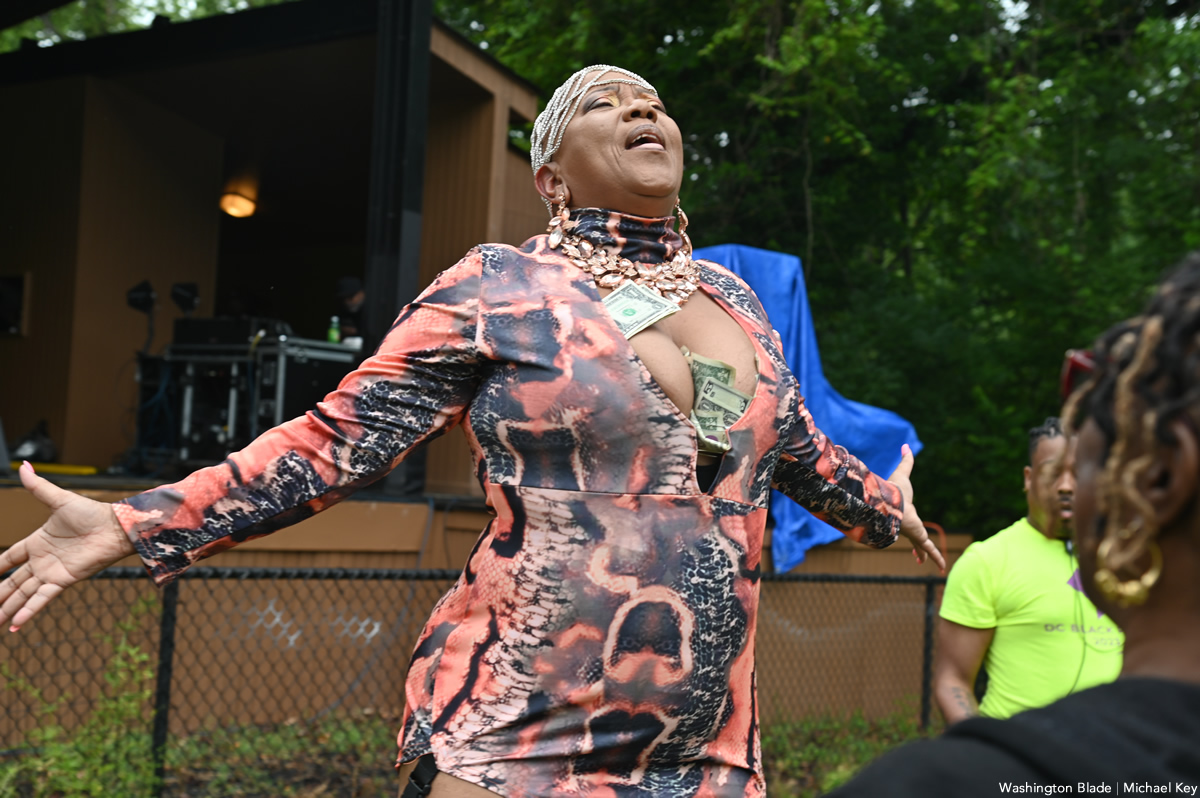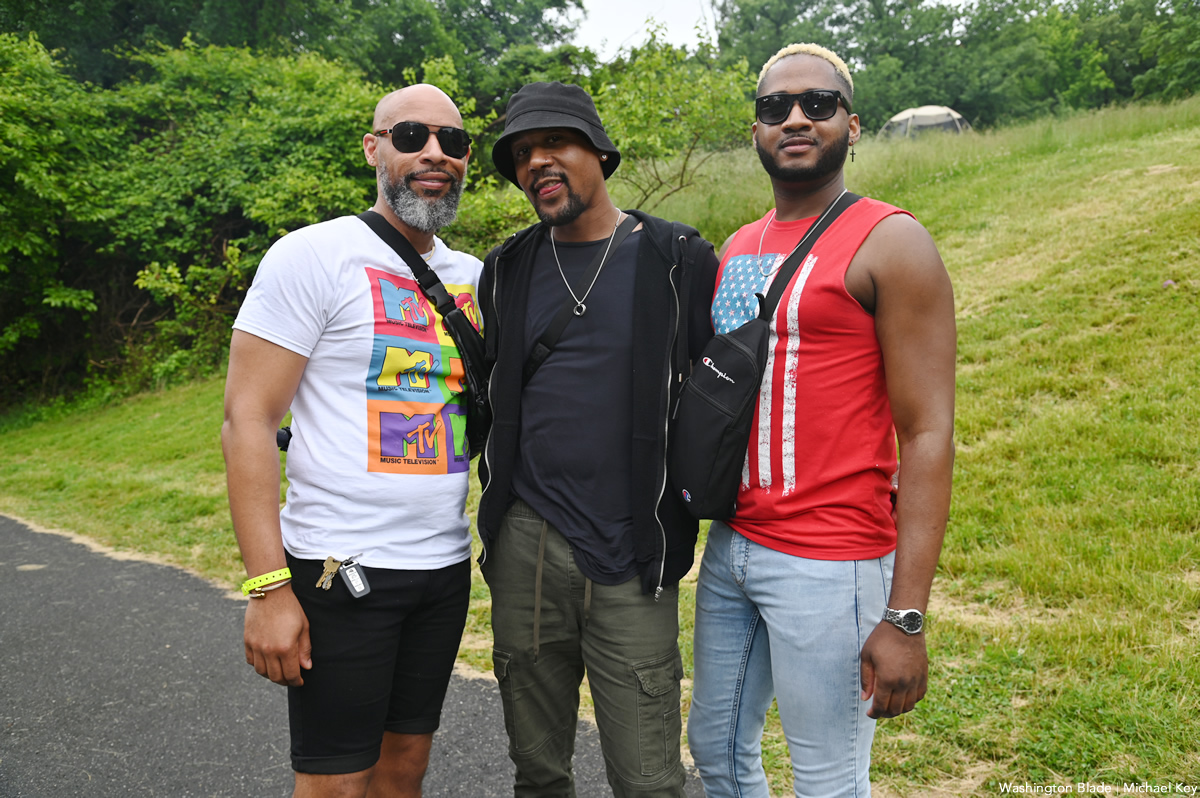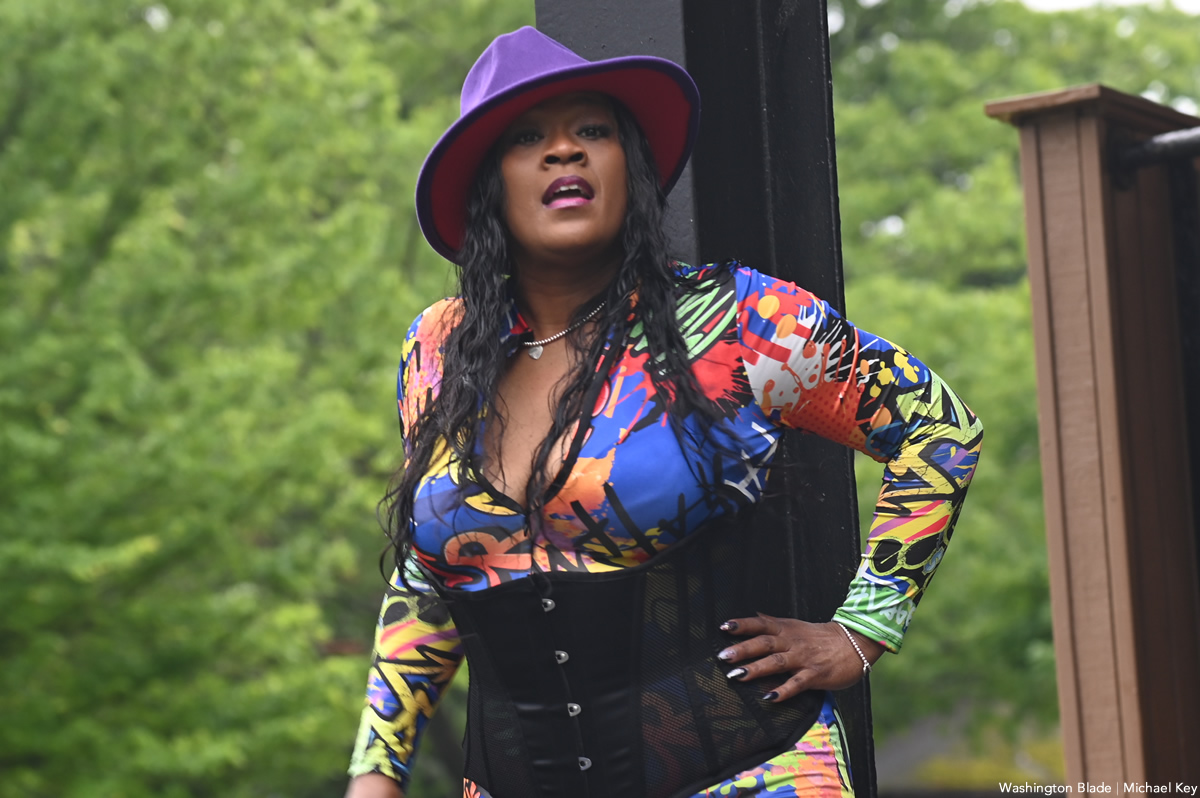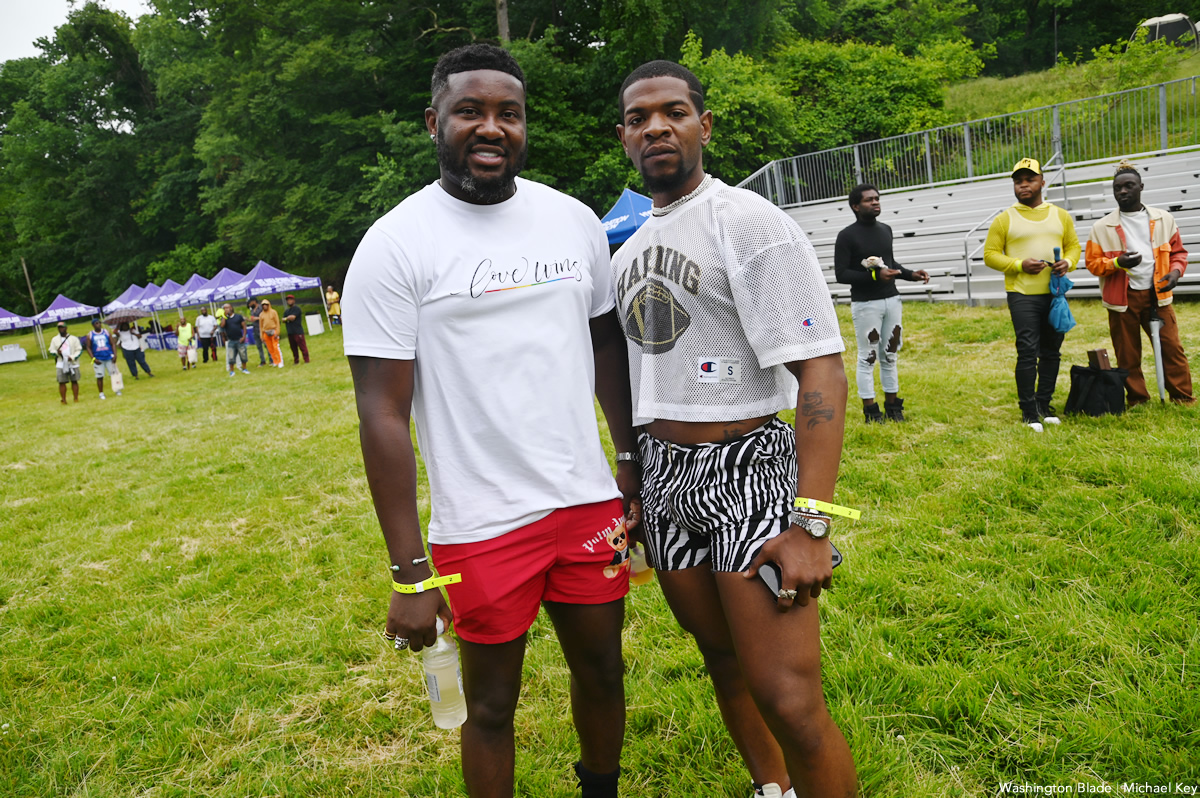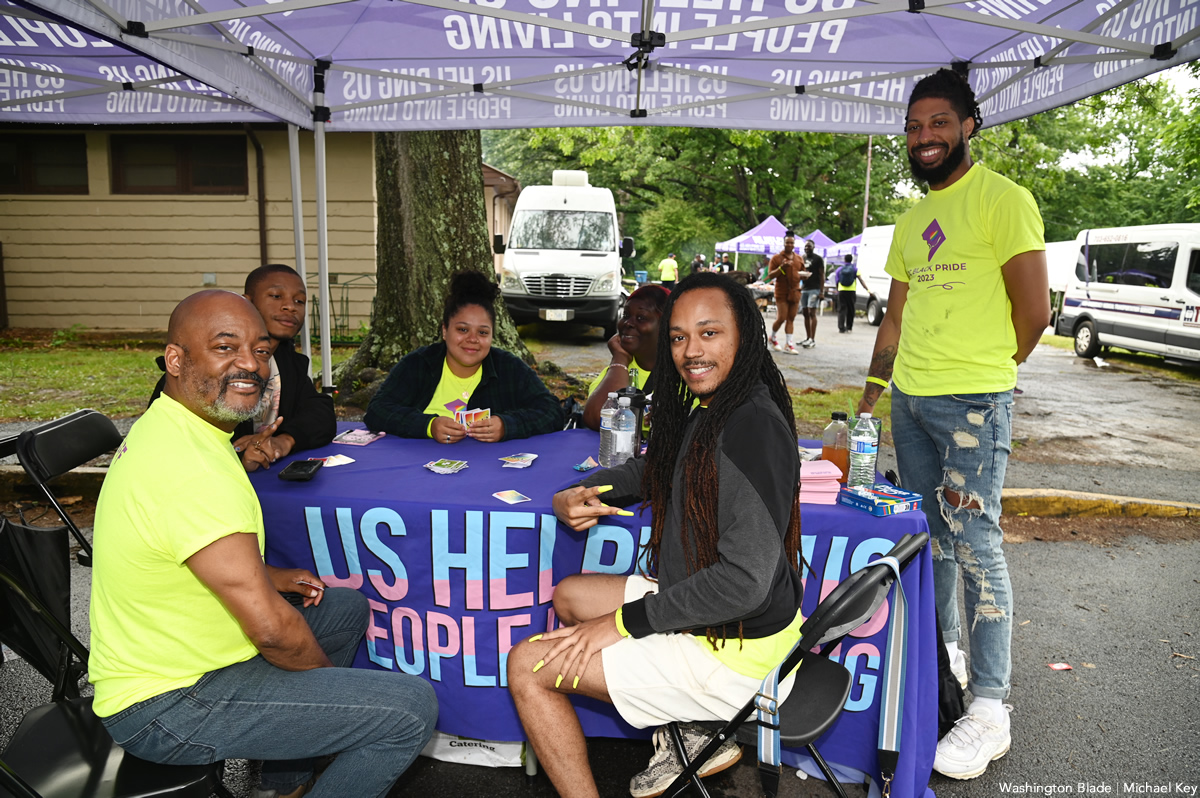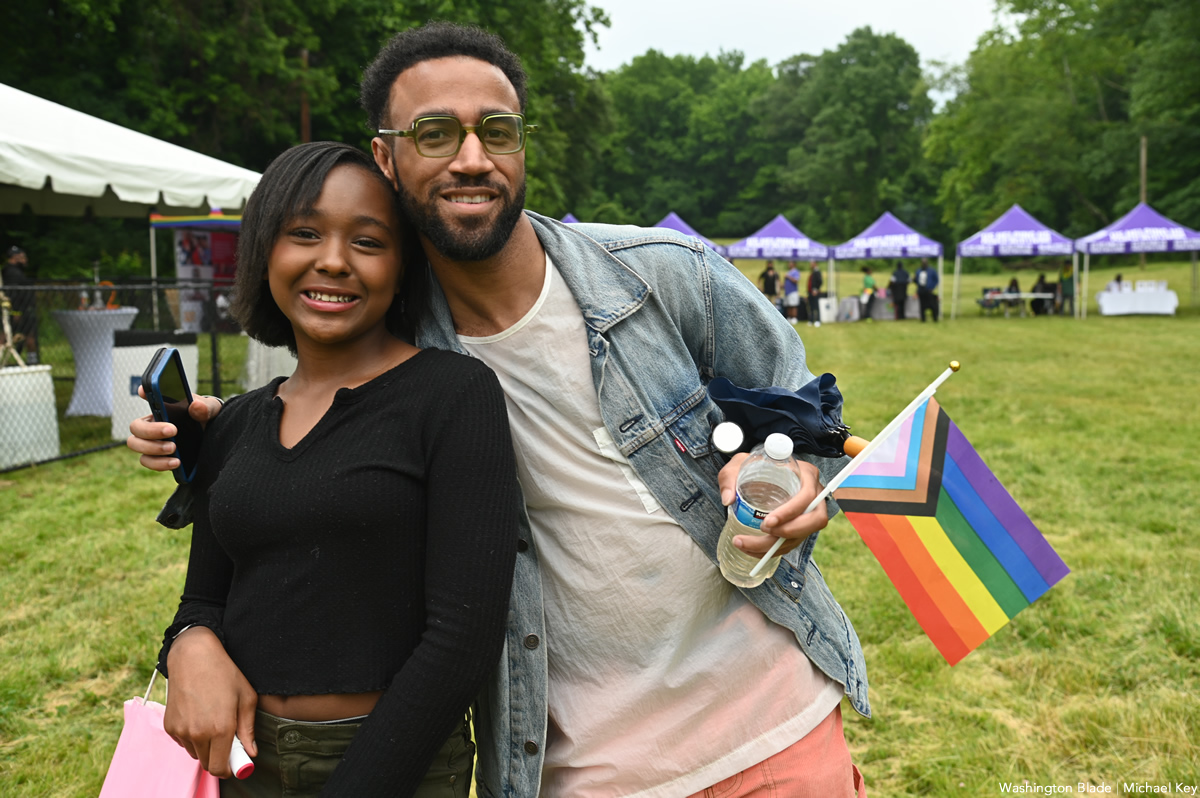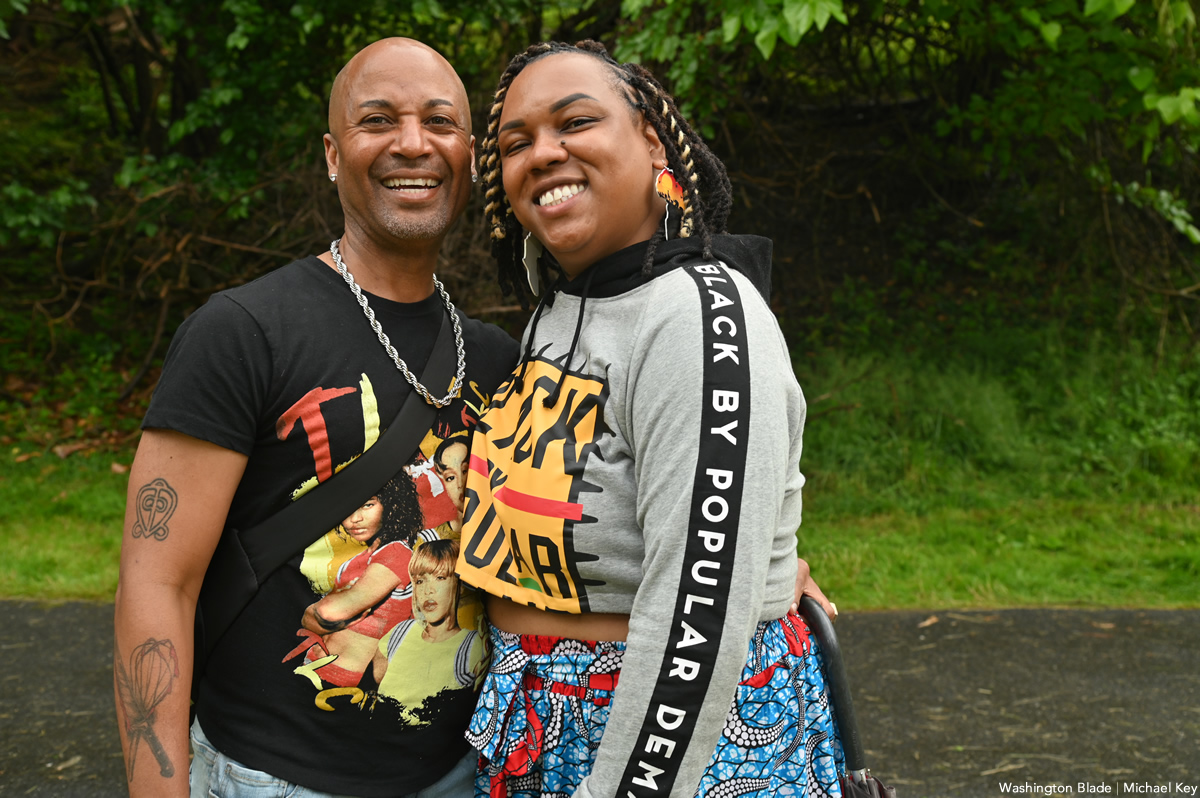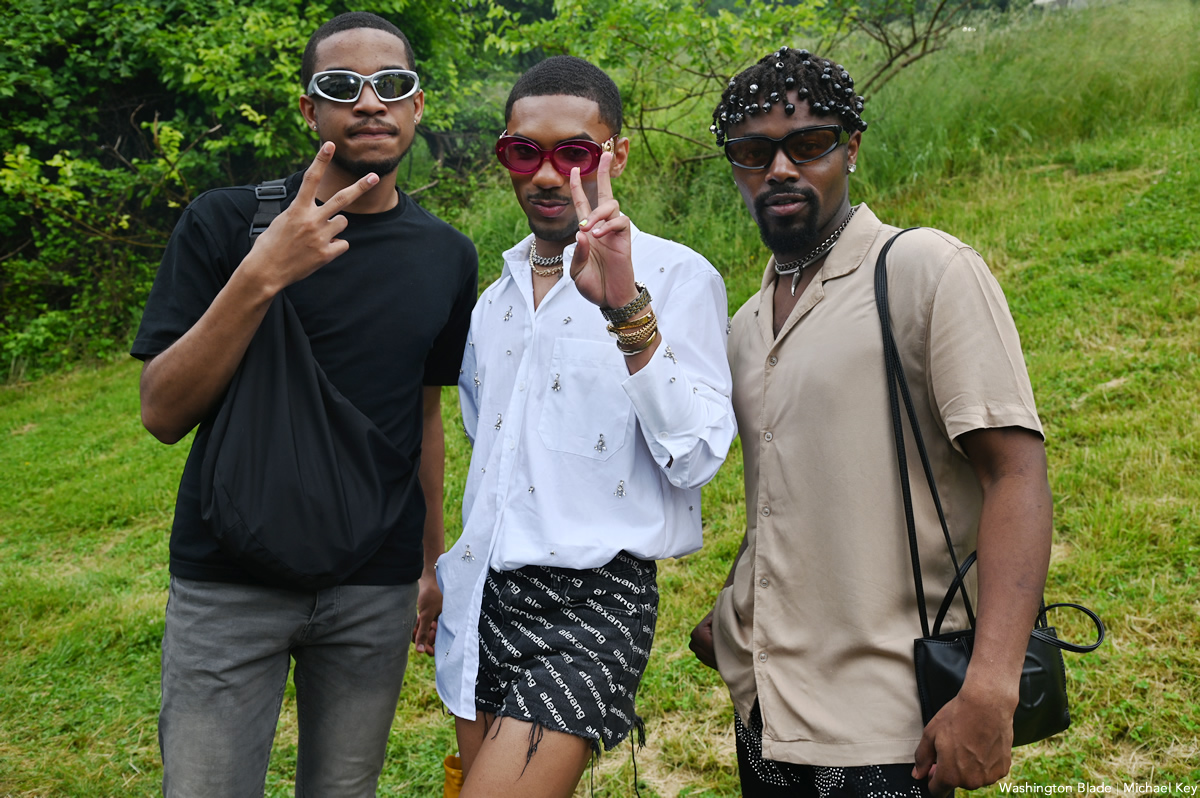 Covering DC Black Pride Festival in the Park for @WashBlade . pic.twitter.com/amw66FZ7gs

— Michael Patrick Key (@MichaelKeyWB) May 29, 2023