Former NOM president: Marriage is not a 'civil rights issue'
Gallagher assailed by activist after panel discussion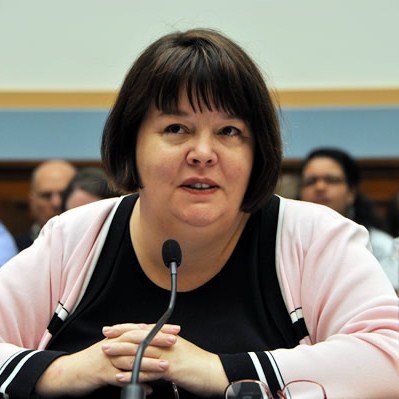 BALTIMORE—The co-founder of the National Organization for Marriage stressed on Tuesday that marriage for same-sex couples is not a civil right.
"I'm here today to urge you to join with your friends and neighbors and your fellow citizens to vote no on Question 6 precisely because I do not believe that gay marriage is a civil rights issue," said Maggie Gallagher, who lives in Montgomery County, during a League of Women Voters' panel on the Nov. 6 referendum on Maryland's same-sex marriage law at Morgan State University. "Marriage has existed not just in the state of Maryland but all over the globe for thousands of years as a union of male and female for a simple reason: These are the only unions that can make new life and connect children in love to their mother and their father. Marital unions have that capacity."
The debate took place at the historically black university shortly after Marylanders for Marriage Equality, the group supporting Question 6, unveiled its first television ads that feature Rev. Donté Hickman of the Southern Baptist Church in Baltimore and Rev. Delman Coates of Mount Ennon Baptist Church in Clinton in Prince George's County. Both men joined Rev. Al Sharpton and other prominent black clergy last month who urged congregants to support Maryland's same-sex marriage law.
"The question is whether or not we as a state are going to continue to treat all people in the state of Maryland — citizens of Maryland — equally and fairly under the law. And that's what Question 6 or ballot Question 6 is all about," said state Del. Keiffer Mitchell (D-Baltimore City) who spoke on behalf of Marylanders for Marriage Equality. "It's about treating all our citizens fairly and equally under the law. What Question 6 does is simply allow gay couples to go to a court house to file to receive a civil marriage license in order to be married."
A Baltimore Sun poll released late last month shows 49 percent of likely Maryland voters support the state's same-sex marriage law, compared to 39 percent who oppose it with 10 percent undecided. A Gonzalez Research poll released earlier in September indicates 51 percent of Marylanders would vote for Question 6, compared to 43 percent who would oppose it.
The same survey noted that 44 percent of black Marylanders back nuptials for gays and lesbians, compared to 52 percent who oppose same-sex marriage.
Mitchell noted that the National Association for the Advancement of Colored People's board of directors passed a resolution in support of same-sex marriage after President Obama publicly backed the issue during an interview with ABC News in May. The NAACP of Maryland and the civil rights organization's Baltimore City and Prince George's County chapters have also urged their members to support Question 6.
"We may not literally force your clergy to perform marriage, but what we found in other states is that you can be expected fairly rapidly to be treated the way we treat, the way government treats, people who oppose equality," said Gallagher. "We stigmatize, we marginalize, we oppress racists because racism is wrong. But in my view, this traditional understanding of marriage across different races, creeds and colors is not evil. It's not discriminatory. It's good. You need to bring together male and female to make inroads in the next generation. That's the heart of the classic understanding of marriage. And it's the heart that gay marriage will change. And it will change it not just for gay people. It will change it for every citizen in the state of Maryland."
Mitchell pointed out NOM's strategy to use marriage as a wedge issue to further divide black and gay voters.
"This is a civil rights issue. I am proud of a family that I come from of pioneers that set the way in terms of civil rights. And one of the lessons that I've learned from speaking with my uncles, parents and my grandparents, great-grandmother and others was that civil rights in the African-American community we do not have a monopoly on," he said. "We have to continue to move forward and we just can't get our rights and then kick the ladder away and say we have ours, you fight for your own."
Rev. Meredith Moise, who co-chairs Baltimore Black Pride, confronted Gallagher over her reference to African same-gender marriage ceremonies to further promote tribal lineages as she walked off the stage after the forum.
"As a student, a former student and alumnus of this beloved university having said this to this man [Mitchell] whose family shed blood and died for the rights of all people is anathema. And shame on you," she said. "And for you to support it and propagate hate in the black community. Shame on you. No human being has the right to divide people of African blood on this issue. We will remain one people."
DC Front Runners Pride 5K to take place as scheduled
Air quality improved overnight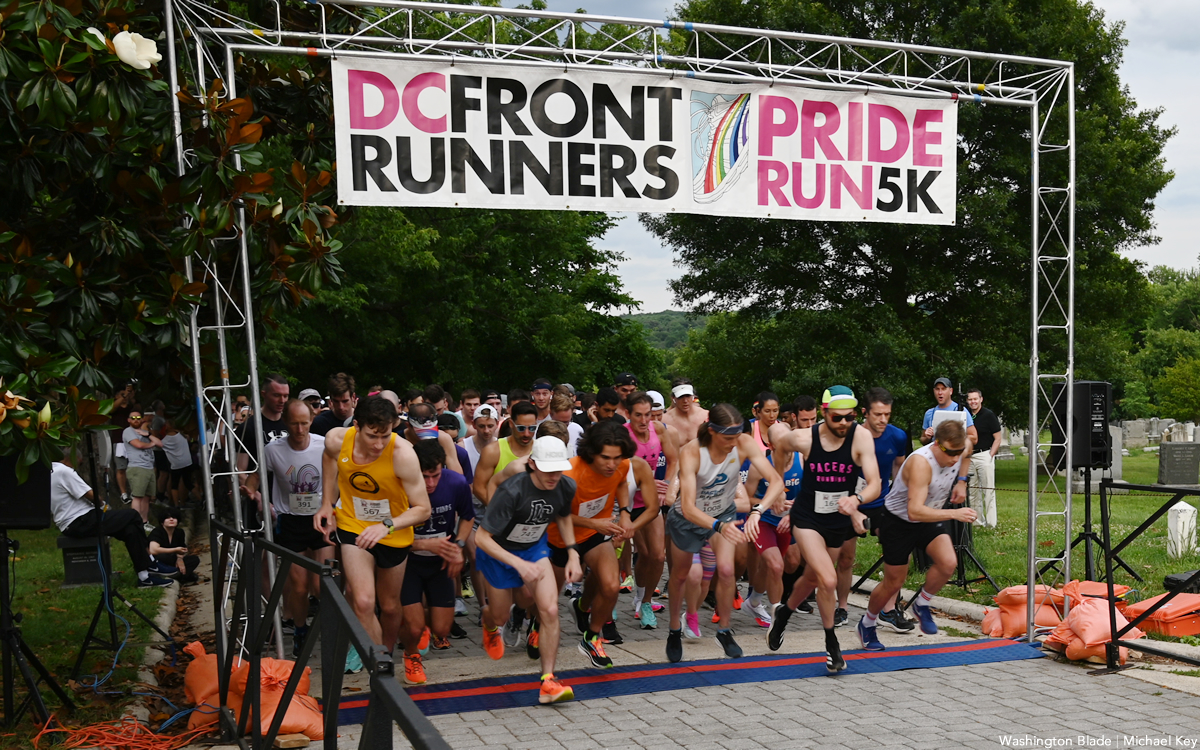 The D.C. Front Runners' annual Pride Run 5K will take place as scheduled at Congressional Cemetery on Friday.
The Blade Foundation, SMYAL, the Wanda Alston Foundation, Team DC, Teens Run DC, Pride 365 and Ainsley's Angels of America are among the race's beneficiaries. Wegmans, Shake Shack, Knead Hospitality and Design, Choice Hotels and Capital One Café are among the sponsors.
Rooftop Pool Party postponed
Capital Pride Alliance moves official event to June 22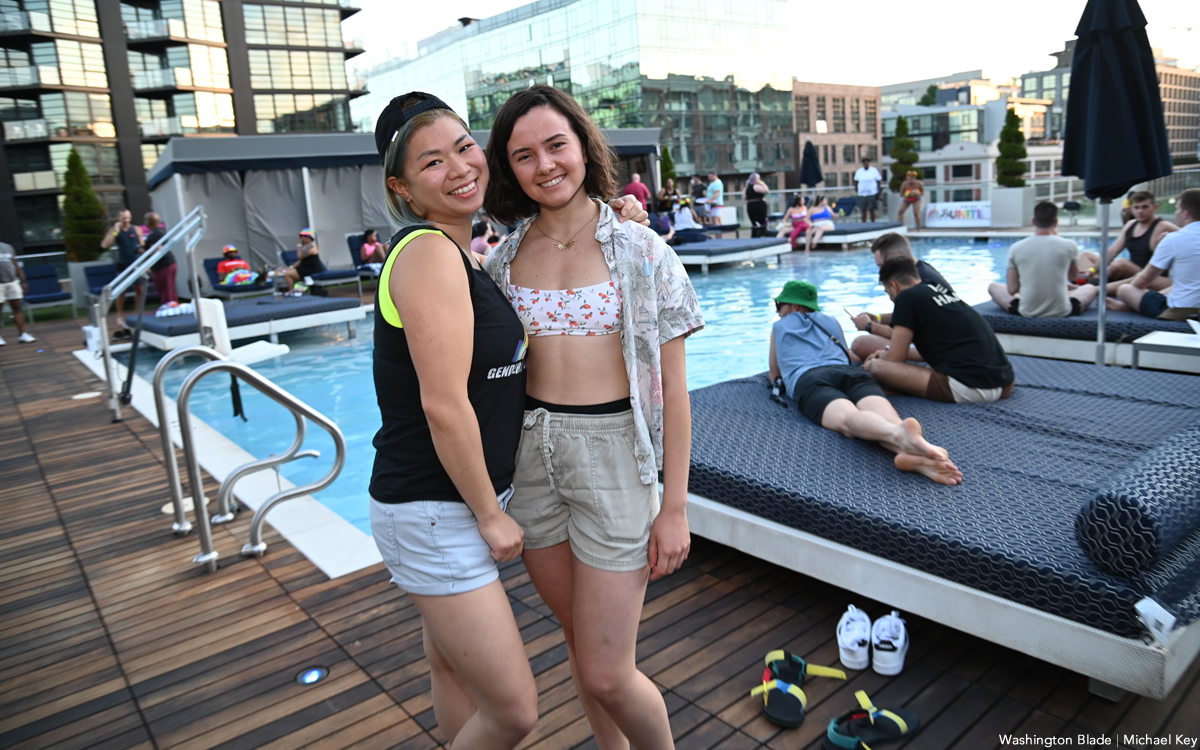 The Capital Pride Rooftop Pool Party, originally scheduled to begin at 8 p.m. tonight, has been postponed until Thursday, June 22, according to a statement released by the Capital Pride Alliance on Instagram. This action comes amid an international climate event created by the Canadian wildfire that has resulted locally in poor air quality and a haze around the region.
The Capital Pride Alliance Instagram account posted, "As with all concerns regarding health and safety issues, the Capital Pride Alliance will closely monitor the air quality situation resulting from Canadian wildfire smoke and take necessary precautions in consultation with our partners in the DC government."
"What does this mean for the pool party?" a question one private Instagram account user posed in the comment section.
"Important Update:" A representative of the Capital Pride Alliance responded through the group's official Instagram account. "Tonight's Capital Pride RoofTop Pool Party at VIDA The Yards is being postponed until Thursday, June 22 at 8:00 pm, due to the current air-quality situation resulting from the Canadian wildfires smoke. Please note that this postponement only applies to today's event."
The Capital Pride Alliance has yet to cancel or postpone any further events.
The White House earlier today rescheduled a large outdoor Pride reception planned for this evening to Saturday.
White House postpones Pride event due to wildfire smoke
Thousands expected for celebration bumped to Saturday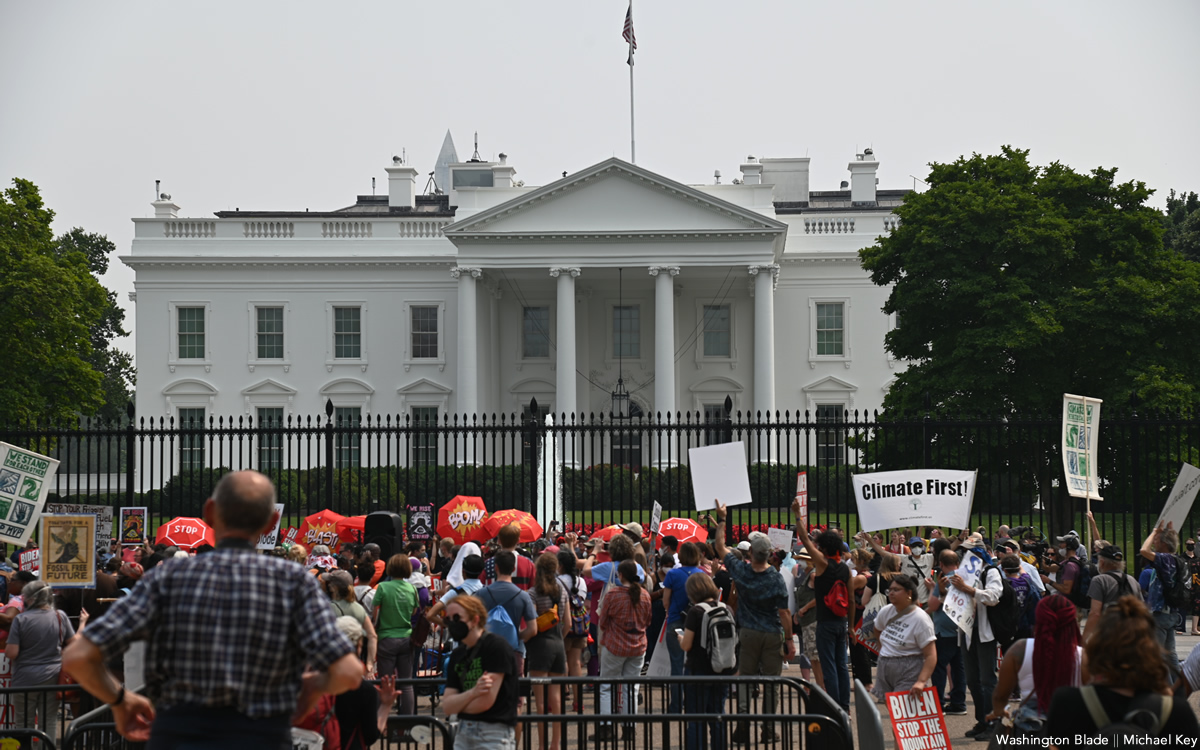 The White House announced Thursday that a Pride event scheduled for this evening has been postponed to Saturday due to the lingering Canadian wildfire smoke.
The smoke has enveloped D.C. in a dangerous haze that triggered a "purple alert" on Thursday, considered worse than a "red alert."
The event, expected to draw thousands of invited LGBTQ advocates and supporters to D.C., has been rescheduled for 1 p.m. on Saturday on the South Lawn of the White House, the same day as D.C.'s Capital Pride Parade, which kicks off at 3 p.m., and Pride on the Pier celebration, which starts at 2 p.m.