The evolution of leather
Changes in ownership, location, technology contribute to morphing BDSM scene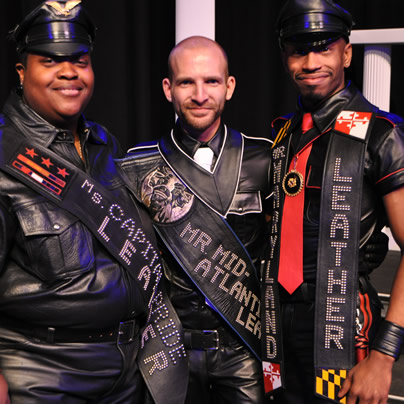 There's a lot of change in the air with the D.C. gay leather community. As Mid-Atlantic Leather Weekend is in town for its annual festivities, we decided to ask around and see if the changes are just coincidental, natural evolution of a maturing scene or indicators of a larger cultural shift of some type.
The bottom-line answer, not surprisingly, is that it depends whom you ask.
KEEP UP WITH EVERYTHING M.A.L. WITH OUR SPECIAL COVERAGE PAGE
But first, the particulars.
• The Leather Rack, still gay-owned but under new management, has a new name. Now known as Adam & Eve, it's still at 1723 Connecticut Ave., N.W. (location of the nearly 40-year-old business since 1991) but is a slightly different shop.
"We felt the name attracts a broader audience, not just gay guys into leather" current owner Russwin Francisco, who bought the business from James McGlade (who'd owned it since 1994), wrote in an e-mail. "We do love gay leather guys and we'll support the leather community in any way we can. We simply want to ensure that other folks with other sexual fetishes feel as comfortable in our store regardless of gender, sexual orientation or identity. Consequently we are offering women's fetish wear, toys and accessories along side our men's [items]."
Francisco is gay, married to a man and has been in Washington for more than 30 years.
McGlade didn't respond to requests for comment but said in a press release issued when the change became official in November that he was "grateful for our time here as the Leather Rack" and "we wish to thank you for your patronage and endorsement over the years."
"Jim is a good friend," Francisco says. "It was a natural transition."
• As has been widely reported, the D.C. Eagle's days at its current location at 639 New York Ave., N.W. location are numbered. The most recent official comment was that owners would be there through the end of March via an agreement with the developer of a high-rise office complex that will displace the Eagle and other businesses in the area.
Eagle owners and management staff are being tight-lipped on their plans. Repeated phone calls, e-mails and Facebook messages to Ted Clements, Peter Lloyd and Carl Domer went unacknowledged this week.
Eddie Ortiz, president of the D.C. Boys of Leather, says he sees Clements regularly and though he can't offer anything official, he understands an announcement is imminent. The Boys have a monthly bar night at the Eagle, as do many of the local gay leather groups.
"I understand the owners do have a location identified, but they haven't given me a location yet," Ortiz says. "I think they're going to announce it over MAL weekend. Ted is the one I talk to a lot."
David Merrill, who's gay and DJs the monthly fetish/gear party CODE, says it's never wise to count the Eagle out.
"We've heard rumors of the Eagle's imminent demise multiple times in the past and, of course, those rumors turned out to be greatly exaggerated," Merrill says. "I'm certain they'll open in a new location."
• The Baltimore Eagle, however, hasn't been as lucky. It closed last month at its 2022 N. Charles Street location and its fate remains uncertain. The estate of former owner Richard Richardson, who died suddenly in 2007 (he'd purchased it from Tom Kiple in 1995), had been running it in recent years. New owner Charles Parrish did not immediately respond to calls seeking comment.
In the meantime, many in the Baltimore gay leather community have moved over to Leon's Leather Lounge, known casually as "the Triple L" at 870 Park Ave.
Rodney Burger, president of the ShipMates Club, which had called the Eagle "home" since the bar opened in 1991, said the last night it was open was memorable.
"It is my understanding that the new owner plans to turn it into office space," he wrote in an e-mail. "How fitting that the last Saturday the bar was open was our ShipMates' Daddy Christmas benefit. The bar was packed and we raised $3,000 for Moveable Feast. We closed the bar with a bang."
He also said Triple L owner Ron Singer made "a nice offer" and they plan to continue meeting there.
"I just hope we can get in there to clear out our trophy case and banners," Burger said later in a phone interview. "There's the entire history of the Baltimore leather scene in there including banners from some clubs that haven't existed for 30 years or more. I'm actually having nightmares about losing this stuff — we need to make sure we can get in there and get all that safely out. I hope it's OK and doesn't end up in a dumpster somewhere."
Those active in the Baltimore leather scene say they're hearing the Eagle could reopen elsewhere, but nothing definite is known.
"I've heard everything from three to five months, I've heard longer, the rumor mill is full of stuff," Rik Newton-Treadway, known as "Hooker" in the leather community there, says.
MAL appears to continue thriving and local gay leather enthusiasts say it's a major highlight of their year and remains popular with both locals and those who come from out of town.
"There's always a huge percentage of local people at MAL," Merrill says. He'll be spinning his "deep house" and "progressive tribal" music at two special CODE parties at the Crucible this weekend. "I think most local guys into some part of the leather scene make it to at least one of the MAL events. There are so many things to do over the weekend — dance events, play events, times to socialize, the cocktails the Centaurs do — there's a little something for everybody. That's one of the great things about the leather community — it's so diverse."
Ortiz, whose Boys group is having its own free party/dance tonight at 10 in the Congressional Room at the Hyatt Regency on Capitol Hill (the sold-out host hotel), says he "can't wait to get going and start dancing." Though married to his partner of 14 years who's not into the leather scene, Ortiz is in a slave/master relationship with a leather lover in Michigan whom he sees about once a month and who will be here this weekend for MAL.
"It's such a fun time," he says. "It's great to see people you haven't seen since last year and it gives us a chance to really hang out in our leather, do play scenes in a safe environment, be who we are, make new friends and also see some of the local people who don't come out as much unless it's for MAL."
Ortiz, by the way, says the Boys club, which even has a couple female members, is about having a boy mindset.
"It's how you identify in your heart," he says. "It's who you are on the inside. There's no certain way it has to be, but it does tend to be more service oriented. You don't have to be a complete bottom. Boys can top, but it's about taking care of a dom or having someone be in charge of you and dominating the play scene."
With trust and communication in his marriage, he says his other relationship is "working out great for us."
As for the D.C. scene overall, some say it's just natural evolution.
Woody says it runs much deeper than simply who owns a leather bar at any given time or where it might be located.
"The smartphone has brought with it a lot of degrading factors," he says. "There are all these mobile apps now — Scruff, Growlr, Grindr — all these things we didn't have before. Now I can find a trick a half a mile from me with my GPS-embedded tracker and there are people coming up with different websites all the time. … You can order up anything you want, so there are not as many people interested in romance anymore. Yes, there are still softies with good hearts who want relationships and certainly gay men have always had their hook-up side, but I think there's a higher turnover ratio when everything's online."
Newton-Treadway, who says lots of guys from Baltimore come to D.C. for Leather Weekend ("Are you kidding? It's practically in our backyard — it's like a giant cheesecake for everybody who's supposed to be on a diet."), says the changing leather scene is much deeper and more complex than it may initially seem.
"I think there are aspects of the lifestyle that in a way are becoming more underground, less in your face," he says. "I think the economy hasn't helped. The Internet hasn't helped. It's many, many, many different things. I would say long gone are the days when a leather bar could count on the gay leather community to keep it open. With everything out there online, you don't need to go out. Not long ago, there wasn't any AOL, hell, we didn't even have cell phones. You had to go out for dick. It didn't come to you unless you were in the middle of the gay ghetto and sitting on your front porch. So there's a lot of change occurring and a lot of contributing factors. And even when you do go out to the bars, everybody's got their nose in their phone. They might even be texting to someone who's right there in the bar, but they won't go over and talk to them."
But the bar scene in the leather world is far from dead. Jacob Pring, who organizes CODE and the XXX parties at Green Lantern and the Crucible, says he sees lots of younger guys coming to his events and gets anywhere from 100 to 150 guys to an average event.
"There's always new people coming in," Pring says. "People bring their friends. It's fun. No attitude, no drama."
Ortiz says he's not so sure it's changing as much as everybody says.
"I still go out," he says. "I don't just sit at home online all the time. I know lots of people who go out and support the clubs."
Merrill says it is changing but it's futile to pine for the past.
"Every community changes over time," he says. "It's not gonna be 1975 forever. I don't know what things will look like in another 10 years, but I'm looking forward to finding out."
'Midnight at the Never Get' captures gay 1960s NYC
Virtual play from Signature tells story of young musical couple
'Midnight at the Never Get'
Streaming through June 21
Signature Theatre
$35
sigtheatre.org
Signature Theatre's latest virtual offering, "Midnight at the Never Get," a terrific backstage musical romance set against 1960s New York City, tells the story of a young gay couple struggling to succeed personally and professionally in a world where being who they are isn't always easy.
It's relayed in mostly sung flashbacks by Trevor Copeland (Sam Bolen), a sassy, campy singer who goes to New York to be gay and pursue a career in music. He finds happiness – for a while – with reserved pianist and aspiring composer Arthur Brightman (Christian Douglas).
As an Iowa farm boy, Trevor repeatedly listened to the soundtrack of Judy Garland's "A Star Is Born" in the barn. Little did he know then that "The Man That Got Away" would prove a major theme of his adult life.
Staged by out director Matthew Gardiner, the 90-minute show presents like a cabaret with two actors in black tie and baby grand on a small stage moodily lit by Adam Honoré and surrounded by small cafe tables topped with fringe shaded lamps. Filmed by Justin Chietb and produced and edited by James Gardiner, the story unfolds. There is no visible audience.
The guys meet cute. Trevor has left the Midwest for New York. After a string of hookups, he eventually cozies up to Arthur at the Checkerboard Lounge, a gay-friendly downtown bar where Arthur plays standards from the Great American Songbook as well as some of his own compositions.
From the start, Trevor and Arthur share clever banter and a frisson, but perhaps most importantly, they both love music.
The pair quickly becomes pretty much inseparable, though they don't live together. At second rate nightclubs, Trevor sings Arthur's songs, striving to make a name for themselves; and despite money being short, occasionally the couple splashes out on an evening at top notch cabarets like the Blue Angel or the Bon Soir to see headliners do their thing.
On a particular night at Café Wha? (a night spot best known as an emerging folk music space – not really Trevor and Arthur's scene), the pair decide that Trevor will sing one of Arthur's same-sex love songs without changing any pronouns.
Despite a few heckles, the song is mostly well received, and the evening leads to a standing gig at the Never Get, "a grimy gorgeous little nightclub" where gays happily gather to meet and drink. There, the guys introduce their act, Midnight at the Never Get, a sensibly named event that specifies time and place. At the Get, they're given the freedom to explore their relationship and the current day politics through music.
In the mid-60s gay clubs were illegal. A place like the Never Get was technically "a bottle club" – essentially a members' only spot run by the mafia. Typically, queer meeting places were raided twice a month, but usually paid-off cops would warn bartenders in advance who in turn would give a heads up to gay patrons who'd beat a hasty exit out the side door and find somewhere else to party.
As their act grows increasingly popular, the couple becomes more and more different. Arthur isn't into rock music or protests. His fierce ambition takes him on frequent trips to L.A. where he writes jingles and later songs for singers like Connie Francis, Eydie Gormé, and Peggy Lee. Trevor remains in New York and befriends activists.
Scored and written by the tremendously talented Mark Sonnenblick, "Midnight at the Never Get" opened off-Broadway in 2018. With its torchy tunes, ballads, and upbeat numbers, there's nothing farcical about the show. It vividly reflects an era.
At the end of the show, out actor Bobby Smith joins the cast as the older Trevor. In one beautifully sung song he captures the character's life and longings.
LGBTQ travelers to the rescue!
Queers leading the way to tourism recovery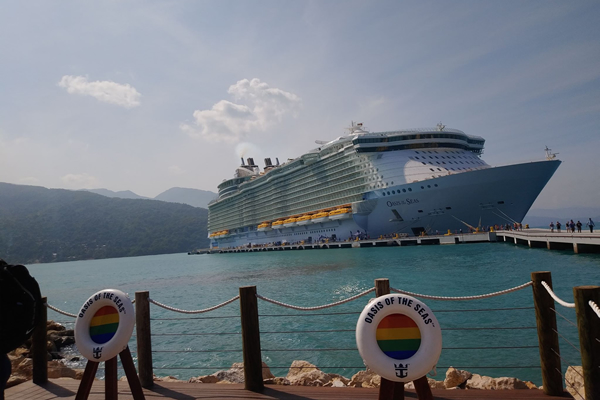 Since the tragic events of 9/11 and the abrupt halt to travel that followed, about every 10 years, the tourism industry is knocked back on its heels. The economic meltdown of 2008 and 2009 was even worse on the travel industry than 2001. And the pandemic is a once-a-century calamity exacerbated by the very things that make travel so enriching: large in-person events, meeting new friends at a hotel lounge, slaloming through a crowded bar in a far-flung city.
The travel industry rebooted before, and it will bounce back again soon. And if history is any guide, LGBTQ travelers will lead the way.
Roger Dow, president and CEO of U.S. Travel Association, the Washington, D.C.-based organization representing all segments of travel in America, says, "Gays lead, and the rest follow. They're adventurous and like new experiences. They have a penchant for travel far greater than their heterosexual counterparts. They travel more and spend more when they travel. They're the darlings of the travel industry when it comes to spending and dollars."
Recent history has demonstrated that LGBTQ travelers — especially those in dual-income-no-child households — are always among the first to travel after social and economic crises. Following 9/11 and again after the 2008/2009 financial crisis, destinations, hospitality companies and travel brands noticed that LGBTQ travelers were prioritizing tourism over other purchase decisions, helping fill airplanes, hotels and, restaurants and animating destinations. So, they began to market to this segment in earnest.
Smart travel marketers will note that this is happening again now. We see — anecdotally and with the support of research by Community Marketing, Inc., Harris Interactive and IGLTA — that this segment travels in higher proportions and intends to book and execute travel in greater proportions than their non-LGBTQ counterparts.
Queer travelers tend to have more disposable income and time to spend it, helping fill destinations and hotels, especially during the quieter periods when kids are in school. Being among the first to travel safely, this resilient segment grants permission to others that they can return to travel safely. The LGBTQ segment has always been disproportionately present in online platforms, which provide a safer way to meet and interact with others in an otherwise potentially anti-LGBTQ world.
They also help achieve travel marketers' goals by experiencing more, creating social media content and generating buzz.
The segment displays intense loyalty to brands that welcome and include them. There are also surprising halo effects: By signaling welcome to this group, marketers send a sign of inclusiveness to other overlooked and marginalized segments, like Black and LatinX travelers, and the family and friends of queer people are also positively motivated by outreach to LGBTQ people. Finally, these messages resonate strongly with millennial and Gen Z audiences who plan their travel — as well as plot their careers — to destinations and at hospitality brands whose missions align with their more inclusive values.
The segment has also demonstrated a strong affinity for cruises of all sorts, including all-gay or all-lesbian cruises, LGBTQ groups on mainstream cruises, and simply joining mainstream cruises as a same-sex couple or in small friend groups. While cruise vacations are still on a pandemic-induced pause in the U.S., cruise companies — including Carnival, Celebrity, Cunard, Uniworld and the brand-new Virgin Voyages — have all firmly established LGBTQ travelers as a core segment.
"National Travel and Tourism Week takes on special significance this year as we look ahead to recovery following the most challenging year this industry has experienced," says Christine Duffy, president of Carnival Cruise Line and national chair of the U.S. Travel Association. "Across the country, we are recognizing travel's value, and the long-standing support of the LGBTQ community will help accelerate our rebound. I know that for Carnival, we pride ourselves on an inclusive atmosphere where every guest is appreciated, and we look forward to welcoming them back as soon as possible."
One reason queer travelers are uniquely suited to help power the return of travel during this crisis has to do with their decades of experience living under the ever-looming shadow of the HIV/AIDS pandemic, during which they learned the importance of risk mitigation for the good of all. Wearing masks to protect yourself and others resonates with a community that understands the importance of condoms and pre-exposure prophylaxis (PrEP).
According to Randle Roper, co-founder and CEO of VACAYA Full-Ship and Full-Resort LGBT+Vacations, "[Our] guests showed incredible resilience by traveling safely during the pandemic, and they proved they could adapt to live with health protocols that would keep each other and their loved ones back home safe."
Travel safety is organically entwined with the LGBTQ community's DNA. In 70+ countries, many popular with LGBTQ travelers, homosexuality is criminalized. That includes 11 countries in which death is the punishment meted out for those convicted of homosexuality and other "crimes" of sexual and gender non-conformity.
While travelers would be spared the harsh treatments locals may suffer, they nonetheless have a great deal to consider when traveling. Same-sex couples still receive awkward and uncomfortable service when checking into hotels with a single bed on the reservation or even simply existing in places where everyone's assumed to be heterosexual. When a lesbian boards a plane with her legally married wife and their legally adopted children, they could land in a destination where their marriage license is void and their legal guardianship of their kids is in question. Trans and non-binary travelers, especially those oF color, may encounter challenges including lack of safe bathroom access, awkward encounters at TSA security and even outright hostility and worse in any public setting. In the face of all this, queer people still explore and have a lot to teach the rest of the world about how to travel with intent and joy while
maintaining their own safety and that of the community around them.
LGBTQ travelers can also show the world how best to support the tourism and hospitality industries in ways that also strengthen their own communities. "LGBTQ consumers have the power to make change and support LGBTQ-friendly companies and destinations by choosing to spend their travel dollars with those that support our community," says Jeff Guaracino, co-author of the "Handbook of LGBT Tourism and Hospitality." "LGBTQ-owned hotels, bed and breakfasts, tour companies, bars and restaurants, festivals and destinations have been especially hard hit by COVID, and as a community, we can support LGBTQ-owned and friendly businesses and their employees by spending our travel dollars with them first."
LGBTQ tour companies and travel agents have a direct connection to queer travelers and report strong interest in and bookings of travel. According to Robert Sharp, co-founder and CEO of Out Adventures, "After [releasing] our entire tour schedule through the end of 2022, we saw our largest month of sales in our 12-year history."
Kelli Carpenter, co-founder of R Family Vacations, adds, "Our highest sales have come from our river cruise products and international tour business, showing that travelers are ready to explore the world again."
VACAYA's Roper has seen extremely robust sales over the past several months — including selling out their Antarctica Cruise. "With a starting price of around $25,000 per room, that was our best sign yet that our community members are ready to break free from their cages and return to travel," he says.
Robert Geller, founder of FabStayz, agrees: "Pent-up demand is visible, palpable and quantifiable."
NYC-based Ed Salvato is a freelance travel writer, instructor at NYU and the University of Texas at Austin's NYC Center, and an LGBTQ tourism marketing consultant.
Calendar: May 15-20
Events in the week to come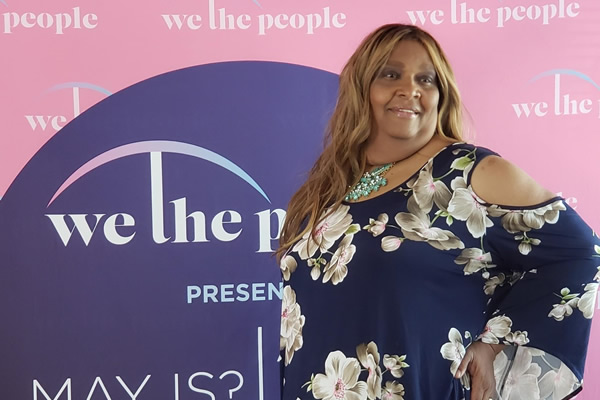 Saturday, May 15
May Is Trans DC will host a free virtual event, "May Is: Trans Pride" at 10 a.m. The event, curated by SaVanna Wanzer, will focus on addressing the critical gaps in information, services, and visibility of the transgender, gender non-conforming and gender expansive communities in the DMV. For more information, visit: mayistransdc.com/event-details/may-is-transpride.
The DC Center will host online support for LGBTQ+ people of color via Zoom at 1 p.m. This peer support group is an outlet for LGBTQ People of Color to come together and talk about anything affecting them in a space that strives to be safe and judgement free. For more information, visit thedccenter.org/poc or facebook.com/centerpoc.
Sunday, May 16
The DC Center and the Beta Kappa Chapter of the Beta Phi Omega Sorority will host a peer-led support group devoted to the joys and challenges of being a Black lesbian via Zoom at 1 p.m. You do not need to be a member of the Beta Kappa Chapter or the Beta Phi Omega Sorority in order to join, but they do ask that you either identify as a lesbian or are questioning that aspect of your identity. For more information, email [email protected].
May Is Trans DC will host a movie night over Zoom at 5 p.m. The movie will focus on stories about the transgender community. Grab your PJ's, a blanket and pillow and cozy up for a relaxing night of fun. To RSVP, visit: . mayistransdc.com/event-details/movie-night.
Monday, May 17
Join GenderQueer DC for their monthly support group for people who identify outside of the gender binary. Whether you're bigender, agender, gender fluid, or just know that you're not 100% cis – this is your group. The event will be on Zoom and will begin at 7 p.m. For more information, visit genderqueerdc.org or their Facebook page.
Join May Is Trans DC for "Trans Led Organizations via Zoom at 7 p.m. The event will feature panelists Queen Victoria Ortaga, Jevon Martin, Kayla Gore, and Lee Blinder who will discuss how to observe the unique needs of transgender communities to create non-profit organizations. To RSVP, visit: mayistransdc.com/event-details/trans-led-organizations.
Tuesday, May 18
The DC Center will host "Bi Roundtable Discussion" via Zoom at 7 p.m. This monthly event will be an opportunity for people to gather to discuss issues related to bisexuality or as bi individuals in a private setting. For more information visit Center Bi's Facebook page: facebook.com/centerbiplus.
"Ask Me About My Pronouns" will be on Zoom at 7 p.m. Join Will Wanzer III, Grayson Baker, and Marian Cooper for an educational conversation about how to use pronouns and best practices if you do not know someone's pronouns. To RSVP, visit: mayistransdc.com/event-details/ask-me-about-my-pronouns-1.
Wednesday, May 19
"Allies of the Transgender Community" is an online panel that will be hosted on Zoom at 7 p.m. This event, organized by May Is Trans DC, will discuss the ins and outs of transgender allyship. The featured panelists are Justin Woods, Stephania Mahdi, and Jewel Addy. For more information, visit: mayistransdc.com/event-details/allies-of-the-transgender-community.
Join BookMen DC as they discuss gay literature over Zoom at 7:30 p.m. For more information, visit: bookmendc.blogspot.com.
Thursday, May 20
The DC Center will host an online Poly Discussion group starting at 7 p.m. on Zoom. This group is designed to be a forum for people at all different stages to discuss polyamory and other consensual non-monogamous relationships. Newcomers will be given a basic introduction into what polyamory is and what some of the advantages and disadvantages are. Attendees who are already in relationships will also be given the opportunity to discuss their situations and get advice from the group if they feel that would be helpful. This group is open to people of all sexual orientations and people who are interested in non-monogamy in both kinky and non-kinky relationships. For more information, visit: thedccenter.org/events/poly-group-discussion-2021-05-20.