United Nations unveils global LGBT rights campaign
Singer Ricky Martin among those who support effort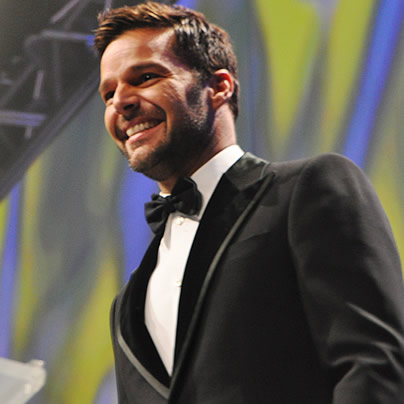 The year-long effort, which the Office of the U.N. High Commissioner for Human Rights unveiled during a press conference in Cape Town, South Africa, seeks to raise awareness of anti-LGBT violence and discrimination and encourage what it describes as "greater respect for the rights of LGBT people."
The "Free & Equal" campaign will stress what a press release described as the "need for both legal reforms and public education to counter homophobia and transphobia." The Office of the U.N. High Commissioner for Human Rights will also produce a number of videos that are similar to the one it released in May to mark the annual International Day Against Homophobia and Transphobia.
Archbishop Desmond Tutu and gay South African Constitutional Court Justice Edwin Cameron, who lives with HIV, joined U.N. High Commissioner for Human Rights Navi Pillay at the Cape Town press conference.
"Changing attitudes is never easy. But it has happened on other issues and it is happening already in many parts of the world on this one," Pillay said. "It begins with often difficult conversations. And that is what we want to do with this campaign. 'Free & Equal' will inspire millions of conversations among people around the world and across the ideological spectrum."
The U.N. in 2011 adopted a resolution in support of LGBT rights.
South Africa is among the 11 countries in which gays and lesbians can legally marry, but more than 70 countries continue to criminalize consensual same-sex sexual acts.
An increasing number of LGBT rights advocates have called for a boycott of the 2014 Winter Olympics in Sochi, Russia, and Russian vodka in response to recently enacted laws that ban so-called gay propaganda and same-sex couples from other countries from adopting Russian children. Four Dutch LGBT advocates returned to the Netherlands earlier this week after authorities in the Russian city of Murmansk arrested them under the country's anti-gay propaganda law after they interviewed a teenager for a documentary on gay life in Russia.
The reported murder of a cross-dressing teenager near the Jamaican resort city of Montego Bay earlier this week sparked outrage among LGBT rights advocates in the Caribbean nation. The U.S. State Department and Human Rights Watch are among the groups that condemned the killing of prominent Cameroonian LGBT rights advocate Eric Ohena Lembembe who was found dead inside his home in the country's capital on July 15.
Zimbabwean President Robert Mugabe earlier this month sparked controversy when he said during a campaign rally ahead of his country's July 31 elections that authorities should arrest gays and lesbians who don't conceive children.

"The [U.N.'s] Universal Declaration of Human Rights promises a world in which everyone is born free and equal in dignity and rights — no exceptions, no one left behind," Pillay said. "Yet it's still a hollow promise for many millions of LGBT people forced to confront hatred, intolerance, violence and discrimination on a daily basis."
Singers Ricky Martin and Daniela Mercury and Bollywood actress Celina Jaitly are among those who have pledged to support the campaign.
The United Nations on Friday officially launched a public education campaign designed to increase support for LGBT rights around the world.
D.C. man charged with 2020 anti-gay death threat rearrested
Defendant implicated in three anti-LGBTQ incidents since 2011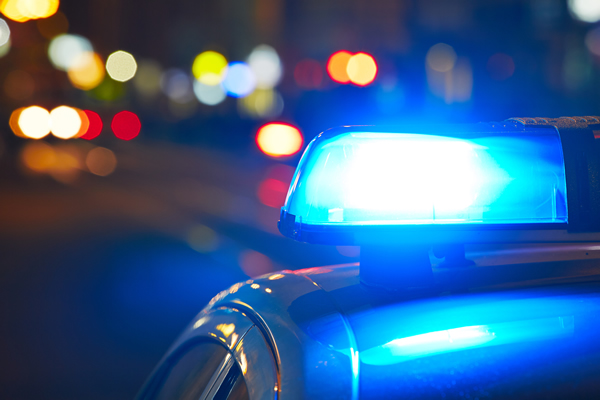 A D.C. man arrested in August 2020 for allegedly threatening to kill a gay man outside the victim's apartment in the city's Adams Morgan neighborhood and who was released while awaiting trial was arrested again two weeks ago for allegedly threatening to kill another man in an unrelated incident.
D.C. Superior Court records show that Jalal Malki, who was 37 at the time of his 2020 arrest on a charge of bias-related attempts to do bodily harm against the gay man, was charged on May 4, 2021 with unlawful entry, simple assault, threats to kidnap and injure a person, and attempted possession of a prohibited weapon against the owner of a vacant house at 4412 Georgia Ave., N.W.
Court charging documents state that Malki was allegedly staying at the house without permission as a squatter. An arrest affidavit filed in court by D.C. police says Malki allegedly threatened to kill the man who owns the house shortly after the man arrived at the house while Malki was inside.
According to the affidavit, Malki walked up to the owner of the house while the owner was sitting in his car after having called police and told him, "If you come back here, I'm going to kill you." While making that threat Malki displayed what appeared to be a gun in his waistband, but which was later found to be a toy gun, the affidavit says.
Malki then walked back inside the house minutes before police arrived and arrested him. Court records show that similar to the court proceedings following his 2020 arrest for threatening the gay man, a judge in the latest case ordered Malki released while awaiting trial. In both cases, the judge ordered him to stay away from the two men he allegedly threatened to kill.
An arrest affidavit filed by D.C. police in the 2020 case states that Malki allegedly made the threats inside an apartment building where the victim lived on the 2300 block of Champlain Street, N.W. It says Malki was living in a nearby building but often visited the building where the victim lived.
"Victim 1 continued to state during an interview that it was not the first time that Defendant 1 had made threats to him, but this time Defendant 1 stated that if he caught him outside, he would 'fucking kill him.'" the affidavit says. It quotes the victim as saying during this time Malki repeatedly called the victim a "fucking faggot."
The affidavit, prepared by the arresting officers, says that after the officers arrested Malki and were leading him to a police transport vehicle to be booked for the arrest, he expressed an "excited utterance" that he was "in disbelief that officers sided with the 'fucking faggot.'"
Court records show that Malki is scheduled to appear in court on June 4 for a status hearing for both the 2020 arrest and the arrest two weeks ago for allegedly threatening to kill the owner of the house in which police say he was illegally squatting.
Superior Court records show that Malki had been arrested three times between 2011 and 2015 in cases unrelated to the 2021 and 2020 cases for allegedly also making threats of violence against people. Two of the cases appear to be LGBTQ related, but prosecutors with the U.S. Attorney's Office did not list the cases as hate crimes.
In the first of the three cases, filed in July 2011, Malki allegedly shoved a man inside Dupont Circle and threatened to kill him after asking the man why he was wearing a purple shirt.
"Victim 1 believes the assault occurred because Suspect 1 believes Victim 1 is a homosexual," the police arrest affidavit says.
Court records show prosecutors charged Malki with simple assault and threats to do bodily harm in the case. But the court records show that on Sept. 13, 2011, D.C. Superior Court Judge Stephen F. Eilperin found Malki not guilty on both charges following a non-jury trial.
The online court records do not state why the judge rendered a not guilty verdict. With the courthouse currently closed to the public and the press due to COVID-related restrictions, the Washington Blade couldn't immediately obtain the records to determine the judge's reason for the verdict.
In the second case, court records show Malki was arrested by D.C. police outside the Townhouse Tavern bar and restaurant at 1637 R St., N.W. on Nov. 7, 2012 for allegedly threatening one or more people with a knife after employees ordered Malki to leave the establishment for "disorderly behavior."
At the time, the Townhouse Tavern was located next door to the gay nightclub Cobalt, which before going out of business two years ago, was located at the corner of 17th and R Streets, N.W.
The police arrest affidavit in the case says Malki allegedly pointed a knife in a threatening way at two of the tavern's employees who blocked his path when he attempted to re-enter the tavern. The affidavit says he was initially charged by D.C. police with assault with a dangerous weapon – knife. Court records, however, show that prosecutors with the U.S. Attorney's Office lowered the charges to two counts of simple assault. The records show that on Jan. 15, 2013, Malki pleaded guilty to the two charges as part of a plea bargain arrangement.
The records show that Judge Marissa Demeo on that same day issued a sentence of 30 days for each of the two charges but suspended all 30 days for both counts. She then sentenced Malki to one year of supervised probation for both charges and ordered that he undergo alcohol and drug testing and undergo treatment if appropriate.
In the third case prior to the 2020 and 2021 cases, court records show Malki was arrested outside the Cobalt gay nightclub on March 14, 2015 on multiple counts of simple assault, attempted assault with a dangerous weapon – knife, possession of a prohibited weapon – knife, and unlawful entry.
The arrest affidavit says an altercation started on the sidewalk outside the bar when for unknown reasons, Malki grabbed a female customer who was outside smoking and attempted to pull her toward him. When her female friend came to her aid, Malki allegedly got "aggressive" by threatening the woman and "removed what appeared to be a knife from an unknown location" and pointed it at the woman's friend in a threatening way, the affidavit says.
It says a Cobalt employee minutes later ordered Malki to leave the area and he appeared to do so. But others noticed that he walked toward another entrance door to Cobalt and attempted to enter the establishment knowing he had been ordered not to return because of previous problems with his behavior, the affidavit says. When he attempted to push away another employee to force his way into Cobalt, Malki fell to the ground during a scuffle and other employees held him on the ground while someone else called D.C. police.
Court records show that similar to all of Malki's arrests, a judge released him while awaiting trial and ordered him to stay away from Cobalt and all of those he was charged with threatening and assaulting.
The records show that on Sept. 18, 2015, Malki agreed to a plea bargain offer by prosecutors in which all except two of the charges – attempted possession of a prohibited weapon and simple assault – were dropped. Judge Alfred S. Irving Jr. on Oct. 2, 2015 sentenced Malki to 60 days of incarnation for each of the two charges but suspended all but five days, which he allowed Malki to serve on weekends, the court records show.
The judge ordered that the two five-day jail terms could be served concurrently, meaning just five days total would be served, according to court records. The records also show that Judge Irving sentenced Malki to one year of supervised probation for each of the two counts and ordered that he enter an alcohol treatment program and stay away from Cobalt.
Biden administration announces global LGBTQ rights priorities
Homosexuality remains criminalized in upwards of 70 countries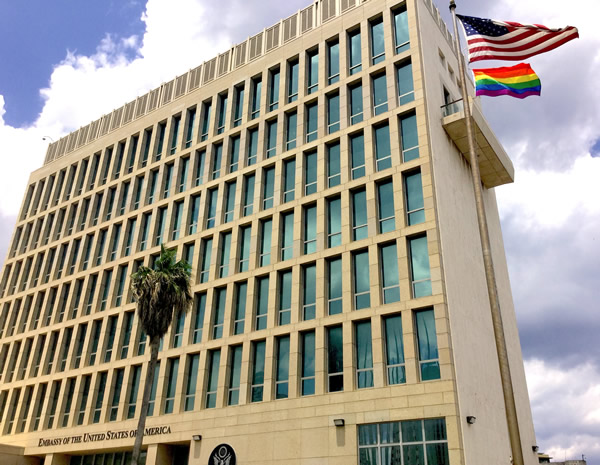 State Department spokesperson Ned Price on May 14 said the decriminalization of consensual same-sex sexual relations is one of the five priorities for the Biden administration in its efforts to promote LGBTQ rights abroad.
"The United States over the course of years has made some progress, but neither I, nor I think any objective observer should be satisfied with where we are," Price told the Washington Blade during a telephone interview. "There's a lot more work to do."
President Biden in February signed a memorandum that committed the U.S. to promoting LGBTQ rights abroad. Price told the Blade the decriminalization of homosexuality is "one of the many reasons why" the White House issued it.
"It is one of the many reasons why Secretary Blinken is so focused on this issue as well," said Price.
Homosexuality remains criminalized in nearly 70 countries around the world.
Saudi Arabia and Iran are among the handful of countries that impose the death penalty upon anyone found guilty of engaging in consensual same-sex sexual relations. Bhutan and Gabon are among the nations that have decriminalized homosexuality in recent years.
The Trump administration in 2019 tapped then-U.S. Ambassador to Germany Richard Grenell to lead a decriminalization initiative. Price declined to tell the Blade whether he feels the campaign was effective.
"Across the board I generally have a posture of not characterizing the last administration," said Price. "I'll leave them to speak to their record."
Migration mitigation efforts must be 'holistic'
Price told the Blade the Biden administration will also work to protect LGBTQ migrants and asylum seekers.
"When it comes to the (issue of) irregular migration, this is not just a challenge at our border," he said. "This is fundamentally a challenge that starts in the region and if we are to address the migrant flows that reach our borders, we're going to have to start in the region and that's precisely what we're doing."
Activists in Honduras, El Salvador, Guatemala and other countries with whom the Blade has spoken say violence and discrimination based on gender identity and sexual orientation are among the factors that prompt LGBTQ people to flee their homes and travel to the U.S.
Price did not say whether any of the $4 billion in aid the Biden administration has pledged to spend in order to help mitigate the causes of migration from Central America's Northern Triangle will specifically go to LGBTQ rights groups or HIV/AIDS service organizations. Vice President Kamala Harris late last month announced an additional $310 million in aid to "address" what Price described as "the root causes of irregular migration and to provide people with the confidence that they need not undertake the very dangerous journey north to the United States and that they can be confident in their lives in their home countries."
"Oftentimes that is about economic opportunity, but there are cases in which it has more to do with discrimination and persecution," Price told the Blade. "And so, we recognize that our approach to addressing those underlying drivers has to be holistic, given there are a range of factors and that's why we're working with a variety of groups on the ground and also understanding that marginalized communities, including the LGBTQI community, in the region, that there needs to be meaningful partnership there as well."
"USAID (U.S. Agency for International Development) is deeply engaged in this work, the State Department is engaged in this work as well and will continue to be, knowing that if we're going to make progress, if we're going to address the underlying root causes of irregular migration, we need to attempt to address all of them," he added.
Price told the Blade the administration's three other global LGBTQ rights priorities are funding efforts "to protect human rights and to advance nondiscrimination around the world," respond to anti-LGBTQ human rights abuses and "building coalitions and engaging international organizations in the fight against this discrimination."
"We have said across the board that one of the pillars of our foreign policy is the recognition that, yes, the United States is the most powerful country on the face of the Earth," said Price. "We have tremendous sway and influence the world over, but we also recognize that in every challenge in virtually every arena, we will be able to do more, we will be able to be more effective, we'll be able to be more persuasive and act more decisively when we bring our allies and partners along with us and this administration has put a great deal of emphasis on our alliances, our partnerships, but also those like-minded, as we call them, partners."
Price added the U.S. recognizes "the values we share with our closest partners in the world are incredibly important."
"They provide us with a similar framework and a set of priorities on which to act and of course working together to protect, but also to promote the rights of LGBTQ populations around the world," he told the Blade. "It is a core tenet of what we share with our like-minded allies and partners. You will see us doing this on a bilateral basis. You will see us doing this on a multilateral basis, within blocks and groupings, and also at the U.N. as well. We will seek to press this case in all of those contexts."
Blinken issues IDAHOBiT statement
Price spoke with the Blade three days before the International Day Against Homophobia, Biphobia and Transphobia, which commemorates the World Health Organization's 1990 decision to declassify homosexuality as a mental disorder. Blinken on Sunday in a statement acknowledged IDAHOBiT.
"The message of 'Together: Resisting, Supporting, Healing!' is especially poignant as this year's IDAHOTB theme," said Blinken. "Ending hatred and violence against LGBTQI+ persons requires collaborative action from us all."
"The United States is doing its part," he added. "Within the first weeks of his administration, President Biden issued a memorandum instructing all U.S. federal agencies working abroad to 'ensure that U.S. diplomatic efforts and foreign assistance promote and protect the human rights of LGBTQI+ persons.' And that important work is well underway."
Blinken in his IDAHOBiT statement also referenced the same five priorities that Price discussed with the Blade.
"Working together, we can create a world that respects and celebrates the dignity of all individuals," said Blinken. "It is in partnership that we will achieve our goal of a rights-respecting, inclusive society where no one lives in fear because of who they are or whom they love."
Blinken in March announced the State Department has disbanded the Commission on Unalienable Rights, a human rights advisory committee his predecessor created that LGBTQ activists sharply criticized.
He announced last month the State Department will once again allow U.S. diplomatic installations to fly the Pride flag. The position of special U.S. envoy for the promotion of LGBTQ rights abroad within the State Department's Bureau of Democracy, Human Rights and Labor has remained vacant since 2017, but Blinken has pledged to make it an ambassador level post.
The Trump administration in 2018 withdrew from the U.N. Human Rights Council, which in recent years has emerged as a vocal champion of LGBTQ rights around the world. Blinken in February announced the U.S. will "reengage" with it.
Price is the first openly gay State Department spokesperson.
"I know that every time I say something I am speaking on behalf of the Department of State, on behalf of Secretary Blinken, on behalf of the U.S. government, sometimes on behalf of President Biden," he told the Blade. "I'm not sure what I fully appreciated before actually coming into this job is that I'm actually speaking to the LGBTQ community around the world."
Price said he received emails and tweets from around the world after the Biden transition team announced his appointment. Price told the Blade that some people were "seemingly in shock," while others had "some degree of delight that a member of the LGBTQ community would be put in such a public facing role in an American administration."
"I understand this work is not about me," Price told the Blade. "I'm never offering my personal opinion, but I think that I've come to understand that there is meaning in having an openly gay man in a role like this. There is meaning for the LGBTQ community at home, but especially in this role there is meaning and value attached to having that be the case around the world, and especially around the world where members of the community are routinely and often times systematically persecuted."
Biden names civil rights veteran to U.S. Education Dept.
Catherine Lhamon's portfolio will include LGBTQ rights, sexual misconduct, racial discrimination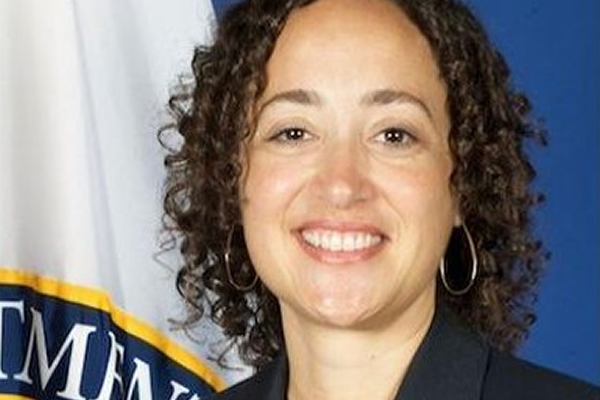 The White House announced Thursday that President Joe Biden has nominated Catherine Lhamon to serve as the Assistant Secretary of the Office for Civil Rights at the U.S. Department of Education.
Lhamon currently serves as a Deputy Assistant to the President and Deputy Director of the Domestic Policy Council for Racial Justice and Equity at the White House, where she manages the President's equity policy portfolio. She is a former attorney for the American Civil Liberties Union, (ACLU) and served as chair of the U.S. Commission on Civil Rights from 2017 to 2021.
She has also served as Legal Affairs Secretary to California Governor Gavin Newsom.
Her portfolio at Education, where she previously served in the same position under former President Barack Obama, will include LGBTQ rights, sexual misconduct and racial discrimination in the nation's K-12 schools, universities and colleges. Lhamon was Assistant Secretary for Civil Rights at the Department of Education, to which President Obama nominated her and the Senate confirmed her in 2013.
"I am thrilled that President Biden is nominating Catherine Lhamon to serve as Assistant Secretary of the Office for Civil Rights at the U.S. Department of Education. Catherine has devoted her career to ensuring equity is at the core of all her work," U.S. Secretary of Education Miguel Cardona said in a statement released by his office Thursday.
"She has a strong record of fighting for communities of color and underserved communities, whether as the current Deputy Director of the Domestic Policy Council, the former chair of the U.S. Commission on Civil Rights, or as a civil rights educator at Georgetown University. We are thrilled to have Catherine serving as Assistant Secretary for Civil Rights and know she will continue to fight for fairness, equity, and justice for all of America's students."
Lhamon has also litigated civil rights cases at National Center for Youth Law, Public Counsel Law Center, and the ACLU Foundation of Southern California.  Lhamon taught federal civil rights appeals at Georgetown University Law Center in the Appellate Litigation Program and clerked for the Honorable William A. Norris on the United States Court of Appeals for the Ninth Circuit.
"Catherine Lhamon is the right choice to lead the Department of Education's Office for Civil Rights at such a critical time for the country and the agency. There is much work to do in order to roll back the harmful policies and legacies of Betsy DeVos, from her attacks on transgender students to her unconscionable revocation of discriminatory discipline guidance and rewrite of Title IX rules," Adele Kimmel, Director of the Students' Civil Rights Project at Public Justice told the Blade in an email.
"During her previous tenure in the same job, Catherine embraced equality, enforced Title IX and ensured students had an ally inside the federal government. She will do so again, and the Senate should move to quickly confirm her so she can begin the work of restoring the Department's commitment to protecting the civil rights and dignity of students and implementing the Biden Administration's pledge to undo the damage that DeVos has done," Kimmel added.
Born in Virginia and raised in California, Lhamon graduated from Amherst College and Yale Law School. Lhamon and her husband and two daughters are transitioning between California and Maryland.