Cameroonian LGBT rights advocate murdered
The State Department described Eric Ohena Lembembe's death as a "terrible act"
Human Rights Watch said advocates found Eric Ohena Lembembe's body on his bed in his home in Yaoundé, the country's capital, after they were unable to reach him for two days.
One of Lembembe's friends told Human Rights Watch that his neck and feet "appeared to be broken." An iron was also reportedly used to burn Lembembe's face, hands and feet.
Lembembe, who was the executive director of the Cameroonian Foundation for AIDS, worked with Human Rights Watch and two other LGBT advocacy groups in the country — Alternatives-Cameroun and the Association for the Defense of Homosexuals — to document anti-gay persecution in the nation. He also contributed to Erasing 76 Crimes, a blog that chronicles efforts to report on efforts to decriminalize homosexuality around the world.
"Eric was an inspiring activist whose work was deeply appreciated by human rights activists in Cameroon and around the world," Neela Ghoshal, a researcher for Human Rights Watch's Lesbian, Gay, Bisexual and Transgender Rights Program, said. "Advocating for equal rights in Cameroon, where LGBTI people face severe discrimination and violence, takes tremendous courage. Eric's activism paved the way for a society based on equality and nondiscrimination."
State Department spokesperson Marie Harf also condemned Lembembe's murder.
"We condemn this terrible act in the strongest terms and urge the Cameroonian authorities to thoroughly and promptly investigate and prosecute those responsible for his death," she said in a statement issued late on Tuesday.
Lembembe's death comes against the backdrop of ongoing anti-gay persecution and violence in the country.
Cameroonian authorities since 2010 have prosecuted more than 30 people under the section of the country's penal code that imposes a sentence of up to five years in prison and a roughly $400 fine against anyone convicted of same-sex sexual activity.
Police in Yaoundé in March 2011 arrested Jean-Claude Roger Mbede after sending a flirtatious text message to another man. Authorities later that year arrested Jonas Kimie and Franky Ndome outside a nightclub in the Cameroonian capital and charged them under the country's anti-homosexuality law.
A judge sentenced Kimie and Ndome to five years in prison, but an appellate court in January released them. The Washington Blade's attempts to interview the men earlier this year were unsuccessful because they had gone into hiding.
Human Rights Watch said a group of unidentified assailants torched Alternatives-Cameroun's headquarters in the city of Douala on June 26. The organization noted burglars took legal files and a laptop from the Yaoundé office of Michel Togué, a lawyer who represents gay men charged under the country's anti-homosexuality law, when they broke into it 10 days earlier.
Togué said during a forum at the Robert F. Kennedy Center for Justice and Human Rights in D.C. in February that he moved his family to Maryland because of death threats he and his colleagues received.
"Gay people are not seeking everyone to approve of their behavior," he said. "They are seeking freedom."
The State Department and Amnesty International are among the government agencies and human rights organizations that have criticized Cameroon's LGBT rights record in recent years.
President Paul Biya told journalists in January after a meeting with French President François Hollande that attitudes towards gay Cameroonians are changing.
Ghoshal and other human rights advocates continue to urge Cameroonian authorities to publicly condemn Lembembe's murder and arrest those responsible for his death.
"We don't know who killed Eric Lembembe, or why he was killed, but one thing is clear: the Cameroonian authorities' utter failure to stem homophobic violence sends the message that these attacks can be carried out with impunity," Ghoshal said. "The police should not rest until the perpetrators of this horrific crime are brought to justice. President Biya should break his silence on the wave of homophobic violence in Cameroon and publicly condemn this brutal attack."
A prominent LGBT rights advocate in Cameroon was found dead inside his home on Monday.
Colin Powell, leaving mixed legacy on 'Don't Ask, Don't Tell,' dies at 84
Key figure once opposed gays in military, then backed review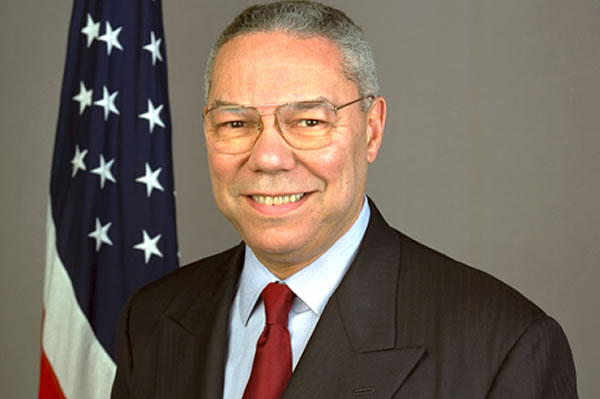 Colin Powell, the first ever Black secretary of state who served in top diplomatic and military roles in U.S. administrations, died Monday of coronavirus at age 84, leaving behind a mixed record on "Don't Ask, Don't Tell."
The world continues to grapple with the pandemic and the public grows increasingly frustrated with its persistence as many remain unvaccinated despite the wide availability of vaccines. Powell was fully vaccinated, according to a statement released upon his death. Powell reportedly suffered from multiple myeloma, a condition that hampers an individual's ability to combat blood infections.
Rising to the top of the military as chair of the Joint Chiefs of Staff, Powell supported in 1993 Congress moving forward with "Don't Ask, Don't Tell," a law that barred openly gay people from serving in the U.S. military.
During a key moment congressional testimony, Powell and other top military officials were asked whether or not allowing gay people in the military would be compatible with military readiness. Each official, including Powell," responded "incompatible." Congress would enact "Don't Ask, Don't Tell" that year.
Things changed when President Obama took office 15 years later and advocates for repeal of "Don't Ask, Don't Tell" were eager to claim Powell's voice among their ranks. After all, Powell was highly respected as a bipartisan voice after having served as secretary of state in the administration of George W. Bush and endorsing Obama in the 2008 election.
After the Obama administration in 2010 announced it would conduct a review of the idea of allowing gay people to serve openly in the military, Powell came out in support of that process. Advocates of repeal called that a declaration of reversal, although the statement fell short of a full support for gay people serving openly in the military.
"In the almost 17 years since the 'Don't Ask, Don't Tell' legislation was passed, attitudes and circumstances have changed," General Powell said in a statement issued by his office, adding, "I fully support the new approach presented to the Senate Armed Services Committee this week by Secretary of Defense Gates and Admiral Mullen."
Congress acted to repeal "Don't Ask, Don't Tell" and the policy was lifted in 2011. At the time, Powell was widely considered a supporter of ending "Don't Ask, Don't Tell" and publicly counted among supporters of repeal, although the Blade couldn't immediately find any statements from him to that effect.
In 2012, Powell had similar vaguely supportive words on same-sex marriage, saying he had "no problem with it" when asked about the issue.
"As I've thought about gay marriage, I know a lot of friends who are individually gay but are in partnerships with loved ones, and they are as stable a family as my family is, and they raise children," Powell said. "And so I don't see any reason not to say that they should be able to get married."
The Blade also couldn't immediately find any statement from Powell on transgender people serving in the military. After the Obama administration in 2016 lifted decades-old regulations against transgender service, former President Trump issued a ban by tweet the following year. President Biden reversed that ban and allowed transgender people to serve and enlist in the military in his first year in office.
Botswana attorney general seeks to recriminalize homosexuality
High Court heard case on Oct. 12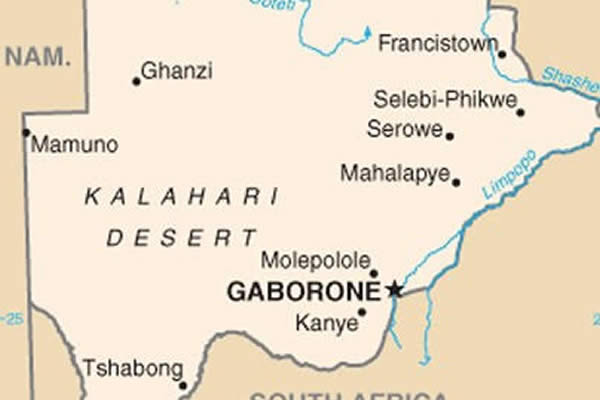 GABORONE, Botswana — On June 11, 2019, Botswana moved toward being a state that no longer held some of its citizens (and, by extension, visitors) as criminals if they identified within the LGBTQ spectrum. However, the government didn't take too long before it declared its intention to appeal the High Court judgment that asserted that consensual same-sex sexual activity in private was not to be a criminal act.
The appeal hearing took place on Oct. 12.
There are some key things to understand about what the High Court did for people in Botswana. The judgment, written and delivered by Justice Leburu, not only put a clear delineation between the state's powers to intrude in people's private sexual lives, but it also stated that laws that served no purpose in the governance of the people they oversaw were most likely worthy of "a museum peg" more than being active laws of the land.
In the hearing on Oct. 9, a full bench of five judges of the Court of Appeal was treated to the government's case—as presented by advocate Sydney Pilane of the Attorney General's Chambers—along with hearing the rebuttals from the legal counsel representing Letsweletse Motshidiemang, who brought the original case against the government, and LEGABIBO, an NGO admitted as amicus curiae, a friend of the court. The appeal, two years in the making, would have been expected to be based on facts rather than opinions of what could and could not be accepted by hypothetical Batswana. Pilane even went so far as to contest that President Mokgweetsi Masisi's utterances about how people in same-sex relationships were "suffering in silence" were taken out of context as he was talking about gender-based violence and not endorsing their relationships.
The 2019 ruling of the High Court, the most supreme court of incidence in the country, not only declared people who were or had interest in engaging in consensual same-sex sexual activity not criminals, but it also allowed non-queer people to engage in sex acts that would otherwise be considered "against the order of nature" freely. The latter clause had often been interpreted as being solely about non-heterosexuals but on greater interrogation one realizes that any sex act that doesn't result in the creation of a child was considered against this 'order of nature' and that nullified much of heterosexual sexual exploration—further painting these clauses as out of touch with contemporary Botswana as Leburu expressed.
In some of his appeal arguments, Pilane stated that Batswana "do not have a problem with gay people", yet he based his contention on the fact that Batswana "respect the courts' decisions;" as such they would not take up arms at the court's decision to decriminalize consensual same-sex sexual activity. Pilane maintained that the decision to decriminalize should be left to the Parliament on the recommendation of the courts. The bench was swift to query whether a body of politicians elected by a majority would be the best representatives of a minority that was oppressed by laws that the very politicians benefitted from.
Botswana's legal system allows for the High Court ruling to remain the law of the land until such a point as it's struck down. The Court of Appeal ruling in favor of Batswana's sexual liberties will be a nail in the proverbial coffin of residual colonial sex-related laws plaguing Botswana. This will not be the end by any means though. Where the attorney general can form a case stating that decriminalizing consensual same-sex relations could be likened to people locking themselves in their houses with animals and having their way with them, we know that mindset changes need to be prioritized to ensure that all Batswana understand their constitutionally protected rights to privacy, expression, and freedom of association as relates to their personal and sexual lives.
The 2010 Employment Act of Botswana already protects people from being discriminated against based on their sex or gender identity. The nation's sexual violence laws were made gender neutral, thus covering non-consensual sex (rape) in all its possibilities. In upholding the ruling of the High Court, the Court of Appeal will allow the LGBTQ and SOGIESC (sexual orientation, gender identity and expression and sex characteristics) movements in Botswana some respite as attention is then channeled toward other pressing matters such as name changes, access to healthcare, and other culturally pertinent issues.
The Court of Appeal is expected to hand down a judgement following their deliberations in 4-6 weeks (mid to late November), however, this remains at their discretion. As it stands, since the High Court ruling in 2019, Botswana has experienced increased social accommodation for LGBTQ matters and figures—however, this is not to say there have not been any negative instances. With the continued sensitization, the expectation is that the courts, the government and NGO players will all contribute to a broad, national, culturing of LGBTQ rights in Botswana devoid of colonial residues.
D.C. rejects request by gyms to lift mask mandate
LGBTQ-owned venues sign letter calling requirement 'devastating' for business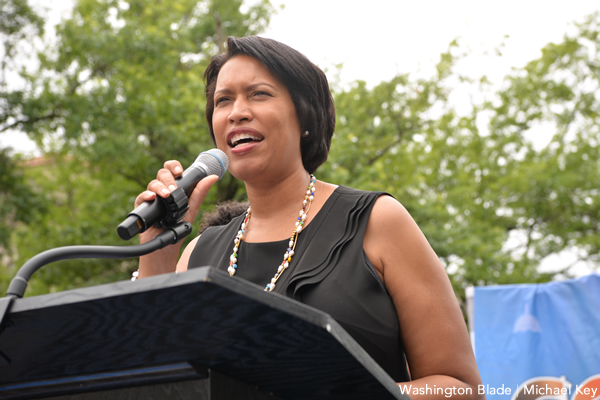 Owners of two LGBTQ-owned D.C. fitness studios and one gym signed on to a joint letter with the owners of six other similar businesses urging D.C. Mayor Muriel Bowser and D.C. Department of Health Director Dr. Laquandra Nesbitt to lift a city mandate requiring patrons of gyms and fitness studios to wear masks.
The Oct. 4 letter, written by gay businessman Bryan Myers, the CEO and president of a chain of local fitness studios using the trademark name of [solidcore], states that the mask mandate, which applies to people who are fully vaccinated for the coronavirus, is based largely on outdated data pertaining to gyms and fitness studios collected prior to the widespread availability of the COVID vaccine.
"More relevant data to inform decision-making would be to study the data from two, large Northeastern cities that have opted to allow fitness classes to continue with the requirement of vaccination in lieu of a mask requirement," the letter states. "In both New York City and Philadelphia, which have opted for this approach, we have not seen an increase in the trajectory of the Delta variant," Myers says in the letter.
In the last week of July, the U.S. Centers for Disease Control and Prevention issued a recommendation that cities and local jurisdictions with 50 new COVID cases per 100,000 residents per week, which at that time included D.C., should ask residents to voluntarily resume wearing masks indoors. That same week, Bowser announced she would go one step further by mandating the indoor use of masks in most public places, including gyms and fitness spas or studios.
Bowser and Nesbitt said their intention was to take immediate steps to curtail the spread of the coronavirus so that the city would not be forced to return to the full shutdown mode, including the closing of businesses, that the mayor lifted earlier this year.
Maryland Gov. Larry Hogan and Virginia Gov. Ralph Northam announced they would ask residents of their states to consider using masks in crowded indoor spaces as recommended by the CDC, but said they would not require mask use.
In their letter to Bowser and Nesbitt, the gym and fitness studio owners called on the mayor to provide the same exemption to their businesses as the city has provided for restaurants, bars, and nightclubs, which requires masks except when patrons are eating and drinking.
"While it is true that bars, restaurants, and clubs technically have to follow the same guidelines, we know that in practice, these venues have been granted exceptions by D.C. Health," the letter says. "On any given night, you can find hundreds of individuals crowded into a U Street bar, at a Capitol Hill restaurant, or thousands at a performance or party at The Anthem enjoying themselves – singing, dancing and physically exerting themselves, shouting – maskless – so long as they have a drink somewhere nearby," says the letter.
"And to be unequivocally clear, we are not advocating that there is anything wrong with what is happening in other industries or that there be a change to the management of those industries/venues," the letter continues. "We are simply advocating that we be treated the same as they are."
The letter adds, "Finally, but perhaps most importantly, the mask mandate for fitness studios and gyms has resulted in devastating financial impact to these businesses – many of which are small locally owned."
It says patronage has dropped 50 percent for some of the fitness centers and gyms since the mayor's mask mandate took effect July 29. It points out that the drop in customers comes at a time when many of these businesses have spent thousands of dollars and in some cases hundreds of thousands to upgrade their ventilation and filtration systems and other structural steps to curtail the spread of the coronavirus.
Myers told the Washington Blade in a statement that neither the Department of Health nor the mayor's office replied directly to the gym and fitness studios' letter.
Channel 7 News reported that in response to its request for the city's reaction to the gym and fitness studios' concerns, the Department of Health released a statement saying, "D.C. Health's stance is that persons should wear masks in gyms and during this time [we] do not have plans to change our stance on this guidance."
In his statement to the Blade, Myers said the D.C. gym and fitness studios were frustrated and disappointed that the city at this time is not open to reconsidering the mask mandate for gyms and fitness studios, many of which he said are barely surviving.
"This mandate is directly affecting the livelihoods of residents of the District, many of whom are women, people of color, and/or LGBTQ+ in a policy that is simply not equitable, and is steering residents away from services that can help improve the overall health of our community," Myers said.