Helming 'Chorus'
Broadway vet directing current Olney production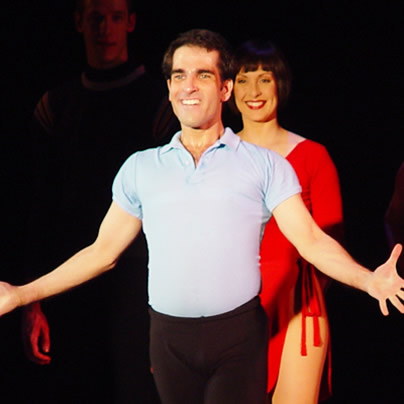 'A Chorus Line'
Through Sept. 1
Olney Theatre Center
2001 Olney-Sandy Spring Road, Olney, MD
$32.50-$65
301-924-3400
olneytheatre.org
Director and choreographer Stephen Nachamie's connection to the groundbreaking musical "A Chorus Line" is long and heartfelt. Not only has he played several of the characters in tours and regional productions over the years, but he's also staged a couple versions too.
So when Olney Theatre Center's Artistic Director Jason Loewith called last December asking him to helm their own peek into the joys and struggles of Broadway's "gypsies," Nachamie had to give the offer some extra consideration before accepting.
In past Olney seasons, the New York-based Nachamie, who is gay, has had successes with musicals "You're a Good Man, Charlie Brown," "Camelot" and "1776," but to direct "A Chorus Line," he says he felt an obligation to set the bar extra high.
"To do this right I knew that I needed strong dancers, daring actors and singers who could convincingly move from speech to song. I'd heard D.C. might not have the skill set, but we found a lot of well-trained hardworking honest actors here. We brought some people from New York like Nancy Lemenager and Bryan Knowlton, but three-fourths of the cast are local [including Parker Drown and Sam Edgerly]. 'A Chorus Line' calls on great dancers to really act. This is an amazing opportunity for them to show what they can do."
Crafted from a series of recorded informal talks among working Broadway dancers, "A Chorus Line" tells the story of 17 dancers auditioning for limited spots in a new musical. Standing on a bare stage, the anxious aspirants are asked by an unseen director to talk about themselves. Their compelling stories — told in words by librettists James Kirkwood, Jr. and Nicholas Dante and song from Marvin Hamlish and Edward Kleban's Tony Award-winning score — range from amusingly raw to wistfully poignant.
Originally directed and choreographed by the brilliant Michael Bennett, the multiple Tony-winning musical opened on Broadway in the summer of 1975, proving a huge success with critics and theatergoers alike and later won the 1976 Pulitzer Prize for Drama (not a common feat for a musical).
Nachamie, a native New Yorker who grew up seeing a lot of Broadway musicals (his first was "Grease" at age 4), recalls his introduction to "A Chorus Line": "I remember first seeing it with my brother and sister. I think I was 12. There were these characters on stage who matter-of-factly said they were gay. It was simply part of their stories. They didn't slink offstage in shame. I'd never seen anything like that before. It made a big impression.
"With this show, I really want to tell the story of a dancers' life," he says. "I'm inspired by Michael Bennett [who died from AIDS-related lymphoma in 1987 at just 44]. His work focused on the characters. The original 'A Chorus Line' was all about the actors. The set was a black box with a mirror.  Bennett's original 'Dreamgirls' was a black box with some light towers."
This production is set in 1975. Somehow a saucy dancer singing about how her career blossomed after the scalpel-wielding "wizard on Park and 73rd" inflated her breasts and booty doesn't pack the same wallop in cosmetic surgery-jaded 2013, but it's still a cute number.
Nachamie, 40, looks back on his career to date. As an actor from late adolescence and now a director and writer, he describes the New York theater world as a place where he found acceptance. It's where he comfortably came out and came of age surrounded by positive role models.
"Some pretty great things and some not so great things are happening for the LGBT community today," Nachamie says. "It's important to take stock of where we've been and where we're going. 'A Chorus Line' is about people staking a claim for a dream and putting their hearts and soul on the line for what they want. It reminds us that we're owed nothing. We have to work for it."
10 LGBTQ events this week
Extended Pride season continues with Ho Co and Laurel festivals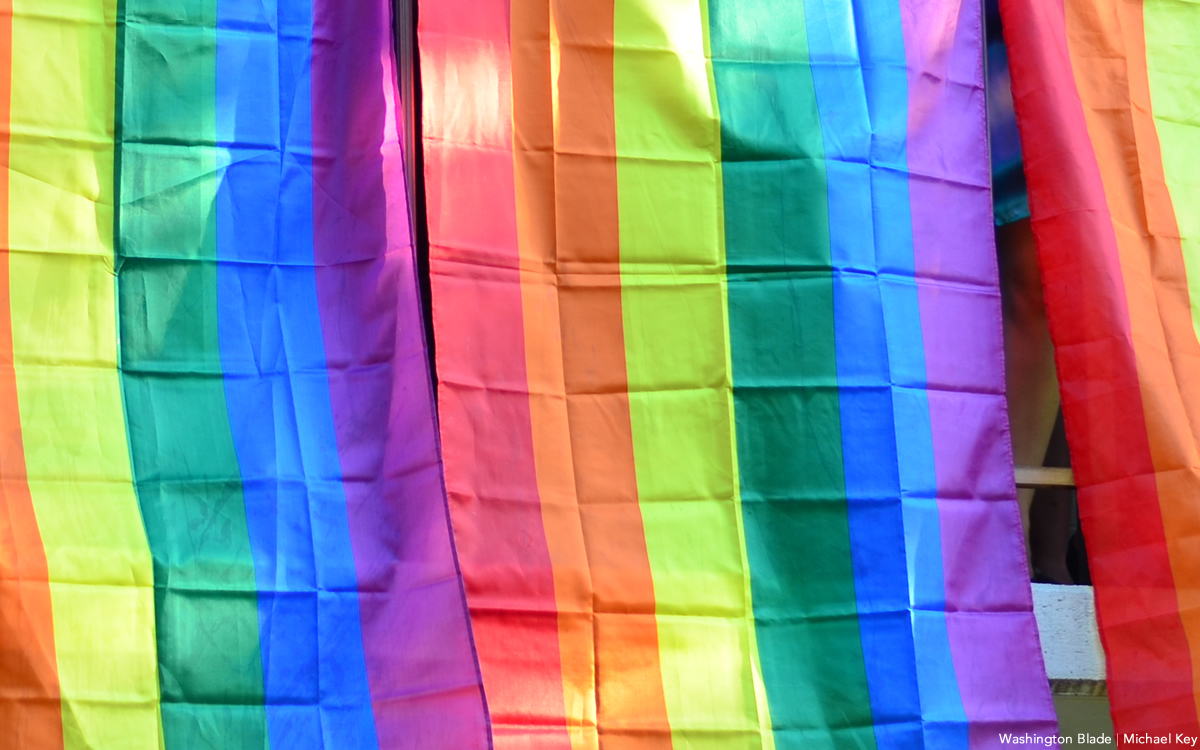 Below are our picks for some of the most fun and creative things to do this week in the DMV that are of special interest to the LGBTQ community.
---
PRIDEtoberfest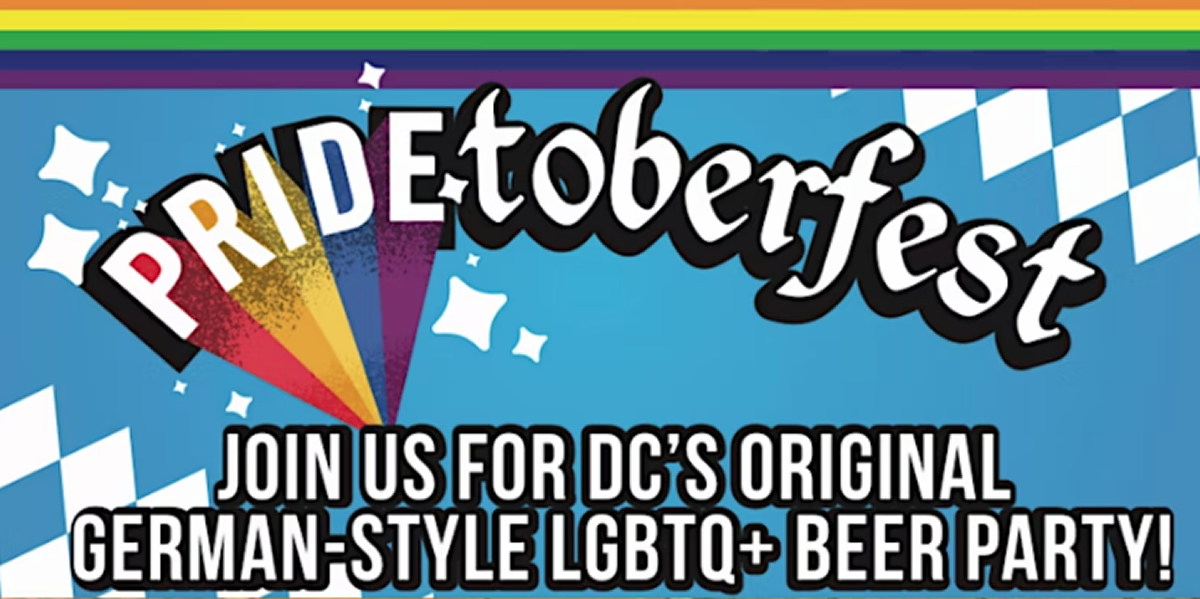 Thrusday, October 6
7-11 p.m.
Wunder Garten
1101 1st Street N.E.
Free
Eventbrite
Dress for Oktoberfest and join in on a night of drinks, dancing and prizes. Event benefits the Capital Pride Alliance.
---
Yes Homo! Yes Queen! Comedy Show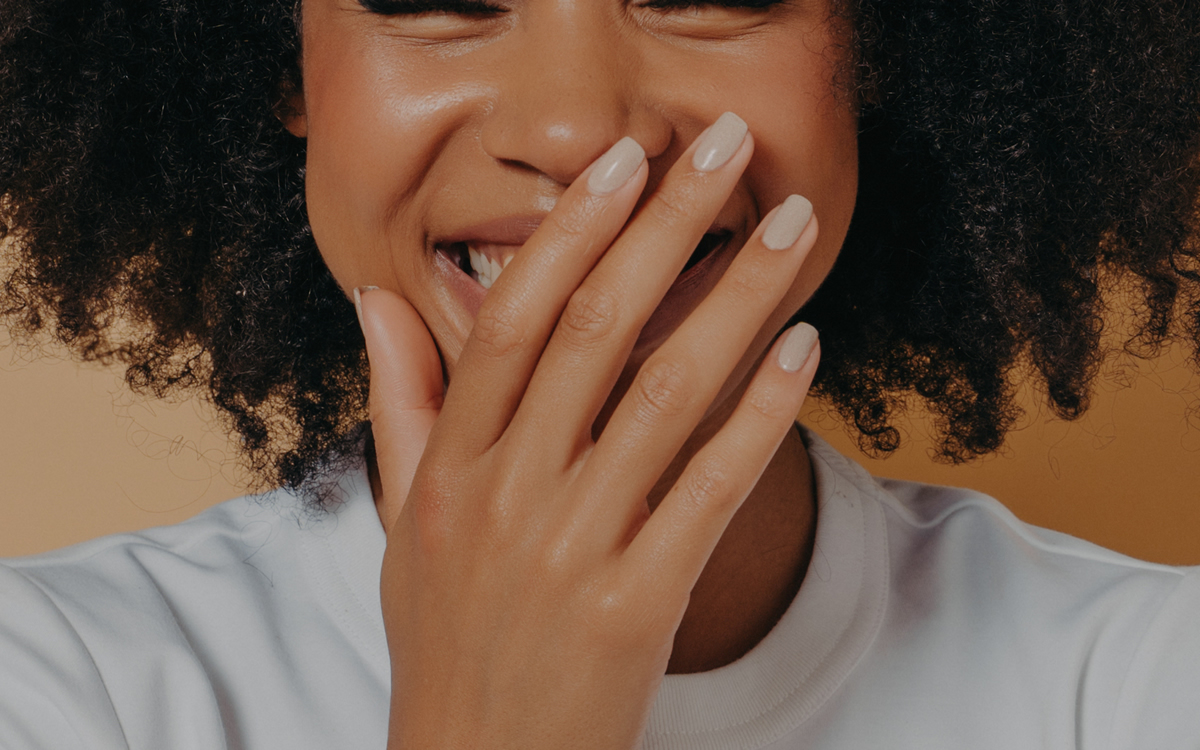 Thursday, Oct. 6
8 p.m.
DC Comedy Loft and Bier Baron Tavern
1523 22nd Street, N.W.
$12 + two item minimum (food/beverage)
Website
Celebrate the queens and royalty of DC comedy with a debut show featuring female-identifying and non binary comics. The event is hosted by Ursula Fox-Koor, Reem Seliem and Sunny Soroosh and features Lil Vida, Joey Friedman, Violet Gray, Justine Morris, Hedi Sandberg, Davine Kerr, Jasmine Burton and Sandi Benton. Plan to arrive 30 minutes before the show starts to get a good seat. There will be a burlesque intermission.
---
Sleeze: Sucks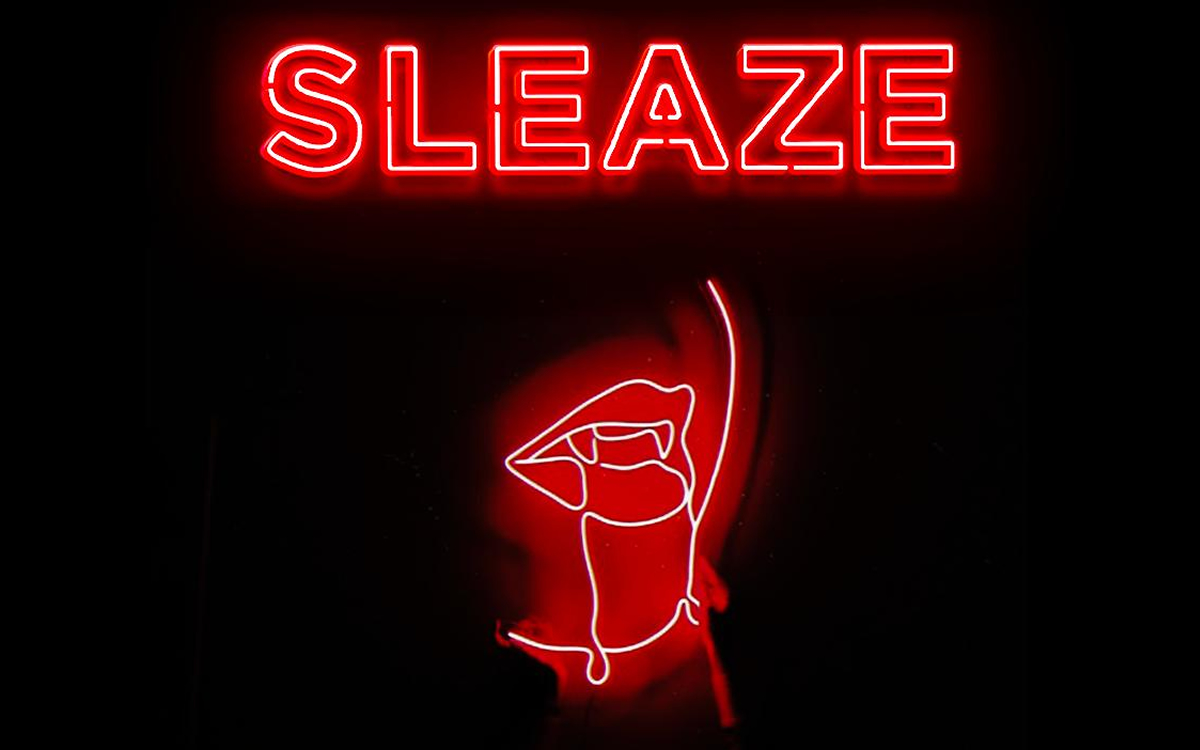 Thursday, Oct. 6
9 p.m.
DC9 Nightclub
1940 9th Street, N.W.
$10
Facebook | Eventbrite
Check out this spooky monthly dance party with performances by Jaxknife and Jane Saw. Listen to the "darker sides of disco with forward-thinking techno" with DJs Sappho, Lemz and KeenanOrr.
---
Slay Them Drag Competition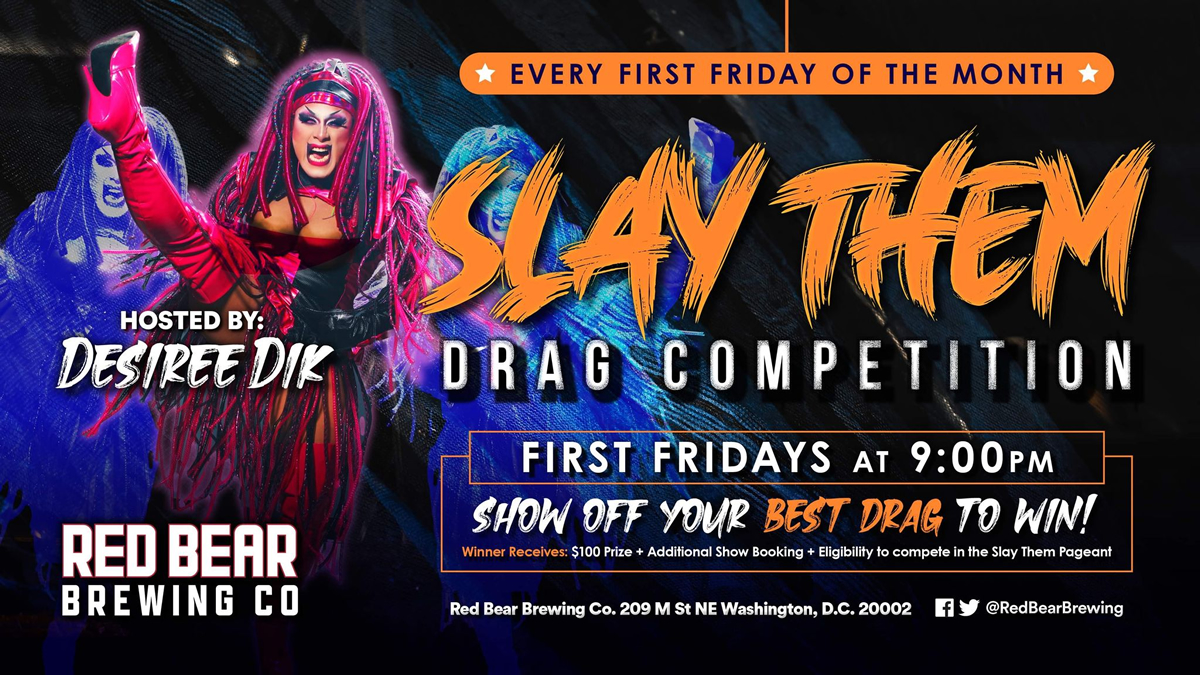 Friday, Oct. 7
9 p.m.
Red Bear Brewing Co.
209 M Street, N.E.
Facebook
Desiree Dik is ready to Slay as host of an amateur drag competition. Come watch the new performers and cheer for your favorites!
---
Freeform Fridays FRiKiTONA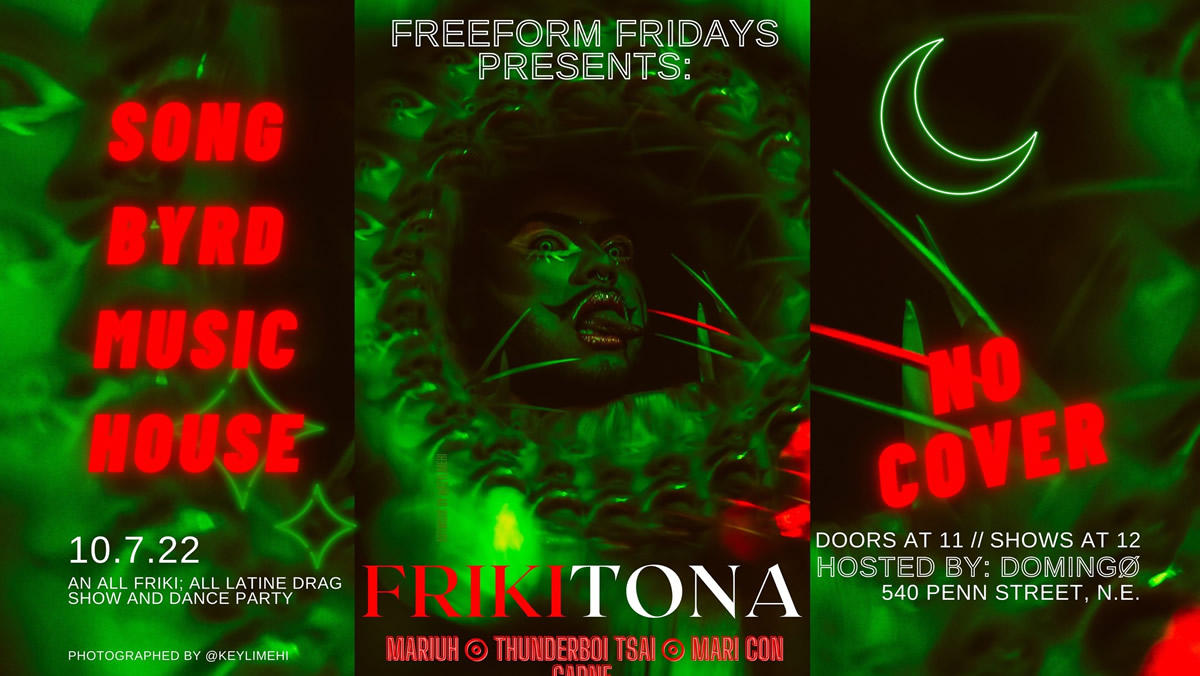 Friday, Oct. 7
doors 11 p.m. / show midnight
Songbyrd Music House
540 Penn Street, N.E.
Facebook
Doming0 hosts an "all Latine Drag Show and Dance Party" at Songbyrd Music House on Friday with performances by Mari Con Carne, Thunderboi Tsai and Mariuh.
---
Laurel Pride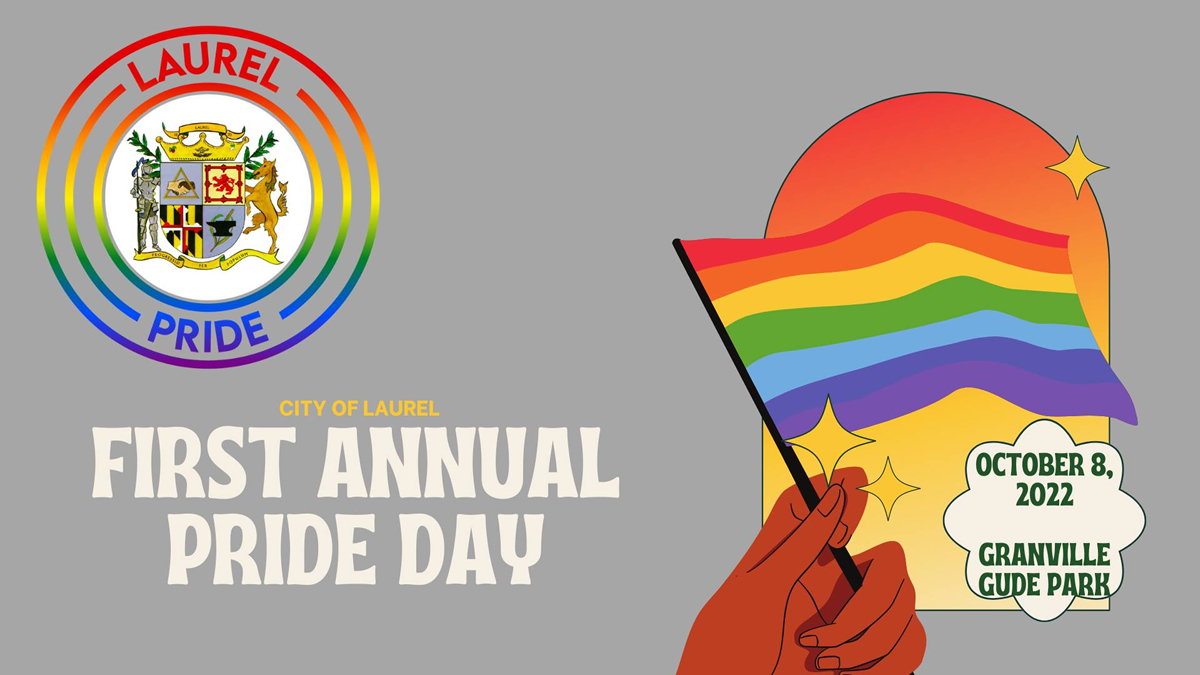 Saturday, Oct. 8
11 a.m.-4 p.m.
Granville Gude Park
8300 Mulberry Street (Pavilion A)
Laurel, Md.
Facebook
Experience entertainment, food and more at the City of Laurel's inaugural Pride festival.
---
Dancin' Thru the Decades (70's & 80's)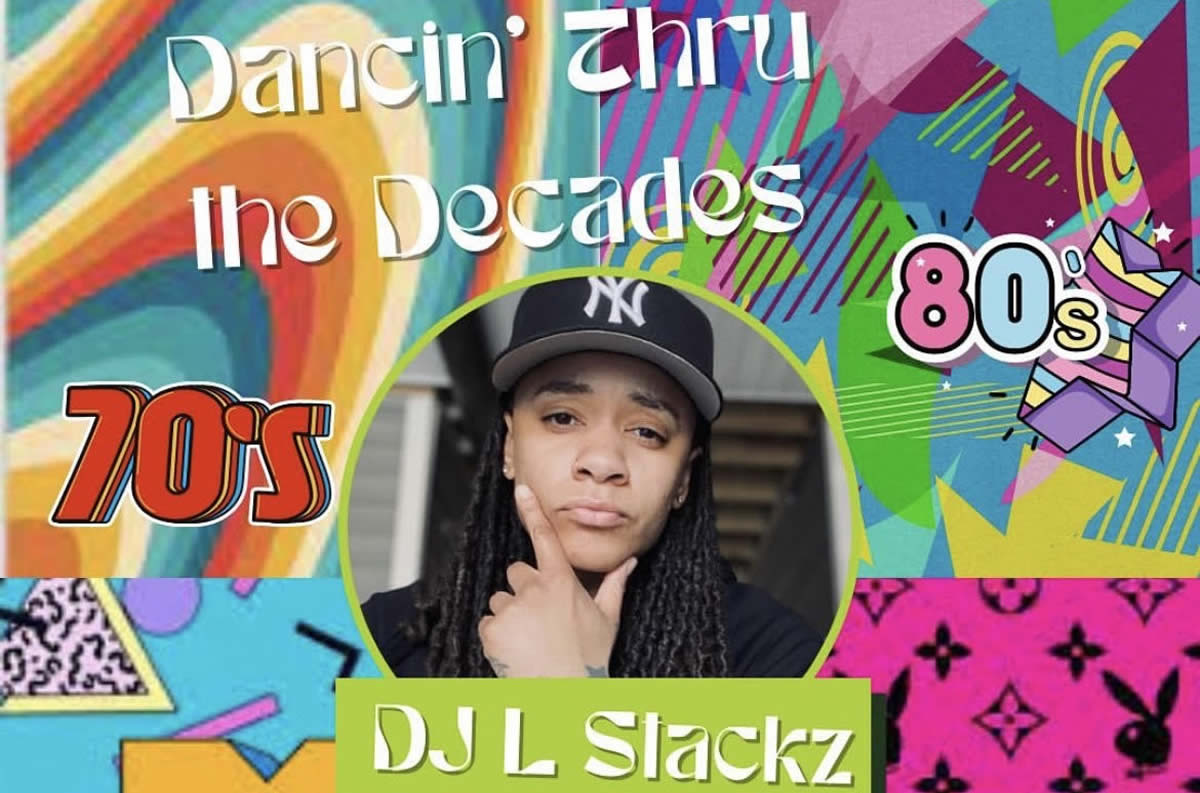 Saturday, Oct. 8
9 p.m.
As You Are
500 8th Street, S.E.
Website
Dance at a queer dance party to the music of the 70's and 80's brought to you by DJ L Stackz.
---
Ho Co Pride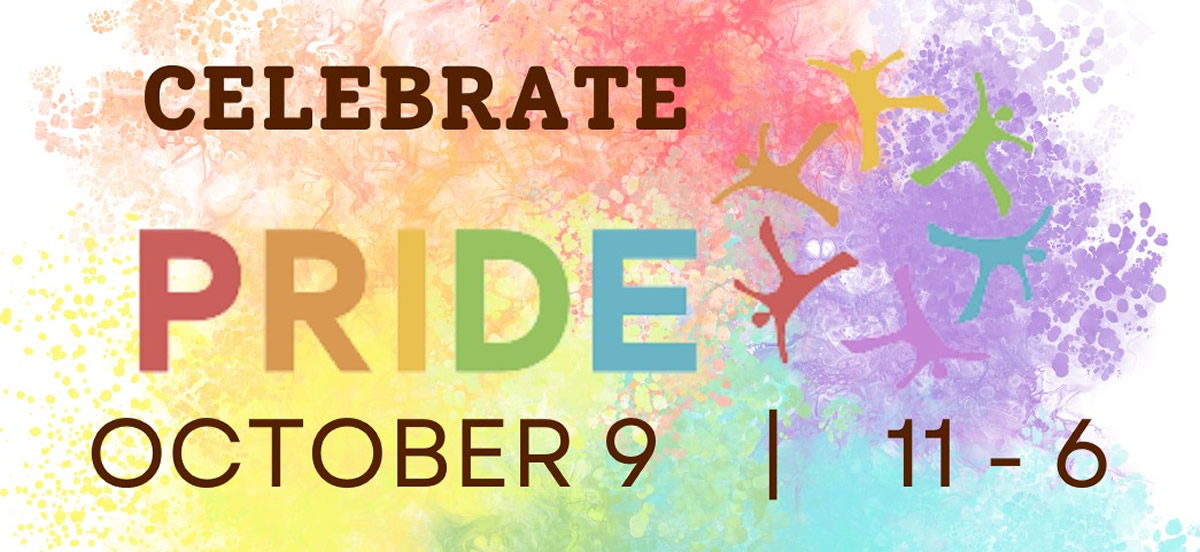 Sunday, Oct. 9
11 a.m.-6 p.m.
Meriweather Park Symphony Woods
10431 Little Patuxent Parkway
Columbia, Md.
Facebook | Eventbrite
Keep the Pride party going by celebrating Howard County Pride in Columbia, Md. on Sunday.
---
Gagsters and Dragsters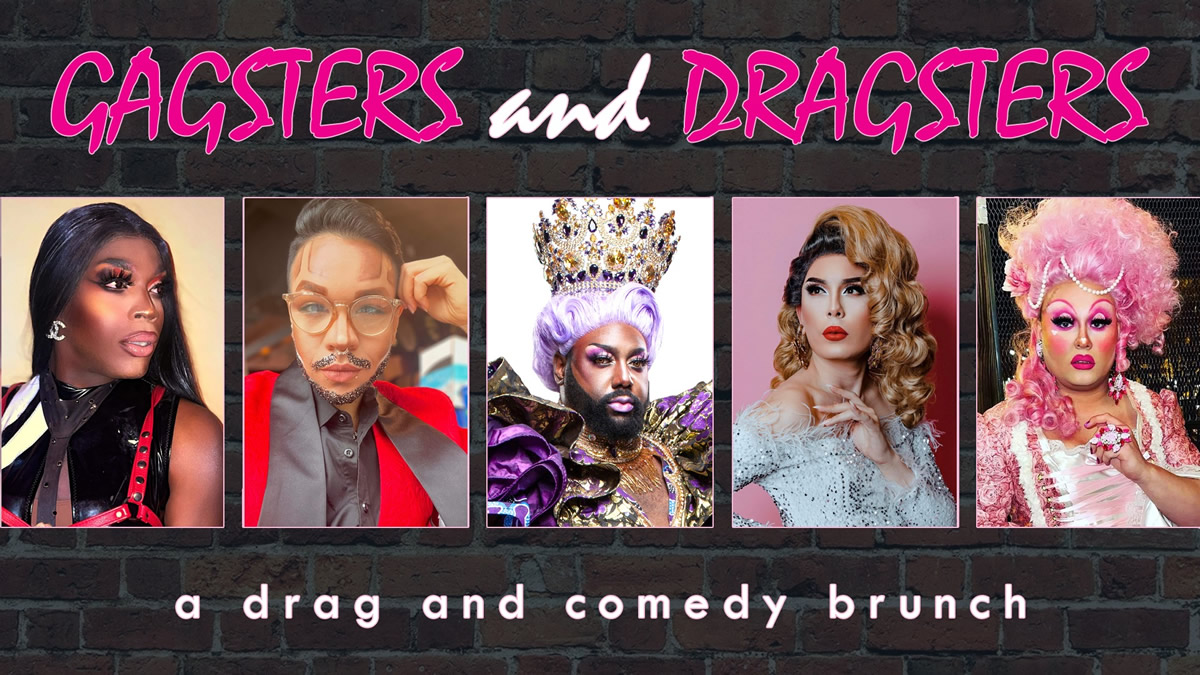 Sunday, Oct. 9
1:30 p.m.
D.C. Improv Comedy Club
1140 Connecticut Avenue, N.W.
$20
Facebook | Tickets
Drag entertainers and comedians perform at the D.C. Improv Comedy Club on Sunday for a fun-filled drag brunch.
---
Flashy: Nine Year Anniversary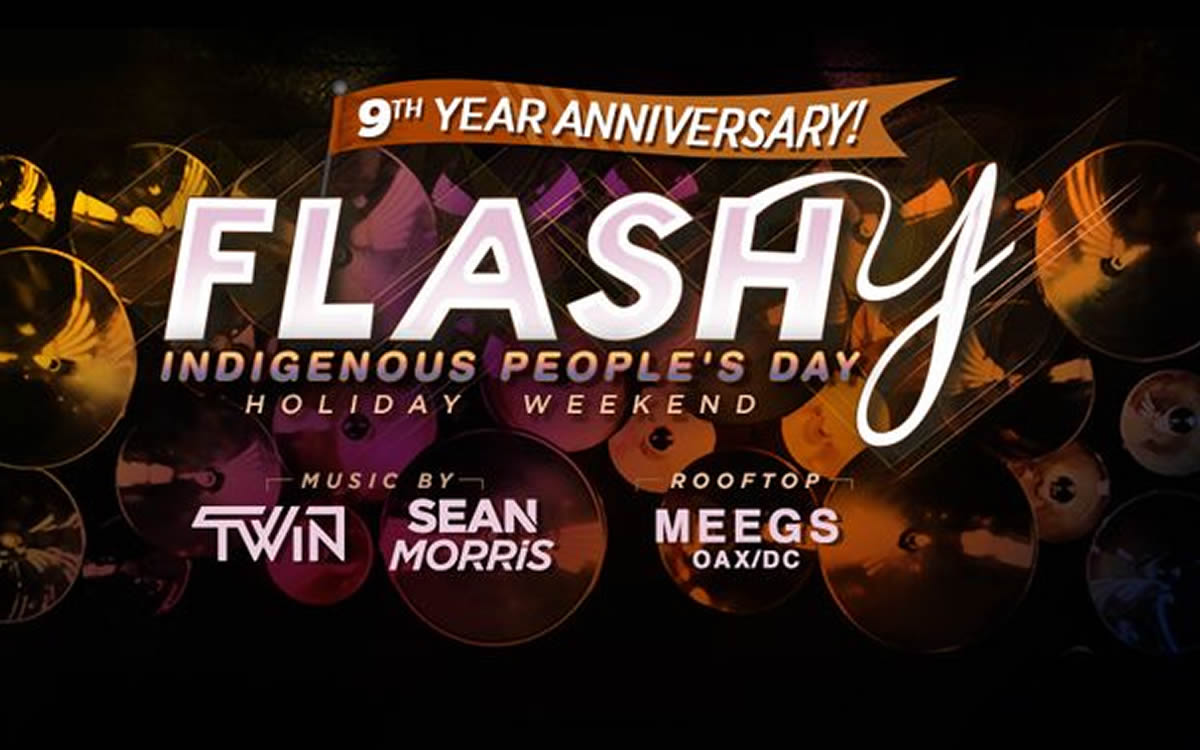 Sunday, Oct. 9
9 p.m.
Flash
645 Florida Avenue, N.W.
$30
Facebook | Eventbrite
The bar is open until 4 a.m. for this milestone celebration for the big dance party that is Flashy Sundays.
---
'Bros' bombs at weekend box office
Billy Eichner blames straight people for failing to show up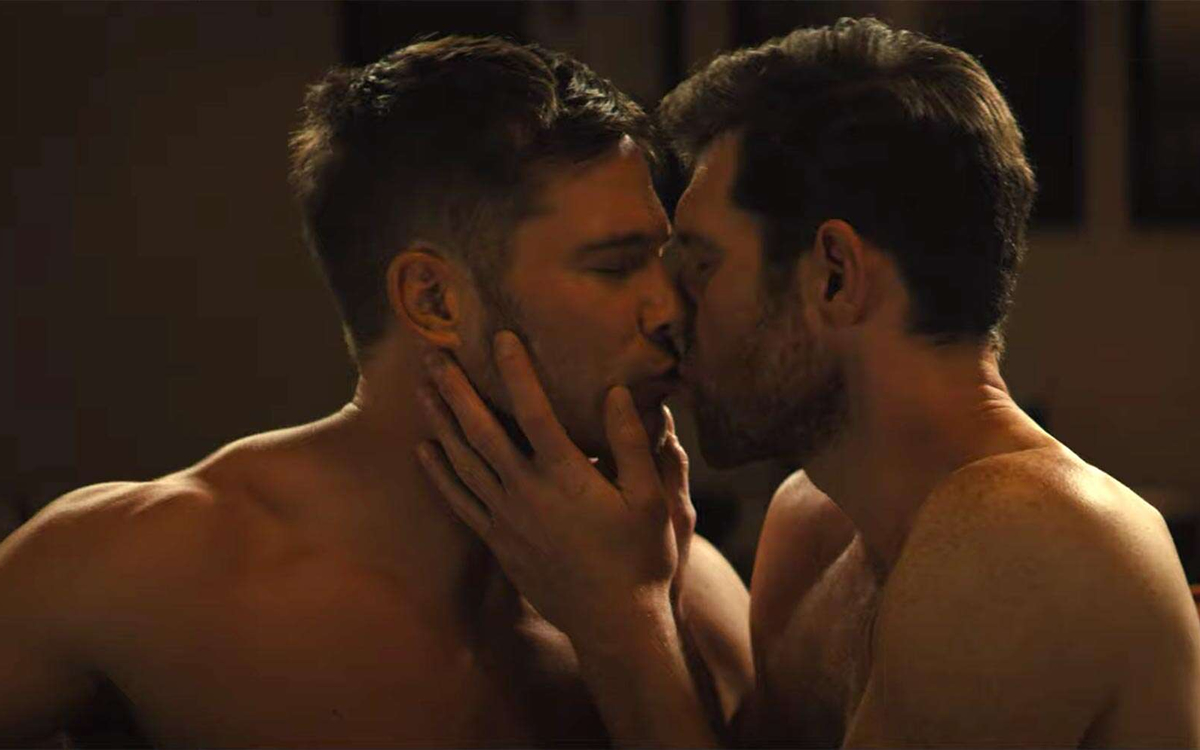 The much-hyped new film "Bros," touted as the first gay romantic comedy produced by a major Hollywood studio, bombed at the weekend box office, bringing in just $4.8 million, about half of the $8-10 million prediction for opening weekend.
The film, which stars Billy Eichner and Luke Macfarlane, finished in fourth place for the weekend; horror film "Smile" took the top spot with $22 million. Eichner quickly turned to Twitter to blame straight people for the poor showing.
"Even with glowing reviews, great Rotten Tomatoes scores, an A CinemaScore, etc., straight people, especially in certain parts of the country, just didn't show up for 'Bros,'" Eichner wrote. "And that's disappointing but it is what it is."
Not everyone agrees with Eichner's assessment. Variety, in a Monday story, cited marketing problems and a lack of star power as likely culprits for the disappointing numbers.
"For the romantic comedy genre, star power is integral these days to getting people out of the house," Variety's Zach Sharf and William Earl wrote. "Paramount's 'The Lost City' made it to the $105 million mark in the U.S. off the strength of pairing A-listers Sandra Bullock and Channing Tatum."
Additionally, the film's marketing focused on the historic nature of the film, rather than its comedic appeal.
"'Bros' marketing worked overtime to sell its importance as the first major LGBTQ studio comedy, but aggressively marketing a movie as a glass-ceiling breaker can make it feel like homework for viewers," Sharf and Earl noted.
There have also been anecdotal reports of homophobic incidents at theaters linked to the film's poster, which features a photo of Eichner and Macfarlane grabbing each other's butts.
"The goal was to make the funniest, laugh-out-loud movie as possible, that just happens to be about a gay couple," Eichner, 44, told the Blade in an interview last week.
The studio released a statement that it remains hopeful positive reviews and word-of-mouth will give "Bros" a long theatrical run. The film cost about $22 million to make.
Eichner served as writer, producer, and co-star of the film, a romantic comedy about two commitment-phobic gay guys in a relationship. All of "Bros" writers, producers, and the lead and supporting actors identify as LGBTQ (with the exceptions of director Nicholas Stoller and producer Judd Apatow).
Some observers worry that the poor showing by "Bros" could dissuade large studios from green-lighting LGBTQ-themed projects for mainstream release.
PHOTOS: Miss Gay Maryland 2022
Amethyst Diamond crowned pageant winner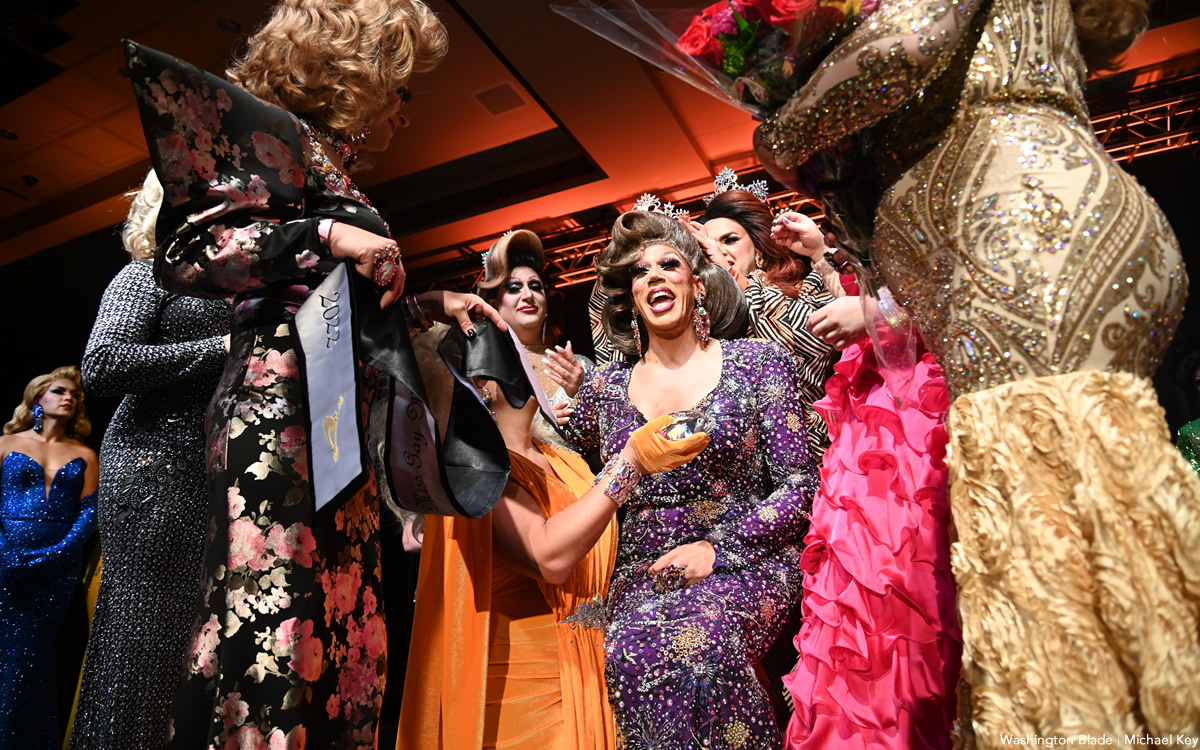 The winners and alternates of Miss Glamour Girl, Miss Gay Freestate and Miss Gay Western Maryland competed for the title of Miss Gay Maryland America 2022 at Horseshoe Casino in Baltimore, Md. on Saturday, Oct. 1. Special guest performers included Miss Gay Maryland 2021 Maranda Rights and Miss Gay America 2022 Dextaci.
Amethyst Diamond was crowned the winner with Dezi Minaj designated the first alternate. Both queens are eligible to compete in the Miss Gay America pageant in Little Rock, Ark. in January, 2023.
(Washington Blade photos by Michael Key)