Henry Gerber: Ahead of his time
Celebrating LGBT History Month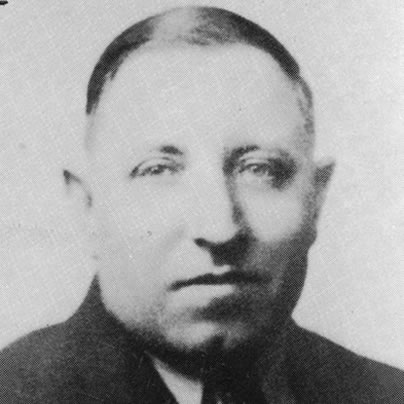 By ST. SUKIE DE LA CROIX
WINDY CITY TIMES
On May 15, 1871, the German Criminal Code was revised to include Paragraph 175, a law making sexual acts between males illegal. The first challenge to the law came in 1897 when Dr. Magnus Hirschfeld founded the gay organization Wissenschaftlich-humanitäres Komitee (Scientific-Humanitarian Committee). Its first action was to draft a petition against Paragraph 175 with 6,000 signatures of prominent people in the arts, politics and the medical profession; it failed to have any effect.
One American inspired by the work of Hirschfeld was Henry Gerber, who in 1924 was granted an official charter by the state of Illinois for the Society for Human Rights, the first gay-rights organization in the United States, which he ran from his home on Crilly Court in Chicago.
Gerber was born Josef Henry Dittmar on June 29, 1892, in Passau, Bavaria, Germany. On Oct. 27, 1913, Gerber (still called Dittmar at the time) arrived at New York's Ellis Island on the SS George Washington and then traveled west to Chicago, where he worked briefly for Montgomery Ward's mail-order house. His first known address in the United States was 507 Stone St., Joliet, Ill., from where he enlisted in the Army on Jan. 26, 1914. In his military documents, he described himself as 5-foot-7 and one-half, 180 pounds, with blue eyes and brown hair. He changed his name to Gerber afterward — though he was still using the name Joseph Henry Dittmar on his June 5, 1917, draft registration card, which described him as 5-foot-8, slender, with blue eyes and blond hair. On it, he mentioned prior military service but now claimed exemption on grounds of conscientious objection to war.
On April 6, 1917, the United States declared war on Germany, and the newspapers became filled with lurid tales of German spies. As a result, the United States opened internment camps; 50,000 unnaturalized aliens of German birth were now "alien enemies," and 8,000 were detained using presidential arrest warrants. Gerber was "offered internment," which he accepted, as it guaranteed three meals a day. After the war, he re-enlisted in the Army on Oct. 2, 1919, at Jefferson Barracks, near Lemay, Mo., a training and recruitment center for soldiers being sent to fight in Europe, or, in Gerber's case, to join a regiment of the American Forces in Germany, where he was part of a company engaged in publishing the daily AMAROC News for troops.
It was while serving in Koblenz that Gerber found Hirschfeld's Scientific-Humanitarian Committee. He wrote later: "In Coblenz on the Rhine, I had subscribed to German homophile magazines and made several trips to Berlin, which was then not occupied by American forces. I had always bitterly felt the injustice with which my own American society accused the homosexual of 'immoral acts.'
"What could be done about it, I thought. Unlike Germany, where the homosexual was partially organized and where sex legislation was uniform for the whole country, the United States was in a condition of chaos and misunderstanding concerning its sex laws, and no one was trying to unravel the tangle and bring relief to the abused."
Gerber returned to Chicago, took up residence at 1710 N. Crilly Ct. and began work for the Post Office Department. In the spring of 1924, he formed SHR with a handful of friends. Gerber's strategy was to network and gain support from other "sex reform" leaders, including Margaret Sanger, the American birth-control advocate, but nobody seemed interested. Undeterred, he decided to go it alone. Through a lawyer, SHR applied for and received a charter from the state of Illinois on Dec. 10, 1924. It is thought the group never had more than 10 members. Gerber elected himself secretary; president was the Rev. John T. Graves, "a preacher who preached brotherly love to small groups of Negroes"; vice president was Al Meininger, an "indigent laundry queen"; and treasurer was Ralph Ellsworth Booher, whose job with a railroad was threatened when his homosexuality became known. Throughout the rest of his life, Gerber lamented that SHR failed to attract "men of good reputation." In Germany, the homophile movement included enlightened politicians, doctors and scientists, as well as those in the arts, but in the United States nobody was willing to stick a neck out for homosexuals.
Gerber produced two issues of the SHR newsletter Friendship and Freedom, of which no known copies exist, although in "Paris Gay 1925" (1981), a French book co-written by Gilles Barbedette and Michel Carassou, is reprinted a review of Friendship and Freedom, written by Clarens and published in the magazine L'amitié in 1925. (See this author's "Chicago Whispers: A History of LGBT Chicago Before Stonewall" for translation.)
The SHR was short-lived. In July 1925, the group was raided and the headline in the Chicago Examiner read "Strange Sex Cult Exposed." Even though the case was thrown out of court, Gerber was suspended from the post office.
After the demise of SHR, Gerber became despondent about homosexuals. He later wrote, "I have absolutely no confidence in the Dorian crowd, mostly a bunch of selfish, uncultured, ignorant egoists who have nothing for the ideal side of life." Gerber re-enlisted in the Army, serving another 17 years; in 1945, he retired with an honorable discharge and a $100-a-month pension. As late as 1942, his primary World War II draft registration was still under the name Joseph H. Dittmar, though the records also contain a cross-reference from the name Henry Gerber; by then, "Gerber" appears to have been how he was known to the military.
Gerber spent his twilight years in the U.S. Soldiers' and Airmen's Home in Washington, D.C., where he died from pneumonia on Dec. 31, 1972, age 80.
Gerber was posthumously inducted into the Chicago Gay and Lesbian Hall of Fame in 1992 and the Henry Gerber House, located at 1710 N. Crilly Ct., was designated a Chicago Landmark on June 1, 2001.
The above article is an abbreviated version of the chapter "Henry Gerber and the German Sex Reformers" in St. Sukie de la Croix's book "Chicago Whispers: A History of LGBT Chicago Before Stonewall," published in 2012 by the University of Wisconsin Press.
PHOTOS: GMCW Holiday Show
Chorus performs at Lincoln Theatre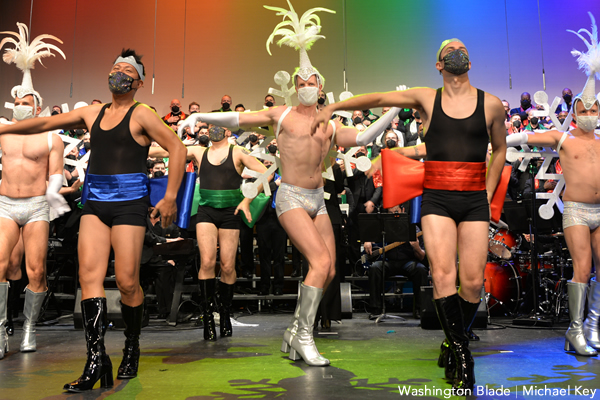 The Gay Men's Chorus of Washington performed its "Holiday Show" at Lincoln Theatre on Saturday. The Chorus has performances on Dec. 11 and 12. For tickets and showtimes, visit gmcw.org.
(Washington Blade photos by Michael Key)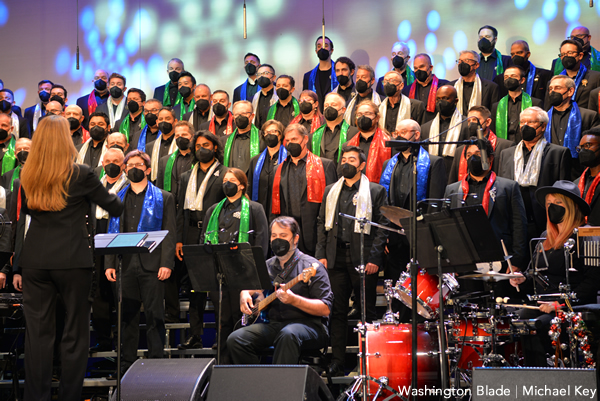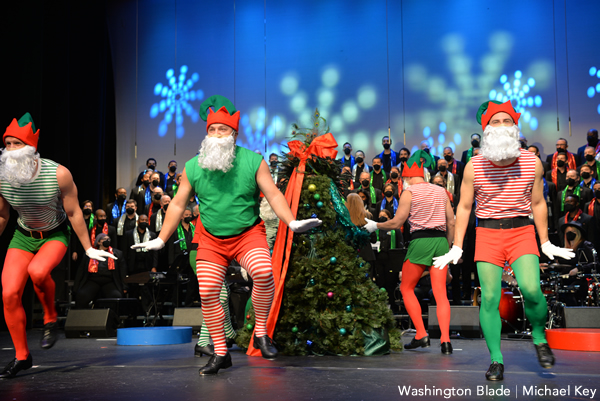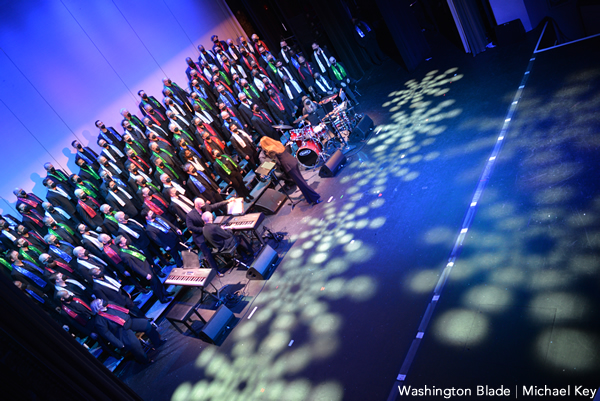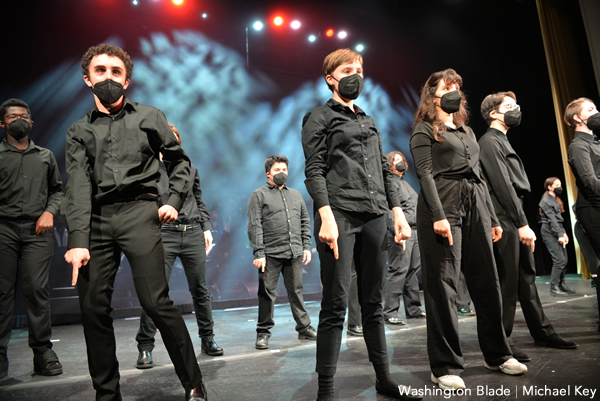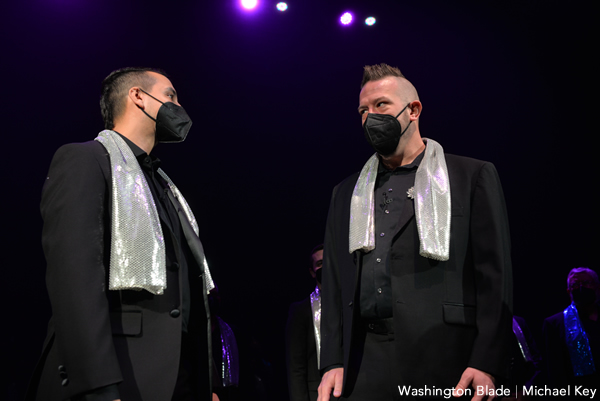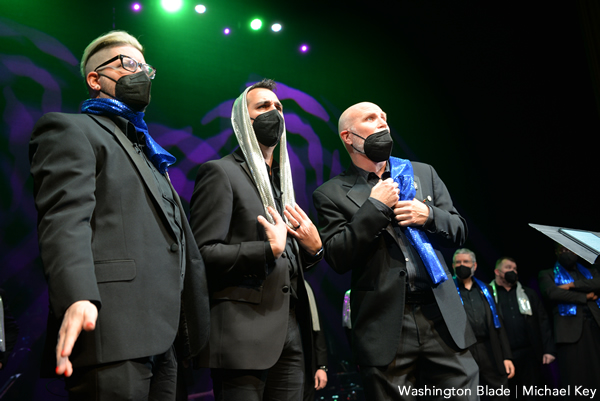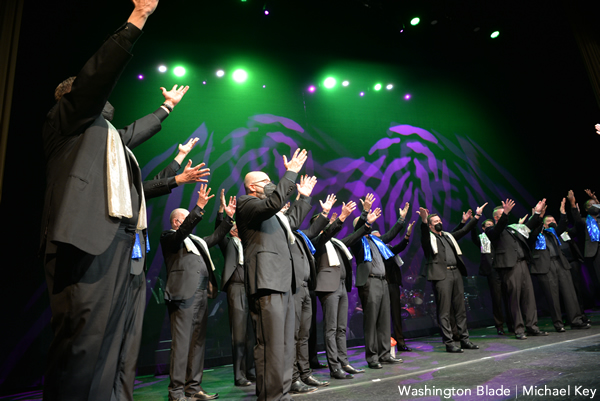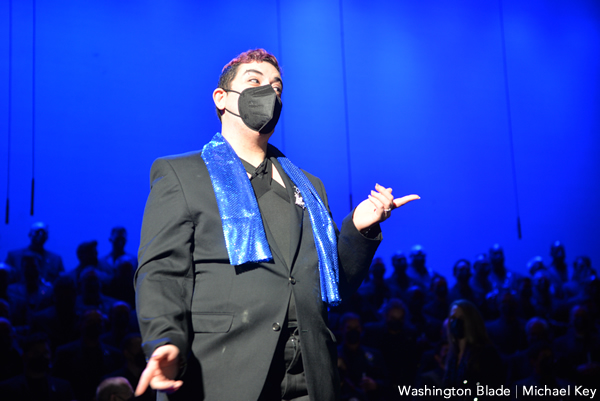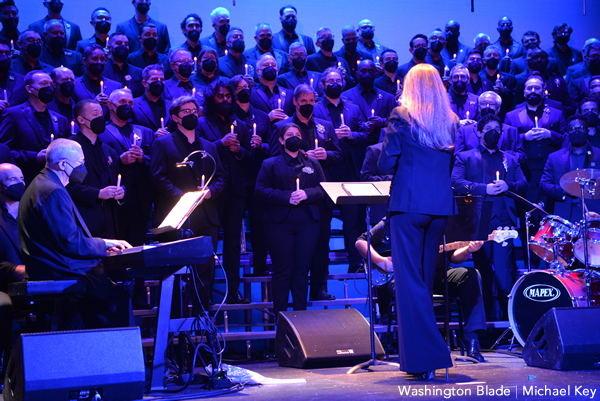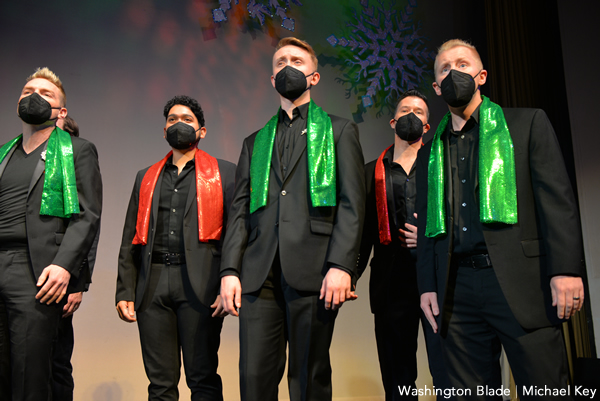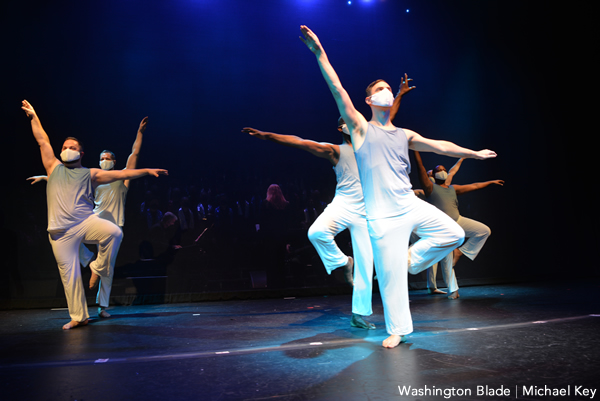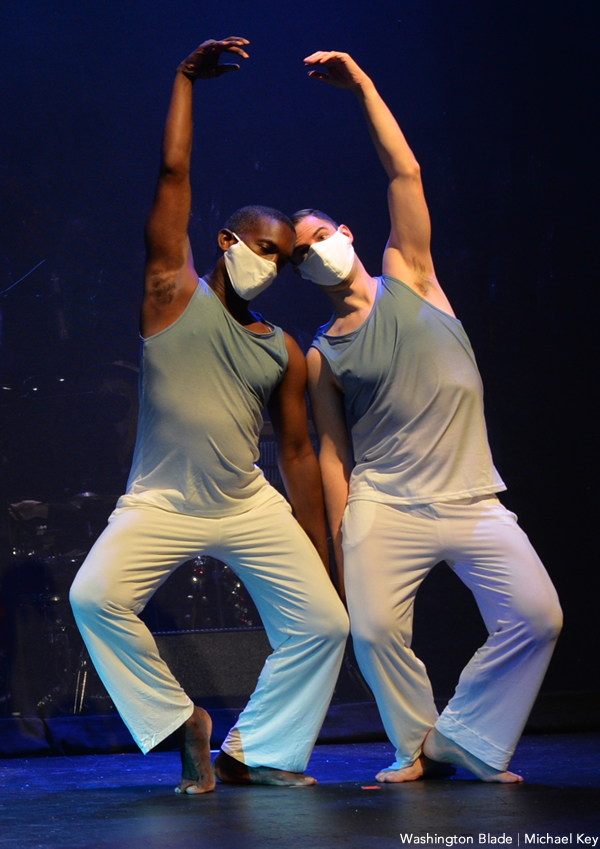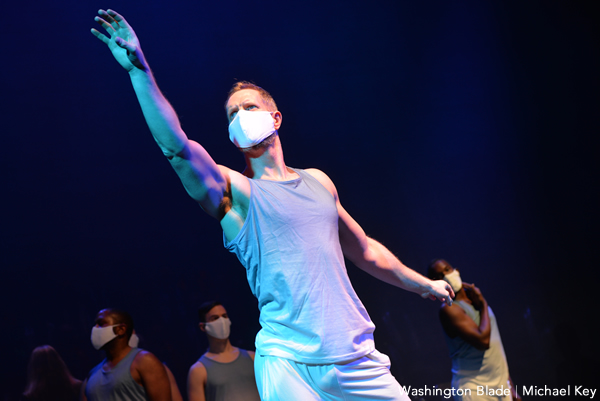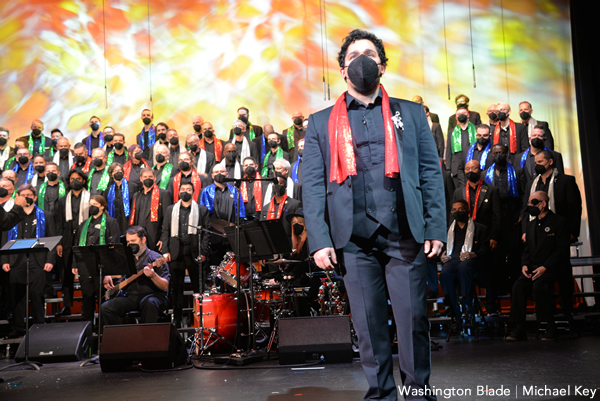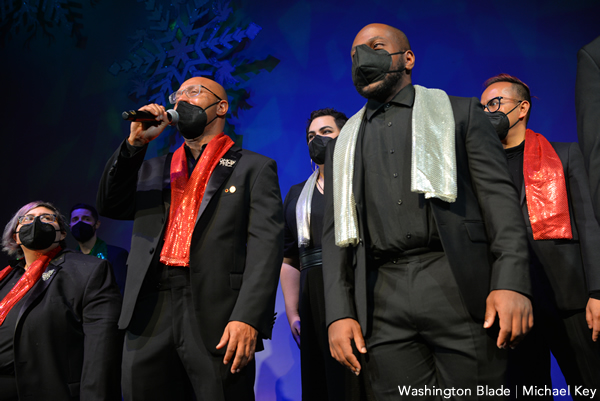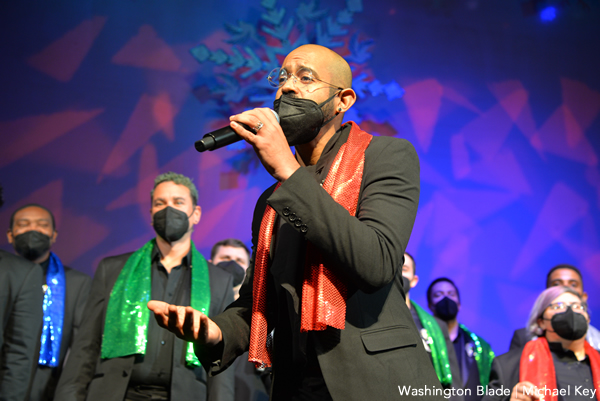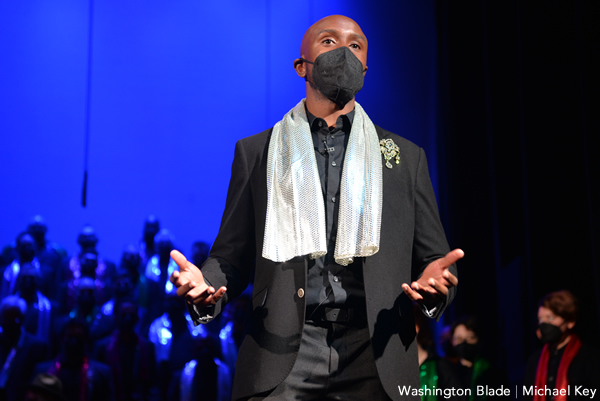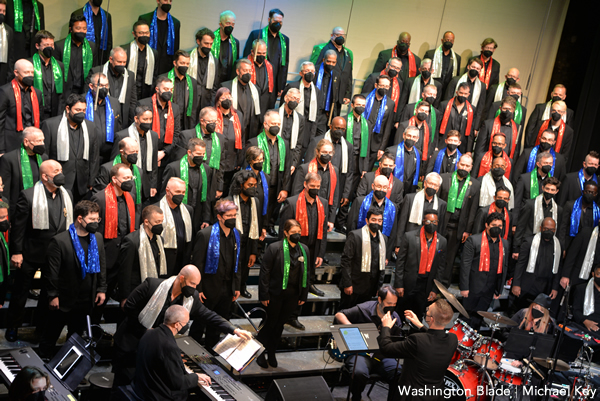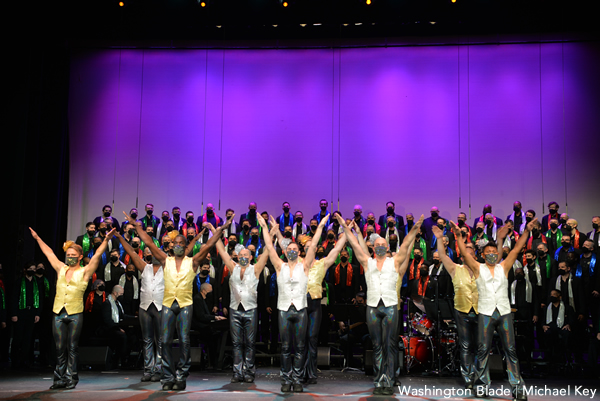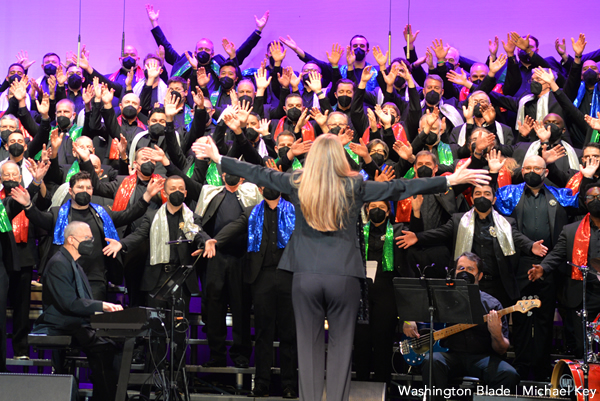 PHOTOS: International LGBTQ Leaders Conference opening reception
Politicians and activists from around the world met and mingled at the JW Marriott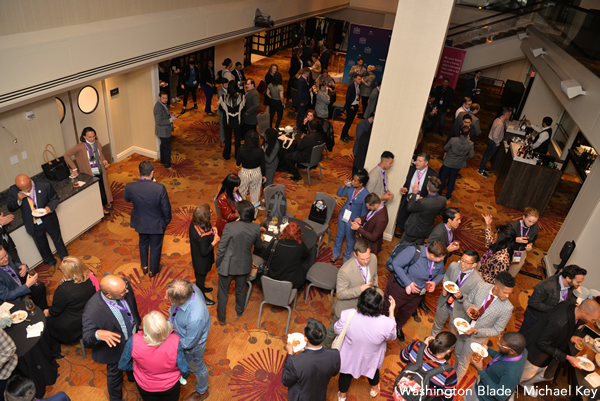 The LGBTQ Victory Institute held an opening reception for the 2021 International LGBTQ Leaders Conference at the JW Marriott on Thursday.
(Washington Blade photos by Michael Key)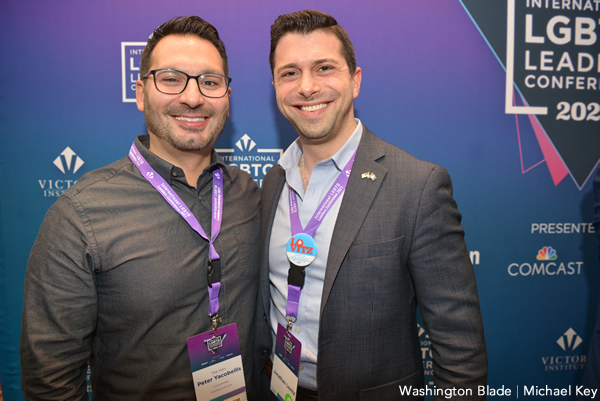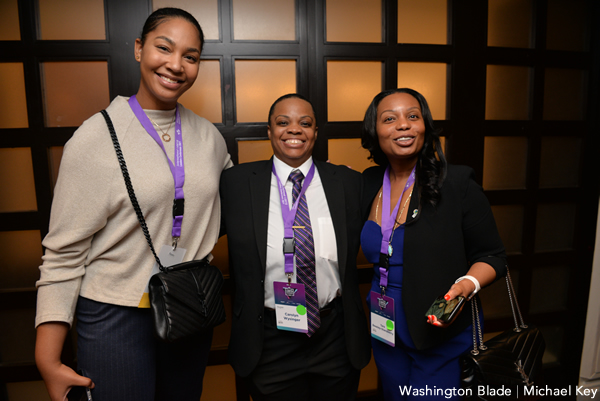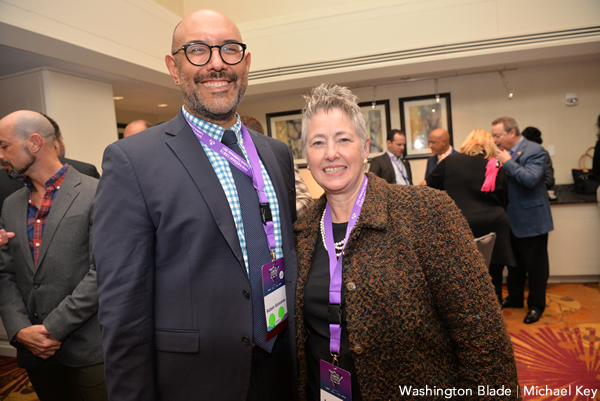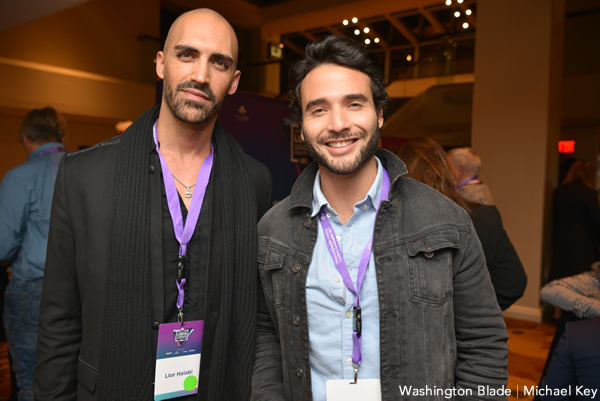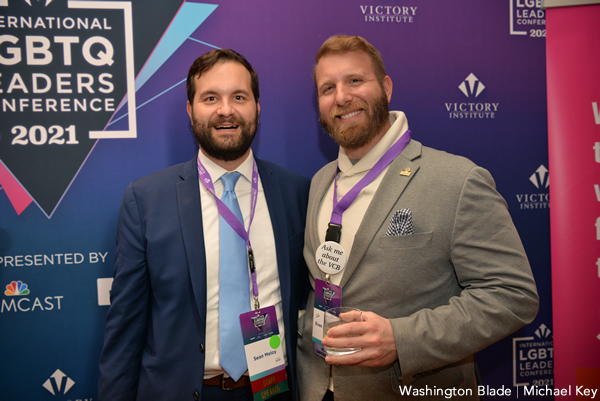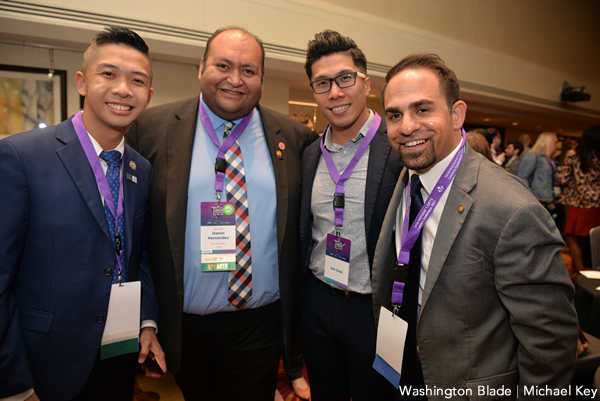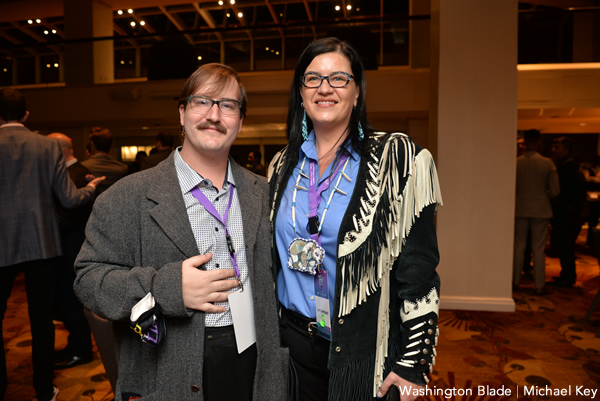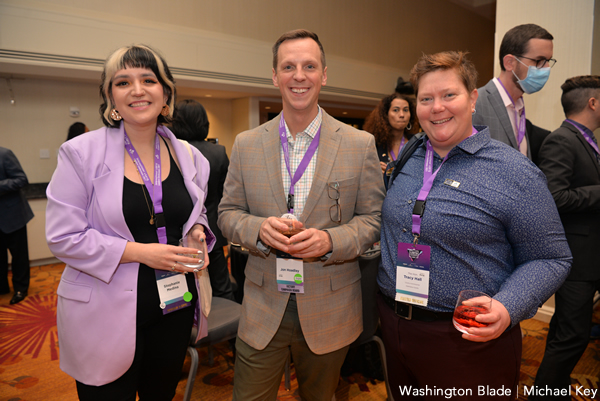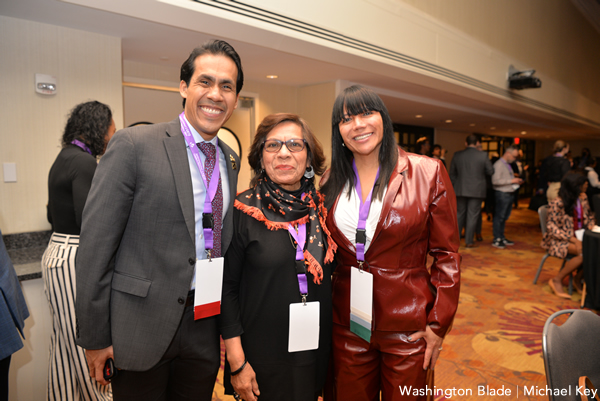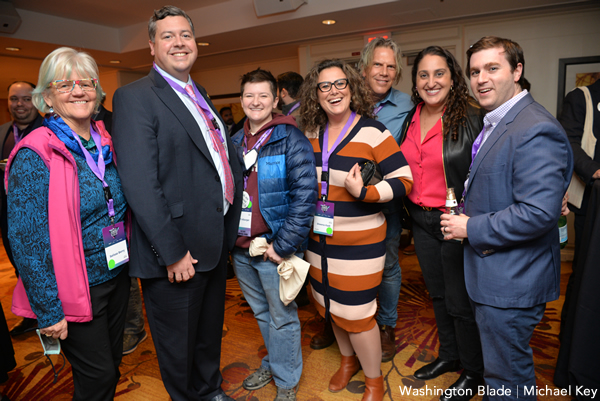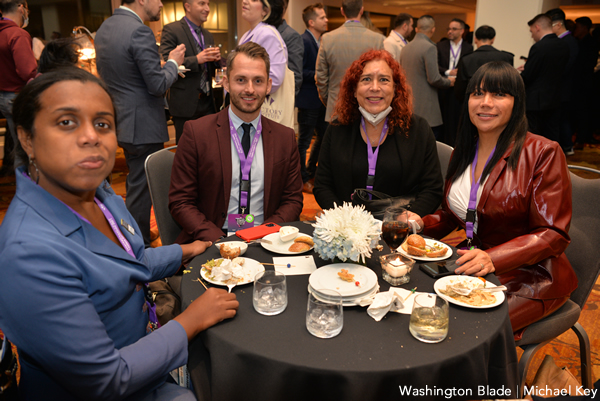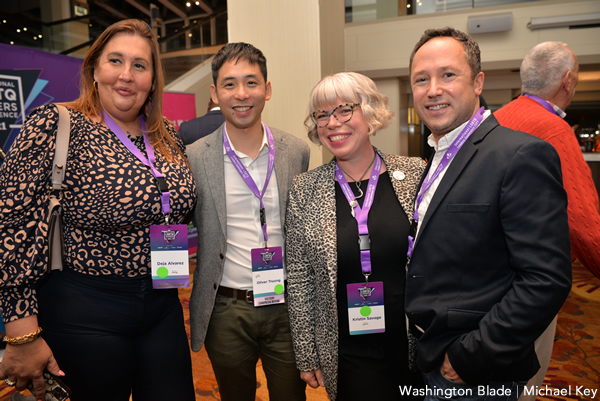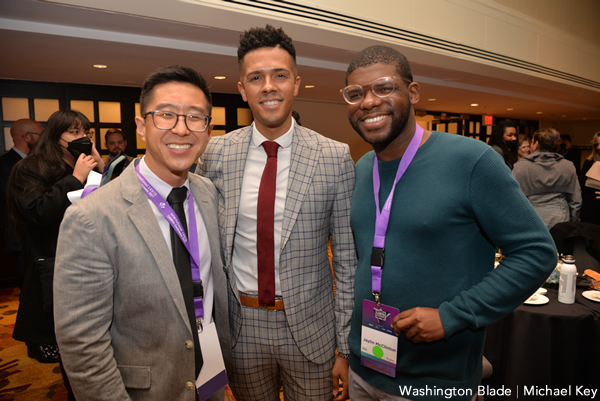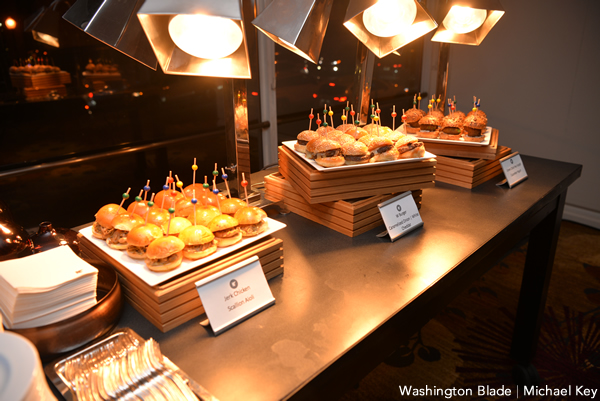 Meet the husbands and creative partners behind 'Christmas Angel'
A funny, redemptive world premiere with a diverse cast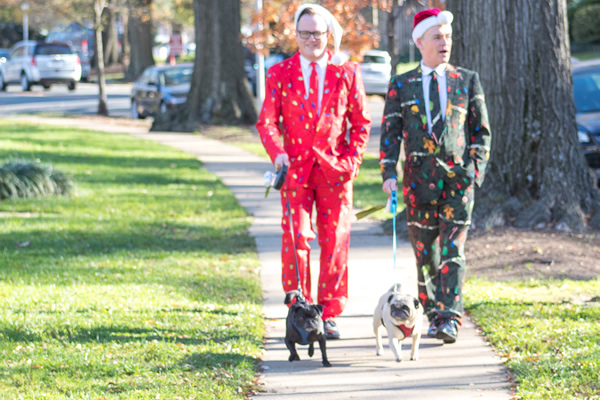 'The Christmas Angel'
Dec. 9-19
Creative Cauldron
410 South Maple Avenue
Falls Church, VA 22046
Tickets:  $35. Students $20.
Masks and proof of vaccination are required
creativecauldron.org
"Ours is like a lava lamp," says composer Matt Conner describing the collaborative creative process he shares with musical writing partner and husband Stephen Gregory Smith. "We move together in motion in a continual ebb and flow."
A couple for 23 years, married for eight, and making musicals together for 11, the talented pair's current offering is "The Christmas Angel," opening on Dec. 9 at Creative Cauldron in Fairfax.
A musical adaptation of the same-named 1910 novel by Abbie Farwell Brown, it's the story of Angelina Terry (Kanysha Williams), a wealthy embittered recluse who learns the lessons of Christmas from a box of old toys that she casts into the street. Also featured in the hour-long one-act are Ryan Sellers as Horton, Angelina's butler, and Carl Williams who plays her brother. The angel and toys are brought to life by an ensemble of a dozen teens plucked from the company's musical theater training program.
Via phone from their home in Arlington, Smith and Conner shared thoughts on their new show and working style. In attendance are pug dogs Edgar Allan Pug and Lord Byron, whom they call Eddie and Byron in public – otherwise "it's just too much," says Conner whose ultimate fantasy involves living on a pug farm where he'd write music and present the occasional show.
Rather than finish each other's sentences, the duo (both Helen Hayes Award winners – Smith for acting and Conner for directing) expound on one another's thoughts.
While Conner composes the music, Smith writes the book and lyrics, and together they co-direct. "But there's no end and beginning where my job ends and his begins," says Smith. "What we do complements each other's work."
Still, there are differences. Smith's approach is focused. He writes pages at night and edits in the morning. Conner's method is more relaxed, preferring to sit at the keyboard and talk rather than writing things down. But throughout the creative process, there's never a moment when the project isn't on their mind. They can be watching TV or buying milk when an exciting idea pops up, says Conner.
A clever nod to Dickens, the novel is more than just a female "Christmas Carol," says Smith. And in some spots, he's beefed up the 55-page book, fleshing out both storyline and characters including the toys whose shabby appearance belies a youthful confidence.
He adds, "Every holiday season you go to the attic and pull down the box, or boxes in my case, of holiday decorations and it's all old but it's new. That's the nostalgic feeling of toys from the attic that we're trying to find through the show."
The music is a combination of traditional carols performed by a hand bell chorus, and original Christmas songs that intentionally sound very familiar. The score includes songs "Don't Hide Your Light," "The Sweetest Gift," and "Yestermore" – the moment when the past, present, and future come together.
Also, there's Angelina's Bah! Humbug! number "Fiddlesticks," her great renunciation of the holidays. She believes the world a disappointing place to be, and the sooner realized the better.
Conner and Smith aren't new to Creative Cauldron. Through the company's Bold New Works project, the team was commissioned to write five world premiere musicals in just five years. The result was "The Turn of the Screw," "Monsters of the Villa Diodati," "Kaleidoscope," "Witch" and "On Air."
Judging from some of the titles and their slightly macabre content, it seems the duo was better poised to write for Halloween than Christmas, but nonetheless, they were commissioned. Creative Cauldron's producing director Laura Connors Hull brought them the obscure yet charming book that surprisingly had never before been reworked for stage or celluloid, and the pair got to work last spring.
Conner and Smith agree, "The show is a lot of things rolled up into one."
Not only is it a funny, redemptive world premiere with a diverse cast, but it's also a story largely unknown to today's audiences. Additionally, the show boasts intergenerational appeal while holding messages about Christmas, family, and finding light when you're in a darker place.
More information about Conner and Smith, including links to their music and popular podcast "The Conner & Smith Show," can be found on their terrific website at connersmithmusicals.com.