Dutch activist recalls arrest under anti-gay Russian law
Claims police used anti-gay slurs, accused him of spying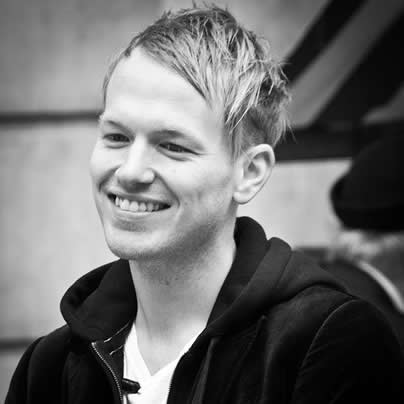 One of the four Dutch LGBT rights advocates whom Russian authorities arrested in July told the Washington Blade he feels they wanted to use them as an example of what could happen to anyone who challenges the country's gay propaganda to minors ban.
"They thought that we came there to make the Russian law or Russian authorities [look] ridiculous," Kris van der Veen said during an interview from his home in the Dutch city of Groningen on Sept. 27. "It was not the case, but they think we were doing that."
Van der Veen, 33, and three other Dutch LGBT rights advocates traveled to Murmansk to film a documentary about LGBT life in Russia. They interviewed members of Coming Out and the Russian LGBT Network and organizers of an LGBT film festival in St. Petersburg before they arrived in the city.
Groningen and Murmansk have been sister cities for nearly 25 years, and the coordinator of the program helped van der Veen and his colleagues secure a cultural visa that he said allowed them "start a dialogue about any subject with" the city's residents. Van der Veen said it also permitted him and his fellow advocates to discuss homosexuality while in Russia because "it's not specified."
The trip also coincided with a year-long series of events that commemorated the 400th anniversary of friendship between Russia and the Netherlands.
"I thought, well I will go there, I will ask them about their lives and if the anti-gay law has any effect on their lives," van der Veen told the Blade. "So that's what I did."
Van der Veen said he and a group of up to 20 others that included his fellow activists and their crew arrived at a summer camp in Murmansk on July 20.
He said he discussed Dutch LGBT advocacy efforts during a lecture he gave on human rights. Van der Veen said he also filmed some of the other seminars on the same topic – and interviewed a Russian teenager and her girlfriend.
Van der Veen said authorities detained him and his colleagues on July 21 as they tried to leave the camp and return to Murmansk to get footage of the city.
"I walked into this hallway and then when I turned the corner I saw about 15 police officers — men, women in uniforms, without uniforms — coming towards me," he recalled. "They were also spreading into other hallways and rooms."
Van der Veen said the officers told him in Russian that he had to return to the room "where the rest of the people were." He said the Russian activists who had organized the human rights lectures "stood up for us" and began to speak with the authorities. In spite of these efforts, Van der Veen said immigration officials requested to see his and his colleagues' passports and told them to go with them into another room.
Van der Veen told the Blade they interrogated him and the three other Dutch LGBT rights advocates for three hours. They subsequently received a fine of 3,000 rubles or roughly $93.
"We thought, OK we get a fine, it's now over," Van der Veen said. "Then they said there are also police officers [who] want to talk to you."
He said uniformed police officers and others whom he described as KGB agents questioned them for another five hours. Van der Veen categorized one of the officials as "very provocative."
"The first thing he said was, this is a police hat. You can wear it and I can take a picture of you," he said, noting the officer was standing less than a foot in front of him. "I couldn't say no, but I had to say no because I think otherwise I would make fun of the Russian authorities if I would take the hat and put it on my head. He also said I can take a picture of you."
Van der Veen said the authorities referred to him as a spy and used unspecified anti-gay slurs against him while in custody. He told the Blade they said the teenager whom he interviewed for his documentary was a minor.
"She was already a part of the LGBT community in Murmansk," van der Veen said. "They were already out of the closet… so I wasn't doing any propaganda towards minors."
Van der Veen said authorities also asked him whether he told people to "become gay because it's good to be gay."
"I was laughing because I thought it was a ridiculous question," he said.
Van der Veen said the authorities released him and his fellow advocates at 11 p.m. on July 21 — eight hours after they initially detained them. He told the Blade they ordered them to go to court the next morning, even though they did not obtain a warrant to arrest them.
Van der Veen said he and his colleagues thought they could leave the city and return to the Netherlands after 5 p.m. on July 22 because a judge had yet to hear their case. He said Russian police officers who had called him 20 times told them they had to go to a Murmansk hotel and explain the contents of the hard drive that had been taken from them at the summer camp the previous day.
Van der Veen told the Blade the Dutch Ministry of Foreign Affairs told him and his colleagues to leave the country as soon as possible. The six police officers whom he said met them at the airport told them to go to "a certain address in Murmansk" the next day.
"They wanted to keep us there, but we didn't sign anything because the consulate said we have rights, we have the right to talk to a lawyer and to have a translator in our own language," van der Veen said. "We pressed and pressed on that. It was very scary because of the look in their eyes… there's no dialogue."
Van der Veen said the Dutch consulate in St. Petersburg received a letter upon his return to the Netherlands that he and his colleagues could not return to Russia for three years. He added police spoke with the Murmansk-based coordinator of the sister city program with Groningen on several occasions.
Van der Veen described these visits as "very provocative."
"Police officers were very angry that we came there," he said. "They were telling us on Sunday [July 21] that our government should tell us about Russian laws and about the anti-gay laws and that we can't do this like we were 7-year-olds."
The Murmansk incident coincided with mounting outrage over the gay propaganda law that President Vladimir Putin signed less than a month before van der Veen and his colleagues traveled to the city.
The Dutch LGBT advocacy group COC Nederland, President Obama and retired tennis champion Martina Navratilova are among those who have publicly criticized the Kremlin over the statute and its overall gay rights record. Others, including actor and playwright Harvey Fierstein, have called for a boycott of the 2014 Winter Olympics that will take place in Sochi, Russia, in February.
Van der Veen told the Blade he does not support a boycott of the Sochi games.
"If there's an opportunity to go [to Russia] I think we should go there, use our influence, our contacts to give a global stage to the topic of equal rights and also LGBT people in Russia," he said.
He said he plans to finish the documentary by the end of November.
Va. Senate subcommittee tables anti-transgender student athlete bill
Virginia Beach Republican introduced SB 766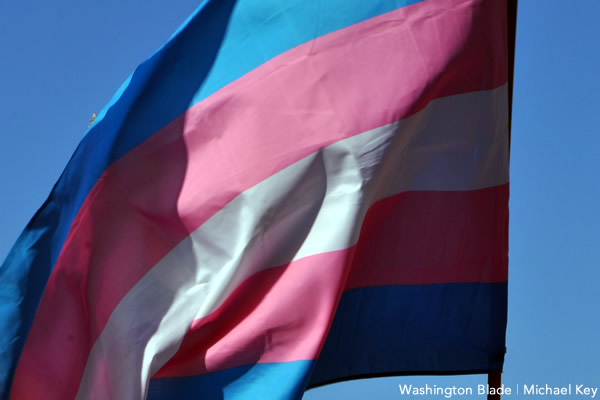 A Virginia Senate subcommittee on Thursday tabled a bill that would have banned transgender students from joining school sports teams that are consistent with their gender identity.
Senate Bill 766, which state Sen. Jennifer Kiggans (R-Virginia Beach) introduced on earlier this month, would have required "each elementary or secondary school or a private school that competes in sponsored athletic events against such public schools to designate athletic teams, whether a school athletic team or an intramural team sponsored by such school, based on biological sex as follows: (i) 'males,' 'men,' or 'boys'; (ii) 'females,' 'women,' or 'girls'; or (iii) 'coed' or 'mixed.'"
"SB 766 (trans sports ban) was passed by indefinitely (it died!) after a long line of speakers testified against it, affirming trans students' rights to participate in sports just like their cisgender peers," tweeted the American Civil Liberties Union of Virginia after the vote. "Trans students belong in sports. Period."
Republican Gov. Glenn Youngkin during his campaign said he does not support allowing trans children to play on sports teams that are consistent with their gender identity.
The General Assembly's 2022 legislative session began on Jan. 12 with Republicans in control of the House of Delegates. Democrats still control the Senate by a 21-19 margin.
A bill that would have eliminated the requirement that school districts implement the Virginia Department of Education's trans and non-binary student guidelines died in a Senate subcommittee on Thursday. The Senate General Laws and Technology on Thursday also tabled a religious freedom measure that would have undermined Virginia's LGBTQ-inclusive nondiscrimination law.
Two anti-LGBTQ bills die in Va. Senate
Democrats maintain 21-19 majority in chamber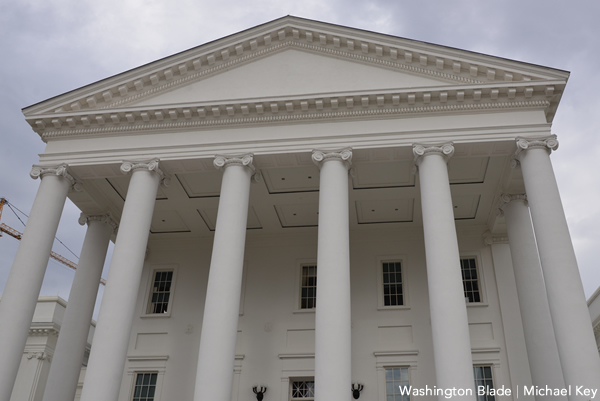 Two anti-LGBTQ bills died in the Virginia Senate on Thursday.
A Senate Education subcommittee voted against state Sen. Travis Hackworth (R-Tazewell County)'s Senate Bill 20, which would have eliminated the requirement that school districts must implement the Virginia Department of Education's transgender and non-binary student guidelines.
The Senate General Laws and Technology Committee in an 8-7 vote tabled state Sen. Mark Peake (R-Lynchburg)'s Senate Bill 177, a religious freedom measure that critics contend would have allowed anti-LGBTQ discrimination in housing.
Virginia's statewide nondiscrimination law includes sexual orientation and gender identity. Peake's bill would have removed "the provision of the exemption for religious organizations under the Virginia Fair Housing Law that denies such exemption where the membership in such religion is restricted on account of race, color, national origin, sex, elderliness, familial status, sexual orientation, gender identity, military status, or disability."
The General Assembly's 2022 legislative session began on Jan. 12 with Republicans in control of the House of Delegates. Republican Gov. Glenn Youngkin took office three days later.
Democrats, who maintain a 21-19 majority in the state Senate, have vowed to block any anti-LGBTQ bill.
State Department reiterates concerns over Chechnya human rights record
Anti-LGBTQ crackdown continues to spark outrage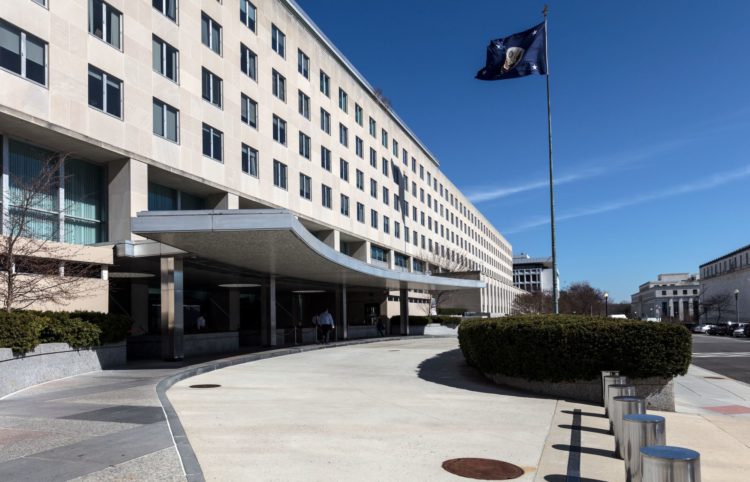 The State Department on Thursday reiterated its concerns over Chechnya's human rights record that includes an ongoing anti-LGBTQ crackdown.
"We reject Chechnya Head Ramzan Kadyrov's baseless attempts to malign human rights defenders and independent journalists and we urge him to end authorities' targeting of those who dissent, LGBTQI+ persons, members of religious and ethnic minority groups, and others, including through reprisals against their family members," said spokesperson Ned Price in a statement. "We call on Russian federal authorities to refrain from enabling repressive acts, including acts of transnational repression, originating in Chechnya and to bring those responsible for continuing egregious human rights violations in Chechnya to justice consistent with the law of the Russian Federation and Russia's international human rights obligations."
Price in his statement also said the U.S. "is troubled by continuing reports of abductions and arbitrary detentions carried out by authorities in Russia's Republic of Chechnya, including dozens of reported abductions and arbitrary detentions in recent weeks targeting the relatives of Chechen human rights defenders and dissidents."
"In addition to cases within Chechnya, there have been numerous instances of individuals being detained in other parts of the Russian Federation and forcibly transferred to Chechnya, such as Zarema Musayeva, the mother of human rights lawyer Abubakar Yangulbayev. Musayeva was taken from Nizhny Novgorod last week," said Price. "We call for the immediate release of all who have been unjustly detained. We are also concerned by reports that Chechen authorities are using such pressure tactics against the relatives in Chechnya of dissidents living outside the Russian Federation. Such acts, which harm entire families, is an especially pernicious form of repression."
The anti-LGBTQ crackdown in Chechnya continues to spark worldwide outrage.
Chechen authorities in April 2020 arrested two brothers, Salekh Magamadov and Ismail Isaev, after they made a series of posts on Osal Nakh 95, a Telegram channel that Kadyrov's opponents use. Magamadov and Isaev were reportedly forced to make "apology videos" after they were tortured.
The Russian LGBT Network helped the brothers flee Chechnya, but Russian police last February arrested them in Nizhny Novgorod. Chechen authorities brought them back to Chechnya.
Magamadov and Isaev last month reportedly began a hunger strike after a judge denied their request to have another court hear their case. The Crisis Group "North Caucasus SOS" that represents the brothers said the Supreme Court of Chechnya on Wednesday denied their request for a different venue.