Defense bill contains gay-related provisions
Expanded conscience protections; sodomy ban repealed in military code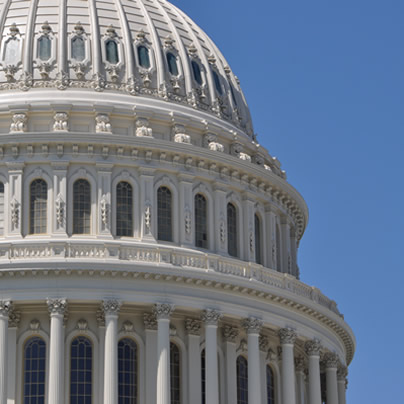 The U.S. Congress passed major defense budget legislation on Thursday that includes provisions related to the LGBT community — both good and bad — in the aftermath of "Don't Ask, Don't Tell."
The fiscal year 2014 defense authorization bill contains an expansion of the conscience protections for service members under current law, but also repeals the sodomy ban under military law and calls for a report on HIV policy within the U.S. military.
The Senate approved late Thursday by a vote of 84-15 a $630 billion version of the bill, which primarily reauthorizes pay for troops and funding for military programs. The House already approved the legislation, so it's heading to President Obama's desk.
Sen. Carl Levin (D-Mich.), the retiring chair of the Senate Armed Services Committee, issued a statement upon passage of the legislation praising the bipartisan nature of its approval.
"Tonight we passed legislation that is good for our national security, and for the men and women who protect us and their families," Levin said. "The Senate vote is a strong bipartisan statement that, despite our differences, we can come together and accomplish important business for the good of the country."
Under Section 532, the legislation contains an expansion of the conscience provision that was enacted as part of last year's defense authorization bill. Under this provision, the armed services shall accommodate service members' expression of their beliefs — unless it would have an adverse impact on military readiness or good order and discipline.
The language was inserted by Sen. Mike Lee (R-Utah) during the Senate Armed Services Committee markup of the fiscal year 2014 defense authorization. It's along the lines of a conscience amendment submitted by Rep. Mike Fleming (R-La.) during the House Armed Services Committee markup of its version of the bill, but not quite as strong. LGBT advocates decried the House version of the amendment as a means to enable service members to discriminate and harass their gay colleagues.
A related provision, Section 533, instructs the Inspector General of the Department of Defense to submit a report to Congress no longer than 18 months after the bill is signed into law on incidents of adverse personnel actions or discrimination against troops based on their moral beliefs.
Tony Perkins, president of the anti-gay Family Research Council, praised Congress in a statement over inclusion of the provision, which he said is a means for "protecting the right of service members to freely practice and express their faith."
"Congress acted appropriately after investigating numerous incidents involving service members who have had their careers threatened, and harassed simply for practicing their faith in a real and tangible way," Perkins said. "The religious liberty violations have grown so frequent in recent years leading many service members to report being too fearful to share their faith."
After the enactment of the earlier conscience provision under the previous defense authorization bill, Obama said the Pentagon assured him the language wouldn't change how the armed forces operated. The Defense Department didn't respond to the Washington Blade's request for comment on how implementation will work this time around.
Ian Thompson, legislative representative of the American Civil Liberties Union, said the inclusion of the conscience provision in the defense authorization bill was unnecessary.
"The ACLU believes that the Constitution and existing laws and regulations already offer all members of the Armed Forces, including chaplains, strong protections for their religious beliefs," Thompson said.
Fred Sainz, the Human Rights Campaign's vice president of communications, expressed a similar sentiment that the provision is unnecessary because service members' religious views are already protected under current policy.
"Although this amendment is unnecessary, Congress dropped a different version adopted by the House of Representatives that would have been truly harmful, requiring the military to accommodate beliefs, actions, and speech of service members unless the armed forces could prove 'actual harm' to good order and discipline," Sainz said.
But the legislation as a whole also contains positive language sought by LGBT advocates in the aftermath of "Don't Ask, Don't Tell" repeal. Among these provisions is Section 1707 — repeal of the ban on sodomy for gay and straight service members under Article 125 of the Uniform Code of Military Justice. The provision was added by Sen. Mark Udall (D-Colo.).
In its place, the legislation inserts into military code a provision making "unnatural carnal copulation" with another person "by force" subject to a court martial. The provision also reasserts the ban on bestiality in military code.
Although the sodomy ban was rarely enforced for service members engaging in consensual sex in private, it has remained on the books and been used to prosecute troops in combination with additional infractions.
ACLU's Thompson said the repeal of the sodomy ban is an important step forward to guarantee the liberty of service members — gay and straight — in the aftermath of "Don't Ask, Don't Tell" repeal.
"This is a welcome and overdue step forward that respects the liberty and privacy of all service members, and is especially significant for gay and lesbian service members whose intimate relationships, including marriages, were labeled a violation of military criminal law," Thompson said. "Removing this stigmatizing and discriminatory provision from the Uniform Code of Military Justice advances the promise of equal treatment for all military personnel."
Additionally, under Section 572, the legislation directs the Pentagon to submit a report to Congress no later than 180 days after the bill is signed into law on personnel policies regarding service members with HIV or Hepatitis B.  The bill directs the Pentagon to include a description of the policies as well as related retention, deployment and disciplinary actions as well as an assessment of whether these policies are evidence-based and medically accurate.
According to the LGBT military group SPART*A, service members become non-deployable once they're discovered to have HIV; can't commission as an officer or warrant officer; can't fly aircraft or work in any jobs requiring a flight physical; are restricted to stateside duty assignments (with the exception of the Navy); and are not eligible for special schools such as Ranger, Special Forces or other special ops jobs.
Thompson said the provision is welcome because it will examine whether the military's current HIV policy is appropriate or outdated.
"This review is welcome and overdue becausemany of our laws, policies, and regulations regarding HIV were written at a time when we knew far less about the routes and risks of HIV transmission, and prior to the development of effective HIV treatment," Thompson said.
Another important non-LGBT provision in the defense authorization bill replaces foreign transfer restrictions in  current law to enable President Obama to close the detention facility in Guantanamo Bay. The bill also seeks to aid victims of sexual assault in the military by criminalizing retaliation against victims who report it,  preventing military commanders from overturning jury convictions and protecting victims of sexual assault from abusive treatment during pre-trial proceedings.
The LGBT group Freedom to Work had said insertion of the Employment Non-Discrimination Act into the defense authorization bill could be a viable way to pass the measure. However, prior to ENDA's passage in the Senate, Senate Majority Leader Harry Reid (D-Nev.) told the Washington Blade such inclusion wasn't a viable option because he didn't know if the larger defense bill would pass.
On Thursday, White House Press Secretary Jay Carney issued a statement saying the administration has concerns with certain aspects of the legislation, but supports it overall.
"Although the bill includes a number of provisions that restrict or limit the Defense Department's ability to align military capabilities and force structure with the President's strategy and implement certain efficiencies, overall the Administration is pleased with the modifications and improvements contained in the bill that address most of the Administration's significant objections with earlier versions regarding these issues," Carney said. "The Administration supports passage of the legislation."
Romney tells Santos, 'You don't belong here'
Utah Republican confronted embattled congressman before State of the Union
U.S. Sen. Mitt Romney (R-Utah) told embattled U.S. Rep. George Santos (R-N.Y.) "you don't belong here" in Congress when the two bumped into each other Tuesday night during President Joe Biden's State of the Union address.
Romney later told reporters he was struck by Santos' shamelessness as he watched the beleaguered freshman congressman "trying to shake hands with every senator and the president of the United States."
Santos should instead have been "sitting in the back row and staying quiet," particularly given the House Ethics Committee probe into his alleged financial crimes, Romney said.
Also on Tuesday, House Speaker Kevin McCarthy (R-Calif.) told CNN that "ethics is moving through, and if ethics finds something, we'll take action," in response to a question about calls for Santos' resignation.
The congressman has dominated headlines since his arrival to Washington, around which time it was revealed that he had made up virtually every element of his biography and identity.
"Look, embellishing is saying you got an A when you got an A-minus," Romney said. "Lying is saying you graduated from a college you didn't even attend," as Santos did, falsely claiming to have graduated from Baruch College with a stint on the university's volleyball team.
"And he shouldn't be in Congress," Romney continued. "And they're going to go through the process and hopefully get him out. But he shouldn't be there and if he had any shame at all, he wouldn't be there."

Ark. governor makes transphobic swipe during GOP State of the Union response
Sarah Huckabee Sanders: Progressives 'can't even tell you what a woman is'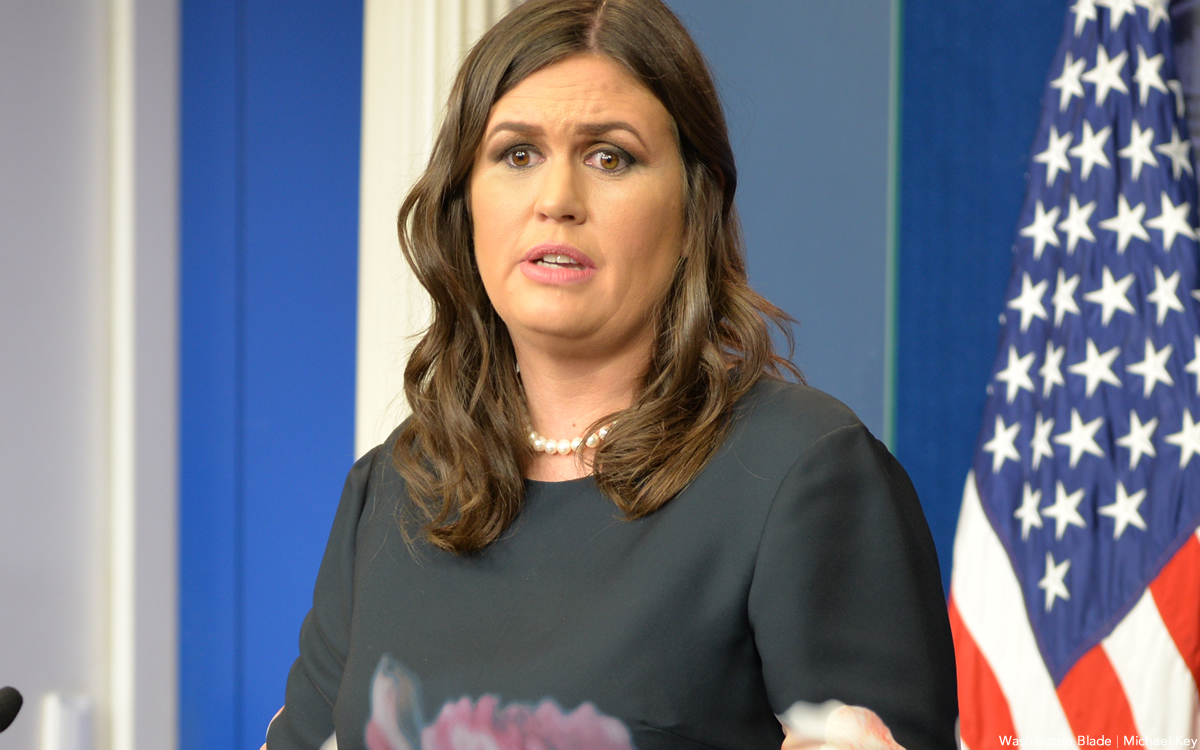 Arkansas Gov. Sarah Huckabee Sanders delivered the Republican response to the State of the Union address late Tuesday night, beginning by asking her audience to "forgive me for not believing much of anything I heard tonight from President Biden."
"I'm the first woman to lead my state," Sanders said, while Biden is "the first man to surrender his presidency to a woke mob that can't even tell you what a woman is."
Referring to this line in her speech, trans activist and Minneapolis City Councilwoman Andrea Jenkins tweeted: "The governor and Republicans all across this country continue to attack transgender people and especially our trans youth to score political points with their base."
"It is time to stop these mean-spirited attacks on the transgender community," Jenkins added.
Human Rights Campaign President Kelley Robinson, who attended the State of the Union as a guest of House Minority Leader Hakeem Jeffries (D-N.Y.), released a statement following Sanders' speech.
"It's just plain despicable that she used her platform tonight to sow division by demonizing the LGBTQ+ community, especially transgender and nonbinary people," Robinson said.
"Transgender kids just want to grow up feeling loved, respected and valued for who they are. But politicians like Gov. Huckabee Sanders are making that nearly impossible with their neverending attacks on these kids."
Robinson also noted the Arkansas Senate is poised to send Sanders a bill that would bar trans youth from using school restrooms and facilities that align with their gender identities.
The state has already passed measures prohibiting trans minors from participating in school athletics programs and accessing guideline directed gender affirming healthcare, laws that were stayed pending the conclusion of litigated challenges.
Sanders served as White House press secretary under former President Donald Trump's administration from 2017-2019. Her father, Mike Huckabee, was governor of Arkansas from 1996-2007.
LGBTQ groups largely praise Biden's State of the Union speech
HRC president attended with House Minority Leader Hakeem Jeffries (D-N.Y.)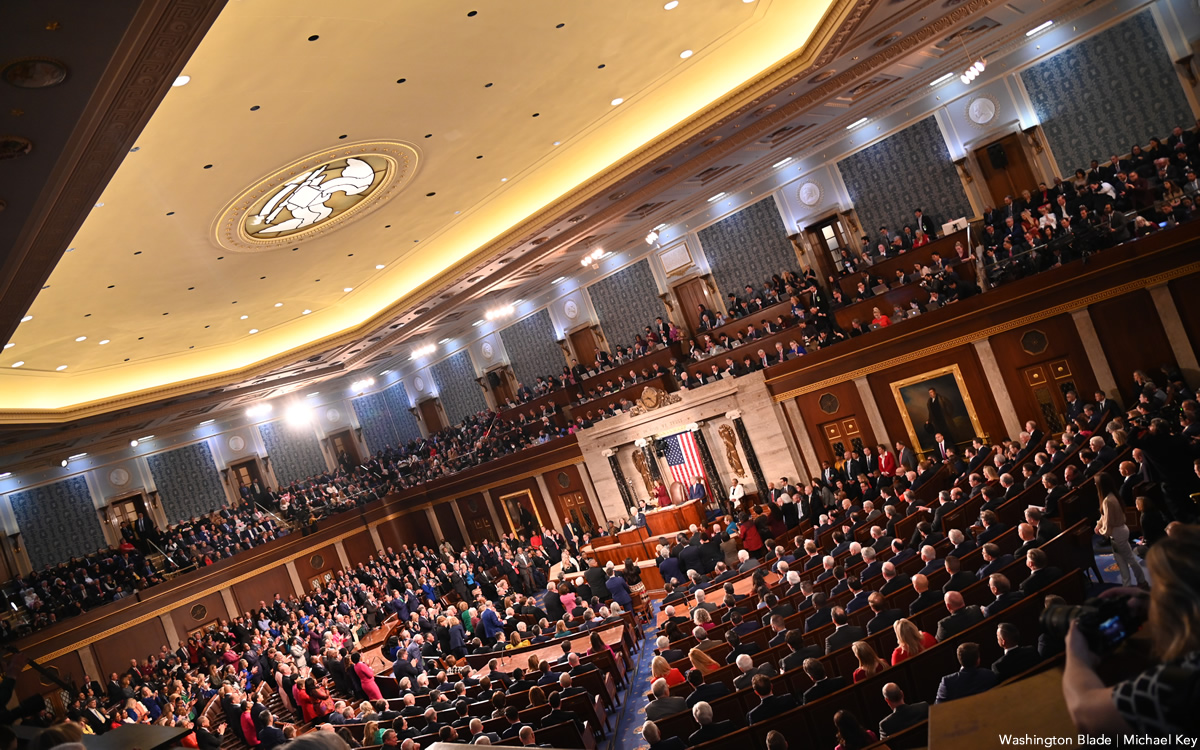 LGBTQ rights groups have largely praised President Joe Biden's State of the Union speech that he delivered on Tuesday.
"It's our duty to protect all the people's rights and freedoms," said Biden. "Make no mistake: If Congress passes a national abortion ban, I will veto it. Let's also pass the bipartisan Equality Act to ensure LGBTQ Americans, especially transgender young people, can live with safety and dignity."
The Equality Act would add sexual orientation and gender identity to federal civil rights law. The bill has passed the U.S. House of Representatives in two previous Congresses, but did not come up for a vote in the U.S. Senate.
"In re-upping his call for Congress to pass the Equality Act and protect transgender youth, the president is leading by example to expand freedom so no one is left behind," GLAAD President Sarah Kate Ellis commented on Twitter.
Likewise, Equality PAC, the political arm of the Congressional LGBTQ Equality Caucus, was committed to the president's vision of a safer U.S. for LGBTQ+ people.
"At a time where LGBTQ Americans, especially those who are trans, are increasingly under attack by right wing extremists, these [legal] protections have never been more dire," remarked U.S. Reps. Mark Takano (D-Calif.) and David Cicilline (D-R.I.), who co-chair Equality PAC. "We remain committed to working with President Biden and members of Congress to pass the Equality Act and enshrine additional LGBTQ rights into law."
The National LGBTQ Task Force in its response to the State of the Union noted how all of the issues on which Biden touched — Social Security, fair wages, Medicaid expansion, access to education, reproductive rights and police reform — have the LGBTQ community "at the center of all the issues."
"LGBTQ people are often disproportionately impacted because of the discrimination our community faces every single day. LGBTQ people are not fully able to participate or benefit from all that our country has to offer. For too many queer people, the American dream is out of reach," said National LGBTQ Task Force Executive Director Kierra Johnson.
Research from the Trevor Project notes 36 percent of LGBTQ youth have reported they have been physically threatened or harmed due to either their sexual orientation or gender identity. Sixty percent of LGBTQ youth who wanted mental health care in the past year were not able to get it, and 89 percent of them said seeing LGBTQ representation in the media made them feel good about being LGBTQ.
Human Rights Campaign President Kelley Robinson, who attended the State of the Union alongside House Minority Leader Hakeem Jeffries (D-N.Y.), said "we appreciate that President Biden is making a point to focus national attention on this urgent topic and stand up for transgender kids, because we need our nation's leaders to show up and prove that, collectively, we are greater than hate."
Log Cabin Republicans President Charles Moran had a far different take.
"Last night, all Americans heard from President Biden was a laundry list of expensive new spending bills and tired campaign slogans, couched between a series of lies about Republicans and the U.S. economy. Meanwhile, inflation is still wrecking American families, our debt is skyrocketing out of control, and nearly half of American families — including LGBT ones — are worse off financially than they were just a year ago," said Moran in a statement. "Not surprisingly, we heard nothing from Biden condemning the woke, race-and-gender-obsessed forces coddled by his administration. LGBT conservatives are thankful that we now have a Republican House to put a stop to the Democrats' radical policies and look forward to working with Republican leadership to advance our own pro-America, pro-equality and pro-freedom agenda."