Defense bill contains gay-related provisions
Expanded conscience protections; sodomy ban repealed in military code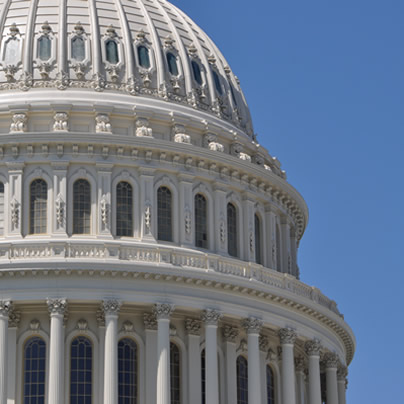 The U.S. Congress passed major defense budget legislation on Thursday that includes provisions related to the LGBT community — both good and bad — in the aftermath of "Don't Ask, Don't Tell."
The fiscal year 2014 defense authorization bill contains an expansion of the conscience protections for service members under current law, but also repeals the sodomy ban under military law and calls for a report on HIV policy within the U.S. military.
The Senate approved late Thursday by a vote of 84-15 a $630 billion version of the bill, which primarily reauthorizes pay for troops and funding for military programs. The House already approved the legislation, so it's heading to President Obama's desk.
Sen. Carl Levin (D-Mich.), the retiring chair of the Senate Armed Services Committee, issued a statement upon passage of the legislation praising the bipartisan nature of its approval.
"Tonight we passed legislation that is good for our national security, and for the men and women who protect us and their families," Levin said. "The Senate vote is a strong bipartisan statement that, despite our differences, we can come together and accomplish important business for the good of the country."
Under Section 532, the legislation contains an expansion of the conscience provision that was enacted as part of last year's defense authorization bill. Under this provision, the armed services shall accommodate service members' expression of their beliefs — unless it would have an adverse impact on military readiness or good order and discipline.
The language was inserted by Sen. Mike Lee (R-Utah) during the Senate Armed Services Committee markup of the fiscal year 2014 defense authorization. It's along the lines of a conscience amendment submitted by Rep. Mike Fleming (R-La.) during the House Armed Services Committee markup of its version of the bill, but not quite as strong. LGBT advocates decried the House version of the amendment as a means to enable service members to discriminate and harass their gay colleagues.
A related provision, Section 533, instructs the Inspector General of the Department of Defense to submit a report to Congress no longer than 18 months after the bill is signed into law on incidents of adverse personnel actions or discrimination against troops based on their moral beliefs.
Tony Perkins, president of the anti-gay Family Research Council, praised Congress in a statement over inclusion of the provision, which he said is a means for "protecting the right of service members to freely practice and express their faith."
"Congress acted appropriately after investigating numerous incidents involving service members who have had their careers threatened, and harassed simply for practicing their faith in a real and tangible way," Perkins said. "The religious liberty violations have grown so frequent in recent years leading many service members to report being too fearful to share their faith."
After the enactment of the earlier conscience provision under the previous defense authorization bill, Obama said the Pentagon assured him the language wouldn't change how the armed forces operated. The Defense Department didn't respond to the Washington Blade's request for comment on how implementation will work this time around.
Ian Thompson, legislative representative of the American Civil Liberties Union, said the inclusion of the conscience provision in the defense authorization bill was unnecessary.
"The ACLU believes that the Constitution and existing laws and regulations already offer all members of the Armed Forces, including chaplains, strong protections for their religious beliefs," Thompson said.
Fred Sainz, the Human Rights Campaign's vice president of communications, expressed a similar sentiment that the provision is unnecessary because service members' religious views are already protected under current policy.
"Although this amendment is unnecessary, Congress dropped a different version adopted by the House of Representatives that would have been truly harmful, requiring the military to accommodate beliefs, actions, and speech of service members unless the armed forces could prove 'actual harm' to good order and discipline," Sainz said.
But the legislation as a whole also contains positive language sought by LGBT advocates in the aftermath of "Don't Ask, Don't Tell" repeal. Among these provisions is Section 1707 — repeal of the ban on sodomy for gay and straight service members under Article 125 of the Uniform Code of Military Justice. The provision was added by Sen. Mark Udall (D-Colo.).
In its place, the legislation inserts into military code a provision making "unnatural carnal copulation" with another person "by force" subject to a court martial. The provision also reasserts the ban on bestiality in military code.
Although the sodomy ban was rarely enforced for service members engaging in consensual sex in private, it has remained on the books and been used to prosecute troops in combination with additional infractions.
ACLU's Thompson said the repeal of the sodomy ban is an important step forward to guarantee the liberty of service members — gay and straight — in the aftermath of "Don't Ask, Don't Tell" repeal.
"This is a welcome and overdue step forward that respects the liberty and privacy of all service members, and is especially significant for gay and lesbian service members whose intimate relationships, including marriages, were labeled a violation of military criminal law," Thompson said. "Removing this stigmatizing and discriminatory provision from the Uniform Code of Military Justice advances the promise of equal treatment for all military personnel."
Additionally, under Section 572, the legislation directs the Pentagon to submit a report to Congress no later than 180 days after the bill is signed into law on personnel policies regarding service members with HIV or Hepatitis B.  The bill directs the Pentagon to include a description of the policies as well as related retention, deployment and disciplinary actions as well as an assessment of whether these policies are evidence-based and medically accurate.
According to the LGBT military group SPART*A, service members become non-deployable once they're discovered to have HIV; can't commission as an officer or warrant officer; can't fly aircraft or work in any jobs requiring a flight physical; are restricted to stateside duty assignments (with the exception of the Navy); and are not eligible for special schools such as Ranger, Special Forces or other special ops jobs.
Thompson said the provision is welcome because it will examine whether the military's current HIV policy is appropriate or outdated.
"This review is welcome and overdue becausemany of our laws, policies, and regulations regarding HIV were written at a time when we knew far less about the routes and risks of HIV transmission, and prior to the development of effective HIV treatment," Thompson said.
Another important non-LGBT provision in the defense authorization bill replaces foreign transfer restrictions in  current law to enable President Obama to close the detention facility in Guantanamo Bay. The bill also seeks to aid victims of sexual assault in the military by criminalizing retaliation against victims who report it,  preventing military commanders from overturning jury convictions and protecting victims of sexual assault from abusive treatment during pre-trial proceedings.
The LGBT group Freedom to Work had said insertion of the Employment Non-Discrimination Act into the defense authorization bill could be a viable way to pass the measure. However, prior to ENDA's passage in the Senate, Senate Majority Leader Harry Reid (D-Nev.) told the Washington Blade such inclusion wasn't a viable option because he didn't know if the larger defense bill would pass.
On Thursday, White House Press Secretary Jay Carney issued a statement saying the administration has concerns with certain aspects of the legislation, but supports it overall.
"Although the bill includes a number of provisions that restrict or limit the Defense Department's ability to align military capabilities and force structure with the President's strategy and implement certain efficiencies, overall the Administration is pleased with the modifications and improvements contained in the bill that address most of the Administration's significant objections with earlier versions regarding these issues," Carney said. "The Administration supports passage of the legislation."
Hyattsville mayor dies by suicide
Kevin Ward and husband adopted son in D.C. in 2012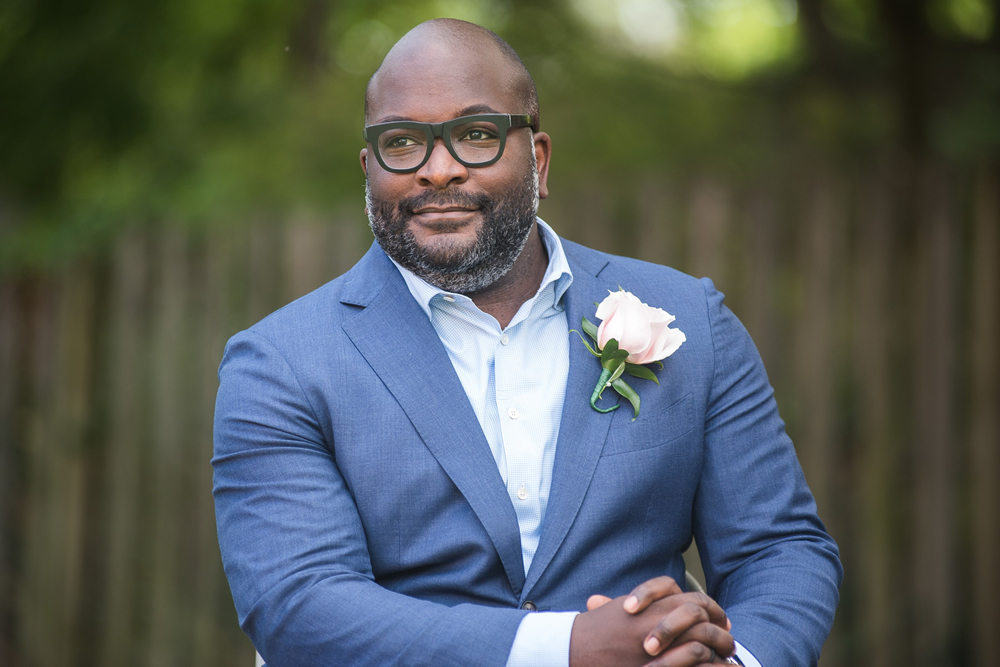 The city of Hyattsville released a statement on Wednesday afternoon announcing that their city's openly gay Mayor Kevin Ward had died one day earlier by an apparent suicide.
"The city of Hyattsville reports with great sadness that our beloved Mayor Kevin Ward passed away yesterday, Jan. 25, from an apparent self-inflicted gunshot wound," the statement says.
"Mayor Ward was a valued and trusted leader and a fierce advocate for all the people of Hyattsville," the statement continues. "We are heartbroken at this loss and extend our deepest sympathy to the mayor's family," it says.
"No further information is available at this time," the statement adds. "Details about services and remembrances will be shared when they are available."
The Washington Post reported that U.S. Park Police disclosed that Ward was found deceased in Fort Marcy Park in McLean, Va., with a "self-inflicted gunshot wound."
Ward, 44, became acting mayor of Hyattsville on Jan. 1, 2021, following the resignation of former Mayor Candace Hollingsworth. He was next in line to become mayor under the city's political system in his then-position as president of the Hyattsville City Council.
He won election to complete the remainder of Hollingsworth's term through 2023 in a May 11, 2021, special election, receiving 57.8 percent of the vote in a three candidate race, according to the Hyattsville election board. His closest opponent, Joseph Solomon, received 31.7 percent of the vote.
Nearby fellow gay mayors — Patrick Wojahn of College Park and Jeffrey Slavin of Somerset — said they got to know Ward through Maryland political circles and thought very highly of him.
"He was insightful, smart and dedicated," Wojahn said. "He always seemed very confident and together as a person. And he had a great sense of humor."
Slavin said he shared that remembrance of Ward, adding that he found Ward to be a "very nice person" dedicated to the people he served both as mayor and during his two terms on the Hyattsville City Council.
"There was noting in his public life that would have predicted this," said Slavin in referring to Ward's sudden passing.
The Washington Blade first reported on Ward in 2012 in a feature story on Ward and his then-domestic partner Chad Copeland when the two attended a ceremony at the D.C. Superior Court to complete the process of adopting their then-5-year-old son Norman. Ward and Copeland were among several gay couples who had their adoption papers signed by a judge at the ceremony.
On the website for his mayoral election campaign last year Ward said he and his family made Hyattsville their home in 2014 after he and his husband adopted their two sons.
"I am a pretty straightforward person," he said in message to voters on his campaign website. "I believe in listening more than talking. But when I talk, I am not one to mince words or tell people what they want to hear," he said. "I believe in doing the work. I believe that if I can help someone, then I can change her or his life," he continued.
"This is why I dedicated my career to providing the best technology to education and to human services, to help as many people as I can," he said.  
Ward was referring to his career in the field of educational and human services technology.
French lawmakers outlaw conversion therapy
The National Assembly unanimously approved ban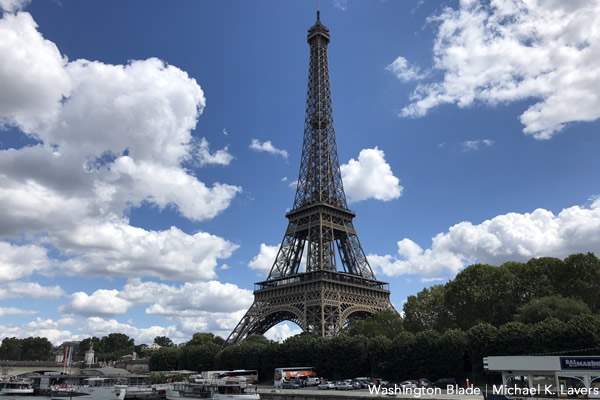 In a vote hailed by French President Emmanuel Macron, lawmakers in the National Assembly unanimously voted 142-0 on Tuesday to ban the discredited practice of so-called gay conversion therapy.
In a reaction to the vote, Macron tweeted: "The law prohibiting conversion therapy is adopted unanimously! Let's be proud, these unworthy practices have no place in the Republic. Because being yourself is not a crime, because there is nothing to be cured."
La loi interdisant les thérapies de conversion est adoptée à l'unanimité !
Soyons-en fiers, ces pratiques indignes n'ont pas leur place en République. Parce qu'être soi n'est pas un crime, parce qu'il n'y a rien à guérir.

— Emmanuel Macron (@EmmanuelMacron) January 25, 2022
The law had already been passed by senators in December.
Those found guilty of so-called gay conversion therapy could face two years imprisonment and a €30,000 ($33,714.45) fine. The punishment could rise to three years in prison and a fine of €45,000 ($50,571.68) for attempts involving children or other particularly vulnerable people, Euronews reported.
"The practice of trying to "convert" LGBT+ people to heterosexuality or traditional gender expectations is scientifically discredited," MP's in support of the measure had argued previous to the final vote.
"We are sending out a strong signal because we are formally condemning all those who consider a change of sex or identity as an illness," said Laurence Vanceunebrock, an MP with Macron's ruling En Marche party.
Nearly every French MP who spoke on Tuesday echoed the same words; "there is nothing to cure."
Department of Education investigating BYU LGBTQ+ discipline policy
"They've wronged marginalized communities at BYU and they need to be held accountable for it" ~ former gay student at BYU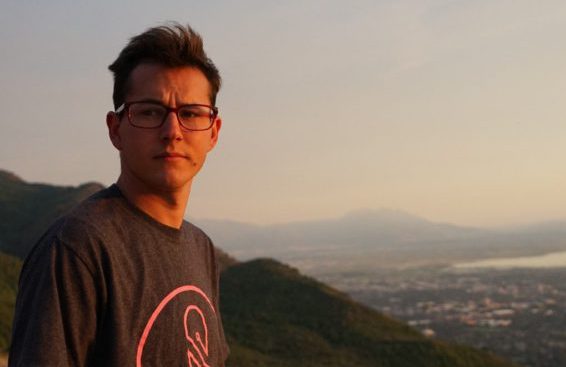 PROVO, Ut. – The U.S. Department of Education has opened an investigation into policies at Brigham Young University (BYU) that discipline LGBTQ students, aiming to determine whether or not the private religious school, owned by the Church of Jesus Christ of Latter-day Saints (LDS), is violating their civil rights.
The Education Department is investigating a complaint that came after BYU removed rules banning "homosexual activity" from its honor code in 2020, only to clarify weeks later that same-sex partnerships were still prohibited.
The probe, which opened in October of last year, will focus on Title IX, a law prohibiting universities from discriminating against students and others based on gender.
Last year, President Joe Biden signed an executive order mandating every federal agency, including the Education Department, clarify that civil rights laws protect LGBTQ people from discrimination. However, religious schools have Title IX exemptions, making federal scrutiny rare.
"It's really significant that investigators are stepping in now," Michael Austin, a BYU alumnus and vice president at the University of Evansville, told the Salt Lake Tribune. "It means there's some reason to think the university has gone beyond the religious exemptions it has and is discriminating even beyond those."
The investigation, headed by the Office of Civil Rights within the department, seems to be about whether faith-based exemptions apply even if the behavior is not directly related to education or expressly written in the honor code. BYU also bans alcohol, beards and piercings, among other things.
BYU did not respond to the Blade's request for comment. But a spokesperson told the Associated Press that the school does not anticipate any further action because "BYU is exempt from application of Title IX rules that conflict with the religious tenets" of the LDS.
Though the LDS has softened some of its rules around LGBTQ issues, the church remains opposed to same-sex marriage and sex outside of marriage.
In a November 2021 letter to the Education Department, Kevin Worthen, president of BYU, argued that religious exemptions do apply to the school. The letter adds that all BYU students, faculty, administrators and staff "'voluntarily commit to conduct their lives in accordance with the principles of the gospel of Jesus Christ.'"
The Department of Education responded to the letter, affirming that the university has some religious exemptions, but the department had to investigate if the complaint falls under those exemptions.
An Education Department spokesperson confirmed the investigation to the Blade but declined further comment.
Queer students at BYU celebrated the school's removal of the anti-LGBTQ language in the honor code. Yet, the university announced weeks later that there was "some miscommunication" as to what the changes meant, clarifying that "the principles of the Honor Code remain the same."
Bradley Talbot, a former gay student at BYU, was on campus during the apparent reversal, saying it "instilled a lot of fear and a lot of students."
"There are still a lot of feelings of betrayal and apprehension around it," he told the Blade.
At BYU, students who hold hands or kiss someone of the same sex can face punishment, including expulsion. LGBTQ+ students face harsher discipline than heterosexual couples at the school.
Talbot said he knew of "quite a few people" who lost their degrees and were kicked out during his time at BYU because of the gay dating ban. "People were turned in by roommates. Some people were turned in by their own parents," he added.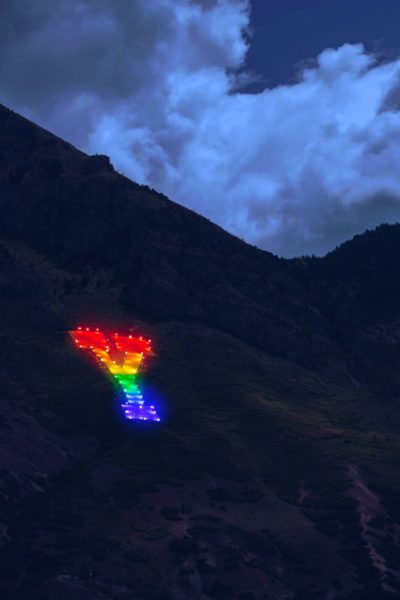 The university's clarification frustrated LGBTQ students, according to Talbot. In response, he organized a demonstration in March of 2021, lighting the "Y" that sits above BYU's campus – one of the school's oldest traditions – in rainbow Pride colors on the one year anniversary of the university's letter sent to students that clarified the LGBTQ dating policy.
"We did it to reclaim that traumatic day and spin in a positive light of support, love and unity to create more visibility and awareness," said Talbot. "And also to take a stand that we weren't going to put up with just being tossed around by BYU. We deserve to be a part of the BYU community and a part of the LGBTQ community."
The school has since updated its policies, banning protests and other demonstrations on Y Mountain, where Talbot staged his demonstration, in December of last year.
"Demonstrations should be consistent with BYU's faith-based mission, intellectual environment and requirements described in the policy," a statement added.
Still, Talbot, who is now graduated, has hope that the Education Department's investigation will "finally change" things at BYU. "This has been something that's been going on for decades," he said. "They've wronged marginalized communities at BYU and they need to be held accountable for it."