Utah calls on Supreme Court to halt same-sex marriages
Private attorney Monte Stewart listed as 'counsel of record' for the state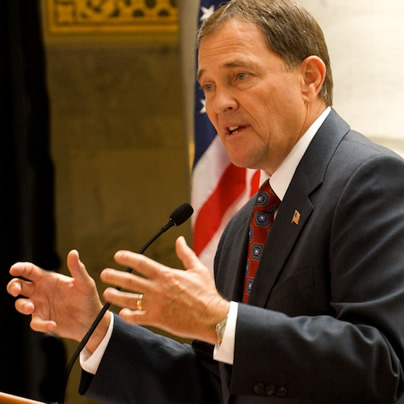 After nearly 11 days have passed with marriage equality in Utah, state officials on Tuesday formally made their request with the U.S. Supreme Court to halt same-sex marriages taking place in the state.
Attorneys for Utah officials — Gov. Gary Herbert (R) and newly sworn-in Attorney General Sean Reyes — filed the 26-page stay request with U.S. Associate Justice Sonia Sotomayor, who's responsible for the Tenth Circuit.
"As a result of the district court's injunction, numerous same-sex marriages are now occurring every day in Utah," the request states. "And each one is an affront not only to the interests of the state and its citizens in being able to define marriage through ordinary democratic channels…but also to this court's unique role as final arbiter of the profoundly important constitutional question that is so carefully preserved in Windsor."
Gay couples have started marrying in Utah since Dec. 20, when U.S. District Judge Robert Shelby ruled the 2004 state ban on same-sex marriage known as Amendment 3 was unconstitutional.
After appealing the decision to the U.S. Tenth Circuit Court of Appeals, state officials have made several stay requests to halt the same-sex marriages. Following decisions from the district court and the Tenth Circuit to deny the stay requests, state officials swore to take up the matter with the Supreme Court.
Now that the stay request is before the high court, Sotomayor has the option of referring the request to all of her colleagues on the bench, who would provide the final word on whether a stay would be granted on same-sex marriages.
However, if Sotomayor goes it alone and decides against the stay, Utah officials may select any justice on the Supreme Court — such as a justice with an anti-gay reputation like U.S. Associate Justice Antonin Scalia — and make a final attempt to request a stay.
Doug NeJaime, who's gay and law professor at the University of California, Irvine, said he expects Sotomayor to refer the request to the entire court, but isn't able make a prediction on what will happen.
"Even justices sympathetic to the cause of same-sex marriage may think that a stay makes sense so as not to rush a substantive resolution by the court," NeJaime said. "Last term we saw that the Court was hoping to let the issue keep moving forward without settling it, but the Utah case puts the issue back before the court very soon after Windsor and Hollingsworth. It's unclear what will happen, but there are likely some justices hoping to hold off on deciding the big question."
According to SCOTUSblog, Sotomayor has already requested a response to the Utah stay application by noon on Friday. Until that time, the court won't take action on the stay.
Beefing up their arguments in their initial requests, Utah officials base their request for a stay, among other reasons, on the likelihood the Supreme Court will take up the marriage issue and on the Supreme Court's ruling against Section 3 of the Defense of Marriage Act.
"And if DOMA's non-recognition was an impermissible 'federal intrusion on state power' to define marriage, surely there is at least a good prospect that a majority of this court will ultimately hold the district court's far more intrusive order and injunction valid, and in so doing vindicate the prerogative of Utah and its citizenry to retain the traditional definition of marriage if they so choose," the request states.
Utah officials also express concern for same-sex couples marrying in the Utah in the event that a ruling from a higher court would abrogate their unions, saying a stay is needed to "avoid needless injuries to same-sex couples and their families that would follow."
According to the Salt Lake Tribune, more than 1,225 marriage licenses were issued in Utah in the first six days of marriage equality between Dec. 20 and Dec 26. Of those, at least 74 percent were issued to same-sex couples.
Twice in the stay request, Utah officials cite a 2012 report from Mark Regnerus as evidence for why same-sex parents aren't as fit biological opposite-sex parents. That report has been debunked for failing to control for error.
James Magleby, an attorney at Magleby & Greenwood PC representing same-sex couples in the case, chided Utah state officials for pursing the stay on same-sex marriages.
"It doesn't have to be this way," Magleby said. "The State of Utah should carefully consider its other options, in particular the fiscally responsible decision by New Jersey Governor Chris Christie, to save his state from further legal expenditures and to put a divisive issue in the past, by deciding not to pursue an appeal from an analogous ruling."
Utah state officials are calling on the Supreme Court to halt same-sex marriages as they've indicated they're collaborating with outside counsel to the defend the marriage law. In a statement on its website last week, the attorney general's office said it was putting off the stay request for a few days "[d]ue to the necessity of coordination with outside counsel."
Consistent with what was reported earlier, the stay request indicates Monte Stewart, a private attorney with Stewart, Taylor & Morris and a history of advocacy against same-sex marriage, is listed as counsel of record for the state. A founder of Utah-based Marriage Law Foundation, Stewart has written numerous tracts in opposition to marriage equality, including a 2008 article in the Harvard Journal of Law & Public Policy titled, "Marriage Facts."
According to the Deseret News, the cost for Utah to hire outside counsel to defend the state's marriage law is expected to reach nearly $2 million. Moreover, state lawmakers support the decision to defend the law at that cost. House Speaker Becky Lockhart reportedly said after House leaders heard the projected cost from Reyes, they "felt comfortable telling him, 'Move forward with what you think is in the best interest of the state.'"
Utah sources familiar with the decision to hire outside counsel say state officials are doing so because the attorney general is too fresh on the job and because the state wants an expert on the subject matter to defend the marriage law.
Fred Sainz, the Human Rights Campaign's vice president of communications, said in a statement last week that hiring outside counsel to defend the marriage law would be a bad move for Utah.
"Defending discrimination is indefensible," Sainz said. "Defending discrimination while spending millions of taxpayer dollars to do it is beyond explanation. It is an affront to all Utahans that their hard-earned tax dollars – money that should be going into schools, roads or health programs – will instead be used to cement the state on the wrong side of history."
Rachel Levine: Efforts to deny health care to trans youth are 'politics'
Former Pa. health secretary opened Victory Fund conference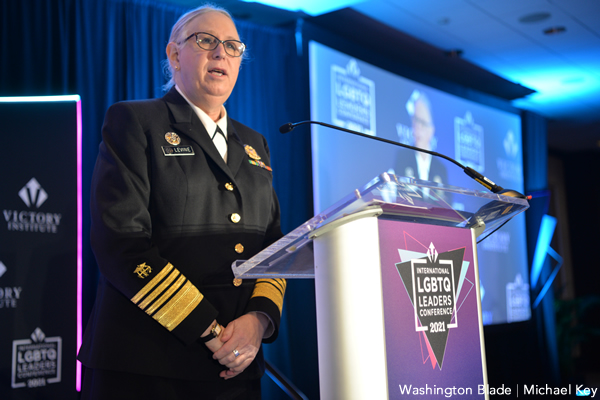 Assistant Health Secretary Rachel Levine on Thursday criticized efforts to prevent transgender youth from accessing health care.
"Unfortunately, some have fought to prevent transgender youth from accessing the health care that they need," she said in a speech she delivered at the opening of the Victory Fund's 2021 International LGBTQ Leaders Conference that took place in-person at the JW Marriott in downtown D.C. "This is politics and this politics has no place in health care and public health and they defy the established standards of care written by medical experts."
Levine was Pennsylvania's Health Secretary until President Biden nominated her to become assistant secretary of health.
She became the first openly trans person confirmed by the U.S. Senate in March. Levine in October became a four-star admiral in the U.S. Public Health Service.
The conference will take place in-person and virtually through Sunday.
VIDEO: Biden addresses advocates on World AIDS Day
President says end to transmission 'within striking distance'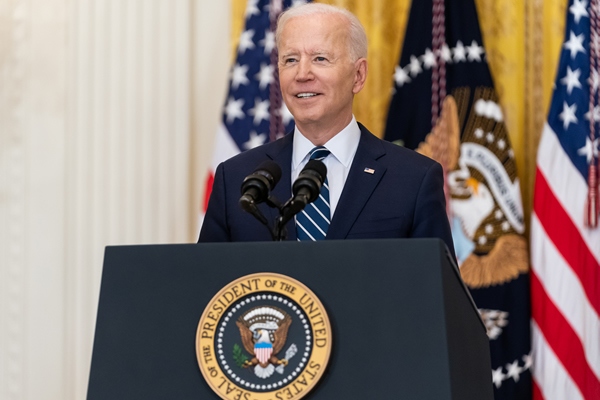 President Biden, in remarks delivered Wednesday at the White House in recognition of World AIDS Day, said to advocates in the fight against HIV/AIDS the end to HIV transmission was near.
"It's because of you and it's not hyperbole to suggest that we are within striking distance of eliminating HIV transmission, within striking distance," Biden told attendees in the East Room.
Joining Biden in the East Room were Secretary of Health & Human Services Xavier Becerra and Gabriel Maldonado, an HIV/AIDS Advocate and founder of TruEvolution, a Riverside, Calif.-based LGBTQ group.
Biden also during his remarks touted having made the appointment of Harold Phillips to lead the White House Office of National AIDS Policy — a position that had gone vacant throughout the entirety of the Trump administration.
Notably, Biden talked about the Ending the HIV Epidemic plan, an initiate health officials started in the Trump administration, by saying was to beat HIV domestically by 2030. That was initial target date when the initiative, but Biden had campaigned on defeating by HIV by 2025 to the skepticism off observers.
Watch Biden full remarks below:
Matthew Shepard honored at National Cathedral
Daylong services held to mark his 45th birthday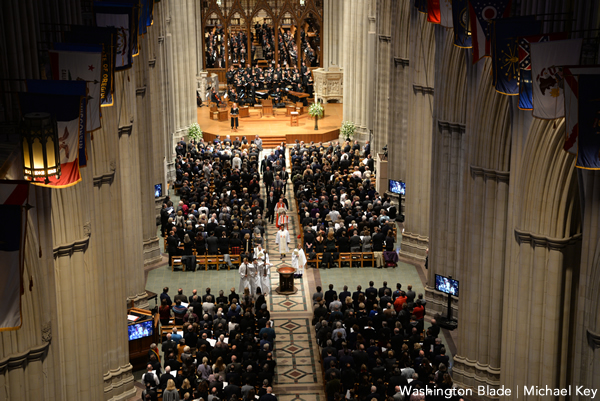 The parents of gay University of Wyoming student Matthew Shepard, who was murdered in a 1998 hate crime that drew international attention to anti-LGBTQ violence, were among those attending a day of religious services commemorating Shepard's 45th birthday on Wednesday at the Washington National Cathedral.
The services, which the Cathedral organized in partnership with the Matthew Shepard Foundation, included tributes to Shepard at the Cathedral's St. Joseph's Chapel, where his remains were interred in a ceremony in 2018.
"Matthew Shepard's death is an enduring tragedy affecting all people and should serve as an ongoing call to the nation to reject anti-LGBTQ bigotry and instead embrace each of our neighbors for who they are," the Very Rev. Randolph Marshall Hollerith, Dean of Washington National Cathedral, said at the time of Shepard's interment.
"In the years since Matthew's death, the Shepard family has shown extraordinary courage and grace in keeping his spirit and memory alive, and the Cathedral is honored and humbled to serve as his final resting place," Hollerith said.
The first of the Cathedral's Dec. 1 services for Shepard began at 7 a.m. with prayers, scripture readings, and music led by the Cathedral's Rev. Canon Rosemarie Logan Duncan. The service was live streamed on YouTube.
An online, all-day service was also held from 8 a.m. to 5 p.m. that Cathedral officials said was intended to "connect people around the world to honor Shepard and the LGBTQ community and pray for a more just world."
The Shepard services concluded with a 5:30 p.m. in-person remembrance of Shepard in the Cathedral's Nave, its main worship space. Among those attending were Shepard's parents, Dennis and Judy Shepard, who have said they created the Matthew Shepard Foundation to continue their son's support for equality for all.
A statement released by the Cathedral says a bronze plaque honoring Matthew Shepard was installed in St. Joseph's Chapel to mark his final resting place at the time Shepard was interred there in 2018.
Following the Cathedral's Dec. 1 services for Shepard, the Adams Morgan gay bar Pitchers hosted a reception for Dennis and Judy Shepard, according to Pitchers' owner David Perruzza.
One of the two men charged with Shepard's murder, Russell Henderson, pleaded guilty to the charge after prosecutors agreed not to seek the death penalty for him. The second of the two men charged, Aaron McKinney, was convicted of the murder following a lengthy jury trial.
Prosecutors said McKinney repeatedly and fatally struck Shepard in the head with the barrel of a handgun after he and Henderson tied Shepard to a wooden fence in a remote field outside Laramie, Wy., on Oct. 6, 1998. Police and prosecutors presented evidence at McKinney's trial that McKinney and Henderson met Shepard at a bar in Laramie on that day and lured him into their car, where they drove him to the field where authorities said McKinney fatally assaulted him.
Shepard died six days later at a hospital in Ft. Collins, Colo., where he was taken after being found unconscious while still tied to the fence.
In a dramatic courtroom scene following the jury's guilty verdict for McKinney, Dennis Shepard urged the judge to spare McKinney's life by not handing down a death sentence. He said that out of compassion and in honor of his son's life, McKinney should be allowed to live. The judge sentenced McKinney to two consecutive terms of life in prison without the possibility of parole, the same sentence given to Henderson.