Lesbian judicial nominee sails through hearing
Yandle would be first out black lesbian confirmed under Obama admin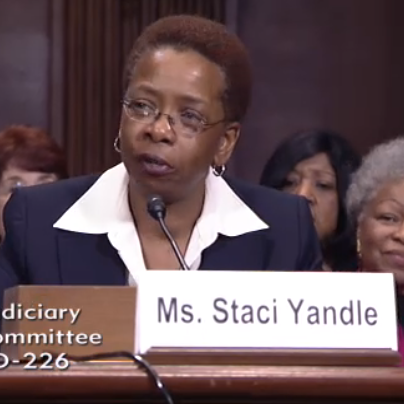 A lesbian judicial nominee to the federal bench sailed through her confirmation hearing on Wednesday, receiving only two questions that came from the U.S. senator who recommended her to the court.
Staci Michelle Yandle, whom President Obama nominated for a seat on the U.S. District Court for the Southern District of Illinois in January, testified before the Senate Judiciary Committee as part of a group of five judicial nominees. Sen. Amy Klobuchar (D-Minn.) presided over the hearing.
Sen. Richard Durbin (D-Ill.), who recommended the Yandle nomination, reflected on her work as an attorney representing "the little guy," saying that's what he found attractive about her career.
But Durbin asked if she agrees with a statement from U.S. Chief Justice John Roberts that if the U.S. Constitution says the little guy wins, he wins, but if the Constitution says the big guy wins, he wins.
"I think his statement is absolutely correct," Yandle replied. "And I think that's the proper role of a district court judge. It would be certainly what I would value as well. Based on my years of experience, as you mentioned, senator, trying cases on behalf of plaintiffs, it has given me actually a keen appreciation for the importance of impartiality and judicial integrity."
Durbin also asked her to comment on the Tenth Amendment, which affords powers not enumerated in the U.S. Constitution to the states. Yandle said she hasn't engaged in analysis of that amendment, but would defer to Supreme Court precedent on the matter.
According to a bio provided by the White House, Yandle has served as a solo practitioner in southern Illinois since 2007, where she focused her practice on civil litigation in federal and state court. She received a rating of "unanimously qualified" from the American Bar Association.
In her introductory remarks, Yandle recognized both her mother and sister, who were present with her in the hearing room, as well as her deceased father, Robert Yandle, whom she says continues to serve as an inspiration.
If approved by the Senate, Yandle would be the first openly lesbian black judicial nominee to receive confirmation during the Obama administration. She'd also be the first openly LGBT person to serve on the federal bench in Illinois.
But Yandle wouldn't be the first openly lesbian black person confirmed. That distinction belongs to Deborah Batts, who was confirmed to the federal court in New York during the Clinton administration.
Introducing Yandle prior to the questioning, Durbin noted the "historic" nature of her potential confirmation to the federal bench.
"In short, Staci Yandle's confirmation marks another important milestone in the journey toward equality of opportunity for all Americans," Durbin said.
Víctor Grajeda, primer diputado suplente abiertamente gay, llega al Congreso de Honduras
Sampedraño hace historia al ser electo por más de 100,000 votos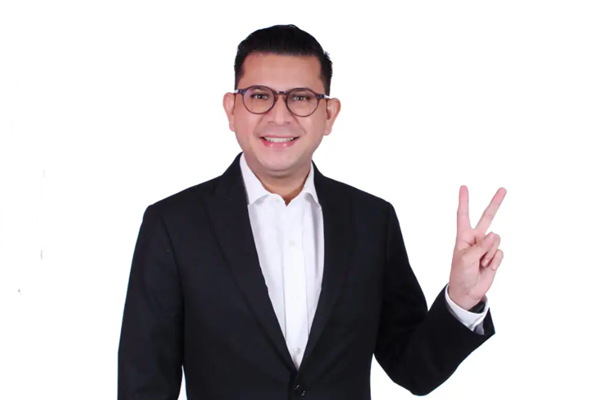 Reportar sin Miedo es el socio mediático del Washington Blade en Honduras. Esta nota salió en su sitio web el 30 de noviembre.
TEGUCIGALPA, Honduras — Miles de personas LGBTIQ+ votaron este 28 de noviembre contra el Partido Nacional, que ha gobernado Honduras más de 12 años y en los últimos tres meses utilizó una campaña de odio, miedo y discriminación hacia la diversidad sexual y el derecho a decidir de las mujeres.
El voto de la diversidad sexual de Honduras benefició mayoritariamente a la candidata del partido de oposición Libertad y Refundación (Libre), Xiomara Castro, quien es considerada la casi segura ganadora de los comicios del 2021 en Honduras por más de 20 puntos arriba de su rival, el candidato por el Partido Nacional, Nasry Asfura.
El triunfo de Xiomara representa la esperanza de un cambio en temas de políticas y leyes, pero también un avance en derechos humanos, dijo a Reportar sin Miedo el presidente de la juventud del Partido Libre, Kevin Ramos.
"Vamos a construir una nueva era. Fuera los escuadrones de la muerte. Fuera la corrupción. Fuera el narcotráfico y el crimen organizado. Fuera las ZEDE. No más pobreza y más miseria en Honduras. Hasta la victoria siempre. Unido, pueblo. Juntos vamos a transformar este país", expresó Castro en su primer discurso. Ella sería la primera presidenta del país en 200 años de independencia.
En el proceso electoral de 2021 sólo participaron cinco candidatxs LGBTIQ+. Por el departamento de Cortés, como aspirantes a diputado propietario se lanzaron Fredy Fúnez, Odalis Sarmiento por el PINU y Víctor Grajeda como diputado suplente del Partido Libre. Ninguna persona trans participó en el proceso.
Grajeda va encabezando los cuatro primeros lugares de las diputaciones de Cortés junto con su compañera de fórmula Silvia Ayala. Él es decorador y tiene un negocio junto con su pareja.
"En mi tiempo libre trabajo en decoración", agrega este hombre abiertamente gay nacido en cuna humilde, quien tuvo que trabajar desde pequeño para sobrevivir en la violenta ciudad de San Pedro Sula.
Víctor lamenta la falta de diversidad que ofrecen los partidos políticos hondureños. Para él, la oportunidad de participar en este proceso es única. "No podía dejarla atrás. Nos permite crear una representación digna y transparente". No ser un político de clóset es, para Víctor, desafiar al sistema. "Busco abrir espacios y descartar la disciminación por la orientación o la identidad sexual", asegura.
Víctor aprovechó para agradecerle a la diputada electa Silvia Ayala por incluirlo en su plantilla ganadora. "Gracias a Silvia por hacerme parte de su fórmula", dice el nuevo diputado suplente. "Ella desde el principio confió en mí y fue muy inclusiva al hacerme su candidato suplente".
Grajeda promete promover leyes que penalicen los crímenes de odio, así como la creación de unidades especializadas para la investigación de estos delitos. Entre sus promesas también están crear programas de salud mental.
Al contrario de otros partidos políticos hondureños, Libertad y Refundación se ha caracterizado por abrir más sus puertas a la inclusión de personas LGBTIQ+ como la activista Kendra Jordany o la abogada Vienna Ávila, a quien Libre nombró secretaria de la diversidad sexual.
"Ciudadanas y ciudadanos, le apostamos a que Honduras se pueda convertir en un país de esperanza", dijo Kevin Ramos. "Nosotros, como parte de la diversidad sexual, esperamos que cumpla sus promesas de ofrecer derechos a nuestra población".
El fin de un gobierno de discriminación y odio
Con su voto, la población diversa pone un alto a los gobiernos nacionalistas, que en más de una década no han garantizado derechos para las personas trans y diversas.
El discurso de odio se pronuncia desde la misma cúpula del gobierno nacionalista encabezado por el presidente Juan Orlando Hernández. El mandatario llamó "enemigos de la independencia" a lxs miembrxs de la diversidad sexual de Honduras en un tristemente célebre discurso por el bicentenario de la independencia, el 15 de septiembre de 2021.
Un reflejo de la visión heterocispatriarcal de los partidos políticos en Honduras es la cantidad de candidatxs de la diversidad sexual en los comicios de este año.
Entretanto, en Francisco Morazán, Miguel Caballero Leiva se presentó como aspirante a una diputación por el partido Unificación Democrática. Sin embargo, todavía no hay resultados de las posiciones electorales para saber el destino de estxs candidatxs.
La discriminación anti-LGBTIQ+ ejercida por el partido en el poder continúa a pesar de la sentencia condenatoria por el transfeminicidio de Vicky Hernández cometido la noche del 28 al 29 de junio de 2009.
Hernández, defensora de derechos humanos, se convirtió en la primera víctima del golpe de Estado que marcó la historia reciente de Honduras. El golpe de 2009 derrocó al entonces presidente Manuel Zelaya, esposo de la actual candidata presidencial Xiomara Castro.
Ni el gobierno de facto del empresario del transporte Roberto Micheletti ni las administraciones nacionalistas de Porfirio Lobo y Juan Orlando Hernández aclararon o buscaron castigar el crimen contra Vicky. Por el contrario, durante los 12 años de poder nacionalista aumentó desmedidamente la cantidad de crímenes de odio en Honduras.
Desde el 2009 hasta la fecha hay un registro de 389 muertes violentas contras personas LGBTI+. Solo en 2021 han sido asesinadas 16 personas: diez gays, tres transexuales y tres lesbianas, reporta Cattrachas en su Observatorio de Muertes Violentas.
Hubo un destello de esperanza a mediados de este año, cuando por fin la Corte Interamericana de Derechos Humanos condenó al Estado de Honduras por el transfeminicidio de Vicky Hernández.
"Esta es la apertura para que vean que ninguna lucha es exclusiva de un grupo de personas", dijo en aquella ocasión la coordinadora de Cattrachas, Indyra Mendoza.
Sin embargo, aunque el Estado dijo que iba a cumplir con la sentencia por el caso de Vicky Hernández, hasta el momento no ha pedido perdón a la familia ni cumplido con una serie de reparaciones de la condena de la Corte IDH.
Algunxs no pudieron votar contra el nacionalismo
A pesar del deseo de las personas trans de usar su voto para sacar del poder al Partido Nacional, algunas de ellas se quedaron sin esa posibilidad.
La directora de Oprouce, la líder trans Sasha Rodríguez, no pudo votar porque nunca recibió el nuevo Documento Nacional de Identidad (DNI).
Igual que Rodríguez, miles de personas estaban habilitadas para votar, pero el Registro Nacional de las Personas no les entregó sus nuevas identidades, sin las cuales no podían votar, según las nuevas reglas electorales.
Los usuarios de redes sociales comentaron que los problemas en la entrega de los DNI eran otros de los trucos del oficialismo para seguir en el poder fraguando un supuesto fraude en las votaciones del 28 de noviembre.
"El triunfo de Xiomara es una reivindicación como ciudadana", dijo Sasha Rodríguez. "Ella ha sido una aliada de la población diversa y las personas LGBTIQ+ hablaron. Ya se cansaron de 12 años en el poder del Partido Nacional y su líder Juan Orlando Hernández, que se unió con los fundamentalistas religiosos, en especial los evangélicos, para seguir difundiendo mentiras y discriminaciones hacia todas".
Rodríguez recordó el discurso de Hernández del pasado 15 de septiembre, donde manifestó su rechazo a los derechos de las personas diversas. En medio del ambiente electoral en Honduras asesinaron a Tatiana García en Santa Rosa de Copán. Ella era militante del partido de gobierno. También más de 10 personas trans sufrieron discriminación o fueron víctimas de agresiones.
 

 

 

View this post on Instagram

 

 

 

 

 

 

 

 

 

 

 

 

 

 

 

 

 

 

 

 

 

 

 

 

 

 

 

 

 

 

 

 

 

 

 

 

 

 

 

 

 

 

 

 

 

 

 

 

 

 

 

 

 

 

 

 

 

 

 

 

 

 

 

 

 

 

 

 

 

 

 

 

 

 

 

 

 

 
La Red Lésbica Cattrachas denunció ante el Consejo Nacional Electoral (CNE) que el Partido Nacional junto a los antiderechos utilizaban sus discursos de odio para estigmatizar a las personas LGBTI+ y mujeres.
El CNE admitió el 23 de noviembre su denuncia por prejuicio de la dignidad humana, por promover el odio y la discriminación a grupos históricamente colocados en situación de vulnerabilidad.
La violencia en Honduras se extiende a lxs candidatxs pertenecientes a los grupos LGBTIQ+. El Observatorio Político de Cattrachas registró, hasta el 21 de noviembre, 33 muertes violentas de candidatas y candidatos. También denunció una serie de ataques y amenazas a diferentes sectores.
En un evento público, la coordinadora de la red, Indyra Mendoza, pidió un alto a la violencia política. "No hay elecciones libres si lxs candidatxs tienen miedo. Necesitamos que el país entero rechace las agresiones, necesitamos que defender derechos humanos no sea una condena".
Cattrachas también denunció al exsecretario del presidente Hernández, el ministro Ebal Díaz, quien utilizó en sus campañas el video de una niña con discapacidad para manipular la opinión pública sobre el tema del aborto. «Es cruel que hagan política atacando a las mujeres y a las personas con discapacidad», señaló la red lésbica.
Violencia antes y durante las elecciones
El más reciente caso de violencia contra la población diversa de Honduras es el de Emeli Rachel Villafranca (23), quien fue salvajemente golpeada por cuatro hombres en Tegucigalpa, denunció la organización Arcoíris. A tres días antes de las elecciones, más de 20 organizaciones LGBTIQ+ presentaron una propuesta de reforma de ley ante el Registro Nacional de las Personas para que reconozca el cambio de nombre de las personas. Se recogieron 4,600 firmas a nivel nacional. En el marco de este evento se realizó una marcha exigiendo justicia, alto a la violencia y a los discursos de odio.
 

 

 

View this post on Instagram

 

 

 

 

 

 

 

 

 

 

 

 

 

 

 

 

 

 

 

 

 

 

 

 

 

 

 

 

 

 

 

 

 

 

 

 

 
Personas LGBTIQ+ monitorean las elecciones
Al menos 30 mujeres trans distribuidas en la capital Tegucigalpa, en el centro de Honduras, y San Pedro Sula, en la costa norte, realizaron un proceso de observación ciudadana en centros de votación masivos. Las observadoras registraron incidencias de discriminación, problemas de identificación con el nombre registro al nacer y otras anomalías.
La directora de la Asociación Muñecas de Arcoíris, JLo Córdova, denunció que en su centro de votación sufrió discriminación al ejercer el sufragio porque fue llamada públicamente con el nombre registrado en su DNI. "Esto no debería ser. Recomendamos mejor capacitación en temas de diversidad y género a lxs integrantes de las mesas electorales".
Por otro lado, tanto en San Pedro Sula y Tegucigalpa, más de 15 personas de diferentes organizaciones LGBTI+ realizaron el trabajo de observadoras electorales nacionales.
La activista lesbiana Seidy Irías dijo a Reportar sin Miedo que un país que no considera los derechos humanos de las personas con mayor vulnerabilidad no es una república. "Luchemos por un gobierno visible para todas las poblaciones", dijo Seidy.
En las redes sociales se promovió el #VotoConOrgullo y la respuesta fue masiva. "Las juventudes demostramos que no somos de cristal, sino de diamantes en este proceso electoral, el cual fue un triunfo contundente para la democracia pacífica y participativa", expresó el director de Honduras Diversa, Néstor Hernández.
 

 

 

View this post on Instagram

 

 

 
El triunfo de Xiomara Castro representa para muchxs el rompimiento de una brecha de desigualdad. «Hoy, más de una niña se levantó creyendo que también puede ser presidenta», dijo el influencer Denisol Mehujael.
Victory Fund honors Maine House speaker at D.C. conference
Ryan Fecteau is gay Catholic University alum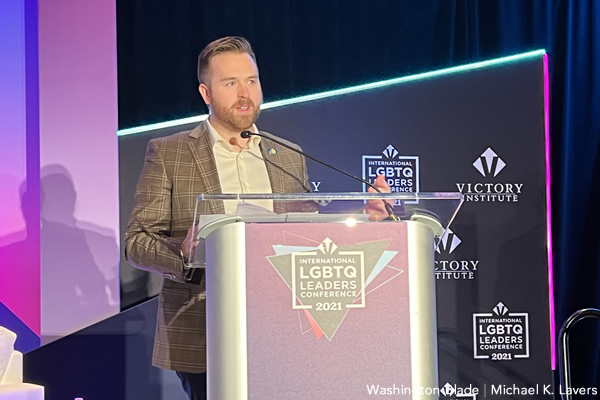 The Victory Fund on Saturday honored Maine House Speaker Ryan Fecteau on the last day of its International LGBTQ Leaders Conference in D.C.
Fecteau — an openly gay Catholic University of America alum — won a seat in the Maine House of Representatives in 2014. He became the chamber's speaker in 2018.
"Hate and intolerance will not derail us," said Fecteau after Florida state Rep. Carlos Guillermo Smith presented him with the Tammy Baldwin Breakthrough Award, which is named after U.S. Sen. Tammy Baldwin (D-Wis.). "Our community will not be intimidated."
The Victory Fund on Friday honored Guatemalan Congressman Aldo Dávila, a gay man who is living with HIV.
Victory Fund honors gay Guatemalan congressman at D.C. conference
Aldo Dávila a vocal critic of country's government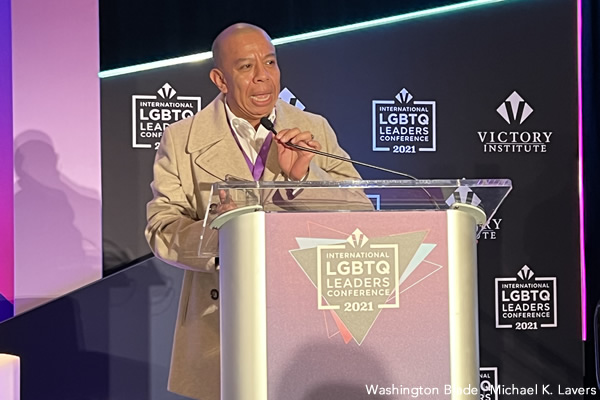 The Victory Fund on Friday honored an openly gay Guatemalan congressman who has faced death threats because of his efforts to fight corruption in his country.
Dávila — a member of the Winaq movement, a leftist party founded by Rigoberta Menchú, an indigenous human rights activist and Nobel Peace Prize winner — in 2019 became the first openly gay man elected to Guatemala's congress. Dávila, who also lives with HIV, had previously been the executive director of Asociación Gente Positiva, a Guatemala City-based HIV/AIDS service organization.
Supporters of President Alejandro Giammattei have lodged several formal complaints against Dávila after he publicly criticized the government over corruption, its response to the pandemic and other issues.
Three men on April 19 approached Dávila's vehicle near Guatemala's National Library and tried to rob him. One of Dávila's bodyguards shot one of the men, but the two other assailants fled the scene before police officers and passersby arrived.
Dávila told the Washington Blade in September during an interview at a Guatemala City hotel that he and his partner installed cameras in their apartment after someone killed their dog.
Two female police officers who arrived at the hotel with Dávila sat in the lobby while he spoke with the Blade. The government a few weeks later reduced his security detail.
"Guatemala is living through the worst democratic crisis in the last 40 years," said Dávila after he accepted the Victory Fund's Global Trailblazer Award at its 2021 International LGBTQ Leaders Conference that is taking place in-person at the JW Marriott in downtown D.C. "Guatemala right now is being paralyzed by corruption and impunity and my voice is uncomfortable because of this."
Dávila became emotional at the end of his remarks.
"I will keep fighting for our rights," he said.