Bill Clinton praises 'poetry and prose' of LGBT movement
Offers no apology for signing DOMA, 'Don't Ask, Don't Tell'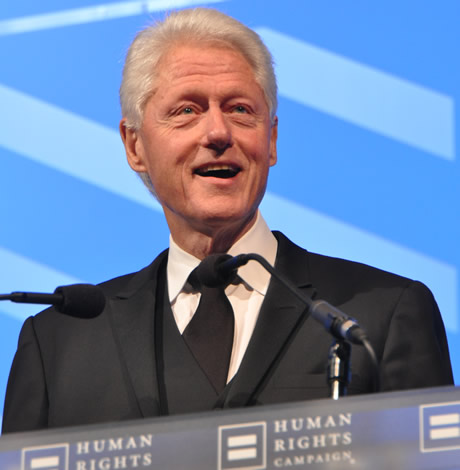 Bill Clinton during his first inaugural address in 1993 called for the renewal of the country through bold action of American citizens. On Saturday night, more than 20 years later, he told LGBT advocates they played a part in making the country a more perfect union.
Delivering the keynote address at the 18th annual Human Rights Campaign dinner in D.C., Clinton thanked the more than 3,000 attendees for the "poetry and prose" of LGBT activism that he said helped reshape the country in accordance with its ideals.
"We can no longer live with being against somebody, or a group of somebodies just because of who they are," Clinton said. "You should be happy and proud about that; you've got a lot to celebrate. I've never seen a civil rights movement, at least in our country, move as far and as fast as your movement."
But Clinton cautioned the audience not "to kid yourself" because work remains for people "left out and left behind, and there are still some barriers that need to be brought down."
"All over the world, there are young people who still have to cower in fear of their governments, their leaders — and sometimes their families," Clinton said.
Clinton also suggested more progress would be made based on the success that coming out as LGBT has already accomplished for the movement.
"One thing we have learned is that no human heart is immune to an honest outreach," Clinton said. "No one can forever ignore their personal experience."
As an example of how knowing gay people can affect someone on a personal level, Clinton talked about recently attending his 50th high school reunion. The former president spoke of three gay friends from childhood who are deceased, and an old male friend at the event proudly introduced his husband of 35 years.
"We've got to humanize these stories," Clinton said. "There's still enough of a storytelling culture left in the South to make a difference."
It's not the first time Clinton has spoken at the national HRC dinner. The former president delivered the keynote address in 1997 after he won his second term in office.
Reflecting on the changes in the perception of the LGBT community since that time, Clinton said during his speech 17 years ago he asked LGBT people who worked for the federal government to rise from their seats, saying their willingness to do so was remarkable. Now, Clinton said, what would be unusual is "if anybody noticed, and that's a good thing."
Making another reference to the change in attitudes from 17 years ago, Clinton recalled his nomination of out lesbian Roberta Achtenberg as assistant secretary for the Department of Housing & Urban Development.
"After the hearing, she knew she was on television and kissed her partner and you would have thought somebody had set off fireworks in the Capitol building," Clinton said. "Now, if she had a hearing and didn't kiss her partner, you'd think she was cold-blooded."
Richard Socarides, a gay New York Democratic activist who worked as an adviser to Clinton, attended the dinner and said the speech from his old boss was "heartfelt and moving."
"He still has a unique ability to talk about how we are all the same in a way that I think really resonates," Socarides said. "That we should come to appreciate the things that unite us, not that divide us. Plus he appreciates how much more work we have to do and I think that really came through."
Clinton was introduced by HRC President Chad Griffin, who at age 19 worked for the president as the youngest-ever member of a presidential staff. Following Clinton's speech, the former president and his former staffer embraced onstage as the audience applauded.
Since the last Human Rights Campaign national dinner one year ago, the landscape of LGBT rights, particularly marriage equality, has changed significantly.
At the time of 17th national dinner on Oct. 25, 2013, only 14 states and D.C. allowed same-sex marriages. When the evening started for the 18th national dinner, 32 states had legalized gay nuptials.
In his speech introducing Clinton, Griffin predicted marriage equality would spread nationwide to "all 50 states not in a matter of decades, not even in a matter of years, but as soon as a few short months from tonight."
Yeardley Smith, the voice of Lisa on Fox's "The Simpsons," was an honored guest at the dinner and told the Washington Blade the advancement of LGBT rights was due to Griffin's work.
"It's extraordinary," Smith said. "I think the dominoes are falling so fast. And nobody ever though it could happen that quickly, but Chad could get it done. It's very impressive."
Clinton also endorsed initiatives that HRC has undertaken under Griffin's tenure, such as the Project One America campaign to advance LGBT rights in the South, and work to advance LGBT rights overseas, which Clinton called "profoundly important."
"There are people who lost their battle to hold you back in the United States who think they can take the show on the road and win somewhere else," Clinton said.
Although Clinton billed himself as a champion of LGBT rights during his administration, advocating for hate crimes protections and the Employment Non-Discrimination Act, he also was responsible for signing into law "Don't Ask, Don't Tell" and the Defense of Marriage Act.
After his presidency came to an end, Clinton came out in opposition to both laws. In an op-ed for the Washington Post just before the Supreme Court ruled against DOMA, Clinton wrote the law should be declared unconstitutional. But the former president has never apologized for signing those anti-gay measures into law, nor did he issue an apology Saturday night.
The LGBT grassroots group GetEQUAL said in a statement at the time of the speech that Bll Clinton's appearance at the dinner for the nation's largest LGBT group was "ironic" because the former president hasn't apologized for those laws, which took decades to undo.
Clinton didn't talk about "Don't Ask, Don't Tell" during his speech, and he only made a passing reference to DOMA in which he suggested the law had a positive effect, enabling the Supreme Court to issue a ruling that "led to a rash of" court decisions determining state bans on same-sex marriage are unconstitutional.
"Somebody figured out, 'Hey we got to take this decision and run with it as far as we can go,'" Clinton said.
Despite speculation Clinton may have been joined onstage by former Secretary of State Hillary Clinton, a favorite of the LGBT community, she didn't make an appearance at the dinner.
But that didn't stop Clinton from alluding to his wife's potential 2016 presidential campaign by joking about the shared initials of Hillary Rodham Clinton and the nation's largest LGBT group.
"I wanted to talked about the work ahead, and I kind of wanted to ask you what you think the HRC means," Clinton said. "I love the HRC; the initials great."
In a statement, GetEQUAL said it rallied outside the HRC dinner to deliver a message to the "Ready for Hillary" campaign to seek clarity on where Hillary Clinton stands as she considers a presidential run.
Heather Cronk, co-director of GetEQUAL, said the action was intended to send a signal that Clinton must stand for "progressive values as a champion and leader, not simply as a middle-of-the-road political candidate."
"I hope Secretary Clinton hears that the LGBTQ community cares deeply not only about passing a full LGBTQ equality bill, but also about reforming our broken immigration system, ensuring full reproductive health access, ending widespread and systematic police brutality, and winning economic justice measures that allow us to provide for and support our families," Cronk said. "Our community won't be swayed simply by high-profile speeches — we need to see serious action."
But the mood inside the dinner was decidedly different; Bill Clinton was received with a warm welcome. Attendees greeted him as he approached the stage with a sustained, standing ovation, and continued to hoot and holler as he spoke.
Socarides said the speech was particularly special to those who worked with Clinton in the White House when he delivered his first speech 17 years ago.
"No one in American politics can deliver this kind of speech to a gay-rights audience better than Bill Clinton, and he did not disappoint," Socarides said.
Making a surprise appearance at the dinner was outgoing U.S. Attorney General Eric Holder, who reiterated news from earlier in the day that the federal government would recognize same-sex marriages in six more states where gay nuptials were recently legalized by the courts: Alaska, Arizona, Idaho, North Carolina, West Virginia, and Wyoming.
Further, Holder said the administration would recognize the "window" same-sex marriages in Wisconsin and Indiana performed over the summer after district court rulings that were later stayed by the courts.
Expected high-profile LGBT people in attendance at the HRC dinner were White House Social Secretary Jeremy Bernard; U.S. ambassador to the Dominican Republic Wally Brewster; D.C. mayoral candidate David Catania; Air Force Under Secretary Eric Fanning; Export-Import Bank Chair Fred Hochberg; and Air Force general counsel
Gordon Tanner.
D.C. mayor to lift all restrictions on bars, nightclubs on June 11
'We will definitely be celebrating Pride' next month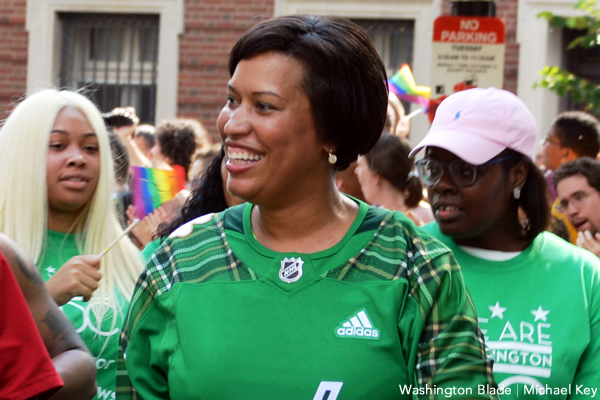 D.C. Mayor Muriel Bowser announced at a news conference on Monday that a continuing trend of significantly lower numbers of coronavirus cases and deaths in the city has enabled her to fully lift capacity and other restrictions on most businesses, including restaurants and places of worship, on May 21.
The mayor said bars and nightclubs will be allowed to increase indoor capacity from the current 25 percent to 50 percent on May 21, with all capacity restrictions for bars and nightclubs to be removed on June 11.
The mayor's announcement came after representatives of the city's nightlife businesses, including the city's gay bars and restaurants, expressed concern that D.C. had yet to lift its capacity restrictions beyond 25 percent while surrounding jurisdictions in Maryland and Virginia had already lifted most restrictions.
"On May 21, restrictions on public and commercial activity, including capacity limits, types of activities, and time restrictions, will be lifted," the mayor's directive says.
It says restrictions for bars and nightclubs would continue at a 50 percent capacity from May 21 through June 11. The directive says restrictions for large sports and entertainment venues would also continue from May 21 to June 11, which includes a requirement such events apply for a waiver of the restrictions on a case-by-case basis.
"On June 11, capacity limits and restrictions will be lifted on those venues that cannot fully reopen on May 21," the directive says.
In response to a question at the news conference, Bowser said the June 11 date would essentially end all restrictions on nightclubs and bars, including the current requirement that they close at midnight rather than the pre-epidemic closing times of 2 a.m. on weekdays and 3 a.m. on weekends.
In a development that could have a major impact on plans for D.C.'s LGBTQ Pride events, the mayor's revised health directive announced on Monday includes the lifting of all capacity restrictions on large outdoor and indoor sports and entertainment events beginning on June 11.
That change would remove restrictions that have, up until now, prevented D.C.'s Capital Pride Alliance from holding its annual Pride Parade and Festival in June during Pride Month.
Capital Pride Executive Director Ryan Bos told the Washington Blade shortly after the mayor's announcement that Capital Pride is assessing its options for expanding its current plans for in-person events in June.
"We will definitely be celebrating Pride in June," Bos said. "We just received this information as well. So, we will be getting further information," he said. "We have not been informed that they will be issuing any permits yet, so at this time we are moving forward with our original plans for doing things."
Bos was referring to a city requirement for obtaining permits for street closings and use of other public spaces for events such as a parade or street festival. He said existing plans, among other things, call for an informal parade of cars and other vehicles on June 12 that will drive throughout the city to view homes and businesses that will be decorated with Pride displays such as signs, photos, and other symbols of Pride.
Those familiar with the city's past Pride events don't think there will be enough time for Capital Pride to organize the traditional large parade and street festival in time for June. But Capital Pride officials have talked about holding a possible parade and festival in October, and the lifting of the capacity restrictions announced by Bowser on Monday would likely make that possible.
In addition to lifting all capacity restrictions on May 21 for restaurants, the mayor's May 21 timeframe for lifting restrictions includes these additional venues and events:
Weddings and special events
Business meetings and seated conventions
Places of worship
Non-essential retail
Personal services
Private at-home gatherings
Libraries, museums, galleries
Recreation Centers
Gyms and fitness centers
Pools
Office space
Schools
Childcare
"We're very pleased that over the last several days, we have seen our case spread, our community spread numbers, venture out of the red into the yellow and fast approaching the green," Bowser said in referring to a health department chart that shows the changes in coronavirus cases in the city.
"You might remember that our daily case rate peaked in January at 45.9. And today you can see it's down to 6.6," she said at her news conference on Monday.
"Throughout this process I have said how proud I am of D.C. residents and businesses who have responded, who have followed health guidance and have worked together to help protect our community throughout the pandemic. And we see it in these numbers today," she said.
"Containing the virus will continue to require all of us to be focused on maintaining a robust health system," the mayor said, adding that while over 200,000 D.C. residents have been fully vaccinated since December 2020, "many more thousands" still need to be vaccinated. "Vaccines are free and available on demand at walk-up sites across the District," she said.
The mayor also noted that the city will continue to require residents and visitors to use a mask in accordance with existing and updated guidance set by the U.S. Centers for Disease Control and Prevention.
Mark Lee, coordinator of the D.C. Nightlife Council, an association that represents restaurants, bars, nightclubs and other entertainment venues, said the mayor's directive on May 10 leaves some details to be addressed but will open the way to bring nightlife businesses back to life.
"What we do know is that on Friday, May 21, businesses begin returning to normal operations and, three weeks later, on June 11, all restrictions for all businesses in the District will end," Lee said. "It's a day we've long awaited and one that will save much of our community enterprise from financial ruin."
Family code bill to be introduced in Cuban Parliament in July
CENESEX made announcement during May 4 press conference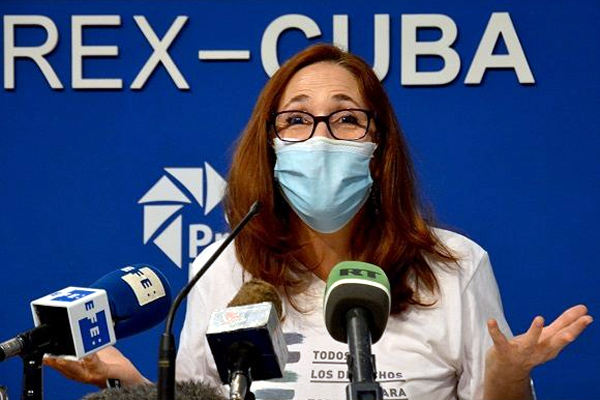 Tremenda Nota is the Washington Blade's media partner in Cuba. A Spanish version of this story was published on May 6.
HAVANA — The National Center for Sexual Education on May 4 during a press conference in which it unveiled the program for the 14th annual International Day Against Homophobia, Transphobia and Biphobia events in Cuba announced a bill to amend the family code will be introduced in Parliament in July.
CENESEX Director Mariela Castro Espín said during a meeting with official and foreign media outlets at the International Press Center that this year's events are part of the process of amending the family code.
She added that this legal change will reflect several rights guaranteed in the constitution, which is why it is necessary to sensitize and educate the Cuban population to avoid prejudice and discrimination.
"I was able to appreciate that the majority of the population … is in favor of recognizing the rights of LGBTI+ people and especially the rights in the family sphere that include the possibility, the option, of marriage," said Mariela Castro during the press conference.
The official referred to the results of the National Survey on Gender Equality in Cuba, conducted in 2016 and published in 2019. According to this official study, 77 percent of the Cuban population between 15 and 74-years-old said that gays, lesbians, bisexuals and transgender people should have the same rights as any other citizen.
CENESEX's director, however, did not use this information in the 2018 parliamentary debates sparked by Article 68 of the bill to amend the constitution. The idea that it was not the appropriate time to implement same-gender marriage in Cuba eventually won out.
Mariela Castro told Tremenda Nota a few days before the referendum in which Cuban voters approved the current constitution that she was aware of the survey, but she did not explain why she did not use the data it revealed as an argument (in favor of marriage equality.)
"It was a wasted tool that now we can only use in the next referendum," then-MP Luis Ángel Adán Roble told Tremenda Nota during a February 2019 interview, as did Mariela Castro.
The moment that Adán Roble mentioned has arrived.
It became known during the May 4 press conference that the family code will be introduced in the scheduled parliamentary session in July. The Council of State on March 22 appointed a commission that will be in charge of preparing the bill, but the list of its members was not made public until April 30. None of them are openly LGBTI+.
Activists over the last few weeks have demanded that Parliament reveal the identities of those who make up the commission and the deadline they have to prevent the Family Code. The May 4 press conference resolved the last outstanding point.
The Cuban IDAHOBiT program
Mariela Castro and CENESEX Deputy Director Manuel Vázquez Seijido explained that numerous activities with the goal of making visible and fighting against all types of discrimination based on sexual orientation and gender identity will virtually take place from May 4 through May 30.
The IDAHOBiT events in Cuba have a program that includes academic dialogue, social activism and artistic presentations from virtual spaces.
Forum debates are among the activities. The Juventud Rebelde newspaper will host the first one with the theme "Deconstructing myths around same-sex families and partners" and Cubadebate will hold the second called "Constitution and Sexual Rights in Cuba: Progress and Main challenges."
They also announced at the press conference the books "Paquito el de Cuba: A Decade of Online Activism" and "Non-Heteronormative Sexualities and Gender Identities. Tensions and Challenges for Human Rights" will be presented.
There will be virtual panels titled "Diverse Families: Histories of Non-Hegemonic Lives," "National Program for the Advancement of Women: Opportunities to Confront Homophobia and Transphobia," "Keys for Inclusive Communication" and "Sexual Rights and Religious Fundamentalisms."
Castro Espín explained that CENESEX will use its social media accounts to promote the program, contribute to the sexual education of Cubans and the recognition of rights for all people, regardless of gender or sexual orientation.
A show against homophobia and transphobia that will officially end the events will be broadcast on social media and on television.
Bill to ban conversion therapy dies in Puerto Rico Senate committee
Advocacy group describes lawmakers as cowards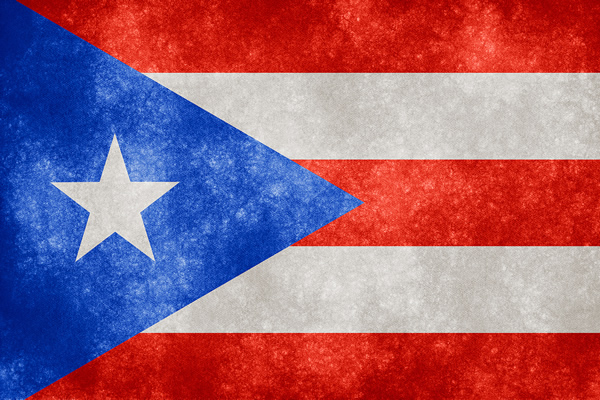 A Puerto Rico Senate committee on Thursday killed a bill that would have banned so-called conversion therapy on the island.
Members of the Senate Community Initiatives, Mental Health and Addiction Committee voted against Senate Bill 184 by an 8-7 vote margin. Three senators abstained.
Amárilis Pagán Jiménez, a spokesperson for Comité Amplio para la Búsqueda de la Equidad, a coalition of Puerto Rican human rights groups, in a statement sharply criticized the senators who opposed the measure.
"If they publicly recognize that conversion therapies are abuse, if they even voted for a similar bill in the past, if the hearings clearly established that the bill was well-written and was supported by more than 78 professional and civil entities and that it did not interfere with freedom of religion or with the right of fathers and mothers to raise their children, voting against it is therefore one of two things: You are either a hopeless coward or you have the same homophobic and abusive mentality of the hate groups that oppose the bill," said Pagán in a statement.
Thursday's vote comes against the backdrop of continued anti-LGBTQ discrimination and violence in Puerto Rico.
Six of the 44 transgender and gender non-conforming people who were reported murdered in the U.S. in 2020 were from Puerto Rico.
A state of emergency over gender-based violence that Gov. Pedro Pierluisi declared earlier this year is LGBTQ-inclusive. Then-Gov. Ricardo Rosselló in 2019 signed an executive order that banned conversion therapy for minors in Puerto Rico.
"These therapies lack scientific basis," he said. "They cause pain and unnecessary suffering."
Rosselló issued the order less than two weeks after members of the New Progressive Party, a pro-statehood party  he chaired at the time, blocked a vote in the Puerto Rico House of Representatives on a bill that would have banned conversion therapy for minors in the U.S. commonwealth. Seven out of the 11 New Progressive Party members who are on the Senate Community Initiatives, Mental Health and Addiction Committee voted against SB 184.
"It's appalling. It's shameful that the senators didn't have the strength and the courage that our LGBTQ youth have, and it's to be brave and to defend our dignity and our humanity as people who live on this island," said Pedro Julio Serrano, founder of Puerto Rico Para [email protected], a Puerto Rican LGBTQ rights group, in a video. "It's disgraceful that the senators decided to vote down this measure that would prevent child abuse."