A fresh start with Mayor Bowser
Transforming D.C. into the greatest place to live, work and play
Some wonder how we can have a new start in D.C. when some of the same old names keep cropping up associated with the new mayor. But I would advise them to focus not on the people in secondary positions but rather on where our new mayor will lead them.
Many underestimated the resolve and ability of Muriel Bowser to make her mark on this great city of ours. We are a small city with fewer than 650,000 people. So yes, some of the same people will continue to be part of the power structure no matter who is mayor. The list of developers who want to build in the District doesn't automatically change and the community activists who work to make a difference don't suddenly go away when there is a new administration. The small business interests and tenant activists are all still here and demand to be heard. The powerful lawyers and their clients remain and want to be heard.
In New York when I worked as coordinator of local government for the Mayor's Office in the Beame administration there were eight million people to choose from when forming a new administration yet we still saw some of the same people with interests in the city stay around from one administration to the next. That isn't always a bad thing and we are lucky that both Police Chief Cathy Lanier and Schools Chancellor Kaya Henderson will be staying in their positions.
Judging the changes the Bowser administration makes will only become fully evident when we see how the mayor deals with the entrenched interests and the direction she gives to those who make up the highest levels of her government.
I believe that Bowser will look at previous administrations and take the best from of all of them as she fashions her mayoralty. She knows the mistakes made by Sharon Pratt Kelly and Adrian Fenty and won't repeat them. She understands the successes of the Fenty administration and those that came about and resulted in transforming this city in the Williams administration and she will look to emulate the best of those. She has already said that she will look to build on the positive things the Gray administration accomplished and focus on the changes that need to be made.
What's apparent from the outset is that she will focus on the people and areas of the city that haven't been a part of the economic boom. She is open to looking for new faces to populate her administration and finding the best possible people to move her ideas forward. I know from conversations with her over the years that she cares about what people think about her and intends to make a lasting and positive mark on this city.
Adding to the climate of change is that the new mayor will take office along with three brand new Council members and a fourth that will be elected to fill her seat in a special election. Three others will have served for less than four years. That is a tremendous change and all those new Council members will be looking to both work with her and make a mark of their own. That bodes well for the people of the District.
With the newly elected Republican Congress we may be in for a few difficult years if the federal government continues to eliminate jobs and government contracting. The District and surrounding jurisdictions often feel the brunt of that. One thing in our favor is that Mayor Gray stayed focused on rebuilding a healthy reserve fund.
Mayor Bowser will have to balance her budget while at the same time deal with constituents competing for more. She must maintain our high bond ratings while satisfying advocates for education, job training, extending TANF and affordable housing as they all make increased demands on the budget.
One of the strongest points in Bowser's platform was the focus on public-private partnerships in a host of areas including everything from affordable housing to the arts. We have a strong business sector as well as strong healthcare and hospitality sectors and we need to capitalize on that. We also have a strong and growing higher education sector with more than 80,000 students attending school in the District and involving them in the development of new initiatives will be important for the future of the District. There is a wealth of brainpower there to be tapped and the potential of thousands of new tax-paying residents for the District.
I look forward to the Bowser administration and to the potential it has to continue to transform the District into the greatest place in the world to live, work and recreate.
Hospitals are abusing this drug discount program
Congress must step in to help low-income patients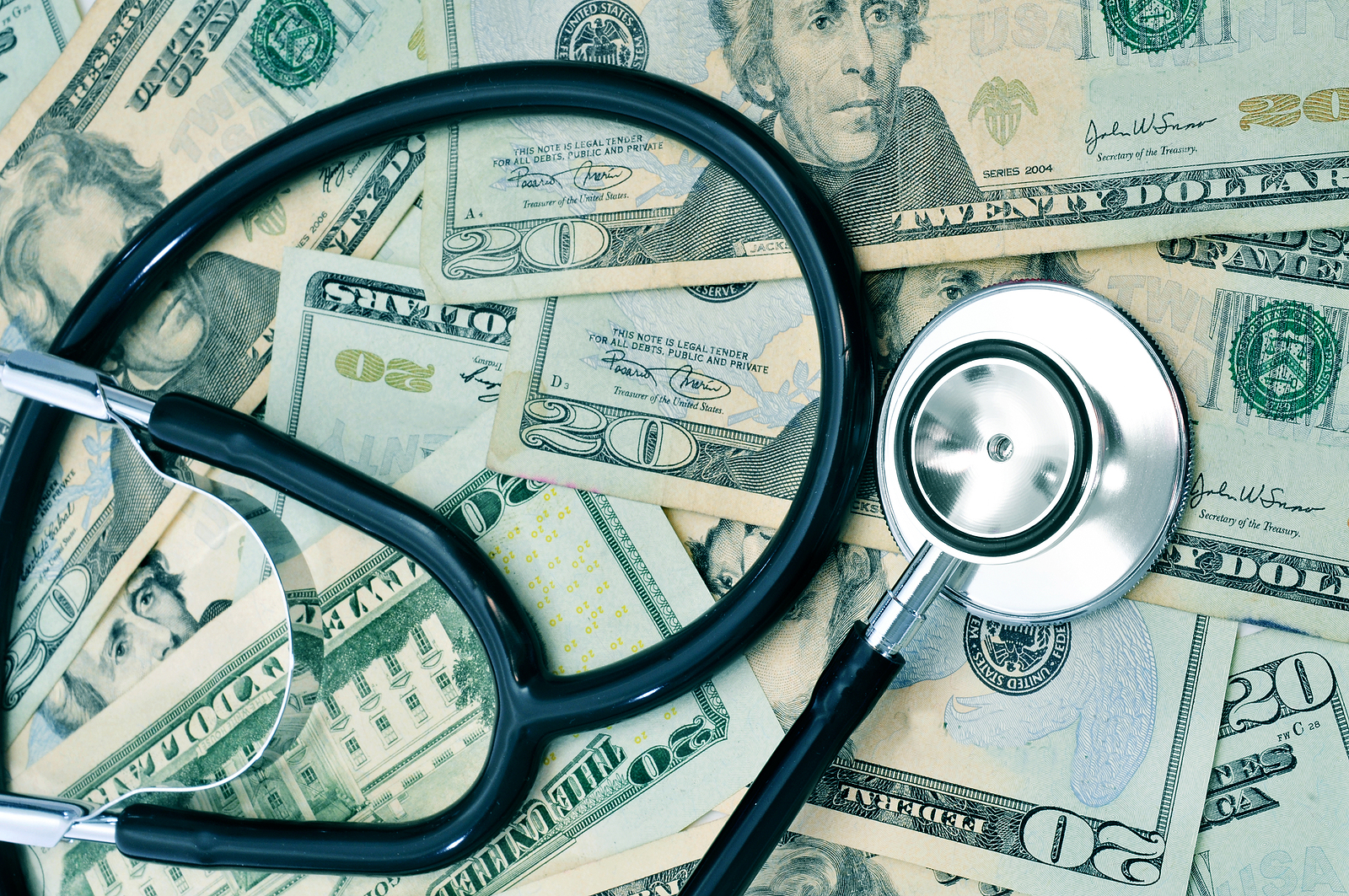 Hospital chains are unfairly profiting off a program meant to help low-income patients afford their medicines. If policymakers don't reform this system soon, I worry that many of the marginalized patients I've devoted my career to protecting won't be able to access the care they need.
The program, known as 340B, gives drug discounts to hospitals in underprivileged areas so that they can better serve their communities. Yet, with little oversight, the hospitals can divert the savings to their own bottom lines.
A recent report from the Drug Channels Institute exposed just how big the problem is.
The analysis found that under 340B, hospitals took discounts worth $52.3 billion in 2022 with scant evidence that those savings went to help low-income patients. The report also found that the 340B program continued its exponential growth during the pandemic, swelling by 22% between 2021 to 2022.
In short, money intended to help marginalized communities is instead being funneled into hospital profits in ever-greater amounts. Having spent much of my career helping Black men with HIV, I find this gravely concerning. But the impact of the exploitation extends far beyond my own work, to all communities grappling with chronic disease and unaffordable health care. The solution is for Congress to bring some much-needed oversight and regulation to the 340B program.
It all started three decades ago when lawmakers launched a seemingly benevolent plan: In order to help non-profit "safety net" hospitals in poor communities, 340B required pharmaceutical companies to sell them drugs at big discounts. The idea was that this would lower drug prices for low-income patients and also help the hospitals, so that they could reinvest in facilities, equipment, and staff to serve disadvantaged patients.
Unfortunately, the 1992 law failed to codify any rules about what hospitals should do with the savings, so no proof of reinvestment is required. Soon enough, even hospitals serving prosperous communities realized they could use the law's loopholes to turn 340B into a profit center.
Many hospitals have multiple locations. Under current regulations, a hospital can use its facility in an underserved community to qualify for the 340B Program, take millions of dollars in drug discounts, then resell the drugs in more affluent neighborhoods.
Consider the Cleveland Clinic, known as one of the best hospitals in the country. It uses satellite "rural referral centers" to qualify for discounted drugs under 340B, then sells them at full price through its Cleveland-based flagship hospital.
The profit from such maneuvers can be substantial. For instance, 340B hospitals sell top oncology drugs at a median of 4.9 times their discounted price, according to a report from the Community Oncology Alliance.
It's no wonder that 44% of U.S. hospitals now report that the 340B program is a substantial revenue source. It may have also contributed to industry consolidation in recent years, encouraging hospitals to merge in order to acquire qualifying facilities.
Despite the program's rapid expansion, there's little evidence that it's benefiting marginalized patients. A study in the New England Journal of Medicine found that the "financial gains for hospitals have not been associated with clear evidence of expanded care or lower mortality among low-income patients." Another study, in the journal Health Services Research, concluded that when new hospitals join 340B, it doesn't lead to any change in the amount of uncompensated care they provide.
In fact, 340B may actually increase healthcare costs for low-income patients. Because hospitals benefit from the difference between the discounted drug price and the sale price, they are incentivized to prescribe more expensive drugs, which yield higher profit margins than lower-cost generic alternatives.
This appears to be happening with the PrEP drugs that prevent transmission of HIV. A report from the American Action Forum, a think tank, found that 340B likely incentivizes hospitals to prescribe more expensive brand-name PrEP over generic versions. This means some patients are paying more than they should for this lifesaving medicine.
Hospitals chains' continued abuse of 340B also takes critical resources away from the healthcare facilities the program is meant to help. For instance, Ryan White HIV/AIDS providers help low-income people living with HIV access medications and support services. But letting hospitals exploit loopholes in 340B could leave fewer discounted drugs for Ryan White and similar safety net programs.
Congress needs to reform the bloated and unaccountable 340B program as soon as possible. Democrats and Republicans should be able to agree that eligibility standards must be tightened and reporting requirements improved. Hospitals must use 340B profits to help our most vulnerable patients.
Guy Anthony is president and CEO of Black, Gifted & Whole.
Key West doesn't need more, or bigger, cruise ships
Seeking a balance of 'environmental protection and sustainable tourism'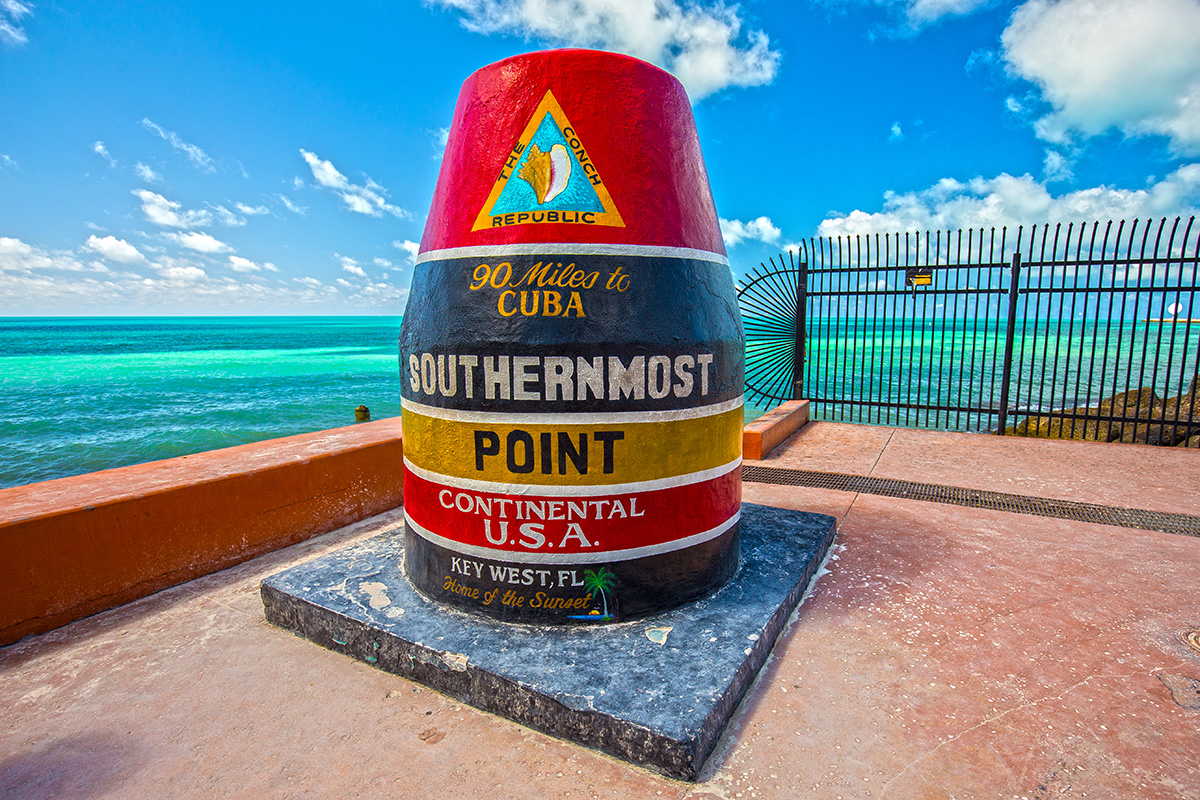 There is a fight today about whether they should let more, and bigger, cruise ships dock in Key West. The New York Times recently wrote about it. As someone who has spent many memorable vacations in Key West, I side with those who say "no" to more cruise ships. The organization Safer, Cleaner, Ships, is fighting to keep more, and larger, ships, out of Key West. They have the right idea.
The question that should be asked is: "What kind of an island do the people living on Key West want?" And the answer should drive the decision of the Florida Legislature, and Governor DeSanctimonious. Unfortunately, it may be decided based on political donations the governor received. One resident of Key West, Christopher Massicotte, co-founder of Duval Street Media, said, "Key West voters overwhelmingly supported reducing cruise ship size, and the number of daily disembarkations. Then greedy Mark Walsh, who owns the dock, went straight to the governor and the legislature asking them to overturn the will of the people for his own financial gain, greased with a $1 million contribution to DeSantis's campaign for president. The citizens of Key West aren't trying to stop all cruise ship traffic, or bring the city back to 'The good old days.' We are trying to create a balance of environmental protection and sustainable tourism."
I cruise regularly and love it and have traveled to Alaska on a cruise and woke up one morning on the ship in Ketchikan, to step out on the balcony and see six massive ships, and hundreds of busses on the pier, ready to take passengers on tours. In Key West, that won't happen. Instead, the thousands of passengers will not get on busses, rather throng the main street (Duval), from one end of town to the other, making it look more like Times Square, instead of a sleepy little island, which is what always attracted people to the idea of Key West. It is what attracted Hemmingway. It attracted President Truman to set up his winter White House. Everyone going to visit Key West heads to the Southernmost Point in the U.S. to snap their photo. One doesn't need thousands more people heading there all at once. Just the thought of this would have Hemmingway and Truman turning over in their graves.
I always thought Key West did fine with an airport, and people coming to visit by car, then staying in a hotel, or guesthouse. I often stayed at one of the great little guesthouses, or some of the smaller hotels, on the island. I remember the larger ones being on both ends of Duval Street. There were great bars and restaurants, and you could amble down Duval slowly, enjoying the sound of the music coming out of the bars — think Jimmy Buffett.
I loved Key West when it was a gay Mecca, having the first openly gay mayor of a city. At the time there were lots of gay guesthouses and clubs. I remember dancing at the Copa, and there was the dock on the southern side of the island, next to the one tiny beach, which locals called 'dick dock.' It was a great spot for nude sunbathing, as was the pool at the Southernmost Motel. That period ended when the gay community moved to South Beach in Miami. Key West is still welcoming to the LGBTQ community. There is the iconic La Te Da hotel, on Duval Street, with its tea dance. Performing there is another Key West icon, Christopher Peterson, a female impersonator extraordinaire. Christopher said, "Unfortunately I don't think we need to dredge again the beautiful coral reef we live on, just to have 10,000 more people here for six hours, adding nothing to the economy because they eat and drink on the ship for free." He added, "Bigger is not always better unless it's in the bedroom…. king-size bed…. dirty minds!"
Numbers can always be used in many ways, but the Times column reported "Before the pandemic, nearly a million people a year were visiting Key West aboard cruise ships. But when Covid-19 brought that to a halt, the city's $2.4 billion tourism industry, responsible for 44 percent of its jobs, did not collapse. Instead, hotel tax revenue rose 15 percent, and with 1.4 million arrivals, the airport set a record in 2021."
If that is enough revenue to keep Key West being the wonderful place it is to live and visit, it seems adding thousands of more day trippers out of cruise ships isn't going to make the place better. Rather, it will hurt the environment, and make things worse.
Peter Rosenstein is a longtime LGBTQ rights and Democratic Party activist. He writes regularly for the Blade.
Most of America opposes Speaker Johnson's anti-LGBTQ hate
No one should have their identity politicized so GOP can score points with its base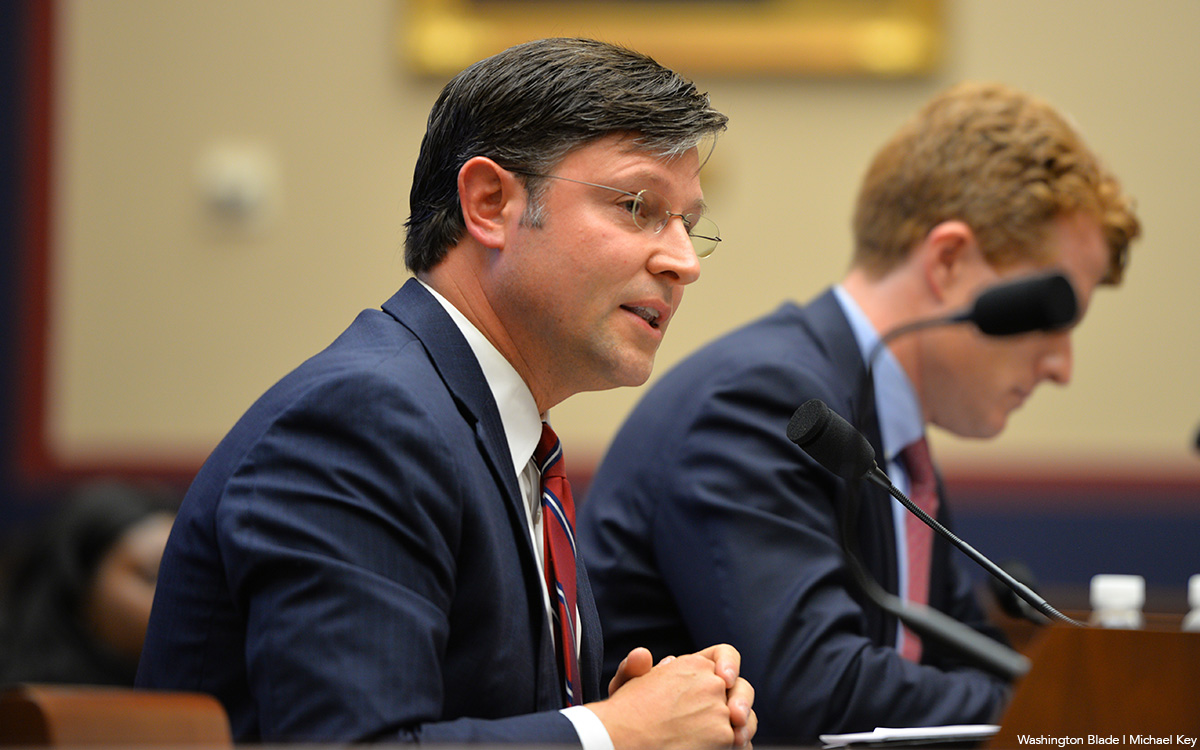 When I was a kid, I was afraid to come out to my religious family – at the time, gay marriage was still illegal. Fortunately, times have changed: My family is supportive of me for who I am and I now plan to marry my partner one day. But the newest speaker of the House jeopardizes that dream, making me fear the life I have planned with the person I love will soon fall out of reach.
Recently, after three weeks of chaos, the House of Representatives elected Mike Johnson (R-La.) as speaker. His extremist rhetoric and horrific record of discrimination toward the LGBTQ community doesn't represent where most of America is – but it does clue us into the priorities of today's Republicans.
The love that I and my partner have built over our three years together is the same as straight couples. Yet Johnson's legislative record flies in the face of that as he's argued to uphold bans on same-sex marriage, sought to ban inclusion of gay couples in employment benefits, and compared gay marriage to bestiality. It's impossible to feel optimistic that, with a background like that, Johnson will protect my rights during his tenure.
The entirety of my community feels the same apprehension. My coworker, Mads Stirling, who came out as a nonbinary trans person in 2021, has the same fears that I do. They found that being empowered to live as their authentic self through hormone replacement therapy (HRT) and changing their driver's license gender marker improved their mental health.
"But even as I was transitioning with the crucial support of family, friends, coworkers, and the local government, I felt terrified as I watched Republican-led states roll back rights for trans people," Mads said.
Johnson contributed to the dangerous climate that spurred these attacks, speaking in favor of banning gender-affirming care for transgender youth and joining a contingent of politicians who proposed more than 500 anti-LGBTQ bills in the U.S. in 2023. In his new role as speaker, Johnson could even help unravel important protections like federal nondiscrimination laws.
It feels like our country is moving backward and that nowhere is safe for people with identities like mine. Having been there myself, my heart breaks for LGBTQ children who will hear the new speaker's horrible homophobia and transphobia and feel unsafe being their authentic selves. No person, least of all children, should have their identity politicized so the Republican Party can score points with its members.
It is appalling that while 70% of Americans support gay marriage, we have a speaker who opposes it. It is appalling that while gender-affirming care reduces suicidality in trans adults and children, we have a speaker that wants to deny life-saving care to them. It is appalling that, in 2023, a person in power can spread such hatred toward a group of people for simply existing.
The Speaker of the House should be a voice for all Americans, representing our interests and embodying the role of a leader. But as a gay Black man, it is impossible for me to feel that Johnson — and the Republican Party he answers to — can ever represent us when they work so actively against us.
The Republican Party and Mike Johnson have demonstrated over and over again that protecting and uplifting LGBTQ+ people is not a priority. We expect Johnson intends to serve only his own party's extremist agenda by further isolating and oppressing LGBTQ people — after all, they maneuvered him into power. We fear the erasure of LGBTQ identities entirely by disappearing us from public life and making our private lives intolerable by criminalizing our families and our healthcare.
America deserves better than Mike Johnson. We can never tolerate nor normalize Johnson's hateful rhetoric toward LGBTQ people, and now that he has a national platform, it's more important than ever to speak out and vote against the GOP's extremist policies. We must continue our work to elect representatives that will champion LGBTQ people and fearlessly defend their rights so that in the future, no one with views like these can assume a place in Congress.
We deserve leadership reflective of the American people and that's not Mike Johnson or the GOP's anti-LGBTQ agenda.
Mike Griffin is senior electoral organizer for D.C.-based Community Change.