November 14, 2014 at 7:00 am EST | by Ted Smith
A time to buy, a time to sell
"Is it a good time to buy real estate?" "Should I sell now while the market is hot?" These are questions that Realtors often hear, much like the doctor's friends who ask her about a pain in their leg. When I was in real estate school, our instructors told us that the answer to both questions should be the same: "It's ALWAYS a good time to buy or sell real estate!"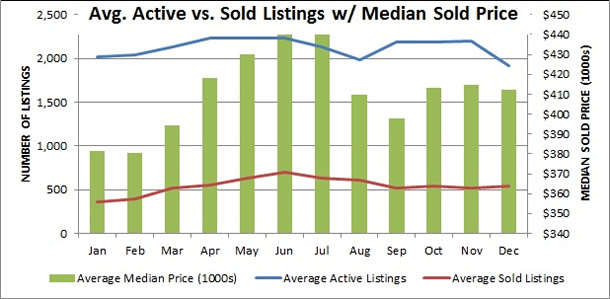 Maybe so, but there are definite seasonal fluctuations in the real estate market that will benefit sellers in some seasons and buyers in other seasons. Let's consider the chart above, which in part represents data for the number of homes sold in the District and the median sold prices over a seven-year period from 2008-2014. The chart shows that more homes sell for a higher median price during the spring and then again during the fall (but not as many and not for as high a median). In contrast, fewer homes sell during the dead of winter and the summer doldrums, and they sell for lower median prices in those seasons.
Who benefits in the spring and fall markets? Primarily sellers, when their properties command higher prices due to the increased number of buyers looking for homes during nicer weather and before the school year starts. In contrast, buyers will benefit in summer and winter, when there are fewer buyers looking for homes, making sellers more willing to discount their asking prices. Think of it as an inversion of the law of supply and demand: When the supply is high, the demand is high. More homes sell for higher prices when the number of available homes is higher. (It's important to remember that the trend line for active listings data above will be at least a month ahead of that for closed sales, since sales contracts typically take 30-45 days to close.)
So where do we stand right now? The chart at the end of this article breaks down the average data above and shows the median sold price per month for each of the seven years considered. A couple of conclusions to draw from this chart:
• Median sold prices have been rising since 2009.
• 2014 has had the highest median sold prices on a month-by-month basis (except for June of 2013) for the past 7 years represented (and, in fact, since 2004).
• Median sold prices rose in October rose as expected after lower sold prices in August and September.
So, what's the answer to the opening questions? If you're a buyer, it's a great time to enter the real estate market and should be a great time to find some relative bargains over the next four months. If you're a seller wanting to get the highest price for your property, you should probably wait until spring to put your place on the market — after, of course, using the winter to de-clutter and spruce up your place to make its best impression when the spring season starts. Happy hunting!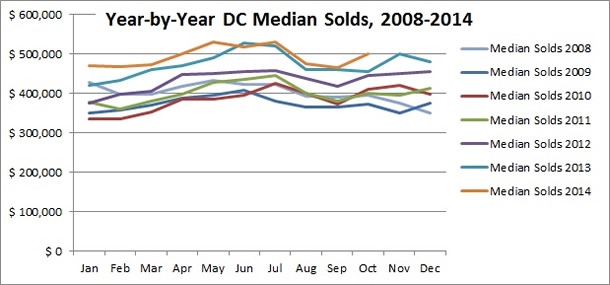 Ted Smith is a licensed Realtor with Real Living | at Home specializing in mid-city D.C. Reach him at TedSmithSellsDC@rlathome.com and follow him on Facebook , Youtube or Twitter. You can also join him on monthly tours of mid-city neighborhood Open Houses, as well as monthly seminars geared toward first-time homebuyers. Sign up at meetup.com.