Demolition forces move of Pride block party
New location secured behind Hippo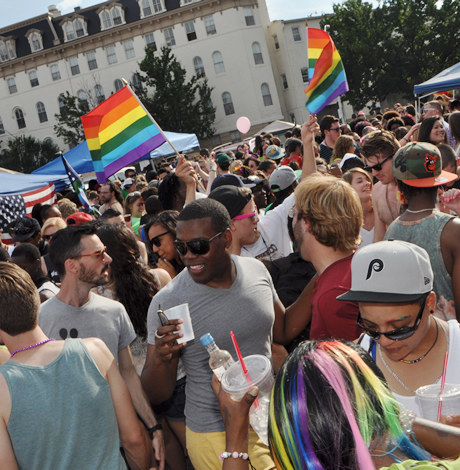 Just as locals thought the 2015 Baltimore Pride block party was returning to its familiar Eager and Charles streets locale after a one-year absence, a scheduling snafu by the City of Baltimore threw a wrench into those plans. Officials issued a permit to perform demolition and repaving of the parking lot (adjacent to Club Hippo and Grand Central Station nightclub) that has traditionally been used to host Pride vendors during the block party.
Additionally, the building on the north side of the parking lot (1010 N. Charles St.) has been demolished. Pride coordinator Paul Liller said he was notified of the parking lot construction in early June. News of the construction permit came months after Baltimore Pride submitted its permit to use the space. This can be seen as an oversight by the city, says Liller, which essentially issued two permits for the same space during the same period of time.
After meeting with city officials, the fire department and the permit office in mid-June, it was discovered that the construction would not be completed in advance of the block party on July 25, and an alternate location needed to be secured. Baltimore Pride secured the parking lot at the corner of Cathedral and Brexton streets, traditionally dubbed "the lesbian lot" as well as an adjoining parking lot on Charles Street, in front of Mt. Vernon Stable. Those lots are connected by a path.
Alcohol will be served in the space. Anyone who wishes to drink in the space will need to purchase a wristband. Bands will be available for sale on site, at the Hippo, and through a pre-sale at the Gay, Lesbian, Bisexual and Transgender Community Center of Baltimore and Central Maryland (GLCCB) in the week leading up to Pride. Vendors have been notified of the new footprint. A detailed map will be released in advance of the block party.
Baltimore Pride, a function of the GLCCB, is celebrating its 40th anniversary this year. After receiving community feedback that criticized its move to a two-day event in the Mount Royal area in 2014, GLCCB officials decided to return to the Mount Vernon area in 2015.
"The discovery of a construction permit being issued after we submitted our own permit was upsetting, but I'm confident that the new space, which is mere feet away from our traditional footprint, will still deliver all the fun and excitement that Baltimore Pride revelers have come to expect," Liller, who is also GLCCB deputy director, told the Blade.
The annual parade and block party will occur on July 25 with the Sunday festival to return to Druid Hill Park on July 26. The parade, which traditionally took place along Charles Street, will march along Cathedral Street instead — another change.
Man who killed one in 2000 Roanoke gay bar shooting dies in prison
One of the worst bias attacks targeting LGBTQ community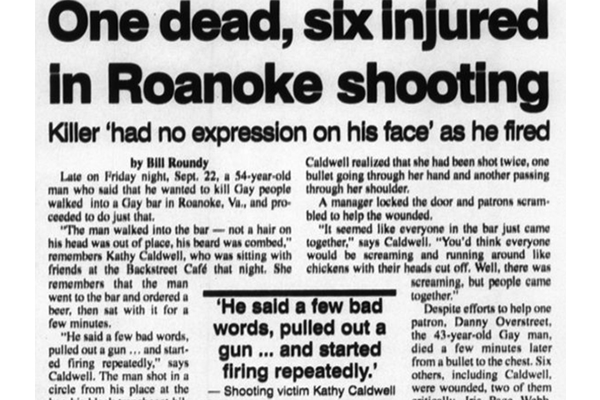 A man sentenced to four consecutive life terms in prison for the September 2000 shooting at a gay bar in Roanoke, Va., in which one man lost his life and six others were wounded, died of natural causes on Jan. 15, according to the Virginia Department of Corrections.
A spokesperson for the Department of Corrections told WSLA 10 TV News that Ronald Edward Gay died while being treated at a hospital near the Deerfield Correctional Center, a state prison where he had been living as an inmate. He was 75.
Witnesses and law enforcement officials reported at the time of the shooting that a middle-aged man later identified as Gay arrived alone at Roanoke's Backstreet Café, a popular gay bar, on the night of Sept. 22, 2000.
According to an account by an eyewitness to the incident who spoke last week with the Roanoke Times newspaper, after ordering a beer and standing next to the bar for a short time, Gay reached into the long trench coat he was wearing, pulled out a 9mm pistol, and fired a round "straight into the chest of 43-year-old Danny Overstreet, before opening fire on the rest of the bar."
Overstreet, a beloved regular patron at the Backstreet Café, died at the scene of the shooting. Six others, who were wounded by bullets fired by Gay, later recovered, but they and many others who were present and witnessed the shooting were left emotionally scarred, the Roanoke Times reported.
In the weeks following the shooting, news media outlets, including the Washington Blade and the Washington Post, reported findings of an investigation by local police that Gay told police he went to Backstreet specifically to target gay people because he became bitter after years of being taunted and teased for his last name of "Gay."
The Roanoke Times reported that, among other things, Gay told police "God told him to do it" and that he once wrote that there was an evil inside of him telling him "to shoot or have no rest."
Gay later pleaded guilty to multiple charges against him, including murder. On July 23, 2001, he was sentenced to four consecutive life sentences in prison for the shooting incident and the murder of Overstreet.
The Backstreet incident in Roanoke was considered by LGBTQ rights advocates and others to be one of the worst incidents in which LGBTQ people were targeted for a shooting until the June 2016 shooting at the Pulse gay nightclub in Orlando, Fla., in which 49 people died and 53 more were wounded in a mass shooting by 29-year-old Omar Mateen.
Mateen, who was shot and killed by Orlando police after a three-hour standoff, told police in a phone call from inside the nightclub after the shooting began that he swore allegiance to the leader of the Islamic State in Iraq and Syria and his attack against the gay nightclub was motivated by the U.S. military intervention in Iraq and Syria. The FBI later classified the incident as a terrorist attack.
The Roanoke Times reported that the shooting incident at Backstreet Café prompted LGBTQ residents and allies to gather in the days and weeks after the incident for vigils and marches. About 1,000 people walked through the streets of downtown Roanoke to honor the life of Overstreet and to urge Congress to pass federal hate crimes legislation, the newspaper reported.
Va. senator introduces anti-transgender student athlete bill
Democrats have vowed to thwart anti-LGBTQ measures in state Senate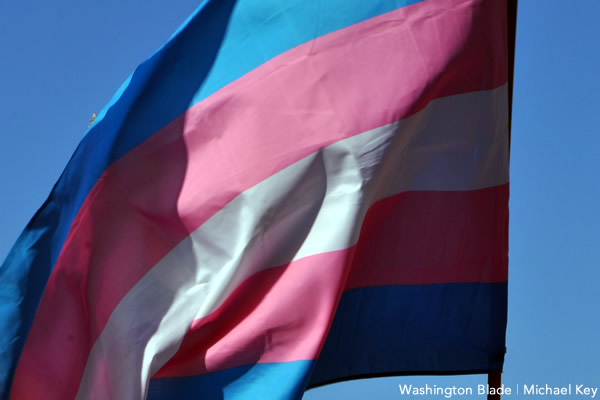 A Virginia lawmaker has introduced a bill that would ban transgender students from joining school sports teams that are consistent with their gender identity.
Senate Bill 766, which state Sen. Jennifer Kiggans (R-Virginia Beach) introduced on Friday, would require "each elementary or secondary school or a private school that competes in sponsored athletic events against such public schools to designate athletic teams, whether a school athletic team or an intramural team sponsored by such school, based on biological sex as follows: (i) 'males,' 'men,' or 'boys'; (ii) 'females,' 'women,' or 'girls'; or (iii) 'coed' or 'mixed.'"
"Under the bill, male students are not permitted to participate on any school athletic team or squad designated for 'females,' 'women,' or 'girls'; however, this provision does not apply to physical education classes at schools," adds the bill. "The bill provides civil penalties for students and schools that suffer harm as a result of a violation of the bill. Such civil actions are required to be initiated within two years after the harm occurred."
Kiggans introduced her bill less than a week after Republican Gov. Glenn Youngkin took office.
Youngkin during his campaign said he does not support allowing trans children to play on sports teams that are consistent with their gender identity. Elizabeth Schultz, an anti-LGBTQ former member of the Fairfax County School Board, has been named the Virginia Department of Education's Assistant Superintendent of Public Instruction.
The General Assembly's 2022 legislative session began on Jan. 12 with Republicans in control of the state House of Delegates. Democrats still control the state Senate, and they have pledged to thwart any anti-LGBTQ bills.
"Let's be clear: This is part of an ongoing, nationwide effort to exclude trans people from enjoying the benefits of sports like their cisgender peers," tweeted the American Civil Liberties Union of Virginia on Friday after Kiggans introduced SB 766. "We won't tolerate this."
🚨ATTN: SB 766 to ban trans kids in Virginia from participating in sports has just dropped.

Let's be clear: This is part of an ongoing, nationwide effort to exclude trans people from enjoying the benefits of sports like their cisgender peers. We won't tolerate this. pic.twitter.com/oSDMvyewge

— ACLU of Virginia (@ACLUVA) January 21, 2022
Comings & Goings
Hazen inducted into Cooperative Hall of Fame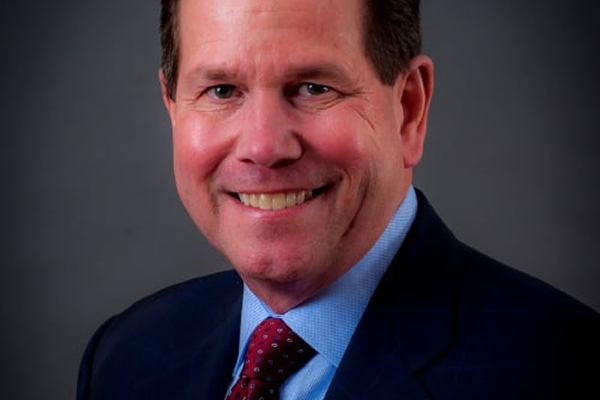 The Comings & Goings column is about sharing the professional successes of our community. We want to recognize those landing new jobs, new clients for their business, joining boards of organizations and other achievements. Please share your successes with us at: [email protected]
The Comings & Goings column also invites LGBTQ+ college students to share their successes with us. If you have been elected to a student government position, gotten an exciting internship, or are graduating and beginning your career with a great job, let us know so we can share your success.
Congratulations to Paul Hazen on his being inducted into the 2022 Cooperative Hall of Fame. On receiving the honor, he said, "I am very lucky to be given the opportunity to combine my work in international development with my volunteer cooperative development work in Washington DC."
Hazen is executive director, U.S. Overseas Cooperative Development Council (OCDC) and has devoted his career to elevating the cooperative voice domestically and internationally. U.S. co-ops include Ace Hardware, Land O'Lakes, Inc., Sunkist, REI and the Associated Press. Hazen helped establish federal legislation promoting rural co-op development.
Prior to joining OCDC, he was CEO of Washington, D.C.-based National Cooperative Business Association CLUSA International. During his 25-year tenure with the organization, he held key positions, including chief operating officer, vice president of public policy, vice president of member services and director of consumer cooperatives.
He worked for Rep. Al Baldus (Wisc.). He was executive director of Rural Housing Inc. in Madison, Wisc., where he developed co-ops and affordable housing projects in rural communities.
As a volunteer, Hazen formed the Community Purchasing Alliance (CPA) with 12 congregations in D.C.  In 2020, CPA secured more than $18.7 million in contracts resulting in an investment of $13 million in D.C.-based small businesses owned by people of color.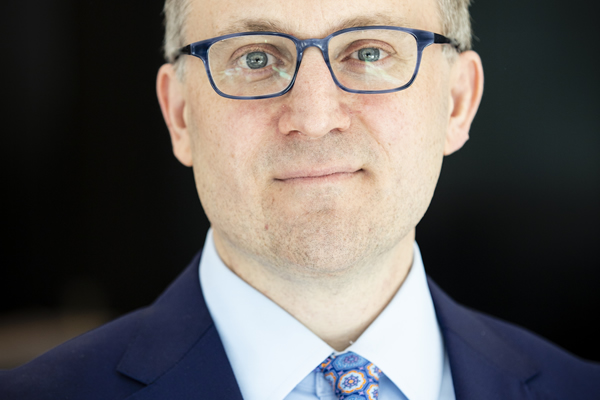 Congratulations also to Ben Finzel, who was inducted into the National Capital Public Relations Hall of Fame. Upon receiving the honor, he said "To be recognized by your peers is wonderful; to be honored by them is amazing. I still can't quite believe I have done enough to be worthy of this recognition, but I know enough to be thankful and appreciative of this high honor. Thank you PRSA National Capital Chapter for including me in such inspiring company; I will be forever grateful."
Finzel is president of RENEWPR, a D.C.-based public affairs, communications consulting firm. In 2004, he helped launch FH Out Front, the first global LGBTQ communications practice at an international firm, Fleishman Hillard, and served as its first global chair. He started DC Family Communicators, a professional networking group for LGBTQ communications professionals. Finzel served on the Victory Campaign Board of the LGBTQ Victory Fund from 2007 to 2017.
His firm is currently celebrating its seventh year in business. To recognize that accomplishment, Finzel is launching an endowed scholarship at his alma mater, Texas Tech University. His business is certified as an LGBT Business Enterprise by the National LGBT Chamber of Commerce.