Brick, Skipper and Maggie
'Cat' revival lovingly staged at Round House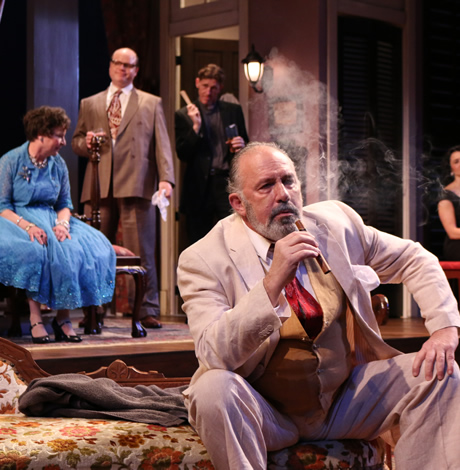 'Cat on a Hot Tin Roof'

Through April 24

4545 East-West Highway, Bethesda

$30-60 (on Tuesdays all side section seats are $10)

240-644-1099
You often hear the cry for new plays and fewer revivals. But after seeing a spate of area premieres, a familiar work is welcome, especially when it's as beautifully executed as Round House Theatre's production of Tennessee Williams' "Cat on a Hot Tin Roof."
From the top of the play, it's evident that director Mitchell Hébert has given the production the care and heft due an American classic. There's the opulent bedroom set with soaring ceiling and louvered shutters leading to the outside gallery, the fiery red delta light and the exciting sounds of a brass instrumental piece. And to tell the story written in the playwright's matchless blend of lyrical and earthy language, he's selected a capable cast of first-rate actors.
Set on a steamy Mississippi plantation, the play pits truth against misconception. Maggie, the titular cat, wants her disinterested husband to sleep with her. She needs a baby to ensure a big slice of the family fortune. Brick, an ex-football star drowning in alcohol, is mourning the death of his closest friend and teammate, Skipper. Many suspect the men were more than friends but Brick denies it vehemently explaining that when they shared hotel rooms on the road, their evenings always ended with a tender but manly handshake across the space that separated their beds.
Meanwhile Brick's rich, imposing father Big Daddy, whose enormous fortune is at the center of Pollitt family squabbles, is dying of cancer but refuses to believe it. A hardworking former overseer, Big Daddy is tolerant despite his booming voice and rough exterior. He got his start in the world when the plantation's former owners, a gay couple named Jack Straw and Peter Ochello, took him on as worker. After their death he became owner of 28,000 acres of the richest land this side of the valley Nile, of which the audience is reminded again and again.
When "Cat" premiered on Broadway in 1955, its themes of repressed homosexuality were too much for some critics and not nearly enough for others. In spite or because of the then-racy material, "Cat" ran for nearly 700 performances and won Williams his second Pulitzer Prize.
Director Hébert, best known as a local actor, has infused the Round House production with fresh performances, humor and agile staging. He's supported by a strong design team including Ivania Stack whose costumes are spot on '50s fashion for the moneyed South. For a good part of the first act, Maggie wears the iconic white slip immortalized by a ravishing Elizabeth Taylor in the screen version.
In the play's stage notes, Williams describes Maggie's voice: "sometimes it drops low as a boy's and you have a sudden image of her playing boy's games as a child." She's now a sexy, fiercely ambitions woman who loves her husband and security. Talented local actor Alyssa Wilmoth-Keegan uncannily brings together the many aspects of Maggie.
Maggie hails from a genteel but impoverished family. The year of her Nashville debut, she had two gowns: one sewn by her mother and the other a castoff from a rich cousin. She was married in her grandmother's wedding dress. A life of handed out remittance checks isn't why she married Brick; she's determined he stake his claim in Big Daddy's estate.
Gregory Wooddell is perfectly cast as the handsome, unhappy, brooding Brick. Hobbling around on a crutch after injuring his foot jumping hurdles at the local track, Wooddell's Brick passes through different stages of drunkenness — cool detachment with his wife to explosive anger and disgust when his father suggests that Brick was in love with Skipper.
Rick Foucheux's nuanced performance as domineering Big Daddy is a standout, and out actor Sarah Marshall is delightful as Big Momma, a simple woman who dislikes locked doors and dimly lit rooms, but fiercely loves Big Daddy and Brick.
Todd Scofield is solidly convincing as Brick's older brother Goober, a corporate lawyer and clearly the less-loved son. Marni Penning plays Goober's petty wife Mae, mother of five with a sixth on the way. Penning's is the angriest Mae I've encountered. Rounding out the cast are Tom Truck as the obsequious Rev. Tooker, whom Big Daddy barely tolerates, and Stephan Patrick Martin as matter-of-fact Doctor Baugh. And finally, three youths play some of Goober and Mae's screeching brood that Maggie hilariously refers to as "the no-necked monsters."
Drag now a leading draw at Olney as 'Kinky Boots' debuts
'A beautiful piece about acceptance and tolerance'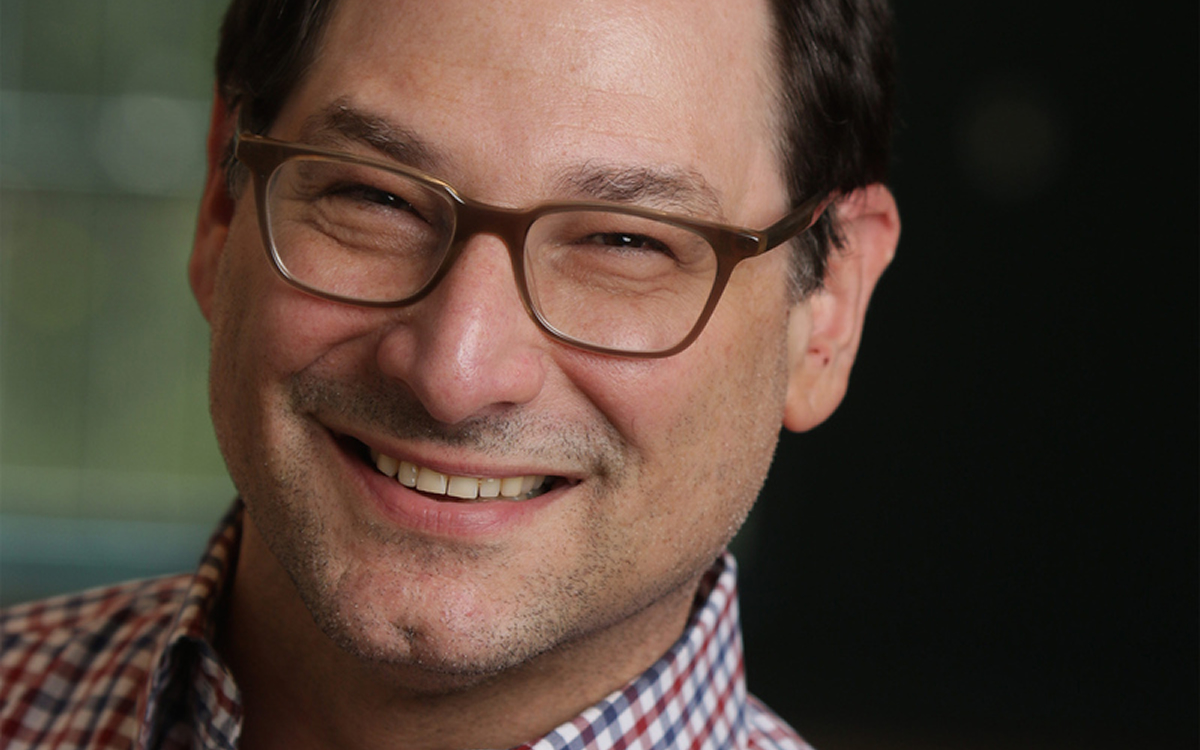 'Kinky Boots'
Feb. 10-March 19
Olney Theatre Center
2001 Olney-Sandy Spring, Rd., Olney, Md.
$42-$95
Olneytheatre.org
In the last few years, Olney Theatre Center's leafy, suburban campus has become a hotbed of drag activity and audiences are eating it up.
"We're getting old straight couples who don't come for theater, but they'll come for this," says Jason Loewith, Olney's artistic director for a decade.
What began as part of Olney Outdoors, a COVID-inspired open air summer series, drag shows quickly exploded into a leading draw. In fact, Olney's drag nights — initially suggested by director of curator programming Kevin McAllister — have sold better than all other outdoor offerings including cabaret and jazz, Loewith explains.
"Drag has brought us the most diverse audience for anything we've ever done: regular theatergoers and nontraditional theatergoers, queer and straight, old and young, and the very young for whom it would be illegal to watch a drag show in several states."
With that in mind, Loewith is now directing Olney's production of "Kinky Boots" (opening Feb. 10), the uplifting Tony Award-winning collaboration featuring Cyndi Lauper's quirky, hard driving rock score and Harvey Fierstein's familiarly sentimental book. Adapted from a small British film, it's the story of Charlie Price, a young man trying to save his family's failing shoe factory in depressed Northampton. A chance meeting with Lala, a London drag queen, unites the unlikely pair in an improbable business venture.
Though "Kinky Boots" has been on his radar for a few years, it wasn't always. In the early years of his Olney tenure, Loewith, 54, wasn't that into a drag centric show. It just wouldn't have answered the "why this" and "why now" that theaters ask when building a season, he says. But things have changed, and he's learned a few things about what his audience likes.
Now it's the company's first main stage show planned after the height of the pandemic. Still, Loewith was oddly nervous about directing. Despite having once dated a drag queen, he came to the project with little knowledge of the drag community so there was some anxiety involved, but that soon went away.
It seems Loewith, who married his husband in the backyard of their Bethesda home in the summer of 2021, has rather fallen in love with the show: "It's elegantly put together yet very strong; there's a delightful simplicity to it, resulting in a beautiful piece about acceptance and tolerance.
"It's a great show about self-acceptance that touches on some universal themes like daddy issues. And with its message of opening your mind to free yourself, makes every day of the work a soul-affirming experience, especially in this moment of gender fluidity being under attack and perceived as something incredibly threatening."
He's also elated with the cast. Although they considered looking to New York to fill some of the parts, it wasn't necessary. They've found a phenomenal group of DMV talent (19 members of the show's 20-person cast are locals). "And as Lola and Charlie, Solomon Parker III and Vincent Kempsi, respectively, have claimed the triple threat roles," he says. "They're really born to play the parts."
A hit on the Broadway boards, "Kinky Boots" promises a great experience on Olney's comparatively intimate main stage too, he adds. Audiences get the big production numbers, the conveyer belt, and rock ballads, but here you get a much better sense of Charlie and Lola's intertwining journeys.
Replete with its own drag consultant Devon Vaow (who's known to perform as Evon Michelle), the production is sponsoring related events including an opening night panel discussion on drag history; a Sip 'n' Face Paint (BYOM); a singles mixer that's open to everyone; and Drag Queen Story Hour at nearby Olney Library (go to olneytheatre.org for details).
All in all, Olney's "Kinky Boots" is poised to offer a lot. At a moment when there are legislators attempting to ban drag performances on college campuses, it's a good opportunity to support the visibility of drag. And Loewith says to expect a good time. He likens the experience to seeing four drag shows wrapped into one fabulous Broadway musical.
Six die in 'Ride the Cyclone,' then must plead to live again
A musical appeal for second chances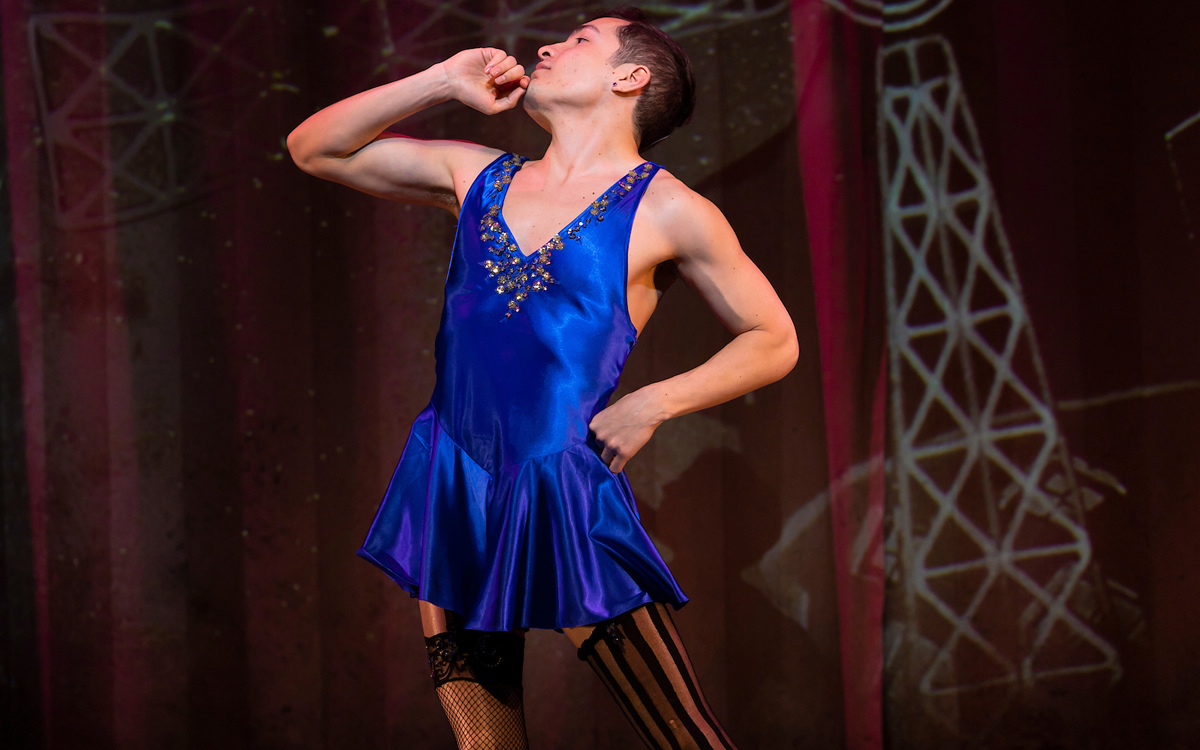 'Ride the Cyclone'
Through Feb. 19
Arena Stage
1101 Sixth St., S.W.
$66-$105 
Arenastage.org
What better way to bond than landing in the afterlife together? In "Ride the Cyclone," a quirky musical now at Arena Stage, six high school choir members perish in a freak roller coaster crash. After croaking, the sextet passes into a sort of limbo where they each have the chance to argue — in song — why they deserve to live again. While vying for the top spot, they learn a lot about each other.
Out actor Nick Martinez plays Noel Gruber, one of the young choristers. He's the only gay kid in a rural town who works at Taco Bell. But in his torchy song "Noel's Lament," he sings of his dream to be a cold-hearted Parisian hooker.
Martinez says, "It's gritty, sexy, and hilarious — not at all Disney. My character is acting out his complete fantasy and taking you along for the ride. It's especially relatable to anyone who grew up queer."
And the New York-based Hispanic actor who grew up queer in Coral Springs, South Florida, understands the material: "I know Noel. So many people in the queer community know him too. Not being able to authentically be ourselves hurts. And when we finally are ourselves and know the rewards that come with that, there's a lot of release and ecstasy."
Fortunately, Martinez was raised in a supportive atmosphere. Still, he was reluctant to be entirely himself, but theater proved a healthy outlet. He says, "Performing was a way to express myself and go balls to the wall with whatever feelings I was having, put it in a spotlight, and share that with an entire audience."
As a third grader Martinez found his way into theater via his older sister whom he adored. When she starred as Cinderella in the gym of their elementary school, he was there to witness her backstage quick-change into a ballgown. It was the coolest thing he'd ever seen.
The following year, he played the Tin Man in "The Wizard of Oz." An old video shows his opening night reaction to enthusiastic applause — first delightedly astonished and then beaming. It's then, Martinez says, that he became hooked.
After graduating from Elon University with a BFA in Music Theatre in 2015, he moved to New York City where he almost seamlessly transitioned into a working actor. He's played parts in terrific shows in admirable places including Moody in "Anne of Green Gables" at Goodspeed Opera House; Doody in "Grease" at The REV; Twink (covered) in "Bat Out of Hell" at New York City Center; Crutchie in "Newsies" at John W. Engeman Theater on Long Island; and Pinball Lad, a small but memorable role in "The Who's Tommy" at The Kennedy Center – part of Broadway Center Stage.
With music, lyrics and book by Jacob Richmond and Brooke Maxwell, "Ride the Cyclone" premiered off-Broadway in 2008 and soon developed a sort of cultish following. "There's nothing quite like it," Martinez says. "It's a silly, quirky, weird little show that tugs at your heartstrings. You need to see it to get the full impact."
Several years ago, he was up for a different part in the show but it didn't pan out, so when he was cast as Noel, a part he wanted badly, he was elated. Before opening at Arena in January, the Sarah Rasmussen-directed production played at Princeton's McCarter Theatre last spring.
When the Arena run ends, Martinez is unsure what's next for him – the actor's eternal lament, but he seems more than OK with that. In fact, Martinez embraces the situation.
"There's something grounding in letting the universe take you where it takes you and trusting in that."
'A Room in the Castle' highlights the women of 'Hamlet'
Trans director DeHais joins Folger Theatre's Reading Room festival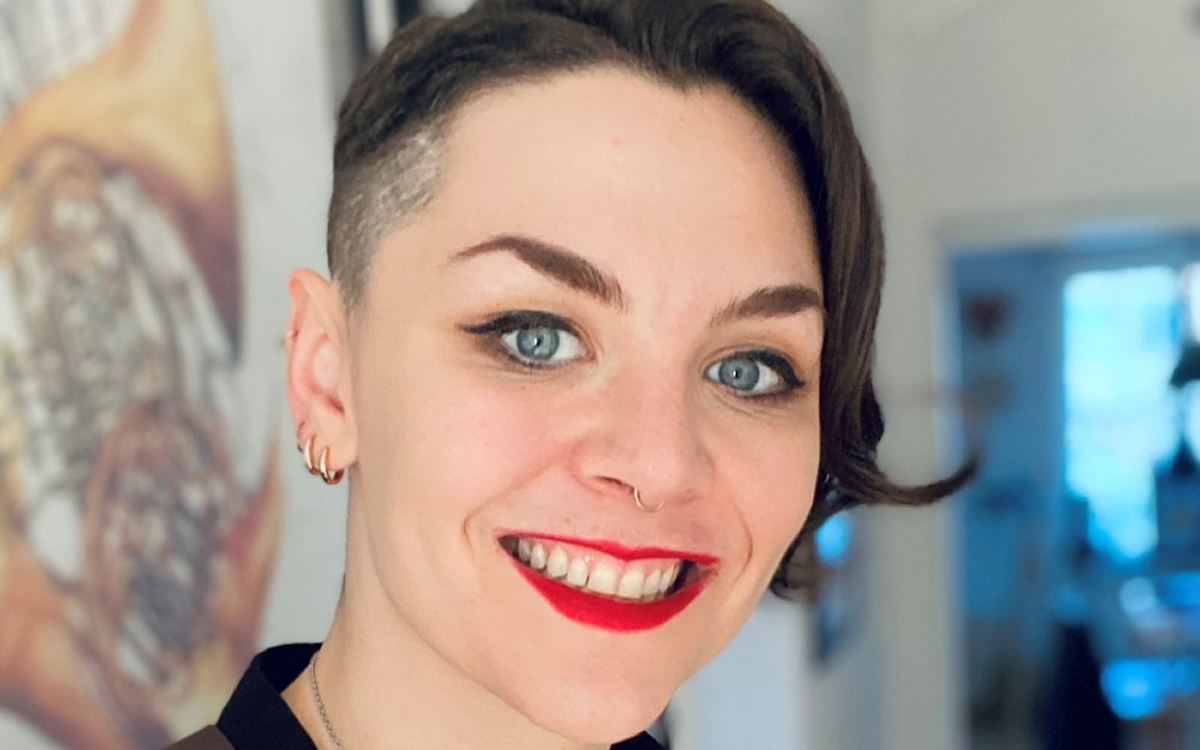 'The Reading Room'
'A Room in the Castle'
Jan. 19 -21 
Folger Theatre @The Lutheran Church of the Reformation  
212 East Capitol St., S.E.
$25 for all four readings; $50 all access pass includes all 4 readings and all pre-show conversations and special events. Students free 1/2 hour before each reading and talk with valid ID.
Franco-American trans director Eddie DeHais is a triple citizen who speaks four languages and works all over the world. This week, they're landing in Washington to direct a reading of Lauren Gunderson's new play "A Room in the Castle," part of Folger Theatre's upcoming festival, The Reading Room.
"A Room in the Castle," focuses on the stories of the women of Shakespeare's "Hamlet," Queen Gertrude, Ophelia, and Tatiana, a middle-aged servant. The traditionally doomed and/or unheard women are seeking a level of safety and freedom in Ophelia's bedroom, a place away from an increasingly dangerous court and mad prince where they can be themselves – something that's forbidden in the greater world. Together they sing, laugh, and argue, trying to create hope in a hopeless situation.
DeHais, who specializes in staging new works and reimagining classics, brings a lot to the collaboration: In addition to boatloads of energy and curiosity, they have a sharp ear and keen sense of humor.
Recently recovered from a gnarly case of laryngitis, DeHais takes time to talk about the project. "Lauren [Gunderson] has written a beautiful piece that's very funny, but also achingly painful. People will see themselves and see their mothers in the play's gently blocked reading."
When we spoke, DeHais (who is nonbinary, trans, and bisexual) had just finished writing a greeting to the three-woman cast. In it, they spoke about the possibilities of living in a room. During the pandemic, DeHais as a grad student at Brown University in Providence spent a lot of time in a tiny apartment. Classes, community, and projects were cancelled, so they took up the ukulele and made a weekly drive to sing songs, admittedly rather badly, to their 90-something grandmother. The experience brought the two much closer together in a deeper, less predicated on structure relationship that continues now.
Similarly, the women in "A Room in the Castle" make discoveries: Their room is a safe but dynamic place filled with wonderfully awkward moments of people trying to connect despite barriers of class and expectation. For instance, we find the Queen of Denmark getting drunk with a servant whom she never noticed before things went awry in the castle, adds DeHais.
"I love 'Hamlet,' but this is a play that tells the other half of the story. And because 'Hamlet' is a rich text which means there's a rich story happening behind closed doors."
The director began making attempts at coming out starting in their teens; a final public proclamation in their twenties stuck. They say it's the best thing they ever did: "If I have to read another play about how painful it is to be a trans person I will kick the wall. And I'm asked to direct those. My life is amazing. Being me is the best thing that ever happened to me. There are very difficult parts of that story but that's not my life."
Based between New York and Berlin, they recently worked on a production of Salome in Paris. Next season, they're slated to direct a lot in Seattle. "When offers come in, I ask my agent to tell whoever it is that I'm local – then I'll get to wherever they want me."
DeHais closes with a nod to Folger Theatre's director of programming/artistic director Karen Ann Daniels: "Few people know how to create community better than Karen Ann. We met when she was running the Public's Mobile Unit in New York, and we stayed in touch. I don't know D.C. well, so it was doubly flattering that she reached out. And where better than D.C. to talk about political structures that are silencing us?"
Other new plays featured in The Reading Room are Al Letson's "Julius X," a re-visioning of "The Tragedy of Julius Caesar" set during the life and times of Malcolm X; "Hamlet," a radical bilingual New York City-set reimagining of the original created by Reynaldo Piniella and Emily Lyon; "Our Verse in Time to Come," a Shakespeare inspired piece about legacy and storytelling by Malik Work and Karen Ann Daniels.