May 24, 2017 at 2:36 pm EDT | by Lou Chibbaro Jr.
Equality March to kick off near White House
The LGBT march on Washington scheduled for Sunday, June 11, which is officially called the Equality March for Unity and Pride, will travel in front of the White House before heading south on 15th Street, N.W. to Constitution Avenue and end on the National Mall at 7th Street, N.W.
Organizers for the first time disclosed the route of the march and made an appeal for donations to help pay for what they say will be an historic demonstration for LGBT equality and diversity in a statement released to the Washington Blade.
"With the Equality March for Unity and Pride less than three weeks away, the National Co-Chairs are also calling on members of the LGBTQ+ communities, their loved ones, and all those who stand in solidarity to register and help contribute funds for the march," the statement says.
"In order to have a truly impactful March and get our mission heard, we need the help of everyone to make sure this march is successful," said David Bruinooge, the founder and one of 13 co-chairs of the march.
"We are asking that you take a moment to go to our website and make a contribution," Bruinooge added in the statement. "This march will give voice to our concerns, to support and bring attention to our communities who are targeted due to immigration status, ethnicity, religion, skin color, gender, and disability," he said. "It's time to march and we can only do it with your help."
Bruinooge told the Washington Blade that a rally at the end of the march on the National Mall is being considered but remains uncertain because sufficient funds have yet to be raised to pay for the logistics of such a rally.
The statement released by march organizers doesn't say how much money has been raised so far or how much will be needed to carry out the march and a possible rally.
"The process for figuring out what the final event will look like is still ongoing," Bruinooge said. "A rally ending on the Mall is a possibility if additional funding comes in soon. Logistically, we can proceed with a rally with sufficient funds."
He said both D.C. police and the National Park Service were expected to approve permits for the march, which will involve street closings along the march route.
National Park Service spokesperson Mike Litterst told the Blade on Wednesday that march organizers submitted a permit application in April and have been in discussion with NPS officials. He said march organizers were expected to present their final plans for the march at a meeting with NPS officials later this week.
Litterst said NPS routinely issues a final permit for events like this during the week the event is scheduled to take place.
According to the statement released to the Blade, the march is scheduled to begin at 10 a.m. on Sunday, June 11, at the intersection of 17th and I streets., N.W., with participants assembling on I Street between 14th Street and 17th Street.
The statement and map shows that the marchers will walk south on 17th Street and turn left on Pennsylvania Avenue, where they will walk past the White House before turning right on 15th Street and travel to Constitution Avenue. The map shows the march proceeding east on Constitution Avenue to 7th Street, N.W., where it will turn right and proceed onto the National Mall.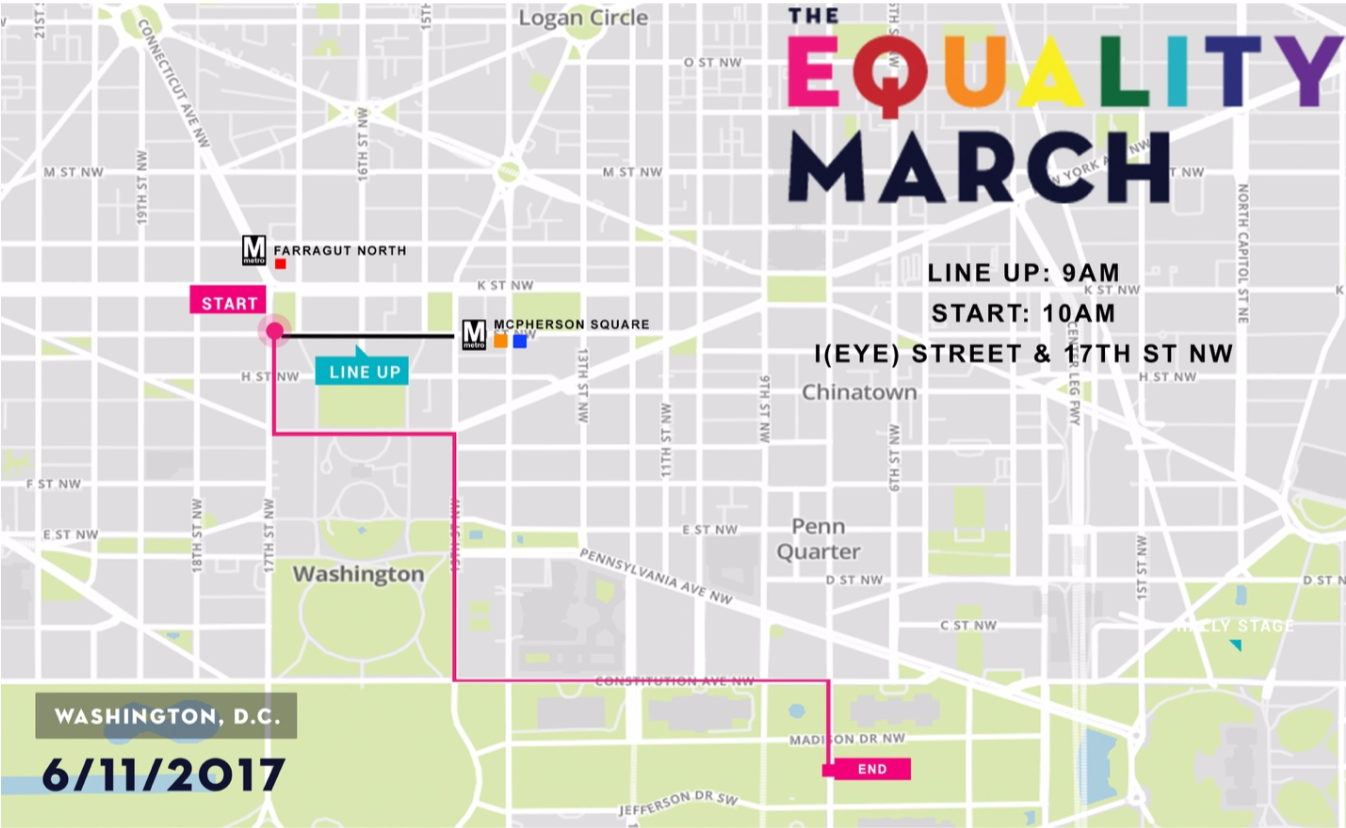 At the time most march participants reach the Mall at 7th Street, D.C.'s annual Capital Pride Festival, which takes place a few blocks away on Pennsylvania Avenue between 3rd and 7th streets, will likely have begun. The festival is scheduled to begin at noon on June 11.
Ryan Bos, Capital Pride's executive director, has said Capital Pride organizers have been cooperating with Equality March leaders. Bos has said Capital Pride organizers anticipate that march participants will walk to the festival site at the conclusion of the march and possible march rally on the Mall.
"Volunteers are also needed for a variety of tasks but most importantly we need help the day of to ensure that all of our community members can participate as safely and positively as possible," Bruinooge said in the statement released by the Equality March.
He said donations for the march can be made on the march's website, equalitymarch2017.org.
Mickey MacIntyre, an official with a charity consulting organization called Resource Impact, which is a non-profit arm of the gay-owned communications firm The Raben Group, said Resource Impact is serving as the fiscal agent for the Equality March. He said that under this arrangement all donations made to the Equality March are tax deductible.
In an earlier statement released in April, Equality March organizers announced the names of the march's co-chairs, which organizers said include some of the nation's most prominent and diverse LGBT rights advocates.
The earlier statement also announced that numerous "solidarity" marches and rallies in support of LGBT equality were expected to be held throughout the country on the same day as the national Equality March.
The march website shows that as of Wednesday, solidarity marches or rallies were scheduled to take place in more than 60 U.S. cities, including New York, Los Angeles, San Francisco and Ft. Lauderdale.
Activists in many cities, large and small, including Rehoboth Beach, Del., have also arranged for buses to bring people to Washington for the June 11 march.