February 7, 2019 at 6:23 pm EST | by Chris Johnson
Trump's health chief visits D.C. HIV clinic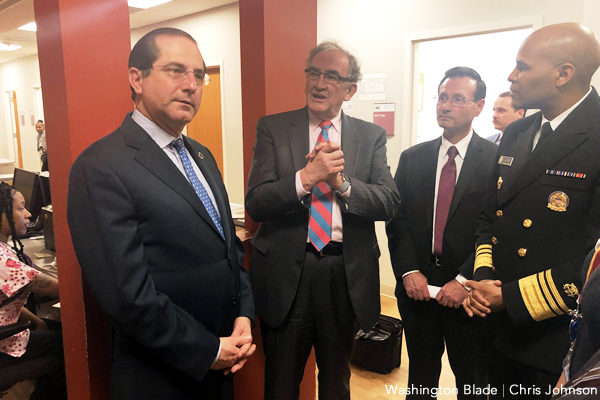 Secretary of Health & Human Services Alex Azar came to a local HIV/AIDS clinic in D.C. on Thursday, saying efforts there were crucial to President Trump's newly stated plan to eliminate new HIV infections by 2030.
The Washington Blade was among a handful of media outlets invited to cover Azar's visit to Unity Health Care's Parkside Health Center. Azar toured the facility along with Surgeon General Jerome Adams and Health Resources & Services Administrator George Sigounas on National Black HIV/AIDS Awareness Day.
After touring the facility, Azar told reporters the administration's initiative against HIV/AIDS — which Trump announced days ago in his State of the Union address — is important for both HHS and the president.
"I fundamentally believe that we will look back in Feb. 5, 2019 as one of the most important dates in the public health history of the country, when we declared that we have the right tools, we've got the right data and we've got the right leadership to actually end the HIV epidemic in the United States," Azar said. "That's quite an undertaking to say we're going to do that."
Azar said the new HIV/AIDS initiative will reach out to communities disproportionately impacted by the epidemic, including LGBT people.
"It lets us really be targeted in the male-sex-with-men community, the African-American community, the Latino community, American Indian and Alaska Native and southern both urban and rural communities, lets us focus those efforts very much there," Azar said.
New data, Azar said, demonstrates individuals with HIV cannot transmit the disease if their viral load is suppressed to the point of being undetectable, and PrEP, or Pre-exposure prophylaxis, will prevent HIV infection by 97 percent.
"And so, the tools have just come together, and we just need the commitment to execute against that, and that's what we're about, and all I can tell you is this leadership team at HHS and the president are passionate about this happening," Azar said.
Adams echoed those sentiments, saying the efforts at the D.C. clinic will be duplicated throughout the country in the national effort.
"Eighty-five of their HIV infected patients are virally suppressed," Adams said. "That's what we're trying to achieve across the country and we're just so proud to be here on National [Black] HIV/AIDS Awareness Day, the 20th anniversary. I think we couldn't pick and better place to come to see how to do it right, and we will want to do it like this all across the country."
The health officials toured each of three floors of the HIV clinic. Leading the tour was Vincent Kaine, CEO of Unity Health Care, who answered their questions thoroughly as he guided them through the facility. Among the inquiries were what happens with patients newly diagnosed with HIV and the integration of primary care with mental health services.
On the first floor, nurses treat patients in radiology as well as obstetrics and gynaecology. Family medicine is on the second floor, as well as medical students learning best practices. After a brief exchange, the student oblige the health officials in taking a selfie to commemorate the visit. On the third floor, the final stop, the health officials met with chief executives of the facility.
Asked by the Blade what he learned from touring the facility, Azar said he's "just blown away" by the efforts he saw both in HIV treatment and prevention.
"I'm just blown away, honestly, by the quality of people here at Unity, the holistic approach," Azar said. "For me, especially thinking about the HIV epidemic and how we can deal with that, one of the most important things that I learned was they're testing every single patient who comes in who consents for HIV. The next thing I want to do is screen every single person who comes in here for being at risk, so we can get them on PrEP. That's got to be part of this. And then, if somebody's positive on the rapid test diagnostic, they're being enveloped immediately."
Health officials have said the Trump administration will seek "significant new resources" in the upcoming budget request to Congress for the HIV/AIDS initiative, which will focus on 48 counties as well as D.C. and San Juan in addition to rural areas in seven states. According to HHS, those are the places where new HIV infections are happening in the United States.
Trump has proposed the initiative after his previous two budgets sought to cut federal funding HIV programs. Asked by a reporter what has changed, Azar said new data on HIV is made the difference.
"What has changed versus where the world has been before is this data and tools that we have now," Azar said. "It's a perfect gelling of everything to come together to make this work because we want to put the money after it in a focused way where it can have that impact. It's not about boiling the ocean, it's about focused efforts."
Critics have said the Trump administration isn't serious about combatting HIV/AIDS as it seeks to restrict access to Medicaid, which covers an estimated 40 percent of people with the disease, and undertakes initiatives like Conscience & Religious Freedom Division, which is seen to enable medical practitioners decline to perform not only abortions, but also gender reassignment surgeries or HIV-related care.
Asked by the Blade to respond to those criticisms, Azar declined to answer directly and instead talked about the commitment from the each of the top officials at the Department of Health & Human Services in confronting HIV/AIDS — as well as the commitment from Trump.
"So we have got the team and you have in me and the president a deep personal, driving commitment that we will have as a legacy that we have ended the HIV epidemic," Azar said. "We have the tools, we have the data and we have leadership commitment. We will make this happen. It is about execution."
According to the Henry Kaiser Family Foundation, Medicaid is the largest source of insurance coverage for people with HIV. An estimated 40 percent of people with HIV receive care under the program.
Pressed further by another reporter about whether rollbacks to Medicaid will hamper the HIV effort, Azar again dodged and emphasized the initiative.
"This is about targeting populations and geographies where we can make a very material difference here," Azar said. "And so, we have we got providers like Unity where we are today that are our community health center infrastructure across the country."
Azar also emphasized the importance of the Ryan White HIV/AIDS program, which he said is "fundamental" and keeping 86 percent of its patients virally suppressed.
"That's really a remarkable achievement," Azar said. "And so, we've got to work. What we're going to do is build on the proven tactics that we have in HIV infection control and prevention and treatment and build on that, doubling down in a focused way, and that's what make this a doable activity, a doable milestone that we can achieve."
After the tour, Kaine told the Blade the federal government is "a big supporter financially and otherwise" and the visit was a good opportunity to connect.
"We're always glad when representatives come out to see us and see what great things [are] happening with the federal funding for the community health centers, and specifically on the AIDS and HIV," Kaine said. "Certainly this initiative for 2030, I think we're in some ways far advanced on it, but we know there's an awful lot of work that still needs to be done."
CORRECTION: An initial version of this article left out the African-American community in Azar's quote listing groups disproportionately affected by HIV/AIDS. The Blade regrets the error.