April 20, 2019 at 9:43 am EDT | by Brian T. Carney
Filmfest D.C. returns next weekend with tons of queer content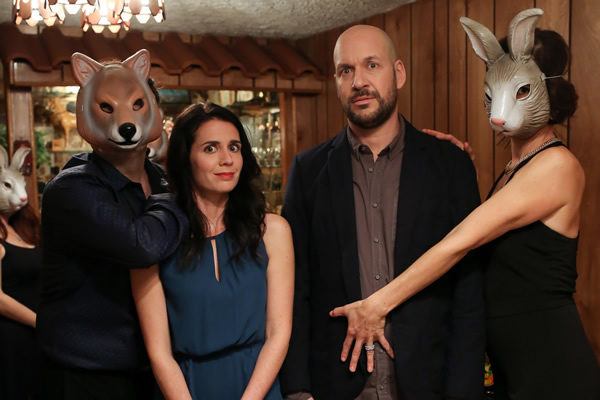 Filmfest D.C.
April 25-May 5
Landmark's E Street Cinema and AMC Mazza Gallerie Theatres
Tickets and schedules available at filmfestdc.org
Now in its 33rd year, Filmfest D.C. returns to celebrate International Cinema and Cultural Discovery. Over the course of 11 days, the festival will present 80 films from 45 countries, including several great movies that explore global LGBT diversity.
Filmfest D.C. kicks off Thursday, April 25 with "Ladies in Black." Written and directed by award-winning director Brue Beresford ("Tender Mercies," "Breaker Morant"), the film is set in Sydney, Australia in 1959 and takes place in a glamorous upscale department store. The movie stars Julia Ormond and Angourie Rice ("Every Day").
The festival closes May 5 with "C'est La Vie," a French dramedy about a frenzied caterer working on an extravagant high-profile wedding at a 17th-century chateau just outside of Paris.
As usual, the offerings at Filmfest D.C. are organized under several broad themes. Trust No One focuses on espionage, crime and thrillers. One of the highlights in this category is the world premiere of "D.C. Noir," an anthology of four stories written by acclaimed local author George Pelecanos. All of the films were shot on location in D.C. and used all-local crews. Pelecanos will be on hand for the screening.
The Lighter Side, a collection of international comedies, includes two fun films on LGBT themes. Directed by Nicolas Monette, "Threesome" is a French Canadian sex farce. Overworked and undersatisfied, financial analyst Estelle lets three of her friends convince her that a threeway will reinvigorate her life. Despite all of her detailed spreadsheets and strategic plans, chaos ensues.
In "Simple Wedding," Nousha's Iranian family is desperate for her to get married but things get complicated when she falls in love with Alex, an eccentric bisexual artist.
Justice Matters focuses on filmmakers who use their talents to make audiences aware of injustices and to fight against them. In "Rafiki," an award-winning film from Kenya, the injustice is the homophobia two young women encounter when they fall in love. The film was initially banned in Kenya, but opened to wild applause at the 2018 Cannes Film Festival. Director Wanuri Kahiu will attend the screening on April 26.
Global Rhythms, films about music, includes the Canadian documentary "Hugh Hefner's After Dark: Speaking Out m America." Compiled from Hefner's ground-breaking television shows "Playboy's Penthouse" and "Playboy After Dark," the movie features incredible performances by and hard-hitting discussions about race and sex with artists such as Moms Mabley, Stevie Wonder, Smokey Robinson, Sammy Davis Jr., Dick Gregory, James Brown and Nina Simone.
Finally, a new category called Foodflix, offers several fascinating films about food. "Michelin Stars: Tales from the Kitchen," a behind-the-scenes look at the famous restaurant guide, will be introduced by Washington's own Michelin starred chef, Aaron Silverman. "The Best Sommelier in the World," about the intense competition at the prestigious World Sommelier Competition, will be hosted by Lindsay Fern, sommelier at the renowned Inn at Little Washington.
In addition to the outstanding feature-length films, Filmfest D.C. also included several great collections of shorts from around he world. Lunafest is an annual celebration of "short films by, for and about women." In the very funny "Are We Good Parents?" American director Bola Ogun looks at two frenzied parents (Tracie Thoms and Sean Maguire) who question their parenting skills and their preconceived notions about their daughter's sexuality as she gets ready for her first school dance.
The collection Metro Shorts includes the excellent short film "The Pick Up" about a sullen teenager, a flat tire and an unexpected revelation. Director Giovanna Chesler, a professor at George Mason University, will be at the screening on Sunday, April 28.
And Short Cuts 1 and Short Cuts 2 include several short films on LGBT themes. "Masks" is about a closeted medical student who fears she will be outed when a masked gunman opens fire at a gay nightclub. The documentary "Sweetheart Dancers" is about Sean and Adrian, a two-spirit couple who try to rewrite the rules of Native-American culture through their participation in a powwow dance competition that defines a couple as a man and a woman. "Welcome to the Ball" is about two young children who break through traditional concepts of gender and disability.
Finally, Filmfest D.C. will offer an exciting new cinematic experience, "Traveling While Black." Directed by Academy Award-winning filmmaker Roger Ross Williams, the movie is an immersive 3-D 360-degree virtual reality documentary that explores the history of Ben's Chili Bowl. Founded in 1958, the iconic D.C. restaurant was listed in the "Green Book," a guide to U.S. restaurants that would serve African Americans.
The 21-minute film is a powerful exploration of discrimination, the imposition of restricted movements and the creation of safe spaces. Screenings will be held at Ben's Chili Bowl April 28-29. Admission to the special event are free, but reservations are required. There will also be a panel discussion on Sunday, April 28.