A few LGBT advocacy groups worthy of your support
Every dollar donated makes a difference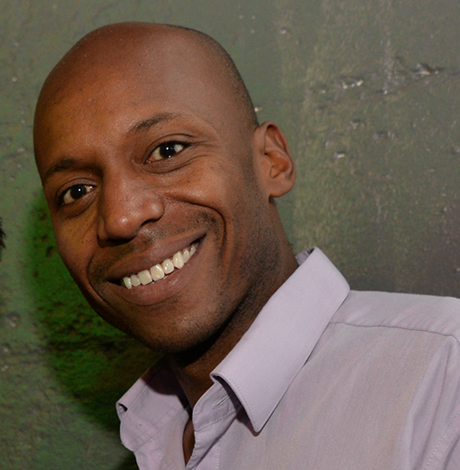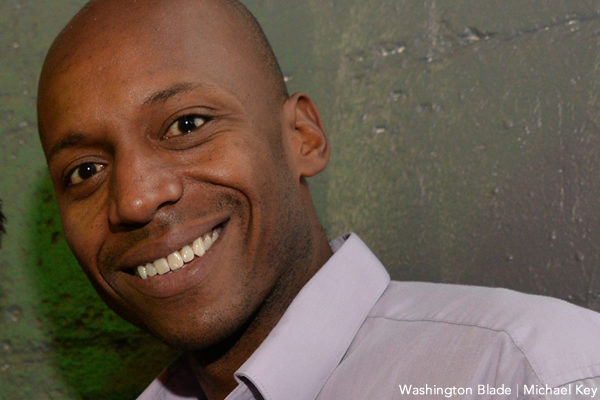 This year marks the 50th anniversary of the Stonewall riots. While the LGBT community has experienced immense positive change, much work remains to be done. As an LGBT-owned company, Graham Capital is proud to support our community both locally and nationally. I want to take a step back from my normal financial column to highlight some notable organizations that deserve our community's financial support. Although it may not fit into your current budget plan, when possible and with proper budgeting, every dollar donated can make a lasting impact on the future of our community.
When determining which organizations to support, I personally like to split organizations into three major categories: national, local (DC Metro Area) and my hometown (Tampa):
NATIONAL
Named after its related short film, TREVOR, this organization provides immediate crisis support to LGBTQ youth. Its 24-hour hotline provides constant support to our most vulnerable community members.
National Center for Transgender Equality
Founded in 2003, this organization is the first advocacy group founded by and for the transgender community.
National Gay Pilots Association
As the largest organization of LGBTQ aviation professionals and enthusiasts from around the world, NGPA's mission since 1990 has been to build, support, and unite the LGBTQ aviation community worldwide. As an aviation enthusiast, I am drawn particularly to their major programs that offer training scholarships to LGBTQ individuals that want to have a career in the aviation industry. Unfortunately, training costs continue to prohibit many people from entering this career path.
LOCAL
SMYAL (Supporting and Mentoring Youth Advocates and Leaders)
Aimed at the D.C. metro area's LGBTQ youth population, SMYAL provides after school programming for youth to develop leadership skills and personal connections. It also sponsors transitional housing for young community members who may no longer be welcome at home.
Provides a safe home base for everyone in the LGBTQ community. Its programming is wide ranging and aims to positively boost our local community.
Finally, I always like to support those organizations that may exist in smaller communities than our own. For me, that is Metro Inclusive Health in Tampa, Fla. It's important to me because many of these organizations do not have as strong of a donor base and, more often than not, cannot rely on local or state funding. While I am lucky to see the city where I grew up evolve to embrace our community, that is not always the case. These organizations are on the front lines of protecting and nurturing our community and I highly recommend searching for a local organization of your own.
Next month, we will return to regularly scheduled financial programming, but as we celebrate our community today, our storied past, and bright future, I want to thank all organizations (including the Blade!) that help us grow and stick together.
Alex Graham is a principal at Graham Capital Wealth Management, a registered Investment Advisor located on K Street. Reach him at 202-780-7726 or [email protected].
From early struggles to Obama's White House, Black pansexual exec talks resilience, self-love
Williams's advice to entrepreneurs: Do the research and make it happen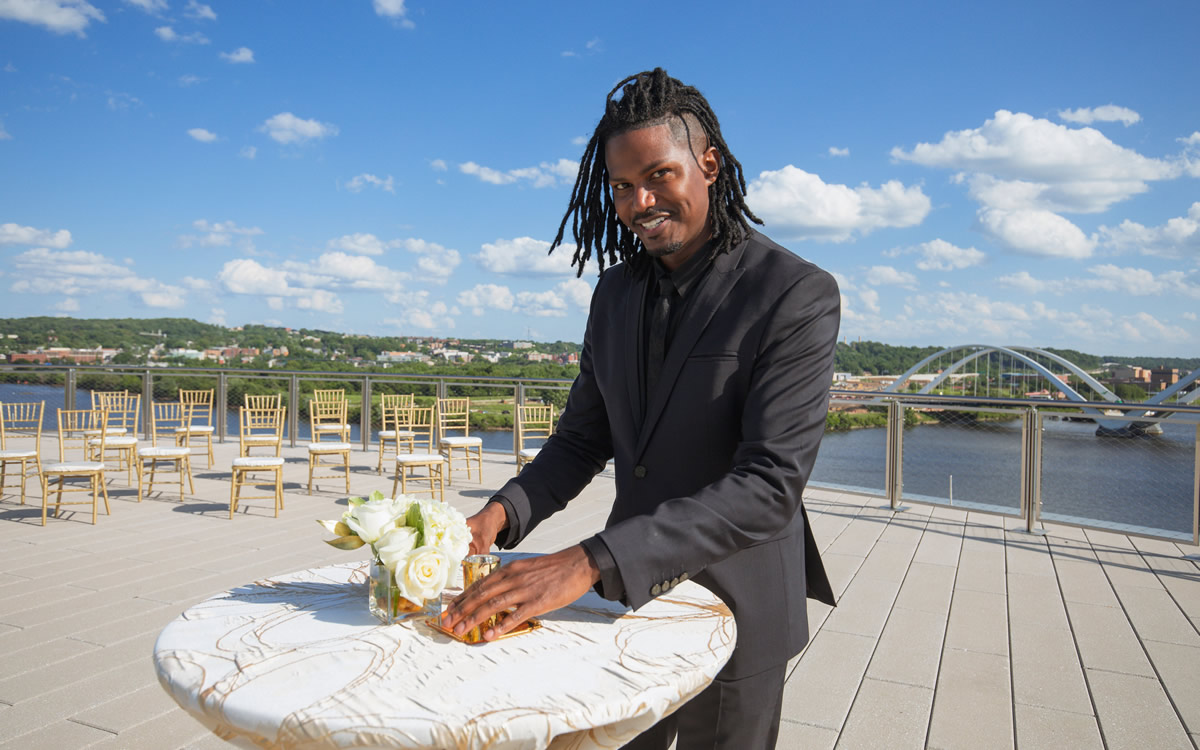 (Editor's note: This is the fifth in a multi-part summer series of stories taking a closer look at how a group of diverse LGBTQ entrepreneurs survived and thrived during the pandemic. The series is sponsored by the National LGBT Chamber of Commerce. All installments in the series are available on our website.)
The road to loving himself as a Black gay man hasn't been easy for a 38-year-old business owner who once worked as a communications expert for both the U.S. House of Representatives and former President Barack Obama.
When Marcus A. Williams, the principal consultant and owner of D.C.-based MW Consulting, sat as a child around the dinner table with his family, his mother told them their house was going to be foreclosed on.
Williams recalled how he admired the strength it took for her to calmly tell them where they each were going to stay until his parents figured things out. Fortunately, the phone rang with an 11th hour offer to rent a home they could move into immediately.
Williams never forgot that day at the table or that lesson in resilience.
"I grew up in a rough neighborhood with drug abuse and family members who were incarcerated," Williams said. "To be able to come from that environment and go to Penn State and then start a business — I take that as a sign to my community that it is possible."
As the owner of a full-service communications and Information Technology consulting firm generating gross revenues of $568,000 in 2019, Williams wants to show others that they can also beat the odds.
But a major problem historically for Black-owned businesses has been unequal access to capital.
According to the 2018 Small Business Credit survey, large banks approved about 60 percent of loan applications from white small business owners, but only 29 percent from those identifying as Black, meaning most Black small business owners who apply for loans are turned down.
This problem was exacerbated during the height of the pandemic when the Payroll Protection Program, intended to shore up small businesses through the crisis, was administered primarily through large banks that favored their preexisting clients, according to a 2020 report by the Brookings Institute.
When Williams applied for a PPP loan, he was turned down without a clear reason. He was fortunate he could turn to the National LGBTQ Chamber of Commerce (NGLCC), which helped him secure grants and access to other programs that helped his business survive the crisis.
Cision PR Newswire reported only 2.3 percent of employer businesses in the U.S. are Black owned, and in the IT field specifically, Black and Latinx workers remain underrepresented in tech jobs by nearly 50 percent, according to Brookings 2018 data.
Additionally, Black LGBTQ adults are more likely to experience economic insecurity than non-LGBTQ Black adults, according to a 2021 report from the Williams Institute. Research by the Movement Advancement Project from 2013 points to discrimination and unsafe schools as two factors contributing to the disparity.
Williams told the Blade how he came to deal with these challenges to business and to his identity in his own way.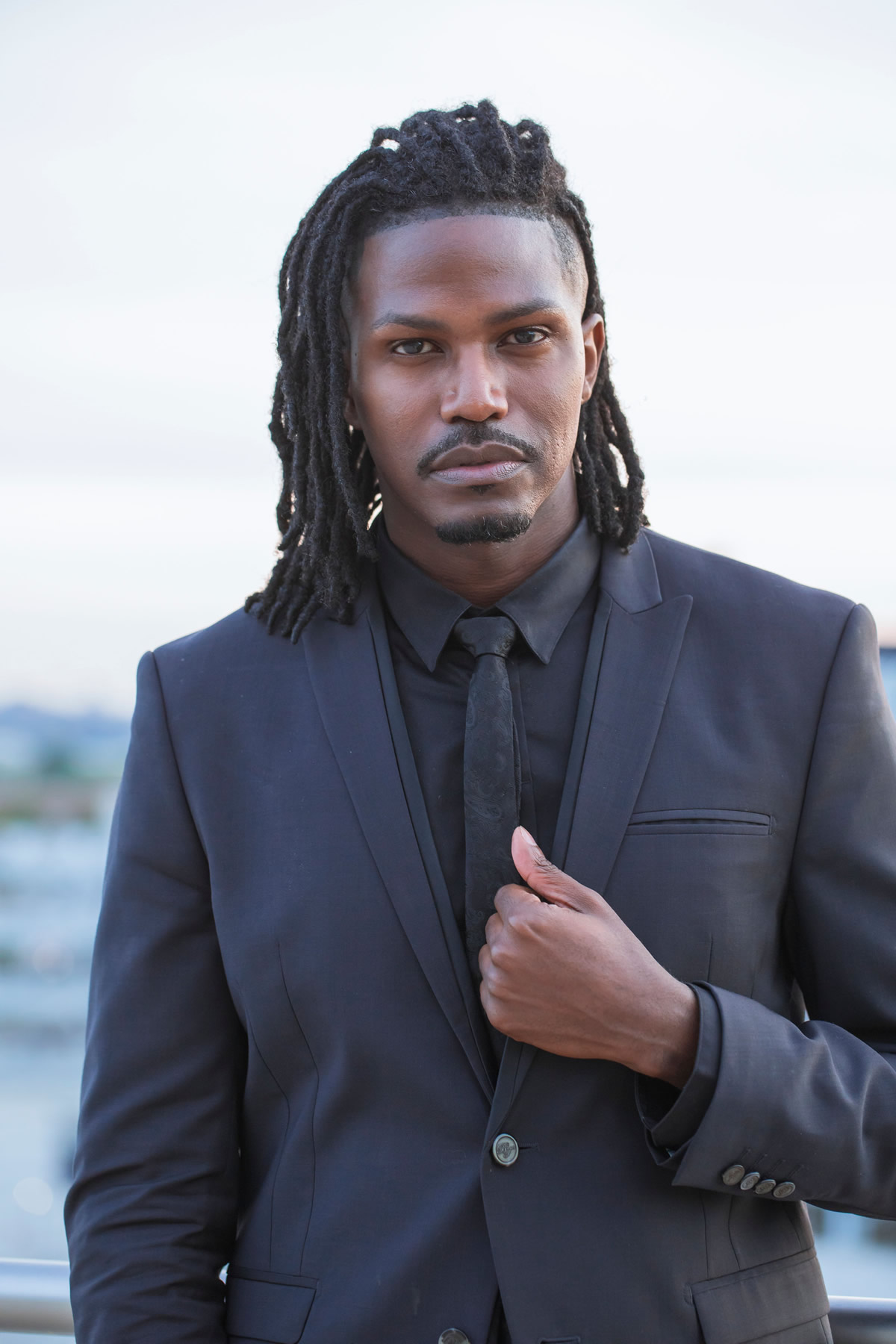 'I am Black first '
Williams recently returned from a trip to Ghana where he visited the former ports used during the transatlantic slave trade. The experience was a moving one for him, as well as insightful.
"We have been resilient since we were first captured and brought to this country to build it," he said, acknowledging the strength he saw in his mother and his grandparents. "Resilience is an innate survival trait for us. It is what is in our blood from our ancestors."
The experience gave him a deeper understanding of who he was and what that meant historically. He understood that for him and how he carried himself, his color was often the most visible part of him, and people made assumptions about him based on that.
"When I graduated [from Penn State], I wasn't getting any job offers," Williams said, adding he was excited to see friends do amazing things with their careers but wanted more for himself.
He finally landed an interview with the CW network in New York in his field of broadcast journalism. His mother wanted to lend her hard-earned money to help him attend the interview, but he wasn't certain this path was in his future.
After watching a friend die from cancer at age 28, he heard one of his "guardian angels" encouraging him to go for his dreams — a path that eventually led him to Obama's White House.
He called this his "Janet Jackson 'Control' moment," comparing the decision to take control of his future to the similar feelings the legendary pop star expressed in her breakthrough song and album. But he wants others to understand that path wasn't easy.
His business struggled financially during the pandemic crisis, and though he was reluctant to take on more debt, he applied for a PPP loan only to be rejected. He grew desperate.
The NGLCC helped him access grants and programs that helped keep his business afloat, but he also had to rely on his mother to help him pay his bills – something his pride usually didn't allow him to do, but he had to bend in order to survive.
"I am Black first and I want people in the Black community to see that and absorb it," Williams said. "I'm not an activist out here trying to be a role model, but I understand that the more visible you are, the more you can be an inspiration to others."
NGLCC 'helps me feel comfortable in my skin'
Years earlier, Williams had traveled to Paris for his 30th birthday. While he was there, he had another life-changing moment about realizing how far he'd come and appreciating the journey and his many blessings.
"When I said to love myself more, it made me emotional and I cried for 15 minutes," he said. "My soup got cold. They brought me a fresh one."
Some Black LGBTQ people have reported challenges with their intersectionality, which can lead to feelings of disconnection from larger communities. The Williams Institute found only 49 percent of Black LGBTQ adults felt socially connected to the larger Black community.
This is in contrast to 62 percent of Black LGB adults who reported feeling connected to the larger LGBTQ community (only 29 percent of Black trans adults felt connected to their larger gender communities).
These numbers indicate the difficulties Black LGBTQ people can face when navigating intersecting identities. And for Black gay business owners, this can be an additional layer to deal with on top of running a business during a crisis.
Despite these challenges, Williams said during that moment of reflection in Paris, he moved to a new place of self-acceptance. But he also admitted that "one cry doesn't make you feel like you're going to be out and proud," but it was a step in the right direction.
Williams said each time he told others about owning a certified LGBTQ business enterprise, it was a little easier, and he became a little more proud.
"The more I say 'yes, I am LGBTQ,' and the more I talk in focus groups about the challenges I face, the more it allows me to be more comfortable in my skin," he said. "It's not about if people can tell if you're in the community, it is about your comfort in being able to say it. And that is another thing about how beautiful this process about being a business owner has been."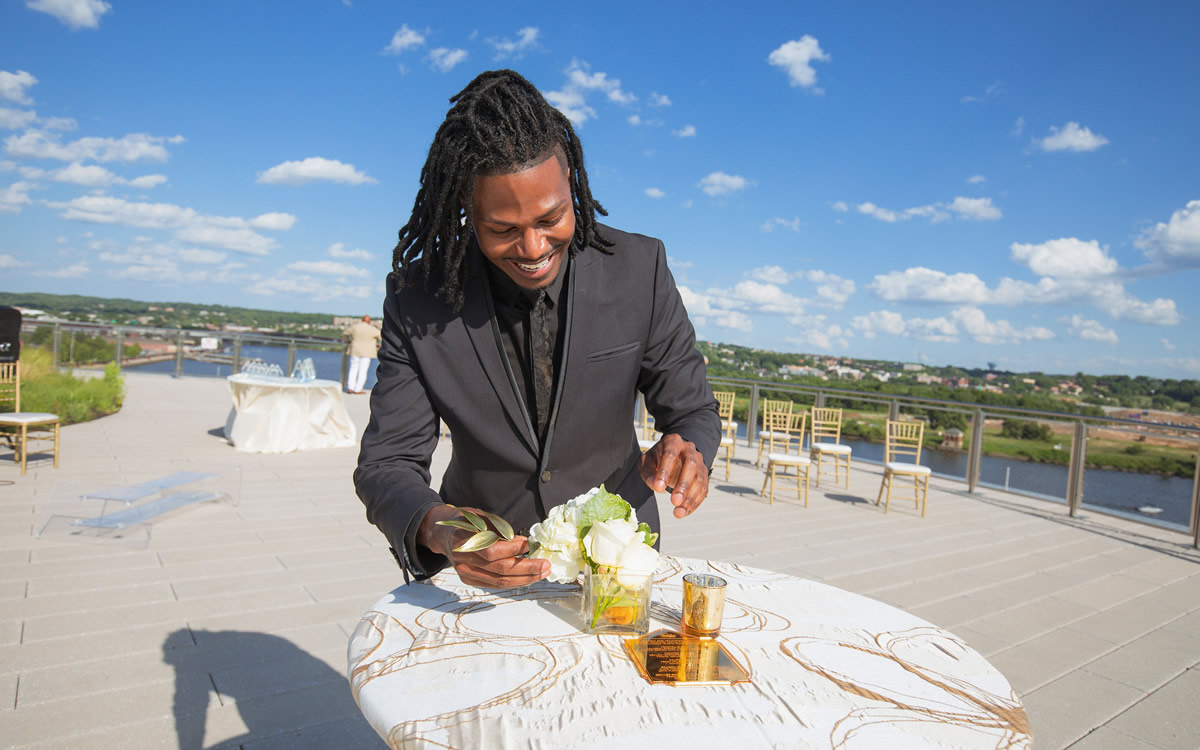 Williams is extremely grateful for the mentoring he has received from the NGLCC, particularly from its Community of Color initiative and from being part of the inaugural entrepreneurial cohort.
He said having such initiatives shows NGLCC understands that LGBTQ business owners of color have special needs within the larger community and often need a little more help.
"That understanding is a level of respect and cultural competency that I encourage others to implement," Williams said, for a moment donning his hat as a professional strategic communications consultant.
Williams' advice to Black LGBTQ youth and others who are interested in starting a business is to do the research and make it happen, and to see failures as opportunities to develop resilience.
He also advises businesses seeking long-term economic recovery to have both minority business owners and consumers at the table as part of the conversation.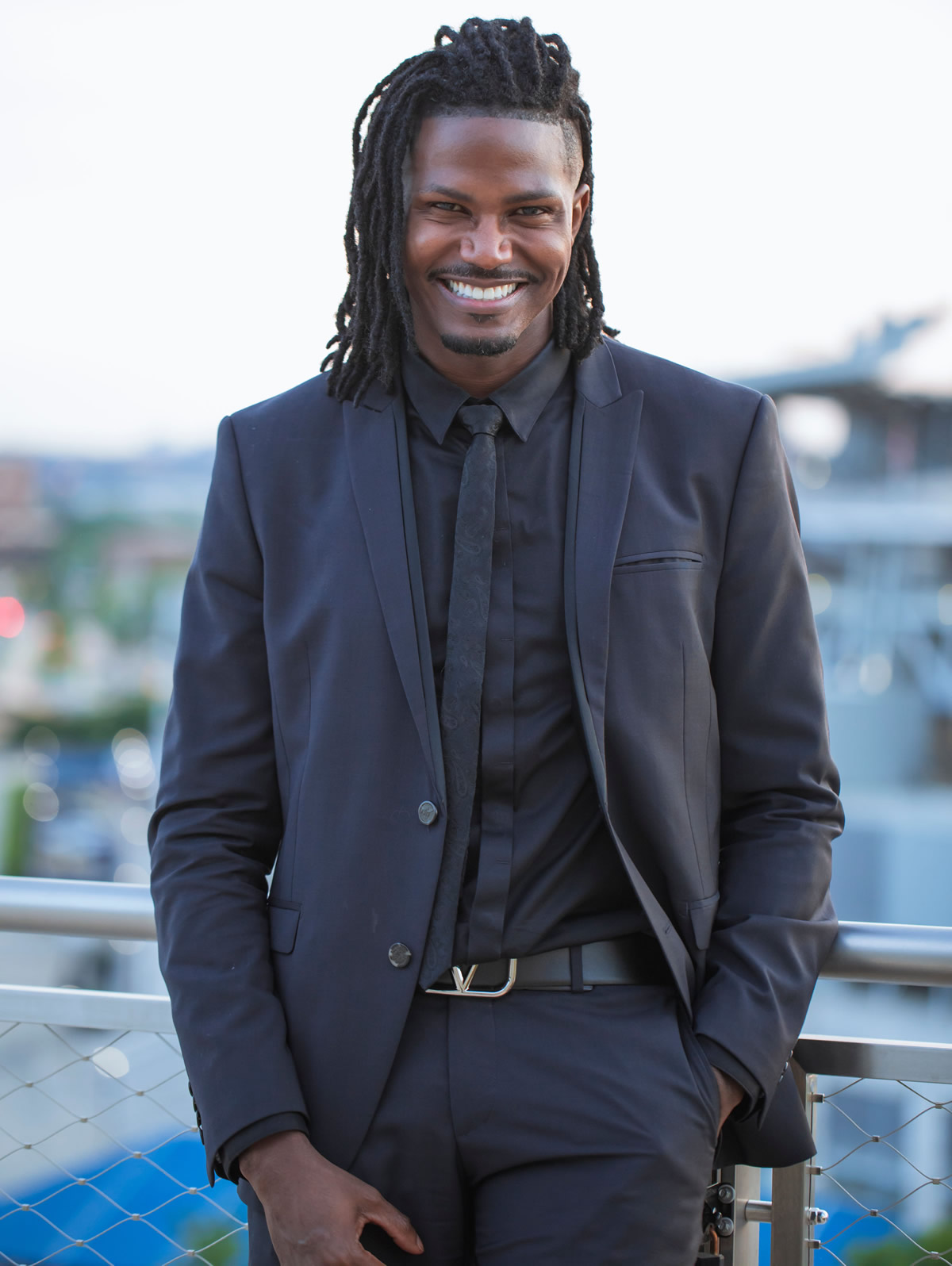 Black gay business owner shares joys, challenges, and the power of fragrance
Evolution Aura's founder says 'believe in yourself and make it happen'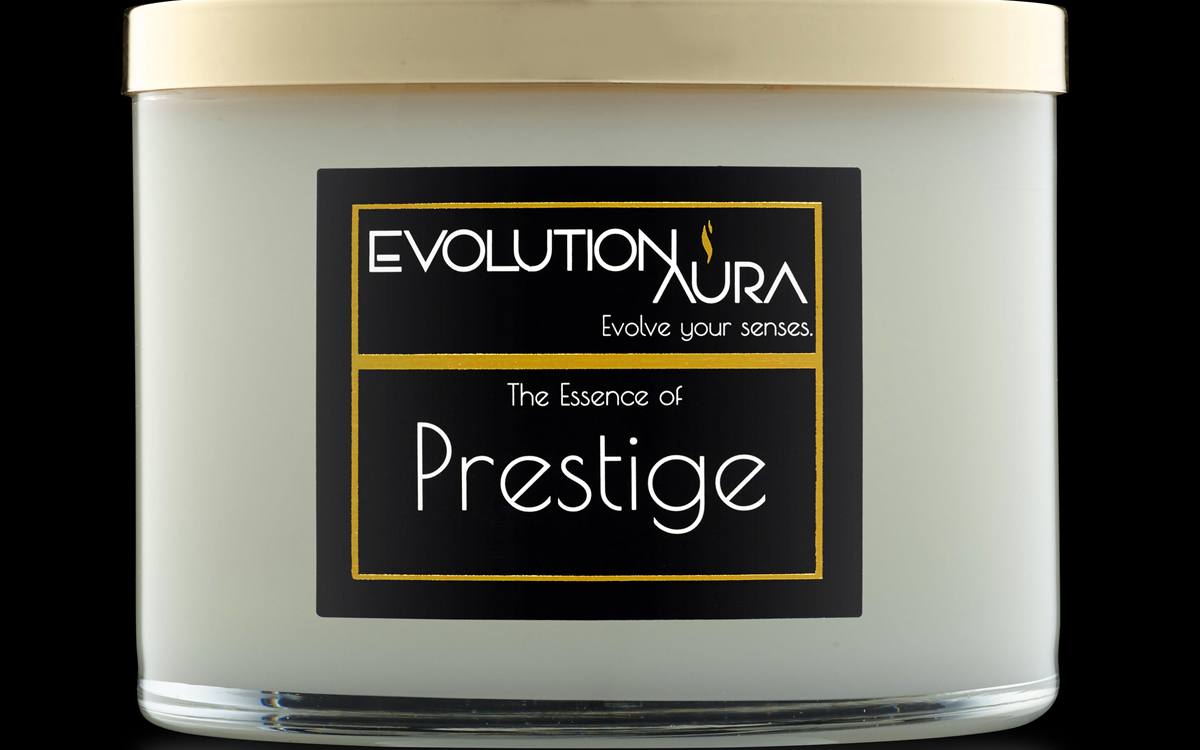 (Editor's note: This is the fourth in a multi-part summer series of stories taking a closer look at how a group of diverse LGBTQ entrepreneurs survived and thrived during the pandemic. The series is sponsored by the National LGBT Chamber of Commerce. All installments in the series are available on our website.)
"Have you tried Prestige yet?" asks the luxury candle retailer Evolution Aura on its Instagram page, which features a gently flickering candle beside its elegant gold and black box. Both items rest prominently in the window corner of an apartment that promises to be rustic, chic, and relaxing.
The laid-back image with throw-back charm reveals much about this North Carolina company and its Black queer owner, Adrian Hill, the single father of a 12-year-old straight-A student and a self-described "fragrance connoisseur."
Before starting his company initially as an e-business in 2017, he was in the fragrance department of a Nordstrom's in Charlotte, a frequent haunt, after friends hipped him to Diptyque.
"The people there were good employees," Hill said, adding they shared his passion for high-end fragrances. "A woman there told me to give Diptyque a try and to give my own line a try as well."
Always one to "champion each moment," Hill started Evolution Aura, which sells consciously sustainable products such as hand-crafted, soy-based candles while donating 20 percent of its annual profit to local charities.
"Ultimately, the line was developed for the community," Hill told the Blade. "We wanted to be a beacon of life in the luxury space for everyone to enjoy. A kid who doesn't have a bed may see a bed as a luxury. It's all relative to the person, and we want them to experience luxury in their own way and to the fullest."
But starting a Black-owned business comes with historic challenges, such as having limited access to capital.
A 2018 Small Business Credit Survey found large banks approved about 60 percent of loans for white small business owners, but only 50 percent for Latinx owners and 29 percent for Black small business owners, meaning only a third to a half of Black and brown applicants were approved compared to two-thirds of white applicants.
"I didn't get any financing when I started the brand," Hill said. "Financing is the number one obstacle we face as Black small business owners. But I had a slew of people around me who believed in me. I took my mission before people who said 'I believe in it.' Those people light a different flame in you, so failure is no longer an option."
The problem of unequal lending practices persisted during the pandemic, according to a 2020 report by the Brookings Institute, as the Paycheck Protection Program in particular relied on mainstream financial institutions to deliver loans to small businesses.
Larger banks tended to favor existing customers, leaving Black-owned businesses like Evolution Aura to turn to what Hill called "alternative networks" to help them survive.
"I'm very grateful for any help I received," Hill said. "If it wasn't for my community and investor support, we would not have survived the pandemic."
Being an e-business initially may have also helped Evolution Aura, as his luxury candles most likely helped many escape the pressures of unexpected lockdowns. Despite the odds, in 2021 Hill was able to open his first brick-and-mortar store in Charlotte's upscale SouthPark Mall.
Both the Washington Post and Cision PR Newswire reported earlier this year that the number of Black-owned businesses increased by almost 40 percent during the pandemic while there was a slight drop in the number of white and Asian-owned businesses.
However, only 2.3 percent of businesses are Black owned even though 14 percent of the U.S. population identifies as Black.
In addition, Hill experiences unique challenges as a Black business owner who also identifies as an openly gay man.
"I wouldn't necessarily say I had a coming out experience," Hill said. "I was more of the effeminate one who helped change diapers and cooked and cleaned. Over time I just evolved into who I really am."
But this evolution often adds a layer of economic challenge for the Black queer community.
According to Williams Institute data from 2021, Black LGBTQ adults experience greater economic insecurity than the larger Black population, with 56 percent of Black LGBTQ households qualifying as low income compared to 49 percent of Black non-LGBTQ households.
The study also found Black LGBTQ adults were more likely to be unemployed and to have a household income of less than $24,000 than Black non-LGBTQ adults.
Dr. Bianca Wilson, a senior scholar of public policy and one of the Williams Institute researchers for the study, told the Blade Black LGBTQ people in general fared worse than their non-LGBTQ counterparts in terms of mental health, income, and food insecurity.
"These differences are the largest among Black LGBT women," she added.
The Movement Advancement Project reported these challenges were partly due to a history of unsafe schools, hiring bias, and on-the-job barriers to presenting authentically in the workplace. As a result, "LGBT people of color are some of the most disadvantaged workers in the United States – and face extraordinarily high rates of unemployment and poverty."
However, despite the bleak data, Hill is amazingly upbeat and points to the successes of both him and his son despite their challenges. He considers community support as a blessing not only for his business, but for him as a survivor of sexual trauma and as a single parent.
"Fortunately for me, I have always had a very strong village of family and friends," Hill said. "From the time I adopted my son, everyone rallied around and championed his undertaking. Even without a partner, there hasn't been a moment I haven't felt supported."
Hill explained how it was important for him to express to his son and others that while things can start out rough, to keep focused on the "next chapters of your life" and maintain your journey.
Hill's advice to future LGBTQ business owners, especially those of color, is to do their research and find support, including from organizations like the National LGBTQ Chamber of Commerce.
"The NGLCC has been monumental to my growth," Hill said. "I definitely would say the minority business chamber of commerce, the Carolina Chamber of Commerce and the NGLCC all rallied behind me during the pandemic crisis to support my brand."
This year, Evolution Aura celebrates its fifth anniversary, and Hill points out that small businesses like his are critical to the economy's recovery. He stated they should be supported because they are best positioned to employ and support the local communities they are a part of.
"We are the ones that take care of our community," Hill said. "And we hire from within our communities. Dollars spent here will go further in that effort."
But most importantly, Hill points out that the sky's the limit for LGBTQ youth, and they should let who they are shine as brightly as the candles he sells.
"Being LGBTQ should be empowering," he encouraged. "Who you are is going to shine – and for every person that won't support you, 10 people will. It's just about believing in yourself and jumping out there and making it happen."
Gay-owned pharmacy survived pandemic by serving without judgment
'To be competitive, you have to think out of the box'
(Editor's note: This is the third in a multi-part summer series of stories taking a closer look at how a group of diverse LGBTQ entrepreneurs survived and thrived during the pandemic. The series is sponsored by the National LGBT Chamber of Commerce. All installments in the series are available on our website.)
LGBTQ seniors visiting a community pharmacy in Northern California and anxious about getting the "jab" are often soothed by Allie, a 15-year-old Australian Cattle Dog mix who works there alongside her dads.
"We're all like a big family," said Dr. Clint Hopkins, a pharmacist and co-owner of Pucci's Pharmacy in Sacramento with his husband, Joel Hockman. "We want to ensure that our staff and patients remain safe and healthy. Patients can feel that in our culture and that makes it a more welcoming place for them."
Though he admits some people stop by "just to pet the dog," that's fine by him, too.
Hopkins and Hockman wear many hats besides CEO and COO of their independently owned pharmacy, and often it means working long hours to manage dozens of employees and hundreds of regular customers requiring expensive and specialized medications, such as HIV treatments and antipsychotic medications, but they said it's worth it to keep from turning anyone away.
"We've had people from everywhere that were denied medication from someone somewhere," Hopkins explained. "We literally don't judge them. And we 'untrain' any of those things in our staff that they may have learned – any societal construct or something their family may have taught them. It's not our job in any way to pass any judgment on anyone."
Hockman agreed, adding: "Medication is a necessity and not an option for people to stay safe."
This founding belief in serving everyone without judgment is what helped their small business grow during the height of the pandemic, even as the economy was collapsing into a recession in 2020.
Even as other businesses shuttered from the strain of lockdowns and lost business, Pucci's Pharmacy expanded the delivery service it previously offered as well as its contactless and curbside services. They also worked with the Sacramento County Public Health vaccine distribution program.
As a result they tripled their business, resulting in an expansion to a larger space in 2021.
"In order to be competitive, you have to think out of the box," Hockman explained. "What are the customers' expectations? How are they expecting to receive your products or services during a pandemic? For our business, people were going to be more reluctant to come into the store. At the pandemic's height, we were also limited by who could physically come into the store."
So, the pair adjusted their business during the crisis to meet the changing safety needs of their community. This was in part because they knew the important role the pharmacy played in their community, particularly for those who are more vulnerable.
Pucci's Pharmacy has been a Sacramento fixture for almost 90 years, since brothers Peter and Dino first set up shop in 1930. Their former employee, Tom Nelson, bought the pharmacy with his wife, Linda, in 1979.
When the AIDS epidemic swept the region and eventually the world in the 1980s, Nelson provided critical medications and affirming care at a time when some pharmacies were still denying both to HIV patients.
Hopkins and Hockman bought Pucci's in 2016 and continue its welcoming legacy.
Today, research shows LGBTQ seniors are particularly medically and economically vulnerable due to a history of discrimination, and they, like seniors in general, increasingly rely on local pharmacies to meet their healthcare needs.
These vulnerabilities were exacerbated by the pressures of the pandemic, and may have contributed to Pucci's rapid expansion.
The unemployment rate for those 65 and over more than quadrupled between March and April 2020, during the height of the lockdowns and the economic downturn, according to the U.S. Department of Health and Human Services.
Even before the pandemic, 94% of seniors were covered by Medicare, and SAGE, the LGBTQ seniors advocacy organization, states many LGBTQ older people in particular "struggled with poverty."
SAGE found LGBTQ seniors were twice as likely to be single and live alone, and were four times less likely to have children. The Center for American Progress also reported LGBTQ seniors were more likely to rely on federal benefits such as the Supplemental Nutrition Assistance Program (SNAP), Medicaid, subsidized housing assistance, and unemployment insurance.
Aaron Tax, director of advocacy at SAGE, told the Blade his organization witnessed many LGBTQ seniors relying on groups serving aging populations "to deliver life-saving help" as "financial resources dried up and the safety net was stretched thin."
But at the height of the crisis, SAGE often delivered critical services unfunded and without reimbursement, such as SAGEConnect, which was launched to connect socially isolated LGBTQ older people across the country.
"LGBT organizations cannot do this work alone," Tax said.
A Canadian study found pharmacies, in particular, to be "perfectly positioned" to work with elderly patients, their doctors, and their caregivers to best manage their care. 
According to the report, pharmacists as "medication experts" often monitor prescriptions from multiple doctors and inform the patient about what each is supposed to do as well as what side effects and interactions to watch out for. They can also simplify a treatment plan for "maintaining a quality of life" for senior patients.
"Lowering stress for anyone is critical," Hockman said regarding changes they instituted during the pandemic.
"Stress increases the possibility for illness to set in," he explained. "Everything we deliver to the customer reduces that stress level as much as possible. Like offering curb services so people don't have to go into the store if they aren't comfortable."
While Tax stated it was important for LGBTQ seniors to feel welcome in all businesses, it was important for those providing healthcare services. Otherwise, LGBTQ seniors might delay or even avoid seeking the critical care they need.
According to the Williams Institute, LGBTQ older adults avoid or delay healthcare fearing discrimination. Data from their 2016 study also found a legacy of barriers to housing, employment and social programs continue to put LGBTQ seniors, particularly those who also identify as people of color, at greater risk.
"If businesses pay a little bit more attention to LGBTQ older people," Tax explained, "they can help LGBTQ older people overcome the history of stigma and discrimination that they have faced."
The National LGBTQ Chamber of Commerce points out this can be good for the economy as well.
The group's 2017 economic report stated LGBTQ consumers spend $917 billion every year on goods and services, which is part of the $1.7 trillion LGBTQ-owned businesses like Pucci's Pharmacy contribute to the U.S. economy annually.
Hopkins and Hockman advised college-aged LGBTQ community members who were considering starting their own business to serve everyone, meet client expectations, and to not be afraid to show their support for the LGBTQ community in their advertising.
"I've had patients that aren't LGBTQ but come to us because their family member is, and we support the community," said Hopkins, who also served as the president of their local LGBTQ Chamber of Commerce during the pandemic shutdowns. "So, let people know you're supportive and out there."
Although the couple enjoys their down time cycling or relaxing over dinner and wine with family and friends, they stressed they don't have as much free time as they would like to mentor students.
But they agreed they would make time for an enterprising "go-getter" who offers to intern with them by saying, "Here are the things I have learned through my education or experience, and here are some things I can do to help you."
"We make local decisions and make a greater impact on our community," Hopkins said. "We take a very strong interest in the lives of our team members. We look out for one another."
They both welcomed the chance to see their business family continue to grow.
"And it does feel like a family environment," Hopkins said.