June 11, 2019 at 10:18 am EDT | by Lou Chibbaro Jr.
Judge releases man who triggered panic at D.C. Pride parade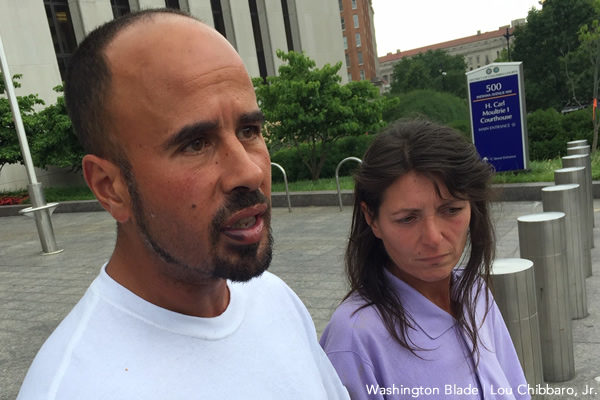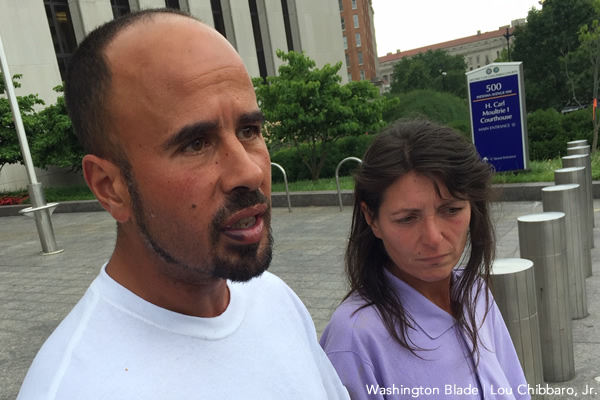 A D.C. Superior Court Judge on Monday released, pending trial, a man charged with illegal possession of a BB gun in Dupont Circle during the Capital Pride Parade that triggered a panic prompting Capital Pride organizers to abruptly end the parade around 7:30 p.m. Saturday.
Aftabjit "DJ" Singh, 38, told the Washington Blade following his Monday court arraignment that he pulled out an unloaded BB gun to protect the woman he calls his wife after an unidentified man assaulted her as she stood next to the Dupont Circle fountain.
He said the unidentified man and another man who he believes were opposed to the Pride parade that had been traveling past Dupont Circle sprayed him and Melissa Duffy, 43, with mace after he attempted to stop the first man from punching Duffy.
Singh and Duffy told the Blade that they came to Dupont Circle to watch the parade as they have in past years.
"We were there because we enjoy it," Duffy said. "We know a lot of gay people."
Added Singh: "Her brother is gay and he's married. So we come and we stand up for those rights."
The two said they were sorry about the mass panic that ensued after bystanders saw Singh brandishing his BB gun, which a police report says appears like a real gun. As hundreds of parade spectators fled the area in panic at least seven sustained injuries that were non-life threatening but that required hospitalization, police said.
Many others were believed to have sustained less serious injuries, possibly as the rushing crowd knocked down metal security fences that police placed around Dupont Circle.
Some in the fleeing crowd said they thought they heard gunshots, which intensified the panic. But Lt. Brett Parson, who oversees the D.C. Police Department's LGBT Liaison Unit and who was on the scene in Dupont Circle at the time of the incident, says police are certain that no shots were fired. He said the BB gun was unloaded and could not have fired.
Some observers have said the sound of the metal fences crashing onto the street or sidewalks could have been confused for gunshot sounds.
Police charged Duffy with assaulting a police officer during the chaos that followed Singh's arrest for brandishing the BB gun, saying she became hysterical and "began to kick and scream towards officers," a police report says.
The U.S. Attorney's Office, which prosecutes criminal cases in D.C., "no papered" or dropped the charge against Duffy shortly before she was scheduled to appear in court for an arraignment on Monday, according to Kevin Kassees, the attorney assigned to represent her.
Kadia Koroma, a spokesperson for the U.S. Attorney's Office, declined to disclose why prosecutors dropped the charge against Duffy, saying the office cannot comment on matters that are not part of the public record.
The U.S. Attorney's Office similarly did not disclose its reason for dropping two of the four charges that D.C. police filed against Singh related to his arrest for brandishing the BB gun. Police initially charged him with possession of a prohibited weapon, possession of a BB gun, carrying a dangerous weapon outside a home or place of business, and disorderly conduct-cause unreasonable fear.
In court on Monday, the U.S. Attorney's Office charged Singh only with the misdemeanor offenses of Unlawful Possession of a BB Gun and Attempted Threats to Do Bodily Harm.
He pleaded not guilty to the charges through his attorney, who invoked Singh's right to a trial for the two charges.
Superior Court Judge Renee Raymond agreed to a request by Singh's attorney that he be released on his own recognizance pending trial. Raymond scheduled a status hearing for the case for June 25. Among the conditions Raymond set for Singh's release are that he does not possess any firearms or a BB gun, he reports weekly to the court's Pretrial Services Agency, and that he undergoes drug testing to determine if he has a substance abuse issue.
In his interview with the Blade after his arraignment on Monday Singh said his only reason for taking out his BB gun was to protect his wife.
"All I heard is my wife yelling and screaming," he said after the two unidentified men threatened her and one of them assaulted her. "So yeah, I pulled out the BB gun because I know one thing," he said. "If I pull out the BB gun everybody's going to clear out of there and my wife will be safe, because my wife means more to me than anybody else."
Singh said he and Duffy are not legally married in part because of his status as an undocumented immigrant from India. He said his mother brought him to the U.S. at the age of 13. He said he has been seeking legal status under the "Dreamer" policies initiated by President Barack Obama to allow those brought to the U.S. as children to receive legal status.