June 28, 2019 at 3:48 pm EDT | by Philip Van Slooten
Marsha P. Johnson and pal Sylvia Rivera key players in Stonewall legacy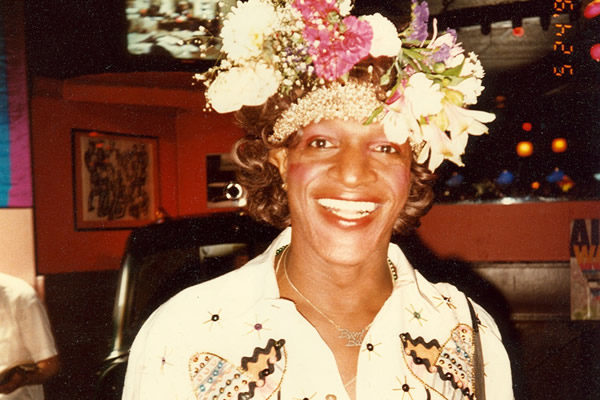 Ten-year-old Xander came out as nonbinary-femme this year to their elementary school. Transgender service member Terece began transitioning to female while still a sailor on active duty. Both recognize their historical debt to Stonewall activist Marsha P. Johnson.
According to many sources and records, Johnson was an African-American self-identified drag queen and regular at New York's Stonewall Inn, a mafia-owned gay bar catering to a crowd of mostly queer minorities, gender non-conformers and homeless youth.
On June 28, 1969, the bar was raided by police and many reported Johnson and others fought back, resulting in rioting and later a commemorative march that would evolve into modern Pride parades.
Johnson and Sylvia Rivera, a trans woman of color and her friend, would go on to found STAR, Street Transvestite Action Revolutionaries, a charity and shelter for homeless transgender teens.
After decades of activism punctuated by poverty, homelessness and mental illness, Johnson died in 1992 under suspicious circumstances. Rivera would die 10 years later from liver cancer after a lifetime devoted to trans activism.
But it's a history Millennial and Gen Z genderqueer youth like Terece and Xander have had to learn on their own.
"I have heard of Stonewall," says Xander, who uses they/them pronouns. "I'm actually reading a book about the Stonewall riots … and I listen to a queer history podcast."
"I know a little about the Stonewall uprising," Terece says. "I'm learning on my own. I went to school in the '90s … so anything regarding LGBT rights has been self-study in my adult life now."
Both are aware of its impact on their lives.
"I am aware of Marsha P. Johnson and her role in the Stonewall events," Terece says. "To me Marsha is a trans woman of color who saw abuse and misjustice within her community and decided to take a stand. She is a figure of which we look to for guidance for how trans people should be treated."
Xander is just starting to hear about people like Rivera and Johnson. Some previous wrongs are slowly being righted. Johnson's likeness is front and center on a new YA book called "What Was Stonewall?" by Nico Medina. In 2018, Johnson received a lengthy obit in the New York Times in its "Overlooked" series that supplies obits of those initially overlooked at the times of their deaths.
Albert Michaels, Johnson's nephew (who's straight), says Johnson's legacy and name recognition are sadly uneven.
"I'm finding … especially in her hometown of Elizabeth (N.J.), Marsha's not really known there," Michaels says. "Every time something goes on (to commemorate her) I post it to my Facebook page or post it to a community page. I mean, here, nobody really knows about Marsha, straight community, trans community or otherwise. Even when I did an interview the other day in front of Stonewall and I went inside for the first time into the bar, no one really knew about Marsha. There was one guy who knew … and yet they all had these T-shirts and were selling them for Pride. But there would be no Pride or no Stonewall if this whole event didn't happen."
Though he was just 8 in 1969, the weight of the loss adds emotion to his voice.
"It's sad to me. I went there (to Stonewall Inn) for some kind of enlightenment … and I felt very disappointed. … I never saw Marsha in New York and to this day that is one thing that I regret. That I never went to search for Marsha, never walked the streets with Marsha … and to see things through Marsha's eyes."
David France, director and producer of the Netflix documentary "The Death and Life of Marsha P. Johnson," did meet Johnson in New York after moving there in 1981 and deeply appreciated the opportunity.
"The queer community was still a very small and geographically bounded community and all gay life centered on Christopher Street," he says.
France's voice lifts as he remembers a happier time as well as "Marsha's joy."
"Christopher Street had a number of prominent characters," he says. "And the most prominent of them was always Marsha. If you got in with Marsha, you felt like you had found a home. She made you feel at home. I was introduced to her in 1981 and not that she and I were friends, but I can say she served as a kind of an ambassador's role to newcomers as they arrived in the city. And especially to the young people that she took under her wing. And I felt that in a small way she had bestowed some of that attention on me and I especially looked up to and felt grateful for that."
Michaels also appreciated Johnson's motherly attention.
"I knew Marsha all my life as a kid," Michaels says. "When my memories shift of Marsha, I go back to the '70s and that 8-year-old kid."
His early memories of Johnson and the riots add color to the often white, middle-class narratives younger generations like Terece and Xander are reading.
"Marsha was quite blunt and quite frank with me," Michaels says. "She would talk about harassment from police and people mistreating her and how people were evil to each other. Telling me be true to myself and don't let anyone change me, and to get my education. Basically, the things that a mother or a father would tell their children, basic things in life to try to get you along."
She once spoke of getting shot in the butt by a taxi driver. And of being beaten by cops and her "johns."
"She was straight with me," he says. "She said you gotta be aware. And that actually helped me. That helped me be who I am today."
Although he was young and didn't understand the significance of it at the time, Michaels remembers Johnson coming home shortly after Stonewall frustrated and angry.
"I think she said there was some kind of riot," he says. "And that she was tired of 'them pigs' and they couldn't take it anymore and they finally stood up for their rights."
"Half of it went in and half of it went out, but I remember pieces of it," he says.
France fills in some of the gaps with his own research and personal knowledge.
"Marsha and Sylvia were a partnership," he says. "Marsha helped raise Sylvia … and they did everything together using different strategies."
They built one of the first trans empowerment organizations called STAR and embraced the "people power movement" of the '60s and '70s," he says. They envisioned it becoming the chief activist trans movement and tried to build community with other iconoclastic groups of the era such as the Black Panthers.
France says Johnson and Rivera helped start "today's conversation" about gender nonconformity and civil rights.
"They were the first people who conceptualized the idea that the trans community was a distinct community," he says. "With a deep sense of the unifying goals and needs … they organized specifically around that. I think this had not ever before been conceptualized in that way. In that way I think they were genuine revolutionaries."
However, France describes a pervasive lack of acceptance even among gays, culminating in Rivera being ostracized from the movement. Some didn't want "transvestites" seen as part of their efforts. Rivera jumped on the stage at the 1973 Christopher Street Liberation Day Rally (i.e. New York Pride) and argued for trans inclusion in the movement.
France says seeing so much racism, transphobia and trans murders, especially for trans women of color, inspired him to explore Johnson's death. He was hired by the Village Voice to investigate her murder in 1992 but never solved it.
"I remembered Marsha and her gift and (her death) being a significant tragedy in the community from the early '90s. I remember it because I was up there and I knew Marsha," he says.
"That was a terrible year," he says, noting he lost a partner to AIDS about the same time. "And I always felt like I had let that story down and had let Marsha down as a result. And I felt that if I could tell her story with some power I could really find a way to bring attention to this new unaddressed epidemic of violence against the trans community … that was my goal when I started the film."
Johnson's nephew also felt her death personally. He says the criminal justice system failed her and others in similar situations.
"First thing I knew about her murder," he says, "is basically from what the police report said. She was going to different community functions … and initially the police had her death down as a suicide. (Later) people were calling our house, trying to get in contact with us. They saw Marsha and (said she) didn't appear suicidal. So, we were trying to get that report changed."
Unfortunately, not much progress has been made in the investigation.
"As far as we know, it's in some kind of limbo," France says. "Does that mean it is still an active file? They will not report that to us … so, we don't know if they advanced the investigation."
Today, Michaels attends Black Trans Lives Matters events "to lend support" on behalf of his slain, pioneering aunt.
"I think Marsha's legacy is important to all walks of life, no matter what your sexual orientation is and no matter what your gender expression is," he says. "You always have the people who are trying to lead the way as examples. Marsha and Sylvia, what they started; this is not over. They lit the flame, but this is not over."
France says modern trans organizations have their origins in Johnson and Rivera's work.
"We would not be having this discussion today if it were not for them," he says. "They gave us the framework for this discussion."
Johnson's nephew speaks of continuing her legacy.
"I keep in touch with Sylvia Rivera's adopted daughter, Xenia. We were talking about even starting up another program like STAR, but I've never done anything like that before so I have to get in contact with the right people."
Michaels remains hopeful.
"Xenia is an advocate and she's been keeping me up to date on what's been going on," he says. "And we sort of said, 'Wouldn't it be great if Sylvia and Marsha kind of rose again?'"