July 12, 2019 at 2:34 pm EDT | by Chris Johnson
Sanders invokes vote against DOMA in video highlighting LGBT support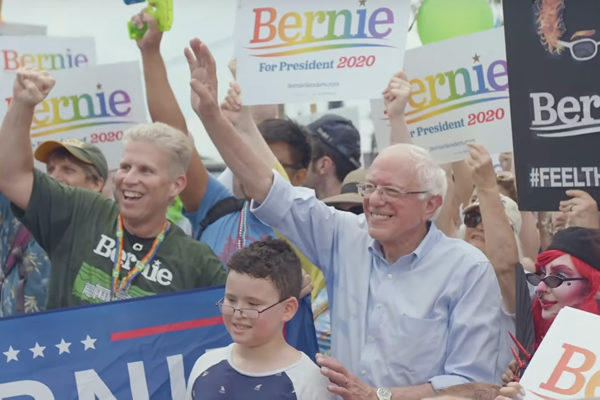 On the anniversary of his 1996 vote against the Defense of Marriage Act, Bernie Sanders through his 2020 presidential campaign has issued a video in which LGBT supporters in New Hampshire highlight his record.
The 3-minute video, titled "Even When It was Hard," shows images of Bernie Sanders with LGBT supporters, including a march through a Pride parade.
The video includes clips from New Hampshire Constituency Director Mo Baxley, who led the fight for marriage equality in Freedom to Marry, New Hampshire for Bernie steering committee member David Holt and New Hampshire deputy state director Carli Stevenson.
"Thirty to forty years ago, there weren't people standing up to support the LGBT community," Baxley says. "Bernie Sanders was one of the very few, and it meant all the world to us."
Among the featured newspaper clips in the video is an article from the 1996 in "Out in the Mountains" on the DOMA, which says, "Both of Vermont's Senators, Leahy and Jeffords, voted in favor of DOMA, while Congressman Bernie Sanders voted against the act."
The Defense of Marriage Act, which prohibited federal recognition of same-sex marriage, came out for a vote on July 12, 1996. The vote was 342-67. Sanders was one of the lawmakers in the minority against DOMA.
2020 presidential candidate Bernie Sanders and Joseph Biden were on opposite sides of DOMA. When the bill came up for a vote in the Senate on Sept. 10, 1996 Biden voted for the bill.
Watch the video here: