September 13, 2019 at 6:33 pm EDT | by Staff reports
Cannabis Culture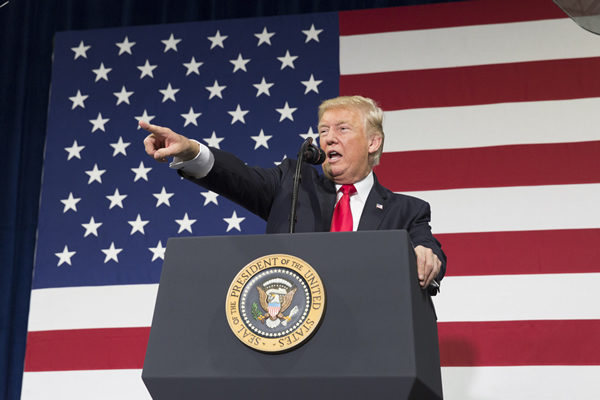 Trump: Feds allowing states to choose legalization
The federal government is not standing in the way of states that decide to legalize and regulate marijuana, President Donald Trump said last week in  comments first reported by MarijuanaMoment.net.
In response to a reporter's question regarding whether or not the administration will support a change in federal marijuana policy, President Trump said: "It's a very big subject and right now we are allowing states to make that decision. A lot of states are making that decision, but we're allowing states to make that decision."
During his presidential campaign, Trump similarly said that he believed issues surrounding cannabis legalization ought to be decided "state by state." However, the administration's first Attorney General, Jeff Sessions,  rescinded an Obama-administration memorandum that directed the Justice Department not to interfere in state-sanctioned marijuana-related activities.
"The reiteration of a non-enforcement policy from the President is a clear sign that states should continue to act in defiance of federal marijuana prohibition," NORML Political Director Justin Strekal said. "Congress should swiftly move pending legislation forward to remove cannabis from the Controlled Substances Act and provide the legal relief needed to those individuals and businesses who are struggling under our nations cruel policy of criminalization."
D.C. Council approves workplace protections for cannabis patients
D.C. Council members have enacted legislation — Act Number A23-0114: The Medical Marijuana Program Patient Employment Protection Temporary Amendment Act — to protect qualified patients from workplace discrimination.
The Act states, "A public employer may not refuse to hire, terminate from employment, penalize, fail to promote, or otherwise take adverse employment action against an individual based upon the individual's status as a qualifying [medical cannabis] patient unless the individual used, possessed, or was impaired by marijuana at the individual's place of employment or during the hours of employment."
It further states, "A qualifying patient's failure to pass a public employer-administered drug test for marijuana components or metabolites may not be used as a basis for employment-related decisions unless reasonable suspicion exists that the qualified patients was impaired by marijuana at the qualifying patient's place of employment or during hours of employment."
The law does not apply to either employees in "safety sensitive positions" or to those who are required to undergo drug testing as a federal requirement.
Council members voted 12 to zero in favor of the proposal. Mayor Muriel Bowser did not sign the measure.
Like all District legislation, the act must undergo a 30-day congressional review prior to taking effect.
To date, 15 states provide workplace protections for medical cannabis patients. Two states, Maine and Nevada, provide limited certain non-safety sensitive employers from taking punitive actions against any adult who uses cannabis while off the job.
Calif. advances measure permitting medical cannabis at school
SACRAMENTO, Calif. — State lawmakers have moved forward a measure to permit the use of certain medical cannabis preparations by authorized patients while on school grounds
Members of the Assembly voted last week in favor of the legislation, Senate Bill 223. It now awaits a concurrence vote from the Senate, which approved a prior version of the measure in March by a vote of 29 to 4. Former Gov. Jerry Brown vetoed similar legislation last year.
If passed into law, the measure would permit parents to administer non-smoked formulations of cannabis to patients on school campuses. Several other states, such as Delaware, Illinois, and Washington, already authorize similar activities.
Cannabis retailers linked to drop in local crime: study
PHILADELPHIA — The opening of regulated cannabis retailers is associated with a decrease in localized criminal activity, according to data published in the journal Regional Science and Urban Economics.
A pair of senior economists affiliated with the Federal Reserve Bank of Philadelphia assessed the local effects of retail dispensaries on neighborhood crime in Denver, Colorado. They determined, "[A]n additional dispensary in a neighborhood leads to a reduction of 17 crimes per month per 10,000 residents, which corresponds to roughly a 19 percent decline relative to the average crime rate over the sample period." The majority of crime reduction is due to a decrease in non-violent criminal activity.
They concluded: "Overall, our results suggest that dispensaries cause an overall reduction in crime in neighborhoods, with no evidence of spillovers to surrounding neighborhoods. … Our results are consistent with theories that predict that marijuana legalization will displace illicit criminal organizations and decrease crime through changes in security behaviors or substitution toward more harmful substances. … Lastly, there is no evidence that increased marijuana use itself results in additional crime."
The authors' findings are consistent with those of prior studies concluding that regulating cannabis sales is not associated with upticks in criminal activity and may even play a role in preventing certain crimes, like larceny.
Cannabis Culture news in the Blade is provided in partnership with NORML. For more information, visit norml.org.