October 10, 2019 at 6:58 pm EDT | by Mark Lee
Will a court win end the gay battle?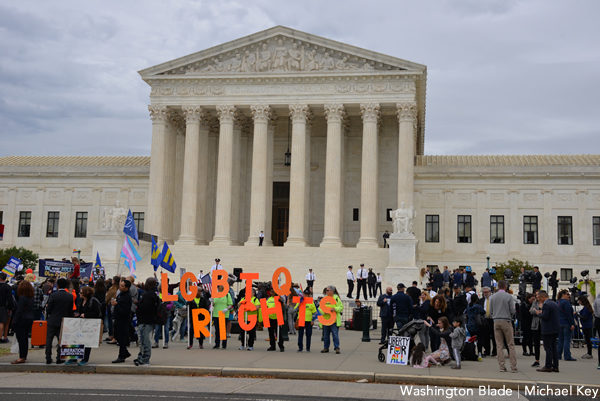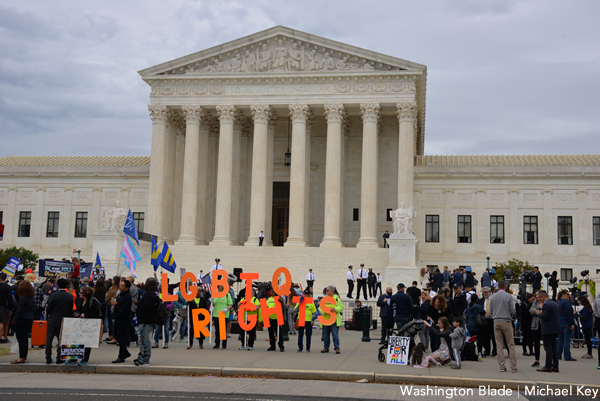 This week, the U.S. Supreme Court heard oral arguments in three cases that will decide whether anti-discrimination laws apply to both sexual orientation and gender identity under Title VII of the Civil Rights Act prohibiting discrimination on the basis of sex.
Wise money is wagering on a win.
The decision, expected early next year, will be a landmark one and, if resulting in a victory, would be a more historic ruling than that of the nine justices in 2015 who struck down all state same-sex marriage bans.
The full panoply of legal precedents, judicial contexts, and cultural considerations portend celebration, perhaps to be heightened due the possible size of a favorable court majority. That the trio of cases was heard during the week of the annual 'Coming Out Day' on Oct. 11 only serves to sweeten the anticipated result.
A win will both establish and expand federal protections for LGBT Americans in essentially all aspects of life and liberty, and for all of us.
A favorable and fully comprehensive verdict would definitively declare that discrimination on the basis of either sexual orientation or gender identity is illegal throughout the nation and not dependent on where you live. Such a ruling would immediately and eventually extend legal protections across the country to include employment, housing, public accommodations, adoption and foster care, education, healthcare, credit, and every other government activity, transactional interaction, and component of commerce.
An appropriate affirmative outcome would additionally reflect the sentiment and support of an overwhelming majority of the citizenry. It would also comport with nearly universal enterprise championing among the business community representing every commercial sector and company type or size.
Changing hearts and minds, after all, has long proven the central component of gay community success along the way to what could be the biggest triumph in LGBT national history. It would serve as a reminder that persuasion is what has prevailed in every aspect of each advance made over a lengthy timeline – and is what roots those equities in real change, thus securing them with more than mere language or laws.
Collective humility and reflective gratitude will be required if equal treatment under the law carries the day. Measured against other movements, progress since Stonewall will have come comparatively quick for LGBT Americans.
If justice does reign supreme, the question will be whether the fundamental battle is over and the war is essentially won. A ruling outlawing LGBT discrimination across the board and across the country would change everything.
It is likely the reason the Human Rights Campaign announced at the HRC National Dinner in Washington that the nation's largest LGBT organization is expanding its mission to include international issues while also focusing on the specialized and specific empowerment and employment needs of transgender Americans.
Without counting on a court ruling that hasn't yet happened, as no one should, HRC is preparing for a potentially positive post-ruling milieu. There will, of course, remain an ample agenda available to activists, including more direct service engagement to augment political activities.
What HRC and other LGBT groups must avoid, however, is becoming even more of a transparently aligned adjunct subsidiary of only one political party if the organizations hope to retain community support in an equality-affirming environment. This will be especially true as LGBT voters feel the freedom to weigh a broad spectrum of issues when deciphering political affinities and casting ballots for local, state, and national offices.
If the battle proves over with affirmation and assimilation the victors, a truce will be required and ideological condemnations must cease. LGBT Americans will increasingly dispense with so-called "intersectional" politics to embrace what most matters to them and policies directly affecting their lives and which are best for their families and friends.
When victory comes, soon or later, that's why the war will have been waged.
Mark Lee is a long-time entrepreneur and community business advocate. Follow on Twitter: @MarkLeeDC. Reach him at [email protected].