November 5, 2019 at 8:41 pm EST | by Peter Rosenstein
Read Michael Kahn's stirring speech at Georgetown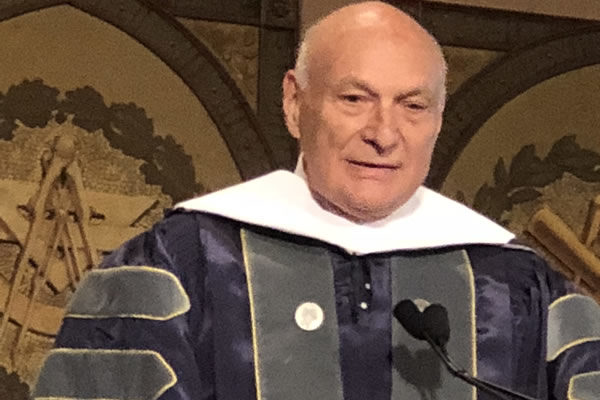 Michael Kahn, retired artistic director of the Shakespeare Theatre Company, received an honorary doctoral degree from Georgetown University on Oct. 15. President John J. DeGioia presented the degree to Kahn in Gaston Hall.
Kahn's work in theater and opera has been seen on Broadway, off-Broadway, in American regional theaters, and at international venues. He was the Artistic Director of the Shakespeare Theatre Company in D.C. from 1986-2019. During that time, he directed award-winning classical theater productions, instituted free Shakespeare performances, and led the theater to receive the 2012 Regional Theatre Tony Award. From 1992-2006, Kahn was the Richard Rodgers Director of Drama at Juilliard, where he has taught since the drama division's founding in 1968. He also served as the artistic director of The Acting Company, McCarter Theatre Center, and the American Shakespeare Theatre. He earned a Tony nomination for his direction of "Show Boat." In 2013, Kahn was inducted into the American Theatre Hall of Fame and was named an Honorary Knight Commander of the British Empire (CBE) by Queen Elizabeth II.
Here is Kahn's speech accepting his honorary degree:
"Directly upon graduating from Columbia, my 8-year-old Brooklyn boy dreams became a reality as I entered the theatre profession. Emerging from the tall shadows of Arthur Miller and Tennessee Williams were a group of playwrights with their first or second plays, among them Edward Albee, Sam Shepard, John Guare, Lanford Wilson, William Hoffman, Jean-Claude van Itallie, Leonard Melfi, Paul Foster, Robert Heide, Doric Wilson, and Robert Patrick. They were breaking the rules of conventional playwriting, creating non-linear narratives, making new myths out of old ones, viewing the American nuclear family with a detached or angry or satirical eye, exploring absurdism and metaphor, camp and puppets, and creating a new and distinctly American body of work. Their plays were performed in tiny off-off Broadway theatres or in the two coffee house theatres the Caffe Cino and Ellen Stewart's La MaMa, and I was fortunate to work with many of them. There were some women writing, but they were mainly marginalized. It gives me great pleasure to see the work of Adrienne Kennedy and the late Maria Irene Fornes – two trailblazers of style and imagination being newly recognized for the immense talents they possessed. But it is a fact that the writers I mentioned were all white males – as was the basic power structure of the American theatre. Almost 60 years later, as I for the most part leave the profession, the American theatre is experiencing another golden age of playwrights. Emerging from the latter day tall shadows of August Wilson and Tony Kushner, these are some of the new voices: Branden Jacob Jenkins, Danai Gurira, Annie Baker, Anne Washburn, Young Jean Lee, Jeremy O. Harris, Katori Hall, Amy Herzog, David Adjmi, Rajiv Joseph, Heather Raffo, Tarell Alvin McCraney, Adam Rapp, Regina Taylor, Quiana Alegria Hudes, Taylor Mac, Lisa Kron, Lucas Hnath, Lynn Nottage, Dominique Morisseau and not to forget Lin-Manuel Miranda. These are the voices of women, of people of color, of African Americans, Caribbean Americans, Asian Americans, of people who identify as LGBTQ or non-binary, children of immigrants or immigrants themselves who have chosen to be heard in the theatre of today.
It is a true golden age of playwriting, but as our theatre institutions are eager to bring these writers to our stages, are we also creating an institutional culture that is welcoming to them? Are there equal and parallel voices in our conference rooms in our staff debates, in our leadership positions on our boards? Are we consciously or unconsciously continuing the inequality of white male privilege?
As for myself, I hope I earned whatever successes (and let's not leave out the failures) and a position of leadership in the American theatre through hard work, energy, thought, talent, and some vision; but I can see how my white privilege gave me a pretty big leg up. Without it I might not have had the chance or it may have taken longer to exercise or utilize any of the above. And who have I perhaps stood in the way of? Many theatre institutions including the one which I have been privileged to lead for over three decades and the school which I have been associated with for five decades are having these conversations and asking these questions. The process may be painful, there may be periods of temporary divisiveness, but these questions and conversations are essential to the continued health of the American theatre – and it is some measure of progress to see the number of women and people of color who have accepted leadership roles in our theatrical institutions.
But one question will consume much of whoever leads a theatre: the audience! Who are they, and the eternal question: where are the young? Should there be a bigger reliance on social media? Are the tickets too expensive? Are the plays too long for shortened attention spans? These and many other possible solutions need to be explored, but a longer and perhaps more important factor needs to be recognized: the decades-long diminution and eventual elimination of the presence of arts in our educational system. Whether this began when the United States' losing the space race to Sputnik trumpeted the need to increase science and math or the demonization of the arts by the far right in the late 80s and 90s – and yes artists question the status quo, but isn't that an essential part of the conversation in a healthy democracy? It has become a mantra at times of severe budget-cutting that the arts are the most expendable.
However, the real value of the presence of art in the education process is not the creation of more artists but the way it adds to the general socialization of young people. If you are in a band, you need to develop a strong sense of self-discipline, you experience the value of nuance, how loud or soft, long or short, harmony or disharmony makes a difference in the communication of the work and how the whole composition cannot be realized without the intense cooperation and connection of all the players.
Sports also encourage this, but a band is non-gender based.
If you are in art class, you are encouraged to look more closely at what is around you, to see design in a street sign or the entrance to a Metro station, to recognize patterns and shapes in nature and try to reproduce them, or better yet, honor your imagination and transform them. To look at a painting from up close and see how it is composed of seemingly tiny unimportant brush strokes and daubs of independent often jarring colors, and then move further away and see how all these daubs and strokes become a whole – a good metaphor for experiencing and understanding another person.
And if you are in a play – and I loved being in plays – you have the chance to explore the lives of people from different backgrounds from yourself, with different problems and experiences than yours, and most importantly, to play someone other than yourself, even someone you might initially reject out of habit or upbringing – to step into other shoes, to be them, you have to dig deeper into the core of their circumstances and life choices and in doing so you develop empathy – a quality much missing in our world.
Of course, the restoration of the arts in education will go a long way to increasing future audiences – but it is not hard to imagine an even larger value: a community, a country of young people who having learned the value of self-discipline, of nuance, of how disparate parts in true conversation with each other are necessary to achieve the whole, who see clearly and critically, who honor imagination in themselves and others, who encourage themselves to think outside of the box, and who having learned to encounter the other not with condemnation but with empathy will help create the equitable and more just society to which we are being led by a new golden age of playwrights and those to come.
I look forward to seeing this come to pass, and I thank you again for this great honor."