November 13, 2019 at 6:00 pm EST | by Michael K. Lavers
Va. activists pin hopes on Democrat-controlled General Assembly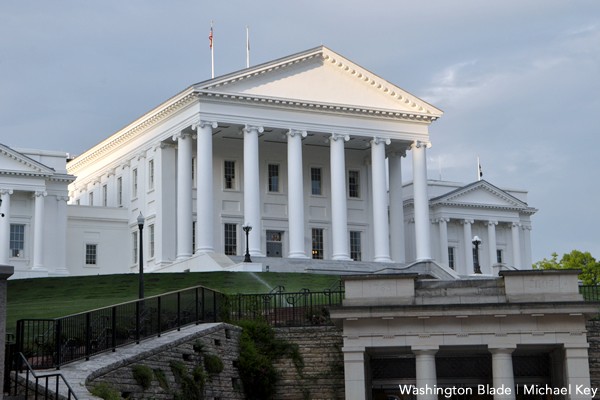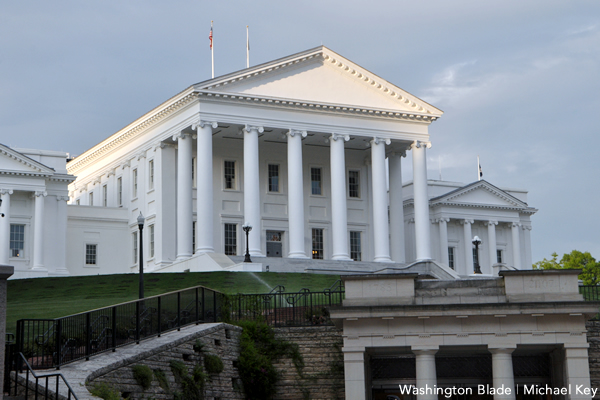 Equality Virginia Executive Director James Parrish on Tuesday said he remains hopeful a Democrat-control General Assembly will increase odds that LGBTQ rights bills will finally become law.
"Opportunity with new leadership is here," Parrish told the Washington Blade during a telephone interview. "It's really going to present a lot of great opportunities to make Virginia an inclusive and welcoming place for LGBT people."
Parrish spoke with the Blade a week after Democrats regained control of the General Assembly for the first time since the 1990s.
The addition of sexual orientation and gender identity to Virginia's Fair Housing Act and the introduction of a bill that would ban anti-LGBTQ discrimination in employment and public accommodations are among Equality Virginia's legislative priorities once the General Assembly reconvenes in January. Parrish told the Blade his organization will also continue its efforts to ban so-called conversion therapy for minors in Virginia and enact policies that protect transgender students in public schools.
The Virginia Senate earlier this year once again passed bills that sought to ban anti-LGBTQ discrimination in housing and public employment, but the Republican-controlled Virginia House of Delegates blocked them. Parrish said Equality Virginia is having "ongoing" conversations with incoming House Majority Leader Eileen Filler-Corn (D-Fairfax County) and other new Democratic leadership.
"It's hopeful for the wonderful opportunity," Parrish told the Blade, referring to LGBTQ Virginians.
Carl Johansen, chair of Equality Virginia's board of directors, echoed Parrish's optimism.
"A majority of Virginians support equal rights for LGBTQ+ Virginians," Johansen told the Blade on Tuesday. "We look forward to passing LGBTQ+ protections in the workplace and housing, etc., in 2020."
Parrish said Equality Virginia will also work with the Human Rights Campaign and Freedom for All Americans to spur passage of the nondiscrimination bill — which would be similar to the Equality Act that would add sexual orientation and gender identity to federal civil rights laws — in the General Assembly. HRC National Press Secretary Lucas Acosta on Nov. 7 told reporters during a conference call with Emily's List President Stephanie Schriock and representatives of other progressive groups the Virginia election results sent "a powerful message."
"For far too long, anti-LGBTQ politicians have had a chokehold on Virginia's legislative process," he said.
"In January LGBTQ Virginians will wake up for an entirely pro-equality legislative leadership for the first time ever," added Acosta.
Republicans 'don't understand what Va. looks like in 2019'
HRC invested more than $250,000 in Virginia to help elect pro-LGBTQ candidates to the General Assembly. The LGBTQ Victory Fund is among the other organizations that worked in the state ahead of last week's election.
All five openly LGBTQ members of the General Assembly — state Sen. Adam Ebbin (D-Alexandria) and state Dels. Mark Levine (D-Alexandria), Mark Sickles (D-Fairfax County), Danica Roem (D-Manassas) and Dawn Adams (D-Richmond) — won re-election. Roem made history as the first openly trans state legislator re-elected.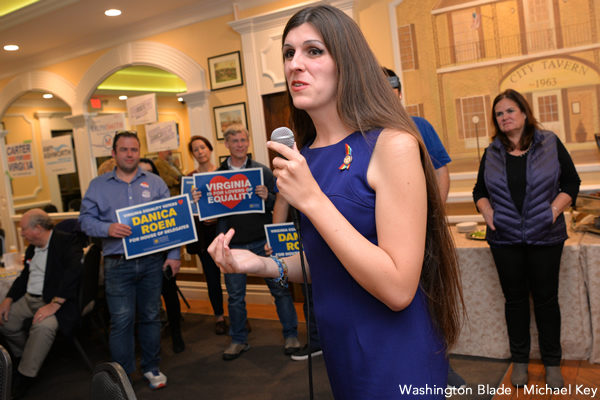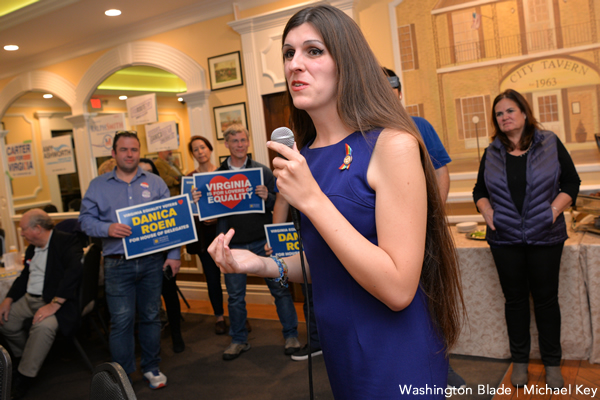 Family Foundation Action, a Richmond-based anti-LGBTQ organization, last month faced criticism over a transphobic ad that noted Roem was a co-patron of state Del. Debra Rodman (D-Henrico County)'s bill to require insurance providers to cover transition-related health care for trans policy providers. Roem, who defeated Republican Kelly McGinn by a 57-43 percent margin, during a post-election interview with the Blade did not rule out the possibility that she would introduce the measure herself in 2020.
"Bob Marshall threw everything at her last time and it didn't stick," Parrish told the Blade. "It's great to see once again the tired playbook of transphobic messaging is not going to work in Virginia and Danica keeps getting elected strongly."
"The people who I represent said, 'Yeah we know she's trans and she's a good legislator and she's great at constituent service and we think that she's doing a good job,'" said Roem after she spoke to supporters at a Manassas restaurant after she won her race.
Parrish added Republicans "don't understand what Virginia looks like in 2019" and further noted every candidate who has won statewide office in the state over the last decade "has openly campaigned in support of LGBT people."
"They definitely haven't learned that attacking LGBT people is not the way to make yourself broadly appeal to voters," said Parrish.