November 13, 2019 at 2:30 pm EST | by Scott Stiffler
Students, former faculty keep the faith after Catholic high school firings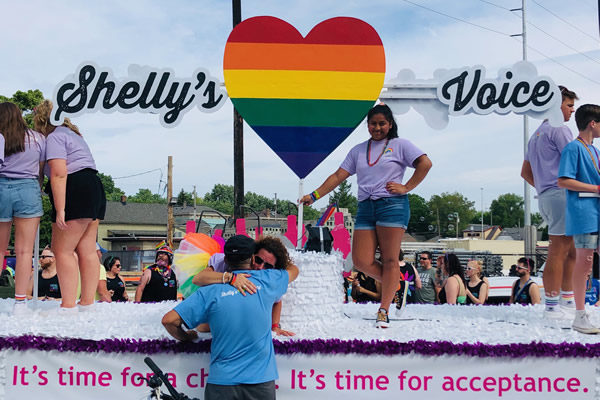 Marriage equality may be the law of the land, but at Roman Catholic Church-run Roncalli High School in Indiana, the lesson being taught is that having a same-sex marriage, or standing in solidarity with those who do, will cost you your career.
Those scenarios played out, when the Central and Southern Indiana-serving Archdiocese of Indianapolis discovered longtime Roncalli guidance counselors Shelly Fitzgerald and Lynn Starkey were both married to women. Roncalli social worker Kelley Fisher, a straight ally who publicly supported Fitzgerald and Starkey following their firing, also lost her job—and gay-identified Dominic Conover, who founded the Shelly's Voice Advocacy Group alongside five straight Roncalli students, discontinued his vocal support of Fitzgerald for months (a behavior without which, he was told, he would not receive his diploma).
Fitzgerald, who grew up in the Catholic faith and graduated from Roncalli High School in 1991, returned to its halls as a guidance counselor in 2004, then worked as Co-Director of Guidance until 2018, when the church obtained a copy of her marriage certificate via a tipster who, ironically, has yet to be publicly identified.
Fitzgerald, notes the Indy Star in an Aug. 20, 2019 article, "was called into a meeting [Aug. 10, 2018] with officials from her school and the church and given three options: divorce her wife, quit her job or wait out the end of her contract quietly and be fired at the end of the school year, when it would expire."
Two days later, Fitzgerald was put on administrative leave and banned from campus. She received a May 2, 2019 letter from Roncalli that her contract would not be renewed, by which point she had filed with the EEOC (Equal Employment Opportunity Commission), alleging discrimination and retaliation. A federal lawsuit was filed on Oct. 22 of this year.
"I was stunned," says Fitzgerald, of her dismissal. "I was just living my life as I wanted to live it, and was caught completely off guard," especially since her sexual orientation had never been a source of controversy or trouble.
"The predominant amount of people I worked with not only knew I was gay and had a partner," says Fitzgerald, "but my daughter has walked the halls since she was able to walk—and we hung around socially with many who worked there, including administrators … I've been out, really, since I was 18 years old. But I wasn't out to students and parents, because as a counselor, that's not part of the job, to compare stories."
Once dismissed from Roncalli, however, Fitzgerald found herself at the heart of a "nonstop local story" for the past year and a half.
"One of the biggest adjustments for me has been the lack of anonymity," says Fitzgerald, who cites the activism of Conover and other Shelly's Voice members as the reason "why this story has legs. The day they stepped up, they changed the trajectory of my life forever. They've shown what it's like to be true allies… That made it easier for me, because it gave me an opportunity change things, so nobody has to go through this again. I just want people to have a safe place to be. So this is not a story about a guidance counselor getting fired. It's a story about how we can change the path, to make sure everyone has a welcome seat at the table."
As for his own activism, Conover says, "I tell people that before Shelly was fired, I was blind to discrimination, blind to the fact that there was a difference in standing up for other people and standing up for your Catholic faith… I identify as gay and, sadly, it took me up to this year to do that, because of the shame and guilt that goes along with it."
Conover, who graduated in 2019, says he's no longer in touch with Roncalli faculty, but has "a few friends there [students], that I still talk to, who are supportive of what I'm doing [with Shelly's Voice]. But they can't say that out loud."
For LGBTQ people at Roncalli, "It's a very toxic environment," notes Conover. "It's hard to be happy with yourself when the school you go to won't allow you to be who you are… There are others [Roncalli students] in our organization who have had to back down on their positions, to ensure they can graduate."
Shelly's Voice, he says, "kept me afloat" during his time at Roncalli. "Without being an activist and an advocate for Shelly, I would not have had the mental strength" to endure the ultimatum he was given in order to receive his diploma. "I did not, at the time," recalls Conover, "understand what this state of forced silence would have on a person."
During that period, recalls Conover, "I had the blessing of meeting Ariadne Getty," a lifelong philanthropist who, he notes, worked with him "to make sure my voice would be heard after graduation."
"He's what we love to invest our time in, which is the next generation of disrupters and activists," says Getty, whose Ariadne Getty Foundation (AGF) secured pro bono legal and public relations work for Conover, and gave financial support to Fitzgerald.
"I want to make an impression that this isn't acceptable," says Getty, calling the Roncalli situation "a story that you can't ignore," and noting AGF's support is part of its wider effort to "do right by people who have been wronged… If there's anything I can do to help other people facing similar crisis, I would love to know."
Getty has taken a hands-on approach, noting of Fitzgerald, "We've become very good friends. We talk often, and I talk with Dominic regularly. I'm blessed to have them in my life."
Of the Archdiocese of Indianapolis, says Getty, "There's something really wrong with this picture. Here, we have this community that's supposed to love everybody, and go to church on Sunday. Then what happens on Monday? You get fired. Or, if you're a student, your graduation is going to be held over your head."
Not everybody in the church or the wider community has been hostile. Conover says Shelly's Voice has received letters "from priests across the country, who have written, anonymously, to say they support what we are doing, and pray for the change we are seeking."
Conover notes that despite many letters of support sent to the archdiocese via Shelly's Voice, his almost daily voicemails left with the office of Archbishop Thompson have gone unanswered since the beginning of last year, when "We [Shelly's Voice] had a meeting with him to discuss our opposition to what he was doing. But I never get a call back or a request for a conversation."
That silence is confounding to members of Shelly's Voice, whose website notes, "Contrary to common belief, the power to change the [Roncalli employment] contract is held by each Catholic Archdiocese, not the individual schools, facilities, and institutions which fall under the Archdiocese … Once the Archbishop changes the policy [whose code of conduct was cited as a reason for the Roncalli firings], dozens of schools all over Indianapolis will be able to hire members of the LGBTQ+ community."
Fitzgerald notes there are "supportive clergy from all over the world, who have reached out to me" as well as members of the [Indianapolis] community who "come up to me when I'm with my wife or daughter, who just want to say how supportive they are. So my faith is stronger, honestly, than it's every been."
Self-described "cradle Catholic" Conover, raised in the faith "since I was born," notes, "The love I had for the Church before I started to fully accept myself was very fulfilling. I hated to see such a small part of the Catholic teaching effect my faith, and I don't want any other youth or Catholic to go through that turbulent time of questioning, just because of hate, basically—hate toward the LGBTQ+ community."
"Clearly, after the fact," says Kelley Fisher, of her own period of turmoil, "I felt very much that I was a target." Fisher is currently in the process of an EEOC charge, claiming retaliation and discrimination, but remains steadfast in her commitment to "stand up for social justice and the vulnerable. As a social worker, that's our goal… and I think it's bigger than just our schools here in Indianapolis. It's a global issue. People are being murdered for being gay, for who they love."
"Regarding Shelly and Lynn," says Paul Castillo, Counsel and Students' Rights Strategist for Lambda Legal, "The practical effect of these terminations is the school sending a message to youth, and the community, that the archdiocese seeks to purge all LGBTQ staff from their positions. It's teaching youth that discrimination is acceptable, although that can't be squared with 'love thy neighbor.' "
With respect to allies, Fitzgerald notes the events at Roncalli have wider implications. "Eventually," she says, "all of us are going to have a brother or sister or cousins or friends who are impacted by this."