February 21, 2020 at 2:30 pm EST | by Brian T. Carney
Georgian import 'And Then We Danced' challenges patriarchy, tradition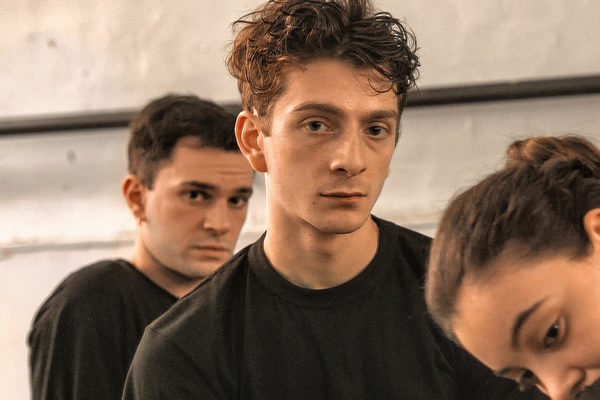 The excellent "And Then We Danced" is a thoughtful and passionate coming out/coming-of-age story set in a country facing significant political and cultural changes.
The movie centers on Merab (a blazing breakout performance from Levan Gelbakhiani), the star student at the National Georgian Ensemble, a conservative institution founded to preserve the traditional dances of the country of Georgia. Following in his family's footsteps, Merab and his partner/girlfriend Mary (Ana Javakishvili) have been training since they were children for a spot in the prestigious main ensemble.
Merab finally gets his chance to audition (one of the male dancers has been kicked out for being gay), but despite his dedication and talent, Merab faces obstacles. The first is a constant stream of criticism from his coach Aleko (Kakha Gogidze). The slight and expressive Merab does not fit the rigidly gendered expectations for male Georgian dancers.
"You should be like a nail," Aleko shouts at Merab, "Your eyes are too playful. You're too soft."
These criticisms also have political overtones. A school official reminds the students that Georgian dance is the spirit of the nation and Aleko says, "There is no sex in Georgian dance; this is not the lambada."
Merab's position in the academy is further threatened by the arrival of Irakli (Bachi Valishvili), a handsome male dancer who replaces Merab in a prominent duet with Mary. The two rivals begin to rehearse together and their relationship quickly blossoms into friendship and then romance.
Writer/director Levan Akin skillfully sets their story against the challenging conditions in contemporary Georgia. There is deep pride in national identity and national traditions, but there is deep xenophobia (marked by recurrent ethnic slurs). Sexism is rampant at the academy and in the society at large, as is homophobia. Economic opportunities are limited; Merab's family is just barely scraping by and at one point, their electricity is cut off.
And, as the rich soundtrack demonstrates, Merab's heart beats to both the percussive music of his beloved traditional dances and the modern international pop sounds of ABBA and Robyn that he hears at parties and at the underground gay club he visits.
Akin captures this complex material with admirable grace and subtlety. The dialogue is relaxed and natural and the pacing is confident and comfortable. He has a great collaboration with cinematographer Lisabi Fridell; together they deftly capture the beauty and discipline of the dance sequences as well as the urban grit of the city of Tbilisi.
He also provides expert guidance to the actors. Newcomer Gelbakhiani turns in a stunning performance. He has a great natural charm and his exuberance is infectious. His dancing is precise and passionate; his sweat-soaked body documents the amazing labor and discipline behind his craft even as it radiates in the thrill of performance. His expressive face sensitively displays the joys and sorrows of first love.
There is a powerful chemistry between Gelbakhiani and the rest of the cast, especially the dashing Valishvili as rival dancer Irakli. Their relationship unfolds naturally and easily; much of their story is conveyed with dance moves and smoldering glances. Javakishvili is delightful as Mary, the supportive friend and dance partner who is obsessed with the latest fads from London. Gogidze turns in a richly nuanced performance as the stern coach Aleko, the uncompromising guardian of traditional norms and culture who still cares deeply for his rebellious student.
Giorgi Tsereteli is also great as David, Merab's neer-do-well brother who turns out to be a surprisingly decent guy.
Finally, Akin has an amazing partnership with his choreographer who lovingly recreates the traditional Georgian dances as well as Merab's variations on them. Merab's final dance number, where he finally gets the chance to fully express himself through movement, is simply stunning. It is destined to become an important piece of cinematic history.
Unfortunately, the choreographer of "And Then We Danced" is uncredited because they were afraid for their personal safety. The film was shot on location on Tbilisi. Given the homosexual content in the film, Akin and the crew received death threats. Filming was done secretly and under the protection of private bodyguards. The Sukhisvili National Ballet and other national dance troupes refused to cooperate with the filming because "homosexuality does not exist in Georgia." Screenings of the movie throughout Georgia were met by protests.
Fortunately, LGBT audiences can support Akin and his brave colleagues by going to see this fine film which opens today in area theaters (in Georgian with English subtitles).